TechNave NewsBytes 2020 #11 - Celcom, FB+IG for SMEs, HT-G700, Stamp&Go, SOCAR, iSynergy, Zoom 5.0, Mindvalley, Netflix, Kaspersky, Tune Protect, Yoodo Gank, MLBB, Forkwell.io, Huawei Cloud AI, Xiaomi YoY, YTL, Special: At Home with Galaxy - How to Learn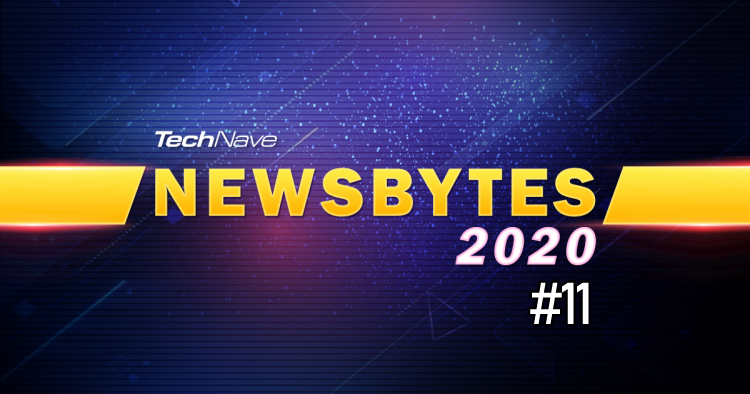 For this edition of TechNave NewsBytes 2020 #11 we have Celcom's continued efforts in helping COVID-19 frontliners, Facebook and Instagram to offer new help for SMEs and Sony's HT-G700 soundbar was announced for Malaysia. HealthMetrics and InfinitiLab introduced Stamp & Go for easier contact tracing, SOCAR announced new partners and the I Synergy Group extended RM30 million to SMEs and Malaysians.
Zoom 5.0 announced all their new security features, Mindvalley to offer Free Online Self development for teens and catch some Space Force on Netflix. Kaspersky revealed their latest study on the devices used for porn, Tune Protect offers RM1 million in COVID-19 aid and Yoodo's Gank team won the recent eSports championship.
Team Resurgence were crowned champions of the MLBB Professional League MY/SG Season 5, Malaysian teams won 1st and 3rd place in the recent Forkwell.io hackathon for COVID-19 apps and Hexa revealed how Huawei Cloud AI helped them in the spice industry. Xiaomi revealed a rise in their Year-on-Year growth while YTL and UTAR are offering some help for students.
In this episodes' Specials: Samsung had more At Home with Galaxy tips, particularly on How to learn so if you're ready to learn then scroll on down to the bottom. We expect more NewsBytes to come in very soon, so do read on.
Celcom keeps Malaysian frontliners close at heart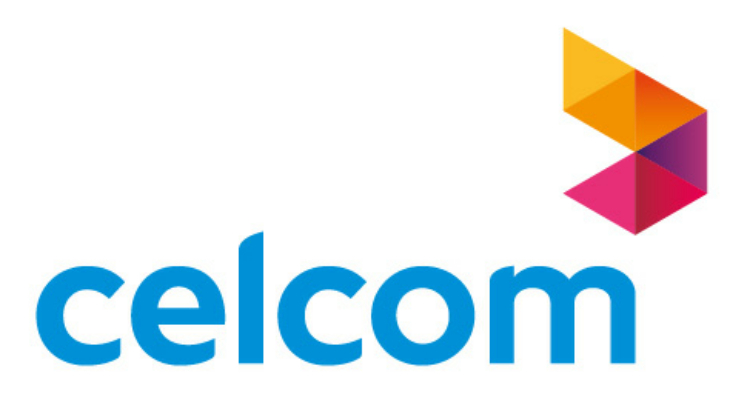 In a continuous effort to support Malaysians weathering the COVID-19 pandemic, and in conjunction with the International Nurses' Day on 12 May 2020, Celcom reaches out to honour all dedicated Ministry of Health (MOH) registered doctors, nurses, medical and non-medical officers.
MOH frontliners in 57 hospitals battling COVID-19 nationwide will have a special one-month FREE relief service for their Celcom postpaid accounts, for the month of July 2020 and frontliners registered as Celcom prepaid customers will also enjoy FREE prepaid credits worth RM30, valid for 30 days, for July 2020.
Idham Nawawi, Chief Executive Officer of Celcom Axiata Berhad said the special relief expresses our gratitude to the medical frontliners, as they have been braving themselves to fight and curb the virus in Malaysia. As they spend so much time away from their loved ones during the crisis, their welfare is as important to us. Therefore, their postpaid bills and prepaid credits for the month of July is on us.
The special rebate is also extended to the medical frontliners working in listed hospitals who are yet a Celcom user. Medical frontliners are welcomed to register via Celcom's 'Pakej Penjawat Awam' postpaid plan before 15 June 2020. Medical personnel may visit here or the nearest Celcom bluecube for more information.
Realising the MCO has changed the purchasing behaviour and customer dependencies on services such as Grab, Celcom also reaches out to Grab driver and delivery partners by helping them stay connected with their customers. More than 120,000 Grab partners are eligible to receive Celcom's communication relief that includes rebates and special offerings. Grab partners may visit here for more information.
Meanwhile, in support of Malaysian SMEs, Celcom collaborated with Google and hosted a webinar for SMEs and business partners within the telco's ecosystem. The webinar addressed the current unprecedented situation of COVID-19 pandemic, as more consumers now have more dependencies on online services and e-commerce. Through the webinar, smaller scale enterprises with impacted businesses were educated with digital tools and strategies, to help them overcome the situation.
For more information on the latest updates and offerings from Celcom, customers can visit their website at www.celcom.com.my or Celcom's Facebook and Twitter.
Facebook and Instagram share new tools to support small businesses in Malaysia
To support businesses impacted by the coronavirus pandemic, Facebook and Instagram have lined up new features to direct people to gift cards from local businesses on the platforms and purchase them via select third party partner sites.
Facebook is testing a feature where people will be able to access gift cards from participating merchants in their cities through a "Support Local Businesses" promotion on Facebook. The gift cards are made possible through our partners, Fave and StoreHub who will share the value of the gift card minus their transaction fee with the participating merchant.
On Instagram, businesses can add a gift card sticker to their Stories and also a button for their business profile page. Each time someone sees a Story with these stickers or goes to the business profile page, they can tap through to complete a purchase on the website of the chosen platform.
Instagram is also launching new capabilities to make it easy for people to show their support for businesses through hashtags and stickers. A new "Support Small Business" sticker on Instagram lets people give their favorite business a shout out. All the accounts a person follows who use the sticker will be added to a shared Instagram story, allowing people to see the different businesses that people are supporting during this time.
From today, business page admins will also have access to a COVID-19 Business Resource which will provide tips and resources for small businesses including personalized recommendations for their pages. This is in addition to the Business Resource Hub which was launched earlier this year.
Sony enhances Soundbar line-up with introduction of HT-G700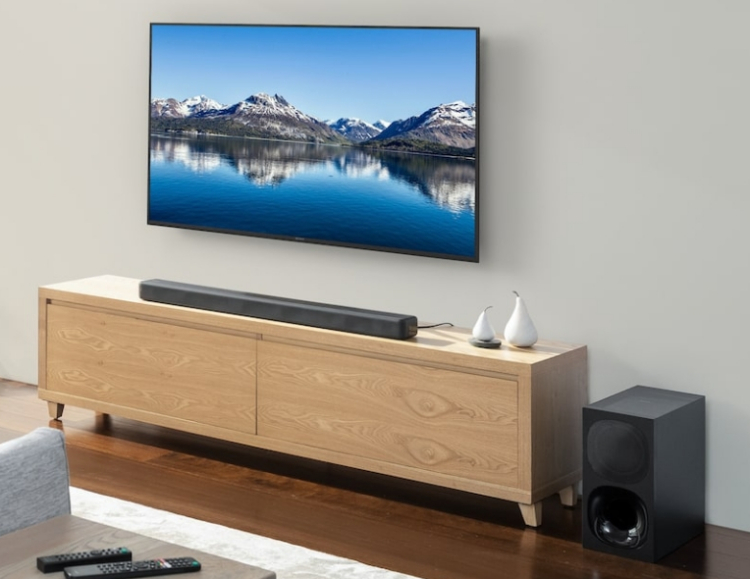 Sony recently introduced a new soundbar with the launch of the HT-G700. The new model is perfect for enjoying TV and movies with powerful and immersive sound in the comfort of your own home.
The HT-G700 is a 3.1ch Dolby Atmos® and DTS:X soundbar that couples immersive cinematic surround sound with clear dialogue, so you can lose yourself completely in your favourite TV programmes and movies.
The HT-G700 includes Immersive Audio Enhancement, meaning that the HT-G700 provides an upgraded surround experience- seamlessly enveloping listeners with up to 7.1.2 channel surround sound. The HT-G700 has three front speakers, combined with Sony's signal processing, which enables sound placements that can envelop you in all directions, providing an experience that carries the user away into the world of movies and music though the latest technology. This new signal processing is also advanced to deliver surround sound to a wider area. Furthermore, the finely tuned S-Force PRO for HT-G700 uplifts sound to fit a wider TV screen height (over 55 inch), enabling viewers to relive moments in newfound clarity and depth. Plus, by selecting the Immersive AE (Audio Enhancement) button on the remote, the HT-G700 can also upscale even regular stereo audio to up to 7.1.2 surround sound so every TV show and movie gets the surround sound treatment.
In addition, the HT-G700 offers a dedicated centre speaker so that vocals can be heard clearly, whether it's quick-fire dialogue in your favourite TV shows or whispered lines in a Hollywood movie. It's also great for music, creating a rich, detailed listening experience.
The sound or audio mode best suited to what you're listening to can be selected directly via a button on the remote control. It allows you to get deeper into movies with Cinema mode and hear every detail of your favourite tracks in Music mode. Plus, there are additional Voice mode and Night mode settings. Voice mode tailors sound settings to accentuate speech, so you won't miss a word and Night mode optimises the sound balance, so you can hear everything clearly, even at low volume levels.
The HT-G700 comes with a powerful, wireless subwoofer and a larger cabinet size that delivers a deeper, richer bass sound. Finally, set-up with a TV is quick and easy via Bluetooth® or HDMI eARC/ARC. The HT-G700 will be available in Malaysia from September 2020 at Sony Stores KLCC & The Curve, Sony Store Online and Sony authorised dealers. Recommended selling price in Malaysia to be announced by September.For full product details of the HT-G700, please visit their site.


HealthMetrics Partners with InfinitiLab to Introduce Stamp & Go, a Free digital web solution to streamline contact tracing
With the recent extension of the Conditional Movement Control Order (CMCO) announced by Prime Minister Tan Sri Muhyiddin Yassin, business restrictions are being lifted gradually in an effort to jumpstart the country's economy. To help businesses adhere to the current safety guidelines from the National Security Council, HealthMetrics in collaboration with InfinitiLab, has introduced Stamp & Go, a contactless web-based solution which enables businesses to record the information of each person entering their premises to effectively track and trace movements, in the event of a new COVID-19 transmission.
To implement Stamp & Go, companies simply have to create their account and a QR code will be generated instantly. Compared to traditional online solutions which require app downloads for the end users, Stamp & Go users can utilize any available QR Code scanner on their smartphones, such as QR Scanner or WeChat, to scan the QR code displayed by businesses at their premises.  
While the government's requirement for businesses to record customers' information is both practical & necessary for COVID-19 contact tracing, there are also valid concerns by consumers regarding the misuse or mishandling of personal information by businesses. To address this, Stamp & Go ensures privacy protection by masking all personal data. Businesses will only be able to access recorded timestamps to ensure that each person who enters their individual premises are registered and all data will only be stored up to 60 days from the day of their visit. However, as part of the CMCO guidelines, the personal information will only be shared with health authorities should they require it to contact and trace potential COVID-19 cases. 
HealthMetrics and InfinitiLab both hope that with this initiative, businesses will be able to get back on their feet faster and in a safer, more systematic way as Malaysians work together to rebuild the country's economy. Should you have further inquiries on the solution, please reach out to contact.us@stampngo.cc.  (*do note that TechNave does not personally endorse this as it may have issues with digital privacy but it certainly sounds interesting)
SOCAR makes new partnerships
After rolling out their SOCAR Business Mobility plan barely a month ago to assist SMEs and delivery agents, SOCAR is now expanding their B2B business with their latest slate of partnerships. The new partnerships with e-commerce delivery partners Teleport, MrSpeedy, Lalamove and Pickupp are in line with the company's vision to empower Malaysians with more opportunities to generate income during the current economic uncertainty.
SOCAR Malaysia is partnering with Teleport, the logistics company of AirAsia as they expand their footprint regionally by providing mobility solutions for moving goods including fresh food, groceries, e-commerce parcels and even items such as medical aid. For those keen on becoming a delivery agent but do not have a vehicle, SOCAR is offering a special deal on the Perodua Axia, Perodua Bezza, Perodua Myvi, Proton Iriz and Kia Picanto in collaboration with Teleport in Klang Valley, Penang and Johor. To access this special promo, users would first need to sign up to be a delivery partner with Teleport. Users can apply through this link.
SOCAR Malaysia will also be partnering with MrSpeedy, a delivery platform, with mobility solutions by offering a variety of vehicles. With this new partnership, Malaysians would now be able to receive parcels and make deliveries with ease.
To further complement the delivery ecosystem, SOCAR will also be offering exclusive deals to Lalamove and Pickupp Delivery Partners for their bookings, where they can choose from 12 different car models, namely the Perodua Axia, Honda City, Honda Jazz, Honda BR-V, Toyota Vios, Toyota Rush, Perodua Myvi, Perodua Bezza, Perodua Alza, Proton Iriz, Volkswagen Polo and Kia Picanto.
All users that have made a SOCAR booking are entitled to free petrol worth 20km of mileage for each hour booked (capped at 240km for 12 hours booking). Users can also choose from hourly and daily bookings for a variety of cars ranging from Perodua Axia and Honda City to Volkswagen Polo and many more, available in over 1,000 locations.
To use SOCAR, download the app on the Google Play Store or Apple App Store and follow SOCAR's Facebook page for the latest updates.
I Synergy Group Extends RM30 million to SMEs and Malaysians
The COVID-19 pandemic has had devastating effects on the Malaysian economy, impacting smaller businesses and vulnerable groups such as lower-income individuals and workers into uncertain economic situations. Realising this circumstance, leading Malaysian services and solutions company, I Synergy Group (iSYNERGY) recently announced their very own Economic Stimulus Package 2020 worth RM30 million that will not only benefit small-medium enterprises (SMEs), Malaysians and aspiring entrepreneurs, but will also greatly assist the nation's adaptation to the "new normal" and accelerate the digitisation process simultaneously.
Given the current situation, businesses are seeking options and solutions to stay in operation. As such, an RM10mil stimulus is allocated for potential merchants to join iSYNERGY's universal retail loyalty program MY Smart Shopper (MSS) with free credits, where merchants will enjoy zero charges for a pre-set amount of MSS transactions depending on the merchant category.



Zoom 5.0 released with security enhancements such as AES 256-Bit GCM Encryption
Zoom Video Communications, Inc. recently announced robust security enhancements with the upcoming general availability of Zoom 5.0, adding support for AES 256-bit GCM encryption and providing increased protection for meeting data and resistance against tampering.
In related news, Zoom has acquired Keybase, a secure messaging and file-sharing service. New security features include:
AES 256-bit GCM encryption - System-wide account enablement will take place on May 30.

Control Data Routing: The account admin may choose which data center regions their account-hosted meetings and webinars use for real-time traffic at the account, group, or user level.

Security icon: Zoom's security features, which had previously been accessed throughout the meeting menus, are now grouped together and found by clicking the Security icon in the meeting menu bar on the hosts' interface.

Robust host controls: Hosts will be able to "Report a User" to Zoom via the Security icon. They may also disable the ability for participants to rename themselves. For education customers, screen sharing now defaults to the host only.

Waiting Room default-on: Waiting Room, an existing feature that allows a host to keep participants in individual virtual waiting rooms before they are admitted to a meeting, is now on by default for education, Basic, and single-license Pro accounts. All hosts may now also turn on the Waiting Room while their meeting is already in progress.

Meeting password complexity and default-on: Meeting passwords, an existing Zoom feature, is now on by default for most customers, including all Basic, single-license Pro, and K-12 customers. For administered accounts, account admins now have the ability to define password complexity (such as length, alphanumeric, and special character requirements). Additionally, Zoom Phone admins may now adjust the length of the pin required for accessing voicemail.

Cloud recordings passwords: Passwords are now set by default to all those accessing cloud recordings aside from the meeting host and require a complex password. For administered accounts, account admins now have the ability to define password complexity.

Secure Account Contact Sharing: Zoom 5.0 will support a new data structure for larger organizations, allowing them to link contacts across multiple accounts so people can easily and securely search and find meetings, chat, and phone contacts.

Dashboard enhancement: Admins on business, enterprise, and education plans can view how their meetings are connecting to Zoom data centers in their Zoom Dashboard. This includes any data centers connected to HTTP Tunnel servers, as well as Conference Room Connectors and gateways.

Additional: Users may now opt to have their Zoom Chat notifications not show a snippet of their chat; new non-PMI meetings now have 11-digit IDs for added complexity; and during a meeting, the meeting ID and Invite option have been moved from the main Zoom interface to the Participants menu, making it harder for a user to accidentally share their meeting ID.
To update your Zoom app to Zoom 5.0, please visit zoom.com/download
Mindvalley launches FREE Online Self Development Programme for Teens amidst Coronavirus Pandemic
Mindvalley is here to offer on a global scale it's teen-tailored online programme and it's absolutely free, beginning 29th April. The 10-day free programme, known as "Be Extraordinary for Teens", will take teenagers on a deep dive journey to find their life purpose. During the course, they will explore meditation, goal setting and life planning, and learn how to develop self esteem and a deep connection with their life purpose. The programme provides mentorship and guidance for them to achieve their goals and 'be their best', even at a young age in both their personal and academic lives.
Along with the launch of its free programme online for teens, Mindvalley is also deeply focusing on expanding it's teen programmes by partnering with schools all over the world, with a vision of helping students shape their mindsets at a younger age, and to ultimately become more independent thinkers. The Mindvalley for Schools curriculum is specially designed for teenagers and students, and all 'Quests' are linked to special skills that teenagers may develop in and out of the classroom. This new type of learning is unlike conventional education, which is often more textbook-focused. Mindvalley programmes guide students on how to use their brains more effectively, improving memory retention, learning the power of their voice and speaking their truth, all whilst making important career and life decisions to guide them in achieving more in their academic and personal lives.
For information on Mindvalley for Schools, please visit their site.
Catch Space Force on Netflix this 29 May 2020
A decorated pilot with dreams of running the Air Force, four-star general Mark R. Naird (Steve Carell) is thrown for a loop when he finds himself tapped to lead the newly formed sixth branch of the US Armed Forces: Space Force. Skeptical but dedicated, Mark uproots his family and moves to a remote base in Colorado where he and a colorful team of scientists and "Spacemen" are tasked by the White House with getting American boots on the moon (again) in a hurry and achieving total space dominance.
From co-creators Carell and Greg Daniels (The Office), SPACE FORCE is a new kind of workplace comedy, where the stakes are sky high and the ambitions even higher. John Malkovich, Diana Silvers, Tawny Newsome, Ben Schwartz also star, alongside co-stars Lisa Kudrow, Jimmy O. Yang, Noah Emmerich, Alex Sparrow and Don Lake. Howard Klein/3Arts (The Office) serves as executive producer, as well. Check it out at www.netflix.com/SpaceForce.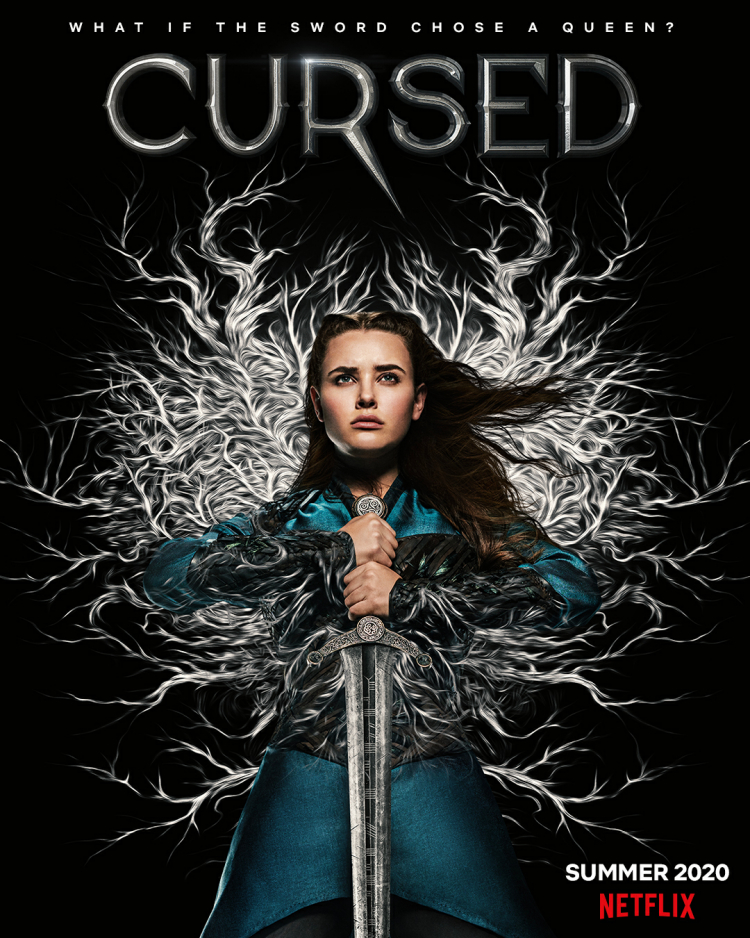 Also to be watched on Netflix is a different perspective on the tale of King Arthur, this time from the woman destined to be the Lady in the Lake. Based on the New York Times bestselling book, Cursed is a re-imagination of the Arthurian legend, told through the eyes of Nimue, a young woman with a mysterious gift who is destined to become the powerful (and tragic) Lady of the Lake.
After her mother's death, she finds an unexpected partner in Arthur, a humble mercenary, in a quest to find Merlin and deliver an ancient sword. Over the course of her journey, Nimue will become a symbol of courage and rebellion against the terrifying Red Paladins, and their complicit King Uther. Cursed is a coming-of-age story whose themes are familiar to our own time: the obliteration of the natural world, religious terror, senseless war, and finding the courage to lead in the face of the impossible.
Kaspersky study reveals that half of employees watch adult content on the same devices they use for working from home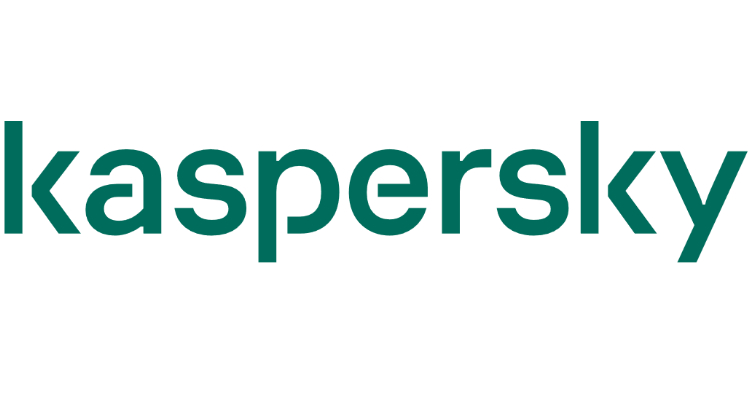 As social distancing measures become common and workers adjust to their new professional environments, even from their own living rooms, there is potential for private and working life to blur into one. In fact, half (51%) of those working from home who started to watch more adult content admit they did so on the same devices they use for work-related purposes. This is just one of the key findings from Kaspersky's new How COVID-19 changed the way people work report.
The 'new normal' that workers are now facing is starting to have an impact on their work-life balance. Nearly a third (31%) of workers said they are spending more of their time working than they did before. However, 46% said they have increased the amount of time they spend on personal activity. This particular change may have come about because workers are now not having to commute or travel as much than they were before.
The report also revealed that it has become harder for workers to separate working and personal activity, especially when it comes to IT. Worryingly for businesses, 51% of workers who admit they have started watching more adult content since working from home, say they have done so on devices they use for work-related purposes. Nearly a fifth (18%) of workers even do this on devices provided to them by their employers, with 33% admitting to watching adult content on their personal devices that they also use to do their work.
Additionally, 55% of workers say they are reading more news now than they were before they started working from home. While this is understandable because people will want to stay updated with the latest coronavirus developments, 60% of this activity is done on devices that are used for work. This can though potentially lead to malware infections if employees do not pay attention to the resources and websites they visit.
Workers are also developing a habit of using their personal services for working purposes – increasing the potential risks from shadow IT, including the disclosure of sensitive information. For instance, 42% of employees use personal email accounts for work-related matters, and 49% admit their usage has increased when working from home. 38% use personal messengers that have not been approved by their IT departments, with 60% of them do it more often in their new circumstances.
To ensure businesses do all they can to keep their employees and corporate data safe, Kaspersky recommends employers follow these measures:
Schedule basic security awareness training for your employees. This can be done online and cover essential practices, such as account and password management, email security, endpoint security. Kaspersky and Area9 Lyceum have prepared a free module to help staff work safely from home

Ensure devices, software, applications and services are kept updated with the latest patches

Install proven protection software, such as Kaspersky Endpoint Security Cloud, on all endpoints, including mobile devices, and switch on firewalls. Any solution used should include protection from web threats and email fishing
For workers and users at home who have to work from their personal devices, Kaspersky advises:
Using a reliable security solution, such as Kaspersky Security Cloud, for comprehensive protection from a wide range of threats.

Only downloading educational and entertaining content strictly from trusted sources
For more information about the impact working from home has had on workers and to read the report in full, visit their site.


Tune Protect offers RM1 million COVID-19 aid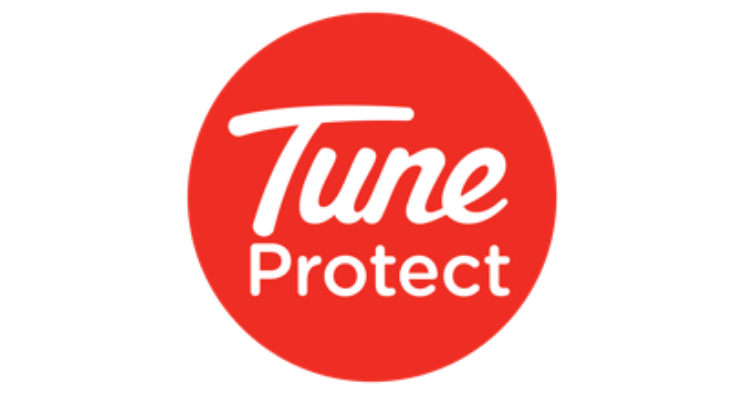 Tune Protect Malaysia recently announced the Tune Protect Cares - COVID-19 Aid (COVID-19 Aid) – a RM1 million pledge in the form of a compassionate pay-out that will be made available for their individual policyholders, employees, registered agents and their immediate family members.
The COVID-19 Aid is a compassionate pay-out of RM5,000 that is made available for individual policyholders of Tune Protect's personal line protection plans, employees, registered agents as well as their immediate family members in the event of their untimely demise due to COVID-19. This compassionate pay-out takes immediate effect up to 31st December 2020, or until the pledged amount is fully exhausted, whichever comes first. For Tune Protect policyholders, all other existing coverages under their respective protection plan remain unchanged.
In March 2020, Tune Protect rolled out several relief measures under the 'Tune Protect Cares - COVID-19 Support & Relief Measures'. It includes a sum of RM250 subsidy to cover the cost of the COVID-19 tests, without any additional premium, as well as coverage of treatment and hospital expenses incurred due to a COVID-19 infection within Malaysia for our individual medical plan policyholders. Tune Protect has also automatically extended the coverage for several of their personal insurance products that expire within the Movement Control Oder (MCO) period, so that customers are financially protected from any incidents during this period.
At an industry level, Tune Protect is also participating in the special COVID-19 Test Fund (CTF) of RM8 million which is jointly funded by the insurance and takaful companies through their respective industry associations. In support of the Ministry of Health's efforts to conduct more COVID-19 tests, this special fund will cover the costs incurred for screening of up to RM 300 per person for medical plans policyholders and takaful certificate holders to undergo tests at private hospitals or laboratories.
For more information, please visit their site.
Yoodo Gank - Local esports team beats regional competition to represent Malaysia internationally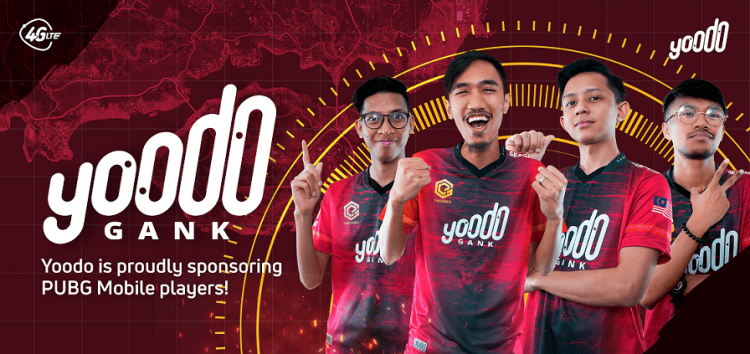 Yoodo, recently announced that their PUBG MOBILE esports team - Yoodo Gank clinched the top prize during the PUBG MOBILE Pro League (PMPL) 2020: Southeast Asia, walking away with the title of best in Southeast Asia.
The team gunned down the competition garnering a 284 points total and walking away with 170,000 in prize money. They will now represent Malaysia at the World League - going against the best teams from around the world for the ultimate crown.


Resurgence crowned champions of the Mobile Legends: Bang Bang Professional League MY/SG Season 5
The fifth season of the Mobile Legends: Bang Bang (MLBB) Professional League Malaysia and Singapore Season 5 (MPL-MY/SG S5), with Yoodo as its official digital telco, came to an end yesterday with Singapore's Resurgence taking the championship after beating Malaysia's Geek Fam 3-1 in the Grand Final of the Playoffs. Resurgence takes home US$25,000 (RM107,000) in prize money while their MPL-MY/SG veterans, Lim "ly4ly4ly4" Yang, Jason 'Jason' Koh Wei Hao and Ho "SynC" Ee Hong become the first-ever two-time MPL champions.
Happening over the Labour Day weekend from 1st - 3rd May 2020, eight of the best MLBB teams in Malaysia and Singapore battled it out for the top spot in the fifth season of Malaysia and Singapore's premier MLBB championship. With Resurgence and Geek Fam bagging first and second place of MPL-MY/SG S5, the third and fourth spots went to Malaysia's Orange Esports Reborn and Singapore's defending champions EVOS SG respectively. The fifth and sixth place went to Team Bosskurr and Todak, while seventh and eighth went to Axis Esports and Team SMG.
Malaysians place 1st and 3rd in Forkwell.io Online Coronavirus Hackathon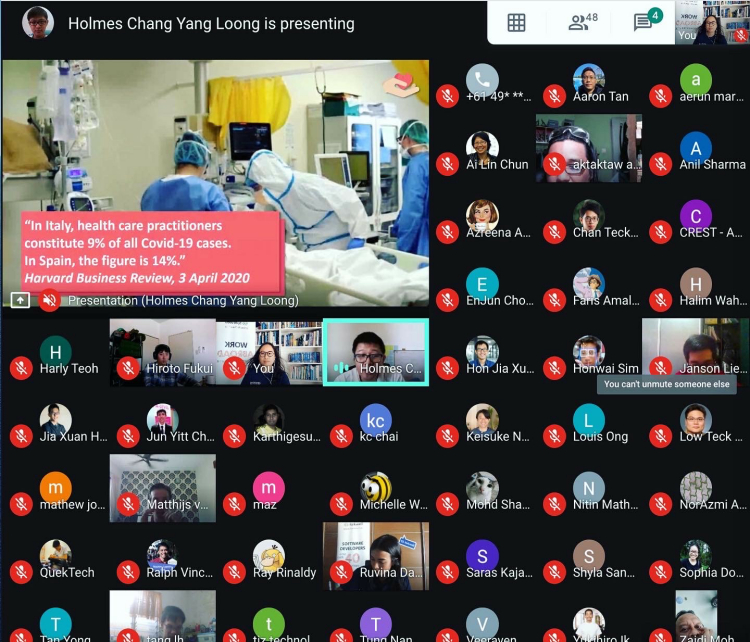 In March 2020, Forkwell.io, a tech hiring platform created under Grooves, hosted an online hackathon to help find solutions using technology to combat the COVID-19 pandemic. This competition saw participation from teams of data scientists and software developers from around the world. The top three teams, with a Malaysian team in first and third place, won prizes worth up to USD 4000 (around RM 17,000).
The two-week hackathon gathered 493 participants (88% were software developers and data scientists), 17 domain experts in virology, bioinformatics, AI and big data. Participants came from 32 different countries, making up 412 teams and contributed 91 submissions. The hackathon had tremendous support from Microsoft, Malaysia's Digital Economy Corporation (MDEC), Sunway iLabs, Collaborative Research in Engineering, Science and Technology (CREST) and Runcloud. The findings, analysis and outcomes of the hackathon will be shared by Forkwell.io with the Ministry of Health (MoH) to strengthen our fight against COVID-19, via avenues facilitated by MDEC.
The first winner was a one-man team called Co-Make. As the pandemic spreads, frontliners are at risk of being infected with COVID-19 as there is a lack of personal protective equipment (PPE). As a result, community 3D manufacturers have been volunteering their 3D printing services to make some of the parts required to fabricate PPE. Co-Make created a platform which allows frontliners to request for PPE equipment such as face shields from this manufacturing community. 3D manufacturers are also able to raise donations from the public to purchase materials required to supply the safety equipment to the frontliners. Co-Make, also known as Louis Ong, even created a way to use augmented reality to personalize the experience.
The first runner up was team Eureka, with members from Sri Lanka, Australia and Indonesia. They developed a mobile app to keep users up to date with relevant statistics in addition to tracking their location. By tracking user location, they were able to automate the process of contact tracing, which is a method of identifying people who have been in close proximity to infected individuals. While this has been done manually until now, it has proven to be costly and inefficient for the rapidly spreading virus. Users are also able to view all confirmed coronavirus cases on a map, get access to latest statistics and news updates regarding COVID-19, and stand a chance to be rewarded for adhering to government quarantine regulations.
The third winner was team "TaoFuFa", a group of artificial intelligence students from University Teknikal Malaysia Melaka (UTeM), who challenged the topic on drug discovery. The team used AI methods (Deep Learning and Genetic Algorithm) to allow a computer to generate drugs compositions that it thinks are suitable. They fed 45,000 samples of drug molecules then simulated them against the coronavirus. The results were fed into the computer to allow it to know what was suitable and fit. This could be revolutionary in the medicine world, as it enables automation towards drug finding. The time and personnel required for drug finding can be reduced significantly and also reduces the researchers' exposure to the virus, therefore it reduces risks while saving the world's precious talents.
The hackathon encouraged participants to team up, curate and share solutions aimed at effectively diagnosing and treating the coronavirus. They were able to make valuable contributions towards developing a better understanding of factors that impact the spread of COVID-19.
Governments and healthcare systems are working endlessly towards finding solutions to the disease, to protect their people and save the economy. However, the realization is that software developers and data scientists can contribute tools and solutions to help prevent, track or predict the virus in order to save lives.
Huawei Cloud AI works with Hexa Food spices for IoT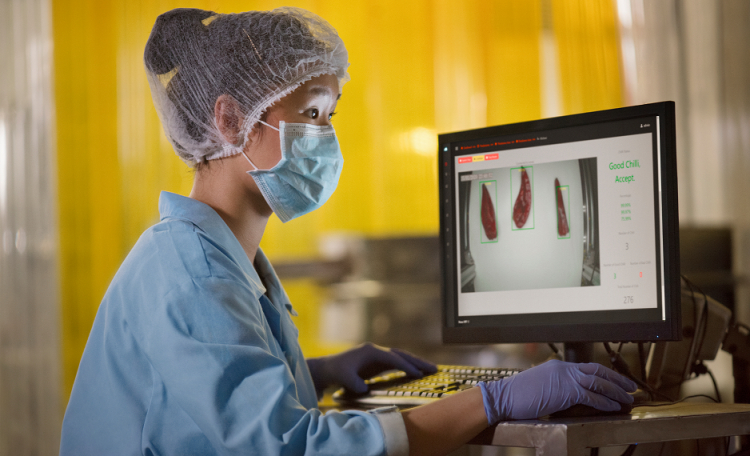 Hexa Food's IoT team has deployed Huawei's ModelArts coupled with the intelligent device Atlas 500 to accurately identify the quality of the chilies it uses in spice blends. The AI can distinguish good chilies from bad, improving production efficiency and the quality of spices available to chefs and homes across Malaysia.
The quality of chilies determines the flavor of the spice blends that produce chili powder. Hexa Food believes that good spice blends can only be made from outstanding ingredients, so sorting raw materials is a priority for the company.
Hexa Food has been producing herbs, spices, and seasonings since 2007. Staff spend much of their time attempting to differentiate between good and bad chilies, selecting only the best ones to add to spice blends. However, sorting chilies like this is both labor- and time-intensive and, with subjectivity in the mix, leads to inconsistent quality.
To remain competitive, Hexa Food has already embarked on the digital transformation journey, setting up an online concept store and establishing an IoT team to study how to apply AI, big data, and IoT to intelligent production. The IoT team has built and trained a chili identification model on the ModelArts platform, with the Atlas 500 deployed at the edge. The Atlas 500's image recognition technologies can quickly and accurately identify chili quality, distinguishing good from bad, and improving production efficiency and the quality of spice blends. The solution provides the following functions:
Provides intelligent AI-powered sorting, which eliminates errors in manual sorting and improves efficiency by 50 percent. With the auto-learning capability of ModelArts, developers with little coding or model development experience only have to perform one step in the AI development process.

Simultaneously processes 16 video streams at the edge to analyze chili appearance and quality. The Atlas 500 integrates multiple data interfaces and can achieve edge-cloud synergy with Huawei Cloud. The training models are sent from the cloud and updated at the edge in real time.
For Hexa Food, the AI distills human experience and the traditional recipes of Malaysia's unique food culture to ensure maximum quality. Currently, Hexa Food provides high-quality spices for customers such as Giant, Tesco, AEON BiG, LIFE, and MISSION, and as a result of its noted quality, recently won second place in Malaysia's prestigious Enterprise 50 (E50) awards.
AI will continue to ensure that the company remains a major player in Malaysian cuisine.



Xiaomi's worldwide smartphone shipments rise YoY
Xiaomi's worldwide smartphone shipments rose 9% year-over-year (YoY) in the first quarter of 2020 to 30.2 million units, maintaining its ranking at No. 4, according to the latest report by research body Canalys on May 1st. The YoY increase of Xiaomi is also the fastest among all major smartphone manufacturers across the world.
In the same period, the global shipments dropped 13% YoY to 272 million units due to the ongoing COVID-19 pandemic.
Currently, Xiaomi holds a cash reserve of RMB66 billion, (approx. RM40 billion / SGD13 billion) keeping a healthy and abundant cash flow. In the meantime, the company is continuously expanding into various financing channels to further vitalize its business operations.
Thanks for your continuous support of Xiaomi. #NoMiWithoutYou
UTAR Students Learn From Home with YTL Foundation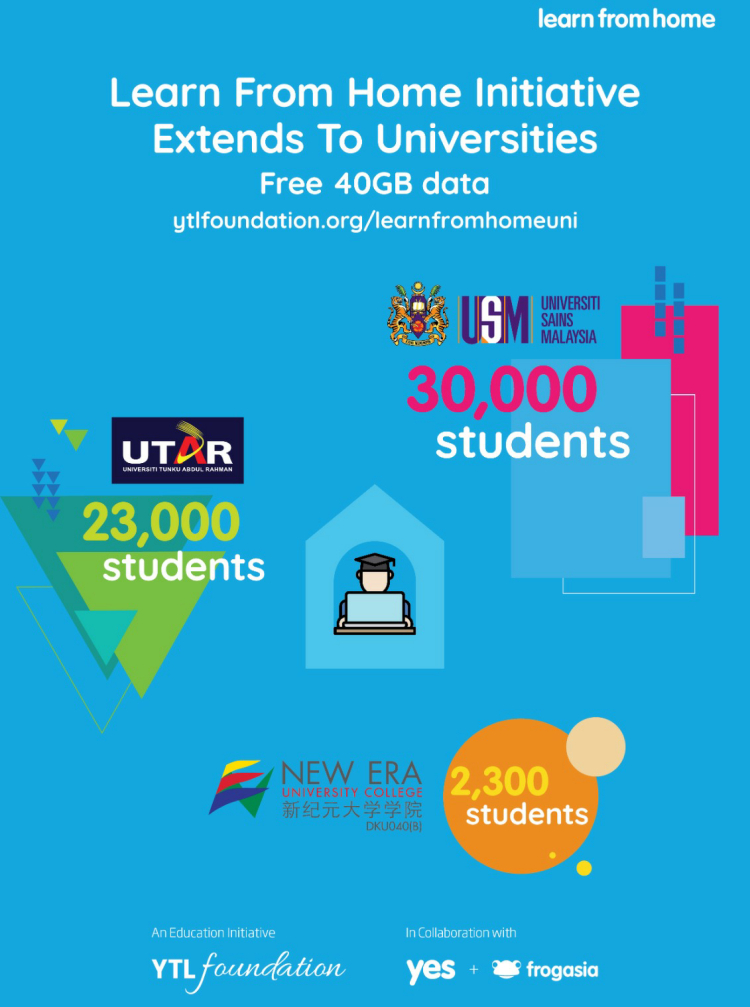 Universiti Tunku Abdul Rahman or UTAR students are the latest beneficiaries of YTL Foundation's Learn From Home Initiative. Like all other tertiary institutions in the country, its 23,000 students from its two campuses in Sungai Long and Kampar are currently having to attend lectures and complete assignments online whilst staying at home.
The university therefore approached YTL Foundation for assistance to help its students cope with remote online learning during the temporary closure of the university due to the Movement Control Order.
From today until 31 May 2020, students from UTAR can apply for the free Yes 4G prepaid SIM cards at www.ytlfoundation.org/utar. Each student is entitled to one free SIM card only. The SIM card will be delivered to the student's address.
YTL Foundation also announced that the free Yes 4G SIM cards will soon be made available to students from New Era University College.
Parents with children in government schools and independent Chinese Secondary Schools as well as students in Universiti Sains Malaysia (USM) can also visit www.ytlfoundation.org/learn to apply for the free Yes 4G prepaid SIM cards and to register for the FrogPlay Mobile revision quiz app and lessons in English, Mathematics and Science for students from Standard 1 to Form 5. For regular updates on the initiative, check out their Facebook page.


Special: At Home with Galaxy: Tips for All Ages on How to Learn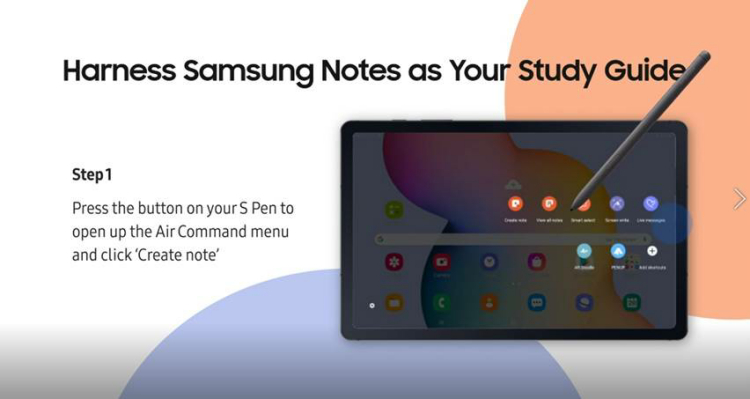 When studying at home, sometimes the motivation to finish the project or reading assignment can remain elusive. This is why having the right tools and resources by your side is crucial to fostering productive studying experiences, no matter what learning stage you are at.
Stay Organized, Stay Productive

A universal trick for making the most out of your study time is to stay organized, and your Galaxy Tab1 can help you achieve that.

What makes Samsung's range of tablets your perfect study companion is that they come with a variety of apps that can help you achieve your study goals. With Samsung Notes on your Galaxy Tab S6 Lite, you can take instant digital notes when listening to an online lecture or studying from a textbook, either using the keyboard or the intuitive handwriting capability of the S Pen. You can even instantly convert the text you have handwritten with your S Pen into typed text. For those sudden bursts of inspiration, just a single click of the S Pen's body will open up a menu onscreen to let you create a new Note.

For those who prefer more creative methods of learning, you can make use of the wealth of study videos available on the YouTube app – Galaxy Tab S6 Lite users can even enjoy ad-free YouTube videos with four months of free YouTube Premium2. To help you stay on top of assignments, Galaxy tablets also support a full host of apps to keep you connected to your school emails and other notifications, and all your Samsung Notes can be exported as PDFs, JPEG images, text files or Microsoft Word documents for utmost convenience. Furthermore, for those who need that perfect playlist to stay productive, Samsung has partnered with Spotify so that you can make the most out of the app and all your favorite playlists while studying.

Study Together, Even When Apart

While learning from home does mean learning in comfort, it can make reaching out and asking a coursemate a question that little bit trickier. But with your Samsung device, you can set up a remote group study session with Google Duo to help keep everyone motivated.

Galaxy Z Flip and Galaxy S20 users can enjoy an optimized Google Duo experience when studying remotely with others. As well as having Google Duo integrated straight into their device's dialing menus, Galaxy Z Flip and Galaxy S20 users can enjoy, for the first time ever, FHD quality on their video calls with up to eleven other users at once – bringing the study room experience straight to your smartphone.

With voice-only or video call functionality, the options are wide open when you are looking to create a group to study with – or just to hang out with. Thanks to the wide-angle mode on the Galaxy S20 and Galaxy Z Flip, you'll always be able to get everyone in the frame.

Learning for All Ages

There is no age limit to learning. Young or old, everyone needs to be constantly stimulated when at home. For those younger members of your household, your Galaxy device comes with a specially designed interface to keep them entertained and curious on your terms: Samsung Kids.

By sliding down the Quick Panel on your device, you can easily redirect to Samsung Kids. The password that you set up when first using the app also prevents over-curious little users from exiting back to the main tablet menu without your knowledge3. Samsung Kids provides access to a range of learning apps, all packaged in a child-friendly UX so that they can easily explore, learn and get creative.

With apps such as My Art Studio, Lisa's Music Band and Crocro's Friend Village, children are guided by fun characters that also impart important lessons, such as the importance of brushing your teeth. With apps like My Browser and My Phone that offer features a mobile device normally would, you have full control over what content your child can access, and a pin-protected Parental control mode accessible at the top right corner of the app lets users monitor activity, screen time and even set activity locks or time limits.

Samsung Kids provides children with all the benefits of a connected, multifaceted mobile device with all the safety you want for your children. Samsung Kids is available across all Samsung smartphones and tablet devices, meaning any Galaxy user can harness its easy functionality for learning as well as playing – all from the comfort of your own home.

With its helpful range of connectivity, communication and productivity features, your Galaxy device can help make your home learning sessions as valuable – and as enjoyable – as possible

For more information, visit www.samsungmobilepress.com, news.samsung.com/galaxy or www.samsung.com/my.
Thanks for reading folks. As always, if you think your brand or PR should be included in the next TechNave NewsBytes 2020, do let us know. All the best and stay tuned to TechNave.com