TechNave NewsBytes 2020 #12 - Maxis Hari Raya, Celcom, Samsung Tips, Digi CXO, Google AR in Search, Shopee, HP Foundation, Micron, Kaspersky, Epson, Fave + Facebook, Snapchat, 5 ways Huawei P40, Boost, AMD, Special: LG OLED TV and Netflix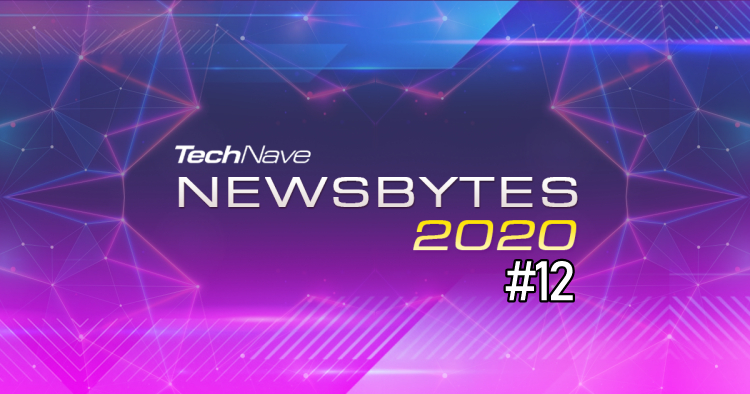 Selamat Hari Raya Aidilfitri folks, this TechNave NewsBytes 2020 #12, Maxis have a new twist to their Hari Raya campaign while Celcom are also offering free essentials for Raya as well. Digi are looking for their new CXO Apprentices, Google wants you to try Augmented Reality or AR in Search while Shopee weighs in on the New Norm. HP Foundation is also offering COVID-19 help, Micron announces new value SSDs and Kaspersky reveals more interesting security facts.
Epson projectors maintain their #1 position while Fave and Facebook are offering eGift cards to help businesses during this MCO. Snapchat has come out with new lenses while Huawei revealed 5 ways to stay cool with the Huawei P40 series.
Boost is also offering some more help for merchants during the CMCO while AMD is being used in NVIDIA's latest supercomputer setup. This time around we have a Special from LG OLED TVs and their Top Netflix to watch for those stuck at home.
Maxis Hari Raya campaign launches with a twist during these interesting times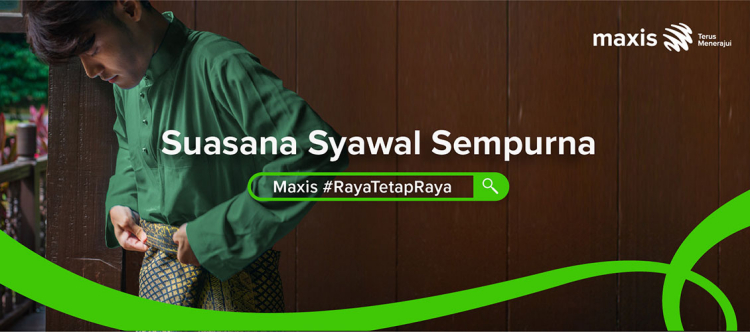 Even in the face of adversity, there is nothing that can break the festive spirit of Malaysians. This Raya, Maxis reminds us of this spirit of celebrating the perfect Hari Raya with the launch of its full campaign film. The film combines its first ever 8D Audio film launched earlier this week, called Suasana Syawal Sempurna featuring the voice of young Haziq, with scenes of real-life Malaysian festive stories from the past and present.
The images in the film, now accompanying the 8D Audio narrative, show that Malaysians have experienced imperfect Hari Raya circumstances before – from natural disasters and distanced loved ones, to underprivileged and unexpected locations – yet have had joyous, perfect celebrations.
Maxis is also aggregating positive, real-life Malaysian stories during this Raya period, in collaboration with our media partners, to be featured on the Raya campaign's microsite as a source of daily inspiration. The amplification of these stories are a reminder of the tenacity and spirit that is within all of us even in challenging times, and that we can celebrate Raya with a full heart because #RayaTetapRaya.
Joining forces with Astro and other partners, Maxis also helped distribute 9,000 packets of Bubur Lambuk to frontliners and communities in need across locations in Kuala Lumpur and Klang Valley to keep Ramadan traditions going during the Conditional Movement Control Order (CMCO).
For more information, visit www.maxis.com.my/rayatetapraya #RayaTetapRaya
Celcom offers free daily essentials to help celebrate Raya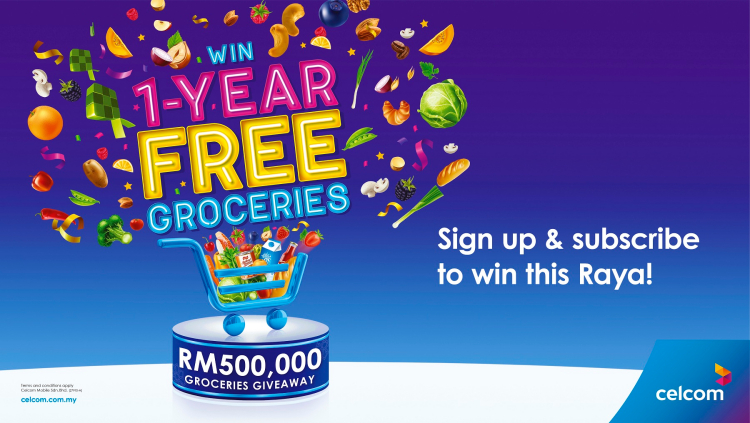 Celcom Axiata Berhad's (Celcom) dedicated effort to support all Malaysians during the COVID-19 pandemic continues with a unique opportunity for customers to win one-year free groceries from a cash pool worth RM500,000! During this year's holy month of Ramadan and upcoming Aidilfitri, Malaysians can celebrate these special festivities differently, creatively and gain more with Celcom as the telco offers a unique chance to win daily essentials for free!
Beginning 12 May 2020 until 31 July 2020, all Celcom Xpax prepaid and eligible Celcom postpaid customers can stand a chance to win ONE-YEAR FREE GROCERIES from a total of RM500,000 worth of groceries to be given away.
To participate and earn entries, Celcom customers simply need to conduct transactions such as purchase Internet passes, register for a new plan, pay bills and many more. These transactions may be conducted online or at any Celcom bluecube outlet and Celcom certified partners. Throughout the contest period, the more transactions customers perform on their active accounts, the higher their chances are of winning.
To ensure winners have total freedom in redeeming groceries nationwide, winners will receive Boost e-wallet credits in their Boost accounts. Weekly winners will enjoy RM100 worth of grocery credit and one-year winners will receive RM1,000 grocery credit for 12 consecutive months, within the Boost App.
Celcom customers are able to check their accumulated entries via Celcom Life app. Winners will be determined based on the entries collected every week (Monday to Sunday) for One Week Prizes and every month (May, June and July) for the One Year Prizes. The list of winners will be announced at Celcom's Raya campaign page or notified via Celcom Life app.
Furthermore, celebrating the festive spirit of Ramadan and Raya, all Celcom customers can continue to enjoy FREE Unlimited access to WhatsApp until 30 June 2020, and the ability of working from home with free unlimited access to Microsoft Office 365 applications until 9 June 2020 respectively. In addition, starting 12 May until 30 June 2020, Celcom customers can also enjoy FREE unlimited access to MuslimPro, an Islamic mobile app with accurate prayer time, azan clock, full audio Quran, Halal restaurants & Mosques guide, Qibla locator, Islamic Hijri calendar, etc. MuslimPro is available on the App Store (iPhone), Google Play (Android), BlackBerry World and website at www.muslimpro.com.
Idham Nawawi, Chief Executive Officer of Celcom Axiata Berhad said as Malaysians are adjusting and coping through these challenging times, Celcom offers its customers with more exciting and unique opportunities for them to celebrate this Ramadan and Raya differently and creatively.
Celcom will be making more announcements in the coming days, and customers can visit their website at www.celcom.com.my or Celcom's Facebook and Twitter, for the latest updates and offerings.
Samsung offers Tips for Keeping Your Smartphone Clean
Just as thorough hand-washing and other hygienic practices have become key aspects of our daily lives, keeping our smartphones clean should also form a key part of our self-sanitation routines – given how much we interact with our mobile devices.
Here are some of Samsung's suggestions on how you can continue to use your smartphone and stay hygienic:
Do not use general cleaners, compressed air sprays, or disinfectant and bleach-based products
Fully power down your device and remove its case, cables, and other accessories
Use a lint-free microfiber cloth to wipe down the exterior of the device
If needed, use a small amount of distilled water or disinfectant, such as a hypochlorous acid-based (50-80ppm) or alcohol-based (over 70% ethanol or isopropyl alcohol) product – but always apply these to your microfiber cloth, not directly to your phone, and be sure to avoid getting any liquid in your phone's openings
Dampen your cloth with disinfectant and gently wipe the front and back of your device to cleanse it
Find out more here.
Digi invites young Malaysian talents to join its CXO Apprentice Programme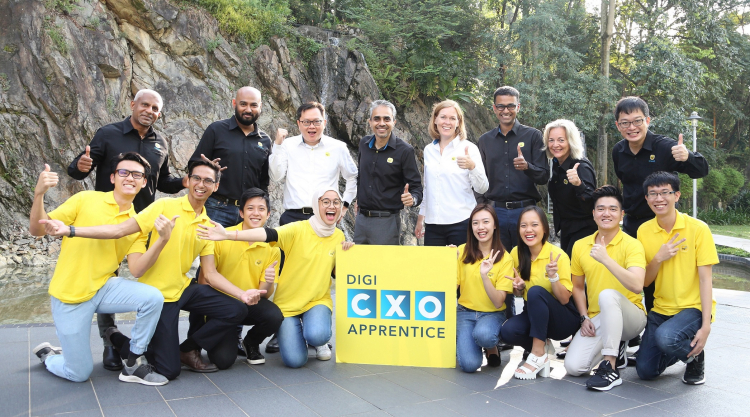 Digi Telecommunications Sdn Bhd (Digi) is calling for digitally-savvy and innovative young Malaysians to join its exclusive annual CXO Apprentice Programme.
Now in its fifth year, the programme is designed to inspire the next generation of leaders by empowering them with a unique and transformative experience of being mentored directly by Chief Officers (CXOs), while working at a leading and progressive digital company.
A handful of young Malaysians will be selected for a once-in-a-lifetime career opportunity to be tagged as an Apprentice to one of Digi's eight CXOs for a year, namely the Chief Executive Officer, Chief Financial Officer, Chief Technology Officer, Chief Marketing Officer, Chief Business Officer, Chief Corporate Affairs Officer, Chief Human Resource Officer and Chief Digital Officer.
Throughout the programme, the Apprentices will get unprecedented exposure as they shadow and are mentored by the CXOs, having front-row seats to high-level decision-making. Along with it will be plenty of opportunities to participate in high-impact projects across different business areas, providing them an accelerated journey of learning and personal growth, as well as an in-depth understanding of Digi's purpose, strategy and way of work. Upon completion of the programme, Apprentices can look forward to getting a placement within the company based on their interests, skills and expertise.
The Apprentices will be selected via a robust digital-based assessment process, including the first virtual assessment centre. The new virtual assessment tools are designed to incorporate elements of teamwork and competition to bring out different strengths of the candidates, while also giving them the platform to showcase what they can do independently.
The comprehensive assessment process aims to evaluate a candidate's interpersonal skills, personality and cognitive abilities, which will then help the recruiters in assigning them to the right mentor and projects based on their strengths.
Digi welcomes individuals from all backgrounds and degrees, as the company believes in having diversity of thoughts within its workforce, in order to address the needs of its diverse 11 million customer base. A minimum CGPA score is not a requirement for this programme as Digi values strengths in other experiences such as extracurricular activities that contribute to shaping well-rounded competencies and personalities. All in all, an outstanding candidate is recognised by the attitude, confidence, energy and drive that he or she brings to the table.
Throughout the years, graduating CXO apprentices have been moved into key roles within the company, with several citing their experiences in the programme as having a positive impact on them as individuals and employees.
Digi CXO Apprentice Year Five 2020 Key Dates
Applications for 2020 are now open and will close by 7 June 2020.

June-July: Shortlisted candidates will be invited to participate in a comprehensive online assessment and in live video interviews.

The Apprentices will be selected by end-July and begin apprenticeship in September.
Who should apply?
Final-year university students completing their final semester with a bachelor's degree, or fresh graduates who have worked for less than a year from any background

Open to Malaysians only

Communicate well and with confidence

Possess the drive to become a game-changer

Have the will to win and a desire to overcome challenges

Possess a collaborative attitude

Able to reason out issues and solve problems

Want to work in an agile, leading digital company

Innovative and tech-savvy
For more on Digi CXO Apprentice Programme and to apply, visit www.digi.my/cxoapprentice.
Make at-home learning more fun with 3D and AR in Search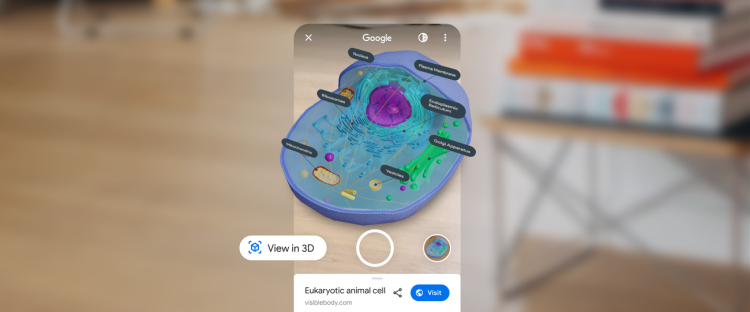 Augmented reality (AR) in Search lets you bring 3D objects and animals into your space so you can turn your living room into a virtual zoo, explore the Apollo 11 spacecraft up close, or take a picture with Santa. We love seeing how much fun families are having with this experience at home. AR in Search can also help you discover and explore new concepts. Here are a few new ways you can use AR (and a little imagination) to learn at home.
It's one thing to read about the human heart, and another to see one up close to understand how it pumps blood to provide oxygen. We're partnering with BioDigital so that you can explore 11 human body systems with AR in Search on mobile. Search for circulatory system and tap "View in 3D" to see a heart up close or look up skeletal system to trace the bones in the human body and see how they connect. Read labels on each body part to learn more about it or view life-size images in AR to better understand its scale.
Seeing is often understanding. But tiny organisms, like cells, are hard to visualize unless you can magnify them to understand what's inside. We've partnered with Visible Body to create AR models of animal, plant and bacteria cells, including some of their key organelles. Search for animal cells and zoom into its nucleus to see how it stores DNA or search for mitochondria to learn what's inside it. With AR, you can bring a 3D cell into your space to rotate it, zoom in and view details about its different components.
Many museums may be closed right now, but with Google Arts & Culture and institutions like the Smithsonian National Air and Space Museum, you can turn your home into one using AR. Search for Apollo 11 on your phone to see its command module in 3D, look up Neil Armstrong to get a life-size view of his spacesuit, or step inside the Chauvet Cave to get an up-close look at some of the world's oldest known cave paintings, which are usually closed off to the public.
To help you quickly explore related content, we're rolling out a new carousel format on Android, as well as a recording option to share social-worthy AR videos with friends and family.
We hope that you enjoy exploring all of these 3D and AR experiences on Google. Tag us on social with #Google3D and let us know how you're using AR to learn and explore new things in your home. We can't wait to hear where your imagination takes you next!


Shopee on returning to the (New) Norm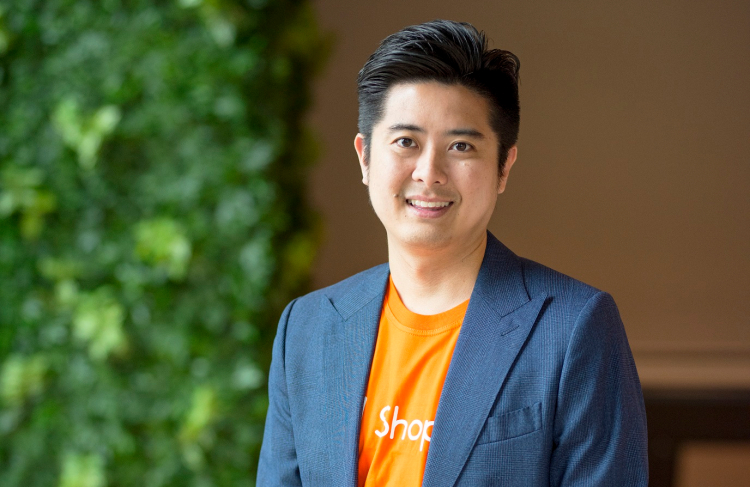 Over 32 million Malaysians are affected by the Movement Control Order (MCO) introduced on March 18 in a quest to control the spread of COVID-19. This directive has brought about a new normal even in the world of retailing that according to Shopee, is here to stay. With consumers fully embracing e-commerce, businesses across industries are seen to be pushing boundaries and accelerating their digital presence.
Shopee has observed new shopping preferences among Malaysian consumers as e-commerce becomes more important in their everyday lives. Consumers are spending an average of 20% more time on Shopee a week, reflecting an increasing reliance on e-commerce, which provides users one-stop access to everything, including entertainment. Groceries and Pets, Gaming and Consoles, and Home Appliances are highly sought after by consumers as they search for daily essentials, household necessities and games for the family to enjoy together at home. Brands and sellers have benefited from this increased demand, with those offering instant food and baking supplies recording 60 times more orders respectively than the same period last year.
In recent months, shopping activities on Mondays & Tuesdays have increased - showcasing the preference among Malaysians to shop earlier in the week. Shopee has also seen an increase in social interactions on its platform with over 3 million messages sent daily on average as consumers interact directly with brands and sellers to check on prices, stocks, delivery speed and more.
The current situation has also compelled businesses to explore new strategies to engage with consumers and continue facilitating trade. This has not only led to strong e-commerce adoption amongst local SMEs but has also unlocked new market segments for the e-commerce industry.
New potential: For instance, selling and buying fresh produce such as fish, chicken, beef and even durians on e-commerce platforms was almost non-existent just as recent as last year. However, in April alone, some 1,000 fresh and frozen sellers, including farmers and fishermen, started selling on Shopee. Shopee found that many of the sellers that offer a strong enough assortment of more than 20 types of products in their stores could generate monthly sales of up to RM100,000.
Personalising virtual connection: Shopee has also observed that the number of Shopee Live streams from brands and sellers have increased by 70 times since the virus outbreak as they look for a more personal approach to connect to consumers virtually. A new-to-Shopee seller, Deep Sea Fishery Kingdom sold RM1,200 worth of seafood in minutes during its first-ever live stream. Shopee expects the trend to sell and buy via live streaming will gain greater popularity as witnessed in countries like China.
Digital bazaars: The cancellation of Ramadan bazaars have affected the income of thousands of micro traders who depend on these bazaars to make a living. To help them sustain their incomes and livelihoods, several State Governments such as Selangor and Perak have commissioned Shopee to bring these sellers online to market products including Raya cookies and snacks, baju Raya and home decoration items via dedicated microsites. These initiatives include the Selangor E-Bazar Raya and Raya bersama PKNS, as well as the S.M.A.R.T Niaga@Perak.
Seizing opportunities: Additionally, the RM15 million Shopee Seller Support Package that provides support in funding, subsidies, education and marketing to boost sales, reduce operational costs and facilitate sustainable growth have seen to greatly benefit the business community. The Package has attracted the participation of more than 70,000 local businesses from micro, small, and medium to even large enterprises and corporations be it from the fast-moving consumer goods sector to fashion and apparel, electronics and more. This signals the swift response by the seller community to the available options that would help sustain their businesses. Contrary to the belief that all is bleak, these businesses are seen to be enjoying an uplift to their store's performance even during the MCO.
HP Foundation contributes RM2.17 million to support Malaysia's fight against COVID-19

The HP Foundation has contributed RM2.17million (USD 500,000) to Mercy Malaysia's Covid-19 Strategic Preparedness and Response Plan to support the nation in its fight against the COVID-19 pandemic. The plan is part of the wider efforts supporting the Ministry of Health (MOH) and National Crisis Preparedness and Response Centre (CPRC) and bolster initiatives already provided by HP Inc. to ensure the safety and health of Malaysians.
The donation will be used primarily to pilot targeted mass COVID-19 testing programmes. According to the World Health Organization (WHO), measures to find, isolate, test, treat and trace are not only the best and fastest way out of extreme social and economic restrictions (during Covid-19), they are also the best way to prevent them[1]. The pilot programme will be targeted at testing for high risk and vulnerable communities nationwide including rural populations and newly identified clusters.
Funds will also be channeled towards the provision of personal protective equipment (PPE) for frontline healthcare workers and hospitals responding to COVID-19 and the provision of mental health and psychosocial support (MHPSS). These will benefit frontline workers nationwide as well as to children and families affected by COVID-19.
To date, HP and HP Foundation have donated an estimated USD 8 million in products and grants to support blended learning and local communities impacted by COVID-19 worldwide. The HP Foundation has contributed USD 3 million in grants; USD 1 million to support affected communities with critical medical supplies, and an additional USD 2 million in grants for COVID-19 relief.
The HP Foundation is focused on devoting significant resources to support community response efforts and will be working with both global and local partners to prioritize actions that will have the greatest impact. It will also direct students to the free courses on HP LIFE tied to business skills, marketing and entrepreneurship and match up to USD 4 million this year in HP employee donations to any eligible charity.
Micron offers Client NVMe Performance and Value SSDs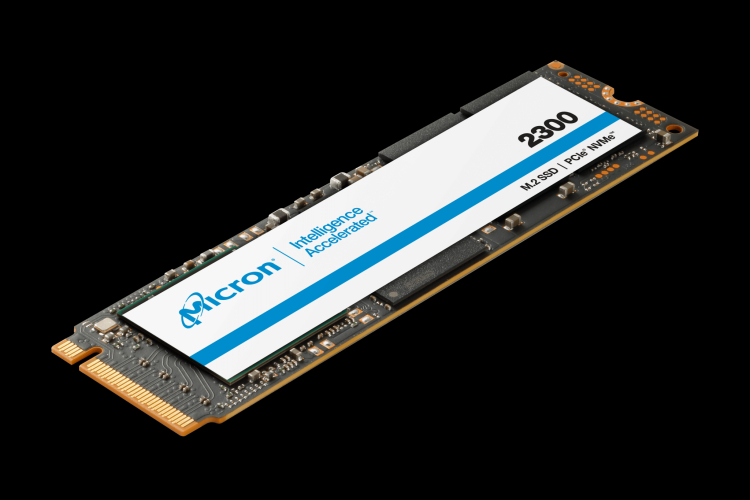 Micron Technology, Inc. recently announced new client solid-state drives (SSDs) that bring NVMe performance to client computing applications, freeing laptops, workstations and other portables from legacy architectures that can rob devices of battery power, performance and productivity. The Micron® 2300 SSD combines the power and density needed to drive compute-heavy applications in a compact form factor with the reduced power consumption modern mobile users demand. For the first time, Micron brings together NVMe performance and low-cost quad-level-cell (QLC) NAND in the Micron® 2210 QLC SSD. It combines fast NVMe throughput and Micron's leadership in QLC technology to offer flash capabilities at hard disk drive-like price points while reducing power consumption by 15 times when compared to hard drives.
Both SSDs are built on Micron's innovative 96-layer 3D NAND technology to deliver power savings, right-sized capacity and compact form factors that enable flexible designs.3 They also deliver enhanced client security features and capabilities for protecting data, with TCG Opal 2.0 and TCG Pyrite 2.0 support.
The Micron 2300 SSD is designed for applications that demand high performance and industry-leading capacities in the popular M.2 form factor. Features include the ability to:
Maximize for data-intensive workloads encompassing CAD, graphical design and video editing for faster application load times and responsiveness.
Offer a wide range of capacity points, from 256GB up to 2TB.
Fit a broad set of desktop and mobile design needs with a small, dense, M.2 form factor (22x80).
Achieve up to 3,300 MB/s sequential reads and up to 2,700 MB/s sequential writes.
The Micron 2210 SSD bridges the gap between the low cost of hard disk drives and the performance, reliability, low power and security of SSDs. It uses high-density, cost-efficient QLC architecture that Micron first brought to the data center. Features include the ability to:
Improve application load times and responsiveness with fast NVMe making it ideal for performance-sensitive applications where hard disk drives can't keep up.

Offer a wide range of capacity points from 512GB up to 2TB in the M.2 (22x80) form factor.
Provide a cache with greater write endurance and performance with innovative dynamic write acceleration that is optimized for QLC architecture. Achieve up to 2,200 MB/s sequential reads and up to 1,800 MB/s sequential writes.
Both products are available now. To learn more, visit https://www.micron.com/client-ssd.
Kaspersky foils 56% more phishing attempts against SEA SMBs in Q1 2020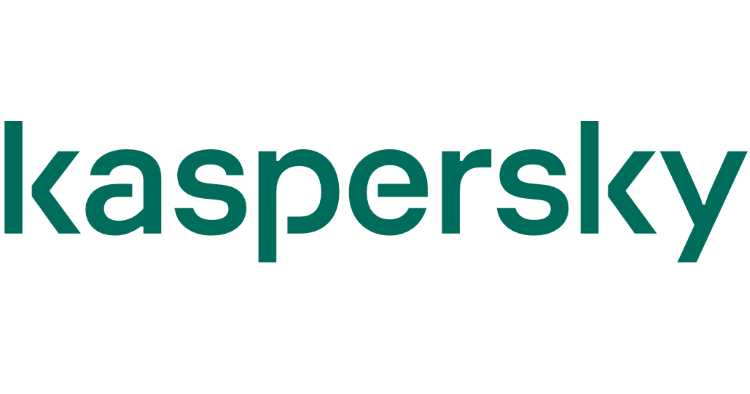 Based on the latest statistics from Kaspersky, the first three months of 2020 proved to be busy for cybercriminals targeting small and medium businesses (SMBs) in Southeast Asia (SEA). The global cybersecurity company's Anti-Phishing System prevented 834,993 phishing attempts against companies with 50-250 employees, a 56% increase compared with the same period last year with just over 500k fraudulent attempts blocked.
The rating of organisations targeted by phishing attacks is based on the triggering of the heuristic component in the Anti-Phishing system on user computers. This component detects all instances when the user tries to follow a link in an e-mail or on the Internet to a phishing page in cases when such link has yet to be added to Kaspersky's databases. The statistics mentioned are analysed from Kaspersky's solutions for SMBs operating with Windows, Mac OS, and Linux.
Phishing is one of the most flexible types of social engineering attack, as it can be disguised in many ways and used for different purposes. Social engineering attacks, or tricking the mind, exploit human emotions to victimise users online. Cybercriminals are also incorporating topics and "hot phrases" related to COVID-19 into their content, boosting the chances of their infected links or malicious attachments getting opened.
The damage of this online crime ranges from hacked companies' networks to stolen confidential data like personally identifiable information (PII), financial credentials, and even corporate secrets. Aside from this, it is known that phishing attacks, particularly those with malicious link or attachment, are popularly used as launch pads for targeted attacks on organisations, such as the case of the $81M Bangladesh Bank Heist.
In terms of per country statistics, all of the six countries in SEA registered an increased number of fraudulent emails blocked by Kaspersky in Q1 2020 as compared with the same period last year.
Country

Q1 2020

Q1 2019

Indonesia

192,591

158,492

Malaysia

132,106

90,825

Philippines

76,478

29,677

Singapore

44,912

30,410

Thailand

144,243

107,284

Vietnam

244,663

116,945
Epson named number one projector brand in Malaysia and worldwide for 19 consecutive years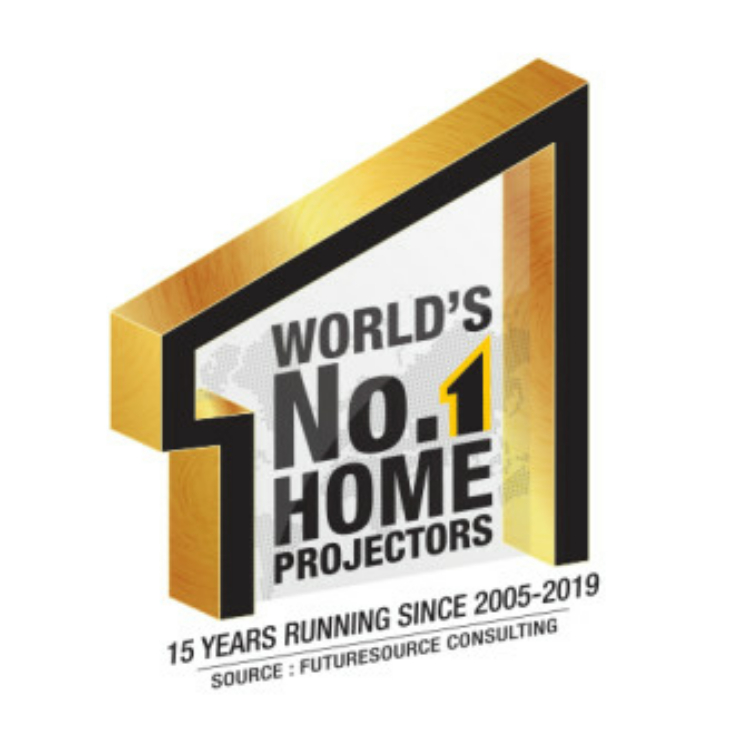 Epson has been named the number one projector brand in Malaysia and SE Asia, as well as worldwide by Futuresource Consulting, having held the leadership position for 19 consecutive years. The milestone reflects Epson's continued market leadership and constant innovation in the visual imaging industry.
Epson's worldwide market share for projectors have increased consistently over the last 19 years to maintain its continued dominance. The latest findings from Futuresource indicate that Epson continues to dominate the Malaysia market as the number one brand, with 54.5% market share for projectors 500 lumens and above for 2019, an increase from 49.3% in 2018.
Within Southeast Asia, Epson continues to maintain market leadership, with market share increasing to 44.4% in 2019 from 37% in 2018. Globally, Epson has the largest market share worldwide for projectors, at 41.4% for 2019, which is an increase from 37.4% in 2018. Likewise for the home projectors segment, in 2019, Epson has achieved the largest market share worldwide at a remarkable 35%.
A key factor to Epson's continued dominance is in its continuous innovation. New launches in Southeast Asia include the launch of its new retail, education, corporate and home projectors, including the EB-U50/EB-W50 for digital signage applications, the EB-1485Fi ultrashort throw interactive laser projector and the EB-1070U/1060U series of business projectors respectively. The launch of its home cinema projectors, the EF-100 series, EH-TW7000 and EB-LS500 contributed to its growth in the home projector segment.
At the heart of Epson's projectors is its proprietary 3LCD technology, which enables Epson projectors to deliver the most vibrant and true-to-life images with up to 3 times higher colour brightness compared to 1-chip DLP projectors in the market. In contrast to 3-chip 3LCD projectors, 1-chip DLP projectors use a rotating color wheel that spins at a rapid speed, only displaying colors sequentially, which can result in color break-up or the "rainbow effect".
Fave + Facebook offer Digital Gift Cards to support local businesses in Malaysia
Fave recently announced that it has launched a new partnership with Facebook to help local businesses in Malaysia affected by COVID-19. The partnership will see both Facebook and Instagram platforms promote Fave's assortment of digital gift cards (eCards) local from local businesses operating under the current Conditional Movement Control Order (CMCO) measures to social media users. Among the businesses expected to benefit from this new initiative are retail and hospitality, as well as the food and beverage (F&B) sectors.
From 12 May 2020, Malaysians will be able to access to purchase or gift Fave's eCards from participating businesses through a "Support Local Businesses" banner on their Facebook feeds. This will enable local businesses to benefit from a meaningful contribution to their income during the ongoing pandemic. With local businesses forming the backbone of Malaysia's economy, the custom-branded eCards brought by Fave onto Facebook's platform provides an instant and cost-effective collaboration to generate critical revenue for businesses affected during the pandemic. Participating local businesses will also be able to add an eCard sticker with a link to their eCard campaign page on Fave's platform to their Instagram Stories to encourage their followers to support the initiative.
Facebook has been a critical driver for local business growth in Malaysia. According to Facebook, 87 million users from around the world are connected to a business page on Facebook in Malaysia, presenting a myriad of business opportunities for Malaysian businesses. While the majority of small businesses are still witnessing widespread COVID-19 disruption, over 500 local businesses such as Ipoh Ais Kopi, Jom Laksa, Penang Road Famous Teochew Chendul and TBM - Your Neighbourhood Electrical Store have made the transition towards digitalisation with positive results to their bottom line.
In April 2020, Fave launched its 'Save Our Fave' campaign to support local businesses that were experiencing 30-day cash flow constraints or had witnessed a drastic drop in their incomes. The campaign's objective was to keep local businesses afloat and rally consumers to support them by purchasing an eCard. Fave had absorbed all payment fees and ceased commissions until the end of May for eCards to ensure 100% of the revenue that consumers paid went directly to the businesses to support their recovery during the pandemic.
To ease the process of digitalisation, Fave has launched a self-serving application process on its FaveBiz platform, enabling local businesses to have their eCards up and running in less than five minutes. This streamlines and accelerates their approach towards getting started on converting Malaysian consumers into loyal customers while reaping the benefits of the collaboration between Facebook and Fave.
In the New Normal, Bersalam Raya in the most 'Snapchat' way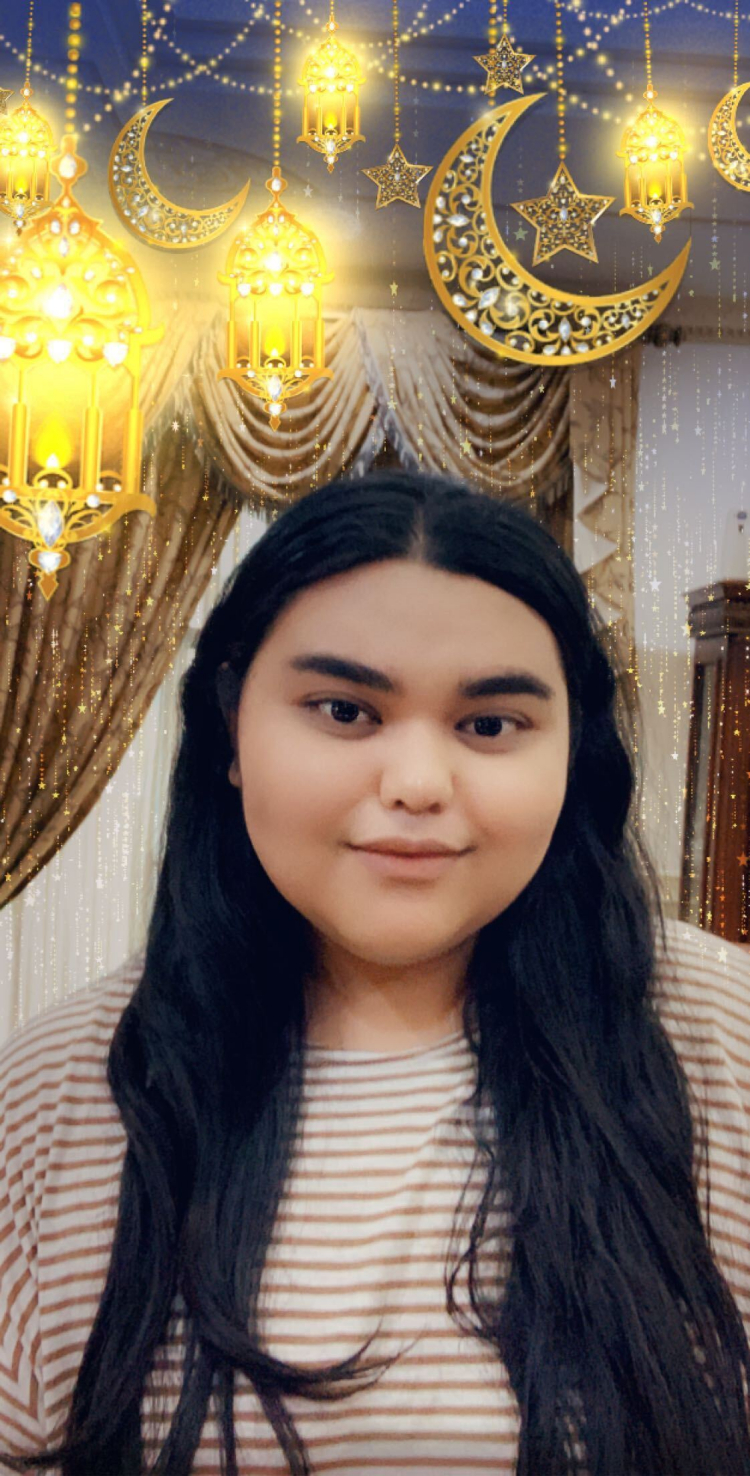 The upcoming Hari Raya celebrations will be marked by social distancing and smaller gatherings as we adapt to the new normal. Though the usual ways of greeting, celebrating, and exchanging well wishes have changed, reflecting on the Holy Month of Ramadan and the spirit of Hari Raya must continue. One way of staying socially connected though physically apart is via Snapchat!
Celebrate virtually by using Snapchat's festive AR Lenses and Bitmojis to share creative and personalized greetings with your close friends and family. Once you've had your fill of Raya goodies, try to 'Guess The Sentence' with a special Lens created by Malaysia's first Snapchat Official Lens Creator, ExAR! Challenge your friends to see who guesses it right!
To scan the Snapcode:
Open Snapchat and point your camera at the Snapcode

Press and hold the Snapcode on your screen to scan it
While, you're on Snapchat why not use the following Bitmojis to enhance your conversations during this time:
To get started, download Snapchat and Bitmoji for iOS or Android to try out the Lenses and Bitmojis!
5 ways to stay cool and connected this Raya with the Huawei P40 Series
Listen to HUAWEI's catchy Raya jingle "HUAWEI Di Hati", featuring prominent Malaysian celebrities such as Wany Hasrita, Hael Husaini, and Naim Daniel.
With travel restrictions still in place, many Malaysians would have to celebrate Hari Raya away from their hometowns this year. However, thanks to HUAWEI's innovative solutions, you can have your loved ones near you and celebrate Raya together despite the geographical distances. All you need is a HUAWEI P40 Series smartphone.
Here are five ways you can stay connected this Raya, while enjoying the seamless and powerful performance that the HUAWEI P40 Series has to offer – the best in smartphone photography and connectivity:
MeeTime: Changing the game in video-calling

Nothing beats having your loved ones with you in person. But when that's not possible, HUAWEI's MeeTime is a great alternative. MeeTime revolutionises video-calling, providing optimal clarity and connectivity, low latency and lower data consumption – which means that you can stay connected, day and night, even in lowlight and weak signal situations. What's more, MeeTime has a screen-sharing function which enables you to make notes and annotations in real time.
Enjoy, share and preserve your best moments with HUAWEI's Seamless AI Life

HUAWEI Share: One tap is all it takes for you to ensure that your best Raya moments are safely stored across your HUAWEI devices such as the Matebook and MatePad. Transferring photos, videos, music and documents from your P40 Series smartphone to your MateBook and MatePad is as easy as one tap with HUAWEI Share.
HUAWEI Multi-Screen Collaboration: Multi-Screen Collaboration allows users to maximise productivity and efficiency, effectively by having two devices on a single screen. The technology enables you to pick up video calls coming through your P40 Series smartphone, using your PC – so that you can see those calling you on a larger screen. Additionally, if your Wi-Fi connection is down, all it takes is one click on PC Manager to connect your PC to your smartphone's cellular data network for instant Internet connection.
Get the ultimate experience in Internet connectivity with 5G and Wi-Fi 6 Plus

As the world's leading expert on 5G, HUAWEI has the unrivalled ability to deliver the best 5G experience possible. Powered by the Kirin 990 5G chipset, the HUAWEI P40 Series is ready for the 5G era.
The HUAWEI P40 and HUAWEI P40 Pro support Dual SIM, so you can receive incoming calls with one number and browse the Internet with the other. They also support eSIM, which gives you the option to substitute one of the physical SIM cards with an eSIM, and still enjoy the convenience of Dual SIM support.
For 5G connectivity, the HUAWEI P40 Series supports both non-standalone (NSA) and standalone (SA) networking modes, as well as comprehensive support for 5G frequency bands to offer hassle-free global travels.
The HUAWEI P40 Series supports Wi-Fi 6 Plus. Benefiting from the Wi-Fi 6 standard, it supports 160MHz channel bandwidth and 1024-QAM to achieve 2400Mbps peak theoretical transmission rate and improved signal reception.
Juice up in a flash with 40W Wired HUAWEI Supercharge

HUAWEI is renowned for its ability to deliver incredibly fast, safe charging on its devices. The HUAWEI P40 Series carries the torch supporting super-fast 40W Wired HUAWEI SuperCharge. Besides using the power adapter, you can take advantage of the 40W charging support with accessories such as HUAWEI 12000 40W SuperCharge PowerBank and HUAWEI SuperCharge Car Charger 2.
Powerful without overheating: HUAWEI's Innovative Cooling Technologies

The HUAWEI P40 Series features state of the art cooling technologies superseding anything that its predecessors have on offer.
The HUAWEI P40 comes equipped with a 3D graphene cooling film and ultra-thin heat pipe in order to handle high-capacity processing and heat produced by 5G communications.
For the HUAWEI P40 Pro, a 3D graphene film is arranged close to the heat source for optimal cooling. Also utilised is an ultra-thin vapour chamber, which is 100% more efficient compared to a heat pipe of the same size.
The technology allows users to play graphic-intensive games for hours on your P40 Series smartphone without it overheating.
Unlock the full potential of your P40 Series smartphone with HUAWEI's AppGallery which now contains the most of Malaysians' frequently used apps such as Facebook, WhatsApp, WeChat, Netflix, Instagram, AirAsia, TikTok, Lazada, and more. The AppGallery is also safe, as it is fortified with four layers of protection that have been certified by the highest industry standards. Users can save more storage by just using the Quick Apps to open the apps you want without installing it.
Click here for more info.
Order now!
Don't wait to get your hands on a brand-new HUAWEI P40 Series – the best in smartphone photography and connectivity. Make your purchase today and enjoy freebies such as the HUAWEI CP39S SuperCharge Wireless Car Charger (For P40 Pro)/ HUAWEI P40 Wireless Charging Case (For P40), 1-year extended warranty and 1-month screen crack protection, 50GB of HUAWEI Cloud storage, and 3-months free HUAWEI Video premium subscription.
You can make your purchase via the HUAWEI Express VIP Delivery.
Boost Payment Link to help local cash-based Merchants during this COVID-19 Pandemic
The COVID-19 health crisis has been very tough on businesses especially SMEs and micro-businesses. With the movement restrictions in place since the Government's Movement Control Order (MCO) came into effect to contain the spread of the coronavirus, many micro- and small-business owners who run cash-based businesses faced the risk of shuttering due to the sudden drastic drop in customers as well as customers choosing to go cashless and limiting the use of bank notes as they sought cleaner and safer ways to transact.
To help micro- and small- cash-based businesses remain operating, homegrown and leading lifestyle e-wallet Boost has introduced the 'Boost Payment Link' – a low cost and accessible contactless solution for merchants. The payment link allows merchants to easily send their customers a payment link via any messaging app such as email, SMS or WhatsApp and receive payments conveniently anytime, anywhere. Customers can seamlessly make payments through the link without physically scanning a QR code. Merchants are also able to eliminate the need to invest in a Point-of-Sale (POS) or payment terminal, which can be costly or have a static QR code to accept payments.
This new feature from Boost allows traditional cash-based businesses to receive orders and payments online upfront before delivering their goods or services. It is effective for all types of retail businesses but would typically be useful for F&B as well as small grocery- or convenience stores during this CMCO period where customers are becoming more accustomed to ordering online and expecting home delivery services from the merchant.
The 'Boost Payment Link' is available for all Boost merchants via their Boost Business Account. The payment link is found on the profile page. To share the payment link with customers, merchants have to click 'Share My Business Payment Link', enter the total amount customers are required to pay and then select which email or messaging app to share the link with the customer. Lastly, all customers have to do is click on the payment link received to make payment via Boost.
Businesses who wish to sign up to be a Boost Merchant can do so by visiting https://www.myboost.com.my/business/, fill up the form on the homepage and a Boost representative will be in touch to help with the signing up process.


AMD used in latest NVIDIA AI and Machine Learning System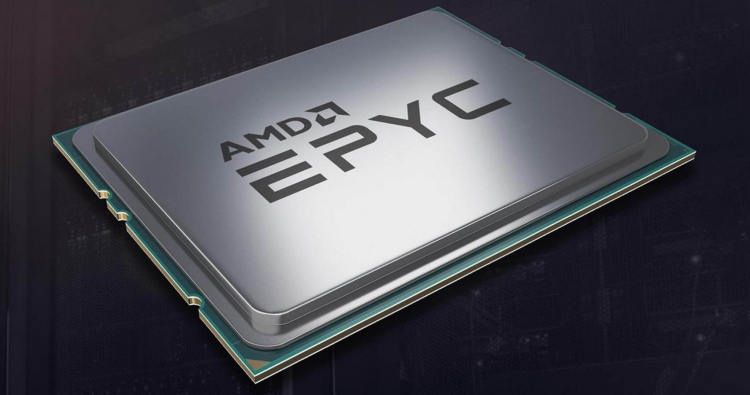 AMD recently demonstrated continued momentum in high performance computing, with NVIDIA's announcement that 2nd Generation AMD EPYC™ 7742 processors will power their new DGX A100 dedicated AI and Machine Learning system. The new generation of AMD EPYC processors, along with AMD Radeon™ Instinct™ GPUs, will also power the world's fastest two exascale-class supercomputers, Frontier and El Capitan.
Each DGX A100 will feature dual 2nd Gen AMD EPYC™ 7742 processors, for a total of 128 cores, running at 2.25 GHz (base), 3.4 GHz (max boost). 2nd Gen AMD EPYC processors are the first and only current x86-architecture server processor supporting PCIe 4.0, providing up to 128 lanes of I/O, per processor for high performance computing and connections to other devices like GPUs.
In addition to the DGX-A100 systems, AMD EPYC processors are powering supercomputers around the world.
Special: There Is No Place Like Home – Especially With Your LG OLED TV and Netflix!
While the current situation does put our outdoor plans on a quick setback, it does not mean we cannot create our own fun time with our families. Sipping your hot chocolate (tea or coffee – whichever suits you best) with your loved ones by your side all snuggled together for warmth and comfort as you reminisce old memories.
Now, doesn't that sound nice? So, how can we make the most of being inside our homes?

Though your passport may need to stay locked in the drawer (for now), staycations are loved for a reason. While they usually involve moving to a location outside of your home within your city, there's a way to bring that vacation mode to your home even without leaving.

While the list of things you can do at home is practically endless, our favourite thing-to-do is to have a streaming marathon of all our favourite shows on Netflix!

Here's our top 10 picks for a streaming marathon on Netflix, in no particular order!

Kabhi Khushi Kabhie Gham (2001)

Kabhi Khushi Kabhie Gham, also known simply as K3G is one of the most celebrated Bollywood movies to date. Featuring a star-studded cast of Amitabh Bachchan, Jaya Bachchan, Shah Rukh Khan, Kajol, Hrithik Roshan and Kareena Kapoor, the tear-jerker tells the story of an Indian family that faces troubles and misunderstandings over their adopted son's marriage to a girl belonging to a lower socio-economic group.

Shah Rukh Khan? Check. Catchy songs and dance moves? You got it. Scenes that require boxes of tissue by your side? Definitely. Don't mind the 3-hour long movie duration, time goes on pretty fast nowadays.



Crash Landing On You (2019)

Of course, we have not forgotten our beloved K-Drama fans! Hyun Bin fans, make some noise! The Paris Hilton of South Korea meets an elite North Korean military officer — it's an unlikely pairing if there ever was one, but Ri Jeong Hyeok (Hyun Bin) is all Yun Se-ri (Son Ye-Jin) has in this mysterious country, and love blooms in the most unexpected places.

The South Korean drama made its debut on Netflix on 14 December, 2019 to overwhelming response from viewers. At time of writing, it is the #2 most watched drama on Netflix. No surprises there, coming from the second-highest-rated Korean drama in cable television history.

Friends (1994)

Every time I see the image above, I can't shake off the theme song 'I'll Be There For You' by The Rembrandts from my mind. While the show ended well over 16 years ago, Friends has left a major impact to television – and of course, pop culture.

An award-winning American sitcom television series, the original idea by David Crane and Marta Kauffman is named one of The Best Written TV Series of All Time. If you're still having doubts about their success, the final episode, which aired on May 6, 2004 raked in 52.5 million domestic viewers, making it the fifth most-watched series finale in television history, and the most-watched television episode of the 2000s.

Kingdom (2019)

In a kingdom defeated by corruption and famine, a mysterious plague spreads to turn the infected into monsters. The crown prince, framed for treason and desperate to save his people, sets out on a journey to unveil what evil lurks in the dark.

A 2019 South Korean political period horror thriller web television series written by Kim Eun-Hee and directed by Kim Seong-Hun, Kingdom is Netflix's first original Korean series. The series, which premiered on January 25, 2019 was adapted from the webcomic series The Kingdom of the Gods.

Upon its release, Kingdom gained favourable reviews from audience and generated a large fanbase, allowing Netflix to renew the drama series for a second season which aired on March 13, 2020.

Of course, watching Kingdom is made much, much better with a TV that brings every colour, every scene to life. A self-emissive display technology, LG OLED TV possess the ability to produce true black, an infinite contrast ratio and dazzlingly real colors.

Allowing the latest blockbuster films and hit series will look astonishingly realistic on LG OLED TV with inky-black shadows and vibrant hues that brings three-dimensionality to the characters and places on screen, now you can enjoy Kingdom with an added sense of realism and blur-free motion when during the action scenes.



Gossip Girl (2007)

You can't have a Netflix streaming marathon without Gossip Girl – that's just wrong. As our one and only source into the scandalous lives of Manhattan's elite, the American teen drama series revolves around Serena van der Woodsen (Blake Lively) and her ultimate frenemy Blair Waldorf (Leighton Meester) as they navigate through high school, college and life with dramas at every turn.

Based on the book series of the same name by Cecily von Ziegesar, this award-winning drama aired for six seasons, with a sequel series – headed by the original creators – set to be released sometime this year (or next, I don't know – that's one secret they'll never tell).

Face it: whether you love it or hate it, Gossip Girl is an integral part of pop culture – one that has helped shaped today's teen drama series.

Regardless of when they are airing the show, we can always take a trip down memory lane and binge-watch Season 1 to 6 on Netflix. See you there Upper East siders, XOXO.

A Quiet Place (2018)

Real-life married couple Emily Blunt and John Krasinski working together in one movie? Umm, YES PLEASE!

An American science fiction horror film, A Quiet Place revolves around a father (John Krasinski) and a mother (Emily Blunt) who struggle to survive and raise their children in a post-apocalyptic world inhabited by blind extra-terrestrial creatures with an acute sense of hearing.

The movie premiered in cinemas in 2018 to a major box office success, raking in USD340 million worldwide. It also collected several awards along the way, namely the Golden Globe and SAG Awards.

A little piece of advice, if you're planning to watch this, be sure to keep quiet because if they hear you, they hunt you.

Tiger King (2020)

Among the eccentrics and cult personalities in the stranger-than-fiction world of big cat owners, few stand out more than Joe Exotic, a mulleted, gun-toting polygamist and country western singer who presides over an Oklahoma roadside zoo. Charismatic but misguided, Joe and an unbelievable cast of characters including drug kingpins, conmen, and cult leaders all share a passion for big cats, and the status and attention their dangerous menageries garner. But things take a dark turn when Carole Baskin, an animal activist and owner of a big cat sanctuary, threatens to put them out of business and reveals a twisted tale where the only thing more dangerous than a big cat is its owner.

The Witcher (2019)

A Netflix-exclusive series, The Witcher is an American fantasy drama series based on the book series of the same name by Polish writer Andrzej Sapkowski. Set on a fictional, medieval-inspired landmass known as "The Continent", The Witcher explores the legend of Geralt of Rivia and princess Ciri, who are linked by destiny to each other. It stars Henry Cavill, Freya Allan and Anya Chalotra. While the first season wrapped up in 2019, the second eight-episode season is set to be released in 2021; production was scheduled to commence in London in early 2020.

Do you know, the latest line-up of LG OLED TVs also support Dolby Vision IQ, which extends the benefits of Dolby Vision beyond HDR by intelligently optimizing picture quality regardless of ambient light or content type – all without users having to pick up the remote. Thanks to Dolby Vision IQ, intensely dark scenes in atmospheric shows such as The Witcher can be seen exactly as their creators intended, whether it is 1:00 in the afternoon or 1:00 in the morning.

Explained (2018)

A docuseries produced by popular news site Vox that started airing in 2018, Explained investigates a diverse range of topics, form the light-hearted (K-pop, eSports) to the serious (the world's water crisis, gender pay inequality). At only 15 to 20 minutes long, each entertaining episode offers enough detail to leave you feeling more informed about the world we live in.

So when you're all ready for some time away from your usual daily grind, always remember, there's no place like home. And when it comes to getting out of this world viewing experience, there's no other TV like LG OLED TV. With unmatched contrast, pure blacks and all the colors of nature – not to mention support for the latest HDR formats – LG OLED TV will elevate content of any genre.



The Haunting of Hill House (2018)

Loosely based on the 1959 novel of the same name by Shirley Jackson, the plot alternates between two timelines, following five adult siblings whose paranormal experiences at Hill House continue to haunt them in the present day, and flashbacks depicting events leading up to the eventful night in 1992 when the family fled from the mansion. The ensemble cast features Michiel Huisman, Elizabeth Reaser, Oliver Jackson-Cohen, Kate Siegel, and Victoria Pedretti as the adult counterparts of the siblings.

The series premiered on Netflix on October 12, 2018. The Haunting of Hill House received critical acclaim, particularly for its acting, directing and production values, with many calling it an "effective ghost story". A second season with a different story and characters titled The Haunting of Bly Manor, based on the 1898 novella The Turn of the Screw by Henry James, is set to be released in 2020.

LG OLED TV supports all major HDR formats including Dolby Vision®, and offering spectacular sound quality via Dolby ATMOS®, LG OLED TVs provide you with next-level immersive viewing experiences for your staycation. Kn