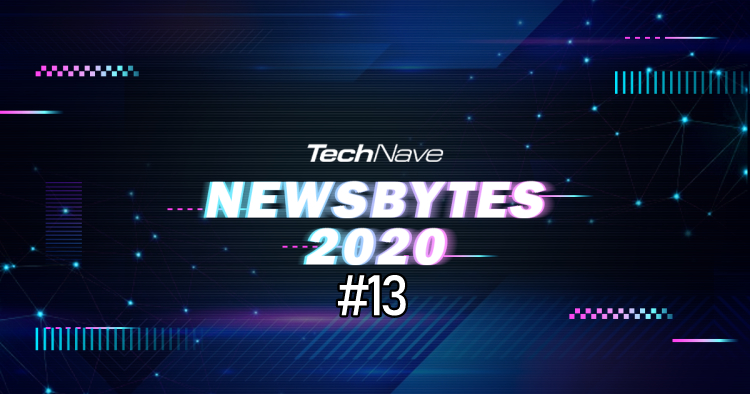 In this episode of TechNave NewsBytes 2020 #13 we have the Xiaomi Q1 2020 revenue report and YoY growth, more realme achievements, Samsung on the secure features of their Exynos chipset powering the Galaxy S20 series and a Raya video from Digi. Huawei also weighed in with deals on the Matebook x pro while TIME launched a new campaign.
Kaspersky reveals more online troubles while MediaTek announce their new NB-IoT solutions. Huawei comes back again with more news highlights while G.SKILL shows off what they can achieve with the latest Intel processor and ASUS motherboard. Epson launched a new EH-TW7000 projector while Microsoft announced key highlights for Build 2020.
Grab are showcasing new fun things you can do with their app regarding doodles, while for this episode's Special: Netflix offer several guides for levelling up at home and answering Raya questions. So, do read on.


Xiaomi's revenue up 13.6% YoY in Q1 2020
Xiaomi recently announced its unaudited consolidated results for the three months ended March 31, 2020.
In the first quarter of 2020, Xiaomi achieved solid growth across all business segments. Its total revenue amounted to RMB49.7 billion, representing an increase of 13.6% year-on-year ("YoY"). Adjusted net profit was RMB2.3 billion, increasing by 10.6% YoY.
According to Canalys, a market research firm, Xiaomi successfully navigated the market downturn and were able to achieve the highest YoY growth in shipments among the top five smartphone companies worldwide. Meanwhile, Xiaomi's smartphone 5G penetration rate in China was 25.9%, surpassing the industry average, reflecting its leading position in the 5G smartphone market, and the effective execution of the "5G + AIoT" dual-engine strategy.
Q1 2020 Financial Highlights:
Total revenue was approximately RMB49.7billion, up 13.6% YoY, beating market consensus

Gross profit was approximately RMB7.56 billion, up 44.9% YoY

Non-IFRS adjusted net profit was RMB2.3 billion, up 10.6% YoY, beating market consensus

R&D expenses was RMB1.9billion, up 13.4% YoY
In the first quarter of 2020, Xiaomi's revenue in the smartphones segment reached RMB30.3 billion, an increase of 12.3% YoY; its shipment of smartphones reached 29.2 million units in the same period, an increase of 4.7% YoY. According to Canalys, in the first quarter of 2020, Xiaomi ranked 4th globally in terms of smartphone shipments, and its market share rose to 11.1%, making Xiaomi one of only two of the top five smartphone companies worldwide to maintain YoY growth in shipments.
Xiaomi continued to execute its dual-brand strategy, which delivered excellent results, in the first quarter of 2020. Shipments of Mi 10 and Mi 10 Pro exceeded 1 million units two months after their launch in February 2020. The Redmi brand continued to introduce highly competitive products at different price points. Redmi launched its flagship K series Redmi K30 Pro and Redmi K30 Pro Zoom Edition. On the back of the highly popular Redmi Note 8 series, the second best-selling smartphone model globally in the first quarter of 2020 according to Canalys, Xiaomi launched Redmi Note 9S and Redmi Note 9 Pro in overseas markets.
Boosted by the premium smartphone models, the average selling price ("ASP") of Xiaomi's smartphones increased by 7.2% YoY in the first quarter of 2020, and the ASP of its smartphones in mainland China and overseas markets increased by 18.7% and 13.7% respectively.
In the first quarter of 2020, Xiaomi's revenue of the IoT and lifestyle products segment was RMB13.0 billion. Due to Xiaomi's diversified IoT product offerings and solid business foundation, the Group achieved a YoY increase of 7.8% in revenue despite the pandemic.
As the world's leading consumer IoT platform, the number of connected IoT devices (excluding smartphones and laptops) on Xiaomi's IoT platform grew to 252 million units as of March 31, 2020, an increase of 42.6% YoY. Moreover, the number of users who have five or more devices connected to the Company's IoT platform (excluding smartphones and laptops) reached 4.6 million, an increase of 67.9% YoY. In March 2020, AI assistant"小愛同學" had 70.5 million monthly active users ("MAU"), an increase of 54.9% YoY; Mi Home app had 40.0 million MAU, an increase of 53.3% YoY.
In the first quarter of 2020, despite the overall decline in TV shipments globally due to the pandemic, Xiaomi's global shipments of smart TVs still increased by 3% YoY to 2.7 million units, and its smart TV business continued to maintain its leading position in both mainland China and overseas markets. According to research firm All View Cloud ("AVC"), in the first quarter of 2020, Xiaomi's TV shipments in mainland China ranked 1st for the fifth consecutive quarter and its global TV shipments ranked among the top five.
In February 2020, Xiaomi introduced the AX3600, a WiFi 6 enabled AIoT router, making Xiaomi the first brand in China to support WiFi 6 technology from terminals to routers. The sales of its routers increased by 124% YoY in the first quarter of 2020, and according to AVC, Xiaomi ranked 2nd in China in terms of online router shipments. Also, sales of its Mi True Wireless Earphones, Mi Band, Mi Electric Scooter and Mi Robot Vacuum increased by 619.6%, 56.0%, 40.7% and 40.0% YoY respectively.
Xiaomi's overseas revenue increased by 47.8% YoY to RMB24.8 billion in the first quarter of 2020, accounting for 50.0% of its total revenue. Overseas revenue contributed to half of its total revenue for the first time.
In the first quarter of 2020, Xiaomi's smartphone captured a market share of approximately 31.2% of shipments in India, and ranked 1st for the 11th consecutive quarter, according to IDC. Xiaomi leveraged its leading position in India, which also accelerated its growth in adjacent markets. According to Canalys, Xiaomi ranked 1st in smartphone shipments in Nepal in the first quarter of 2020 with a market share of 30.9%, the equivalent of the market share of the 2nd and the 3rd ranked smartphone companies combined.
Besides, Xiaomi experienced remarkable growth in major overseas markets. According to Canalys, in the first quarter of 2020, its smartphone shipments grew by 58.3% YoY in the European market, accounting for 14.3% market share and ranking among the top four. Xiaomi also ranked among the top four in Italy, France and Germany. According to Canalys, Xiaomi's smartphone shipments in Western Europe increased by 79.3% YoY. In Spain, it became the No. 1 smartphone company by shipments with a 28.0% market share. In Latin America, its market share ranked 5th following a 236.1% YoY increase in smartphone shipments, against a decline for the overall market. In addition, its smartphone shipments in the Middle East and Africa grew by 55.2% and 284.9% respectively.
Xiaomi's internet services revenue amounted to RMB5.9 billion in the first quarter of 2020, representing an increase of 38.6% YoY. User activity and time spent on its devices increased in the first quarter of 2020. In March 2020, the MAU of MIUI increased by 26.7% YoY to 330.7 million, while the mainland China MAU of MIUI reached 111.5 million.
By using diversified monetization methods, including search, pre-installation and news feeds, its expanded advertiser base across a variety of industries, and the optimization of its recommendation algorithms, advertising revenue reached RMB2.7 billion, an increase of 16.6% YoY. Besides, due to the fast-growing online gaming market in mainland China and higher online gaming average revenue per user from its premium smartphone users, its online gaming revenue increased by 80.5% YoY to RMB1.5 billion in the first quarter of 2020. Its internet services revenue outside of advertising and gaming from mainland China smartphones, including those generated from the Youpin e-commerce platform, fintech business, TV internet services and overseas internet services, increased by 71.5% YoY in the first quarter of 2020.
Video streaming and other subscription services provided on Xiaomi's TVs became a major entertainment choice for many consumers amid the pandemic. As users grew accustomed to paid subscription services on Xiaomi's platforms, its subscription revenue grew rapidly. In March 2020, MAU of its smart TVs and Mi Box reached 30.4 million, representing an increase of 46.8% YoY. As of March 31, 2020, the number of paying subscribers increased by 53.7% YoY to 4.3 million.
Xiaomi spared no efforts to combat the coronavirus. Xiaomi was among the first internet companies to fight the pandemic in Hubei province, donating and delivering critical medical supplies to more than 30 hospitals in the province. Besides combatting the pandemic in China, Xiaomi actively fought to help address the global emergency and made large donations of medical supplies, including masks, protective suits and ventilators, to more than 30 countries around the world.
In mainland China, as the impact of the pandemic began to ease, the sales of Xiaomi's major products experienced solid recoveries. The Group proactively worked with its supply chain partners to help them ramp up production capacities. Its production in mainland China has mostly resumed, and smartphone demand has rebounded quickly. Since April, its mainland China smartphone shipments have gradually returned to the pre-pandemic level, and its smart TV shipments have also largely recovered.
In overseas markets, Xiaomi's extensive global reach allowed the Group to quickly strategize and deploy resources across different markets in response to the pandemic. As lockdown measures in various markets are gradually lifted, sales are starting to recover. As of the third week of May, the weekly number of smartphone activations in the European market had returned to over 90% of the average weekly level in January 2020.
For more information about Xiaomi, please visit their blog.
realme ranks in the Top 5 for Q1 2020 and set sales record of 1 million devices in Smart Audio AIoT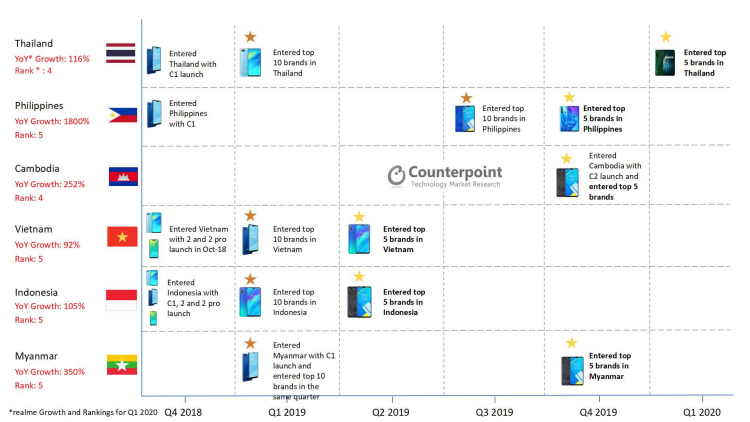 realme recently ranked in the Top 5 in the South East Asia Smartphone market for Q1 2020, according to the latest research from the Counterpoint Research Market Monitor Q1 2020, with a YoY increase of 173%. In 2020 Q1, with the impact from COVID-19 pandemic, the smartphone shipments of SEA declined 11% and the global market declined by 13% over the first quarter in 2019. realme is one of the only major brands to achieve growth.
According to the research, realme is also among the top 5 players for Q1 2020 in key SEA markets: Thailand and Cambodia rank Top 4, with a 116% and 252% YoY growth rate respectively; Indonesia (105% YoY increase), Philippines (1800% YoY increase), Vietnam (92% YoY increase) and Myanmar (350% YoY increase) rank Top 5.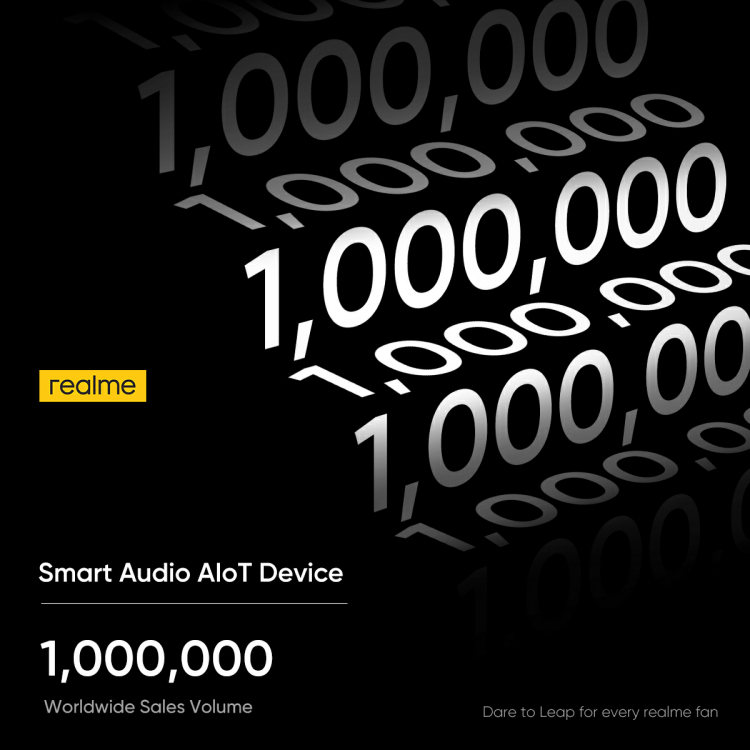 realme officially announced its smart audio AIoT products achieved a sales record of 1 million with realme Buds Air and realme Buds Wireless. Both products have won great reputation from global media and fans. In 2020, realme will continue to bring more premium smart audio AIoT products, such as the upcoming realme Buds Q and realme Buds Air Neo to be launched very soon.
With the realme 1+1 Strategy: Smartphone + AIoT, the company will make all efforts to make itself become "the world's fastest growing AIoT brand". It also plans to launch over 50 Tech Trendsetting products in 2020 to quickly build a 3 in 1 Tech Trendsetting Life around your 'Personal, Home, and Travel' experience for the young all over the world.
As a 'Dare to Leap' Tech Trendsetter, realme aims to customize products for the young realme. Thus, realme cooperated with Naoto Fukasawa, the world's top industrial design master, and Alan Walker, the Global TOP 100 DJ, to perfect its products in both design and performance. What's more, realme invited José Lévy, the designer of Hermes House, to join realme Design Studio as realme Special Art Director and lead the design of realme Buds Q. realme Buds Q will be debuted in China on 25th May.
Inspired by cobblestone, José Lévy combined his design philosophy with realme's design to bring the consumers leap-forward realme Buds Q. With stylish design, it also has the first-tier performance to entertain your ear.
Besides realme Buds Q, realme also released its Buds Air Neo on the same day. It also has excellent performance and stylish appearance, making it possible to be popular around the world among the young.
At the global launch of realme X50 Pro, realme showed a vivid blueprint for its AIoT deployment: with realme Link App, realme smartphones connect the TOP 4 Smart Hubs, together with managing various AIoT products to build a 3 in 1 Tech Trendsetter Life around your 'Personal, Home, and Travel' experience
For the TOP 4 Smart Hubs, realme has already launched the smart earphones and gained over 1 million sales. What's more, realme will debut its first smart TV and smartwatch in India on 25th May, which marks realme almost accomplishing its goal in its strategic deployment of AIoT with the TOP 3 Smart Hubs around 'Personal, Home, and Travel' experience.
How Samsung's Galaxy S20 secure processor protects your data
Samsung recently provided some info on the security features built into their processors. This includes the exynos processors powering the Samsung Galaxy S20 series, but you can see more below: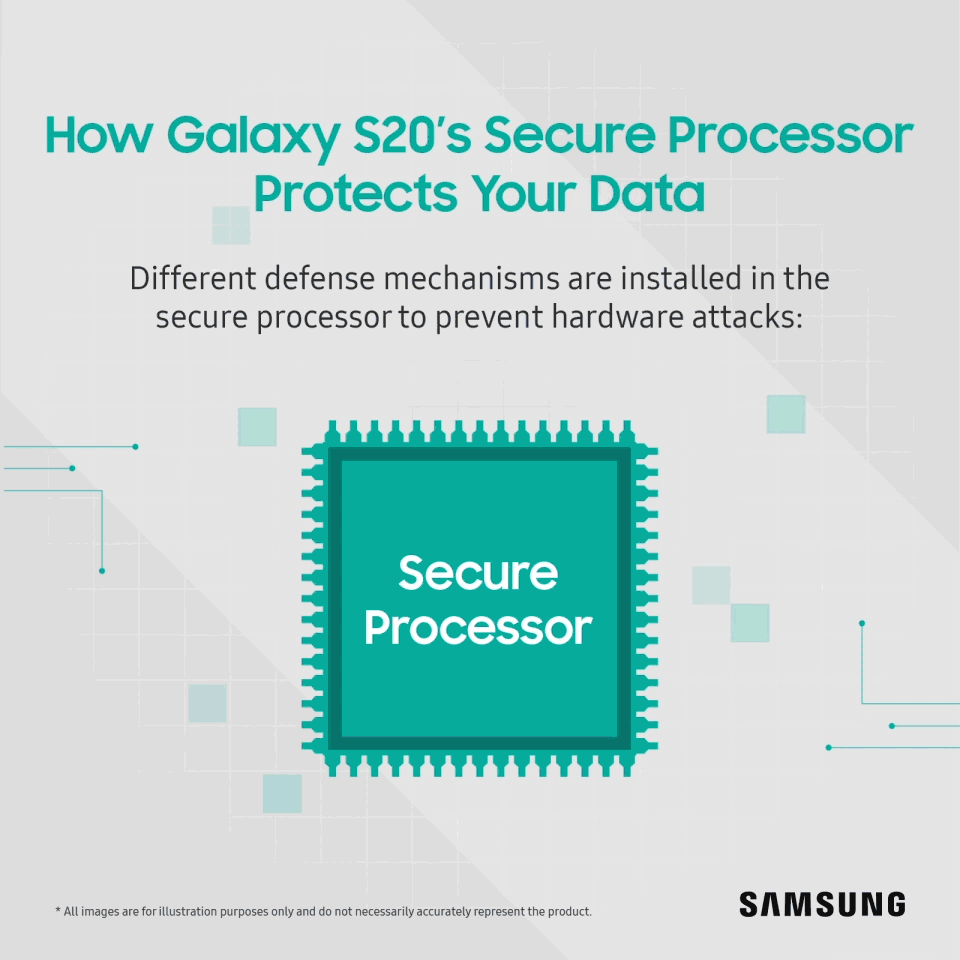 Digi presents a message of hope and positivity to all Malaysians with "Menyulam Budi" Raya video
To commemorate this year's special way of celebrating Raya, Digi Telecommunications Sdn Bhd (Digi) through its Raya video, "Menyulam Budi" brings Malaysians back to the significance of this festivity - a season of coming together and giving.
Along with a message of hope and renewed optimism, the video is told through the eyes of Norfarrah Syahirah, a special person with disability (PWD) who did not let her limitations deter her from being one of the many Malaysians who have contributed and made a difference to our fight against Covid-19 in their own little way. An overnight sensation on social media, Norfarrah was inspired to put her skills of sewing to good use and volunteered to sew protection gowns for the frontliners in Teluk Intan Hospital and Klinik Kesihatan Teluk Intan instead of the usual Raya apparels for this season.
View the full video at Digi's Official YouTube page at http://digi.my/Raya2020 or Facebook http://digi.my/2020raya.
Available for Sale Now, The Matebook X Pro, HUAWEI's Latest Flagship Notebook Is A Trend-Leading Laptop Perfect for The Business Jetsetter
As far as innovative technologies go, HUAWEI has gotten it right with the upgraded MateBook X Pro. First introduced in 2018 as the first-ever FullView notebook, the latest version returns with improvements that characterise a flagship notebook – perfect for the 2020 business user.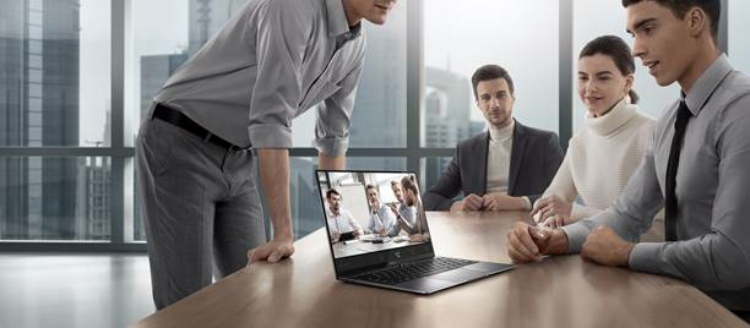 The MateBook X Pro combines intelligent experiences with ultimate design, and will have you prepared for any business scenario, increase your productivity, safeguard your privacy and ultimately the portable companion you will need for every occasion. Read on to find out more about what makes the MateBook X Pro a trend-leading laptop.
When you use the MateBook X Pro, it is hard to miss the notebook's breathtaking Ultra FullView display – its slim bezels achieves an impressive 91 per cent screen-to-body ratio with an unconventional 3:2 ratio for the display, perfect for productivity as compared to mainstream widescreen laptops – a bigger view means you can see more and do more, so you get to work more efficiently too.
You will not miss out on any detail as the 3K resolution touchscreen will bring all colours and content to life in rich detail – its additional 10-point multi-touch and Fingers Gesture Screenshot features will allow you to interact with it more intuitively. As a digital lifestyle companion, you will spend many hours typing away and working on the notebook. With the MateBook X Pro, you never have to worry about running out of charge as it is packed with a massive 56Wh battery for up to 15-hours of uninterrupted battery life!
If there ever was a way to work more efficiently and productively, HUAWEI Share is the way to go. Leveraging Huawei's EMUI10 technology that allows for Multi-screen Collaboration, you can connect your smartphone to your laptop and voila! You are now able to control both screens at once without the use of cables. Answer calls on your laptop, drag and drop files, photos and videos between both and you are now ready to take on the day.
A full day of business meetings, video calls and writing reports can put some strain on your eyes and possibly cause some discomfort as you put in the extra hours. This is where the MateBook X Pro's eye comfort mode comes in handy – you can adjust the screen brightness and tone to your preferences for a smoother, more comfortable experience.
As you are reading this – how many of you have a sticker or cover to block your laptop camera while it is not in use?
This security concern will be a thing of the past for you with the MateBook X Pro's recessed camera that pops up from within the keyboard only when you want it to, so you can have peace of mind no matter where you go.
All of the MateBook X Pro's features come packed in an ultra-portable, ultra-slim frame. It only measures 14.6mm at its thickest and weighs in at 1.33kg so you can easily slip it into your favourite briefcase or backpack and not worry about lugging a heavy piece of machinery around.
In today's working environment, it is not uncommon for one to have several devices for both work and play, and the MateBook X Pro comes with a 65W Type-C 2-in-1 charger that can be used to charge both your laptop as well as your smartphone. You no longer have to carry a bulky power bank or multiple chargers with you when you work outside of your home or office.
The innovations continue inside the lightweight and portable MateBook X Pro – it is fitted with a 10th Generation Intel® Core™ i7-10510U and equipped with NVIDIA ® GeForce ® MX250 running on 2GB GDDR5. This means you can use the notebook for all your business needs, whether it is an important presentation laden with heavy graphics, video editing or even gaming and multimedia consumption – the MateBook X Pro will do it all seamlessly.
Also, you never need to worry about storage or a laggy notebook with the MateBook X Pro – its 16GB RAM and additional 1TB SSD will ensure you can store as much data as you want without the notebook slowing you down. Now, isn't that neat?
HUAWEI is also celebrating the month of Ramadan with the Huawei Dihati Promotion from now until 7 June. Customers can enjoy gifts and freebies worth up to RM1,700 including HUAWEI accessories, vouchers from Baskin Robbins, the Chicken Rice Shop and Tealive, as well as exclusive discounts. They can also be in the running to win exciting gifts from the lucky draw such as the MateBook X Pro, HUAWEI Watch GT, HUAWEI 360 Camera, HUAWEI SoundStone Bluetooth Speaker. Visit https://shop.huawei.com/my/ramadan-online.html to view all promotions.
The HUAWEI MateBook X Pro is now available on the HUAWEI Store and is available in Space Grey and Emerald Green** at RM7,999. For every purchase of the MateBook X Pro, customers will receive the HUAWEI Sound X for free (RRP: RM1,299) and other gifts while stocks last.
HUAWEI MateBook X Pro

Space Grey and Emerald Green

i7/16G/1TB SSD/MX250

RM 7,999

(free gifts -

HUAWEI Sound X, HUAWEI Bluetooth Mouse, HUAWEI Backpack, HUAWEI Band 4)

HUAWEI MateBook 13

Space Grey

i7/16G/512G/MX250

RM 4,999

(free gifts -

HUAWEI Bluetooth Mouse, HUAWEI Backpack, HUAWEI Band 4)

HUAWEI MateBook 13

Space Grey

i5/16G/512G/MX250 RM 4,499

(free gifts -

HUAWEI Bluetooth Mouse, HUAWEI Backpack, HUAWEI Band 4)

HUAWEI MateBook 13

Space Grey

R5/16G/512G/Vega 8 RM 3,499

(free gifts -

HUAWEI Bluetooth Mouse, HUAWEI Backpack, HUAWEI Band 4)

HUAWEI MateBook D 14

Mystic Silver

R5/8G/512G/Vega 8

RM 2,899

HUAWEI MateBook D 15

Mystic Silver

R7/8G/512G/Vega 10

RM2,899
TIME Launches 'Stronger Connections, Stronger Together' Campaign

The celebration of Hari Raya Aidilfitri this year is going to be quite different. Due to strict regulations imposed during this Conditional Movement Control Order (CMCO), Malaysians will not be allowed to balik kampung this festive season. With these changes, it is more important than ever to stay connected with family during this year's Raya celebration. With that in mind, TIME dotCom Berhad ("TIME") has taken an initiative to roll out a heartfelt Raya campaign - Stronger Connections, Stronger Together - starting from 20th May 2020.
The campaign aims to bring people closer together to celebrate this festive season virtually, and to encourage people to cherish and share Raya moments at home, whilst practising safe distancing rules in the fight against the pandemic. Building on new social norms, the campaign encourages everyone to spread positivity using videos along with words of kindness to their loved ones during the season, sharing wonderful moments of celebration regardless of distance and boundaries.
For those who wish to participate in the Raya campaign of spreading joy and positivity, simply post a photo or video of yourself dancing or singing to Raya songs, showing your favourite Raya food or even a video of yourself cooking on Instagram and Facebook. Get creative and capture how you celebrate Raya at home and include a greeting or message with the hashtag #SatuSamaRayaTIME. Participants are also encouraged to tag three (3) friends or family members in their photo or video to further spread the positivity and festive cheer.
Throughout the MCO/CMCO, TIME has dedicated its resources to ensure its customers stay connected and supported. For Raya this year, TIME will continue to work hard round-the-clock to deliver a quality fibre broadband experience so its customer can stay connected. The distance between loved ones has never been closer. Let's stay stronger together for a better Raya.
To find out more about "Stronger Connections, Stronger Together" Raya campaign, visit their site.
Pandora's box of social ratings: almost half of consumers have heard about them but don't know how they work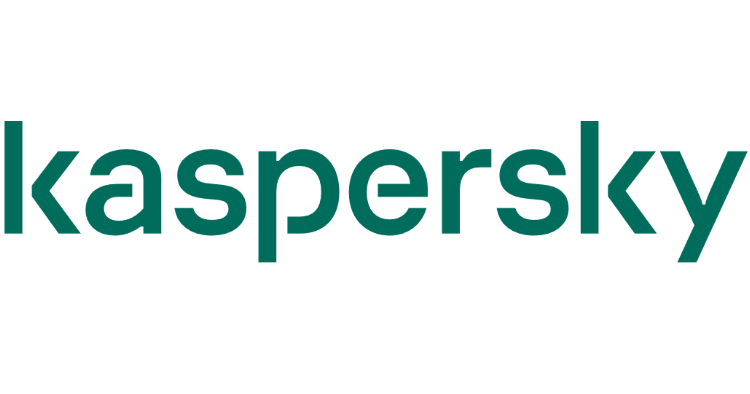 Nearly half (46%) of consumers have heard of a social credit system, according to Kaspersky's latest report, Social credits and security: embracing the world of ratings, that reveals people's perception of social ratings and if they are prepared to be a part of such a system. Users are actively ready to share their private data and are happy for the government to monitor their social media activity for safety reasons. But for many consumers, it still remains unclear how these automated systems of data-driven services work.
The growing popularity of social media networks and online services has led to a growth in social scoring systems – automated algorithms based on users' behavior and influence on the internet. Initially, such consumer assessment algorithms were integrated by financial institutions, as well as by e-commerce providers. Today, such systems are applied in many other spheres and sectors. For example, governments and organizations can assess which people are eligible for a wide range of real-world services. Moreover, with the outbreak of the COVID-19 pandemic, the world saw the implementation of automated systems to control people's movements, their ability to buy goods, and their access to social services. But are people actually ready for this?
According to Kaspersky's report, nearly half (46%) of respondents who participated in the survey from around the world , have heard of a social credit system. At the same time, despite these systems being put in place and becoming more well-known, there is some ambiguity over how they operate and how effectively they are being implemented.
Thus, 45% of consumers have experienced issues in understanding how a social credit system works. People can find it is impossible to discover their score, how they are being calculated and how they can be corrected if there are inaccuracies. But furthermore, as these systems are based on automated machine learning algorithms, it is difficult to know what choices they make and whether it's possible to rely on them - especially in terms of security. According to Kaspersky's overview of security of social scoring systems, such schemes can be particularly vulnerable to artificial manipulation, like being able to lower someone's score for various purposes.
Additionally, like any other computer system, they are susceptible to different types of attacks, either on the technical and programming implementation or system mechanics. The latter could lead to the emergence of a new type of black market where users' scores can be converted into real money and vice versa.
However, this does not prevent organizations from further collecting data, especially when people are willing to let it happen. Kaspersky's report reveals that over 40% of respondents would share sensitive private data to secure better rates and discounts, and to receive special services. Moreover, consumers are much more prepared to share their social media profiles for other aspects of their daily lives.
Remarkably, security issues are especially important for consumers. One-in-two survey respondents (51%) say they are happy for the government to monitor social media activity to keep its citizens safe.
Kaspersky advises consumers to take the following steps to safeguard themselves:
Be conscious of what personal information you share online.

Our world is changing and that means every part of our lives could be measured and scored. Use caution when sharing your personal information so that you are not denied a service for previous behavior.

Sharing behavior has its benefits but only with the right services.

Use a reliable security solution for comprehensive protection from a wide range of threats, such as Kaspersky Security Cloud.
MediaTek announces MT2625 NB-IoT chip validated for LwM2M over NIDD on SoftBank Corporation's cellular network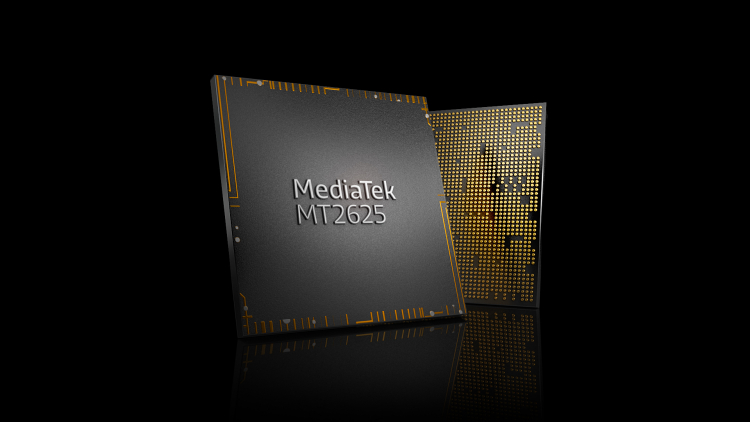 MediaTek recently announced its MT2625 NB-IoT chip has been validated for LwM2M over NIDD (Lightweight Machine-to-Machine over Non-IP Data Delivery) on SoftBank Corporation's cellular network across Japan. This achievement marks the first global commercial readiness of LwM2M over NIDD; a secure, ultra-efficient IoT communications technique that is being adopted by operators worldwide. The benefits of LwM2M over NIDD include security improvements, cost-efficient scalability and reduced power consumption.
This collaboration builds a firm foundation for the IoT industry in Japan to embrace new IoT applications and services, accelerating market growth in the country.
IoT (mMTC - massive Machine Type Communications) is driving over 50% of 5G use cases through devices such as smart meters, smoke detectors, logistics trackers, home appliances, smart city applications and much more. NB-IoT (Narrowband IoT) plays an important role in the IoT ecosystem, by connecting a wide range of data-efficient IoT devices. MediaTek is enabling the 5G IoT revolution that will connect billions of devices with its MT2625 chip, which offers leading NB-IoT capabilities and global operator support.
LwM2M standard is widely used in Asia, Europe and the United States by major operators, with NIDD (Non-IP Data Delivery) providing a highly data- and power-efficient communications protocol and an additional layer of security through pre-defined routing.
The MT2625 is a leading NB-IoT chip with wideband support for up to quad-band operation, allowing a single design to address worldwide markets, reducing cost and development time. The ultra-efficient MCU provides extensive peripheral I/O in a tiny package size for a wide variety of device possibilities. It is available now for NB-IoT device makers and commercial application developers.
Learn More about MediaTek MT2625 at their site or here for LwM2M
17th Annual Huawei Global Analyst Summit highlights + Huawei Enterprise BG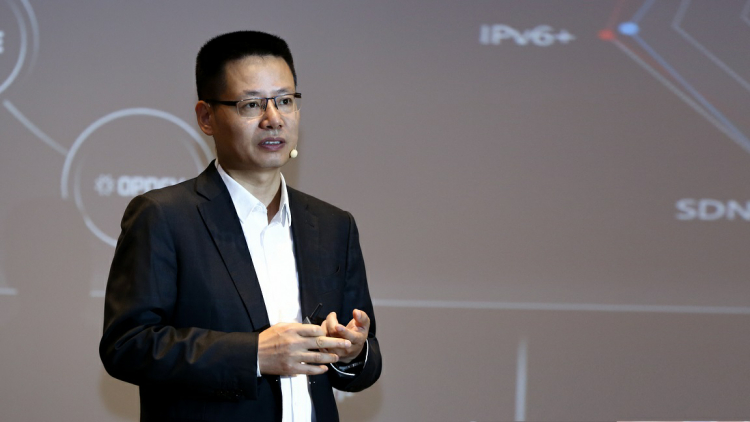 Huawei recently held their 17th Annual Huawei Global Analyst Summit which was held in Shenzhen.
At the event, Huawei was joined by over 2,000 analysts, key opinion leaders, and media representatives from a range of industries, including telecoms, the Internet, and finance. Together, they discussed how the industry can work together to weather the difficult times, achieve win-win outcomes, and accelerate the arrival of the intelligent world.
Key Highlights:
Press Release 1 : Huawei Intelligent IP Networks, Accelerating Intelligent Connectivity (English and Chinese version with photo)

Huawei's "Leading Intelligent IP Networks, Accelerating the Transformation Towards Intelligent Connectivity" summit shed light on three typical characteristics of intelligent IP networks: super capacity, intelligent experience, and autonomous driving. Besides this, Huawei shared its numerous success stories of intelligent IP networks across industries, signifying the data communications industry's arrival in the intelligent IP network era.

Press Release 2 : ETSI, China BDA, Altice Portugal and Huawei Jointly Launch the Global Industry Initiative toward F5G (English version with photo)

The European Telecommunications Standards Institute, China Broadband Development Alliance, Altice Portugal, and Huawei jointly launched the Fifth Generation Fixed Network (F5G) industry initiative, inviting global upstream and downstream partners of the fixed network industry to join the F5G industry organization, which aims to develop a thriving industry.

Press Release 3 : Huawei Advances Computing Strategy and Industry Ecosystem Initiatives (English and Chinese version with photos)

Huawei announced that it would advance its computing strategy with the industry ecosystem, and foster an ecosystem with computing and HUAWEI CLOUD to cultivate the fertile ground for the digital world. Huawei has and will continue to promote the industry ecosystem and innovate technologies and products. In 2020, Huawei will invest USD200 million in the computing ecosystem and develop 2 million developers worldwide.
In related news, at the Huawei Global Analyst Summit 2020 (HAS 2020), Huawei Enterprise Business shared its insights into industry trends and challenges it currently faces with global analysts and media. Huawei Enterprise Business will work with partners to explore the industry digitization market and help customers accelerate digitization and intelligence processes.
Due to external environmental changes, Huawei has great confidence to achieve its challenging new goals. Firstly, the development and unified application of new ICT technologies such as 5G, AI, and cloud computing has significantly accelerated the digital transformation in vertical industries. Secondly, due to the pandemic, governments and enterprises around the world have now realized that digital transformation is imperative. Therefore, the power and potential of a digital world is evident.
Mr. Qiu Heng, President of Global Marketing for Huawei's Enterprise BG, introduced the business performance and objectives of Huawei Enterprise BG in 2019 during his "Bring Digital to Every Organization" speech. With support from global customers and partners, Huawei Enterprise BG achieved a sales revenue of CNY 89.7 billion in 2019, 86% of which came from partner contribution. Huawei serves more than 50,000 enterprise customers worldwide. Furthermore, 228 of the Fortune Global 500, and 58 of the Fortune Global 100 have chosen Huawei and Huawei's partners to assist them in digital transformation. In Shenzhen alone, Huawei has helped more than 1800 enterprises implement digital transformation across finance, transportation, manufacturing, electric power, education, and healthcare. In the future, Huawei will continue to empower customers' business success by leading industrial digital transformation, driving campus and data center reforms, and developing cutting-edge star products.
The digital transformation of the financial services industry strives to be "fully digital, fully intelligent, and fully open". Due to the pandemic, the financial services industry has never been more confident and determined to implement digital operations. In addition, the financial services industry has demonstrated its advantages and value in conducting digital operations with new technologies. Mr. Vincent Chen, CTO of Huawei's Global Financial Services BU, said that Huawei will continue to leverage its innovative technology and leading practices in ICT infrastructure to help financial institutions execute business strategies such as inclusive finance, as well as data-driven business innovation and open banking in order to deliver stable, secure and agile financial services.
The energy industry is facing challenges such as energy transformation, low-carbon needs, energy security, and friendly interaction in energy consumption. Mr. Xia Wenbo, Chief Digital Transformation Officer of Huawei EBG Global Energy Industry, believes that these challenges will accelerate the transformation and upgrade of the electric power industry. "Huawei will work with customers in the electric power industry to promote the application of cloud computing, big data, 5G, and AI technologies in the industry, thereby ensuring secure and stable running of the power grid, supporting large-scale new energy access, and improving operational efficiency. In addition, this will help develop new services and accelerate the industry's digital transformation," said Xia.
In the future, Huawei will build the foundation for digital China and the core for a digital world based on "New Connectivity, New Computing, New Platforms, and New Ecosystems".
G.SKILL DDR4 Memory Reaches Extreme Speeds with 10th Gen Intel Core Processors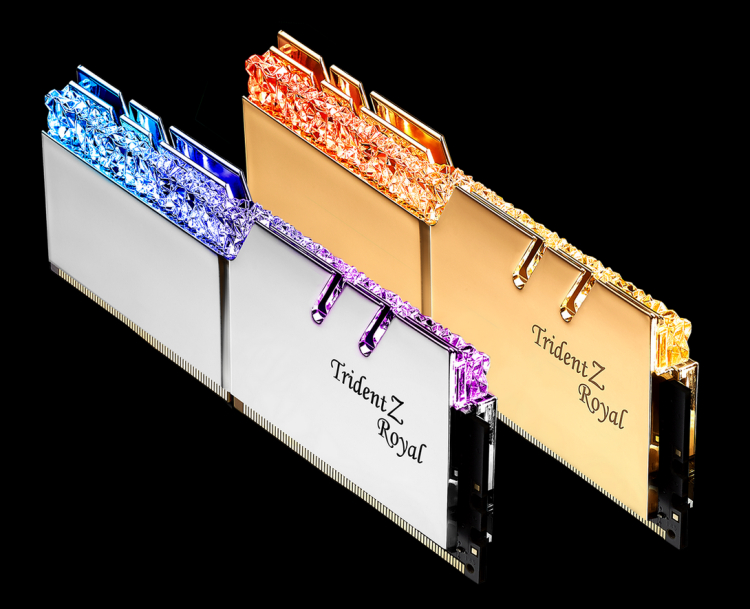 G.SKILL International Enterprise Co., Ltd. with the latest release of the 10th Gen Intel® Core™ processors and Intel® Z490 chipset-based motherboards, G.SKILL demonstrates that DDR4 memory is capable of reaching a higher tier of extreme speed than ever before, at up to DDR4-5000MHz with 8GB and 16GB memory modules, as well as DDR4-4400 with high-capacity 32GB modules.
Memory capacity has come a long way, where a 64GB kit used to require 8 memory modules. Now, 64GB is achievable with two high-density 32GB modules, and G.SKILL shows that a massive capacity 32GBx2 kit is capable of an incredible DDR4-4400 with CL19-26-26-46 timings. Stress tested on the latest Z490 platform and 10th Gen Intel Core processors, they ran on the ASUS ROG MAXIMUS XII FORMULA motherboard with an Intel® Core™ i7-10700K processor and the ASUS ROG MAXIMUS XII APEX with an Intel® Core™ i9-10900K processor.
Pushing the extreme limits of low latency at high frequency speed, G.SKILL validates a 16GBx2 kit at DDR4-4400 with an extremely low latency of CL17-18-18-38 timings on the ASUS ROG MAXIMUS XII EXTREME motherboard and an Intel® Core™ i9-10900K processor.
DDR4-5000 is a major memory frequency milestone, and on the latest Intel Z490 chipset platform, G.SKILL has successfully reached this DDR4-5000 CL19 landmark achievement with 8GBx2 capacity on motherboards from multiple vendors, including the ASUS ROG MAXIMUS XII APEX, ASRock Z490 AQUA, and MSI MEG Z490 GODLIKE motherboards running with Intel® Core™ i9-10900K and i9-10900KF processors.
Epson launches new EH-TW7000 4K home entertainment projector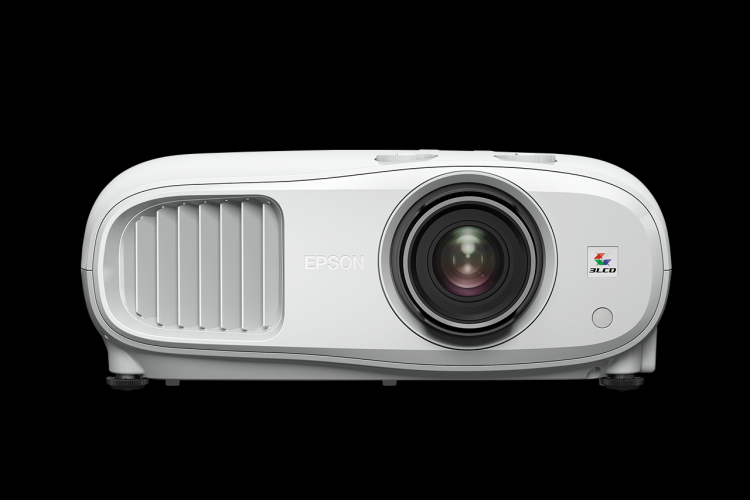 Epson, recently launched a new home entertainment projector, the EH-TW7000, that is powered by the latest 4K PRO-UHD technology for the beginner home projector enthusiast. The projector is currently priced at RM6,238.
The EH-TW7000 projector is engineered to deliver an exceptional home theatre viewing experience at an affordable price point with up to 3,000 lumens of equal color and white brightness for bright, vivid images with brilliant colour.
One of Epson's most compact and affordable 4K PRO-UHD projectors to date, the new home entertainment model uses advanced processing technologies for resolution enhancement, colour and image processing that's able to upscale Full HD contents.
The EH-TW7000 projector has a range of connectivity options to media devices, including its 'smart projector' feature, where users can easily plug a USB-powered media device to enable screen mirroring. It includes Bluetooth wireless speaker support and aptX™ compatibility.
With support for the latest 18 Gbps HDMI 2.0 specification, the projector displays exceptional 4K HDR content at full 60 fps from the latest streaming devices and gaming consoles. With a wider HDR range, the projector delivers brighter images with greater accuracy in brightness adjustments.
The EH-TW7000 projector features Epson Precision Lens technology, a proprietary multi-element Precision Glass structure for outstanding image clarity and focus uniformity. Designed for flexible installation, the projectors come with wider lens shift range – up to ±60 percent on the vertical axis and up to ± 24 percent on the horizontal axis.
Microsoft Build 2020 highlights
CEO Satya Nadella kicked off Microsoft Build 2020, the company's annual developer conference, via virtual experience. He shared how Microsoft and its customers are addressing developer needs across all industries and how the company is uniquely positioned to help businesses adapt in a remote world.
The virtual conference featured 48 hours of free continuous programming for attendees including key segments from Scott Hanselman, Partner Program Manager, Scott Guthrie, EVP Cloud and AI Group, Rajesh Jha, EVP Experiences and Devices Group, Kevin Scott, CTO and James Phillips, President, Business Applications.
Key news highlighted:
New tools and services available in Azure, M365 and Windows that empower developers to be more collaborative and productive

Expanded capabilities – including open source and low-code tools – that help developers build apps quickly and learn new skills no matter where they are in their career or the world

New innovations in healthcare through cloud solutions and Microsoft Teams that will help hospitals and care providers better manage the needs of patients

The top student developer teams participating in Microsoft Imagine Cup, and the finalist named this year's 2020 champion

Advancements in artificial intelligence that help customers leverage the power of the cloud responsibly and scale AI solutions globally
Celcom shares Ramadan spirit with charitable homes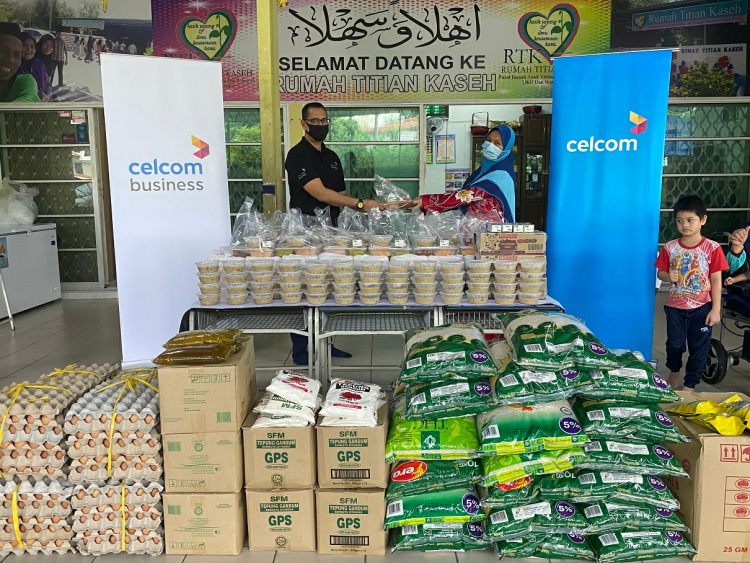 Celcom Axiata Berhad sparks the spirit of sharing further in the month of Ramadan, as children, single mothers and senior citizens from various charity homes nationwide, were treated to Celcom's unique festive treats and warm cheers.
As the holy month of Ramadan is filled with the spirit of generosity and giving, Celcom's Enterprise Business Division reached out to lighten the burden and spark joy for charitable homes that were also affected by the COVID-19 pandemic.
On 20 May 2020, charity homes in Klang Valley such as Rumah Titian Kaseh Titiwangsa in Kuala Lumpur, Pusat Jagaan Amal Syurga in Sungai Buloh, Rumah Anak Yatim Asnaf Assolihin in Kanchong Darat, and a shelter home for the elderly at Pusat Jagaan Mahmudah in Semenyih, along with a few other orphanages received Celcom's Ramadan spirit.
The occupants of the homes were delighted to receive special 'buka puasa' treats from members of Celcom's Enterprise Business Division, together with Azlan Zainal Abidin, Chief of Enterprise Business Officer, Celcom Axiata Berhad. Azlan also took the opportunity to be on ground with his team, where he handed over the relief of essential needs such as rice, flour, and other food supplies to Rumah Titian Kaseh, a shelter to over 80 orphans, single mothers and senior citizens.
Furthermore on the same day, Celcom's regional teams throughout the nation, also extended their reach and shared the spirit of Ramadan, to 18 charity homes nationwide, which include Rumah Anak-anak Yatim Teratak Rahmat in Perlis, Lembaga Pengurusan Anak Yatim Miskin in Melaka, Rumah Anak Yatim Huzai in Terengganu, Kompleks Kebajikan Laila Taib in Sarawak, Rumah Kanak-kanak Kota Kinabalu, Sabah, Rumah Anak Yatim Curahan Kasih Sayang Ikhwan in Temerloh, Pahang and Rumah Anak Yatim Salimah in Bachok, Kelantan. Celcom's sharing spirit initiative resonates the telco's ongoing commitment to ensure that no one is left behind, during such challenging times.
Grab's new Delivery Doodles feature magically turns children's drawings into food orders with Google's AI
Grab has launched a new feature, Delivery Doodles that turns any kid's doodles of their favourite dishes into food orders delivered via GrabFood––with a little help from Google's AI.
GrabFood Delivery Doodles is built using a machine learning model that can recognize drawings of local dishes like Martabak, Bánh mì and Nasi Lemak. Volunteers from Grab, Google and their families submitted over 10,000 doodles to "help teach a computer to recognize kids' drawings". Many of these same parents and children also became our talents and DIY videographers for this simple demo video.
Special: Netflix Guides to Levelling up at home and answering Raya questions
Netflix recently sent in some guides on levelling up at home and answering Raya questions. Check them out below.
It's been said that if you give a person a fish, you feed them for a day - but if you teach them how to fish, you feed them for a lifetime! So, instead of just giving you a list of shows to watch while we're all stuck at home right now, we thought we'd also get in the #kitajagakita spirit and help you level up your Netflix skills with these pro tips:

1) See What Other Malaysians Are Watching with Top 10 Lists

Netflix recently announced that you can now see what's popular in your country through a special Top 10 row. Did you know that this list is updated every day? Not only that, if you look under the "Series" or "Films" tabs - you will also find a Top 10 list each for TV series and movies, which are also updated daily.

2) Search for quirky collections

The Netflix "Search" function may be one of its most underrated features. Did you know that besides searching for specific show or film titles and genres, you can also search for shows that may have been tagged under specific categories? Entertainment is about moods, so there's something for whatever mood you're in right now. Missing your girl gang? Maybe a gal pal movie is just what you need to cheer you up. Or you've had your fill of reality, and want to escape into a world of fantasy movies, or epic worlds. Or you're looking for an initiation into anime, or K-drama. Here are a few to get started:

Great K-drama screenwriters

Romantic workplace TV shows

Watch in one weekend

Ensemble TV shows

Love triangle K-dramas

Fantasy movies

Talking animals

Slow burn

Epic worlds

Feel-good

Anime for Beginners

Retro TV

Underdogs

Gal pal movies and tv shows

3) Liked that show? Check out 'More Like This'

If you enjoyed watching a particular show or movie, you can actually check out similar ones under the "More Like This" tab under the show's title page. Clicking on it reveals a list of other shows that Netflix thinks are similar. So, if you enjoyed that one show or film, this is a great way to find more that might interest you.

4) Surfing the Details

This only works on the web interface but there's seriously a lot of useful information hidden away under the "Details" tab of a show. When you click on it, you will find the show's creators, cast, genres, and even interesting tags. Here's the thing: Did you know that all these are clickable? So, if you click on the name of an actor, Netflix will show you all the films on the service that the actor appears in. Or, if you're feeling adventurous, click on the interesting tags under "This show is" which will take you to shows that have been tagged with words like, "Goofy" or "Feel Good".

5) Manage bandwidth by profile

Imagine you're trying to get some work done, while your child is busy watching reruns of Peppa Pig or Upin and Ipin. If you're not particular about having every profile streaming at the highest quality, you have the choice of controlling it. From Account>Profile & Parental Controls, hit the dropdown on Profile you want, and click 'Change' on Playback Settings. You can set the Data Usage Per Screen to Low or Medium to control how much streaming bandwidth that particular profile consumes.

6) Never miss a movie/show that's Coming Soon

On mobile devices, there is a tab called "Coming Soon" - it's a great resource to find out all the shows that are, well… coming soon to Netflix. Under this tab, you'll see the trailer and a helpful synopsis. Not only that, if you're looking forward to a specific show, you can also click on the "Remind Me" bell icon so that you can get a notification when the show premieres on Netflix! That way, you never miss out on the next big movie or show.

7) Watch What Your Kids' Watching with Profile Locks

So you created a Kids Profile (from Manage Profiles) for your little one and gave strict instructions to only watch Netflix from there. But you're ever so slightly worried they might go into your account, and feel the need to always keep an eye on what they're watching.

Well, you don't need to be Hopper to your Eleven. Simply set a 4-digit Profile Lock, so your child is never able to go into your Profile, from any device. To set a lock, go to Account>Profile & Parental Controls, select the Profile to lock and hit 'Change' on Profile Lock.

8) Recommendations, just for you.

Netflix has a wide variety of shows and movies for you to watch. And the joy is that as you watch more, Netflix recommends you more movies and shows you might enjoy. One of the ways Netflix does this is via email. By default, emails only go to the account holder. But what happens when you share Netflix with your parents, siblings or spouse? If you're using different Profiles, you can add a Profile email, so that Netflix can let you know about suggestions for what to watch, new features, etc. To add, go to Account>Profile & Parental Controls, select the Profile and hit 'Add' on Profile Email.

9) Love what you just saw? Share the love!

Does this happen to you? Once you've seen a show or a movie that made you laugh, cry, happy, sad, all of the above, you cannot wait to recommend it to your friends. Well, you can always call them, or message them about it. Or, from the Netflix app on your phone, you could simply go to the movie or show, hit 'Share' and post it to Instagram Stories, Twitter, or share via WhatsApp or Messages.

10) Recommend shows to Netflix

While Netflix recommends a lot of shows to us, did you know that you could also return the favor and recommend shows to Netflix? Tucked away in their Help Centre is a little page that lets you recommend TV shows or movies for Netflix to add to their service! You can either access this through a web browser at help.netflix.com/titlerequest or by clicking on "Help" in your account menu. These days, you might be watching enough Netflix to realise what you might be missing - so, here's your chance to prop up that one show you've been dying to watch!

11) Too many devices on Wi-Fi? Get downloading

With everyone at home, we're working our Wi-Fi connections like never before. Everyone and all their devices are on it, you need to get work done, kids are on online classes, and it's being stretched a little thin. Or, you just want to escape to the bedroom and watch a bit of Netflix; but the signal is not great in there. It's time to put Smart Downloads to work. Simply go to the App Settings on your smartphone/tablet, and make sure Smart Downloads is turned ON. Now, put the episodes you want to watch to download by hitting the symbol next to it. Once done, you are free to watch anywhere, without worrying about internet speed or dead zones. What's even better, say you downloaded episode 1-3. When you're done with episode 1, and back on Wi-Fi, your Netflix app will automatically clear episode 1, and download episode 4. That's why it's smart!

Some people say that Raya is a month and for those Raya moments or questions, Netflix have come up with a guide for all those sticky questions. Quite a few of them will probably get you more questions than silence, but if you have a fun they'll understand. In any case check it out at HERE.

Wishing you a Selamat Hari Raya Aidilfitri! Semoga 'Raya Kita, Berbagai Cerita' on Netflix. For more of your favourite shows this Hari Raya, look out for the watch list at www.netflix.com/salamaidilfitri
So, that's it for this episode of TechNave Newsbytes 2020 #13. As usual, if you feel that your brand or press release deserves to be here, let us know. Stay tuned for more tech at TechNave.com