TechNave NewsBytes 2020 #16 - Samsung, realme, Huawei, Honor, Digi, Xiaomi, AMD, Lazada, Garmin Tacx, Kaspersky, HP Inc, Microsoft, LG, Grab, MDEC and more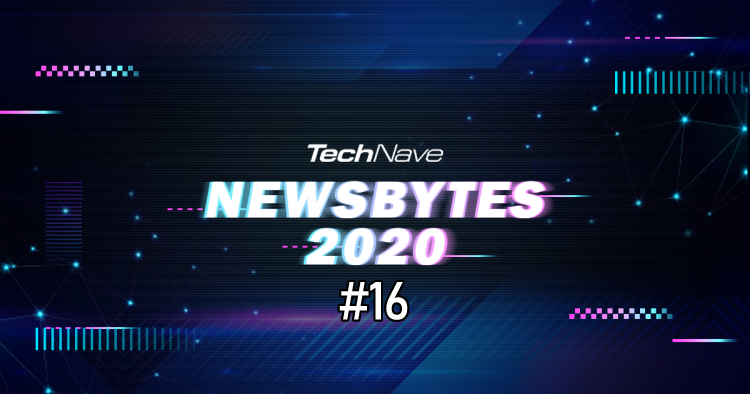 It's been a while TechNavers, so this issue of TechNave NewsBytes 2020 is jam packed with news from Samsung QLED TVs, Samsung on their One UI 2 and exclusive Samsung Air Conditioner promotions. realme achieved new sales awards for their Buds Q, AIoT and TWS. Huawei, Sunway and Celcom sign an MOU, discussed on 5G at the first GSMA Thrive and develop something with SASBADI and Huawei Cloud.
Along the way, Honor announces their MagicBook series achievements, while Digi announce their Omni hotline and altHR solutions. Xiaomi announced their global achievements in global innovation while AMD announced their EPYC supercomputers and Hawk supercomputer virtual tour. Lazada announced support for shrimp farmers and expanded their Guaranteed Delivery promise.
Garmin Malaysia unveiled their Tacx indoor cycling trainers, while Kaspersky revealed more online threats. HP Inc showed their support for Malaysia and Microsoft is offering new reskill options. LG received awards and introduced their LG LED signage while Grab announced you can do more with GrabPay and GrabMart.
MDEC had various SME announcements including news on GoGet. In our new misc section Canon announced the World's 1st 1MP SPAD image sensor, GoGet is working with Ikano Centres, Boost E-Wallet and Aspirasi are offering low-cost micro-insurance and Waze has a New Look and New Moods. Also in misc, vivo is building their new HQ and devs can now make apps for the TerraMaster NAS. TikTok launched Celebrity Leaderboard and TikTok For Business while JobStreet did a survey. Other misc entries came from SKYWORTH, Nutanix and Epson.


SAMSUNG ANNOUNCEMENTS
Experts Explain How Samsung Optimized QLED TVs for Next-Level Gaming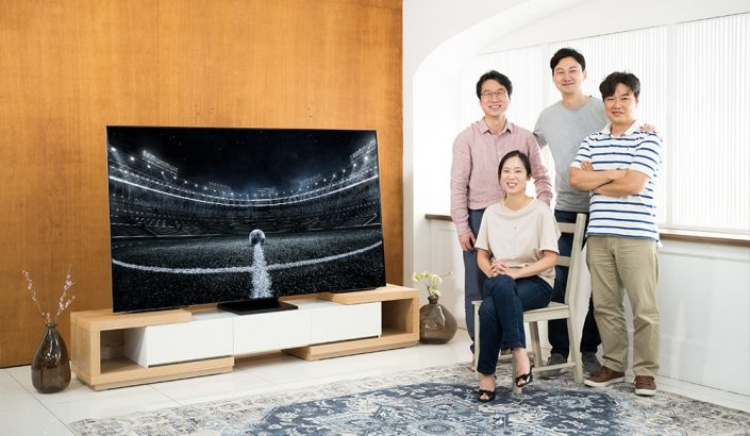 Since introducing Auto Game Mode to its TVs back in 2018, Samsung has made delivering next-level gaming experiences a key priority for TV development. Today, the fruits of the company's considerable efforts include three consecutive 'Best of Innovation' nods in the gaming category of CES's annual Innovation Awards.
Samsung's latest QLED TVs build on that award-winning heritage by offering users their most immersive and enjoyable TV gaming experiences yet. To learn more about how QLED TVs are changing the game in this regard, Samsung Newsroom sat down with the product planners and developers who helped bring the displays to life.
To find out more, kindly visit the site.
Samsung on their One UI 2
In 2018, Samsung introduced an improved version of its standard user interface and software overlay called 'One UI'. As well as working to make them intuitive, consistent, and effective, UX designers try to base user interface interactions on the way we use physical objects in the wider world to promote familiarity.
Now, One UI has been further developed into 'One UI 2', which was unveiled at the end of last year. This upgraded interface incorporates the icons from One UI in new styles and configurations, and includes revamped colors and movements. In addition, One UI 2 makes the icons more conspicuous with distinct color tones and motions, for instance when the 'settings' icon trembles to let users know that an update is underway.
Special effort was put into developing the UI for the Galaxy Z Flip's 'Flex Mode,' a feature that divides the screen into two halves when the phone is half-folded and set at a 90-degree angle. Shin explained how the design team catered to this unique form factor, saying that, "Designing a UI that would be suitable for a phone being used in Flex Mode presented a real challenge. We ended up creating a new layout that reflected the UIs seen on the foldable phones of the past."
For more information, please visit the Samsung Malaysia Newsroom site.
Samsung is NOW offering 2 EXCLUSIVE Air-Conditioner Promotions:
Samsung Brand Shop Exclusive (From 4 June until 31 July 2020)

Promotion is only at Samsung Brand Shop

2 Years Warranty + 10 Years Warranty on the compressor (* with purchase of selected Air Care Products)

Redeem Premium Gift Pack Worth RM199 (Promotion period valid from 4 June until 31 July 2020)
Redemption steps & more information on promotion mechanics, please check out their site.
Samsung Exclusive Deals (From 1 June until 31 December 2020)

1 + 1 Year Extended Warranty + 10 Years Warranty on the compressor (* with purchase of selected Air Care Products)

Promotion period valid from 1 June until 31 December 2020

Find out more terms & conditions on the promotion mechanics at their site.
realme ANNOUNCEMENTS
6000 units of realme Buds Q sold out in 34 minutes
realme Malaysia achieved another amazing result with its realme Buds Q. Malaysian fans truly fell in love with the real design of realme Buds Q making it the Fastest-selling TWS on Shopee during its 7.7 Sales in 2020. A total of 6000 units of realme Buds Q was sold out in just 34mins on the Shopee 7.7 Sales.
realme AIoT sold out in less than 1 hour
During the first online sale of realme band on Shopee, a total of 4,300 units of realme band were SOLD OUT in 60 minutes giving it the title as the 'Fastest-selling Smart Band on Shopee in June 2020'.
Another remarkable success on the same day were the realme Buds Air Neo which achieved the 'Best-selling True Wireless Stereo (TWS) on Shopee in June 2020' with a total sale of 1000 units SOLD OUT in 1 hour.
HUAWEI ANNOUNCEMENTS
Sunway, Celcom and Huawei sign 1st Malaysian tripartite collaboration to advance 5G smart solutions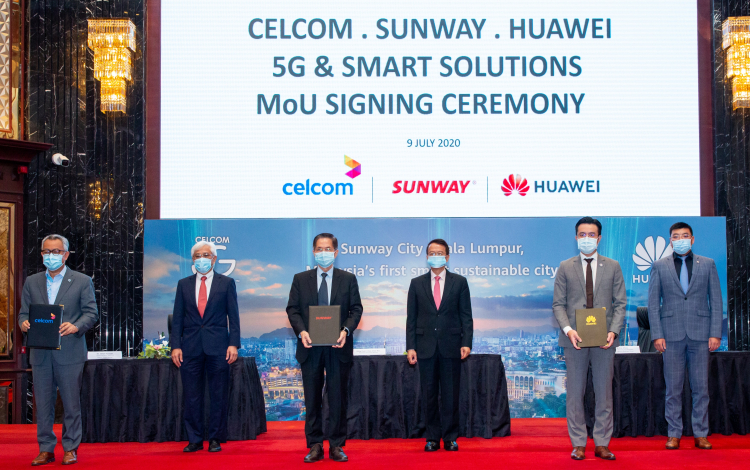 Sunway Berhad, Celcom Axiata Berhad and Huawei Technologies (Malaysia) Sdn. Bhd. recently sealed a memorandum of understanding (MoU) to explore Malaysia's first tripartite collaboration towards advancing smart township solutions encompassing Internet of Things (IoT) and Artificial Intelligence (AI), with the fifth-generation (5G) connectivity.
The MoU aims to explore the potential for Celcom and Huawei to be the 5G technology enabler for Sunway Group. Sunway City Kuala Lumpur will be the "launch pad" of this ground-breaking partnership.
All three parties will explore the possibility to facilitate and support one another within the digital eco-system to promote technological adoption to enrich people's lives.
The proposed collaboration will see the development of smart solutions in the areas of public safety and security, telehealth, e-learning, hospitality, leisure and retail experience using the latest telecommunications technology as they become available for Sunway City Kuala Lumpur, Malaysia's model smart sustainable city, as well as other existing and upcoming developments of Sunway. The tripartite collaboration will also contribute towards achieving sustainable development for our nation.
As 5G connectivity will drive optimum adoption of IR4.0 solutions for smart township, the three parties involved will potentially develop an architectural design, use cases and deploy projects based on the latest technological standard for cellular networks for Sunway City Kuala Lumpur.
For more information, visit www.huawei.com
Huawei at GSMA Thrive
At the New Infrastructure and Business Digitalization Forum held during the first GSMA Thrive event, Mr. Gan Bin, Chief Marketing Officer for Huawei's Wireless Network Solutions, delivered a keynote speech entitled "5G Brings Five Opportunities with New Value". In his speech, Mr. Gan elaborated why "5G is the digital foundation of new infrastructure to upgrade connectivity, AI, cloud, computing, and industrial applications and inject new vitality into economic development".
In the event, Mr Gan also extended on the topic of 5G discussion to 5G stimulating the demand of Cloud Storage and Computing, and 5G adoption in smart personal and home connectivity in full scenarios. At the same time, 5G's full-scenario connectivity also facilitates the application and expansion of AI functionality. Technologies like real-time speech recognition, real-time machine translation, license plate recognition, and production line detection will penetrate every aspect of life and work due to ubiquitous 5G networks.
SASBADI And HUAWEI CLOUD Join Forces to Develop Intelligent Education Solutions Driven by AI
In line with digital transformation efforts, Sasbadi Holdings Berhad (SASBADI) announced a strategic partnership with HUAWEI CLOUD to develop intelligent solutions, empowering both teachers and students to digitalise and transform in the domain of AI. The key areas of this partnership will involve the planning, development, and creation of AI-driven solutions for students and teachers to have a more practical, interactive, and innovative experience in digital teaching and learning.
The two parties will work together to develop SASBADI e-Learning Solutions based on the latest cutting-edge technology such as VR and AI by HUAWEI CLOUD to enhance the user learning experience. As part of the arrangement, HUAWEI CLOUD will provide expertise and support to SASBADI on learning solutions, developed with HUAWEI CLOUD AI technology and its marketplace for partner's solutions. Lastly, the partnership will see the joint promotion of SASBADI customised e-Learning Solutions for commercialisation in Malaysia and across South-East Asia region via the HUAWEI CLOUD Marketplace.
HONOR MagicBook Series sold over 10 thousand units during China's 618 Sale Festival
HONOR recently shared that the HONOR MagicBook 14 was the top selling product in the lightweight laptop category on JD.com during 618, China's mid-year shopping festival. Both MagicBook 14 and MagicBook Pro recorded a sales volume of over 10 thousand units within just 8 minutes.
Locally, the HONOR MagicBook made a stunning debut early this year and received positive response with all units sold out within 15 minutes after sale began. Seeing how well the laptop was received by the Malaysian market, the brand is set to launch the HONOR MagicBook 14 next to keep up with consumer demands. Powerfully compact, the HONOR MagicBook 14 is a sleek and lightweight laptop, offering long-lasting battery and ultra-fast performance for users on-the-go.
DIGI ANNOUNCEMENTS
Digi Omni Hotline selected
Forward School has selected Omni Hotline as its preferred remote office landline provider, providing customers with a faster and more convenient avenue to reach out to their representatives. Check out the omnihotline.my site for more details.
Digi releases HR super app, altHR to equip Malaysian companies for the new normal
Digi Telecommunications Sdn Bhd (Digi) recently announced altHR, to help Malaysian companies digitalise HR processes and drive better employee empowerment and engagement.
altHR is a digital workforce management solution. Built with features fit for the new normal such as digital sales Kits, contactless time tracking, paperless leave and expense management, it aims to address the problem of digitalisation of company processes that is prevalent in small and medium enterprises (SMEs). The launch of altHR is also in line with Digi's aim to help more Malaysian companies go digital and to cope better with the unforeseen challenges of the Covid-19 pandemic.
It is available for all Malaysian SMEs for free until 31 December 2020 for their first 40 employees at their site.
Xiaomi is 24 among the 50 most innovative companies of 2020
Global technology leader Xiaomi is ranked at No. 24 among the 50 most innovative companies of 2020 in the world, making its reappearance on the list, according to a latest report by Boston Consulting Group (BCG). The BCG report titled: The Most Innovative Companies 2020: The Serial Innovation Imperative, acknowledges Xiaomi for its active cross industry innovation efforts, based on a new scoring dimension that captures each firm's variety and intensity of boundary breaking.
AMD ANNOUNCEMENTS
4 AMD EPYC supercomputers announced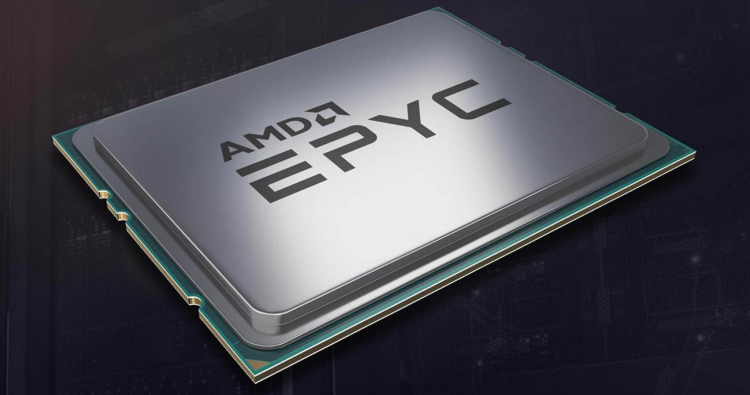 AMD recently announced four AMD EPYC powered supercomputers are now among the 50 highest-performance systems in the world, including the seventh spot on today's TOP500. There are now a total of ten AMD EPYC-powered supercomputers on the list. In addition, AMD unveiled updates to ROCm, new research supercomputers at Indiana University and Purdue University , and that CERN is using EPYC processors to accelerate research at the world's largest particle physics lab.
As partners increasingly leverage the power of 2nd Gen AMD EPYC processors, more leading HPC institutions are adopting EPYC to address the world's greatest challenges. From powering the world's fastest exascale supercomputers in the future, Frontier and El Capitan, to supporting workloads in the cloud today for partners like Microsoft Azure, AWS and Google Cloud, AMD EPYC processors are helping partners meet their goals with world-class performance.
AMD also announced it has exceeded its moonshot 25x20 goal set in 2014 to improve the energy efficiency of its mobile processors by 25 times by 2020. The company surpassed this goal with the launch of the new AMD Ryzen™ 7 4800H mobile processor, which improves on the energy efficiency of the 2014 baseline measurement by 31.7 times, while also delivering leadership performance for laptop PCs. Greater energy efficiency leads to significant user benefits like improved battery life, better performance, lower energy costs and reduced environmental impact from computing.
AMD has also launched a never-seen-before 360 virtual tour of the flagship supercomputer 'Hawk' at the High-Performance Computing Center Stuttgart (HLRS) of the University of Stuttgart, Germany. The recently inaugurated Hawk system is among the fastest supercomputers worldwide and the fastest general-purpose system for scientific and industrial computing in Europe.
Available for your access here, the virtual tour reveals a rare inside-look into an impressive technical achievement in European supercomputing. As you 'move' around the virtual environment and between the racks, you'll find links to more detail on the Hawk supercomputer. The tour also includes an interview with Dr. Bastian Koller, Managing Director at HLRS explaining how the system works and its applications. As seen in the tour, the Hawk system consists of 44 racks provided by over 5,600 compute nodes, summing up to over 720,000 compute cores of 2nd Gen AMD EPYC processors.
LAZADA ANNOUNCEMENTS
Lazada Malaysia is stepping up its efforts with a Prawn Farmers Initiative, and helping agriculture-based industries bounce back by bringing local prawn farmers online for the Lazada 7.7 Mid-Year Super Sale. For the first time, local prawns from Selangor State will be featured in a dedicated livestreaming session at midnight, July 7, offering fresh crustaceans directly from the sea to homes.
After receiving word that prawn farmers were unable to sell their daily catch, Lazada reached out to EARWYNN Prawn, a local prawn distributor that works directly with local prawn farmers to bring their export quality, antibiotic-free, and MyGAP certified Black Tiger prawns on the platform. In addition, Lazada worked to create special marketing promotions and a dedicated delivery service to kick start sales during the 7.7 campaign.
To support this, a special livestreaming session is scheduled at 00:00, July 7 on the Lazada app, featuring KOL Abang Brian, who will be showcasing his scrumptious shrimp-based recipes. Viewers will also be able to collect vouchers with discounts up to 50% off during the session.
The quick onboarding of prawn farmers is made possible in collaboration with GoGet for delivery solutions. Leveraging on the collective efforts with GoGet that spell 'Kita Tolong Kita' community, as well as its expertise in technology and logistics, Lazada looks to continue this digital momentum to support local agricultural sellers.
Lazada Malaysia has expanded its 'Guaranteed Delivery' promise from Klang Valley to the whole country* in conjunction with its upcoming 7.7 Mid-Year Super Sale that guarantees Malaysians of timely and reliable LazMall deliveries. This service supports two other existing promises from LazMall - '100% Authentic' and '15-Day Returns', and is in line with the company's dedication in providing shoppers with high-quality, genuine products as well as reliable delivery services to match.
Garmin Malaysia unveils Tacx(R) range of indoor cycling smart and roller trainers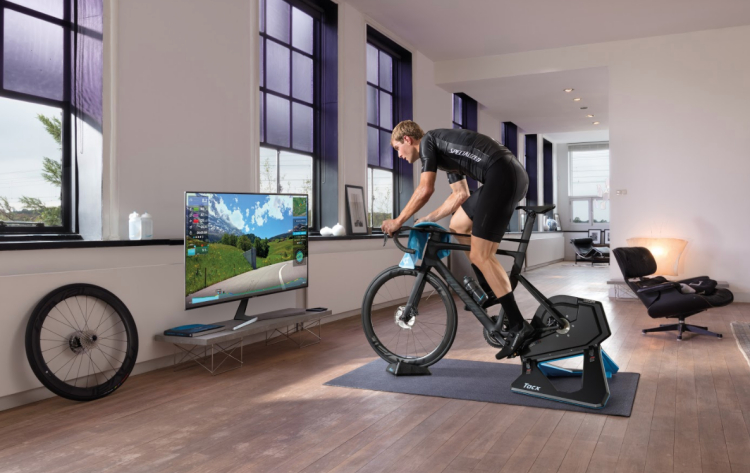 Garmin Malaysia recently announced Tacx's revolutionary range of indoor cycling trainers and rollers including the latest Neo 2T Smart, Flux 2 Smart, Flux S Smart, Antares and Galaxia roller trainers will be available in Malaysia to cycling professionals and enthusiasts.
The Tacx range of indoor cycling trainers raises the bar on indoor bike training with some of the most quiet, realistic and accurate indoor cycling trainers available on the market today, pushing the boundaries of everything we know about indoor cycling to the next level.
Since the start of the movement control order (MCO), people are increasingly finding it more convenient to exercise from home. The Tacx range replicates real outdoor riding experience. This technology is perfect for cycling enthusiasts and fitness enthusiasts who are interested in venturing into a new sport that can be done from the comfort of their home.
The Tacx Neo 2T Smart, Flux 2 Smart and Flux S Smart are available now at all Garmin stores and authorized dealers.
NEO 2T Smart - RM 6,699.00

Flux 2 Smart - RM 4,199.00

Flux S Smart - RM 3,499.00

Galaxia Rollers bike trainer - RM 1,299.00

Antares Rollers bike trainer - RM 999.00





KASPERSKY ANNOUNCEMENTS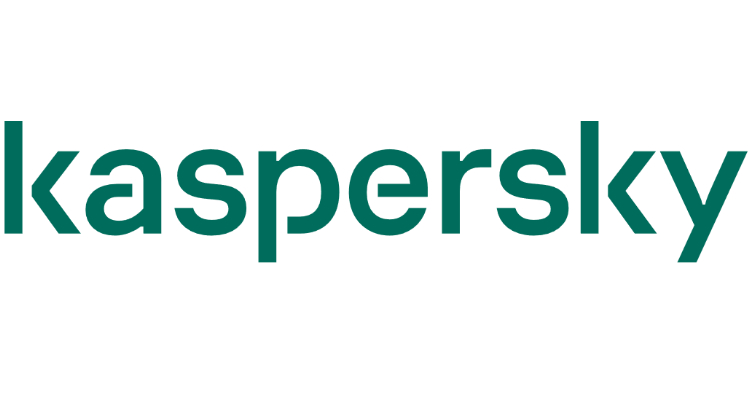 Kaspersky announces the first successful integration of its new automotive KasperskyOS into an electronic control unit (ECU) of an advanced driver-assistance system (ADAS), developed by AVL Software and Functions GmbH (AVL SFR).
This controller is an open and customizable development platform for both prototype and series development, and is safe and 'secure by design' as it runs on KasperskyOS. In this application, the secure operating system is designed to protect communications between ADAS components and to safeguard all the autonomous vehicle functions.
Kaspersky researchers have uncovered a new technique for stealing users' payment information on online shopping websites—a type of attack known as web skimming.
By registering for Google Analytics accounts and injecting these accounts' tracking code into the websites' source code, attackers can collect users' credit card details. About two dozen online stores worldwide were compromised using this method.
Over three years after the infamous Wannacry ransomware, its costly aftermath still remains a vivid glimpse on the damage cybercriminals can do by kidnapping companies' essential data.
This threat is undoubtedly present as just this month, operations of an automobile giant were halted in several parts of the world after a successful attack by another ransomware dubbed as SNAKE (also known as EKANS).
HP ANNOUNCEMENTS
HP Inc. supports Malaysian Government, Businesses and Communities
HP Inc. has announced support to government bodies, businesses and communities in Malaysia as part of its vision to continue supporting the future of Malaysia as the nation embarks on the road to recovery from the recent pandemic.
The support from HP Malaysia includes personal protective equipment (PPE), 3D printed face-mask adjuster and HP product donations, employee and HP Foundation donations, enhanced customer support capabilities and remote working and learning initiatives, as well as customer and partner reliefs. These efforts are focused on supporting and motivating Malaysian government bodies, businesses and communities as they continue adapting to thrive in the new normal while prioritizing their health and safety.
While Malaysian healthcare and essential services workers support the nation at the frontlines, HP Malaysia donated RM870,000 worth of PPE supplies in May. The PPEs for frontline workers, including over 371,000 face masks, surgical masks, disposable gloves and hand sanitizers were distributed to the Ministry of International Trade and Industry in Kuala Lumpur, Penang Island General hospital and two city councils in Penang, Majlis Bandaraya Pulau Pinang and Seberang Perai.
HP Malaysia also extended PPE donation efforts with its suppliers who wanted to help support Malaysia's recovery efforts. HP has over 100 suppliers in Malaysia, many of whom are small-and-medium businesses (SMBs) that employ over 22,000 staff locally.
Together with support from a coalition of local and global companies including Flex, Beyonics International, Metal Component Engineering Limited (MCE Technologies), Classic Advantage, Allied Technologies, Sunningdale Tech, Starlite Printers, Trend Technologies, Foxconn, HP donated over 215,000 face masks, disposable gloves, hand sanitizers and digital thermometers valued at over RM340,000.
The donated items were handed to Datuk Hasni Mohammad, Menteri Besar Johor in June for distribution to beneficiaries including frontline workers in the medical and essential services industries.
Between April and June, HP Malaysia also printed and donated over 4,400 3D essential parts for healthcare workers and healthcare facilities in Malaysia, including face mask adjusters and hands-free door openers.
In April, Kuang Yee Image Press Sdn Bhd. in Penang used the HP Latex printer to print and apply social distancing instructions on medical protective boxes. 12 of these units were then delivered to Hospital Kepala Batas and Hospital Parit Buntar in Malaysia. Part of the Graphics Solutions family from HP, the HP Latex printer offers durable, high-quality prints suited for a range of industries, including healthcare.
HP Malaysia also launched several initiatives aimed to keep Malaysians learning and working safely from the comforts of their home. These include a product donations, customer and partner reliefs as well as remote working and learning initiatives.
In order to help parents from low-income families provide their children with sufficient learning tools at home in this time of crisis, HP Malaysia collaborated with Teach For Malaysia to donate 60 HP 14 laptops to low-income families with school children through its #iMovewithHP campaign. The social campaign challenged Malaysians to learn and share new skills on Instagram, with HP donating 1 laptop for every 50 entries received. HP also launched two free platforms with creative print learning projects; HP Little Makers – a series of fun, educational printed challenges based on Science, Technology, Engineering, and Mathematics, and HP Print, Play & Learn – enjoyable craft projects for parents to do with their young children at home.
To support local businesses, HP Malaysia launched HP for Business, a local initiative dedicated to equipping SMB owners with knowledge, expertise and skills to ensure their business can adapt to thrive in the new normal. The site provides access to news, tips, SMB success stories, business insights and free upskilling courses on HP Life, a free, self-paced public learning platform for the SMB community.
To address potential cybersecurity risks and customer support issues for those working or learning from home, HP users can access free customer webinars to help set up home offices securely together with HP Sure Click Pro free of charge through September 30, 2020. HP Sure Click Pro enhances existing HP Sure Click with additional features such as editing Word and Excel documents within an isolated container while protecting users from web, email, and document-based security threats. This offer will be available for use on all HP and non-HP Windows 10 PCs.
HP Malaysia has also introduced a limited period-free remote helpdesk support service to help HP SMB users and consumers address their operational issues. Available till June 26, users are required to register here for the limited free 24/7 remote helpdesk support, following which a toll-free hotline number will be sent via email to enable access. The helpdesk will be able to address user PC issues related to general performance, security configuration, connectivity, operating system, media support, mobility, software operation, and installation, among others.
HP Malaysia also announced COVID-19 relief initiatives for customers and partners. This includes financing and leasing options for customers from HP's Integrated Financial Solutions group, relaxed compensation models and extended deadlines for submission of proof of performance for partners. To help optimize revenue and future-proof Malaysian business, HP University also offers online, on-demand learning options across a variety of topics including sales skills education, product training and industry-leading certifications. Partners can opt in for customized online digital learning paths designed to meet their specific priorities.
HP Foundation has contributed RM2.17 million to Mercy Malaysia's COVID-19 Strategic Preparedness and Response Plan. The donation will be used to pilot targeted mass COVID-19 testing programmes targeted at high risk and vulnerable communities nationwide including rural populations and newly identified clusters. Funds will also be used to provide PPE supplies for frontline healthcare workers and hospitals responding to COVID-19 and the provision of mental health and psychosocial support (MHPSS).
The HP Foundation will also match donations from HP Malaysia employees to their communities while budget lasts, with any contributions received going to local Malaysian beneficiaries.
As Malaysia slowly embarks on the road to recovery, HP Malaysia manufacturing sites, customer services and technical support have been consistently operating in full compliance with protocols outlined by the Ministry of Health as well as industry players and governing authorities. To ensure the health and safety of workers, all active HP Malaysia sites, particularly manufacturing, the local leadership has implemented enhanced safety protocols, stricter access procedures, rigorous cleaning, stringent social distancing measures and split team scheduling with regular audits. Check out their Facebook page for more details.
HP to Empower 10,000 Youths in Southeast Asia with Skills of the Future by end-2020
HP Inc. has announced plans to open 20 Tech Hubs in underserved communities across Southeast Asia by the end of 2020. The program provides technology and entrepreneurship training for students aged 13 and above, and aims to upskill 10,000 youth by year-end – a goal that maps to HP's commitment to enabling better learning outcomes for 100 million people by 2025. This is outlined in HP's 2019 Sustainable Impact Report.
Outfitted with 15 to 20 new PCs as well as networking support from HP, the HP Tech Hubs blend classroom and online learning to deliver technical and soft skills essential for youths to thrive. These include Microsoft Office, coding, business communications, having a success mindset, and how to start a small business - taught by instructors or accessible online. Courses in entrepreneurship are adapted from HP LIFE, a free HP Foundation program that offers modules on entrepreneurship, marketing and business development. The students will be awarded certifications for the courses they complete.
Microsoft to reskill 25 million in 2020 to help address the unemployment crisis
Microsoft CEO Satya Nadella, Microsoft President Brad Smith, and LinkedIn CEO Ryan Roslansky announced an ambitious initiative to bring more digital skills to 25 million people this calendar year.
This comprehensive technology initiative will bring together every part of the company, combining existing and new resources from LinkedIn, GitHub, and Microsoft. This initiative will build upon data on jobs and skills from the LinkedIn Economic Graph, and provide free access to content in LinkedIn Learning, Microsoft Learn, and the GitHub Learning Lab – coupled with Microsoft Certifications and LinkedIn job seeking tools.
Microsoft is backing the effort with $20 million in cash grants to help nonprofit organizations enable this initiative for people who need it most, including people from communities that are underserved or under-represented in technology. One-quarter of this total ($5 million) will be provided in cash grants to 50 community-based nonprofit organizations that are led by and serve communities of color in the United States.
Available later this year, Microsoft will preview a new learning app in Microsoft Teams to help employers upskill new and existing employees, bringing together content from LinkedIn Learning, Microsoft Learn, third party training providers, and a company's own learning content to make it all available in a place where employees can easily learn in the flow of their work.
LG ANNOUNCEMENTS
LG Electronics (LG) received the coveted GM Innovation Award announced at General Motors' 28th Annual Supplier of the Year Awards event, the automotive leader's first ever virtual ceremony. Among other innovations, the award recognizes LG's development (together with sister company LG Display) of the revolutionary P-OLED cockpit technology in the 2021 Cadillac Escalade.
LG Electronics (LG) is introducing its most advanced digital signage solution yet, the innovative LG LED Signage (model LSAA), the latest in display technology and design. The LSAA offers even better image quality and easier installation than its popular predecessors, which propelled LG into one of the leading digital signage solution providers in the industry.
GRAB ANNOUNCEMENTS
Pay with GrabPay at Malaysia's groceries, pharmacies and fast-food chains
As Malaysians embrace contactless options in the new normal, GrabPay has expanded their partner base to include a wider variety of household brands spanning across categories such as groceries, pharmacies and favourite fast food chains enabling GrabPay to be more accessibly available at more physical stores anywhere across Malaysia
The expansion of GrabPay's merchant base is part of Grab's on-going commitment to create awareness about the benefits of digital payments and nurturing the cashless adoption in Malaysia in line with the government's recent PENJANA announcement to encourage more Malaysians to spend offline to help revive the economy post the impact of the pandemic and movement control period.
GrabMart offers sellers Instant Retail
During the movement control order, many convenience and grocery businesses were able to achieve a three times increase in sales via the GrabMart service. Today, as more businesses are gradually reopening, more consumers are looking for safe, convenient ways to shop for their daily retail needs.
In addition to the Government's Pelan Jana Semula Ekonomi Negara (PENJANA), the homegrown tech enabler and proponent of the digital economy shared their next phase in supporting retail businesses to move forward in the 'new normal'.
GrabMart is Grab's latest service launched in November last year and has since expanded beyond Klang Valley to other cities such as Johor Bahru, Kota Kinabalu, Kuching, Ipoh, Melaka and Penang. Leveraging on GrabMart, the homegrown company aims to help retail SMEs and chains achieve two key objectives:
Meet customer expectations for safe, 'instant' delivery

Enable retail stores to access millions of consumers living and working nearby
For businesses who are keen to know more you can check out their site.
MDEC ANNOUNCEMENTS
MDEC just revealed the #SMART Automation Grant (SAG) as part of the government's initiative to expand support for Small and Medium Enterprise (SMEs) to make the digital leap in this era of unprecedented disruption.
The SAG takes a partnership approach between the government and SMEs to drive forward digitalisation for Malaysian businesses. All SMEs in the services sector are invited to check their eligibility at mdec.my/sag. SMEs who are interested, and confirmed as qualified, can send their applications directly to the MDEC.
Eligibility of businesses include, among others, the requirement to be incorporated in Malaysia; has a paid-up capital of RM50,000; and with a minimum of 51% equity held by Malaysian(s).
GoGet is the National Champion for the RHL-MDEC: AIM Startups Virtual Pitch Competition 2020 (Malaysia Roadshow). The Malaysia roadshow competition, which was held on 1 July 2020, saw stiff competitive rivalry from a pool of 10 contestants that were shortlisted to represent Malaysia's startup ecosystem. This was done based on the competition's pre-determined criteria. Each contestant pitched their respective company's proposition to a jury panel comprising representatives from RHL Ventures, MDEC, SME Corporation Malaysia, the Islamic Development Bank and the IE Business School.
The competition is part of a series of global roadshows under the AIM event, a global stage that takes place across more than 100 countries to discover startups that have a huge potential in expanding and penetrating global markets. As the National Champion, GoGet will be representing Malaysia in an all-expense-paid trip to Dubai to compete against other National Champions at the final AIM 2020 Global Startups Champions League.
Earlier this year, MDEC partnered Startup Genome to highlight Kuala Lumpur in the world's most comprehensive and widely-read research on startups — the Global Startup Ecosystem Report 2020. The report was released last week with Malaysia favourably ranked as an emerging leader in the global startup space.
The key highlights include that KL's startup ecosystem is currently valued at USD15b (global avg. USD10.5b) with total early-stage funding amounting USD99m (global avg. 4.31m). It is ranked 4th in Asia-Pacific, Gaming and Fintech have been identified as sub-sector strengths in the KL startup ecosystem
The Malaysia Digital Economy Corporation (MDEC) recently announced the roll out of Micro and SMEs ("MSMEs") E-commerce Campaign ("MSME E-commerce Campaign") or ("Campaign"), an initiative under PENJANA's 2nd trust "Propel Businesses". The campaign kicks-off today and will run until the end of September.
MSMEs and local businesses who are interested to participate in the MSME E-commerce Campaign may register at www.go-ecommerce.my/PENJANA. Small businesses and individuals with and without business registrations are also eligible to participate in this campaign.
The Government has allocated RM70 million under PENJANA to implement the MSME E-commerce Campaign to facilitate local businesses to sustain operations and gradually enhance productivity to spur short economic recovery. The MSME E-commerce Campaign aims to encourage adoption of e-commerce by local businesses focusing on MSMEs to help widen their market reach. MDEC has been tasked to implement this initiative under PENJANA.
Through this Campaign, the Government and MDEC will join forces with ten e-commerce partners. The initial ten e-commerce partners participating in the MSME E-commerce Campaign are Boost, FashionValet, FAVE, Foodpanda, Grab, Lazada, Maybank, Shopee, Touch 'n Go eWallet and Zalora. MDEC is working closely with the Government to finalise additional e-commerce partners to take part in this campaign. Further announcement on the added participating e-commerce partners will be made in due course.




TECHNAVE NEWSBYTES MISC:
Canon Inc. announces the development of World's First 1-Megapixel SPAD Image Sensor
Canon Inc. announced recently that the company has developed the world's first1 single photon avalanche diode (SPAD) image sensor with signal-amplifying pixels capable of capturing 1-megapixel images. SPAD image sensors are ideal for such applications as 2-dimensional cameras, which capture and develop still image and video in an extremely short span of time. These sensors also hold potential for use in 3-dimensional cameras due to their ability to obtain information about the distance between them and a subject as image data.
The SPAD image sensor developed by Canon overcomes the longstanding difficulties of achieving this effect with high pixel counts. By adopting new circuit technology, Canon's sensor uses a method known as photon counting to realize a digital image resolution of 1 megapixel. What's more, the sensor employs a global shutter that allows simultaneous control of exposure for every pixel. Exposure time can be shortened to as little as 3.8 nanoseconds2, making possible clear and distortion-free image capture. In addition, the sensor is capable of up to 24,000 frames per second (FPS) with 1 bit output, thus enabling slow-motion capture of fast movement within an extremely short time frame.
Canon's development of a SPAD image sensor enables 3D cameras capable of recognizing depth information to achieve a resolution of 1 megapixel is expected to rapidly expand the use of such cameras as the "eyes" of high-performance robotic devices. Going forward, Canon will strive to anticipate the needs of industry by continuing to advance its innovative image sensor technology, further expand the possibilities of what is visible, spur evolution in science and industry through high-precision detection of information and contribute to the development of fields yet to be discovered. Check out their site for more details.
GoGet and Ikano Centres create opportunities for Malaysians with new normal for retail
To bring Shop with GoGet to life, GoGet is collaborating with Ikano Centres, part of IKEA Southeast Asia, to make its entire portfolio of shopping centres in Malaysia available through the GoGet app. Customers can select from over 300 stores from IPC and MyTOWN in Kuala Lumpur and Toppen in Johor Bahru, including ordering the iconic meatballs and curry puffs from IKEA Restaurants.
Shop with GoGet is an intuitive service where users can either select 'Drive Thru' or 'Deliver' options, with the former allowing customers to pick-up their shopping goods from GoGetters at designated pick-up locations within the three centres. The service spans across a number of categories including food and beverage, groceries, fashion, pharmacies, electronics, and many more. As part of the introductory offer with Ikano Centres, personal shopper fees are waived for drive thru orders under RM 100. From now until 22 July 2020, users who book Personal Shoppers on GoGet to shop at any Ikano Centres also stand a chance to win RM100 GoGet credits. Shop with GoGet at their site.
Boost E-Wallet and Aspirasi Offer Malaysians Simplified Access to Low Cost Micro-Insurance
As Malaysians begin to enjoy more liberties such as being allowed to travel interstate, get a haircut and commence outdoor activities amid the Recovery Movement Control Order (RMCO) in effect, homegrown e-wallet Boost collaborates with its sister company Aspirasi, a digital financing service provider, to launch 'Aspirasi Protect', a 7-day insurance cover at only RM1.50 and comes with COVID-19 Assist. The micro-insurance plan by Aspirasi provides affordable, accessible and on demand protection to give Malaysians a secure boost of confidence as the country eases restrictions.
The micro-insurance solution by Aspirasi builds on the 'Protect' pillar of the existing #BoostGotYou campaign launched during MCO which focused on catering to the daily necessities of businesses and households amid the outbreak. With just RM1.50, the 'Aspirasi Protect' 7-day insurance coverage offers up to RM37,500 for accidental death of various causes, RM12,500 for critical illness protection for major head trauma or coma, and RM5,000 bereavement benefit upon accidental death.
Keeping in mind that COVID-19 would most likely remain a threat for a long period of time, the plan comes with additional financial assistance in the form of RM200 daily hospitalisation cash assistance upon diagnosis of COVID-19 up to a maximum of 60 days of hospitalisation and RM20,000 financial assistance upon fatality due to the virus. COVID-19 Assist is an additional financial assistance programme offered by Great Eastern Life Assurance (Malaysia) Berhad.
As a way to encourage users to obtain insurance coverage and protection, Boost will be offering 100% cashback for users who enrol for the 7-day insurance plan from now until 15 July. Users can sign up in-app under the 'Boost Protects' tile by clicking to enrol via the 'Aspirasi Protect' micro-site. From there, simply enter your personal details and make a payment with Boost to get covered for a week. To be eligible for 'Aspirasi Protect', users must be aged between 18 - 69 years next birthday and must be a Malaysian citizen or permanent resident in the country. The insurance coverage is underwritten by Great Eastern Life Assurance (Malaysia) Berhad. Please refer to the policy document and product disclosure sheet for the full terms and conditions for 'Aspirasi Protect'.
Waze offers a New Look and New Moods
Waze is ready to welcome people back on the roads with a refreshed brand identity and new Moods to inject even more fun into every drive. Our latest brand refresh reinforces inclusivity and connection into every journey on the road, empowering each user to share how they are feeling with the Waze community.
Moods being one of Waze's most recognizable and beloved parts of its brand now enables better self expression - with evolved Moods that have even more clarity and charm than ever.
Block by block is a graphic system inspired by maps and city streets. It uses an assortment of simple, geometric shapes to provide bold, branded graphics, divide compositions, and organize information. And much like Waze itself, it does all of that while creating some playful pit stops along the way. Check out the blog site for more details.
vivo is building their new HQ in Shenzhen, China
vivo has broken ground on a high-rise office in Shenzhen, China to house its future headquarters. Scheduled for completion in 2025, the 32-storey building that has the capacity of 5,800 employees is designed by US architects from NBBJ.
The vivo headquarters office will house vivo's flagship store with an elegant spiral of indoor-outdoor gardens on every level – reflecting the next generation of high-rise offices that blur work, nature and health.
Devs can now make apps for TerraMaster NAS
TerraMaster, a professional brand that specializes in providing innovative storage products including network attached storage (NAS) devices, introduces the TerraMaster TOS APP Development Guide which allows independent developers to create apps that can run on the TerraMaster TOS. The TerraMaster TOS APP Development Guide provide developers a complete suite of tools and a suitable app development environment for creating applications. With this, TerraMaster can work hand-in-hand with developers that will help grow the TerraMaster TOS into a more robust and feature-packed storage ecosystem that will benefit all TerraMaster NAS users.
Developers are given the liberty to develop any application that will fit their needs. Developers can list the developed app on the TerraMaster TOS for other end users to use. Likewise, developers can also charge users for their apps. TerraMaster outlines a simple process for the app development at their site.
TikTok Celebrity Leaderboard and TikTok For Business
TikTok has launched TikTok Celebrity Leaderboard, the latest product update that would enable regular TikTok users with bonafide celebrities on the platform. Not only that, ardent fans would be able to pit their celebrity of choice against each other via a weekly friendly competition that would list the top 30 most voted for celebrities in Malaysia.
With this product update, you can now interact with Malaysian celebrities such as Dato' Sri Siti Nurhaliza, Fattah Amin and Alvin Chong.
TikTok also launched TikTok For Business – a storytelling tool that is set to disrupt traditional marketing with a unique global platform that creatively connects brands and users.
JobStreet Survey Unveils 9 in 10 Malaysians Face Work Changes
Barely anyone has been spared from the COVID-19 pandemic. According to a JobStreet survey, 9 in 10 Malaysians have felt the unfavourable effects of the crisis in their workplace, and the numbers are startling.
Furthermore, 66% of employees experienced an increased scope of work, particularly among higher-paid employees in larger organisations (68%). This was greatest in the education (+54%) and manufacturing (+45%) sectors, which experienced a need for remote learning and greater demand for goods, respectively.
SKYWORTH livestreams to the next level at the 127th Online Canton Fair
During the session, SKYWORTH unveiled the endless possibilities of smart home ecosystems, introducing a range of cutting-edge new products. To further enrich and elevate the livestream experience, SKYWORTH built a 360-degree virtual showroom with a 3D product display feature, and an exclusive virtual VIP conference room which allowed the audience to interact with and try out SKYWORTH's latest products virtually.
Nutanix VDI supports remote workers
Nutanix recently announced a new Virtual Desktop Infrastructure (VDI) service to help promote telework adoption among Malaysia organizations. Nutanix 'FastTrack for VDI' brings together Nutanix HCI and software with selected partners to accelerate and optimise a VDI service in just a few weeks.
Nutanix FastTrack for VDI is available to new and existing customers immediately. For more information visit here and here.
Epson named number one ink tank vendor in Malaysia and in Southeast Asia
Epson is the number one ink tank vendor in Malaysia and Southeast Asia according to global market intelligence provider, IDC[1], which demonstrates Epson's continued market leadership and superior innovation in the inkjet industry.
TECHNAVE NEWSBYTES 2020 #16 - END
Thanks for reading TechNavers and TechNave NewsByters. As always, stay tuned to TechNave.com and if you think your brand or PR should be in our latest issue of TechNave NewsBytes 2020, let us know.