TechNave NewsBytes 2020 #23 - Honor, Huawei, realme, Digi, Maxis, Xiaomi, OPPO, LG and more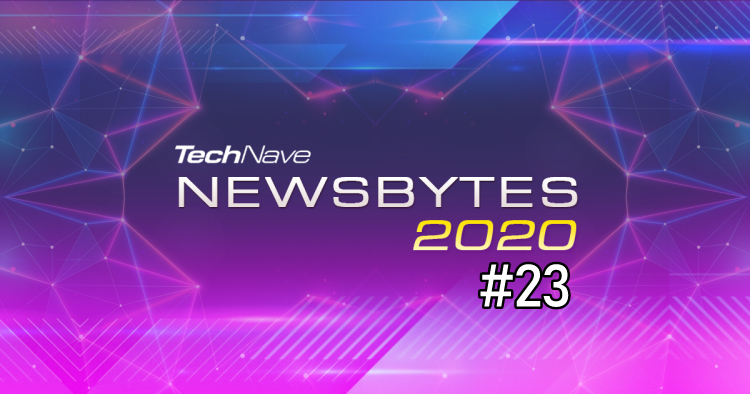 Welcome back TechNavers and NewsByters, in this issue of TechNave NewsBytes 2020 #23, HONOR sees 62% YoY increase in wearable sell-outs, while Huawei offers up 4 reasons to shop for Huawei devices during the 9.9 Super Sale on the HUAWEI Store.
As usual, realme can't stop announcing their own achievements with 5546% sales during their Lazada 8.28 Super Brand Day and how they're not in the Top 3 for Malaysia. Digi on the other hand is focusing on Malaysians with their #Kita initiative. Continuing that focus on Malaysians, Maxis are now offering 3 new scholarships for young leaders.
Xiaomi announced their 1H 2020 growth, revenue and profits and OPPO also announced that they've achieved the No.1 spot in Southeast Asia for 2nd Quarter 2020. LG announced their new Explorer Project with their LG WING phone, their IFA 2020 Online booth along with their new LG PuriCare 4-WARD Tankless Water Purifier. TikTok and MDEC partnered to co-launch #YoungCreators.
For Misc Announcements:
Yoodo announces various Mobile Legends commitments
SelfDrvn remote work solution now integrated with Microsoft Teams
NTT Ltd to power virtual "Global Stadium" for Tour De France
Australian Logistics Tech Startup Shippit Partners with Ninja Van; Launches in Malaysia To Serve Growing US$4 billion e-Commerce Market
HONOR ANNOUNCEMENTS
HONOR sees 62% YoY increase in wearable sell-outs, achieves no. 2 market position in Malaysia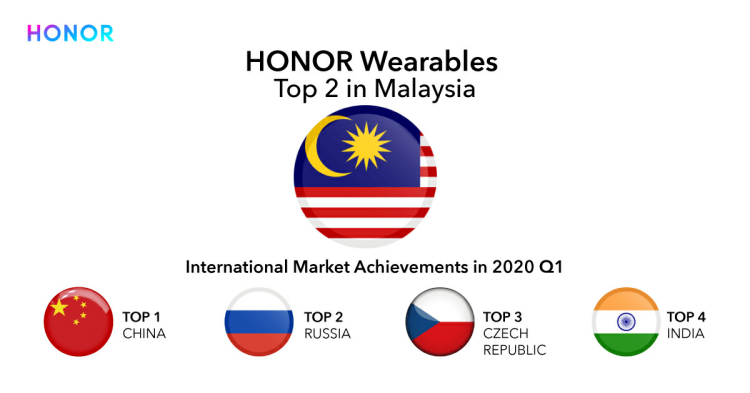 HONOR recently announced its business achievements for the first half of the financial year 2020 as part of the Huawei Consumer Business Group's (CBG) dual-brand strategy. The company also revealed its plans for the second half in the local market.
In China, smartphone sales fell by 22% year-on-year in the first quarter, with an exception of Huawei, which saw a 7% increase compared to the same period last year.
Huawei's overall net profit grew by 13.1% year-on-year in first half of the financial year 2020 – elevating the brand's ranking in the Fortune Global 500 2020 to 49th place. As for HONOR, the brand ranked 21st in brand equity researcher BrandZ™'s "Top 50 Chinese Global Brand Builders 2020" list and saw a 34% increase in its brand score comparing to 2019.
In Malaysia, HONOR saw a 62% year-on-year increase in its wearables being sold out in in the first half of the financial year 2020 – an impressive feat, considering that it has only been less than two years since the company launched its Intelligent Lifestyle range. This achievement is largely attributed to its "1+8+N" All-Scenario Strategy and earned the brand second place in the wearables category in Malaysia in the first quarter of the year.
The company also saw a significant increase of 38% in smartphone sell-outs in the second quarter of the year.
In August, HONOR Malaysia welcomed its new Country Head Mr. Daniel Guo. In his role, Mr. Guo oversees all business strategy implementations and operations across all departments.
Mr. Guo has 19 years of experience in the technology industry, in both corporate and consumer divisions. During this time, he gained a wide breadth of experience in multiple markets, including Europe, Asia, and the Middle East.
Mr. Guo has also held a number of senior management positions within the CBG, both in China and globally. Most recently, he was Director of HONOR International Business – a role he held since November 2015 where he led international sales operations and oversaw the go-to markets for HONOR.
For the second half of the year, HONOR will continue leveraging Huawei's latest innovations to offer local consumers accessible products that features the brand's latest technology, superior quality, and a youthful personality.
The following are HONOR's highlights consumers can look forward to in the second half of year 2020:
High Performance Cameras: HONOR's improved industry-leading cameras ensure a richer photography experience.

HONOR Shark Tech: A new concept for youth to experience the latest technological innovations across all upcoming HONOR products – from smartphones to laptops.

HONOR Youth Club: A community youth club under HONOR Club for members to connect and share through technology. HONOR will welcome young opinion leaders to create a diverse and open platform for members to explore their unique personalities.

HONOR Intelligent Lifestyle 3.0: Continuous expansion of variety to offer consumers a more sophisticated and connected lifestyle under four pillars: Intelligent Tech, Health, Work and Entertainment.
For more information, visit HONOR's official e-commerce website and information portal.
HUAWEI ANNOUNCEMENTS
4 Reasons Why You Can't Miss the Shop 9.9 Super Sale on HUAWEI Store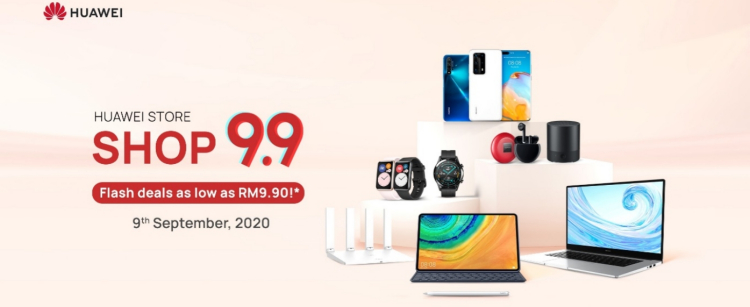 HUAWEI recently announced the launch of its Shop 9.9 super sale campaign across Malaysia. HUAWEI fans will be able to indulge themselves with incredible deals up to 90% off on HUAWEI Store, Lazada and Shopee. This one-day only sale will feature flash deals, must buy items and new arrival products. Most excitingly, Malaysians can grab an online discount voucher worth RM199 for selected products from 2nd to 9th September. All they need to do is visit HUAWEI Store or Lazada and redeem the voucher. The limited quantity voucher is only applicable for use upon checkout on 9th September. So, don't miss out on this opportunity!
Whether it's levelling up your photography game with HUAWEI P40 Pro+ or staying productive with the HUAWEI MateBook D 15 or MateBook 13, consumers will be spoilt with amazing deals by staying connected and entertained with the latest technologies.
Look below for the four reasons why the Shop 9.9 super sale should not be missed!
Reason #1: HUAWEI Flash Deals ~

On 9th September at 10.08am, the Shop 9.9 super sale will begin with a bang, featuring products with prices slashed down to as low as RM9.90 .
Reason #2: HUAWEI Must Buy ~ Consumers looking for flagship options can browse through a variety of HUAWEI products along with some of HUAWEI fan favourites such as the HUAWEI Mate 30 Pro, MateBook D 15 and MateBook 13, only on 9th September.
Reason #3: RM199 Voucher ~ Throughout 2nd to 9th September, early birds will be able to grab an online discount voucher worth RM199 on either HUAWEI Store or Lazada. This voucher will be applicable to selected products as listed below. Consumers will have to be quick as there are limited quantities available so be sure to check out the websites!
Reason #4: HUAWEI New Arrivals ~ Not forgetting the latest arrivals from HUAWEI, the Shop 9.9 super sale will include special deals and freebies on the premium active noise cancellation neckband, HUAWEI FreeLace Pro; MatePad entry-level tablets for kids; and even the WATCH FIT catered to sports enthusiasts.
Explore HUAWEI devices on AppGallery here as it offers more security, more storage and more rewards for Malaysians. Most of the frequently used Apps in Malaysia are available on HUAWEI mobile devices too.
So wait no more, visit their site to claim the RM199 online voucher and grab the deals, while stocks last.
REALME ANNOUNCEMENTS
realme achieves 5546% sales during Lazada 8.28 Super Brand Day
realme Malaysia celebrates its second year anniversary by achieving few achievements in its e-commerce sale recently.
On top of that it managed to achieve a 5546% uplift in sales for the year of 2020 (in terms of units sold). Other than that, the realme 6 was acknowledged as the 'Best 4GB+128GB Mobile in 2020' with the same model selling more than 3400 units in JUST ONE DAY.
We are also very pleased to achieve more than 100,000 followers on our realme Lazada Flagship store.


realme ranks in the Top 3 for Malaysia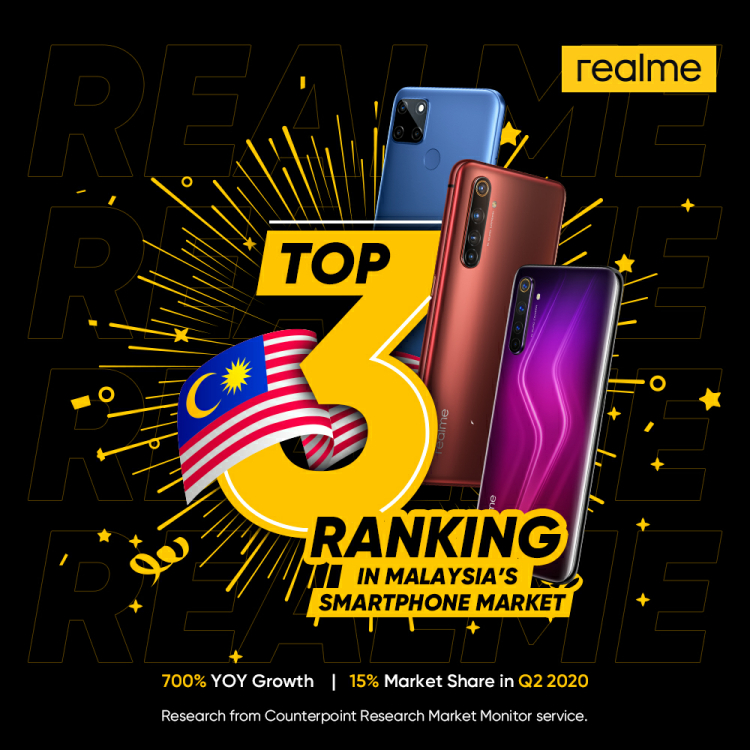 According to the latest fact-finding from Counterpoint Research Market Monitor service, realme continued to be the fastest-growing brand by achieving another milestone in ranking Top 3 in Malaysia's smartphone market. realme Malaysia continues its growing streak with a YoY growth reaching up to 700% and has a total of 15% market share in Q2 2020.
In Malaysia, realme surpassed Apple, Xiaomi, and Oppo to reach the third place in the market. realme Malaysia also achieved amazing results thanks to its local fans as well as its e-commerce partners, Lazada and Shopee. For example, a total of 1,139 units of realme 6 were sold in just 4 minutes in conjunction with Lazada 7.7 Mid-Year Super Sale. As for Shopee, realme Malaysia was recognised as the No.1 Best-Selling Wearable Brand (from January till June 2020).
With these growth figures, realme also has been successful in entering the top 5 brands in all key SEA markets (Cambodia, Indonesia, Malaysia, Myanmar, Philippines, Singapore, Thailand and Vietnam). Apart from key SEA markets, realme performed well in other Asia Pacific markets like Bangladesh, Australia, Taiwan, and Pakistan.
realme is committed to bringing the most advanced technology within corresponding price bands to its consumers. In addition to creating and implementing a future-orientated 5G expansion strategy; it is one of the first brands to bring 5G devices to the mass market price bands. It also introduced innovations such as "125W UltraDart Charge" fast charging technology and is one of the first brands to launch smartphones with the Snapdragon 865 and Snapdragon 765G chipsets.


DIGI ANNOUNCEMENTS
Digi celebrates Malaysian's spirit with #Kita
In conjunction with the nation's 63rd year of independence, Digi Telecommunications Sdn Bhd (Digi) celebrates the spirits embodied and shared by all Malaysians, and at the same time inspires patriotism with 'Kita Buatan Malaysia' campaign. Despite coming from different backgrounds, cultures and upbringing, Malaysians share similar fabric of values and traits that have been passed on for generations. The determination, resilience, diversity, passion to win and to never to give up that exist in each of us who are 'made in Malaysia' are the trademark of being a Malaysian.
These traits that make Malaysians stronger when we come together as one are clearly demonstrated by our local businesses as they fight to survive in these challenging times. To this end, Digi through its 'Kita Buatan Malaysia' campaign aims to instill national pride and rally Malaysians to support these homegrown businesses by leveraging on digital technology. Digi is assisting these local brands to extend their reach to more potential customers by giving their businesses an online presence. This is made possible through MyDigi app, Digi's own digital hub that will connect small businesses to Digi's 10.6 million strong subscriber base and on Malaysia's no. 1 e-commerce platform, Shopee's Buatan Malaysia dedicated microsite.
This campaign will culminate with the Shopee x KPDNHEP x Digi Buatan Kita online sale, the largest local products sale in Malaysia featuring local brands on 16 September 2020. The sale which features curated homegrown brands will offer exclusive discounts and free shipping vouchers throughout the campaign period starting today to 16 September 2020 to help Malaysians get more value with every Ringgit that they spent.
To further support this initiative, Digi has also released its #Kita video to highlight local craftsmen who embody the 'Kita Buatan Malaysia' can-do spirit and have weaved the diversity and passion of Malaysia into their products and services. The video showcases how these Malaysians with different field of businesses such as goldsmiths, batik artists and craft jewellers have displayed the same values and persevered, all through the same love and passion for Malaysian-made craft and the desire to share their homegrown products beyond local borders and extend the Malaysian heritage globally.
In line with the upcoming Merdeka and Malaysia Day festivities, Digi is also rewarding its customers through Digi Gemilang sales which offers exclusive deals and specially curated offerings to ignite the Semangat Malaysia in all Malaysians. As Malaysians rally together with a united front during this difficult season, these deals enable customers to stretch their ringgit, all while staying connected to what matters most to them even when they may be physically apart during this Merdeka and Malaysia Day celebrations.
Some of the offers include extra bonus of 63GB when Digi Prepaid customers purchase the RM5 internet pass that comes with all-day 5GB of high-speed internet, video subscription at only RM1/month for Digi Postpaid customers from September 1, an exciting line-up of popular brands on MyDigi Rewards from as low as RM3.31, extra rewards points when customers purchase gaming credits at Republic GG and more.
More information on Kita Buatan Malaysia is available at their site.


MAXIS ANNOUNCEMENTS
Maxis launches three new scholarships in building future technology and innovation leaders
In its commitment to building tech-savvy and forward-thinking leaders, Maxis has launched three new scholarships to support the aspirations of bright and deserving young individuals. Candidates can apply for the Maxis Women in Tech Undergraduate 2020 Scholarship, Maxis Tech Undergraduate 2020 Scholarship and the Maxis Young Leaders Undergraduate 2020 Scholarship. Due to the overwhelming response received from applicants, the initial submission deadline of 31 August has now been extended to 14 September to allow more students to apply.
Successful Maxis' scholars will have access to the best learning experiences at top universities approved by the Malaysian Qualifications Agency (MQA).
Maxis Women in Tech Undergraduate 2020 Scholarship: This is the first Women in Tech Undergraduate 2020 scholarship launched by Maxis, in celebration and support of young women who are pursuing careers in technology. With this scholarship, women have greater opportunities to become leaders in the fields of computer science, engineering and technical studies.

Maxis Tech Undergraduate 2020 Scholarship: Leveraging cutting edge technologies to support Maxis digital ambitions, this scholarship underlines the Company's commitment to shape top tech talents who are pursuing studies in engineering, computer science, data science and actuarial science, mathematics, statistics and applied sciences.

Maxis Young Leaders Undergraduate 2020 Scholarship: Providing bright and deserving Malaysians a platform to propel them into a leadership trajectory, as well as advocates and champions of change to become successful and inspirational leaders.
Successful candidates will also benefit from internship placements at Maxis to springboard their career paths to the next level, ultimately benefitting the growing need for a technology and innovation talent pool in the ICT and business sectors.
To ensure our people are future-ready, Maxis' scholarship and management trainee programmes focus on young talents with the right skills and attitude. In July 2019, Maxis organised its first Career Fair that is unlike any other. Designed with participation and an immersive experience in mind, it comprised "speed-dating" type interviews as well as various showcases, such as IoT, NB-IoT and AI, to demonstrate what the company is all about. The Career Fair also gave young job seekers the opportunity to meet the telco as a potential employer.
For more information or to apply for Maxis Scholarships 2020, go to their site.
XIAOMI ANNOUNCEMENTS
Xiaomi Achieves Growth Amid Headwinds in 1H 2020, Revenue and Profit Beats Market Consensus
Xiaomi Corporation ("Xiaomi" or the "Group"; stock code:1810), an internet company with smartphone and smart hardware connected by an Internet of Things ("IoT") platform at its core, today announced its unaudited consolidated results for the three and six months ended 30 June 2020 ("1H2020" or "the Period").
1H 2020 Financial Highlights
Total revenue amounted to RMB103.24 billion (MYR62.44 billion), representing an increase of 7.9% year-over-year ("YoY"), beating market consensus;

Gross profit was approximately RMB15.26 billion (MYR9.23 billion), up 22.3 YoY;

Profit for the period was approximately RMB6.65 billion (MYR4.02 billion), up 29.3% YoY, beating market consensus;

Non-IFRS adjusted net profit was approximately RMB5.67 billion (MYR3.42 billion), down 0.7% YoY, beating market consensus;

Earnings per share was RMB0.279 (MYR0.17).
Q2 2020 Financial Highlights
Total revenue was approximately RMB53.54 billion (MYR32.38 billion), up 3.1% YoY and 7.7% quarter-on-quarter ("QoQ");

Gross profit was approximately RMB7.70 billion (MYR4.65 billion), up 6.1% YoY and 1.9% QoQ;

Profit for the period was approximately RMB4.49 billion (MYR2.71 billion), up 129.8% YoY and 108% QoQ;

Non-IFRS adjusted net profit was approximately RMB3.37 billion (MYR2.04 billion), down 7.2% YoY, but increased by 46.6% QoQ;

Earnings per share was RMB0.189 (MYR0.11).
Amid the challenges brought by COVID-19 on the global smartphone market, Xiaomi adhered to three guiding principles – "never cease to explore and innovate, continue to offer products with the price-to-performance ratio". Revenue from the smartphones segment was RMB61.952 billion (MYR37.46 billion) and RMB31.628 billion (MYR19.125 billion) in the first half and second quarter of 2020 respectively, and the smartphone shipments reached 28.3 million units.
According to Canalys, in the second quarter of 2020, Xiaomi ranked 4th globally in terms of smartphone shipments, and its market share stood at 10.1%. In overseas markets, shipments of its premium smartphones, with retail price of €300 (MYR1,473) or more, went up by 99.2% YoY in the second quarter of 2020. Driven by the higher proportion of sales from mid- to high-end smartphones, the average selling price ("ASP") of the Group's smartphones increased by 11.8% YoY and 7.5% QoQ.
The Group insisted on implementing the dual-brand strategy and yielded significant results. Xiaomi's 5G flagship smartphones, Mi 10 and Mi 10 Pro, were launched in February 2020, the shipments have exceeded one million units within only two months. In August 2020, Xiaomi launched the Mi 10 Ultra, which achieved a DXOMARK score of 130 for overall camera performance, once again ranking 1st globally at the time of launch. The sales have exceeded RMB400 million (MYR241.85 million) after 10 minutes of its debut.
The Redmi brand continued to make 5G technology accessible to the mass market. In June 2020, the Group launched the Redmi 9A series which priced from only RMB499 (MYR301). It then launched the Redmi K30 Ultra in August, sporting all-around premium features with prices starting from only RMB1,999 (MYR1,208).
It is worth mentioning that Xiaomi also launched its smart factory recently with a total investment amount of RMB600 million (MYR362.77 million), opening up an era of smart and manufacturing at Xiaomi's factories. The Mi 10 Ultra is the first mass-produced ultra-high-end model of the Xiaomi Smart Factory.
Revenue from the IoT and lifestyle products segment was RMB28.237 billion (MYR17.072 billion) and RMB15.253 billion (MYR9.222 billion) in the first half and second quarter of 2020, respectively. Xiaomi's global TV shipments still amounted to 2.8 million units, achieving YoY growth despite a decline in the overall TV market. According to All View Cloud ("AVC"), in the second quarter of 2020, the Group's TV shipments in mainland China ranked 1st for the 6th consecutive quarter and ranked among the top five globally.
In the second quarter, Xiaomi introduced two flagship products under the new Mi TV Master Series, further expanding its footprint in the premium market. In July 2020, the Group introduced its first OLED TV, Mi TV Lux 65" OLED. In August 2020, it launched the second ultra high-end TV within the Mi TV Master Series-Mi TV LUX Transparent Edition, which is the world's first mass-produced transparent TV.
To fulfill the various demands of the consumer worldwide, Xiaomi's smart TVs entered more markets, including Poland, France and Italy during the second quarter. In July 2020, Xiaomi held its first global Xiaomi Ecosystem Product Launch and released a series of new products, including the Mi Smart Band 5 and Mi True Wireless Earphones 2 Basic.
As of June 30, 2020, the number of connected IoT devices (excluding smartphones and laptops) on Xiaomi's IoT platform reached approximately 271.0 million units, representing a YoY increase of 38.3%. The number of users who have five or more devices connected to Xiaomi's IoT platform (excluding smartphones and laptops) increased to over 5.1 million, representing a YoY growth of 63.9%. Meanwhile, the Mi Home App had 40.8 million MAU, representing a YoY increase of 34.1%, in which non-Xiaomi smartphone users accounted for 67.9%. In June 2020, our AI Assistant ("小愛同學") had 78.4 million MAU, an increase of 57.1% YoY.
Xiaomi continued to strengthen the interconnectivity across products with the "Xiaomi Share" initiative. "Xiaomi Share" supports always-on access to music, video and voice calls when switching across multiple devices. In addition, the Group developed the multi-screen collaboration function, which supports cross-device photographing and document editing. Going forward, the Group will continue to enhance the connectivity between smart devices, and offer more intelligent user experiences and application scenarios, thereby bringing global Xiaomi users to the forefront of future smart living.
Revenue of the internet services segment amounted to RMB11.808 billion (MYR7.139 billion) and RMB5.908 billion (MYR3.572 billion) in the first half and second quarter of 2020 respectively. In the second quarter of 2020, the MAU of MIUI increased by 23.3% year-over-year to 343.5 million, while the mainland China MAU of MIUI was 109.7 million.
In the second quarter of 2020, advertising revenue increased by 23.2% YoY to RMB3.1 billion (MYR1.874 billion), driven by the rapid growth in overseas advertising revenue, as well as the gradual recovery in advertising budgets in mainland China. Internet services revenue outside of advertising and gaming from mainland China smartphones, including those generated from the Youpin e-commerce platform, fintech business, TV internet services and overseas internet services, increased by 39.5% YoY, accounting for 39% of its total internet services revenue.
In June 2020, MAU of Xiaomi smart TVs and Mi Box reached 32.0 million, an increase of 41.8% YoY. As of June 30, 2020, the number of paid subscribers increased by 33.1% YoY to 4.0 million.
Revenue from overseas markets was RMB48.861 billion (MYR29.544 billion) and RMB24.029 billion (MYR14.529 billion) in the first half and second quarter of 2020 respectively. According to Canalys, in the second quarter of 2020, Xiaomi's market shares in terms of smartphone shipments ranked among the top five in 50 countries and regions and reached the top three in 25 of these markets.
In the second quarter of 2020, according to Canalys, Xiaomi's smartphone shipments grew by 64.9% YoY in Europe, achieving a total market share of 16.8%, ranking it in the top three for the first time. In Western Europe, the Group's smartphone shipments grew 115.9% YoY, accounting for a 12.4% market share. The Group's smartphone shipments in Spain grew by 150.6% YoY, ranking 1st for two consecutive quarters with a 36.8% market share. During the quarter, Xiaomi ranked 2nd in France and 4th in Germany and Italy, in terms of smartphone shipments.
In Eastern Europe, Xiaomi became the No.1 smartphone company in Ukraine and Poland in terms of smartphone shipments, with respective market shares of 37.1% and 27.5%. In addition, in the second quarter of 2020, the Group captured a market share of 30.7% by shipments in the Indian smartphone market. According to IDC, it retained the No.1 position in the Indian smartphone market for the 12th consecutive quarter.
In the second quarter of 2020, the COVID-19 pandemic affected Xiaomi's global operations to varying degrees. In April and May 2020, several of the Group's key markets implemented strict lockdown measures and the sales were greatly impacted. As business restrictions were gradually lifted, sales have recovered tangibly.
In India, strict lockdown measures were imposed starting in late March and our sales were significantly impacted during the lockdown period. As India gradually lifted the restrictions during the second quarter of 2020, consumer demand started to rebound. In July 2020, the average daily number of smartphone activations in India returned to 72% of the pre-pandemic level recorded in January. In July 2020, excluding India, the average daily number of overseas smartphone activations had reached 120% of the pre-pandemic level recorded in January.
For more information about the company, please visit their site.
OPPO ANNOUNCEMENTS
OPPO Took No.1 Spot in Southeast Asia Market Share for 2nd Quarter 2020
OPPO is getting wider recognition in the global scene, especially in the Southeast Asian region. With industry leading technologies and competitive pricing, the demand for the brand is soaring after achieving the highest market share in Q2 2020 for Southeast Asia.
According to a report published by Counterpoint Research, OPPO became the top vendor in Southeast Asia with a market share of 20.3%.
The report can be found here.
OPPO forms strategic partnership with América Móvil to expand in the Latin American market
OPPO and América Móvil announced that they have signed a strategic cooperation agreement. OPPO smartphones will be available in the Mexican and Latin American market through América Móvil's subsidiaries in the region, Telcel and Claro. This represents an important achievement for OPPO in its development in Latin American and global markets.
Establishing and developing partnerships with important global network operators has always been one of OPPO's strategies to develop its brand in the global market. Currently, OPPO has formed partnerships with over 80 network operators around the world. Since 2020, a series of partnerships between OPPO and network operators have been established. This has helped OPPO achieve important achievements in mature markets such as Europe and Japan. In the next 1-2 years, OPPO also plans to form partnerships with more major carriers in order to reach more consumers across Europe, Asia-Pacific, and Latin America.

LG ANNOUNCEMENTS
LG embarks on new Explorer Project mobile initiative + LG WING confirmed
LG Electronics (LG) is kicking off the Explorer Project with a 30-second invitation video hinting at the first smartphone under this new lineup. Explorer Project is both an initiative and a category and will include devices that deliver distinctive and yet unexplored usability experiences, a strategy that tackles uncharted territory in the industry. Details of the Explorer Project will be officially announced September 14 at 10:00 (EDT) on LG Mobile's official YouTube channel and Facebook page.
LG created the Explorer Project in response to the diverse usage needs of today's smartphone customers and to deliver much-needed curiosity and excitement to the mobile sector. The initiative aims to "explore" and inject new life into untapped areas and reshape and expand the current user experience, with assistance from its trusted platform partners.
The Explorer Project also marks a new direction in the alignment strategy of LG's smartphones. The Explorer Project will focus solely on new usability that is discovered with innovative designs while LG's new Universal Line will be the company's lineup of competitive devices that focus on consumer lifestyles, such as LG VELVET.
LG is collaborating with industry partners Rave, Ficto, Tubi and NAVER to develop unique features that will elevate the mobile viewing experience on Explorer Project devices. Qualcomm Technologies is again contributing its industry-leading processing technology and knowhow to drive the outstanding performance of LG's differentiated lineup.
Rave gives users wherever they may be the ability to communicate and enjoy streaming content together while Ficto, which pioneered revenue sharing for mobile content, aligned the global launch of its streaming service with the Explorer Project. Tubi, the largest ad-supported free streaming service is also an early partner of the Explorer Project. South Korean search leader NAVER, which worked in close partnership with LG on the LG Dual Screen, is developing a version of its Whale browser with unique browsing features for Explorer Project devices.
In related news, LG Electronics (LG) confirms LG WING will be the first product to be launched under the Explorer Project, LG's new mobile category aimed at discovering new ways to interact with mobile devices, focusing on the evolving and ever-changing needs of today's consumers and challenging established user norms. LG's boldest, newest smartphone will deliver a new and different form factor and mobile experience that would be impossible to create with conventional smartphones.
Check out their site for more details.
LG Invites Consumers Around the World to IFA 2020 Online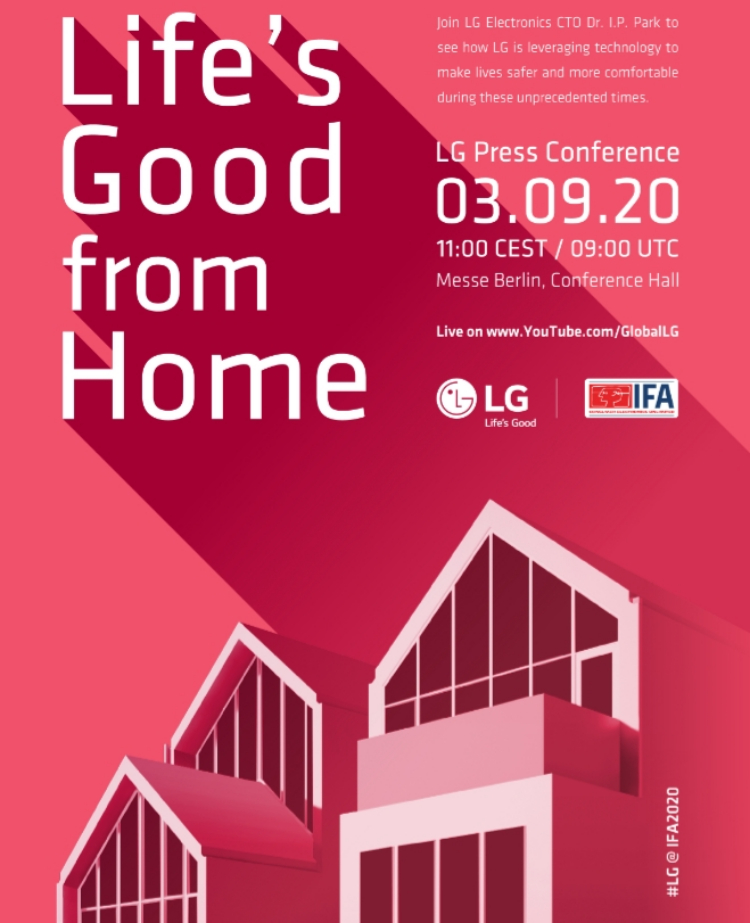 LG Electronics (LG) is sharing its vision for the home of the future at IFA 2020, taking place virtually for the first time in its 96-year history. Under the banner Life's Good from Home, LG's online exhibition booth will allow visitors to explore the company's latest innovations from the comfort of their homes and mobile devices. LG's IFA 2020 press conference will take place in Messe Berlin on September 3 at 11:00 CEST and livestreamed on the LG Global YouTube channel.
Under the banner of Life's Good from Home, Dr. I.P. Park, CTO of LG Electronics, will present the future vision for consumers to enjoy a safer and more convenient home living as people world over settle into new lifestyle habits. LG ThinQ Home Solution, making its world debut at IFA 2020, is the company's innovative response to the new normal and exciting vision for how our life will look in the future.
With the cancellation of IFA's exhibition in Berlin this year, LG created its own physical smart home showroom in Korea to demonstrate how LG products work seamlessly together to deliver the best home experience possible. For its IFA unveiling, K-pop star Henry Lau will take visitors on a virtual tour of the four story home highlighting all the ways the home contributes to comfort and maximum sustainability using LG technology. The home tour will be accompanied by an interactive video of a family residing in an LG home, which viewers can customize based on their choices.
In addition to its smart home showroom and interactive video content, LG's virtual IFA booth will provide a compelling interactive experience of how the company is making home living more relaxing, efficient and rewarding.
Visitors to LG's IFA 2020 virtual booth will learn all about the benefits of the company's comprehensive range of smart home appliances and integrated services by making their way through a variety of different zones.
LG Electronics Takes A Step Forward on Hygiene and Safety with LG PuriCare™ 4-WARD Tankless Water Purifier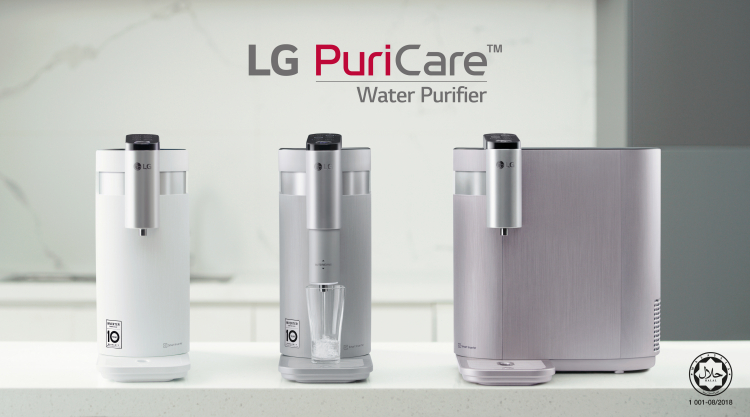 Just one year after LG Electronics Malaysia's (LG) foray into the water purifier business in Malaysia, the leading home appliances manufacturer today introduced the LG PuriCare™ 4-WARD Tankless Water Purifier, the newest member of the LG PuriCare™ family.
LG's cutting-edge 'tankless' technology is always innovating to meet the ever-changing environment and consumer needs. The introduction of the 4-WARD feature signals a shift in the way LG caters to consumer demands for convenience, safety and hygiene. Now consumers do not need to worry as water is contained while dispensing, avoiding splashes and reducing the likelihood of burns with hot water, thanks to the 4-WARD feature, which includes the 3-Stage Filtration System, the Up & Down Auto Moving Tap, and the Left & Right Moving Tap and Tray.
LG PuriCare™ 4-WARD Tankless Water Purifier consists of 3-Stage Filtration System, eliminating microorganism and 7 types of heavy metals including mercury, lead, arsenic, cadmium, iron, copper and aluminium contained in water.
The Up & Down Auto Moving Tap will detect the cup placed on the tray and automatically adjust the height, dispensing the right amount of water while Left & Right Moving Tap and Tray enables the product to be installed vertically or horizontally and consumers to access the water purifier from 180-degree direction.
As the first global home appliance brand to introduce the 'tankless' concept for water purifiers in Malaysia, the LG PuriCare™ 4-WARD Tankless Water Purifier continues its predecessor's goal to provide consumers with unlimited, fresh-tasting water every time. The 'tankless' technology directly filters water without the need of a tank, where potentially dangerous microorganisms form, ensuring heighten hygiene for consumers. LG PuriCare™ water purifier incorporates Inverter Compressor and Induction Heating (IH) System, allowing consumers to enjoy hot, cold or room temperature water while saving energy by getting rid of the need to reboil water. With a quick touch, hot water is supplied at three different temperatures for your daily household usage: 85° for all coffee lovers, 75° for all tea enthusiasts and 40° for the perfect milk for babies.
Consumers can also remain assured as LG PuriCare™ water purifier is supported by Total Service Care 1.2.3, a comprehensive service plan by qualified LG professionals. The three parts consists of:
One (1) year replacement care for internal pipes to secure product hygiene.

Two (2) layers of UV sterilisation that is automatically activated every hour with an option for users to manually sterilise the product for five (5) minutes any time.

Complimentary service visits every three (3) months for product sanitation and/or filter change.
Consumers can download the LG ThinQ™ application on their smartphone to monitor water consumption and use the Diagnosis mode to detect any product error. The LG PuriCare™ 4-WARD Tankless Water Purifier also comes with Filter Change Alert, where consumers can easily monitor the water purifier's filter condition via an indication lamp to ensure performance is always optimised.
The all-new LG PuriCare™ 4-WARD Tankless Water Purifier comes in three variations: White, Silver and Shiny Rose. From September onwards, consumers can get equip their homes with the newest LG PuriCare™ 4-WARD Tankless Water Purifier at the following prices:
WD515AN

White - RM5,300 (outright), RM130 (monthly)
Silver - RM5,600 (outright), RM140 (monthly)
Shiny Rose - RM5,600 (outright), N/A
Consumers can enjoy three-year free service with outright purchase or up to five-year free service with product rental. The free service includes annual internal pipe change and service visits for product sanitation and/or filter change for every 3 months.
For more information regarding LG PuriCare™ 4-WARD Tankless Water Purifier and other award-winning products by LG Electronics please visit their site.
TIKTOK ANNOUNCEMENTS
TikTok and MDEC partner to co-launch #YoungCreators campaign on TikTok
TikTok has partnered with the Malaysia Digital Economy Corporation (MDEC) to co-launch the #YoungCreators campaign on TikTok. The campaign, an initiative under the MDEC's #SayaDigital movement will provide an opportunity for young and budding content creators to learn how to leverage digital platforms as a means to upskill, empower their creativity and generate income.
To participate in this campaign, all Malaysian TikTok users aged 16 and over are encouraged to upload original informative and educational videos using the hashtags #YoungCreators and #TikTokGuru from 22nd to 31st August. Each video must be at least 10 seconds long and the themes include general knowledge, technology, health and fitness, beauty, culture and life hacks.
Those who participate stand a chance to win prizes worth up to RM60,000 and a chance to join the coveted creators incubation program by CastingAsia Creators Network, a 12 month incubation program aimed at expanding and nurturing young minds with up-to-date digital and social media knowledge. Eligible winners will then receive an in-app notification on 4 September of the results and steps for claiming their respective prizes and certificates.
Already, many TikTok creators have uploaded their videos to lend support to the said campaign include the likes Dr. Sylvia Lim (a certified dentist), Ong Siew Ling (a math teacher by profession), Wing Keh & Keifth (power dance couple) and DJ Mushroom (DJ & Entertainer).
So what are you waiting for? Download or open the TikTok app now to learn more about the #YoungCreators campaign



MISC ANNOUNCEMENTS
Yoodo announces various Mobile Legends commitments
Yoodo had gamers and esports fans buzzing with new announcements all tied to the hugely popular multiplayer online battle arena (MOBA) Mobile Legends: Bang Bang (MLBB). These announcements were the introduction of a new data add-on product, the sponsorship of a new season of the MLBB Professional League (MPL) MY/SG as well as the sponsorship of a top Malaysian MLBB esports team.
Yoodo announced a brand new data add-on for MLBB that will give warriors 20GB of dedicated 4G LTE mobile data for the game. This will allow them to battle the hordes of creeps and heroes in their chase for more victories and MVP medals.
From 26 August until 25 October 2020, the new MLBB data add-on is available at a discounted rate of just RM1 for 20GB of data. As a special bonus for users who purchased the add-on, five weekly winners will receive 1,000 in-game diamonds during the same period. Following this, the add-on will be priced at RM5 per 20GB of data.
Continuing its momentum as the nation's most supportive telco for esports, Yoodo has stepped up once again by sponsoring the MPL MY/SG Season 6 as the Official Digital Telco. This marks the second season in a row that Yoodo is sponsoring the nation's premier MLBB tournament, following the immense success of last season which garnered over 9.5 million views across the season.
The battle begins on 28 August and rages on until 25 October 2020. MPL MY/SG Season 6 will feature six teams from Malaysia and four teams from Singapore crossing swords and slinging spells to walk away with a portion of a USD100,000 prize pool.
One of the hot favourites for the upcoming MPL MY/SG Season 6 is the ever-popular Geek Fam MLBB esports team. There is good cause for this optimism as the team is now powered by Yoodo.
The team is made-up of team Captain – Dominus (Nik Aqieff); the versatile Xorn (Muhammad Zul Hisham) and OzoraVeki (Poon Kok Sing); Fighter - Artz (Muhammad Nazmie) and Marksman/Assassin – Feekz (Amirul Shafiq); Tank/Support – Rumpel (Tai Ming Hong).
This marks Yoodo's third team sponsorship in the past two years. It began in 2019 with the highly successful establishment of Yoodo Gank – which has gone on to become Malaysia's most popular Player Unknown's Battlegrounds (PUBG) MOBILE esports team. Earlier this year, Yoodo forayed into the competitive fighting games scene with the introduction of Yoodo FV which sports a roster of some of the nation's most accomplished fighting game players.
SelfDrvn remote work solution now integrated with Microsoft Teams
With organizations transitioning towards remote or hybrid work arrangements, new employee experience technologies (EXTech) are fast transforming workplaces, bringing together employee experience and technology to enhance productivity and organizational culture. In line with this evolution, SelfDrvn recently announced the integration of Microsoft Teams into its employee engagement platform, as part of the company's continuing innovation to make remote work more productive, rewarding and engaging with technology.
SelfDrvn is an interactive Service-as-a-Solution platform that uses gamification, social collaboration and data-driven positive psychology to enhance engagement within a company. The platform provides users with data-driven and actionable insights to encourage talent recognition, rewards positive behavior and achievement with appreciation badges, rewards points, and various levels.
With the integration of Microsoft Teams into the platform, users will be able to use SelfDrvn as the main hub for employees. In addition to SelfDrvn's innovative features, users can now leverage Microsoft Teams' productivity and engagement tools such as video conferencing, audio calls, file sharing and collaboration. These are crucial solutions particularly as organizations adapt to new ways to build trust with its workforce while keeping employees engaged in the face of social isolation.
SelfDrvn which is integrated with Microsoft Teams uses gamification, social collaboration, and data-driven positive psychology to drive employee productivity and engagement.
SelfDrvn was founded in 2015 and has since been gaining market traction with regional enterprise clients in professional services, telco, financial services and the retail industry across Malaysia and Southeast Asia. In the Gartner Hype Cycle for Human Capital Management Technology, 2020, SelfDrvn was recognized as a leader within the Employee Experience Technologies category, for its track record in improving employee productivity, customer satisfaction and revenue generation, as well as reducing employee turnover.
With SelfDrvn's Co-Sell Ready status and full suite of products integrated with Microsoft Teams, the company aims to make remote work more social, engaging, rewarding and productive. With highly customized partnership strategies underway, SelfDrvn is ready to leverage Microsoft's partner channel and world-class products to increase reach, security, collaboration, and innovation capabilities.
Check out their blog for more details.
NTT Ltd to power virtual "Global Stadium" for Tour De France
NTT Ltd., the official technology partner to A.S.O., announced it will bring the Tour de France 2020 to fans through innovative technology, which will allow them to watch the race from their homes in a unique way and be part of a 'global stadium' experience. Due to the impact of Covid-19, 70 remote NTT employees will operate from five continents to support the three-week long race that takes place from 29 August to 20 September 2020.
NTT has developed a 'Virtual Zone Technique' that brings together different technologies to deliver its Tour de France services remotely for the first time. This will keep staff safe while supporting the running of the race and providing an enhanced experience for fans.
To create a digital 'global stadium' for fans who can't be at the roadside this year, NTT and A.S.O. have made use of their advanced, real-time, data analytics capabilities. Live data and analytics will be featured across multiple channels including:
A brand new Augmented Reality Data (AR) app: In addition to the live race footage, the app will provide selected users with a unique way of viewing and interacting with live race data and the amazing landscapes of the Tour de France. For the first time this will allow fans to appreciate the scale of the event in 3D from their home. With an unprecedented view from the sky, they will see the riders among the mountains, valleys, rivers and lakes, and have access to interactive live data on the race whilst feeling like they're actually viewing the race from a helicopter.
Additional data for live television broadcast: NTT Ltd. and A.S.O will provide new data insights and visualizations as part of the live television broadcast. This will provide a fresh way of seeing and understanding the race, and how each team is performing.
The @letourdata social channel: The data shared across the @letourdata channel will allow fans to keep up to date with what is going on with the race, even if they're on the move. It will also provide deeper insight into how the cyclists are performing, their team strategies, and predictions from the #NTTPredictor.
The official 'Tour de France Fantasy' game: Gamification of the race will enhance the experience for fans, with machine learning predictions provided by #NTTPredictor at every stage. Fans are able to immerse themselves in the Tour de France experience, competing with other like-minded fans!
The Tour de France Race Center: The live-tracking platform of the Tour de France has also been completely re-developed for 2020 to enhance the user experience, and leverage cutting edge cloud platform services. Race Centre 2.0 provides a second screen experience, showcasing key race data, live rider telemetry and other insights including race predictions and race commentary.
NTT's managed services will safeguard the operational success of the race. Managed collaboration services will enable the global technology support team to communicate and a secure-by-design approach will enable real-time threat management, ensuring security.
For its 40,000 employees, NTT Ltd. has also launched its Tour de France Hackfest – a competition where anyone from across the business can suggest future innovations for the race in support of creating the largest connected stadium in the world. The initiative encourages employees to think differently and celebrates the company's innovation culture.
Find out more at their 2020 Tour de France microsite.
Australian Logistics Tech Startup Shippit Partners with Ninja Van; Launches in Malaysia To Serve Growing US$4 billion e-Commerce Market
Recently, Shippit announced its expansion into Malaysia, as well as new partnerships with regional-serving courier Ninja Van. Shippit's latest announcement marks its second Southeast Asian market expansion in just 2 months as it continues its growth in the region.
Founded in 2014 in Australia, the logistics Software-as-a-Service (SaaS) company has raised almost US$10 million, led by Asian investment firm Aura Group. By using automation and machine learning to simplify the order fulfilment process, Shippit serves more than 6,000 customers a month across Australia, New Zealand, and Southeast Asia, powering delivery for Sephora and CottonOn, among thousands of other leading retailers. It recently announced the launch of its Southeast Asian headquarters in Singapore, partnering with Shopify regionally and SingPost in Singapore.
With 83% of its population making purchases online, Malaysia has the highest percentage of digital customers in the region, and an e-Commerce market valued at approximately US$4 billion in 2020. This figure is expected to more than double to US$8.1 billion in 4 years, making Malaysia one of the largest and fastest-growing markets in Southeast Asia.
Through Shippit's expansion into Malaysia, the logistics tech startup plans to tap into Malaysia's e-Commerce market, focusing on improving delivery experiences for end customers and helping local online businesses grow by offering more delivery options to customers at the check-out whilst streamlining how they fulfil their orders. Shippit's platform makes Ninja Van's Cash on Delivery capabilities easily accessible to online businesses of all sizes, allowing them to drive their growth amongst unbanked and underbanked populations in Malaysia and throughout Southeast Asia.
Shippit's new partnership will enable the regional courier to expand its market reach with Small to Medium business in Malaysia, deepening Ninja Van's e-Commerce presence. As Shippit aims to support e-Commerce growth across the region, simplifying access to Ninja Van's delivery services and Cash On Delivery capability through Shippit's platform will be hugely beneficial to growing online businesses.
Although Malaysians are generally digitally-savvy with an internet penetration of 80.1% and mobile commerce accounting for 47% of the total e-Commerce market, only 45% of the population is fully banked. There are currently a total of 12 million people in Malaysia that are underbanked and unbanked, with a preference for cash payments.
As a fast-growing startup taking on Asia, Shippit has its eyes set on improving retail logistics in countries like the Philippines and Indonesia. To accelerate its growth ambitions across Southeast Asia during the e-Commerce boom, Shippit is evaluating a potential capital raise before the end of 2020, where it would look to raise in excess of RM$30 million.
Shippit is a scalable shipping platform that can be used by enterprise-level firms, fast-growing small and medium enterprises (SMEs), as well as e-Commerce businesses just starting out. From multi-channel, international retailers to homegrown sellers, Shippit unifies order fulfilment across sales channels and leverages its proprietary allocation algorithm to connect retailers to the best delivery partner for every single order.
For more info, please visit: their site.


Thanks for reading TechNavers and TechNave NewsByters. As always, stay tuned to TechNave.com and if you think your brand or PR should be in our latest issue of TechNave NewsBytes 2020, let us know.