TechNave NewsBytes 2020 #6 - realme achievements, Huawei, Intel, LG, Shopee, MDEC, Gigabyte, Aorus, Double Eleven, Micron, OPPO, MediaTek, DingTalk, Lenovo, SK Magic, Red Hat, GoPayz and Canon + Special: 18 things about your Apple iPhone you didn't know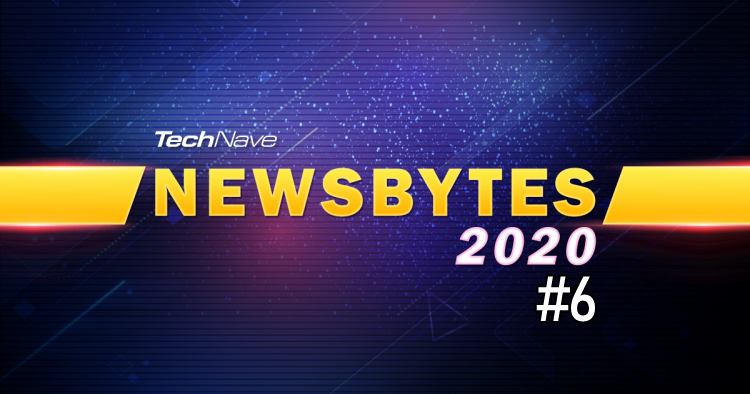 This time around in TechNave NewsBytes realme pats itself on the back for more achievements while Huawei, Intel and LG contribute to the fight against the COVID-19 pandemic in Malaysia. Shopee and MDEC chip in for SMEs and Gigabyte and Aorus show off new laptops.
Other news comes from Double Eleven, Micron, OPPO, MediaTek, DingTalk, Lenovo, SK Magic, Red Hat, GoPayz and Canon. In this TechNave NewsBytes #6 our special focuses on 18 things you really didn't know you could do on your Apple iPhone.
realme gets more achievements: Red Dot Design and 4.4 sales performance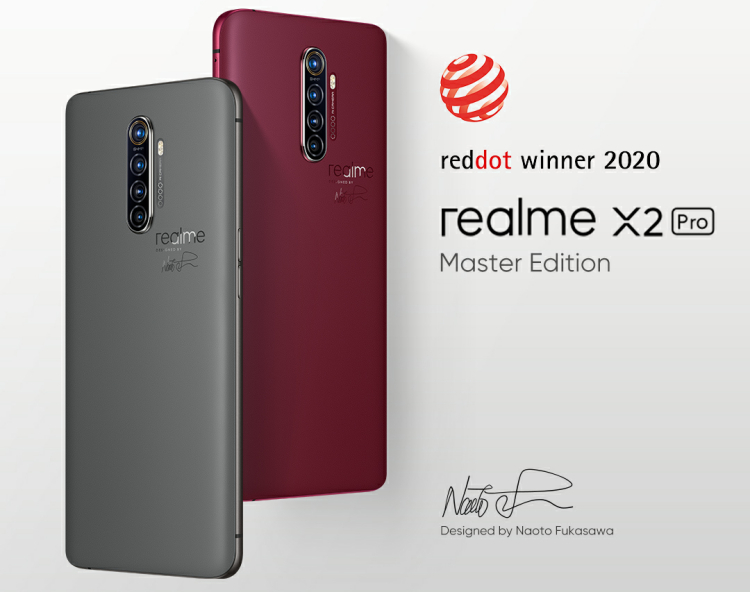 The realme X2 Pro Master Edition recently won the Red Dot Design award for Product Design 2020. On the other hand, the realme 5 Pro became the Top-Selling Model while realme C3 became Highest-Selling for the Entry-Level Model for the 4.4 Shopee Brands festival. This allowed realme to become the No.1 Best-Selling Smartphone Brand for that event with both the realme 5 3GB RAM + 32GB storage and realme 5s 4GB RAM + 128GB storage selling out.
On the 4.4 Lazada Sale side, realme also got the No. 1 Best Selling Smartphone Brand title where the realme 6 was regarded as their No.1 Top-Selling smartphone. The realme 6 4GB RAM + 128GB storage variant did the best within the first 24 hours thanks to its discounted price of RM799 (normally it retails for RM999).
Huawei contributes tech for Malaysia's fight against COVID-19
Malaysia's Ministry of Health received four technology solutions from Huawei Malaysia today, to assist in the nation's attempts to combat the spread of COVID-19. Huawei's Public Health Event Emergency Response Solution will enable healthcare experts to work with frontline medical professionals to conduct remote online consultations with patients, enhance the efficiency and effectiveness of diagnosis and treatment, and ensure there is continuous communication in real-time between the Government and public hospitals, via its video conferencing and wireless connectivity capabilities.
Present at the donation ceremony, Michael Yuan, CEO of Huawei Malaysia expressed Huawei's willingness to support Malaysia in fighting against COVID-19. He told the Health Minister that the Malaysia office has taken stringent prevention measures to uphold the safety and protection of its employees. Its operations will continue to serve its clients, working to guarantee smooth network operation in this critical time.
The four components as part of the response solution are as follows:
Huawei Telemedicine Video Conference

Hospital Wireless Network

Communication Solution AI Cloud Auto Detection Solution

Huawei Nova 7i (200 units)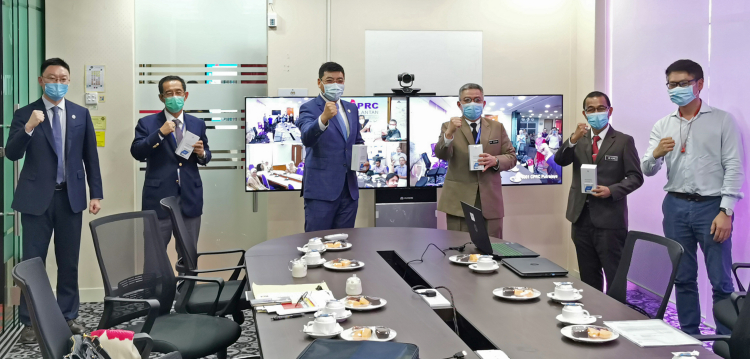 Huawei Malaysia had joined hands with the Malaysia Ministry of Health to contribute Huawei Cloud AI-assisted Diagnosis solution to Sungai Buloh Hospital to empower local medical personnel with AI capabilities by providing an AI solution for CT image analysis of possible COVID-19 patients.
The Huawei Cloud AI-assisted quantitative medical image analysis system, which was used to help handle the COVID-19 situation around the world, can analyze hundreds of CT images in seconds, precisely locating lesions, and doctors can now provide diagnosis results in just one minute. Huawei Cloud worked with HY medical (a Beijing-based startup focused on medical imaging through artificial intelligence) to develop an AI platform.
The AI platform has been trained with 4,000+ confirmed COVID-19 patients' image data and can service as a "super doctor". It can analyze suspected contours of pneumonia from CT Chest DICOM images, and provide the probability that they represent COVID-19, to radiologist as a reference to help them screen suspected cases and make an appropriate diagnosis.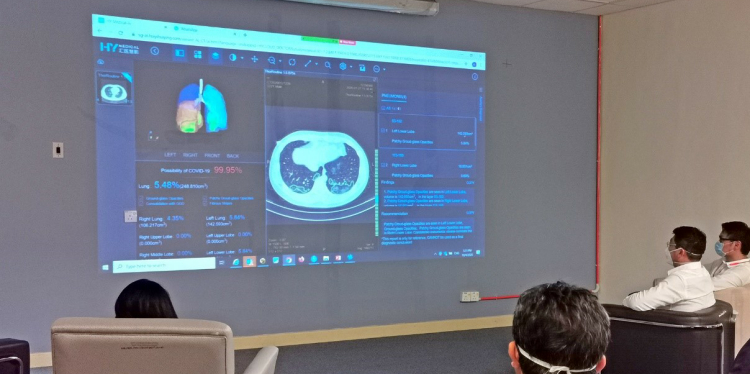 Shopee announces RM15 Million seller support package for 70,000 Malaysian SMEs
Some 70,000 small and medium enterprises (SMEs) in the country are expected to benefit from the RM15 million Shopee Seller Support Package. The e-commerce platform today announced its support package to help SMEs and businesses that have been adversely impacted by the Movement Control Order (MCO).
The package addresses the struggles businesses are facing following an engagement between Shopee and retail associations, chambers of commerce as well as business owners.
Two pain points that have been identified were:
SMEs are looking for new sales channels such as e-commerce but are unfamiliar with how to go about it. These SMEs want a partner that can provide them with clear step-by-step guidance and support, to ensure they succeed in their online selling journey.

A huge number of existing online sellers have been struggling with increasing costs and significant revenue loss from low sales volumes.
The Shopee Seller Support Package will aid local SMEs and businesses in various sectors including retail, fresh produce, food and beverage (F&B) and more by driving digitalization of traditional businesses and bringing them online. The Package also seeks to support all its sellers by creating sales and growth opportunities, reducing operational costs and facilitating sustainable development through funding, subsidies and education.
The Shopee Seller Support Package opens for application starting 13 April 2020, until 31 May 2020. It will feature the following benefits for local sellers:
Seller Fee Subsidy -

Shopee will be providing a discount of up to 45% on fees for sellers in our RM19 Free Shipping and Coins Cashback programmes;

This will help lower operating expenses and put more back into the pockets of the business owners.
Seller Sales Support -

To help sellers drive sales during the Ramadan and Hari Raya period, Shopee has allocated RM6 million in the form of vouchers and free paid advertising credits;

All sellers stand to benefit from RM100,000 worth of dedicated campaign vouchers every week;

All sellers will also receive up to RM400 each in free paid advertising credits to get more exposure for their products and stores.
Digitalization Package -

Shopee has also pledged to provide additional support just for new sellers to kickstart their online selling journey;

All new sellers will receive RM400 in Shopee vouchers, RM200 in free paid advertising credits and free participation in its RM19 Free Shipping programme for 2 weeks;

These measures are important to get the ball rolling for new sellers to not only ease their transition online but also to generate a substantial volume of orders.
All Existing Seller Benefits -

Every single Shopee seller will continue to enjoy all of Shopee's benefits including zero registration fees, 0% commission for marketplace sellers and 0% listing fee;

Shopee will also continue to absorb shipping costs with its platform-wide subsidised free shipping programme.
Education -

Shopee will also ramp up its free Shopee University courses during this period by increasing the number of classes and breadth of topics;

Conducted online in English, BM and Chinese, the special classes are catered to new sellers to guide them on everything from store set-up to sales, marketing and operations;

Shopee University has over the years successfully groomed more than 10,000 entrepreneurs and businesses across the country from scratch, even in rural towns, to become one of the largest online sellers in the country.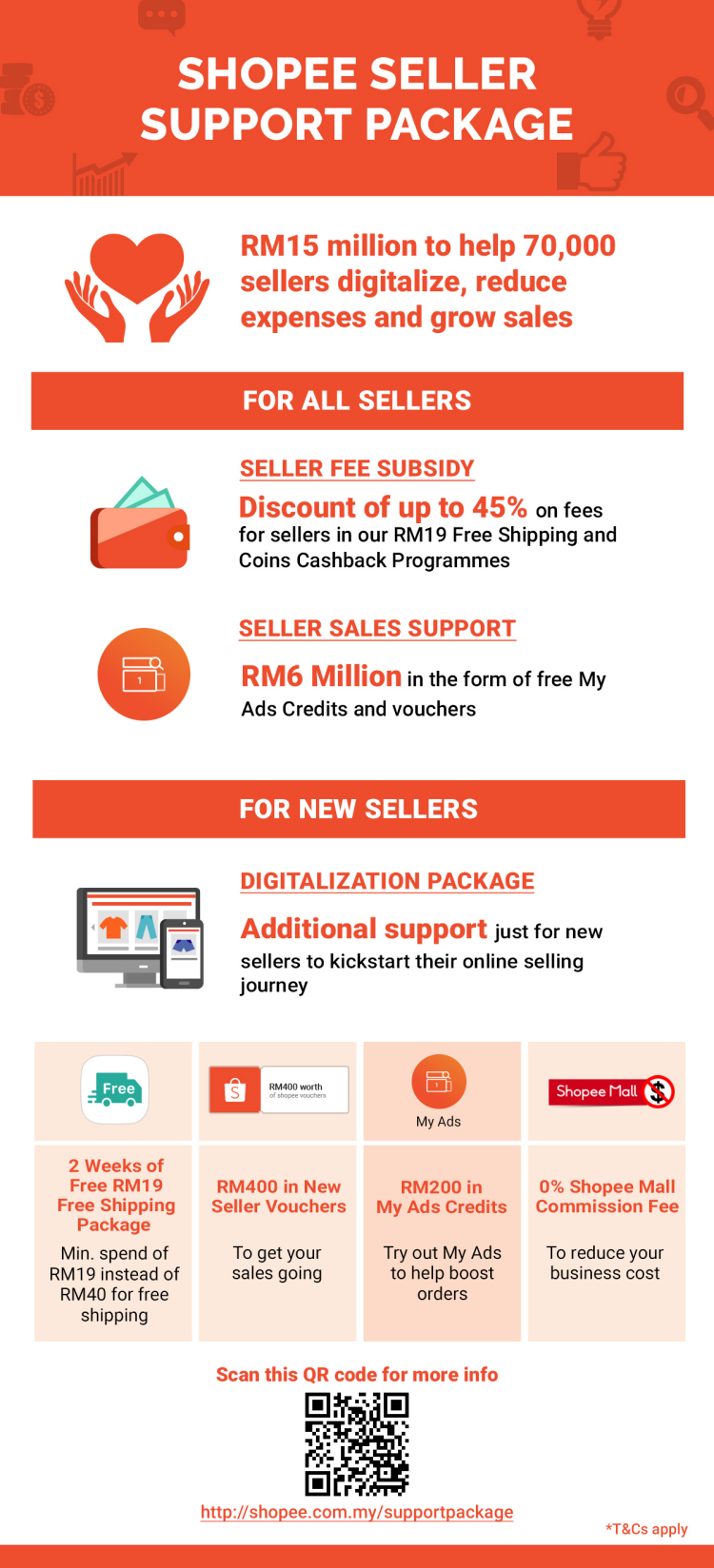 MDEC partners 7 ECF and P2P platforms promoting alternative financing for Malaysian SMEs
The Malaysia Digital Economy Corporation (MDEC) recently announced a partnership with seven crowdfunding operators to help entrepreneurs tide the economic challenges brought on by the COVID19 onslaught.
This is MDEC's second funding facilitation initiative led by its Global Growth Acceleration Division, following its successful launch of Meet Your Match Malaysia, a virtual investor-matching initiative with KK Fund Pte. Ltd., which has drawn 90 global investors and 75 promising local startups that are in a quest to raise close to USD100 million in investments.
According to a recent survey by The Malaysian Global Innovation and Creativity Centre (MaGIC) involving 239 startups, 35.1% of the respondents said they needed loans, 23.8% asked for grants or subsidies and 3.8% asked for deferment in repayments.
In this second funding initiative, MDEC is supported by the Registered Digital Market Association (RDMA) with members comprising Equity Crowdfunding
(ECF) and Peer-to-Peer Financing (P2P) operators that are registered by the Securities Commission of Malaysia. ECF enables groups of investors to fund businesses by taking up stakes in the investee companies for investment, whereas P2P involves funds being lent at a fixed interest rate over a fixed tenure.
Entrepreneurs who wish to explore this alternative financing option may do so by submitting an expression of interest at their site. This drive is available until 24 April 2020. MDEC will offer priority assessment to all applicants by expeditiously screening their eligibility before submitting the profiles to the applicants' choice of ECF/P2P operator.
Huawei opens MeeTime After Sales official hotline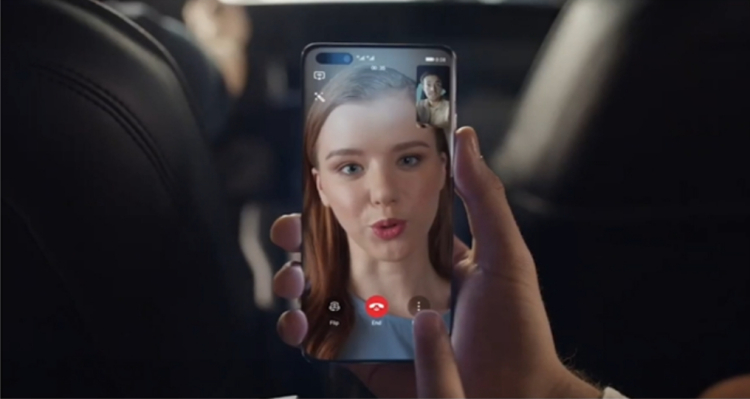 Huawei recently launched its innovative Huawei MeeTime After Sales Official Hotline offering an online one-stop face to face solution to solve any issues you might face while using your new HUAWEI P40 devices. The hotline was rolled out on April 11, 2020 and will be available first for HUAWEI P40 Series smartphones.
All you need to do is schedule an appointment with HUAWEI's friendly After Sales Customer Service representatives who will help you solve your device issues, using three easy steps.
Using the MeeTime Hotline is as easy as three simple steps:-
Step 1: While setting up your new HUAWEI P40 Series smartphone, select your Region (if you're in Malaysia, choose "Malaysia"). Input your HUAWEI ID. MeeTime will be automatically available on your device.
Step 2: Send a text message to the HUAWEI WhatsApp Hotline saying that you would like to book an appointment with a MeeTime Hotline representative and state your preferred time slot. The number to text is +6012 685 5652 or click here.
Step 3: A MeeTime Hotline representative will call you at the appointed time and help you solve your problems.
The HUAWEI MeeTime After Sales Official Hotline is part of the HUAWEI Care 2020 initiative to ensure that its customers can make their HUAWEI purchases with ease of mind.


GIGABYTE New AORUS/AERO wins the Red Dot Design Award 2020
GIGABYTE, was recently awarded numerous 2020 Red Dot Design Awards for two creator laptops from the AERO line – AERO 15 OLED & AERO 17 – as well as two professional gaming laptops – AORUS 15G and AORUS 17X.
Aside from many high-end gaming features, the 2020 lineup of notebooks feature the latest 10th gen Intel Core i9/i7 H series 8-core CPU and NVIDIA GeForce RTX 20 Super graphics. AORUS partners up with multi-championship winning G2 Esports to launch our brand new gaming notebooks tailored to meet the requirements of pro gamers, from mechanical keyboards to a 240Hz high refresh rate display and enhanced cooling technology, redefining the requirements of a professional gaming notebook.
Together with G2 Esports, GIGABYTE launched its flagship models, the AORUS 17X and AORUS 17G, AORUS 15G high-end models, tailoring its notebooks to the needs of the modern gamer. Upgrades to these include three overclocking-ready 10th gen Intel® processors – Intel® Core™ i9-10980HK, Intel® Core™ i7-10875H, and Intel® Core™ i7-10750H. As for graphics, in addition to NVIDIA® GeForce RTX™ 20 series and the GTX 16 series, the all-new flagship NVIDIA® GeForce RTX 2080 Super™ and the NVIDIA® GeForce RTX 2070 Super™ GPU's have been added to the ranks for increased gaming performance and faster processing of graphics-intensive workloads
The AORUS 15G and 17G had recently been awarded the Red Dot Design Award for best design in 2020, combining powerful hardware and an all-new design language.
The AORUS 17X, AORUS 17G, and AORUS 15G are the lightest notebooks in the industry that comes with true mechanical keyboards. AORUS works exclusively with a world-renowned mechanical switch manufacturer, OMRON, to minimize the size of mechanical switches while retaining its quality to create the world's lightest mechanical keyboard notebook.
GIGABYTES' content creation notebook AERO series has been widely praised since its launch in 2016. Aside from winning multiple awards such as the "2019 European Hardware Association Notebook of the Year" the "Taiwan Excellence Award", and recently this year, the Red Dot Design Award 2020. AERO is also a favorite of Jensen Huang (CEO of NVIDIA), who was seen holding it in conferences like GDC and CES. AERO is referred to as the model for "next-gen high-performance professional notebooks".
This major upgrade includes enhancements across a whole series of products, the 15" AERO 15 OLED (Supports 4K resolution and HDR400), AERO 15, 17" AERO 17 HDR (Supports 4K resolution and HDR400) and AERO 17. The color display has always been GIGABYTE's strong selling point, says Chen. Most of your average devices for commercial design use display panels with a Delta E that's around 3. Displays with Delta E < 2 are considered high standards where people can visibly see a color difference. GIGABYTE takes it one step further by working with X-rite Pantone, the authority in color display, implementing color calibration and achieves Delta E < 1. Combined with the AMOLED 4K display and HDR True Black high contrast, colors and details are always at their very best, helping content creators work accurately and proactively.
To facilitate the bump of CPU and GPU to the current generation, AERO keeps cool with an improved WINDFORCE Infinity cooling system. Through a series of improvements in terms of fan and pipe placements, AERO can provide a more cooling and comfortable experience for users during heavy workload, in which most notebooks tend to heat up and begin throttling.
The AERO series also offers a 144Hz high refresh rate display capable of satisfying both the inner gamer and game developer in you. Whether you want to game, work or just simply chill on the internet, the AERO can run all, and most importantly, last all (day). Being dubbed "The most versatile notebook" means our performance must be at its strongest, but also the most sustainable and stable as it can be.
Pre-ordering of professional gaming notebooks AORUS 17X, AORUS 17G, AORUS 15G, and the content creator AERO series are available, with official sales starting from 4/15(4/16). Entry-level premium gaming models AORUS 5 & AORUS 7 are expected to launch in late April.


Double Eleven appoints Ian Ng as Studio Head for Malaysia Office
Games developer and publisher Double Eleven are delighted to announce that they have appointed games development veteran Ian Ng as Studio Head of Double Eleven Malaysian. The appointment coincides with the official opening of the company's studio in Kuala Lumpur.
With a career spanning over 20 years in games development, Ian's appointment brings a wealth of experience to Double Eleven's new studio in Malaysia. Throughout a rich, varied career Ian has held positions at Tap4fun, Ubisoft Singapore and LucasArts and is credited on over 20 titles spanning from mobile games to AAA console games, including the Assassin's Creed franchise.
Micron announces new 5210 ION SATA SSD for enterprise and data centers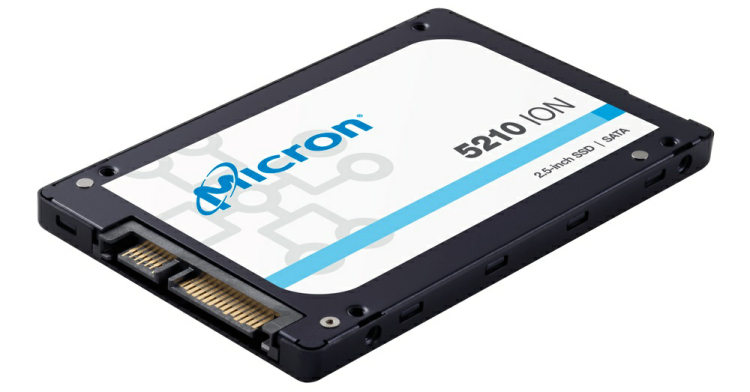 Micron Technology recently announced their new Micron® 5210 ION enterprise SATA SSD capacity and features, solidifying Micron's leadership in QLC technology volume production. The world's first QLC solid-state drive (SSD), the Micron 5210 is based on the company's advanced QLC NAND technology and quickly replacing legacy hard disk drives (HDDs). Rapidly supplanting 10K HDDs, the Micron 5210 delivers 175 times faster random reads, 30 times faster random writes, two times more sequential throughput, and three times more energy efficiency than the largest 10K RPM HDDs — all at a compelling price point.
OPPO, Ericsson and MediaTek realize VoNR voice and video calls
OPPO has announced that it has successfully conducted voice and video calls solely based on the next-generation 5G network, bringing high-quality 5G experience closer to reality.
Partnering with Ericsson and MediaTek, the VoNR (Voice/Video on New Radio) calls were made on a modified commercial smartphone from OPPO featuring MediaTek's Dimensity 1000 series SoC using an end-to-end 5G Standalone(SA) network powered by Ericsson Radio System products and solutions.
VoNR is a basic call service that completely relies on the 5G network (SA architecture). Compared with earlier call services, VoNR provides significantly lower latency, greatly improved sound quality and picture quality, resulting in an elevated overall experience for users.
SA architecture is one of the mainstream architectures of future 5G networks. Global operators are actively laying the foundation for 5G SA networks. As one of the first mobile phone brands to support VoNR calls under the SA architecture, OPPO aims to ensure that even the early adopters can have a more complete 5G experience.
It also positions OPPO as the mobile phone partner of choice for operators and communication equipment suppliers building 5G networks around the world as the next generation of communication technologies demands a much higher technology capability from smartphone makers.
The successful joint test was carried out under the 5G SA network environment provided by Ericsson at its headquarters in Stockholm, Sweden. After dialing, the two phones connected almost instantly and then seamlessly switched to a high-definition video call with a single keypress.
Alibaba DingTalk Lite app with video conferencing announced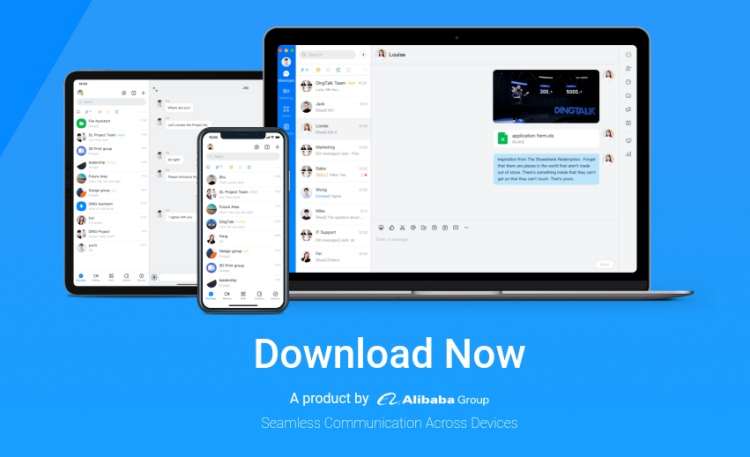 DingTalk, Alibaba's enterprise communications and collaboration platform, recently announced that its lite edition is available to download on multiple app stores, to support local businesses and schools with challenges brought by the COVID-19 pandemic.
The free-to-download communications app supports video-conferencing for over 300 people simultaneously, a thousand people live-broadcast function in high-definition quality, photo and video sharing and basic one-to-one text communications. The app, currently with the interface languages available in Japanese, English and Traditional Chinese, is tailored for users in Japan, Malaysia, Singapore, Hong Kong and Macau.
Key features in DingTalk Lite include the ability to:
Invite 1,000 participants into one live-broadcast group, while the broadcast can be shared with multiple groups simultaneously to maximize viewership;
Hold a video conference with up to 302 people across different geographies. This mode supports screen- and file-sharing, "beautify mode" to smooth out facial features and a recording function for playback later;
Create group chats with up to 1,000 members each, send notifications to all or selected participants and communicate freely via AI-enabled translation of messages in 14 languages including Chinese, Japanese, English;
View an enterprise's organizational chart and easily find colleagues within an organisation.
Support multiple operating systems including iOS, Android, Mac and Windows
Leveraging the secure and resilient global infrastructure of Alibaba Cloud, the data intelligence backbone of Alibaba Group, DingTalk has been able to deliver high-definition video-conferencing and live-broadcasting with low latency, amid surging demand for telecommunications in recent months. Some 10 million enterprises in China have used DingTalk for remote work, and over 120 million students across China attended online classes through DingTalk during the virus outbreak.
DingTalk also offered its live streaming and group chat functions to support the International Medical Expert Communication Platform, an online destination designed for medical experts around the world to communicate seamlessly with each other and share their invaluable experience fighting COVID-19.
Dingtalk was also mentioned by UNESCO as one of the platforms that can facilitate distance learning during the coronavirus outbreak.


Intel commits $50 Million with Pandemic Response Technology Initiative
Intel is pledging an additional $50 million in a pandemic response technology initiative to combat the coronavirus through accelerating access to technology at the point of patient care, speeding scientific research and ensuring access to online learning for students. Included in Intel's effort is an additional innovation fund for requests where access to Intel expertise and resources can have immediate impact. This is in addition to prior announcements of $10 million in donations that are supporting local communities during this critical time.
Approximately $40 million will fund the Intel COVID-19 Response and Readiness and Online Learning initiatives. The Intel COVID-19 Response and Readiness Initiative will provide funding to accelerate customer and partner advances in diagnosis, treatment and vaccine development, leveraging technologies such as artificial intelligence (AI), high-performance computing and edge-to-cloud service delivery. Through the initiative, Intel will help healthcare and life sciences manufacturers increase the availability of technology and solutions used by hospitals to diagnose and treat COVID-19. It will also support the creation of industry alliances that accelerate worldwide capacity, capability and policy to respond to this and future pandemics, building on Intel's own experience in driving technology innovation in the health and life sciences arena.
The Intel Online Learning Initiative will support education-focused nonprofit organizations and business partners to provide students, without access to technology, with devices and online learning resources. In close partnership with public school districts, the initiative will enable PC donations, online virtual resources, study-at-home guides and device connectivity assistance. The Intel Online Learning Initiative builds on Intel's long-standing commitment to technology that improves learning. It will begin immediately in regions with the greatest needs across the United States and expand globally.
The company has also allocated up to $10 million for an innovation fund that supports requests from external partners and employee-led relief projects, addressing critical needs in their communities.
Red Hat names Paul Cormier as president and CEO
Red Hat, Inc., recently announced that it has named Paul Cormier as president and chief executive officer of Red Hat, effective today. Cormier, who previously served as Red Hat's president of Products and Technologies, succeeds Jim Whitehurst, who is now president of IBM.
Since joining Red Hat in 2001, Cormier's leadership and vision have driven major strategy shifts and expansion of the company's portfolio of products and services. Cormier is credited with pioneering the subscription model that transformed Red Hat from an open source disruptor to an enterprise technology mainstay, moving Red Hat Linux from a freely downloadable operating system to Red Hat Enterprise Linux, the industry's leading enterprise Linux platform that today powers more than 90% of Fortune 500 organizations.
SK Magic and AGIKO collaborate to donate portable air conditioning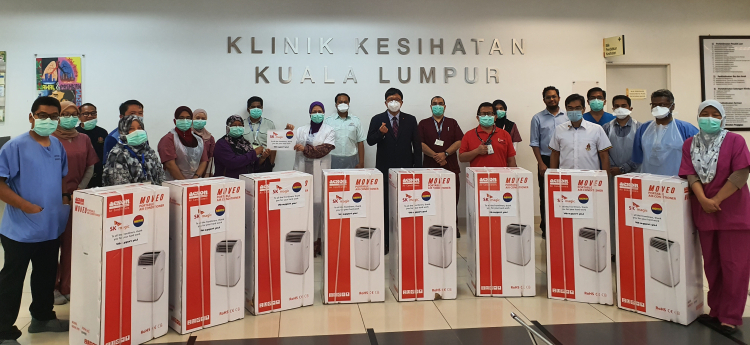 Korean wellness and home appliance company, SK magic recently collaborated with Alumni Graduan Institusi Korea (AGIKO), a group of Malaysian alumni from Korean education institutions, to supply and deliver support equipment to health screening stations across four hot spots in Klang Valley, namely Titiwangsa, Lembah Pantai, Kepong and Cheras.
The screening stations are specifically targeted at screening individuals with asymptomatic symptoms in order to prevent overcrowding at government health facilities. Trained medical workers are doing their best in these challenging times and conditions, assessing patients that steadily stream through the screening stations.
SK magic has donated four portable air conditioning units to each screening station, for a total of 16 units, that will help to ease the working conditions for the tireless medical workers as well as the anxious patients.


GoPayz to #GiveBack RM1 million in cash to Malaysians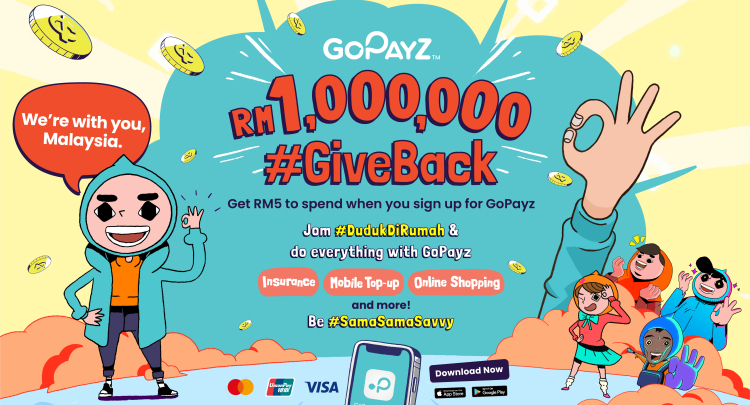 GoPayz by U Mobile, is giving away RM1 million worth of cash as part of its GoPayz #GiveBack campaign. From now till 30th June 2020, any new user who signs up with GoPayz will receive RM5 cash and if the new user is also a U Mobile customer, they will receive an additional RM3 e-voucher from 7-Eleven.
To qualify for GoPayz #GiveBack campaign, one only needs to sign up for the universal e-wallet and upon successful registration, the new user will receive the RM5 cash within 3 working days.
Apart from the GoPayz #GiveBack campaign, GoPayz is also offering a promotional price of just RM2 per month for the first 2 months for customers who subscribe to GoLife Plus — a micro life insurance plan underwritten by SunLife Malaysia, who has recently set up a Special COVID-19 Relief Fund for customers who have been impacted by COVID-19.


Lenovo research shows COVID-19 may change Employers' Perception of Remote-Work Policies
The Coronavirus pandemic is affecting every facet of our daily lives, including the way we work. A rapidly increasing number of employers across the world are requiring their people to work from home as part of the efforts to mitigate the spread of COVID-19. But this may not be an isolated shift.
According to a new Lenovo research completed in mid-March 2020, the majority of employees (77%) surveyed across five countries (US, Italy, Germany, China, and Japan) believe this may have a long-lasting impact on how employers view remote-work policies going forward. There is a sense that companies will be more open to or even encourage letting workers work from home once things return to normal.
Enabled by the increasing sophistication and affordability of mobile smart technologies, the global workforce has largely been untethered from the desk. Productivity levels at home have always been a concern for employers. Surprisingly, nearly half of the respondents say that their work-from-home (WFH) productivity is on par with at the office (46%), with a handful saying it even increases when at home (15%).
As workplace trends are transforming due to millennials and generation Z forming most of the workforce, patterns of work are also becoming more fluid and mobile even prior to the current pandemic. Companies had been implementing WFH rules to take steps to help workers be ready for WFH. The research shows that nearly all companies have made some sort of effort (95%), with half providing employees with the tech and tools they need to WFH (56%), such as portable laptops and compact desktop PCs.
Lenovo has also come up with some useful tips and hacks to increase or maintain your work efficiency and productivity during this current Movement Control Order, which may change your perception of WFH: -
Set a daily team meeting, same time, every day ~

There is nothing more important in a group remote project than ongoing communication. Not just official emails and work updates, but the ability to stay on track with daily team meetings. More companies are requiring remote workers to hold daily check-ins to discuss daily priorities and work.
Keep a team chatroom open ~

A single open chatroom shared between the group will likely see even more chatting than the video channel because it will become a combination of shop talk water-cooler chats, and late-night 'you had to be there' jokes all in one. Not to mention that the younger generations of professionals grew up in chat rooms and chat programs and feel natively comfortable communicating in this medium.
Video conferencing the new norm ~

Companies are increasingly utilizing video conferencing and content-sharing tools to keep employees connected around the world. In fact, 94% of businesses say video conferencing increases productivity (Wainhouse Research ). Set yourself up for success by making these tools a part of your everyday life at work. Make sure they are downloaded on your laptops and beyond that, become comfortable using them.
Technology needs to fuel portability ~

As managers and IT leaders, it's your job to enable a more remote workforce. With employees taking devices from place to place, and desk to desk, laptops must serve as constant travel companions. Equip your employees with the latest technology that encourages a more nomad work lifestyle. Make sure to provide them with laptops that are easy to carry, and that can be seamlessly integrated with a company's infrastructure.
Canon Unveils 2020 EOS Ambassadors and EOS Youth Ambassadors
Canon Marketing (Malaysia) Sdn. Bhd. recently announced the appointments of acclaimed photographers Asmady Ahmad, Andrew Koh, Bonnie Yap, Edwin Lay, Fazry Ismail, Glenn Guan, Grace Tan, Johnson Wee, M. Hamdan Ruhimin @ Adam R. Adzim and M. Safuan Salahudin as their 2020 EOS Ambassadors (EA). As for the 2020 EOS Youth Ambassadors (EYA), the lineup are Rhiannon K, Samuel Goh, Barathan Amuthan, Annice Lyn, Reuben Liu and Acacia Diana who were the incumbents since 2019.
The EOS Ambassador programme's main objective is to increase awareness and relevancy of the Canon brand amongst semi-professional and professional photographers, and to strengthen the brand's position as the choice amongst professionals. As advocates of the Canon brand, the EAs will promote and build affinity amongst other professionals within the photography industry. The EYAs will be promoting Canon to their peers and fellow photography enthusiasts. In addition to the opportunity to learn from a team of their peers,
Canon believes that the new EAs and EYAs will make an impact on photography culture and preserve precious moments that matter the most to them and their generation. This programme not only creates a lasting connection between the ambassadors and the community, it also translates Canon products and features from something technical, into something artistic and powerful.
Aside from the EOS programme, Canon has also established the Canon Imaging Academy (formerly known as EOS Academy Malaysia). The Academy provides opportunities for photography and videography enthusiasts to learn from and be inspired by some of Canon's EAs and EYAs, such as Andrew Koh, who is an official trainer on the Academy. With a wide range of experiences and skills, some of the ambassadors, as well as professional trainers, will be able to share knowledge and current trends on photography, as well as skills and technical know-hows through the academy. The carefully curated workshops are open to photographers of all levels, ranging from amateurs to professionals. For professional photographers using Canon cameras and equipment, the Canon Professional Services (CPS) is an exclusive membership service that offers on-site imaging support at various high-profile events.
LG Electronics donates RM82,000 worth of LG PuriCare Air Purifiers to Hospital Serdang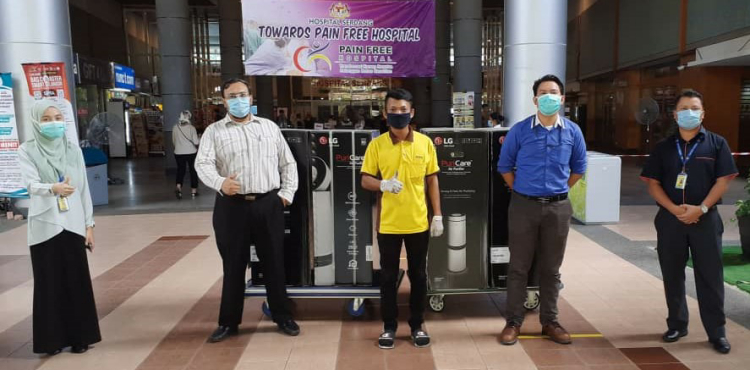 LG Electronics Malaysia recently donated their latest PuriCare Air Purifiers to Hospital Serdang. They feature industry grade HEPA filters and Plasma Ionizer functions. The donation was received by Yang Berusaha Dr. Rohana binti Johan, Director of Hospital Serdang and Nurul Insyirah Mohd Ishah, Public Relations Officer of Hospital Serdang.
LG's decision to donate their new air purifiers to Hospital Serdang during the extended duration of the Movement Control Order (MCO) goes in line with the home appliance manufacturer's approach in producing 'Technology that Cares'.
In related news, LG announced their preliminary earnings results for the first quarter of 2020 with tentative consolidated revenues of KRW 14.7 trillion in the first quarter of 2020 with an operating profit of KRW 1.1 trillion. Sales are expected to be 1.2 percent lower than the same quarter last year with operating income increasing 21.1 percent year-on-year.
These figures are the tentative consolidated earnings based on K-IFRS provided as a service to investors prior to LG Electronics' final earnings results including net profit. Details regarding each division will be announced officially later this month.
18 things you really didn't know you could do on your Apple iPhone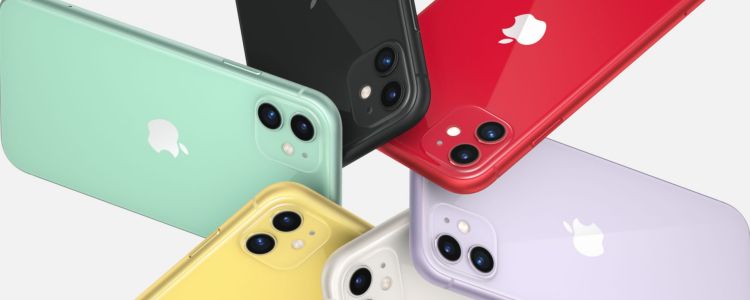 Search for photos in your Photos album by what's in the photo ~

The Photos app identifies places and objects in your pictures, so you can easily search for them. Search for something like "beach," birthday cake," or "dogs."
Add a dictionary to iOS search ~

To look up words from different languages, go to Settings > General > Dictionary, then tap a dictionary to download it. Now you can find a word's definition simply by swiping down from your home screen and entering in the word.
Turn a whole webpage or email into a shareable PDF ~

Quickly create a PDF of a webpage, document or email. Simply take a screenshot, tap the thumbnail, then tap "Full Page" on the right. iOS knows that even if your screenshot may only be part of the webpage or email, picking "Full Page" turns all that content into a PDF.
Use your iPhone as a tape measure ~

The Measure app on iPhone uses augmented reality (AR) technology to turn your device into a tape measure. Just open the Measure app, follow the onscreen instructions that ask you to move your device around so it can get a lay of the land, move your device so that the dot is over the starting point of your measurement, then tap the + button. Move your device until the dot is over the ending point of your measurement, then tap the + button again. Instant measurements!
Change your WiFi connections in Control Center ~

You don't need to go into Settings to change your WiFi connection! Swipe down from the right-hand corned of your iPhone to bring up Control Center, then hard press on the panel that includes Airplane mode, Cellular, WiFi and Bluetooth logos. Hard press again on the WiFi logo and all the available WiFi connection in your range will appear.
Change your Bluetooth connection in Control Center ~

Similarly, you don't need to go into Settings to change your Bluetooth connection! Swipe down from the right-hand corned of your iPhone to bring up Control Center, then hard press on the panel that includes Airplane mode, Cellular, WiFi and Bluetooth logos. Hard press again on the Bluetooth logo and all the available Bluetooth devices in your range will appear.
Swipe left to quickly open the Camera ~

From your lock screen, just swipe to the left to immediately open Camera. No need to unlock your phone and open up the Camera app!
Delete digits in Calculator if you make a mistake ~

Did you mistype in the Calculator app but you don't want to hit clear ("C") and lose all of your previous work? To delete individual digits, swipe left or right over the numbers. Each swipe will remove a digit.
Turn your keyboard into a trackpad ~

Hard press on the space bar of your iPhone's keyboard to turn it into a trackpad, transforming your finger into a mouse so you can insert a cursor wherever you're writing. You'll know you've turned your keyboard into a trackpad when the characters blank out.
Undo with three fingers ~

If you made a mistake typing something, swipe left with three fingers to "Undo." To "Redo," swipe right with three fingers.
Double tapping space bar to end a sentence ~

Did you know that double tapping the space bar when typing in Mail, Messages, Notes, etc. puts in a period and a space? Make your typing easy… you'll never have to type a period again.
Play games with friends in iMessage ~

With iMessage apps, you can decorate messages with stickers, share a song, and even play games — all without leaving iMessage. To start, find iMessage apps in the app drawer by opening Messages > Start a new message or go to an existing conversation > Tap the App Store icon > Select the game you want to play with your contact and begin playing.
Express yourself with new Memoji Stickers ~

With iOS 13.4 and iPadOS 13.4 there are now nine exciting new Memoji stickers available in Messages, FaceTime, and any app that supports the keyboard. Now there are even more ways to use Memoji stickers to express yourself — from celebrating to rolling your eyes or huffing with anger. Here's the full list of the nine new expressions, all based on popular emoji:

Screaming in fear
Party horn
Rolling eyes
Face with steam
Folded hands
Gesturing no
Person with tipping hand
Smiling face with three hearts
Person behind a computer
Quick Reply in iMessage ~

In Messages, touch and hold a conversation in the list, then tap one of the pre-populated replies.
Filter messages from people you don't know ~

In Messages, you can filter messages from unknown senders, especially useful with the rise of misinformation and spam via text message. Go to Settings > Messages and turn on Filter Unknown Senders. This turns off iMessage notifications from senders who aren't in your contacts and sorts the messages into the Unknown Senders tab.
Mark where your car is parked with Maps ~

Do you have your iPhone paired to your car via Bluetooth so you can listen to your music? Or do you have CarPlay? If so, Maps will automatically mark the location of your car with a pin when you disconnect your iPhone from Bluetooth or CarPlay. Make sure you turn Location Services on (Settings > Privacy, then select Location Services to turn it on), make sure that Significant Locations is on (Settings > Privacy > Location Services > System Services > Significant Locations, then turn on Significant Locations) and then turn on Show Parked Location (Settings > Maps, then turn on Show Parked Location).
Group FaceTime with up to 32 people at the same time ~

Group FaceTime makes it easy to chat with multiple people at the same time. You can bring together up to 32 of your friends, family and/or colleagues in one FaceTime call. Great right now for a virtual happy hour, game night, dinner party, etc. Start your Group FaceTime right from the FaceTime app. Open FaceTime and tap the + in the top-right corner. Enter the names of your contacts, their phone numbers, or emails. Once you're done, tap Audio or Video to start your Group FaceTime call. Or you can start a Group FaceTime right from a group chat in Messages. Open Messages and go to an existing group chat or start a new group message. Tap the contacts at the top of the group conversation, then tap FaceTime and start your call.
Share folders with friends using iCloud Drive Folder Sharing ~

You can share folders with friends, family, colleagues and students via a private link in iCloud Drive. Anyone who has access can see the folder in iCloud Drive, add their own files, and get the latest versions of files.
So that's it for TechNave NewsBytes #6. Do email us or our Editor-in-Chief if you feel your article or news should be included in our next TechNave NewsBytes. All the best and stay tuned for more at TechNave.com