TechNave NewsBytes 2021 #1 - Samsung, realme, OPPO, Xiaomi, 1MORE, Celcom, Maxis, MDEC and more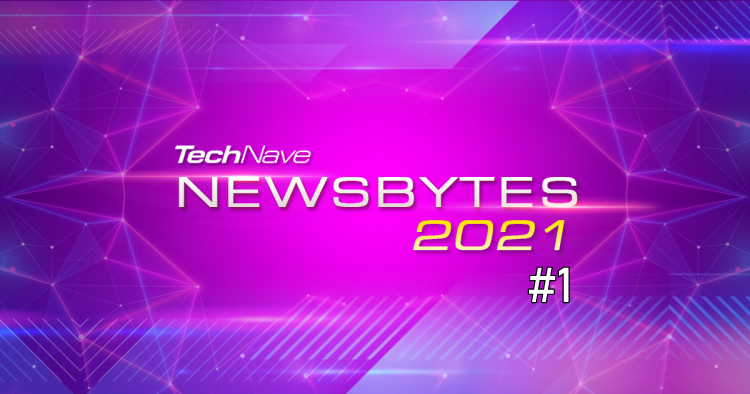 Welcome back TechNavers and NewsByters, in this issue of TechNave NewsBytes 2021 #1 Samsung showed off their The First Look 2021 and Galaxy Buds Pro with videos and their CES 2021 Innovation Award-winning technologies. Samsung also showcased their C-Lab Inside and C-Lab Outside Start-ups at CES 2021 while also appointing a new Samsung Electronics SEA + Oceania President.
realme on the other hand highlighted their achievements in just 2-years after being introduced. In addition, they are also set to launch their own AIoT platform in 2021 while also achieving more than 200 global awards in 2020.
OPPO showcased their Full-path Colour Management system which is set to arrive in their upcoming Find X3 series. Last year they also created an interactive OPPO Friendship mural for their Reno5 series launch while their OPPO Reno Festive Virtual Marathon ended after plenty of participation from all walks of life.
Xiaomi's 1MORE audio sub-brand received 3 CES Innovation awards for their TWS devices while Xiaomi themselves won The BrandLaureate: Brand of the Year 2020 in Smartphones & Devices award. Celcom appointed new leaders while also collaborating with Microsoft to introduce the Celcom Cloud Suite for SME and other businesses.
For our miscellaneous announcements see below:
MDEC disburses RM2.35 Million to 47 SMEs and Start-Ups

ELEVATE + Huawei outline green recovery in Asia

LG gets more than 190 awards at First-Ever All-Digital CES

Telenor Tech Trends for 2021

Maxis on track with JENDELA targets, 2021 initiatives well underway

MDEC appoints Nora Junita Dato' Seri Mohd Hussaini as its new CFO

Razer wins major awards at CES 2021

Maxis helps out Sarawakians over Christmas

Grab lowers commissions for SMEs this MCO 2021

Kingston NVMe SSD lineup and Kingston Workflow Station revealed at CES 2021

Buy an energy saving LG refrigerator and get RM200 e-rebate




SAMSUNG ANNOUNCEMENTS
Watch Samsung's The First Look 2021 and learn more about their Galaxy Buds Pro with these videos
Samsung recently revealed several videos showcasing their products and plans for 2021. Check them out in the videos above and below and if you're interested in the RM799 Galaxy Buds Pro on pre-order, check it out at their site.
Samsung showcases their CES 2021 Innovation Award-Winning Technologies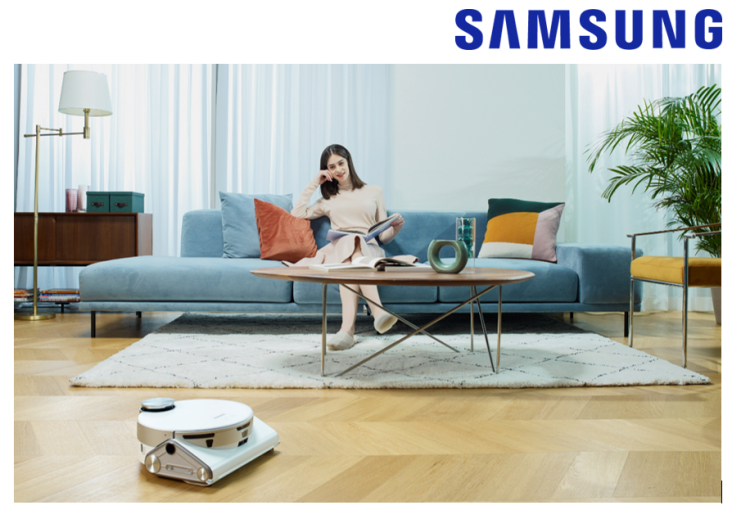 For this year's Consumer Electronics Show (CES) Innovation Awards, 44 of Samsung Electronics' latest products and services were awarded the prestigious title, including four Best of Innovation honors. Among the recipients of the CES 2021 Innovation Awards were several of Samsung's latest innovations in the display category, including the brand-new 110-inch MICRO LED, a breakthrough product that garnered a Best of Innovation award for its leading features that offer users total control over their space as well as their experiences.
These include:
110-inch MICRO LED

– Providing the ultimate in visual experiences, the Best of Innovation Award-winning 110-inch MICRO LED features 24 million individually-controlled LEDs and a powerful MicroLed processor for breathtaking image quality. With over 99.99% screen-to-body ratio and Samsung's Ambient Mode featuring three exclusive pieces by new media artist Refik Anadol, the TV seamlessly blends into its surroundings whether the display is on or off.

85-inch QN900A Neo QLED

– Samsung's QN900A Neo QLED enhances the viewing experience thanks to its upgraded AI-powered upscaling Quantum Processor and all-new light source technology, wherein each LED backlight chip emits light on its own to allow content to be enjoyed just as it is meant to be seen.

Smart TV Accessibility

– Samsung's 2021 QLED and Neo QLED models all feature the latest advances in AI and technology to help more users to comfortably enjoy their TV experiences with new features such as Caption Moving, Sign Language Zoom and Multi-Output Audio.

Samsung Bespoke 4-Door Flex

– The latest addition to Samsung's Bespoke refrigerator lineup and the first to launch in the U.S. market, the Samsung Bespoke 4-Door Flex allows users to choose from a wide range of colors and finishes while offering powerful and flexible storage features including an all-new Beverage Center.

Family Hub for 2021

– Carrying on the Family Hub legacy of being much more than just a place to store food, the Family Hub for 2021 provides families with flexible food management features, an intuitive and totally customizable 21.5-inch LED touchscreen and seamless inter-device connectivity for convenient cooking, entertainment, messaging and more.

WF8800A Front Load Washer

– Featuring a Smart Dial user experience that learns a user's preferences and recommends optimal cycles for each wash, the WF8800A provides a redesigned laundry experience that is smarter, more intuitive and less stressful than ever before.

JetBot 90 AI+

– With LiDAR and 3D sensors as well as cutting-edge object recognition technology powered by Intel® to precisely maneuver around objects, the JetBot 90 AI+ is a sleek robot vacuum cleaner that features a self-emptying Clean Station™ and front camera for efficient and intelligent home cleaning.

Jet 95 Cordless Stick Vacuum

– Featuring an automatic dust emptying system integrated with its battery charging station, the Jet 95 is a revolutionary cleaning assistant.

Slim Over-the-Range (OTR) Microwave

– Designed for any kitchen with an under-cabinet hood, the Slim OTR Microwave saves countertop space while delivering optimum performance as an industry-best 1100W output microwave, and includes a power ventilation system with a 550 cu.ft./min. suction capacity.

Front Control Slide-in Flex Duo Induction Range

– A modern upgrade to any kitchen, the Front Control Slide-in Flex Duo Induction Range includes Wi-Fi connectivity, simpler range control with Smart Dial and a built-in Air Fry mode for convenient cooking. Furthermore, by using induction, the range reduces energy consumption and features dual doors that turn one oven into two so that users are not restricted to just one oven temperature or timer.

Samsung Water Purifier (Family Faucet/Chef Faucet)

– Wi-Fi and voice-enabled, Samsung's water purifier offers improved filtration with two faucets for various uses, customizable horizontal or vertical installation, and remote, smart control.

SmartThings Cooking

– A one-stop culinary experience powered by Whisk's Food AI, SmartThings Cooking recommends recipes fit to the user's tastes and dietary requirements, builds meal plans and grocery lists and sends recipe data straight to appliances for integrated, intelligent cooking experiences.
For more information about CES 2021, please visit their site
Samsung showcases C-Lab Inside and C-Lab Outside Start-ups at CES 2021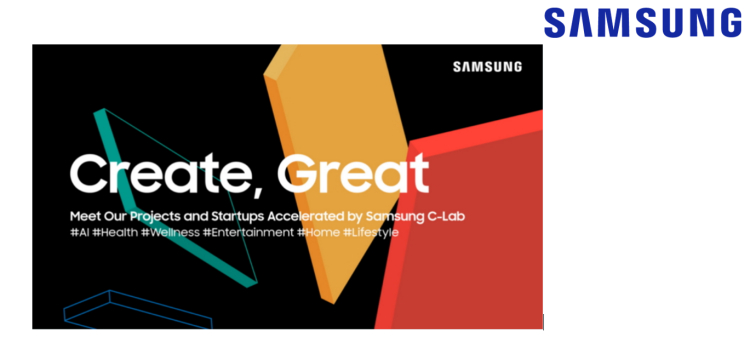 Samsung Electronics recently announced that it will be showcasing its C-Lab projects and C-Lab Outside startups at CES 2021 from January 11 through 14. Samsung will unveil four exciting projects in progress from its in-house venture program C-Lab Inside. Seventeen startups supported by the C-Lab Outside, Samsung's startup acceleration program, will participate in the event as well.
C-Lab Inside, which began in 2012, is an in-house idea incubation program that encourages and nurtures innovative ideas from Samsung employees. This will be the sixth consecutive year C-Lab is participating in CES. The C-Lab Inside projects to be unveiled this year focuses on personalized products and services catering to diverse lifestyles. Product marketability and customer responses will be gauged during the exhibition to enhance and further advance the projects. The four C-Lab Inside projects are EZCal, Air Pocket, Scan&Dive and Food&Sommelier.
Created in October 2018, C-Lab Outside is a startup acceleration program to vitalize the startup ecosystem in South Korea. Local startup incubation programs by Daegu Center and Gyeong-buk Center for Creative Economy & Innovation are also run as part of C-Lab Outside. Startups enrolled in the C-Lab Outside programs are provided with office workspace, expert mentoring by Samsung employees, opportunities to participate in global IT exhibitions, investor relations and financial support.
New Samsung Electronics SEA + Oceania President appointed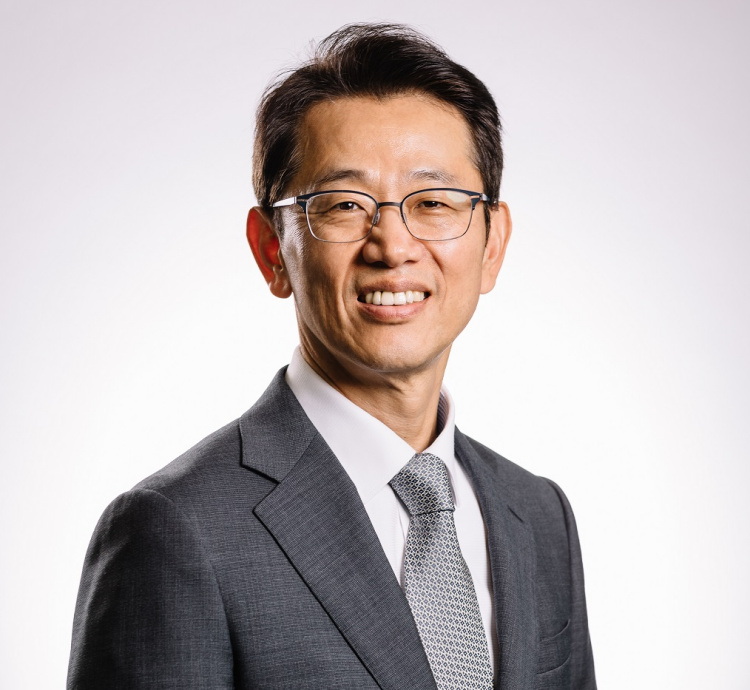 Samsung Electronics Co., Ltd. recently announced that Mr. Sangho Jo has been appointed as President and CEO of Southeast Asia & Oceania. A proven Samsung leader with over three decades of experience across business groups and geographies, Mr. Jo will steer the strategic growth directions of Samsung Electronics in Southeast Asia & Oceania.
Markets in Southeast Asia & Oceania are integral to Samsung Electronics' long-term growth plans, with the region poised to sustain its rapid economic growth into the next decade, built on the digital ambitions of its cities, industries and communities. Mr. Jo will guide the business towards cementing its industry leadership and seizing long-term growth opportunities in this region by forging partnerships, creating operational excellence, and ultimately, building brand trust amongst consumers and enterprises.
He was most recently appointed President and CEO for Samsung Electronics in Europe, where he led the business to achieve sustainable commercial growth and brand favorability in 2020. In the past decade, Mr. Jo has served as President in the following markets: Samsung Electronics Germany (2019), United Kingdom (2015 – 2017), Sweden (2012 – 2014), Austria (2011), Baltic countries (2009 – 2010), and also served as Head of Visual Display business for Samsung Europe based in South Korea (2017 – 2018).


REALME ANNOUNCEMENTS
realme achievements in just 2 years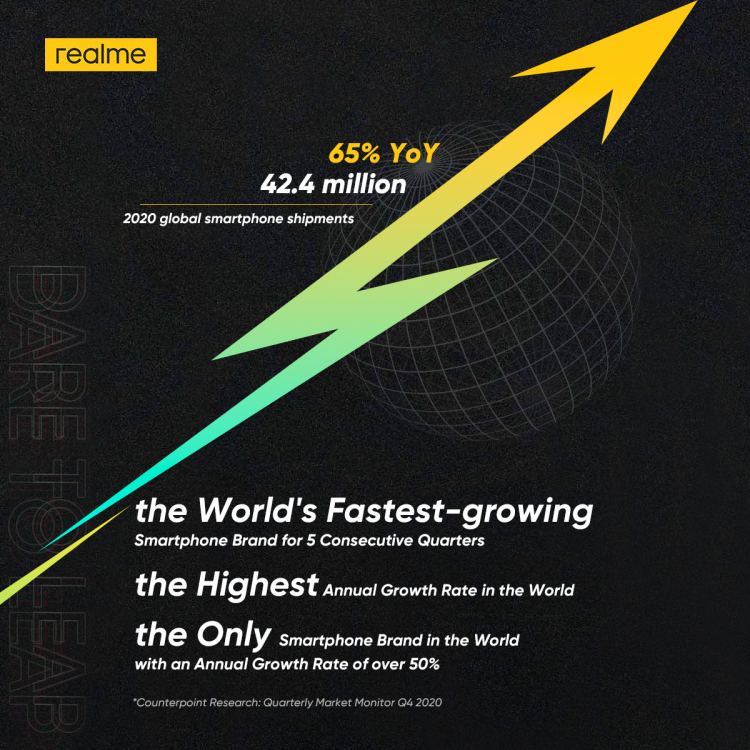 realme was announced recently as the fastest-growing international smartphone brand in the world for 2020. The major brand has leapfrogged over established industry giants and took 7th position in terms of global market share. Research company Counterpoint has announced this milestone in its latest smartphone report on Q4, as realme grew 65% YoY and shipped 42.4 million smartphones last year.
realme has been a highlight in the smartphone industry, employing innovative methods on both consumer and product aspects to grow its market share aggressively. In an economic environment where nearly all major industry leaders were taking a loss, realme was one of the only two major smartphone brands that registered growth throughout 2020. The young company started the year by selling only in 35 markets and concluded it with approximately 100% growth, totalling 61 active markets by the end of 2020. realme has also expanded its user base by 250%, from 25 million to now over 50 million strong.
realme's meteoric rise is not a secret to industry observers who are now used to such impressive numbers expected from this dynamic company. Part of the ethos of the company set by CEO, Sky Li is the ability to flexibly respond to changing market conditions on the ground. realme's employees and team, as young consumers themselves, deeply understand the changes on the ground and have adapted cohesively. The results have been shown through the sales and satisfaction reviews of the products, leading to a strong performance underpinned by consumers' trust and understanding.
realme to launch own AIoT platform in 2021
realme, the fastest-growing smartphone brand in the world recently leaped into the Top 10 TWS brands in terms of shipments for Q3 2020, according to Counterpoint Research. It was an important news for the brand as it exceeded expectations in terms of corporate, product and design respectively. Counterpoint has also highlighted the possibility that 'realme could repeat its smartphone success to become 2021's dark horse among wearables' in its announcement.
In the true wireless stereo hearables (TWS) market, realme garnered 2% of the global market share. realme will be launching its own AIoT platform which is known as TechLife in 2021, which is merely one step in realme's strategy to foster new companies and ideas as well as participating in co-creation and scale innovative AIoT products. The initiative will be focusing on bringing a more cohesive and integrated smart living lifestyle to the youths today that allows for greater communication and collaboration among users.
realme achieves more than 200 global awards in 2020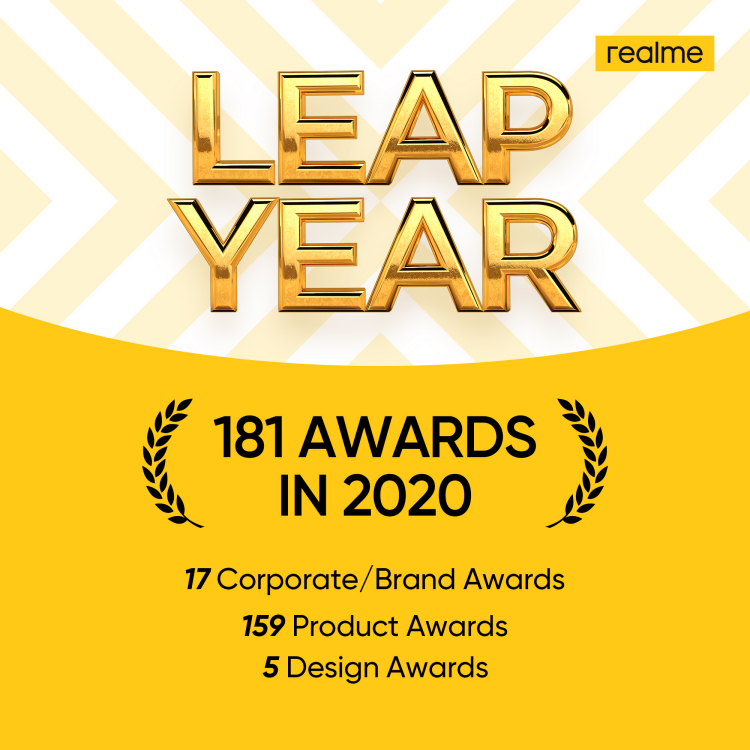 2020 was a year worth remembering for realme as it scooped up awards and international fame in terms of quality products and business milestones. realme's success in 2020 showcased its real strength in all areas as it not only navigated 2020, but expanded against the industry's expectations. realme has gained 17 brand awards, 159 product awards and 5 top tier design awards worldwide in 2020 underpinning the strong support from fans.
realme not only achieved Top 5 in market share in 12 countries, it has also expanded to 61 markets globally. These milestones reflect reports and features by notable media and research organizations. Counterpoint Research hailed realme to be the 'fastest-growing smartphone brand in the world' and the esteemed Financial Times has affirmed that the company commands a leading position across Asia Pacific.
One major milestone in 2020 is when realme officially became the fastest company to reach 50 Million shipments (according to Counterpoint Research). As a 'Dare to Leap' brand, realme has adopted the strategy of selling leapfrog performance and trendsetting design-driven quality products that resonate with its young crowd at affordable and attractive price points.
OPPO ANNOUNCEMENTS
OPPO showcases their Full-path Colour Management system, coming in Find X3 series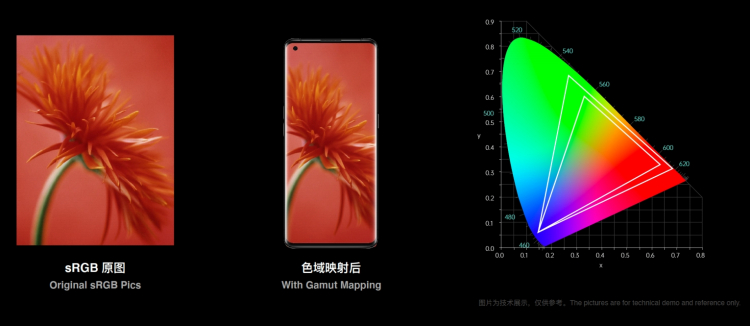 OPPO recently announced that the official release of the Full-path Color Management System will premiere as part of its 2021 new flagship smartphones, the Find X3 series. OPPO's Full-path Color Management System is the very first Android color management system to support the full DCI-P3 wide gamut and 10-bit color depth from capture, storage, and display. This delivers an outstanding viewing experience with its authentic and accurate color reproduction.
The system is an end-to-end solution, covering all the steps from image acquisition, to computation, encoding, storage, decoding, and finally display, supporting a HEIF image with 10bit high color depth and the P3 wide color gamut. As a management system, the full-path color management system has adopted higher specification algorithms and hardware to record color when capturing. OPPO's R&D engineering promoted algorithms in the areas such as distortion correction, multi-frame noise reduction and perceptual extreme super-resolution. Moreover, OPPO will support image sensors featuring Digital Overlap (DOL) HDR mode. In the DOL-HDR technology, it synthesizes different exposure conditions into an image.
OPPO's screen calibration procedure enables a professional, digital film-grade color accuracy at around 0.4 JNCD, thereby delivering a consistently accurate display on the screen. On the other hand, OPPO's proprietary algorithm guarantees color gamut compatibility by adjusting the DCI-P3 with the D65 white point at the center of the color space.
Interactive OPPO Friendship mural created for Reno5 series launch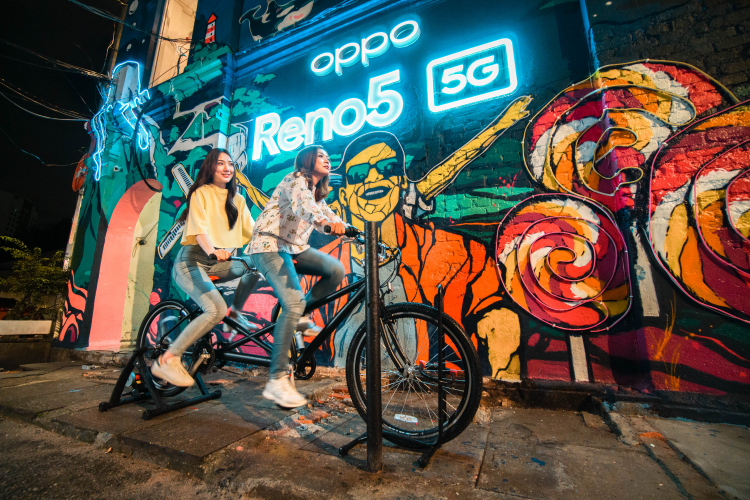 OPPO Malaysia launched OPPO Reno5 Series on 18 January 2021 and have partnered with Abdulrashade Studio to create a magnificent mural that captures the essence of friendship anytime of the day. The mural is also unique, in that it will light up at night if visited by a pair or more than 1 person. Friendship is all about capturing memorable moments together, and it is much easier with the OPPO Reno5.
OPPO Malaysia understands the need of an insta-worthy area to capture picture perfect moments together. Therefore, we collaborated with Abdulrashade Studio and WheyChillin Ice Cream KL to create this interactive mural for the OPPO Reno5. Lead artist, Abdulrashade created this glow-in-the-dark mural at the famous Kwai Zai Hong area in the heart of Kuala Lumpur, specifically on the outer wall of WheyChilling Ice Cream KL, which is located along Jalan Balai Polis, Kuala Lumpur.
To create a better bond among users, OPPO Malaysia and Abdulrashade decided to make the mural interactive and only light up when two individuals stand in front of it. This provides users with a unique spot to shoot some Insta-worthy photos that are accompanied by a beautiful backdrop. During the day, the bright colors of the mural pop up, but at night there is a special surprise waiting to be unlocked within this interactive masterpiece.
OPPO Reno Festive Virtual Marathon ends
The OPPO Reno Festive Virtual Marathon had finally come to an end on 3rd January 2021. Adventure seekers, OPPO enthusiasts, and athletes in all forms from all states of Malaysia had participated in the marathon while ensuring social distance through consistently updating their live status on OPPO's website. Encik Fuad Sanoesi who is disabled, had also completed a 56.26km marathon.
For Encik Fuad, the longest distance he had challenged himself was 42 km completed in 4 hours 14 minutes and 21 seconds which was outstanding and could totally compete with the time spent for normal people in finishing a marathon. He suggests to train 3 to 4 times constantly every week and ensure to get enough rest (up to 2 days) before the marathon happens.
Encik Fuad stated that, 'from my opinion, OPPO Reno Festive Marathon was great and I genuinely hoped that it would be held again in the coming years. The only thing that could be improved was the processing time which would be better if it could be shortened rather than requiring 2 to 3 days to be in the leaderboard.'
XIAOMI ANNOUNCEMENTS
1MORE receives 3 CES Innovation awards for their TWS devices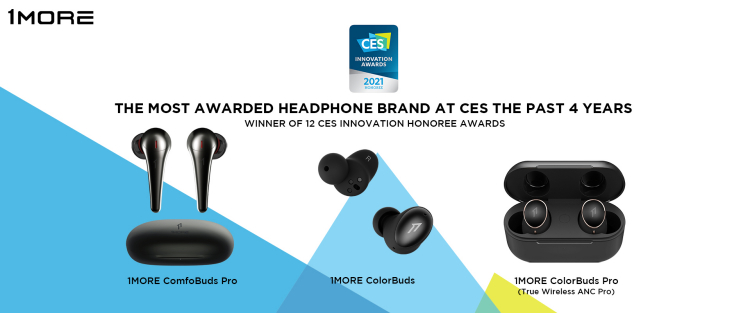 1MORE recently announced they have received three 2021 CES Innovation Honoree Awards for their 1MORE ComfoBuds Pro True Wireless Headphones, 1MORE ColorBuds True Wireless Headphones (RM299), and 1MORE ColorBuds Pro True Wireless Headphones.
Announced along with the award-winning headphones are the 1MORE ComfoBuds True Wireless Headphones (RM189) and the smart watch plus true wireless headphone combo, the Sound Band Duo. The new collection of true wireless headphones and smartwatch will be available at a later date while the ComfoBuds and ColorBuds are available now on at the official 1MORE LazMall Flagship Store.
Rounding out 1MORE's CES product launches is the innovative Sound Band Duo, which is part smartwatch and fitness tracker and part compact true wireless headphones in an all-in-one package. Simply pop open the watch, slide out the earbuds and now you have the perfect duo for your on-the-go adventures.
Xiaomi wins The BrandLaureate: Brand of the Year 2020 in Smartphones & Devices award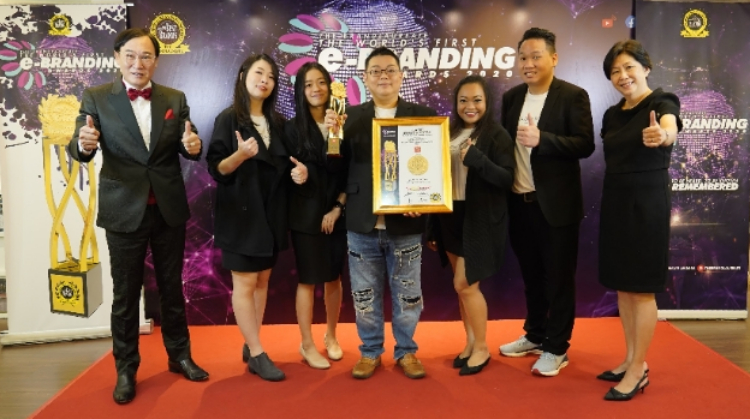 Xiaomi was recently awarded The BrandLaureate World's e-Branding Award – Brand of the Year 2020 in Smartphones & Devices. The award, by The World Brands Foundation (TWBF), is in recognition of the company's significant brand achievements during the challenging times caused by COVID-19. In addition, The Brand of the Year 2020 Award further recognises the achievements and success Xiaomi has made in Malaysia.
Xiaomi is the third-largest smartphone brand in the world and within the top five smartphone brands in Malaysia and Southeast Asia, according to Canalys in 2020 Q3. The company also made the Fortune Global 500 list, ranking 422nd.
CELCOM ANNOUNCEMENTS
Celcom appoints new leaders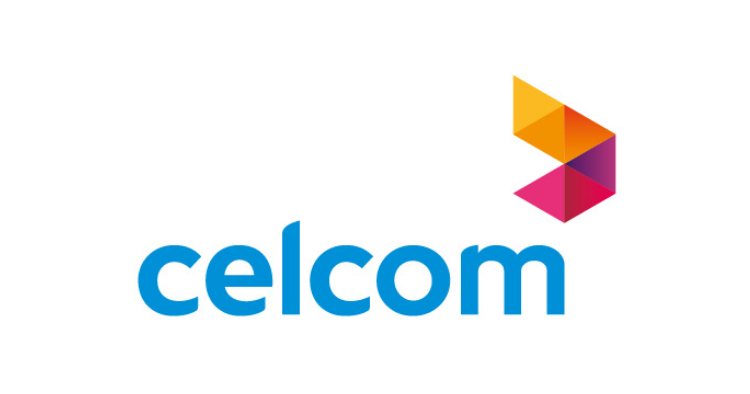 Celcom Axiata Berhad (Celcom) recently announced several key senior management appointments within the company. Datuk Kamal Khalid will join Celcom as Chief Corporate and Transformation Officer on 1 February 2021. He will provide leadership to the various corporate functions including legal, regulatory, societal development, sustainability, enterprise data governance and program management.
In 2020, Celcom strengthened its management team with new appointments for its technology and commercial divisions. Afizulazha Abdullah was appointed as Celcom's Chief Operating Officer (Technology) to provide overall leadership across the various technology functions. Afiz was previously the Managing Director of On-Site Services (OnSite) Sdn Bhd, a subsidiary of edotco Malaysia that focuses on delivering network managed services. Allan Bonke was appointed as Celcom's Chief Commercial Officer to lead all revenue generating units with focus on strengthening our value proposition and competitiveness in the market.
In addition, Pravind Menon was appointed as Head of Risk and Compliance on 4 January 2021. Pravind brings with him with over 20 years of experience in legal, ethics and compliance across various industries in Asia Pacific covering pharmaceutical, energy and fast-moving consumer goods industries.
Celcom + Microsoft introduce Celcom Cloud Suite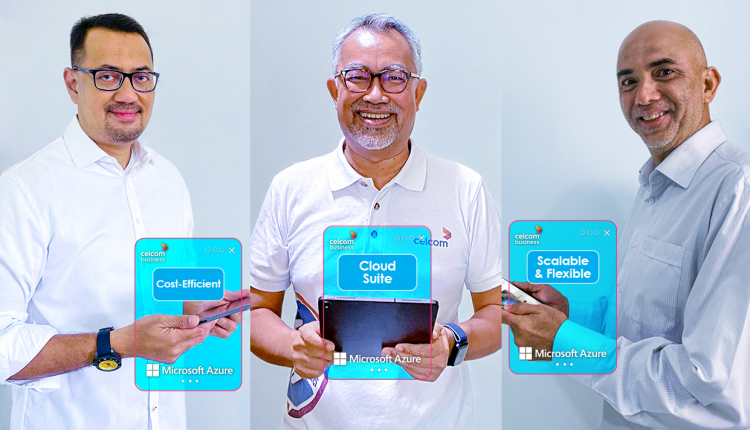 Celcom Axiata Berhad (Celcom) introduces Celcom Cloud Suite, an affordable enterprise-class cloud service that focuses on Infrastructure as a Service (IaaS) and Platform as a Service (PaaS), to accelerate digital adoption among local enterprises and businesses.
Celcom, in collaboration with Microsoft Malaysia, brings the trusted solution that combines the tools and platform for applications, infrastructure, data storage, software network, security and seamless deployment experience with reliable site recovery advantages. The service offers unparalleled potential for business owners to transform their business operations with such simplicity and cost efficacy, and is offered together with an array of cutting-edge solutions through Celcom's one-stop digital kit, Celcom Business Suite™.
Malaysian business owners can customise and personalise their Celcom Cloud Suite based on various business requirements with the packages below:
Basic Package ~

Enables Micro to SMEs businesses to quickly and conveniently transform and enhance their businesses operations with cloud adoption, providing all its users with access to the cloud from anywhere and anytime, with the basic requirement from 50TB of storage and bandwidth of up to 100GB
Standard Package ~

Fits SMEs to Medium businesses that are looking to establish a competitive advantage in optimizing their businesses for Digital Transformation, Infrastructure modernization, and Seamless Storage Management with the requirement of system specifications based on the business needs from 450TB of storage and bandwidth of up to 100GB.
Pro & Pro Plus Packages ~

Tailored for larger organisations and businesses looking towards legacy storage systems without high capital expenses. Easier access to data from anywhere and anytime with Protech Corporate data that provides security, high availability and resiliency. Made for business usage requirement from 450TB, RAM of up to 64GB, temporary storage of up to 400GB and bandwidth of up to 100GB
For more information on Celcom Cloud Suite, visit their site.
MISC ANNOUNCEMENTS
MDEC disburses RM2.35 Million to 47 SMEs and Start-Ups
The Malaysia Digital Economy Corporation (MDEC) recently announced that it has disbursed RM2.35 million worth of grants benefiting 47 grant recipients from the SME and start-ups sectors. The recipients are largely from the digital creative content industry (70%), followed by professional services (21%), education (7%) and other industries (2%). These disbursements were made under the DCG 2020 (Budget 2020) and PENJANA Digital Content Grant (DCG).
These initiatives that aim to empower digital businesses are part of MDEC's three strategic framework pillars: Digital Jobs, Digital Businesses and Digital Investments. Businesses of all sizes can reach out to and engage with various support initiatives that MDEC currently manages. This includes the different grants that are currently made available for different industry verticals.
For more information about MDEC grants, please visit their site.
ELEVATE + Huawei outline green recovery in Asia
How to rebuild and transform economies post COVID-19 while confronting the climate crisis? The pandemic reminded us of the impact humanity has had on the environment, making green recovery essential. Cleaner air quality and effective waste management can help generate economic growth, while improving resilience of communities to global pandemics. Digital technologies also have the ability to reduce energy consumption and emissions across a number of industries, from the use of big data to IoT solutions, and can empower renewable energies via the use of AI solutions.
The event featured speakers from Governments and International organizations from the Asia Pacific region, including: Dr. Vong Sok, Head of the Environment Division and Assistant Director of Sustainable Development Director at the ASEAN Secretariat, Mr. Yeon-chul Yoo, Ambassador for Climate Change at the Ministry of Foreign Affairs of the Republic of Korea, Asad Naqvi, the Head of Secretariat of the Partnership for Action on Green Economy (PAGE-UNEP), Ma Aimin, Deputy Director of the National Center for Climate Change Strategy and International Cooperation at the Ministry of Ecology and Environment of the People's Republic of China, Hyoeun Jenny Kim, Deputy Director-General of the Global Green Growth Institute (GGGI) and Meng Liu, Head of Asia Pacific Networks at the United Nations Global Compact.
Find out more at their sites for ELEVATE and Huawei.
LG gets more than 190 awards at First-Ever All-Digital CES
LG Electronics (LG) took home the most CES® awards ever at the 2021 all-digital event – a pivotal moment in history for the technology industry – earning more than 190 honors across its home appliance, home entertainment, IT and mobile categories.
This recognition was led by Engadget's Best of CES Award (the official award program of CES) in the TV category to LG OLED for a seventh consecutive year; in 2021 the acclaimed LG C1 series OLED TV was singled out from the thousands of new TVs shown at CES 2021. Also receiving Engadget's Best of CES Award was the LG Rollable smartphone, grabbing the win for Best Phone/Mobile Device after it was previewed during LG's CES 2021 press announcement.
For more details check out their site.
Telenor Tech Trends for 2021
Digitalisation efforts in every corner of society will accelerate in the wake of Covid-19, predicts Telenor Research. From new technology to combat loneliness, to remote education that's here to stay, compounded by password panic induced by rising security concerns - these are some of the trends that will shape 2021.
For the sixth consecutive year, Sandberg and the Telenor Research team have analysed and reflected on the year that passed, in order to predict what's to come in five tech trends for 2021:
Trend 1: Tech supplements touch to tackle mental health maladies

Trend 2: A digital spring for green tech

Trend 3: !]¤Password%@panic!#=? emerges as symptom of cyber security challenges

Trend 4: Society-as-a-service offers much-needed flexibility

Trend 5: Mind the educational gap
To read more, visit their site.
Maxis on track with JENDELA targets, 2021 initiatives well underway
Continuing its commitment to strengthen 4G network coverage and deliver the best customer experience, Maxis has built more than 150 new sites and completed upgrades at more than 5,500 sites in key market centres in both Peninsula and East Malaysia. At the same time, Maxis continues to expand its fibre footprint with more than 6,500 premises passed in 2020. With that, Maxis has delivered 100% of its own 2020 targets for Jalinan Digital Negara (JENDELA), accelerating capacity with upgrades of more than 35% of the total upgrades of 16,367 sites by the industry.
In providing quality digital experiences, Maxis activated Voice over Long-Term Evolution (VoLTE) in October last year. It is currently available for Hotlink Postpaid and Maxis Postpaid customers on Consumer and Business plans who are using VoLTE-enabled phones. Continuous investments in its network have also enabled Maxis to stay ahead and maintain its leadership position in the Network Performance Report 2019 by MCMC for four consecutive years.
For the months ahead in 2021, Maxis will remain focused on optimising its network in anticipation of the continuing surge in Internet traffic. 4G coverage expansion is also being accelerated to rural and underserved areas as part of the USP projects, while strengthening Quality of Experience in urban, residential and industrial areas with upgrades to mobile sites in several states including Perak, Kelantan, Pahang, Johor, Sabah and Sarawak. Concurrently, Maxis will be rolling out fibre in Kuala Lumpur, Selangor, Negeri Sembilan, Melaka, Penang and Johor, with greater focus on rural and remote locations, while collaborating with access providers to connect even more premises in the country. To provide further support and awareness to its customers, Maxis will also be amplifying its communications on 3G sunsetting scheduled for end 2021, including 4G device campaigns.
MDEC appoints Nora Junita Dato' Seri Mohd Hussaini as its new CFO
The Malaysia Digital Economy Corporation (MDEC) recently announced a key appointment to its senior management team member, naming Nora Junita Dato' Seri Mohd Hussaini as its new Chief Financial Officer (CFO). Bringing over a decade of C-Level experience, including with multi-million dollar and regional M&A, business turnaround and change management, specifically in telecommunications. She is also a Finance and Strategy professional, with over two decades of sound experience across multiple industries and markets in Europe and Asia, especially the UK, Malaysia and Bangladesh. Nora Junita is appointed to this new role with immediate effect.
In supporting this change, Nora Junita will contribute to business strategy and financial leadership, alongside programmes that are aligned with MDEC's overall national strategic objectives. Leveraging her experiences in finance and business management, Nora Junita will work with the MDEC's Management Operating Council to achieve sustainable long-term growth, while also having an impact on operational effectiveness across a breadth of functions.
Razer wins major awards at CES 2021
Razer took home a myriad of awards at CES 2021, including the official "People's Choice Award" for the 2nd year in a row and the 5th time overall, after having been nominated in the "Best Gaming Product" category. Strong demand for the company's growing ensemble of innovative gaming hardware was also recognized by the NPD Group's technology division for the "Top Increase in North American Market Share" for gaming accessories .
Beyond solidifying their place as the top gaming peripherals company in 2020 with their core products, Razer expanded into new categories such as gaming chairs, desktop cases, lifestyle products, and a new productivity line. At CES 2021, Razer continued to demonstrate their industry-leading innovation with these exciting products and concepts:
Razer Blade 15, the Best Gaming Laptop – featuring up to an ultra-fast 360Hz refresh rate display, NVIDIA® GeForce RTX 30-Series Laptop GPUs, and improved storage and memory, up to a 1TB NVMe SSD and 32GB DDR4 RAM, to meet the needs of demanding gamers and content creators.

Razer Blade Pro 17, the ultimate desktop replacement – offering robust connectivity, a massive 17.3" display with up to a 360Hz refresh rate display, and next-gen NVIDIA® GeForce RTX 30-Series Laptop GPUs.

Project Brooklyn, the next generation of immersion in gaming chairs – featuring a 60" rollout display, immersive tactical feedback, and fully-modular 4D armrests that roll out into an adjustable peripherals table.

Project Hazel, the World's Smartest Mask – designed for a more health-conscious future. It has N95 medical-grade respirator protection while offering excellent user-friendly features such as a transparent front panel to see the user's mouth, Razer VoiceAmp technology to help amplify the user's voice, a charging case with a UV-light interior to sterilize the mask, and Razer Chroma RGB for users to personalize their mask.
Maxis helps out Sarawakians over Christmas
In the recent season of giving, Maxis teamed up with Hope Place, a non-governmental organization (NGO) based in Kuching to identify underprivileged communities that needed basic personal protective equipment (PPE) such as hand sanitizers and face masks to stay safe.
Volunteers from Maxis' regional office with Hope Place have been distributing these PPE packages to families in Bau, Serian and Siburan in stages while strictly adhering to SOP. Additionally, PPE packages were also shared with Hope Place for their volunteers to stay protected while they are conducting their community outreach.
Throughout the pandemic, Maxis has actively conducted community outreach and donated aid for COVID-19 relief efforts. Most recently, the company has contributed RM500,000 to Yayasan Kebajikan Negara (YKN) in support of COVID-19 related aid. The contribution will go towards distribution of an estimated 5,000 food boxes to communities severely impacted by the pandemic as well as allocation for flood-stricken areas. The contribution to YKN is part of the RM1 million pledged by Maxis via the GLC/GLIC Disaster Response Network (GDRN) in the recently launched "To Malaysia, With Love" initiative driven by Malaysian Communications and Multimedia Commission (MCMC).
Grab lowers commissions for SMEs this MCO 2021
In response to the MCO for 2021, Grab has lowered their commission ceiling by up to 5% for all Food and Mart merchants nationwide for four full weeks, from Jan 13 till Feb 10, 2021. In addition, effective Jan 13 to Feb 10, 2021, Grab will absorb all costs for self-pick up orders made via the Grab App and temporarily reduce commission to zero percent if customers choose to pick up their orders themselves.
The 'Local Heroes' campaign to provide free visibility, awareness and promotions across various marketing and digital channels has also been brought back. Additionally, with the revamped GrabMerchant platform, merchants will also have more autonomy to manage their online store especially if they are running out of supplies or are unable to cope with the orders.
For customers, the delivery fee is now as low as 50 cents for selected nearby Food and Mart merchants. Customers can also continue to enjoy their nasi lemak, char kuey teow, kopi ais or other food court delights and 'Mix & Match' from different stalls while paying only one delivery fee. From now till Jan 22, 2021, customers can use the promo code FREEDEL to enjoy a variety of cuisines from their favourite 'Signature' restaurants, with unlimited free deliveries. For more savings, from Jan 15 to Jan 17, GrabRewards is offering 40% points back for any Food, Mart or Express vouchers redeemed.
Kingston NVMe SSD lineup and Kingston Workflow Station revealed at CES 2021
Kingston Technology, recently announced the launch of its upcoming NVMe SSD roadmap along with Kingston's Workflow Station and Readers at the all-digital CES® 2021. Despite of adopting a new format this year, Kingston will bring its industry leading SSDs to the forefront for attendees to experience the best-in-class technology virtually.
Kingston's Workflow Station and Readers give users the freedom to create and customize a file offload setup that fits their needs allowing them to transfer video, photos, and audio from multiple sources at once1. Whether on a 4K/8K multi-cam shoot with portable audio recorders or filming B-Roll with drones and GoPros, with the customizable Workflow Station Dock you can simultaneously connect the USB miniHub, SD or microSD readers that the shoot requires to transfer footage quickly. Workflow Readers can also be used standalone by connecting to a laptop via the included USB-C® cable giving users the flexibility to have their workflow on-the-go. Whether shooting on location or working back at your desk, Kingston Is With You.
For more information visit their site.
Buy an energy saving LG refrigerator and get RM200 e-rebate
LG Electronics (LG) recently revealed that Malaysians can save energy and claim an RM200 e-Rebate through the SAVE 2.0 Programme when they purchase selected refrigerators. With energy-savings up to 46 per cent and rated up to 5-star for Energy Efficiency, there are 17 models of LG 2-door series refrigerators available to choose from, with prices starting as low as RM 1,329.
Implemented by the Sustainable Energy Development Authority (SEDA), the SAVE 2.0 initiative aims to benefit 140,000 households in Malaysia. Under this programme, consumers are entitled to RM200 rebate for purchase of refrigerators or air-conditioners with a minimum of 4-star energy efficient rating by the Energy Commission. The rebate is limited to one account only for each home appliance in 2021 or until the quota runs out. For more information, please visit their site.
Thanks for reading TechNavers and TechNave NewsByters. As always, stay tuned to TechNave.com and if you think your brand or PR should be in our latest issue of TechNave NewsBytes 2020, contact our Editor-in-Chief.