Tesla unveiled its futuristic electric truck that can go from 0 to 60mph in about 2.5 seconds
Tesla's electric automobiles are among the best in the market (sadly, just not ours) right now. The company has opened new factories to keep up with customers' demands as well. Today, Tesla took the world by surprise by unveiling its latest product which is an electric truck at Tesla's design studio located in California.
The Tesla Cybertruck's design is inspired by the Lotus Esprit S1 from the James Bond film, The Spy Who Loved Me. In the movie, the vehicle is able to turn into a submarine when Bond drove it into the ocean. Of course, this Cybertruck doesn't do that. However, there are a lot of other amazing things this truck can do!
The truck is able to tow an object that weighs around 14,000 pounds. At the event, Elon Musk showed the crowd a tug of war between the truck and a Ford F-150. Apparently, the Cybertruck won. He also tried to prove the toughness of the truck to the audience by having his Chief of Design to hit the truck with a sledgehammer several times. However, when Musk had one of his audiences to go onto the stage and throw an object on the truck's 'Tesla Armour Glass', it broke.
When I trust someone with my feelings #Cybertruck #Tesla pic.twitter.com/5Y3cktwTxq

— Rafa (@rafadl_) November 22, 2019
For the specs, the Tesla Cybertruck is able to go from 0 to 60mph in about 2.9 seconds depending on the models. There are three models that will go on sale which have different battery ranges from 250+, 300+ or 500+ miles per charge. The battery also supports 250kW charging via Superchargers.
The starting price of the Cybertruck is 39,900 USD (~RM166,307.19). The basic model comes with RWD, a single motor and has the EPA-estimated 250+ miles of range. By adding another 10,000 USD (~RM41681), a dual-motor AWD option and the range to 300+ is what you can get. There is also a tri-motor AWD with the max towing capacity as an option by adding yet another 10,000 USD (~RM41681.00). Tesla's self-driving feature will also be available for these models as an extra option at the price of 7000 USD (~RM29176.70). Cha-ching!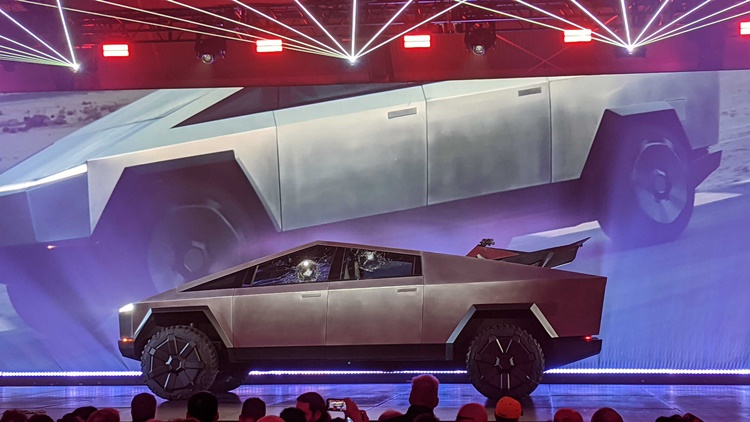 The production of the Cybertruck is scheduled to start in late 2021. Meanwhile, there are other companies joining the competition as well. Ford has hinted at electrified trucks will be coming soon. GM's CEO has also confirmed the company's plan on developing an electric truck by 2021.
With global warming going on, it is good to see automobile companies are taking initiatives to reduce carbon footprint by developing vehicles that use sustainable energy. Let us know what you think about Tesla Cybertruck on our Facebook page! Stay tuned for more news on TechNave.com