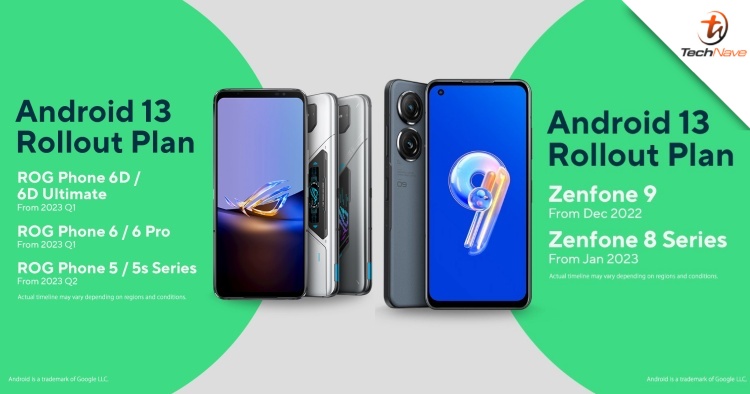 ASUS and its subbrand ASUS ROG have recently announced the Android 13 update roadmap for their smartphones, specifically the Zenfone and ASUS ROG gaming smartphones lineup. Set to commence in December this year, the roadmap was revealed via their official global Facebook page.
For the ASUS ROG gaming smartphone lineup, ASUS ROG confirmed that Android 13 will be rolling out to the ROG Phone 6D, ROG Phone 6D Ultimate, ROG Phone 6 and ROG Phone 6 Pro starting in the first quarter of 2023. Meanwhile, the ROG Phone 5 series and ROG Phone 5s series will be getting the update to the latest Android OS beginning July 2023.
As for ASUS smartphones, the company revealed that the Zenfone 9 will be getting Android 13 beginning next month. For its predecessor the Zenfone 8 series, the update will commence starting from January 2023.
However, do note that ASUS and ASUS ROG clarified that this is just a general timeline as the actual timeframe may vary depending on regions and conditions. As of the time of writing, ASUS Malaysia and ASUS ROG Malaysia have yet to reveal the Android 13 update roadmap for their devices in our country.
So, what do you guys think of the roadmap? Share your thoughts with us in the comments below and stay tuned to TechNave for more trending tech news such as this.