The Ministry of Tourism, Arts and Culture(Motac) came under fire after allowing the Malaysia Travel Fair 2020 to proceed!

The Ministry of Tourism, Arts, and Culture(Motac) is now facing criticism by netizens after allowing the Malaysia Travel Fair 2020 to proceed. Despite the Prime Minister's call to postpone or cancel all forms of events and gatherings, the event was held at PWTC from 13-15 March and it attracted a large amount of crowd during that period of time.
The Motac's official Twitter and Facebook accounts were blown by critics after the accounts shared photos and videos of the event. Most of the netizens heavily criticized that the event was held during the sharp rise of the coronavirus. Netizens mentioned that they were making a reckless decision while taking the risk of spreading the coronavirus at ease despite the Minister of Health recently advising to call off mass gatherings that exceed 50 people.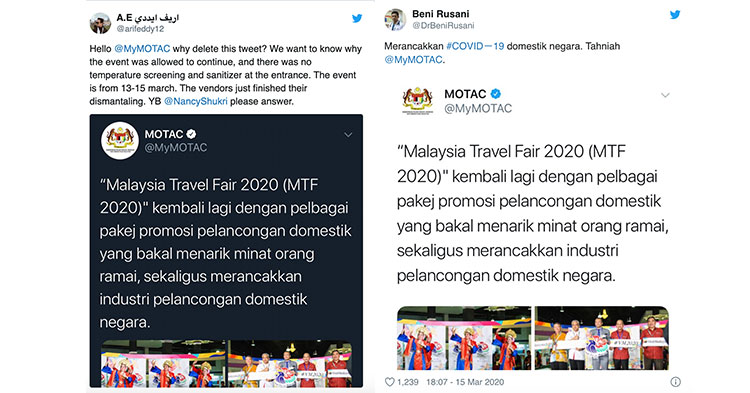 Although the Ministry has deleted all the contents of the event, the photos and videos are still available at the Travel Fair's Facebook page and. From the pictures posted, it seems that the organizer did prepare precautionary measures by conducting a screening test during the event period.
As of now, the number of affected victims of the coronavirus outbreak has increased to 428 people in Malaysia making it the highest number of infected cases in ASEAN. So do remember to stay away from crowded areas and any forms of gatherings for the time being and keep your hygiene well-taken care of. Stay tuned for more news updates on TechNave.com!