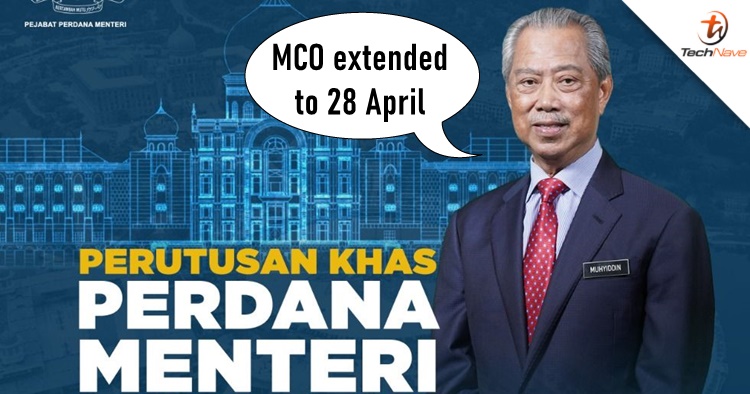 Today, as Prime Minister Muhyiddin Yassin gave his third announcement about the Movement Control Order (MCO) update, we finally know our fate. As many of us suspected, the MCO did indeed extended once again until 28 April 2020. While that may be bad news to some, there is some good news as well.
According to the latest statistics, 1830 people have been recovered from the infection and discharged safely. The government have also been monitoring the curve and it's safe to say that the spread is quite stabilized throughout the past 3 weeks. However, we still cannot be complacent, he said, as the fight is far from over until the outbreak is 100% under control. PM Mudyiddin encouraged us that if we keep this up, "God willing we will be able to halt the spread of this COVID-19 virus".
Continuing the good news, it has been reported that Malaysia has one of the lowest COVID-19 rates around the world. Due to our on-going MCO, Malaysia's case is at 7% which is below the 10% benchmark set by the World Health Organization (WHO). The death rate in our country is also quite low, sitting at 1.6% compared to 5.8% globally. In fact, the positive COVID-19 cases have steadily declined and we have more recovered patients than a number of positive cases (220 vs 118, at the time of the live telecast).
Since there is still no cure nor vaccine for the virus, PM Muhyiddin would also like to stress that we have to be prepared for the "New Normal" just in case the MCO could go on for several months. And so because of that, our lives may not be back to normal because the virus might still exist. So take care of your hygiene, avoid any gatherings especially crowded places. Not even for the month of Ramadan.
In terms of education, the schools will remain closed until further notice and are encouraged to study at home. The Ministry of Education will be implementing home-based learning programs throughout the duration so do look out for that. Moreover, the government will also look into creating a list of selected industry sectors to be re-opened with strict health guidelines.
Finally, PM Muhyiddin would like to remind everyone "that the war on COVID-19 is not yet over. The fight is still on. We are doing well so far, so just uplift your spirit and continue to fight. If we persevere, insyaAllah we will win."
That's all, folks. Stay home, stay strong, we are beating the curve steadily! Wash your hands as always and stay tuned for more local news at TechNave.com.