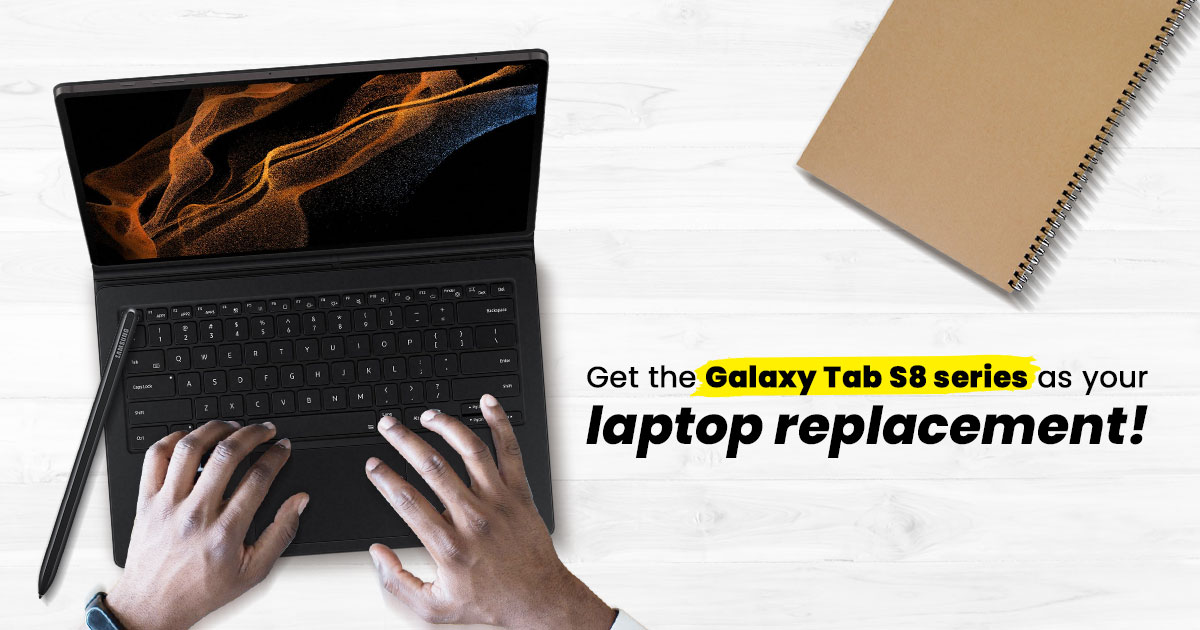 For many, an ultrabook is probably the best option when it comes to productivity. These laptops are compact, super lightweight, and are good enough for multitasking productivity apps. But sometimes, you want features that an ultrabook might not offer. What then?
In that case, our suggestion is to go for a tablet that can serve as a laptop replacement! That's right, some tablets are just that good these days. And among them would be the Samsung Galaxy Tab S8 series, which could be the ultimate laptop replacement you needed.
PC-class performance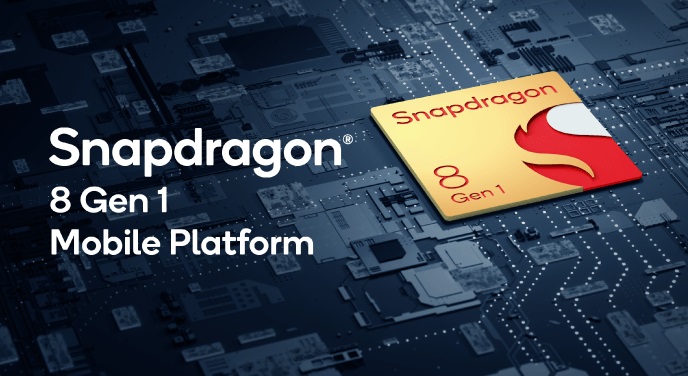 To become a laptop replacement, a tablet would first need to have performance on par with a regular Windows or Mac laptop. It would also need to have other hardware features to match. Well, the Samsung Galaxy Tab S8 series tablets have those in spades.
Samsung's latest tablets are all equipped with Qualcomm's latest Snapdragon 8 Gen 1, which is a 4nm chipset that can deliver the best in mobile performance. They also come in variants with 8GB/12GB of RAM, which is more than enough for multitasking.
Besides that, all models come with a 120Hz display (up to 14.6-inch), large batteries (up to 11,200mAh), as well as a keyboard with a trackpad and an S Pen. These specs are what makes Samsung's new tablets excel as laptop replacements.
Meets all your communication needs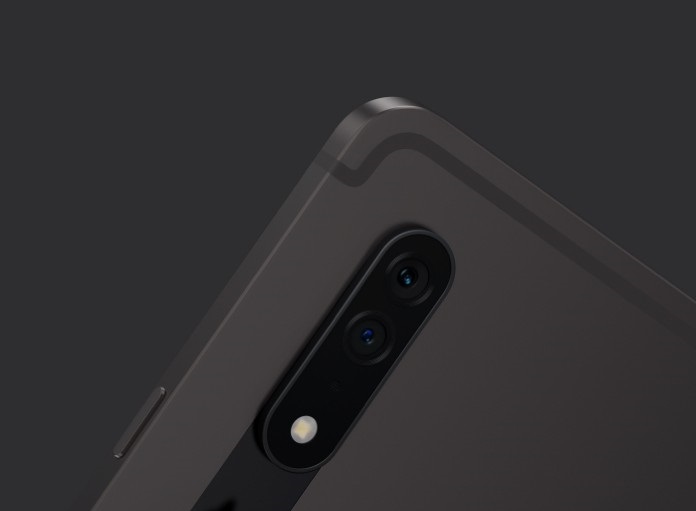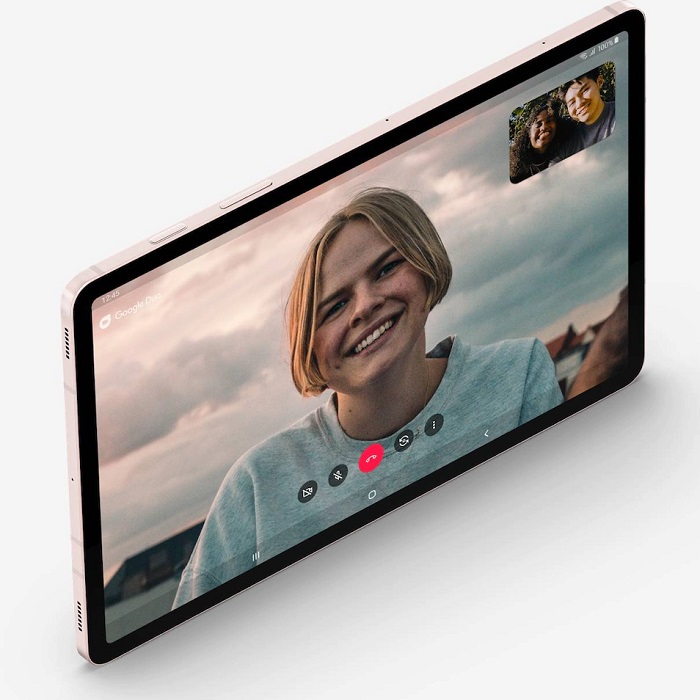 Of course, there's more to a tablet than its specs. Unlike laptops, mobile devices tend to have better cameras and microphones. This includes tablets, especially flagship models like the Galaxy Tab S8 series tablets. This makes them more useful than regular laptops in one area - communication.
For most laptops, you'd get a 720p (1MP) webcam, but the Galaxy Tab S8 series comes with a 12MP front camera capable of up to 1080p video calls or 4K video recording. The camera even has the Auto Framing feature that can ensure your face is always being focused on even if you're moving about. Besides that, the tablets also come with 3 Superior Clarity Directional Mics and quad speakers.
Cross-device convenience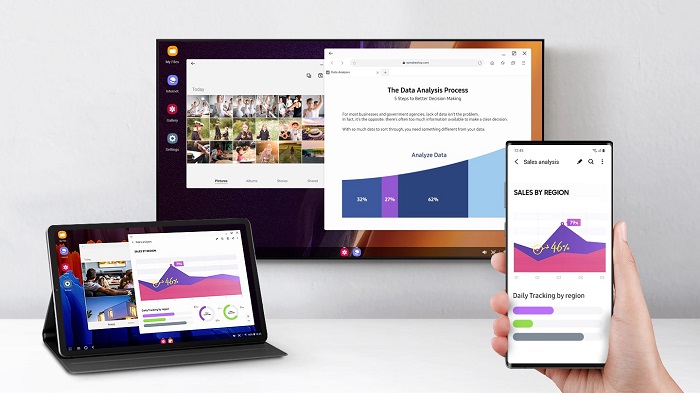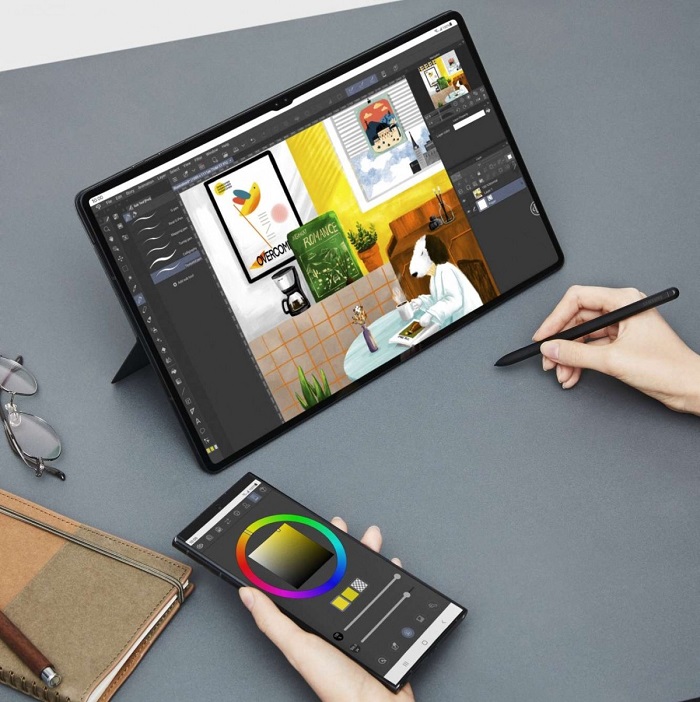 Just one of many ways you can use multiple devices simultaneously
Of course, there's one important component that helps the Samsung Galaxy Tab S8 series to serve as a laptop replacement - the Samsung DeX (Desktop Experience mode). This is a feature that allows users to connect high-end Samsung mobile devices to a keyboard, mouse and monitor (either through a cable or wirelessly). As a result, you get to enjoy a PC-like laptop experience from the convenience of your tablet.
One of the key functions in Samsung DeX is seamless cross-device collaboration. For example, you could connect a Samsung smartphone to the tablet and use the former to select colours when you're drawing on the tablet. This gives you additional flexibility when it comes to many apps. You can also copy and paste, control your app window sizes, and quickly share between devices. For more details on that, you can check out the Samsung DeX intro page.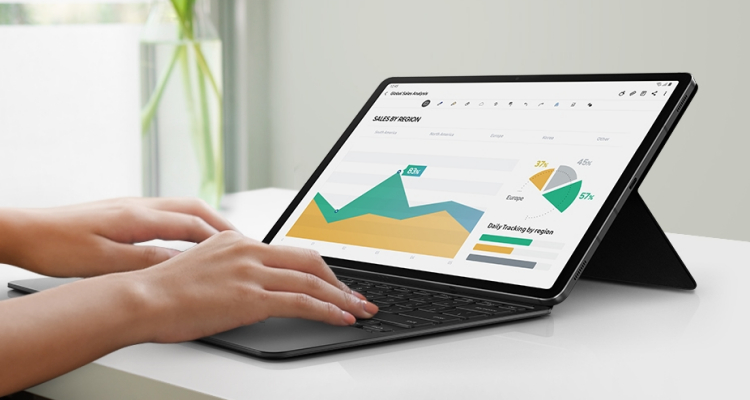 With Samsung DeX mode the Samsung Galaxy Tab S8 series can easily do both work and play like any other laptop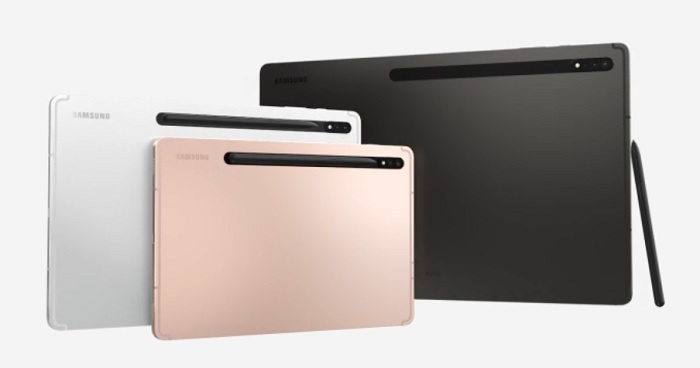 There's a size for every occasion with the Samsung Galaxy Tab S8 series tablets
So, what do you think of the Samsung Galaxy Tab S8 series? In our opinion, the large 14.6-inch Galaxy Tab S8 Ultra (RM5,899) is your best bet if you want an alternative to a Windows laptop. If you're fine with a smaller screen, the Galaxy Tab S8 (RM3,299) could be a better deal. However, since all of them weigh well below 800gm and are 5.5mm to 6.3mm thin, all of them are super portable and easy to carry about.
If you're interested, it's even better that Samsung is now holding a promotion till 31 March 2022. During this period, you get to enjoy freebies worth up to RM1,887* when purchasing a Samsung Galaxy Tab S8 series tablet! Not only do you get a free Book Cover Keyboard and S Pen worth RM1738 (already included in the box), but also a Neoprene Pouch worth RM149. In addition, you can get also get 30% off on a Samsung Care+ 1 year protection plan (worth up to RM330).
For more details, on the Samsung Galaxy Tab S8 series and related promotions, visit the official product page. And remember to stay tuned to TechNave for more articles and promo deals like this!