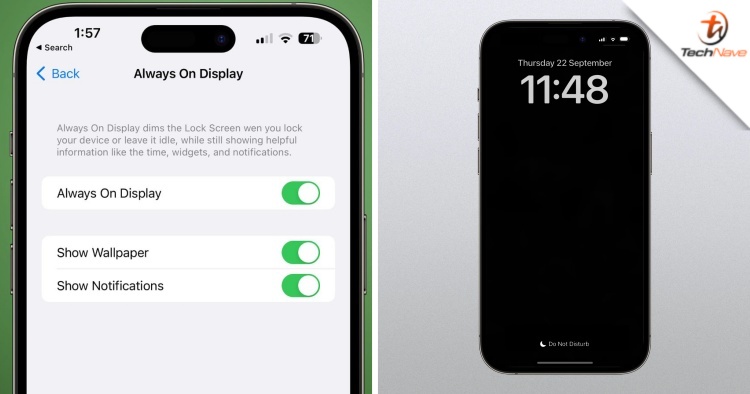 Following years of users' requests, Apple finally introduced the Always On Display feature on the iPhone 14 Pro series. However, its current implementation leaves a lot to be desired, with many users complaining about battery drain issues and that the Always-On Display looks too similar to when the iPhone is active.
Well, based on the latest iOS 16.2 beta version, it looks like the Always-On Display feature will improve in the next iOS update. In the aforementioned beta version, Apple added new options to the feature, giving users the choice of whether to show wallpaper and notifications when Always-On Display is activated.
Both options can be turned on in a new toggle inside the Always-On Display settings. As the name would suggest, toggling off wallpaper will remove your wallpaper when you have always on display enabled and toggling off notifications will prevent notifications from showing on the lock screen.
Not showing wallpaper will leave the display black and thus save on battery which is something most welcomed by users. If this implementation looks familiar, this is because this has been an option on Android smartphones for ages now.
Do note that the feature is still on the iOS beta version right now, so it may not end up in the final version of iOS 16.2 when it is released. Well, we just have to wait until then to find out whether the new options would be present.
So, what do you guys think of the Always-On Display implementation on the iPhone 14 Pro series? Share your thoughts with us in the comments below and stay tuned to TechNave for more trending tech news.