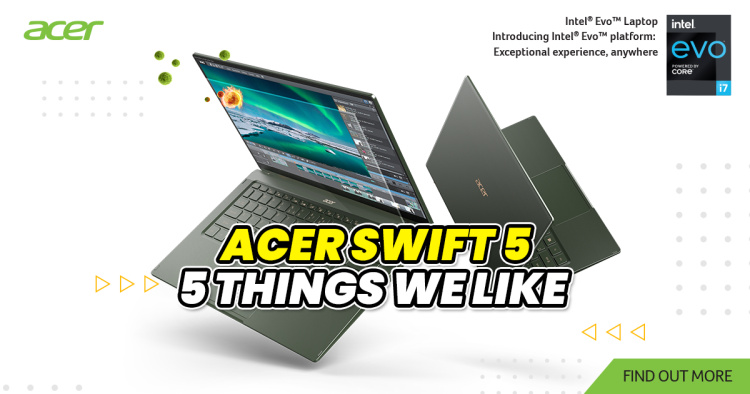 If my memory serves me, I have been using the Acer Swift 3 for work about two years now. Which model version, you ask? It's the 2019 model and if you know Acer's naming scheme habits, they haven't changed any of their laptop lineup names for a few years. This includes the latest Swift 5 (2020) which we are going to talk about today.
As the title suggests, this is a first impression article on what we think about the Swift 5. Although we have used it for a short period of time previously, there are a few things that left a good impression on us. Without further ado, here are 5 things we like about the Acer Swift 5.
#1 IT'S SO LIGHTWEIGHT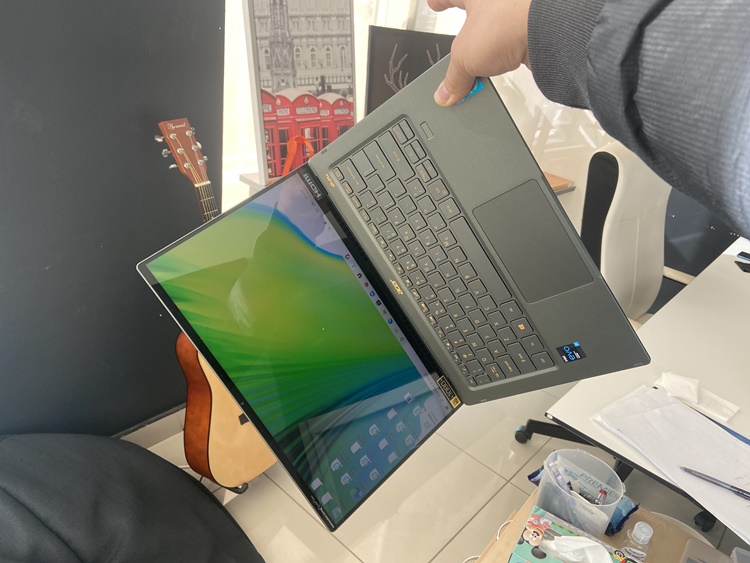 It's so light that I can hold the laptop with just my fingers seamlessly
Weighing at just 1kg, the Swift 5 actually feels lighter to carry if compared with my old Swift 3. It's common for tech journalists like myself to visit phone launches or other outdoor events with our laptops so that's a bonus. However, with the on-going pandemic, it's going to take a long time for us to get back into action but it's just as important to have an easily portable laptop like this if you're working from home, especially if you tend to transition from the desk, to the sofa and so forth.
Besides being just light, the body build material is quite solid as it is made from high-grade magnesium-lithium and magnesium-aluminium alloys. My colleagues are also digging the Mist Green variant design. The design may look the same as the predecessor but as the saying goes - if it's not broken, don't fix it.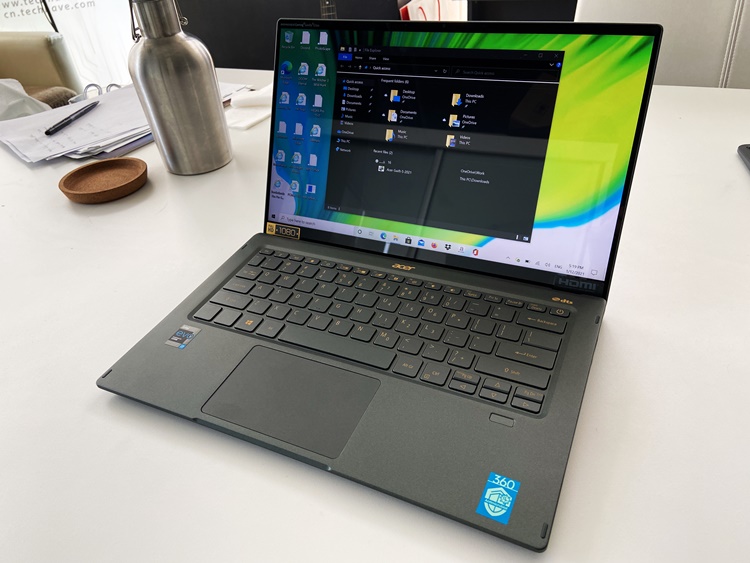 Mist Green never looked this good
#2 A touchable FHD display? Yes, please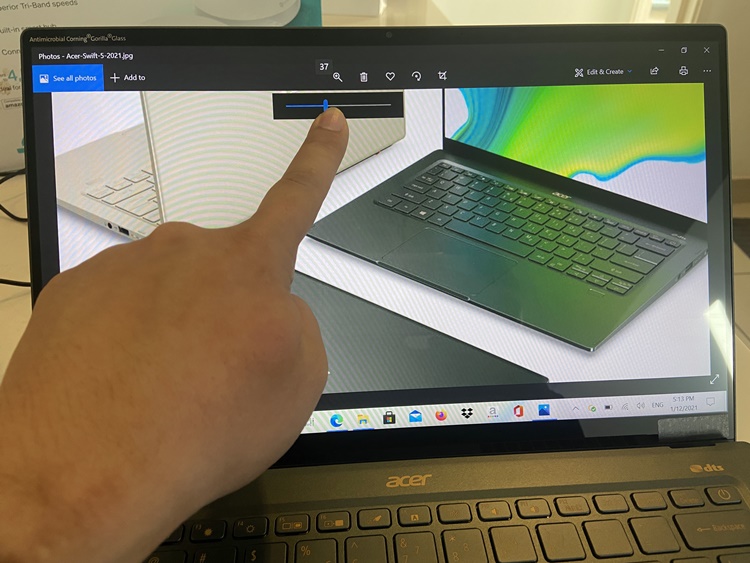 Using my fingers to zoom into an image
Ever since the pandemic started, I've also set up my workstation at home to work efficiently. I usually hook up my laptop to a monitor so that I have two screens for multitasking. But with the Swift 5 laptop, Acer has integrated a touchscreen display that allows me to multitask even further! Imagine zooming in at a picture on the screen and to be honest when compared with a mouse, the touchscreen is way faster.
The 14-inch IPS screen also delivers Full HD resolution with a 100% sRGB colour gamut, which is great for people who need accurate colour grading (designers, photo editors, video editors, etc). The screen-to-body ratio is just 90% but the bezels are narrow enough for my liking. However, if you're not the type that likes touching the screen because of the fingerprint smudges and dirtying it...
#3 It has an Antimicrobial Corning® Gorilla® Glass
...Then you don't need to worry about that because this Swift 5 laptop features an Antimicrobial Corning® Gorilla® Glass. What this means is that the screen is resistant to bacteria that comes from your fingertips (hey, it's inevitable) thanks to the BPR and EPA-compliant silver-ion coating. Besides your screen, Acer also integrated the antimicrobial coating on the chassis, keyboard, hinge, fingerprint reader and even the rubber feet below. Talk about taking hygiene to the next level (lol) but seriously this is especially awesome in today's current pandemic.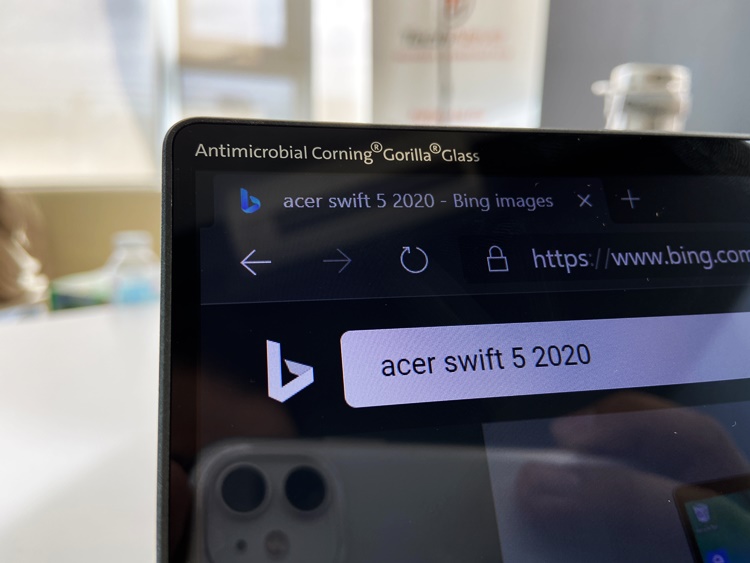 The Antimicrobial coating is all over this laptop
#4 The RAM goes up to 16GB
Moving into the tech specs, I was also surprised to know that this Swift 5 is equipped with 16GB of RAM. That's not something you see every day on a lightweight laptop and it's more than enough to get most of my work going. Moreover, it's also good enough to render videos and writing some news report at the same time without slowing the laptop down.
#5 Intel® Evo™ Platform Certified
Last but not least, the Swift 5 uses the latest Intel® Evo™ Platform Certified and it is powered by the Core i7 processor. That's the latest 11th Gen Intel® Core™ Processors and it's accompanied by Intel® Iris® Xe Graphics and up to 512GB PCIe SSD storage. With the 16GB of RAM on board, it's surely able to keep your workflow going and you don't need to worry about the laptop heating up as well - as Acer have a pair of heat pipes inside to keep things cool.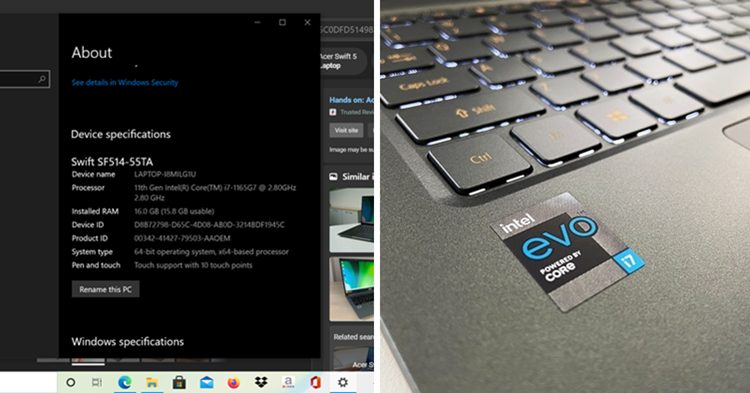 The specs and Intel® Evo™ Platform label
So these are a couple of things that I like about the Swift 5 so far. Compared with my current Swift 3 laptop, I would say that the former is a pretty big improvement especially for the Antimicrobial display which is also a touchscreen with Corning® Gorilla® Glass. In terms of price tags, the 8GB variant is RM3999 whereas the 16GB variant is RM4999.
If you are keen to know more about the Acer Swift 5 (model SF514-55TA), you may head over to Acer Malaysia's website here to check it out. But what do you folks think? Let us know in the comments below and stay tuned for more tech opinion articles like this only at TechNave.com.