Top 10 best lifestyle product deals for Shopee's 10.10 Brands Festival sale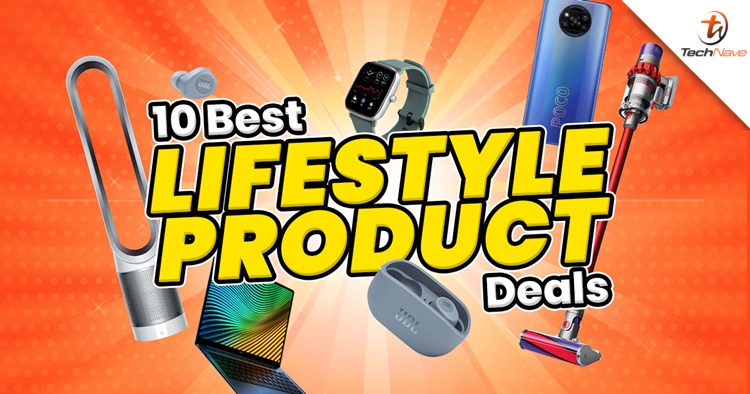 It's that time of the year again and 10.10 is coming upon us quite soon. As usual, Shopee's 10.10 Brands Festival will be offering free shipping vouchers with minimum spending of RM10, 50% off Big Brand Discounts, and many more perks.
On top of that, there is a wide variety of brands and products across different categories on Shopee Mall. In this article, we will be focusing on the Top 10 Best Lifestyle Product Deals that you might need for your house and home. If that's what you have been looking for, wonder no more as we have handpicked these product deals just for you, so let's get to it.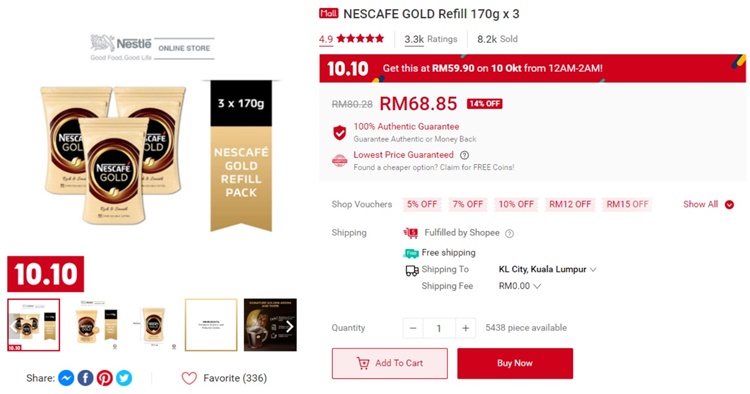 As an unspoken rule for coffee lovers, it's a must-have to start the day even if you're working from home (WFH). These coffee packs are originally priced at RM80.28 but on 10.10, they will be priced at RM59.90 only. By the way, the coffee powder is made from the finest blend of premium Arabica and Robusta beans. I can smell it already!
Dyson is a brand that needs no introduction and for this vacuum cleaner, it will be priced at RM1979 (RRP RM2699). That's RM270 off and while it may look expensive, if you can afford a smartphone, then you can afford this, and it will probably last longer too. It can last as long as an hour on a full charge while you use this to remove all the hidden dirt in your home.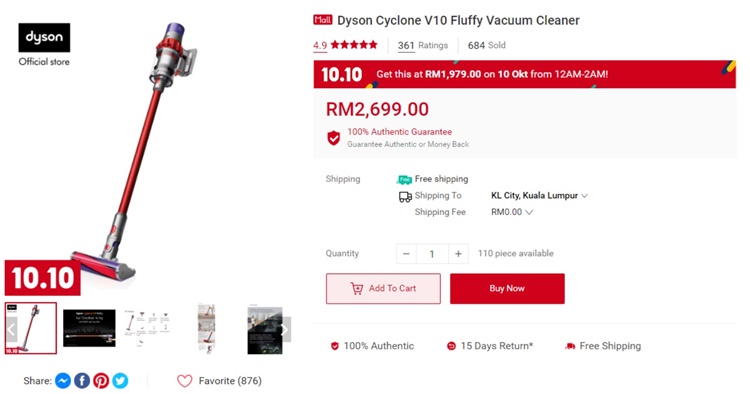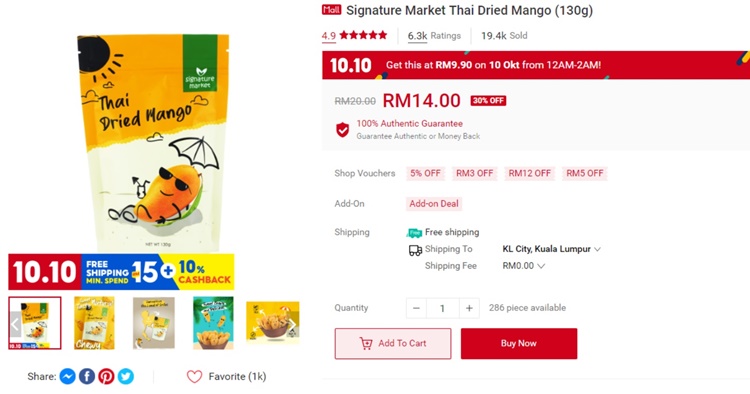 If you are looking for healthy snacks, you ought to get this pack of dried mango slices because the 10.10 promo will be only RM9.90 (RRP RM20)! Moreover, it's the Signature Market Thai Dried Mango pack that's known for having the chewiest and sweetest taste.
During the pandemic period, many people have realized the importance of having a comfortable and ergonomic chair for WFH. Gaming chairs are generally quite expensive but there are also some affordable ones, something which TTRacing is quite well-known for.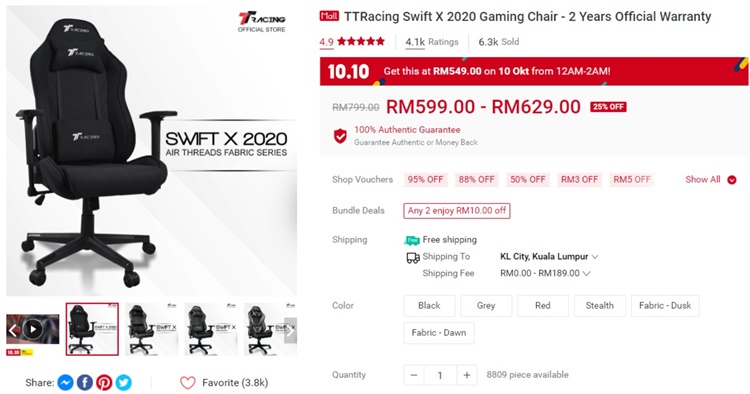 The TTRacing Swift X 2020 Gaming Chair is probably the most balanced in between the budget and high end. It is ergonomically built and features a wide lumbar and shoulder support. The original price is RM799 but on 10.10, you can get this gaming chair at only RM549!
For the ladies, we didn't forget about you all. This liquid foundation by Maybelline is ideal for those who have dry skin and helps hydrate your skin texture. Available in 12 shades, it will be priced at RM35.63 (Original Price: RM50.90) on 10.10.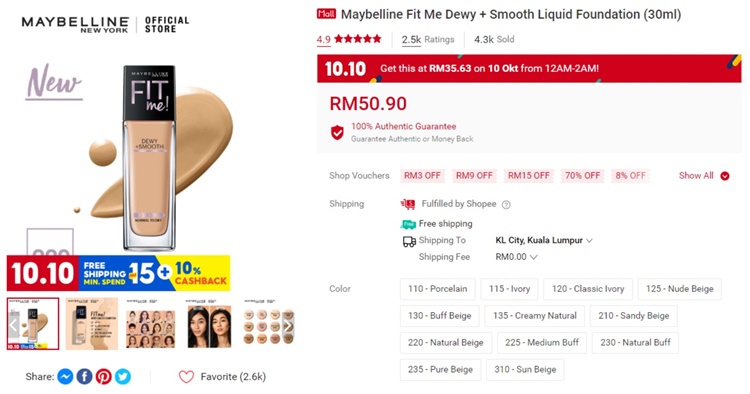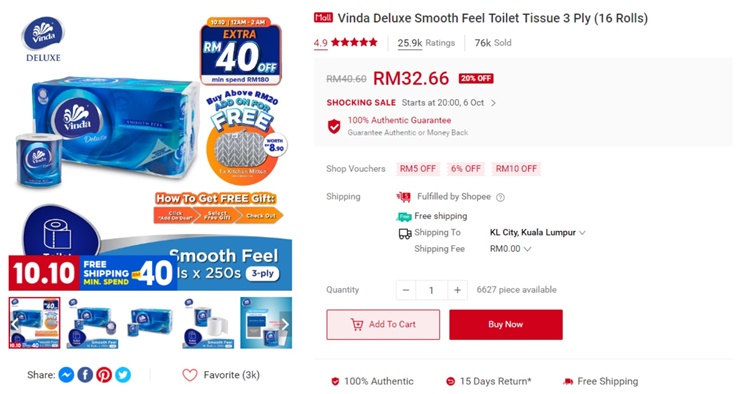 If you can't find any toilet paper rolls at your local supermarket, don't worry because Shopee Mall has got your back. The Vinda Deluxe Smooth Feel Toilet Tissue is said to be extra strong, soft and absorbent thanks to the Knitted Fiber Technology. You can get a pack of 16 rolls at only RM29.90 (RRP RM40.60).
Next up, the Thermos Flask features a vacuum insulation technology that creates an airless space between the two walls within. With this, it virtually eliminates temperature change so that your drink can stay icy cool or steamy hot for a longer period. It will be on sale for RM72.50 (RRP RM130.50) on 10.10.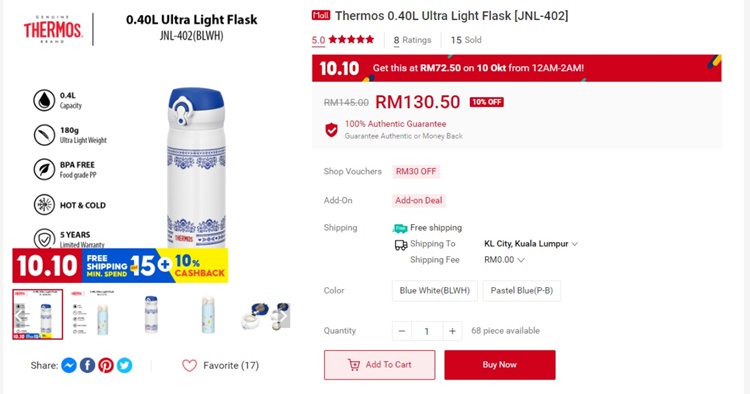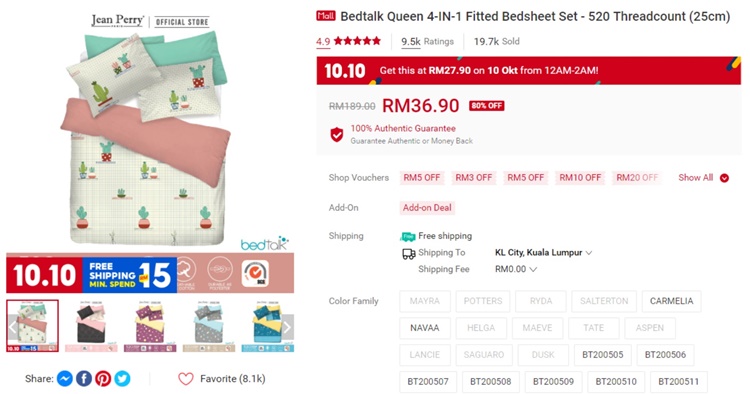 Looking for a new set of bedsheets? Jean Perry's Bedtalk Queen 4-IN-1 Fitted Bedsheet Set is said to be super-soft. It comes with one Fitted Sheet, two pillowcases and one bolster case. The original price is RM189 and you can get it for RM27.90 on 10.10 sales, what a bargain!
As for the tech enthusiasts, the POCO X3 Pro is definitely one of the more eye-catching smartphones in the market due to its value for money qualities. For just RM799 (RRP RM999), it features a respectable Qualcomm Snapdragon 860 chipset, up to 8GB+256GB memory, a 6.67-inch FHD+ 120Hz display, and a 5160mAh battery pack which are more than enough to get your game on for either PUBG Mobile or Genshin Impact.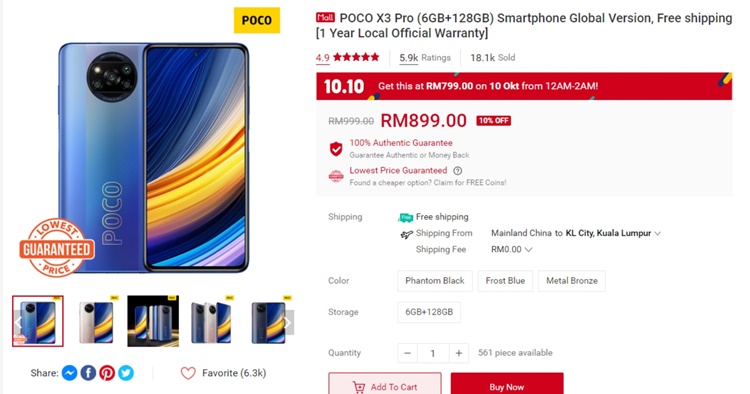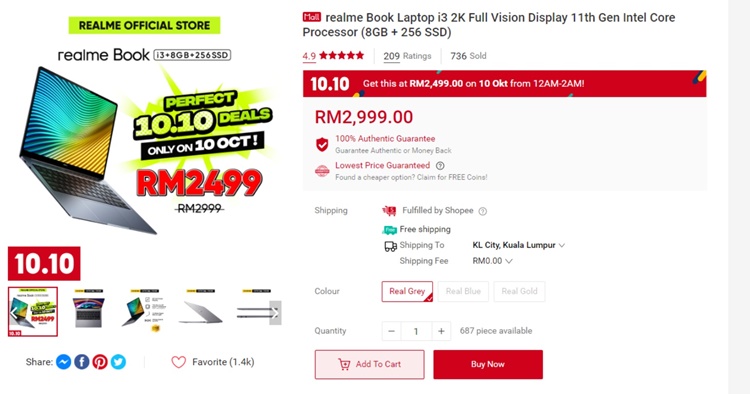 Finally, the last one on this list is realme's first-ever laptop. The realme Book is an entry-level laptop that features the latest 11th Gen Intel Core i3 processor, 8GB + 256GB memory, 14-inch 2K Full Vision display, WiFi 6 and is fully upgradable to Windows 11. It is also equipped with a pair of HARMAN audio speakers and even a dual-fan storm cooling system.
Slated for RM2999, you can get this realme Book variant at only RM2499 on 10.10. There are also other higher-end variants featuring an 11th Gen Intel Core i5 and 8GB+512GB memory for RM3499 if you need a bit more bang for your buck.
Before we end this article, it's also worth listing down some honourable mentions which include:
So what do you think? If you want to look for more, Shopee will be offering more exclusive deals and discounts from the likes of Applecrumby, Big Bad Wolf Books, Black Whale, DESSINI, Dr Cardin, Enfagrow A+, HONOR, L'Oréal Paris', Olay, OPPO, P&G, Pediasure, Perfect Diary, POLO HILL, Puma, realme, Riino, Skechers, Some By Mi, Tefal, Unilever and more!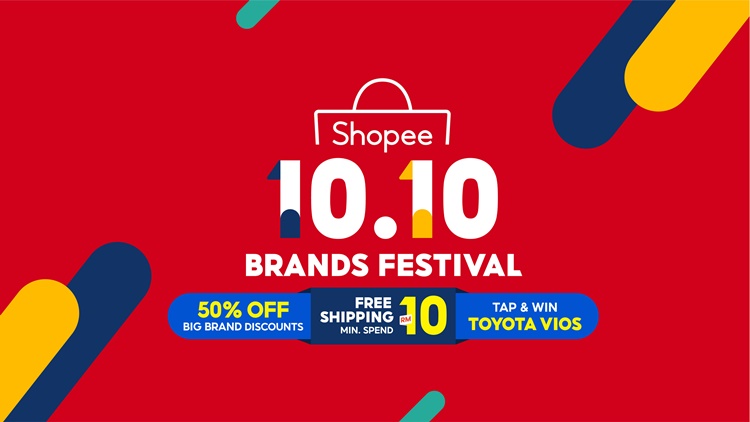 In addition, Shopee users also stand a chance to Tap and Win a Toyota Vios. Then On 9 October at 9 PM, users can tune in to Shopee Live and TV3 to watch the Shopee TV Deals - 10.10 Brands Festival Show. Here, shoppers will have 3 extra chances to Tap and Win a Toyota Vios as well as claim 10.10 Only Vouchers of up to 95% off from their favourite brands.
Local brand ambassadors JEii Pong and Dr Shazril are making an appearance at the Shopee 10.10 Brands Festival as well. To top it off, up to 10,101 Shopee Coins can be received when ShopeePay users reload their ewallet from now on until 9 October. All products purchased on a Shopee Mall have a 100% Authentic Guarantee and a 15 Day Return policy so you can buy worry-free.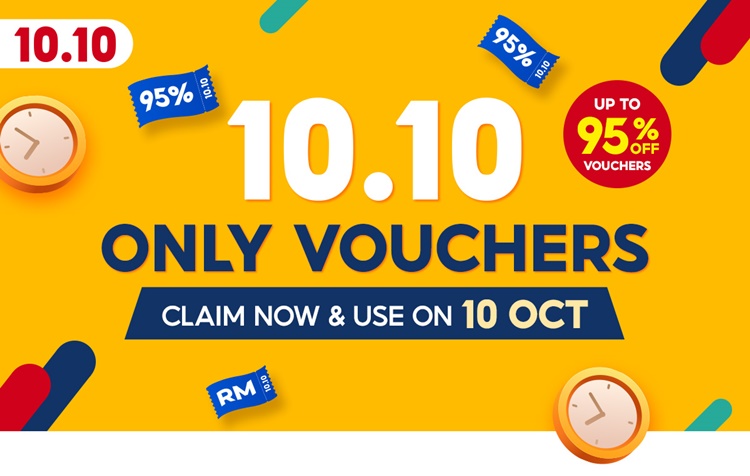 So what are you waiting for? To check out Shopee 10.10 Brands Festival, you can visit the official webpage here to find out more. Happy Shopee-ing and stay tuned for more local trending tech gadget sales only at TechNave.com.