Top 10 unexpected products that Xiaomi came up with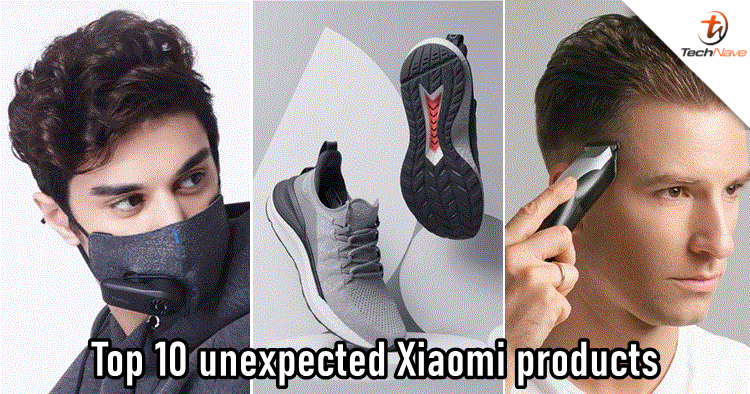 When it comes to Xiaomi, people would usually associate the brand as a smartphone manufacturer and it's one of the most popular ones in Malaysia. Often hailed as the smartphone brand that offers devices that are value for money, the company also made a bunch of other interesting products they came up.
From sneakers to a massage chair, there is almost nothing that Xiaomi haven't come up with which is what we're looking at today, the criteria for this is very simple, the products should not be related to a smartphone (like a powerbank) and are not already well known (like a Mi Electric Scooter). So without further ado, here are the Top 10 unexpected products that Xiaomi came up with in no particular order.
#1 A Foldable/Fanless fan
Overseas Xiaomi fans (hehe) will probably be aware that the company have been manufacturing more household products than before, but not the Xiaomi Malaysian fans. Starting off our list is a wireless 3-in-1 Foldable Fan that acts as an air humidifier and air purifier. This is one compact fan that can be tucked under your bed, the table or in the living room.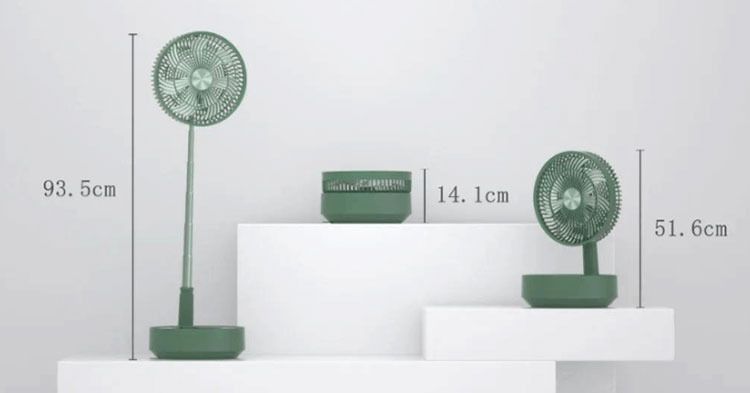 The foldable fan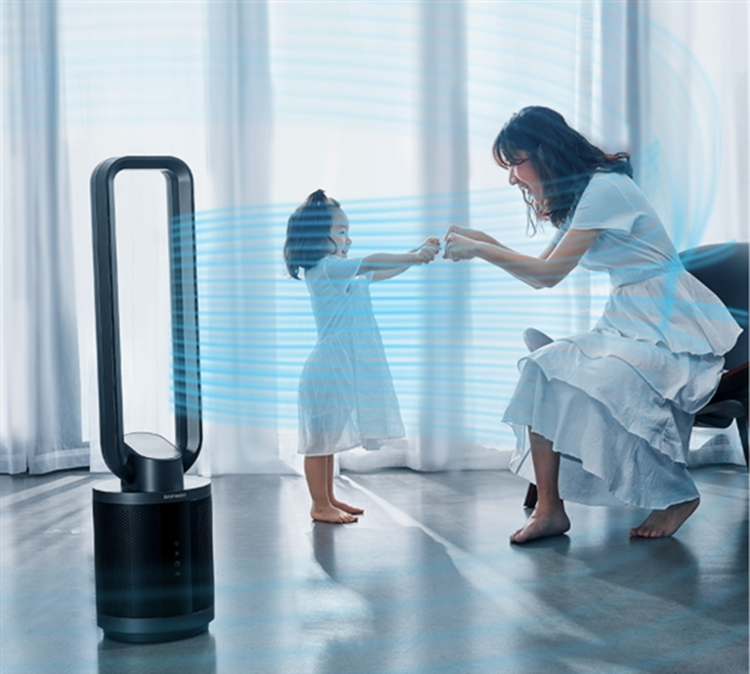 The Xiaomi Youpin leafless fan
Or if you want something that's more premium, there's also a Xiaomi Youpin leafless fan which comes with 9 wind modes in total. According to sources, the leafless fan comes with a Coanda core turbine air duct which is able to optimize itself to boost the fan pressure. So if you ever want that feeling of standing near the sea or as if you're at some highland place, just adjust the speed accordingly.
#2 Hair Clipper
During the pandemic period, a lot of people have resorted to buying a hair clipper online to keep their hair short but it's not easy for new beginners. Which hair clipper brand should they go for? And if they go for something more well known, they may have second thoughts. Well, this is where the Xiaomi Enchen Boost and Enchen Hummingbird electric hair clipper come in.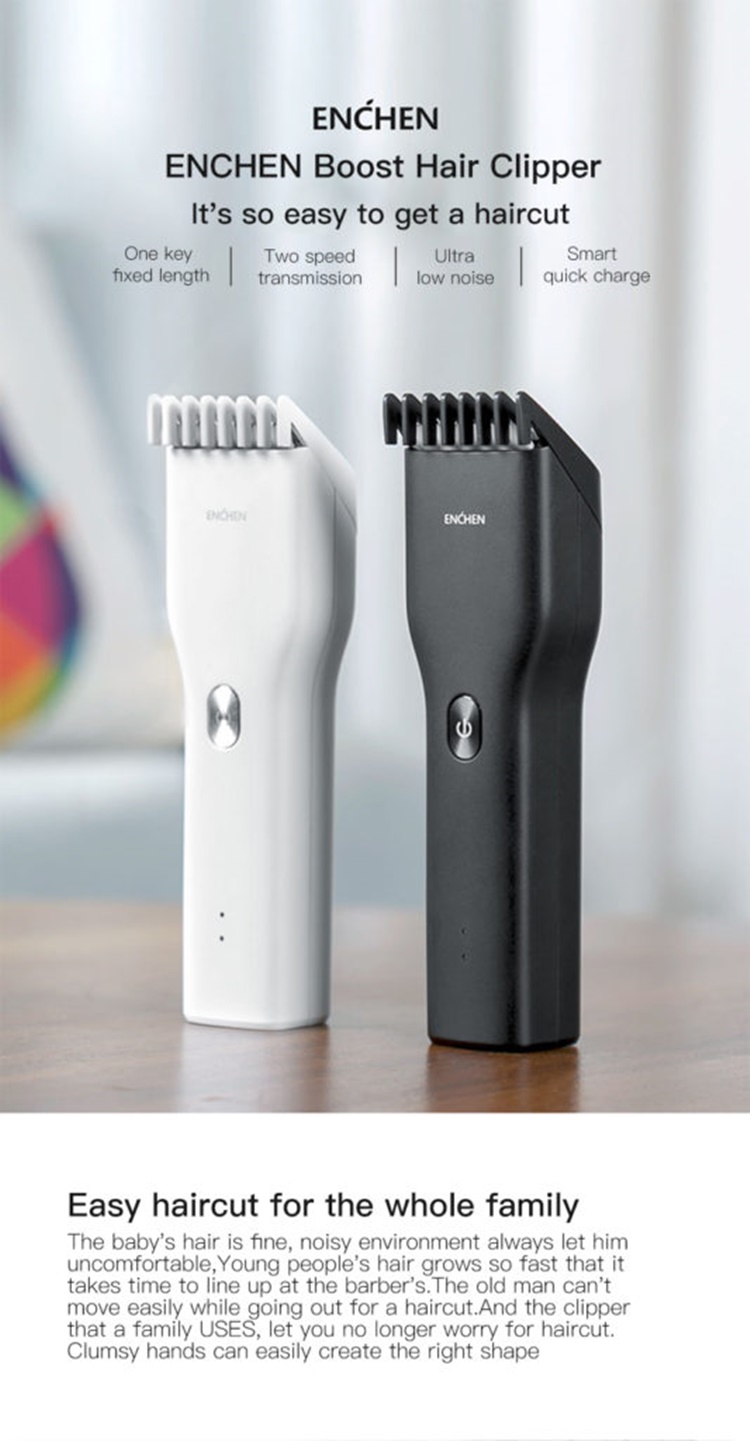 Comes in black and white
From a design point of view, the Xiaomi Enchen series has a minimalist look and they are both wireless which makes it easy to use without tangling up. Featuring an all-steel pro R-Shaped blade, 10W and 7100 RPM, Xiaomi claims that the hair clippers are ultra-low noise and have a flexible sliding comb that can be locked from 0.7mm to 21mm. You can actually find these at the Lazada store for RM59.80 and RM48.90 respectively but those were the promotional prices, they may be different now.
#3 Sneakers (for real)
We weren't kidding when we said that there are a pair of sneakers by Xiaomi in our introduction. To make things even more surprising, this is already the 4th edition known as the Xiaomi Mijia Sneakers 4 which uses a unique uni-moulding manufacturing technology by integrating its midsoles with four sole components to form a single "unibody".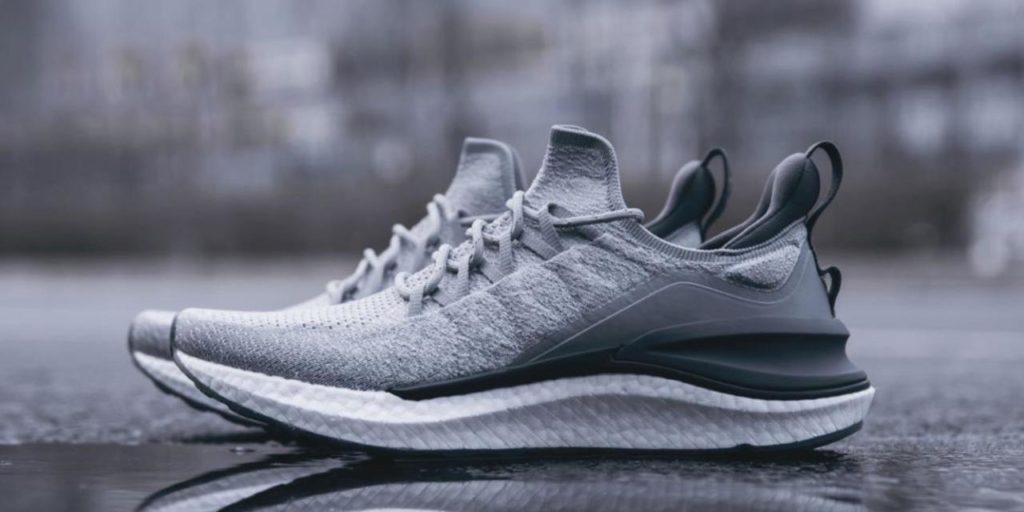 Xiaomi Mijia Sneakers 4
Since they are using multiple sole components, you can actually clean them effortlessly by hand-wash or just throw them into a washing machine. They're said to be out for sale online now for 199 Yuan only (~RM123) and who knows, you might be able to fish them out on Taobao or something.
#4 A portable smart dishwasher
Yup, Xiaomi decided that a dishwasher wasn't enough but it also needed to be a portable one. At first glance, it looks like an ordinary square-boxed machine until you learn that it can store and wash a total of 32 tablewares at the same time. On top of that, the Xiaomi Mijia Smart Dishwasher also houses 16 flushing ports with 11,000 Pa water pressure and a disinfection button that eliminates 99.99% of bacteria.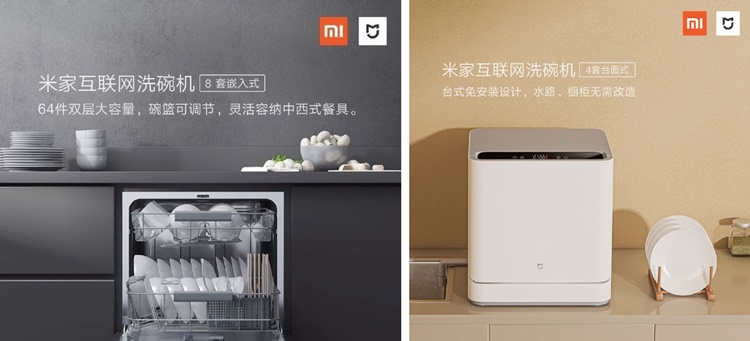 It almost looks like a square-shaped rice cooker when closed
To keep the dishwasher clean and hygienic, they even installed built-in fans that actively replace fresh air when powered on. If you're one of those who loath washing plates, you ought to get this one although it may only be possible on websites like Taobao. Good luck searching!
#5 Steam ironing machine
Another house chore that you might not like doing is ironing your clothes, but this is also why you probably need to consider the Xiaomi Mijia steam handheld ironing machine. It doesn't even look remotely close to a traditional iron, in fact, it almost looks like a dedicated PC microphone that you put on your table.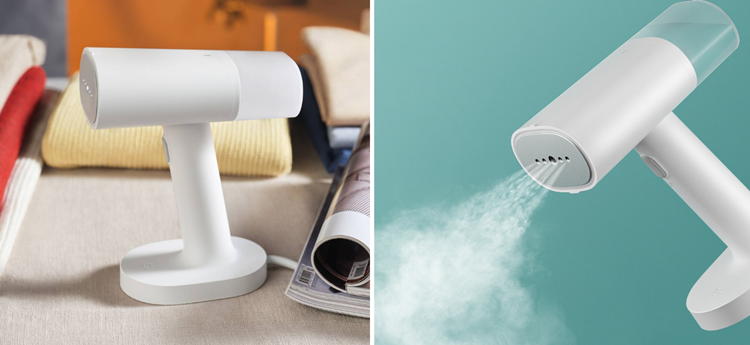 This looks like a microphone
Like most Xiaomi product designs, this one is also minimalistic and also wireless. There is a 160ml water tank at the back which can be detachable. Then the front head features an aluminium die-casting panel with thermal conductivity, which can go up to 120°C high-temperature steam. According to the company, it can achieve 99.9% sterilization and dustmite removal in around a minute, as well as just nearly 30 seconds to warm up thanks to the micro-supercharging technology.
#6 Smart Cloth Hanger
Speaking of house chores, another one that you might not look forward to is hanging the clothes after washing them. What if we told you that there's a Mijia Smart Clothes Dryer? But why? Well....here's what you can do with it.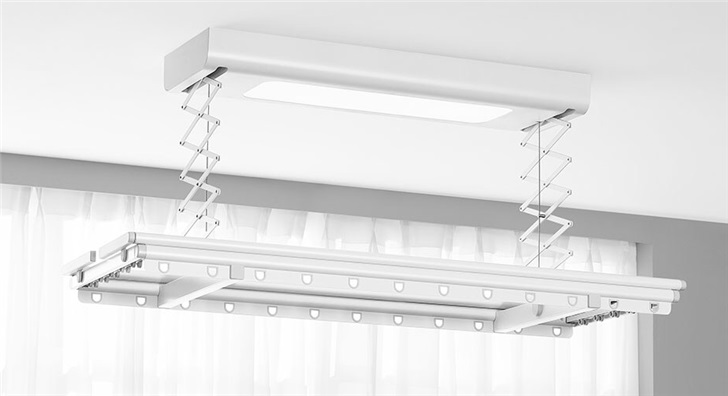 How's it hanging up there?
Able to load up to 35kg of clothes and expandable to 2.2 metres, we guess this smart hanger is meant to save space inside the living room or elsewhere (as long as it's not outside). You can control it with a remote control, from lifting to lighting through the mobile phone with the Mijia App. This thing costs 849 Yuan (~RM526).
#7 Water filter
We initially wanted to put down an electrical boiler tumbler on this spot, but most people would prefer a machine that pours them a nice cup of coffee. This Xiaomi YiMu water filter started off as a crowdfunding project and it's only 1499 Yuan (~RM919), also comes in two colour models - black and white.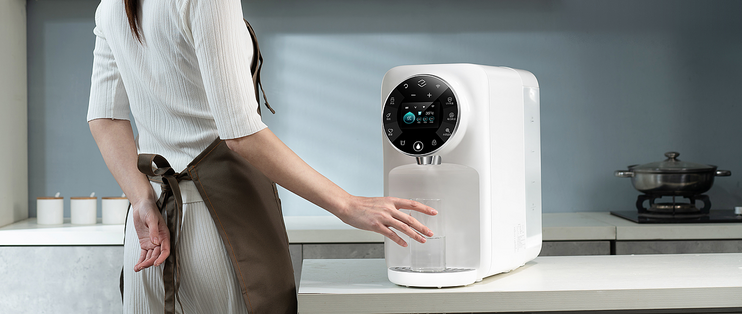 There's a black model too
What makes this water filter stand out is that it is capable of heating up within a second and you get to customize the temperature according to your preference. Yup, there's real-time monitoring on the water quality, three-layer five-stage reverse osmosis filtration, patented freshwater technology and UVC deep ultraviolet sterilization. The sterilization rate is as high as 99.9%, effectively inhibiting the growth of bacteria in the water tank.
#8 Massage Chair
In a collaboration with Momoda, both Xiaomi and the company manufactured a Momo "Daxiaoxia" 3D Smart Massage Chair and even made a Spider-Man theme version because they can. The retail price starts at 4999 Yuan (~RM3057) for the standard version, whereas the special edition is a thousand more, sitting at 5999 Yuan (~RM3669).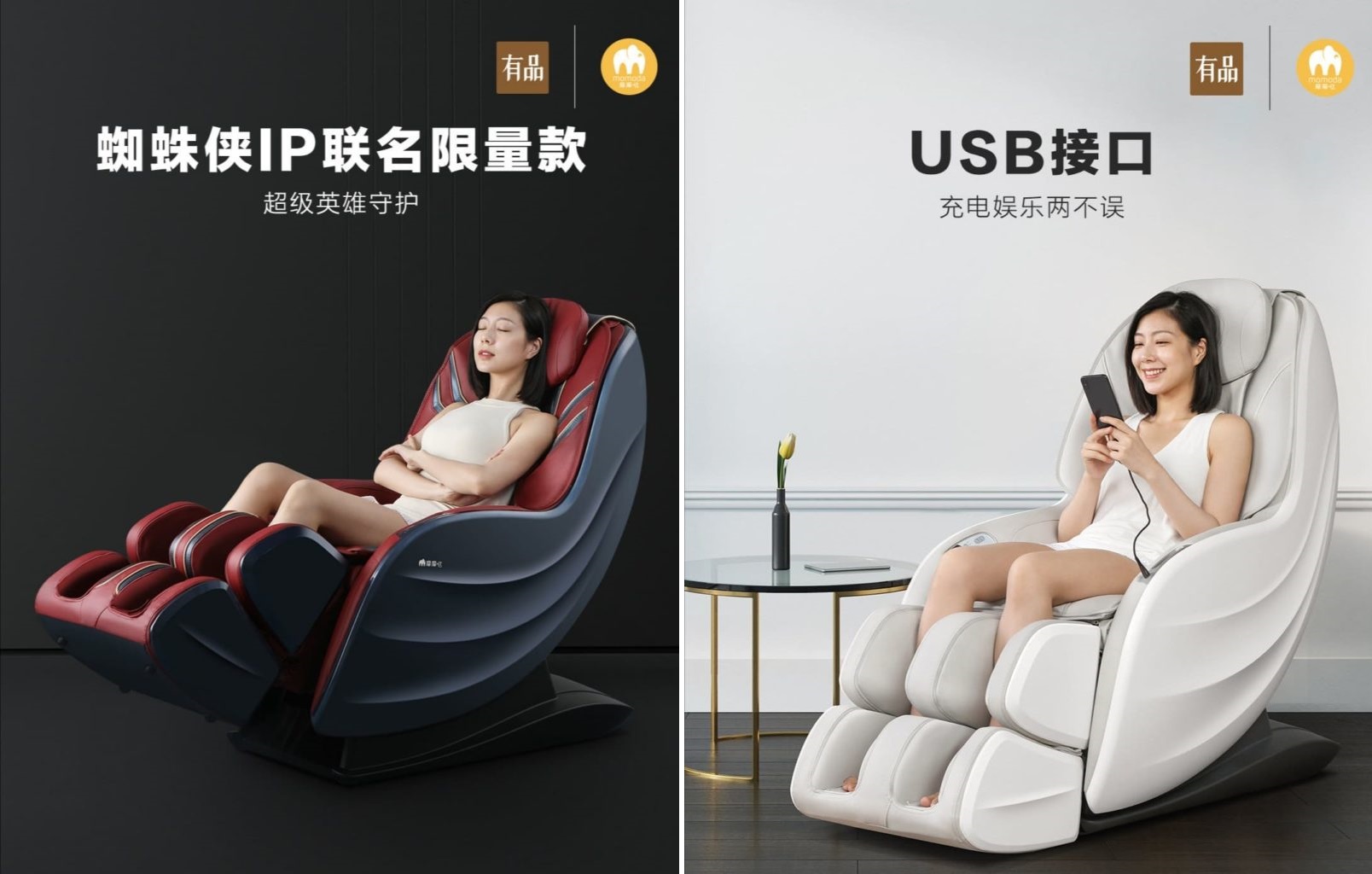 Can't believe they made a Spider-Man edition lol
Like many massage chairs, you can adjust the seating angle and choose 4 modes for massaging (vitality mode, recovery mode, relaxation mode and sleeping mode). Of course, you can also massage your feet, thighs, and even has some USB ports to charge your smartphone while relaxing.
#9 Anti-Pollution Respirator
We did see some brands manufacturing some face masks for the front liners over the past few weeks. Apple did it, so did Razer, and then there's Xiaomi too with their own Xiaomi Pure Anti-Pollution Respirator. From the looks of it, this is probably not best suited for the current circumstances but it still looks cool as heck.
We actually got one for free because we wrote the news about it lol
According to Xiaomi, the fan is rechargeable and lasts up to 8 hours from a single charge. The fan filter is also quite lightweight and features a nano-fibre electret filtering technology which can achieve PM2.5 filtration efficiency by up to 99%. You can actually purchase this on aihome.com at the price of RM159 which is kinda hefty if we are to be honest, but if you have the budget then why not?
#10 "Dragonfly Infrared Pulse Antipruritic Stick"
Finally, we have come to the last product which is the "Xiaomi Youpin Dragonfly Infrared Pulse Antipruritic Stick". Phew, that was a mouthful and it sounds weird because the name is a direct translation from their website (apparently, there's no official English name). To put it simply, it's a device that gets rid of your itchy mosquito bites by using infrared pulses.
How does that work? According to Xiaomi, the stick device uses a built-in linear motor that sends a vibration massage with some infrared heating, which speeds up the body temperature and this decomposes the mosquito saliva reducing the itch. It's compact, lightweight, and costs 69 Yuan (~RM42) only, which can be useful for a country like Malaysia.
Out of the 10 unexpected products that Xiaomi came up with, the most bizarre one for us is probably the Xiaomi Mijia Sneakers 4 because it has absolutely nothing to do with technology. But what do you think of this list? Are there any we missed and which one do you think you would want to buy? Should we make another list? Let us know on our Facebook page, thanks for reading and stay tuned for more tech articles at TechNave.com.