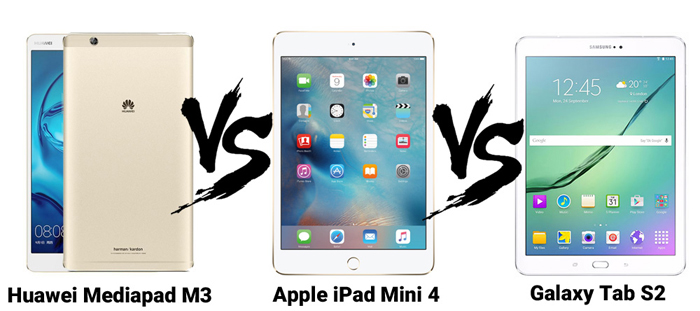 Tablets don't often get very high-end tech specs or features, despite the fact that they are rapidly edging out the laptop or desktop as most users choice of media playback device. They usually don't pack in renowned audio technologies, don't have the latest processors or the most RAM and usually are made of plastic. The tablets that do use more premium materials like metal are often so expensive that they cost more than most laptops. Thankfully, this is no longer the case with the Huawei MediaPad M3. Find out why and how this premium yet value-busting tablet beats out most other tablets like the Apple iPad mini 4 and Samsung Galaxy Tab S2 in nearly every way.
#1 Looks like a premium phone scaled up to be a tablet!
Featuring a premium metal unibody chassis crafted from aerospace grade aluminum, the Huawei MediaPad M3 shares design similarities with the flagship Huawei P9 and Huawei G8 smartphones including similar diamond cut bevels, a curvy back for a comfortable grip and rear camera panel, yet still only being 7.3mm thin.

Utilizing an aerospace-grade aluminum unibody and curved back, the Huawei MediaPad M3 looks and feels like a premium device
Despite having a larger 8.4-inch display, the MediaPad M3 is actually less wide at 124.2mm than the aforementioned 134.8mm wide iPad mini 4 with its 7.9-inch display and the Galaxy Tab S2 with its 8.0-inch display. This makes the MediaPad M3 easier to hold one-handed, unlike the other two tablets which like it or not, have to be used two handed.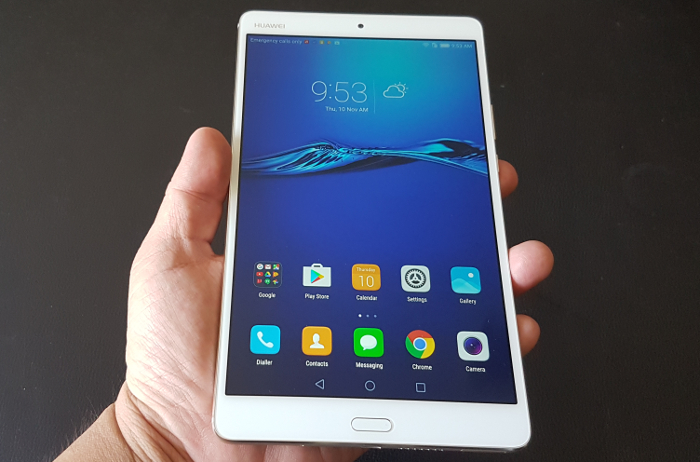 Despite a larger 8.4-inch 2K display, you can easily hold the Huawei MediaPad M3 onehanded
#2 Features flagship-level tech specs unseen in most other devices
Unlike most tablets this size, the MediaPad M3 also wins out in terms of tech specs as the larger 8.4-inch display actually packs in a 2K or 1600 x 2560 pixel resolution for a higher pixel density of 359 ppi (pixel per inch) than the other two tablets. It also features Harmon Kardon certified dual speakers and a dedicated AK4376 audio chip for HiFi sound, again something that the other two mentioned tablets (and most other tablets) do not offer.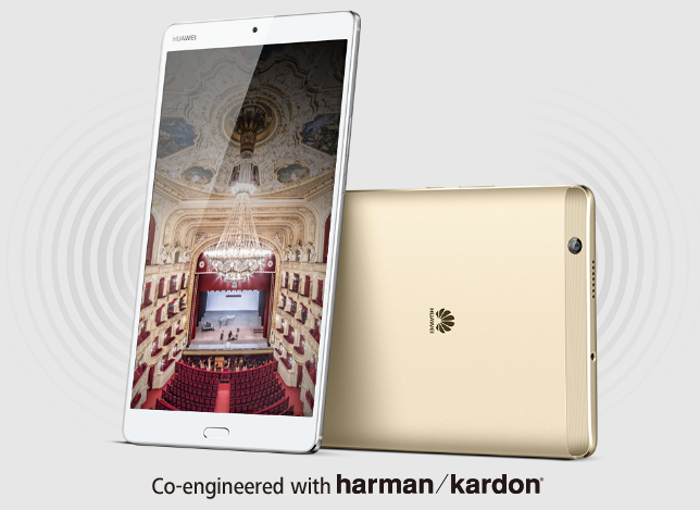 The Huawei MediaPad M3 packs in dual speakers and audio technologies co-engineered with famed audio specialist Harmon Kardon
The MediaPad M3 is no slouch in other tech specs either as it also packs in the energy efficient yet flagship performance Kirin 950 chipset with an octa-core processor and 4GB of RAM (the iPad mini 4 only has 2GB of RAM while the Galaxy Tab S2 has 3GB of RAM). The MediaPad M3 is also more secure than most tablets as it has a built-in fingerprint sensor that not only unlocks your tablet at 0.47 milliseconds but also acts as the home button and offers swipe and touch navigation.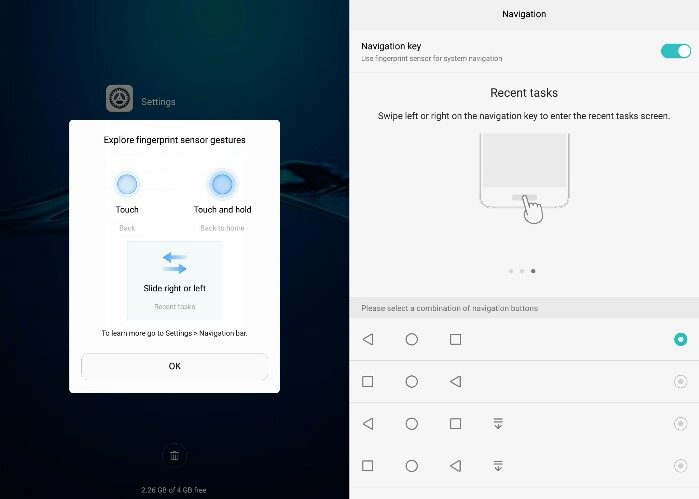 The Huawei MediaPad M3 not only packs in a fingerprint sensor, you can also use it for more than just unlocking your device.
Not just that, the MediaPad M3 also packs in an 8MP front and rear camera. Granted, the iPad mini 4 and Galaxy Tab S2 both offer 8MP rear cameras as well, but the iPad mini 4 only has a 1.2MP front camera while the Galaxy Tab S2 has a 2.1MP front camera. Good news for those who like taking selfies or for productivity purposes like video conferencing or making voice calls. All three tablets feature 4G LTE and 802.1 a/b/g/n/ac WiFi connectivity though, but many other tablets don't.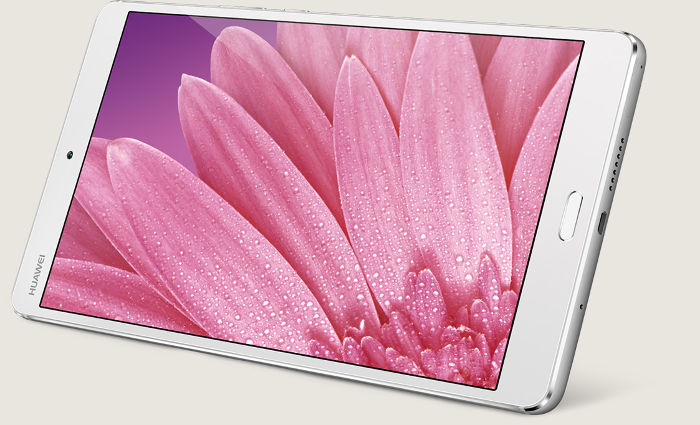 The Huawei MediaPad M3 offers great media playback with it's 8.4-inch 2K display and dual Harmon Kardon speakers
#3 Unbeatable price to performance!
Priced at RM1699 for the silver coloured MediaPad M3 with 32GB of storage, for the features and tech specs it offers above, the MediaPad M3 offers an unbeatable price to performance ratio. This is because the less stellarly featured iPad mini 4 and Galaxy Tab S2 both come in at RM1699 with 32GB of storage too. Search elsewhere and we're certain you won't find any tablet with a flagship chipset and processor, 4GB of RAM, 2K display, fingerprint sensor and more going for this price range.
It is for these reasons that we have to say that the Huawei MediaPad M3 clearly beats out most other tablets in the same price range, the same display size and most other comparable features. However, we know that there are some who want a bit more with their tablets and Huawei also have the MediaPad M3 with 64GB of storage going for RM1999 as well. Check out our comparison tool for the complete Huawei MediaPad M3 vs Apple iPad mini 4 vs Samsung Galaxy Tab S2 tech specs comparison or VMALL.my and Huawei Retail stores if you'd like to pick up the MediaPad M3 for yourself.