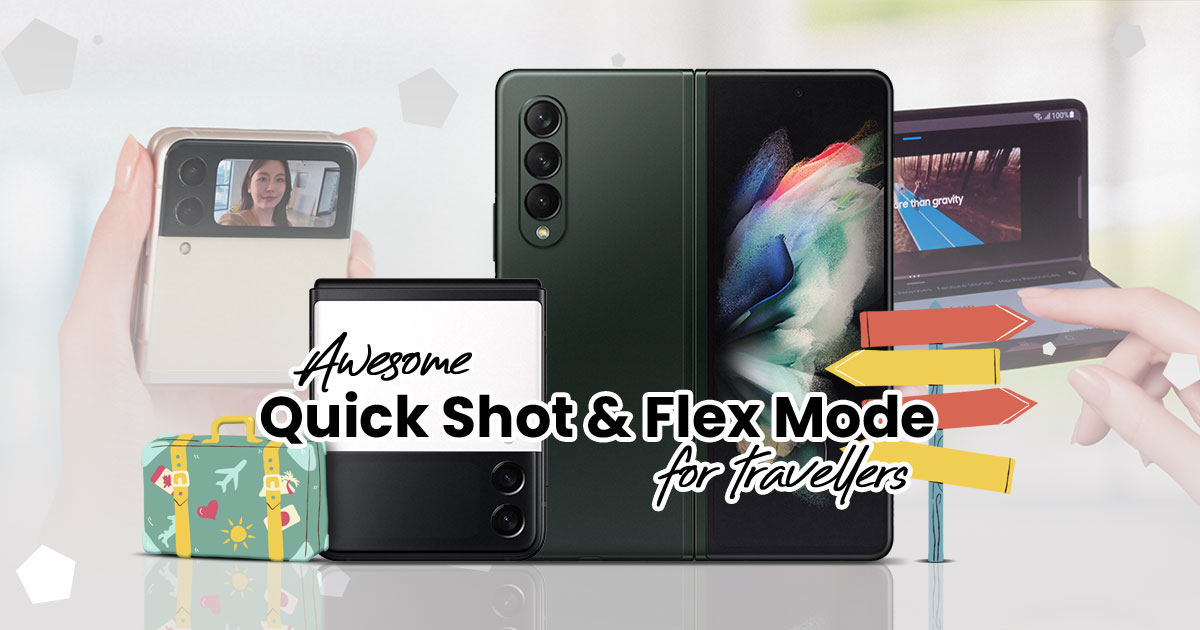 When it comes to smartphones, the foldable ones are easily the most interesting models currently available. And for a trip or a holiday, they do save a bit more space than others. Unlike regular smartphones, it might seem harder for users to quickly whip out the device to take a selfie or a video.
However, that's not quite the case with the Samsung Galaxy Z Fold3 5G and Galaxy Flip3 5G. They come with cool features that take advantage of their foldable form factor, allowing you to do things you can't on a regular smartphone. So without further ado, here are the top Samsung Galaxy Z Fold3 5G and Galaxy Z Flip3 5G features you would appreciate on a trip!
Enhanced Quick Shot for high-quality selfies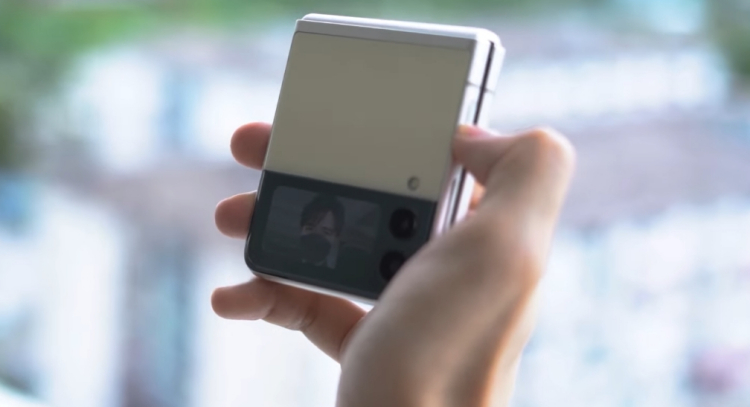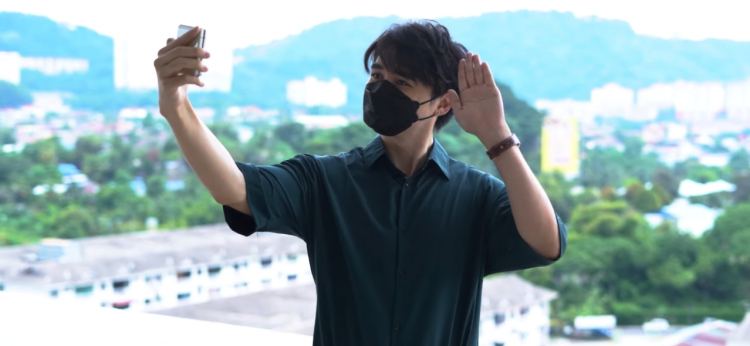 Thanks to the larger display on the Galaxy Z Flip3 5G, you can easily take selfies even when the phone is folded, while the Palm Shot mode lets you do so without even touching the button!
As we've mentioned, some people might think that it's harder to take a selfie on a foldable device despite the fact that they're more portable when folded up. But is that the case? Smartphone manufacturers have definitely considered this, which is why the Samsung Galaxy Z Fold3 5G and Galaxy Z Flip3 5G come with features that serve as a workaround.
Both come with a cover display that lets you preview your photo or video. In particular, the Galaxy Z Flip3 5G got a major cover display upgrade last year, going from 1.1-inch to 1.9-inch. That's great because a bigger preview screen is easier to see. The cover display also lets you switch between camera modes/lenses by swiping on them, and there are icons for the timer, flash, and recording status. Neat!
Another feature that both models have is the Side key. This OneUI feature lets you assign shortcut functions to the side-mounted buttons, like launching the camera. Combine this with the cover display, and you can quickly start taking pictures of those holiday moments without unfolding your phone! This combination is essentially what Quick Shot is.
As you can tell, this is much faster than having to unfold the foldable device, unlock it, and then launch the app. Went on a trip and spotted a picturesque spot? Something spontaneous and wonderful suddenly happened? Just double press the Side key and you're good to go! Convenient, isn't it? Speaking of convenience, we recommend the Palm shot mode for even faster selfies.
Hands-free convenience with Flex Mode
The other big feature for the Galaxy Z Fold3 5G and Galaxy Z Flip3 5G would be Flex Mode. For your info, Flex mode allows you to take advantage of these devices' special foldable form factor. Essentially, you can have a dual or split-screen layout for various apps when the device is half unfolded.
Want to take a video with the Galaxy Z Flip3 5G? You can unfold it halfway and you can have the upper part of the screen as a preview, while the bottom half holds the camera controls. It's also a super handy way to take a video without needing a tripod. Thanks to Auto-framing, the camera can also follow you so you always stay in the picture.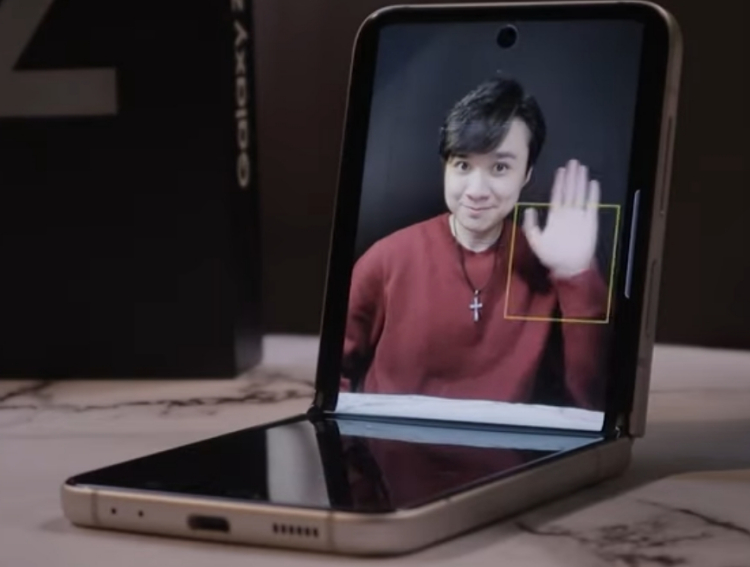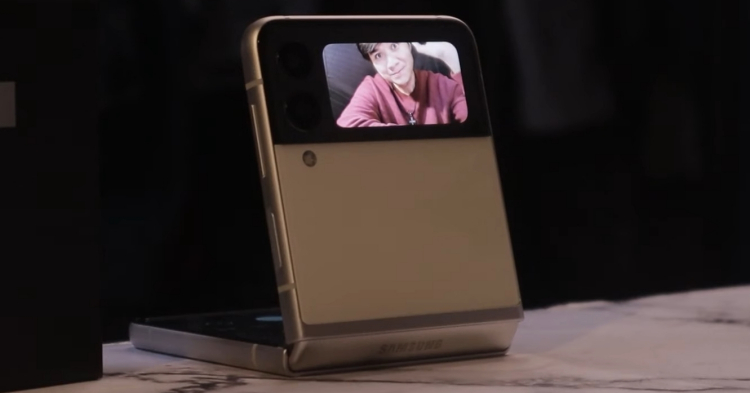 No tripod is needed!
Let's say you want to do a vlog at the hotel. Just place either foldable device on a flat surface, fold it to the right angle, start the recording, and move about in the frame. As mentioned earlier, once you've turned it on, the auto-framing feature will make sure that you and your other holiday goers stay in the picture or video.
Other than the camera app, Flex Mode also works with a variety of third-party apps. The apps that are compatible include YouTube, Google Duo, Zoom, Spotify, Candy Camera, and more. Of course, not all apps currently work with the mode, so you'll have to test it out to find out which ones that do but it opens up plenty of other opportunities during your trip.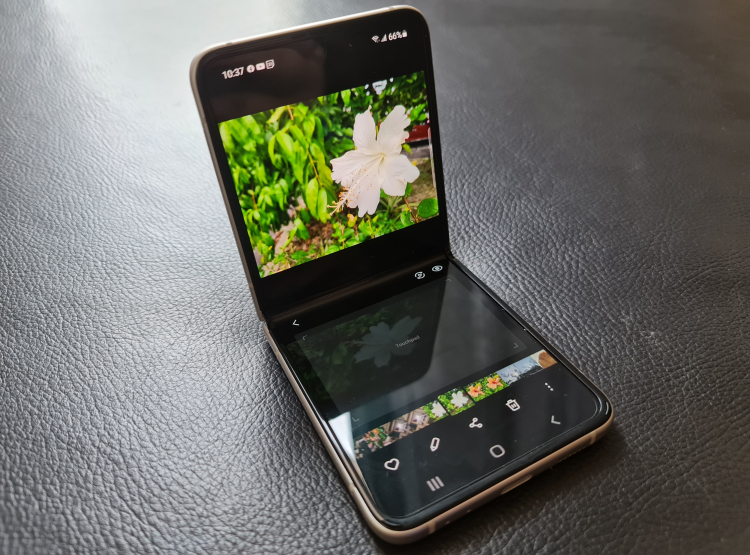 Check out your holiday photos in Flex mode on the Galaxy Z Flip3 5G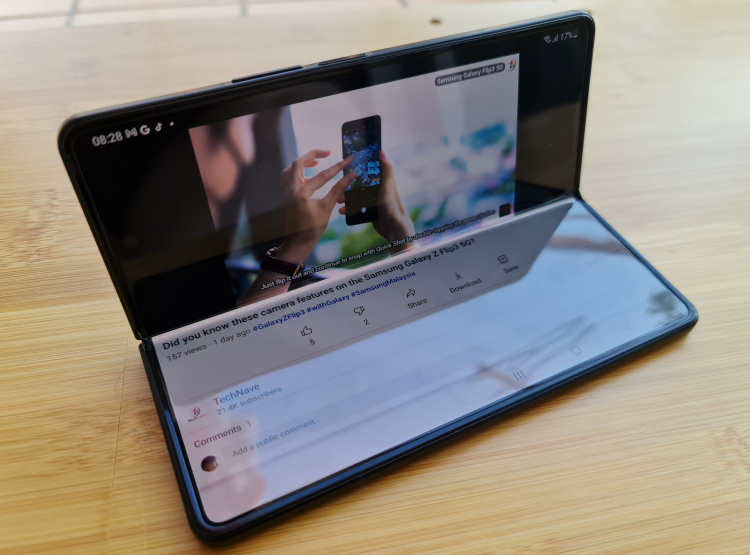 You can also watch your favourite videos in Flex Mode with the Galaxy Z Fold3 5G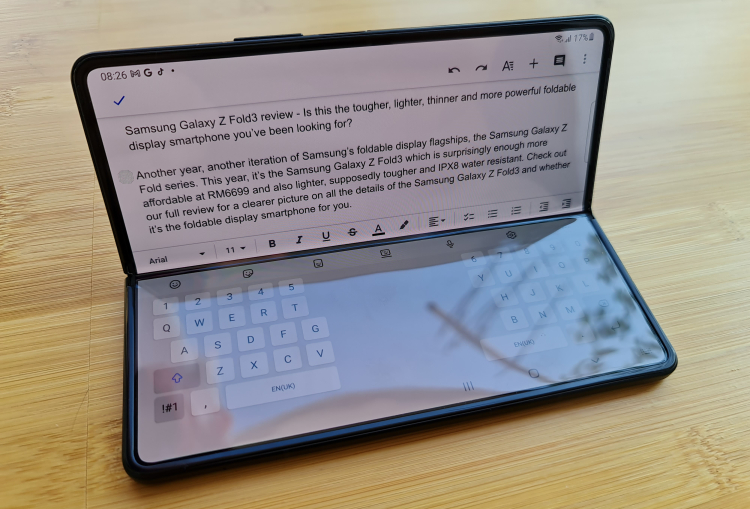 Forgot to bring your laptop? Flex your writing skills with the Galaxy Z Fold3 5G
And there you have it, two features of the foldable Galaxy Z Fold3 5G and Galaxy Z Flip3 5G we think you would love. As you can tell, they can be especially convenient when you travel, which is great as countries around the world have started to reopen for tourists. Obviously, both devices have plenty of other features. If you want to learn more, check out the official Samsung Malaysia website.