Transcend Wi-Fi Memory Card
Transcend Reveal New Wi-Fi Memory Card:
Transcend has released a new Wi-Fi SD memory card that allows for wireless transfer of images from your SDHC-compatible digital camera. Trancend's memory card works in either a direct share mode to a mobile device or in Internet mode using a free app for iOS or Android devices.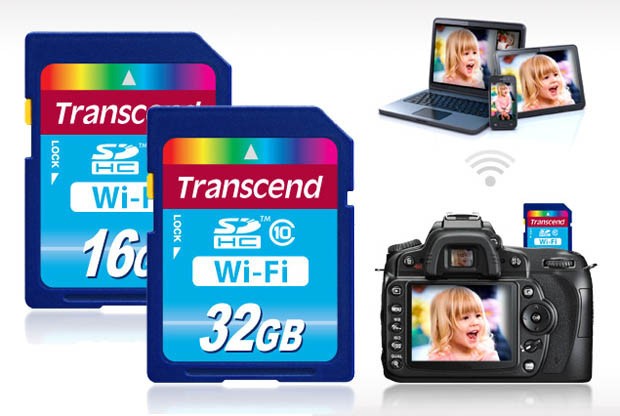 This new Wi-Fi SD memory card that instantly adds wireless capability to an SDHC-compatible digital camera. With the Wi-Fi SD card and the exclusive Wi-Fi SD App, users can take advantage of the high resolution of their digital camera and the versatility of their smartphone or tablet to easily share beautifully shot photos to the world as soon as they are taken.

The Wi-Fi SD card operates in two modes: Direct Share or Internet Mode. Ideal for use on outdoor photo shoots and vacations, Direct Share Mode is automatically activated as soon as the camera is powered on, allowing peer-to-peer connections between camera and mobile device in any location. Thanks to the convenient Wi-Fi SD App, users can quickly switch to Internet Mode, which allows the Wi-Fi SD card to connect to a nearby Internet hotspot or even use the personal hotspot feature of smartphones and tablets. When connected via Internet Mode, users can browse and download photos from the Wi-Fi SD card and instantly email to friends or upload to their social network profile.

Developed specifically for iOS (iPhone/iPad/iPod touch) and Android devices, the free-to-download Wi-Fi SD App automatically organizes Wi-Fi SD card data into intuitive categories. The convenient, easy-to-use design of the App allows users to effortlessly browse photos, watch videos, download content, and share via Facebook or email. Besides smartphones and tablets, Wi-Fi-enabled desktop computers and notebooks can access media with a similarly user-friendly interface by using a web browser.

Featuring the SDHC Class 10 speed rating, Transcend Wi-Fi SD cards provide higher transfer speeds and greater stability than currently available Class 6 cards. Combining excellent performance with a generous 16GB (approx. RM214 / US$69) or 32GB (approx. RM307 / US$99) capacity, each Wi-Fi SD card provides plenty of space and support for extremely high-resolution digital masterpieces.
[Source: dpreview.com]