U Mobile lowers No Upfront Samsung Galaxy S5 deal to RM355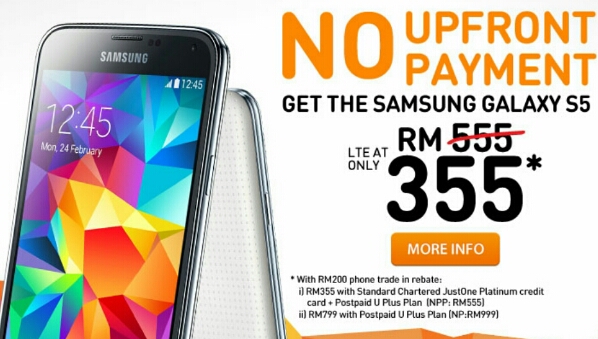 Previously, U Mobile had bundle deals going on for the Samsung Galaxy S5 with no upfront payment at just RM555 for new Standard Chartered JustOne Platinum card subscribers. However, with the recent RM200 trade-in discount from Samsung Malaysia, U Mobile are now lowering the price to RM355. All of the old conditions remain in place though, so if you want the RM355 No Upfront deal, you will have to successfully get a Standard Chartered JustOne Platinum Card, sign up for a U Plus plan and trade-in your old smartphone. Do note that the trade-in smartphone does add any discount value to the deal like the Samsung Malaysia promo, but according to U Mobile, you can bring in any phone with an IMEI number for the trade-in. In line with the Samsung promo, the extra RM200 trade-in discount is only available until 31 May 2014, so if you fulfill all the conditions and want the Samsung Galaxy S5 at a rock bottom price, then do check out this deal. The existing RM555 discount remains valid until 30 June 2014. For more details check out the table below:
U Mobile Samsung Galaxy S5
U58
U88
U Plus

Monthly
RM58
RM88
RM138
Data (Quota)
2GB
3GB
5GB
Call rates

18 sen / minute on network

20 sen / minute off network

18 sen / minute to all networks
SMS rates

5 sen / SMS on network

12 sen / SMS off network

Free calls

100 minutes on network

200 minutes off network

100 minutes on network

200 minutes off network

350 minutes on network

350 minutes off network

Free SMS
N/A

100 SMS on network

200 SMS off network

250 SMS on network

250 SMS off network

24 Months contract
RM1669
RM1449

RM999

(RM555 with Standard Chartered promo)

24 Months contract + RM200 trade-in discount
RM1499
RM1299

RM799

(RM355 with Standard Chartered promo)

Upfront payment

RM348

(RM58 x 6 months)

RM528

(RM88 x 6 months)

RM1104

(RM138 x 8 months)

NO Upfront Payment
N/A

RM0

(Pay by Credit Card + Auto Debit)

RM0

(Pay by Credit Card + Auto Debit)
For other options feel free to check out our Samsung Galaxy S5 plan comparison tool, but for more information regarding this deal check out the U Mobile site. You can also check out our other U Mobile Telco deals as well.
Samsung Galaxy S5 Specs & Price >