U Mobile registration of interest page reveals Apple iPhone 6s will be available with U MicroCredit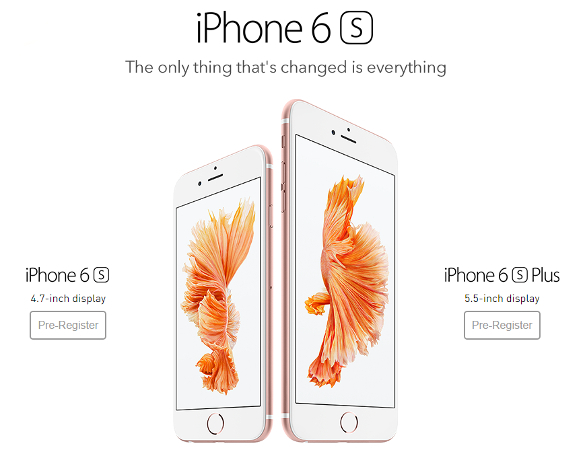 With the Apple iPhone 6s already officially on it's way to Malaysia on 16 October 2015, Malaysia's telcos have started the pre-registration or registration of interest pages for the smartphone. U Mobile is no different but unlike the others, it appears that they will be offering the iPhone 6s and iPhone 6s Plus on U MicroCredit. Previously available for the iPhone 6, U MicroCredit is an installment payment plan with no deposit or credit card required so everyone can own the latest iPhone 6s despite its rather high price tag. Again, unlike the other telcos, this method means that even U Mobile prepaid users can get an iPhone 6s.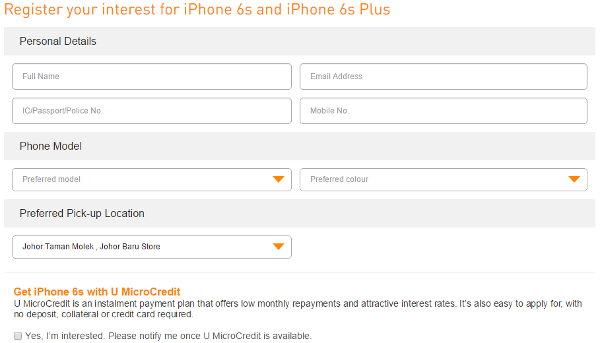 In addition to the U MicroCredit plan, we recently got news that the iPhone 6s will also be offered on a new Flexi U MicroCredit plan which will allow you to choose the financing amount and repayment months as you want, so even more Malaysians can afford the iPhone 6s. Check out the Registration of Interest page at www.u.com.my/iphone6s for an early notification of when it will be available on U Mobile. Granted, Apple have yet to reveal Malaysia pricing details but with last year's iPhone 6 going for RM2699 and this year's drop in currency value we estimate the iPhone 6s going for as high as RM3199 but you can check our other estimated pricing details and full price list of the iPhone 6s and iPhone 6s Plus around the world below.
Apple iPhone 6s 16GB storage – RM3199
Apple iPhone 6s 64GB storage – RM3699
Apple iPhone 6s 128GB storage – RM4199
Apple iPhone 6s Plus 16GB storage – RM3699
Apple iPhone 6s Plus 64GB storage – RM4199
Apple iPhone 6s Plus 128GB storage – RM4699
Country

Storage

iPhone 6

iPhone 6s

iPhone 6 Plus

iPhone 6s Plus

U.S
16GB
$649 (RM2840)
$649 (RM2840)
$749 (RM3278)
$749 (RM3278)
64GB
$749 (RM3278)
$749 (RM3278)
$849 (RM3716)
$849 (RM3716)
128GB
$849 (RM3716)
$849 (RM3716)
$949 (RM4153)
$949 (RM4153)
Singapore
16GB
S$988 (RM3028)
S$1048 (RM3212)
S$1148 (RM3518)
S$1218 (RM3733)
64GB
S$1148 (RM3518)
S$1218 (RM3733)
S$1288 (RM3948)
S$1388 (RM4254)
128GB
S$1288 (RM3948)
S$1388 (RM4254)
S$1448 (RM4438)
S$1558 (RM4775)
Hong Kong
16GB
HK$5588 (RM3152)
HK$5588 (RM3152)
HK$6388 (RM3602)
HK$6388 (RM3602)
64GB
HK$6388 (RM3602)
HK$6388 (RM3602)
HK$7188 (RM4054)
HK$7188 (RM4054)
128GB
HK$7188 (RM4054)
HK$7188 (RM4054)
HK$8088 (RM4562)
HK$8088 (RM4562)
China
16GB
5288Yuan (RM3638)
5288Yuan (RM3638)
6088Yuan (RM4188)
6088Yuan (RM4188)
64GB
6088Yuan (RM4188)
6088Yuan (RM4188)
6888Yuan (RM4738)
6888Yuan (RM4738)
128GB
6888Yuan (RM4738)
6888Yuan (RM4738)
7788Yuan (RM5358)
7788Yuan (RM5358)
Australia
16GB
A$999 (RM3112)
A$1079 (RM3361)
A$1149 (RM3579)
A$1229 (RM3828)
64GB
A$1149 (RM3579)
A$1229 (RM3828)
A$1299 (RM4046)
A$1379 (RM4296)
128GB
A$1299 (RM4046)
A$1379 (RM4296)
A$1449 (RM4514)
A$1529 (RM4762)
New Zealand
16GB
NZ$1079 (RM3067)
NZ$1199 (RM3408)
NZ$1249 (RM3550)
NZ$1399 (RM3977)
64GB
NZ$1249 (RM3550)
NZ$1399 (RM3977)
NZ$1429 (RM4062)
NZ$1599 (RM4546)
128GB
NZ$1429 (RM4062)
NZ$1599 (RM4546)
NZ$1599 (RM4546)
NZ$1799 (RM5114)
Japan
16GB
¥86,800 (RM3156)
¥86,800 (RM3156)
¥98,800 (RM3592)
¥98,800 (RM3592)
64GB
¥98,800 (RM3592)
¥98,800 (RM3592)
¥110,800 (RM4028)
¥110,800 (RM4028)
128GB
¥110,800 (RM4028)
¥110,800 (RM4028)
¥122,800 (RM4465)
¥122,800 (RM4465)
U.K
16GB
£539 (RM3575)
£539 (RM3575)
£619 (RM4106)
£619 (RM4106)
64GB
£619 (RM4106)
£619 (RM4106)
£699 (RM4636)
£699 (RM4636)
128GB
£699 (RM4636)
£699 (RM4636)
£789 (RM5233)
£789 (RM5233)
Germany
16GB
€699 (RM3427)
€739 (RM3623)
€799 (RM3917)
€849 (RM4162)
64GB
€799 (RM3917)
€849 (RM4162)
€899 (RM4408)
€959 (RM4702)
128GB
€899 (RM4408)
€959 (RM4702)
€999 (RM4898)
€1069 (RM5241)
Canada
16GB
$839 (RM2807)
$899 (RM3008)
$969 (RM3242)
$1029 (RM3443)
64GB
$969 (RM3242)
$1029 (RM3443)
$1099 (RM3677)
$1159 (RM3878)
128GB
$1099 (RM3677)
$1159 (RM3878)
$1229 (RM4112)
$1289 (RM4312)
France
16GB
€709 (RM3476)
€749 (RM3672)
€819 (RM4016)
€859 (RM4212)
64GB
€819 (RM4016)
€859 (RM4212)
€919 (RM4506)
€969 (RM4751)
128GB
€919 (RM4506)
€969 (RM4751)
€1019 (RM4996)
€1079 (RM5290)
Apple iPhone 6s Specs & Price >