(Updated) Comparison: Apple iPhone XS, XS Max and XR promo plans by U Mobile, Digi, Maxis and Celcom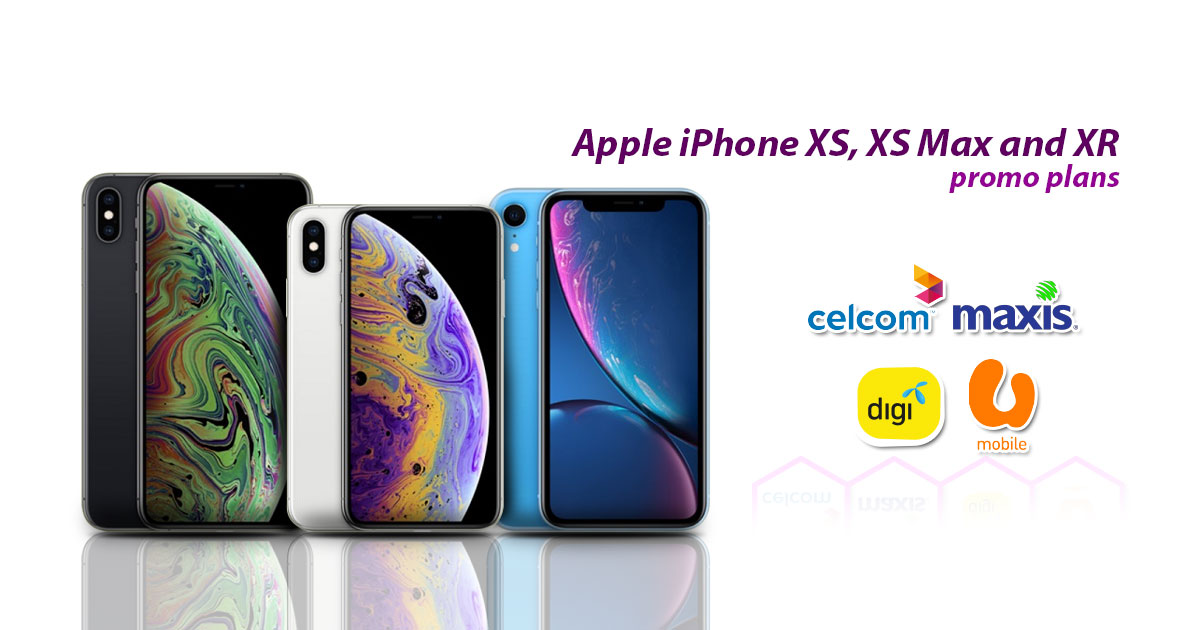 U Mobile, Digi, Maxis and Celcom have announced that they will be offering the latest Apple iPhone XS, iPhone XS Max and the iPhone XR on 26 October 2018. To add on to that, the pre-order is now live today (19 October 2018) onwards at 3.01PM on its official orange website, just like the Apple Malaysia website. Without further ado, let's check out what each telco is offering!
U Speical Promo is giving away a pair of free AirPods
All U Mobile subscribers can get either the iPhone XS, XS Max or the XR with the Unlimited HERO P99 postpaid plan. In fact, users can save up to RM1350 on the iPhone XS Max (512GB model) and the most affordable one is the iPhone XR at RM2499. If you prefer to wait on the debut launch day on 26 October 2018, the orange telco's retail price will be just RM5699 instead of the original RRP which is RM7049. Users will also get to enjoy postpaid plan's unlimited internet data (no speed cap), unlimited calls to any network, free 3GB roaming data (in 12 countries) and free 30GB mobile hotspot.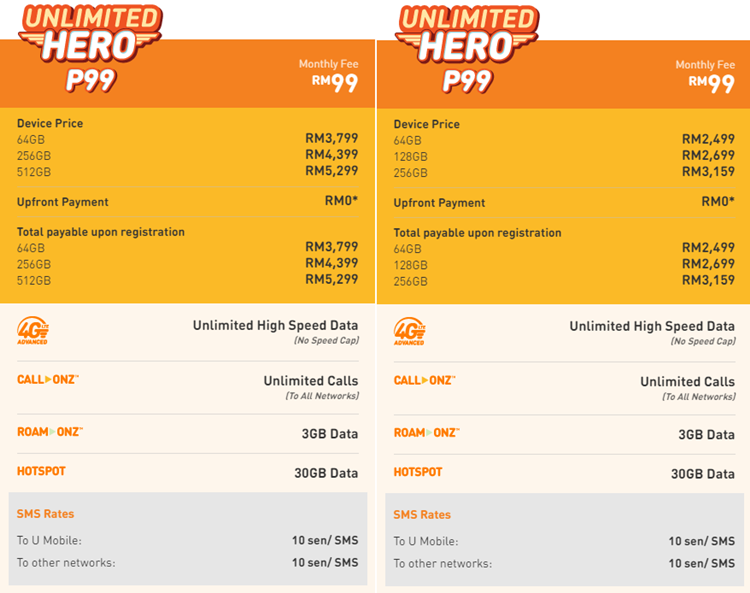 The postpaid plan for iPhone XS (left) and iPhone XR (right)
By the way, there will be a U Special Promo starting from 19 October 2018, 3.01PM – 31 October 2018, 11.59PM. The first 100 U Special customers who purchase either one of the new iPhones with Unlimited HERO P99 plan will bring home a pair of Apple AirPods for free! But that's not all, the first 20 customers who walk in and does the same action will also receive one unit of iPhone 6S+ (32GB) for free. After that, the next 80 customers can qualify for a lucky draw to win prizes such as phone accessories, vouchers and if they are lucky enough, a brand new iPhone XS Max (64GB). This will be held in U Mobile Experience Centre (Berjaya Times Square).
Besides that, users can also opt for the i40 prepaid plan for either one of the new iPhones as well. No price is listed on the main website yet, but users will be able to enjoy 1.5GB internet data, 40 free minutes worth of calls to all networks and 20 free SMSes to all networks. For more information, you may visit u.com.my.
Digi discount for 36.45%, Digi Shield and priority delivery
Next up, Digi has also released news from their side. According to the website, the yellow telco pre-order will also start from 19 October until 24 October 2018 and its official launch sales are scheduled on 26 October 2018 in all Digi stores. The starting price is RM3177 thanks to the discount but if you want a higher memory model, the discount will get lesser going as high as RM4662 (iPhone XS 512GB) or RM5067 (iPhone XS Max 512GB). But still, better than the original RRP. Unfortunately, there's still no news about the iPhone XR yet (to be updated).
The available postpaid plans for the new iPhone XS series are Digi Postpaid 190, 160, 120 and 80, going up to 100GB woroth of Internet data, unlimited calls to any networks, free roaming 5GB data (and 60 mins call). Digi customers who pre-order will get to enjoy free Digi Shield and priority delivery. You can check out the full details at their website here.
Three-way options from Maxis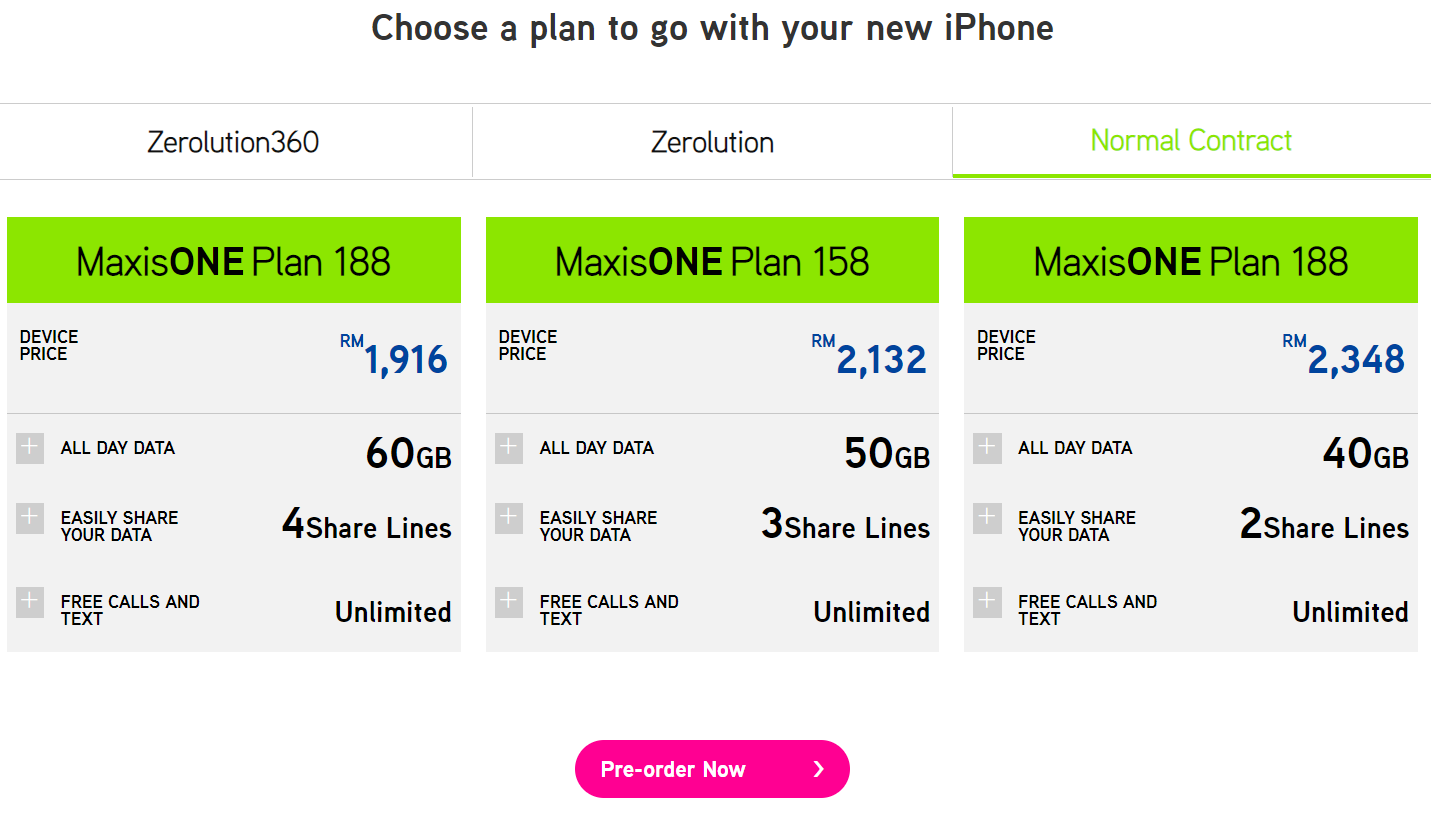 On Maxis' part, they will only be offering three plans as usual but with three options - the standard Zerolution360, Zerolution and normal contract for all new iPhones models. The most affordable one is obviously the iPhone XR starting from RM1916, if you want the big guns, the iPhone XS Max 512GB model cost RM5081. Alternatively, you can choose to pay on a monthly basis such as RM104 per month on Zerolution360.
Maxis postpaid plans offers up to 60GB All-Day Internet data (no split for weekend), unlimited calls and SMS to any networks and shares up to 4 lines. You can check the full details over at their page here.
Rent as low as RM58 from Celcom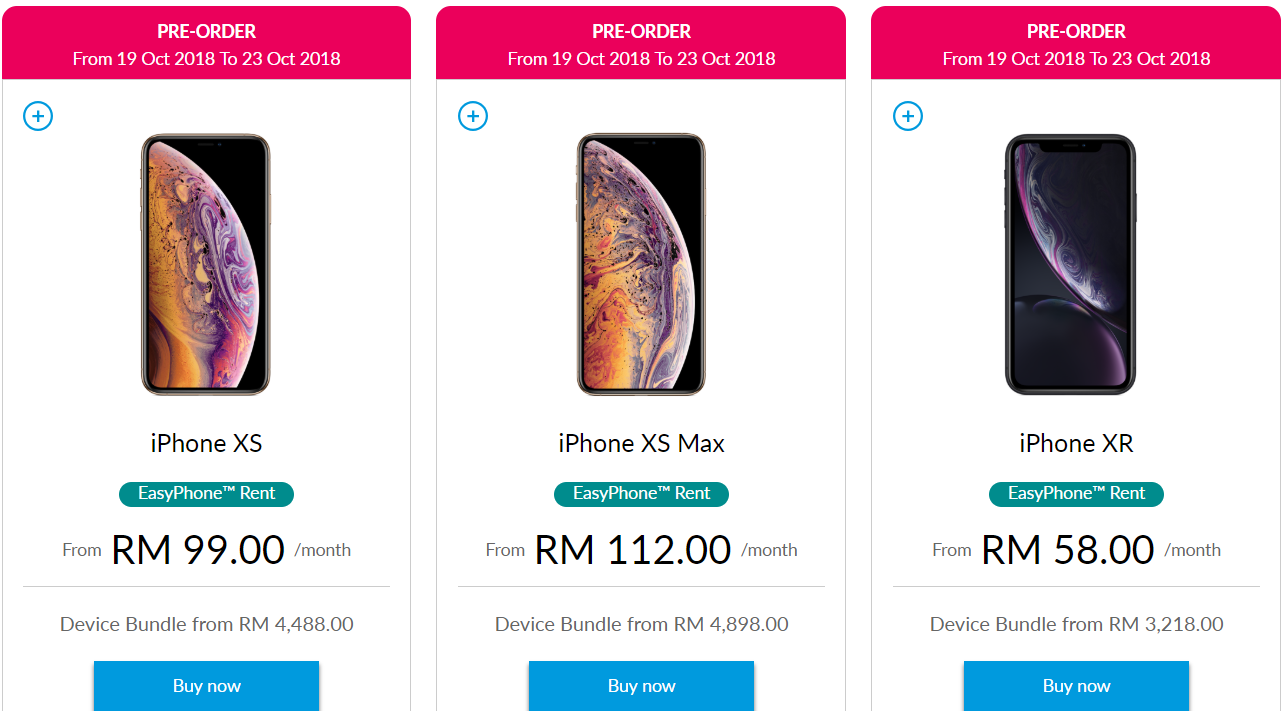 Finally, the blue telco are offering four postpaid plans - Gold Plus, Gold Supreme, Platinum and Platinum Plus that includes EasyPhone as well. On its Platinum Plus plan, the the cheapest you can get is RM1918 for the iPhone XR 64GB model, while the iPhone XS Max 512GB is slated for RM5078. If you prefer renting the new iPhone, you can go for as low as RM58 per month.
Celcom's postpaid plans is still the same, offering as much as 100GB of Internet data and unlimited calls and texts to all network. We will keep an eye on Celcom's page after they solve the traffic issue. In addition, early birds will receive a free black carbon casing (while stock lasts) and orders before 21 October will be delivered on 26 October. If you order it after the said date, you will get it on 27 October onwards. You can check out more details right here.
Stay tuned for more telco news at TechNave.com.