Viewsonic ViewPad 10 Malaysia Review:
ViewSonic has released its third tablet, the Viewsonic ViewPad 10. With the ability to dual-boot Android and Windows OS on one device, the ViewPad looks great on paper, but with a half-baked version of the Android OS, a confusing change in button functions, and a crippled Windows user experience, the tablet loses its luster when you get your hands on it.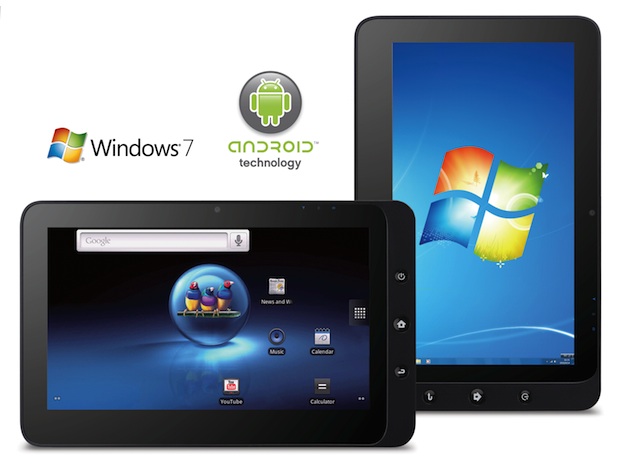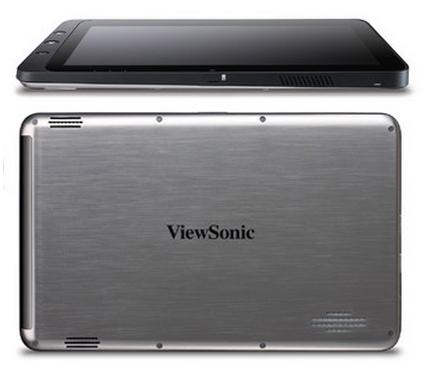 Viewsonic ViewPad 10 - Design & Build:
The ViewPad 10 measures 10.8 by 6.7 by 0.57 inches (HWD) in portrait view. It's longer than the Apple iPad 2, though not as wide. The ViewPad 10's screen is best viewed in a landscape orientation, which provides a nice 16:9 aspect ratio for viewing video. Unfortunately, its narrow form factor proves awkward for most everything else. The ViewPad 10 weighs 1.93 pounds, making it heavier than the iPad 2 (1.35 pounds), and Motorola Xoom (1.6 pounds).

Viewsonic ViewPad 10 - Dual OS:
When booting up, the ViewPad 10 offers you the two operating systems, and to shuffle from one to the next you use the home button. Once you've selected an OS, you'll need to reboot to switch to the other. Selecting one is done with the undo/back button. Given how ViewSonic is crowing about the ViewPad's dual-boot capability, it should really be more intuitive to boot into one or the other. This process is made far, far easier by plugging a keyboard into one of the two USB ports. While you're picking up a USB keyboard for your tablet, you might also want to get a USB mouse. Despite touch support in Windows, it's clunky and awkward to do basic mouse functions in this OS without a physical mouse. Right clicking, for example, requires a tap and hold maneuver that drastically slows down any one used to navigating quickly in a windows environment.

Viewsonic ViewPad 10 - Display:
The 10.1-inch LCD screen offers 1,024 by 600 resolution, and 700:1 contrast ratio. It won't do high-definition video (not even 720p), but does well with streaming video, like YouTube, Netflix, and Hulu. But if you're in the Android OS, you'll have to reboot and change to the Windows OS, which allows you to view Flash-based content. The Android OS (which is not Honeycomb, but rather a scaled up version of the Android smartphone software) doesn't support Flash and defaults to limited mobile versions of websites when browsing.

Viewsonic ViewPad 10 - Temperature:
The ViewPad 10 can also run pretty hot. Using a Fluke IR thermometer, I measured surface temperatures of 100-degrees Fahrenheit and higher while running several of our speed tests. While we may be pushing this slate a bit harder than the everyday user will, chances are high that you'll find it running a temperature under less strenuous conditions, too.

Viewsonic ViewPad 10 - Camera & Memory:
The ViewPad 10 has a front-facing 1.3-megapixel webcam, which is great for things like Skype and snapping a picture of yourself or your surroundings. Except that you can't simply snap a picture—not without popping a microSD card into the built-in card slot. Despite packing a 32GB solid-state drive (SSD) for storage, the ViewPad won't let you save your photos to the drive.
Viewsonic ViewPad 10 - Window 7 Usage:
Windows is hobbled. While it would make sense for the ViewPad to come with Windows 7 Starter, the same 32-bit OS included on most Windows netbooks, instead it comes with a 32-bit version of Windows 7 Professional. This decision is puzzling as the Professional version taxes the CPU more, contributing to the heat and sluggish experience. Windows doesn't lend itself well to a touch environment, in large part because it's built to navigate with a keyboard and mouse, and to do so in ways that aren't easily replicated on a touch screen. Right and left clicking, using page up and page down buttons, even simple mousing is designed with the anticipation of a full-sized screen. ViewSonic has added a few UI tweaks to compensate. Tapping once is a left click, while touching and holding is treated as a right click, but it lacks the utilitarian benefits of a keyboard and mouse while offering none of the elegance of a UI built around the touch interface.

Viewsonic ViewPad 10 - Performance:
The ViewPad 10 uses the dual-core 1.67 GHz Intel 455N Atom processor. While other tablets, like the iPad2 and the Motorola Xoom, utilize the A5 and 1GHz Nvidia Tegra 2 processors made for smartphones and tablets, these slate computers are able to offer more flexible options for processing horsepower, such as the Windows operating system.

Viewsonic ViewPad 10 - Battery Life:
We tested battery life using the same MobileMark 2007 benchmark test that we use for netbooks and laptops. The ViewPad 10 lasted 4 hours 3 minutes from full charge to dead battery. By comparison, the iPad2 is rated for 10 hours, and lasted 7 hours 30 minutes in a video rundown test. Other convertible tablets running Windows have shorter times when run through the MobileMark 2007 test.

Conclusion:

The ViewPad 10 is an interesting idea waiting for someone to properly execute it in a practical manner. I think there is a place for dual-booting devices, and I would like to see some manufacturer really put some thought and engineering muscle behind the concept. But the ViewPad 10 as it currently ships is just an over-priced device looking for a market.
By compromising the CPU and the Android version, ViewSonic has practically doomed this device to footnote status when it comes to tablet history. Avoid it — there are much better tablets with more value on the market.
Pros:

Dual boot OSs (Windows and Android)

Twin USB ports

MicroSD card storage

Bright screen
Cons:

Poor screen viewing angles

Short battery life

Low-capacity internal SSD

Lacks mobile broadband

Heavy
Specification:
Audio

Microphone
yes
Speakers
mono
Audio connectors
headphone

Cabinet (chassis)

Case form factor
slate-style tablet
Dimensions (W x H x D)
27.5x1.45x17 cm
Weight
835 kg
Colour
black & silver

Display

Display technology
LED-backlit TFT touch-screen
Display diagonal size
10 in
Maximum resolution
1024x600 pixels

Expansion slots

Flash card
MicroSD

Hard drive storage

Hard drive interface type
SATA
Hard drive type
solid state
Hard drive size
16 GB

Input

Pointing devices
capacitive touch-screen
Keyboard
on-screen

Interfaces & networking

USB
2 x USB 2.0
VGA (analogue)
Mini-VGA
Bluetooth
yes
Wireless LAN
802.11b/g/n
Wireless WAN
non-functional SIM card slot present

Memory

RAM installed
1024 MB

Miscellaneous

Accessories
AC adapter
Other
1.3-megapixel webcam

OS & software

Operating system
Windows 7 Home Premium; Android 1.6 (dual boot)

Processor

Processor manufacturer
Intel
Processor model
Atom N455
Clock speed
1.66 GHz
Level 2 cache
0.5 MB

Video

Graphics processor
Intel GMA 3150
Features and specifications are subject to change without prior notification.