Viewsonic ViewPad 7 Malaysia Review:
Viewsonic has become the latest of many companies offering tablets in 2011 with its ViewPad 7. With a 7-inch capacitive touch screen and running the Android 2.2 Froyo operating system, the ViewPad 7 is powered by a Qualcomm 600Ghz processor. But not only is it a tablet, the device is also a smartphone with a slot to insert a SIM card so you can use it to talk and connect to the web like a mobile. In fact the ViewPad 7, apart from being a computer and a phone can also add eReader and gaming device to its credentials.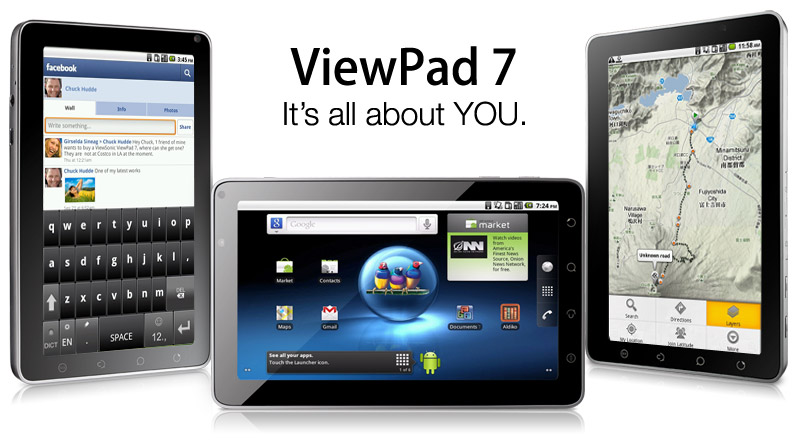 ViewPad 7 - Design:

The ViewPad 7 is 11.5mm thick and weighs 375g and has a silver edge holding together the screen and the black rear panel. It actually looks like an oversized iPhone 4. Around the edges are a microSD and SIM Card slot, volume up and down keys, a speaker on the left and right sides, a 3.5mm headphone jack plus microphone, audio out and USB ports in the bottom.

In the top left corner of the front face is a VGA-quality camera for video calls and a 3 megapixel camera on the back but unfortunately it doesn't have a flash. On the edge of the front screen are four touch sensitive buttons – back, search, home and menu. The icons are stylised and the home button looks more like a mushroom or a man wearing a hat than it does a house.

The ViewPad 7 is small enough to hold in one hand and easy to carry around thanks to its smaller size and weight. Also included with the device is a leather cover that can protect the product during day-to-day use and on your travels.
ViewPad 7 - Display:

The ViewPad 7's screen has a standard definition resolution of 800 x 480 pixels and pictures and videos look good on the screen with fair colour reproduction and clarity. Web pages also looked clear on the screen and the pinch to zoom functionality worked well albeit a little sluggish at times.

The screen was fairly responsive when scrolling through pages and apps and typing on the ViewPad's virtual keyboard provided a satisfactory experience to get through messages and documents a lot easier than you would on a smartphone.

ViewPad 7 - Performance:

The Android 2.2 Froyo operating system aboard the ViewPad 7 is actually the same software used in smartphones which leads us to view the device more and more as an overgrown mobile. In many cases the device can be held in landscape or portrait mode and the screen adjusts accordingly after a second or two.

On many other occasions the ViewPad 7 is stuck in the widescreen landscape mode when it's on the home page, the apps page and also when using the device as a phone. Making phone calls is possible but holding it up to your ear is not something many users will want to be seen doing. We found it easier using it as speakerphone.
ViewPad 7 - Memory:
On the memory side the ViewPad 7 hardly has any to speak of – a mere 512MB on board. But there is a microSD slot which allows expansion up to 32GB but means the customer has to shell out more money for the memory card on top of the ViewPad's price.

Conclusion:

The ViewPad 7 lacks a little behind its competitors more polished products like the iPad and the Samsung Galaxy Tab. But those looking at the budget end of the market will find the device offers a few features the others in its class can only dream of like multitouch and a built-in 3G mobile connectivity.
Good:

Good battery life

Built-in Wi-Fi, 3G and GPS

Affordable
Bad:

Chunky design

Low-res screen

Not as slick as the iPad
Specifications (base version)

Manufacturer
Viewsonic
Model name
Viewpad 7
CPU type
Qualcomm MSM7227
CPU speed
600 Mhz
OS
Android 2.2
Display Size

7" 800 X 480
Screen Type

LED-Backlit LCD
Touch Technology

Capacitive Multi-touch
RAM
512 MB
Keyboard
NO
Mouse Pointer
NO
Battery capacity
12 (Wh)
Weight
376gm / 13.3 oz.
Size (w/h/d mm)
180/110/12 mm
Size (w/h/d inches)
7.1/4.3/0.5
Physical Interfaces
Line-out / Headphone (3.5mm)
Micro SD slot
Mini USB 2.0 (client)
Mobile sim-card slot
Wireless Interfaces
802.11b/g
BT (type unknown)
3G option
Additional Specs and Accessories (can vary)
3G voice/data modem
A-GPS (Internet Assisted)
Accelerometer
Capacitive Touchscreen
Front and rear cameras
Microphone
Stereo speakers
Camera 3.2MP Auto-Focus
Ambient light sensor
Case
Features and specifications are subject to change without prior notification.