Which HUAWEI MatePad tablet should you get? A buying guide for Huawei fans & customers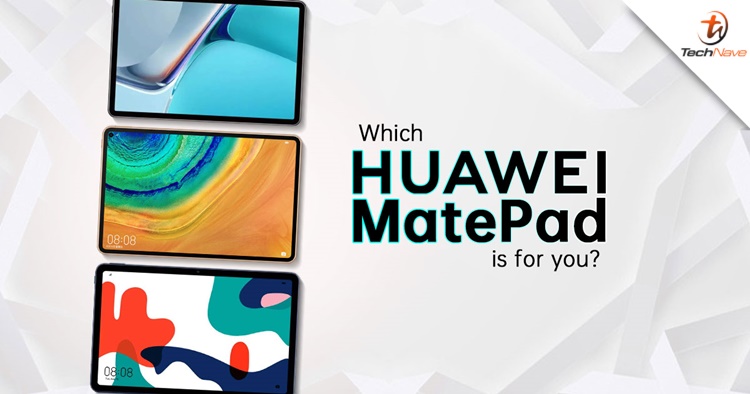 Over the past year, computing devices surged in demand as everyone was forced to stay and work at home. Not only that, but children were also studying at home to attend online classes. Besides PCs and laptops, tablets are also one of the go-to devices and Huawei is no stranger to those.
Huawei Malaysia has offered many tablets of its own over the few years here, but which one is suitable for you? In this article, we will briefly go through each MatePad tablet and see which one caters to your need. Without further ado, read on below to check them out!
HUAWEI MatePad Pro - For the pros
Starting with the flagship, the MatePad Pro features a 12.6-inch OLED screen panel with some excellent display capabilities. It supports 2560 x 1600 pixels, DCI-P3 and a colour accuracy rating of ΔE <0.5. In context, this grade means it's great for professional photographers who can use it as a portable monitor to preview and colour tune their images on the spot!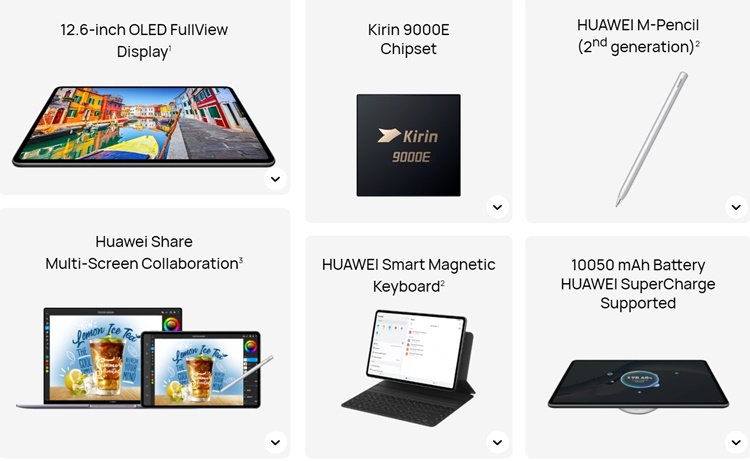 Moreover, it also comes with a total of eight speakers, a 10,050mAh battery supporting 40W SuperCharge technology and can even do reverse wireless charging for other devices. As usual, the HUAWEI Share function is compatible with a Huawei phone and laptop, as well as a keyboard and M-Pencil stylus (2nd gen).
As long as your device is running on HarmonyOS, any Huawei device can pair up with the MatePad Pro. You can use Mirror Mode to mirror your tablet to a MateBook laptop or even in Extend Mode as an extra display, as well as using Multi-Collaboration between two devices to save time transferring content across via drag and drop.
HUAWEI MatePad 11 - For mainstream users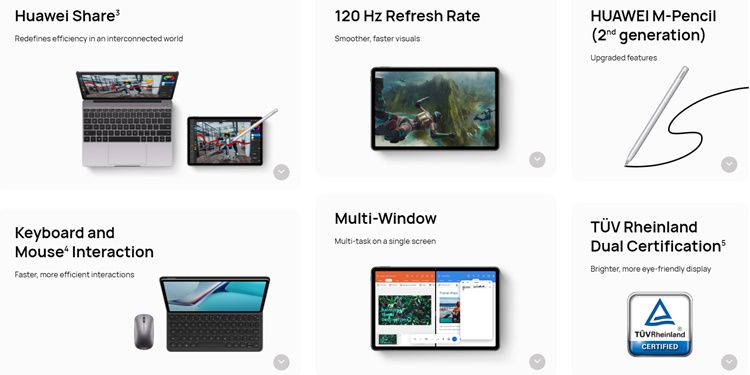 If you're more of a casual user but still want some sweet features, then the MatePad 11 might be for you. This tablet supports up to a 120Hz refresh rate with frame rate adaption technology that adjusts the frame rate according to your usage. Not only that, its chipset is a respectable Snapdragon 865 by Qualcomm that can let you run apps seamlessly. If you want to use it for entertainment, its quad speakers are Harman/Kardon certified.
Like the MatePad Pro, the MatePad 11 also has HUAWEI Share and do all the things we just mentioned previously such as Mirror Mode, Extend Mode and Collaboration Mode. Remember, you just need a Huawei device on HarmonyOS and you're good to go! The M-Pencil (2nd-gen) is compatible as well.
HUAWEI MatePad 10.4 - Another tablet for the mainstream

If you are looking for something smaller, the MatePad 10.4 is also another good option. Featuring a 10.4-inch display, its resolution is 2K and has an 84% screen-to-body ratio. Furthermore, the quad-speaker is the same as the MatePad 11 with Harman/Kardon sound system to give the best sound experience for entertainment.
Other notable features of the MatePad 10.4 are 4GB + 128GB memory capacity, compatible with a keyboard and M-Pencil stylus (1st gen), and supports HUAWEI Share with Huawei phones.
HUAWEI MatePad T10 and T10s - For entry-level users (like children)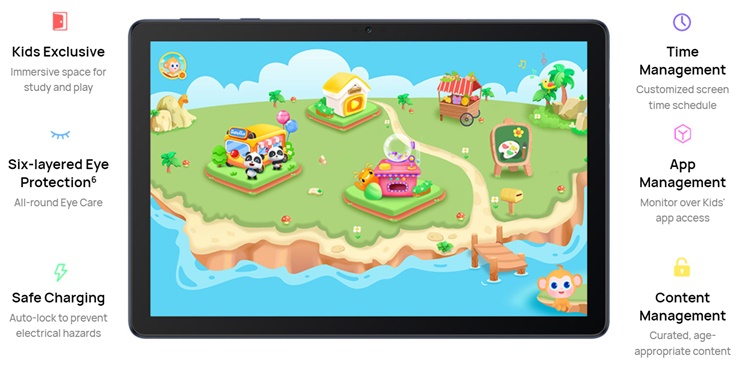 Finally, if you're just looking for something simple to use, look no further than the MatePad T10 and T10s. They may be just entry-level, but they are also equipped with Harman/Kardon sound system and feature a 9.7-inch and 10.1-inch display respectively.
If you plan to use this for your child, you can rest assured that this device is packed with age-appropriate content via Kids Corner. Huawei said the two tablets have six-layered eye protection, time management, app management to monitor app access, and content management to curate age-appropriate content.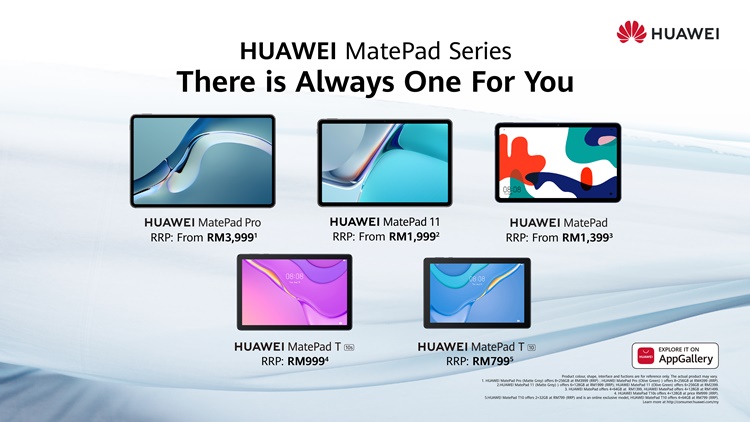 So there you have it. Each MatePad mentioned above are catered to different needs. From pro-users to children, or mid-range tiers for casual users, Huawei has it covered for everyone. As for the complete price and availability, you can check out the table below for your reference:
Huawei tablet
RRP (RM)
Model
Availability

MatePad Pro 12.6

3999

4399

Matte Grey, 8GB+256GB with keyboard

Olive Green, 8GB+256GB with keyboard and M-Pencil

Retail and online

MatePad 11

1999

2399

Matte Grey, 6GB+128GB

Olive Green, 6GB+256GB

Retail and online

MatePad 10.4

1399

1499

LTE, 4GB+64GB

WIFI, 4GB+128GB

Online only

Retail and online

MatePad T10s

999
WIFI, 4GB+128GB
Retail and online

MatePad T10

799
4GB + 64GB
Retail and online
To find out more about the MatePad tablets, you may visit the official web portal right over here or the online store on Lazada and Shopee. If there's one that interest you, you should grab one now while you can during this Christmas season. Happy shopping and stay tuned for more local tech deals at TechNave.com.
Huawei MatePad Specs & Price >