Why the Samsung Jet 60 turbo can be your best cleaning companion for Christmas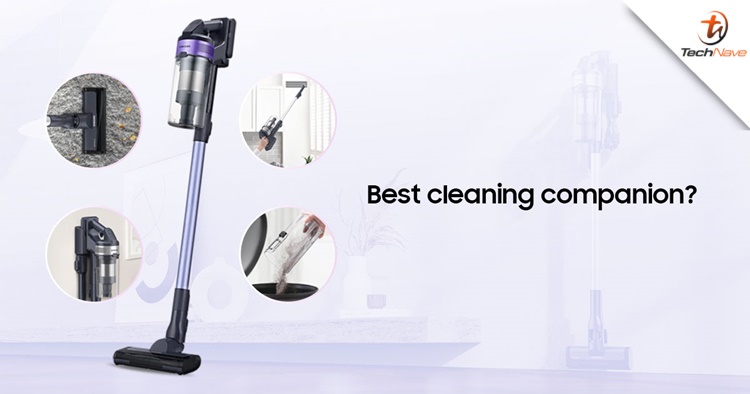 You know the rules - November magically becomes a Christmas season right after Halloween. With the upcoming holidays, you could be getting your house or condo ready for when your close friends and family can finally travel back home. And we don't mean to jinx it, but what if your vacuum happens to be damaged right now?
11.11 may be over, but it doesn't mean that vacuums aren't on sale anymore. For one, Samsung still has a discount for the Samsung Jet series, so if you want to find out what's good about it, you're in the right place! Read on to learn why the Samsung Jet 60 turbo can be your best cleaning companion for Christmas!
#1 Strong Suction Power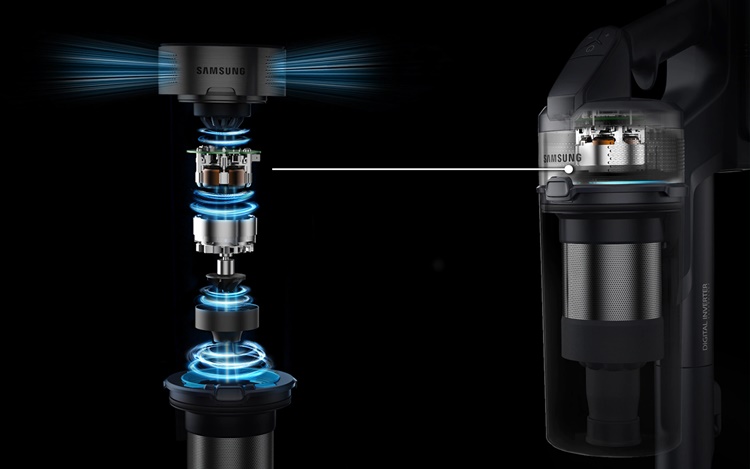 The aerodynamic design of the air system optimises airflow, while a multi-cyclonic air filter traps fine dust particles
First off, a vacuum that can really 'suck' needs a strong suction power, or it would be quite useless. The Jet 60 turbo features a Digital Inverter Motor inside that can generate suction power of up to 150W and a strong input power of up to 410W. So not only is this a high level of energy but also a powerful suction that allows you to clean both carpets and hard floors effectively.
#2 Releases clean air
Having a powerful suction is one thing, but sometimes the air released can be...stuffy. Not to worry, the Samsung Jet 60 turbo can clean air with a Multi-layered Filtration System that traps up to 99.999% of dust and reduces allergens.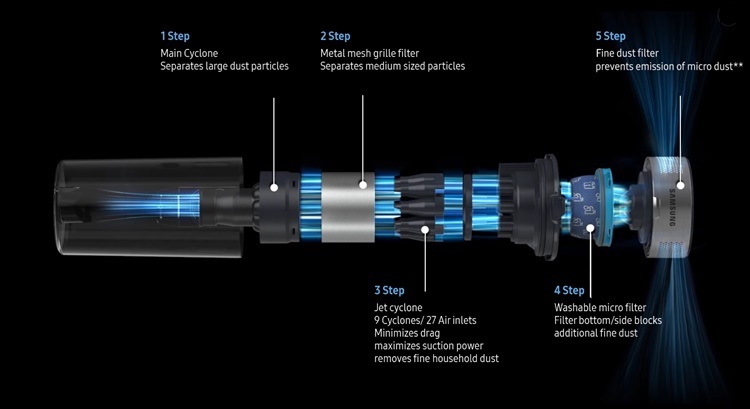 Inside the JET Cyclone
This is all thanks to the JET Cyclone that's located below the Digital Inverter Motor. The Main Cyclone and metal mesh grille filter inside can pick up a large number of dust particles. Fine dust will then be caught by the microfilter, while the fine dust filter traps micro dust.
#3 Jet Fit Brush
While there's nothing wrong with getting regular and cheap vacuum cleaners, they usually can't clean carpets and hard floors that well. But the Samsung Jet 60 turbo's Jet Fit Brush can easily do the job. Moreover, it's flexible with its 180-degree swivel head, allowing you to easily change directions and clean corners effortlessly. You can also detach the brush and remove the dirt quickly.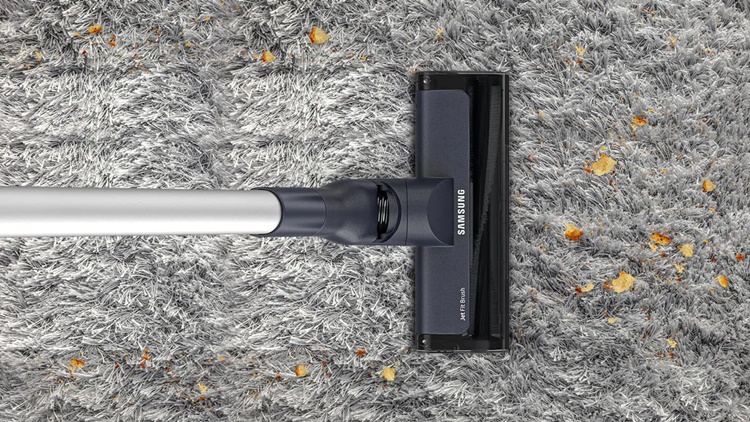 You may switch this Jet Fit Brush with an extension crevice or a shorter combination tool
#4 2-in-1 Charging Station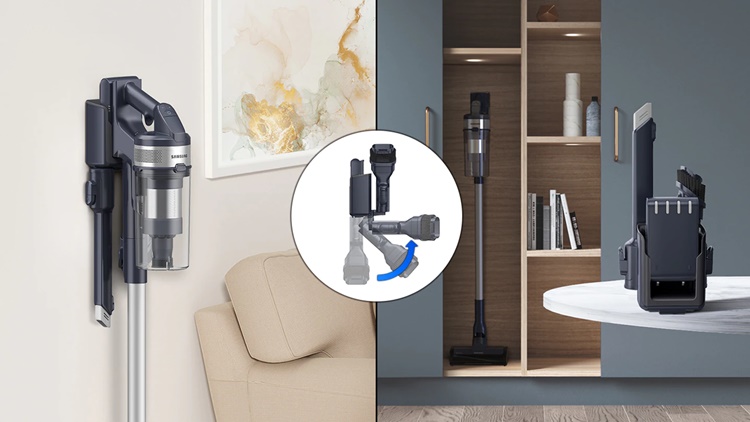 The battery is detachable, and you can charge it anywhere
When it comes to charging vacuum cleaners, you usually have to store them in one spot. However, the Samsung Jet 60 turbo can be stowed away with the 2-in-1 Charging Station. What this means is that if you want to save some space, you can mount it on a wall or use it as a stand-alone charger by removing the battery and charging it anywhere you want. This is compatible with any home, so it makes it super easy, barely an inconvenience.
#5 Removable and Longer-lasting Battery
In terms of battery life, the Samsung Jet 60 turbo can function for up to 40 minutes. According to Samsung, this vacuum will retain 70% of its original performance for 500 cycles. And when the battery is no longer at its peak, it's easily removable and replaceable with a new battery!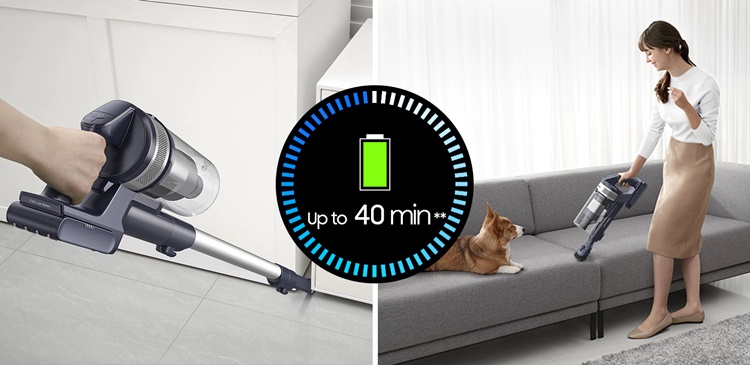 You can buy a new battery pack to replace the old one
#6 Fully washable bin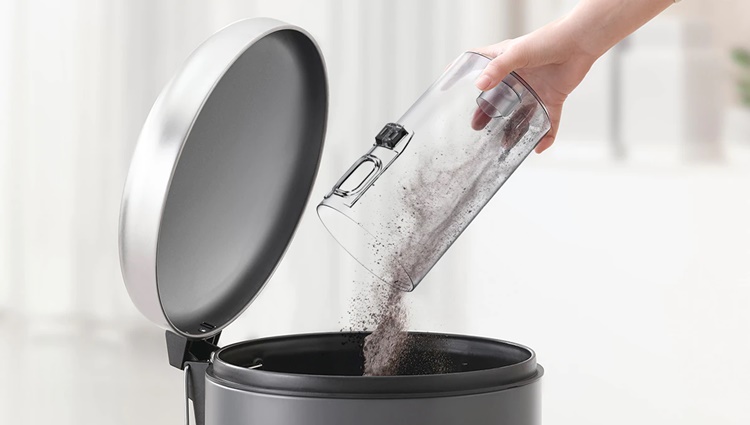 Away you go!
While the JET Cyclone filters may collect a ton of dust particles, you still need to remove them. Well, this multi-cyclone system and the entire 0.8L dustbin are fully washable. Samsung also ensured that you don't need to dismantle the pipe from the body, so you can simply tip out the dust, and you're pretty much done!
#7 Compatible with Clean Station

™

Finally, in relation to cleaning the bin - you can also enjoy another convenient way of emptying it. Called the Clean Station™, this accessory lets you place the detachable dustbin in it and can then suck out the dust automatically. Compared to the conventional method of throwing the dust, the Clean Station™ will prevent fine dust particles from scattering in the air via the Anti-Dust Emitting Structure.

The Clean Station™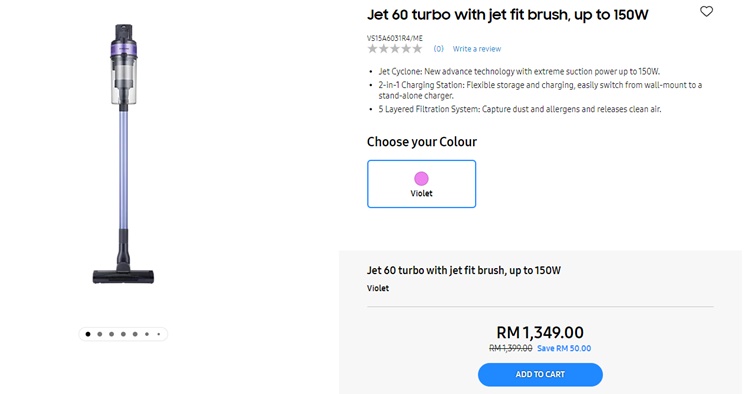 RM50 off right now
Currently, there's an online promo sale with a price of RM1349 (RRP RM1399). But if you want a more advanced edition, there's also the Jet 70 with an extra Digital Display function and with Soft Action Brush for RM1649 (RRP RM1699). So what do you think? If macam yes, then what are you waiting for?
If this is the vacuum you've been looking for, you can visit the official page on the Samsung Online Store. You can get one now and clean up your home for Christmas before your loved ones come back home!