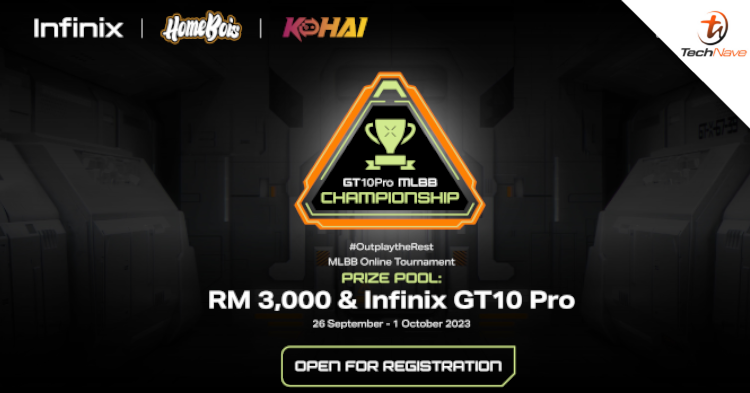 If you are an avid gamer, this news might catch your attention. Recently, Infinix announced they will hold an MLBB Championship in collaboration with Homebois and Kohai. This tournament offers a prize pool of RM3000 and the new Infinix GT 10 Pro.
For your information, this tournament aims to aim to empower gamers to transform their passion into professional gaming careers. That is also in line with Infinix's commitment to fortifying the gaming community by offering an arena within the esports realm through this tournament. The Infinix GT 10 PRO MLBB Championship is centred around the most popular online game, Mobile Legends: Bang Bang (MLBB).

In addition, this shows that Infinix acknowledges esports gamers' interests and passion in Malaysia. The tournament starts from 26 September to 1 October 2023. If you are interested in joining this tournament, you will have to go through recruitment stages.
The recruitment stages start from 14 September to 21 September 2023. There are 2 ways for you to join as participants. For the first method, you will need to like like and share this post with #OutplayTheRest. Then, follow Infinix Malaysia on Facebook and Instagram. After that, comment below, "We are PRO team!" and tag 4 more team members. That's all for the first method.
For the second method, you will need to download the Kohai gaming app on your smartphone. Next, simply play MLBB on the Kohai app and achieve a Top 8 score (Combat Arena) from 14 September to 20 September 2023. That's it, pretty simple, isn't it?
The tournament offers an array of exclusive prizes for the winning teams, including a grand prize of RM1,200 in cash along with five (5) units of the GT 10 PRO, a second prize of RM1,000, and a third prize of RM800. For more information on the tournament, you can read about it here.
What are your thoughts on this news? Stay tuned for more news and updates like this at TechNave!