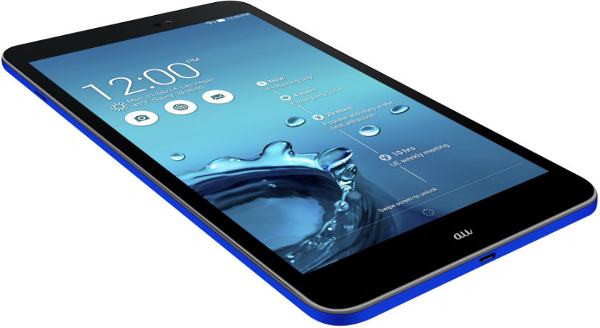 ASUS and KDDI Japan recently announced what appears to be the first Android tablet powered by a 64-bit processor. To top it all off, this processor is one of the latest 64-bit Silvermont cores from Intel and the tablet itself is a variation of the ASUS MeMo Pad 8. Now, there is already an ASUS MeMo Pad 8 tablet out in the market, but it is powered by a 1.6Ghz quad-core ARM-based processor. This new one announced for KDDI Japan offers some fairly interesting tech specs which include:
2.3GHz quad-core Intel Atom Z3580 Moorefield processor
2GB RAM
16GB storage + up to 64GB microSDXC
8-inch display (1920 x 1200 pixel resolution)
5MP rear camera + 1.3MP front camera
Supports 802.11ac WiFi, Bluetooth 4.0, 4G LTE, WiMax 2+, NFC
305g
4530 mAh battery
The overall design looks to be more or less the same as the current 8-inch ASUS MeMo Pad 8, but it appears to be running the current Android 4.3 based ZenUI. It will also come in metallic blue, pearl white and powder pink. So far, there are very few 64-bit Android apps out there that may take advantage of the processor but when they do come out, such applications could get a boost in performance by up to 44% over current 32-bit Android apps. So far, this new 64-bit ASUS MeMo Pad 8 is expected to be available in Japan for the month of August 2014 with no news on Malaysia release dates or pricing. We'd be thrilled if it does make it and ASUS Malaysia does it soon, but the tech specs indicate that it could be higher priced than current ASUS MeMo Pad 8 which retails for around RM500 to RM700.
[Source]