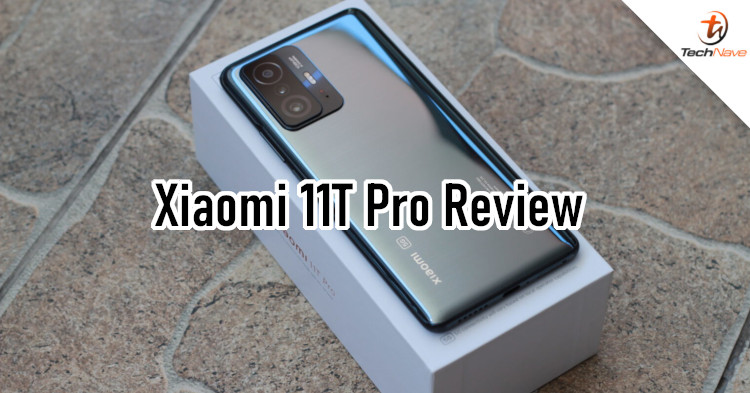 The Xiaomi 11T series got its global reveal back in September 2021 but only arrived in Malaysia recently. It comes in two models - Xiaomi 11T and Xiaomi 11T Pro - and has a different design from the Xiaomi 11 series. Both models differ in tech specs, prices and market positioning but today, we'll be taking a look at the Xiaomi 11T Pro. Priced at RM2099, will this be another super cost-effective flagship-class smartphone? Well, read our review below to find out!
Design - A large screen that can also be operated with one hand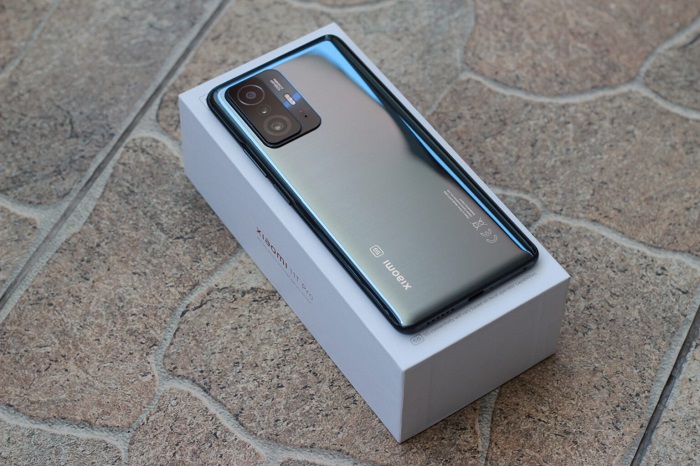 Xiaomi 11T Pro back cover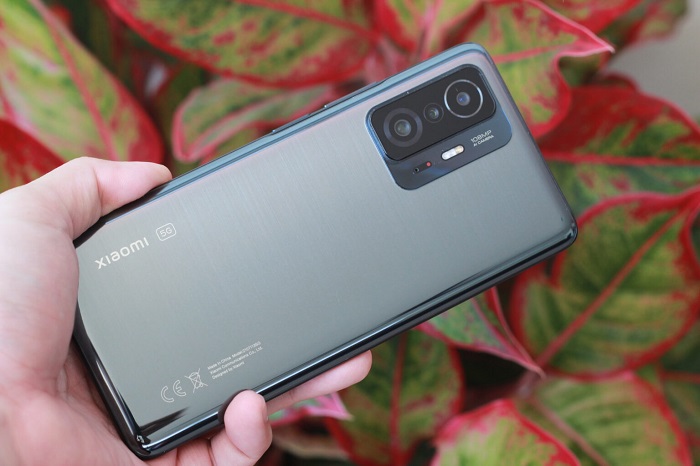 It has a very metallic back design
The notable difference between the Xiaomi 11T Pro and Xiaomi 10T Pro is the rear camera module. If you pay attention, you'll notice that all the Xiaomi 11-based variants have a similar aesthetic. It's not the most refreshing design, but it will turn heads and make people recognise that it's a Xiaomi phone.
There are three colourways for the new phone, and the one we got is a grey colour with a metallic shine to it. It's very low-key but reflects light from various angles, giving it that bit of style. The only drawback is the glass back, which attracts fingerprints easily, so using a phone case is recommended.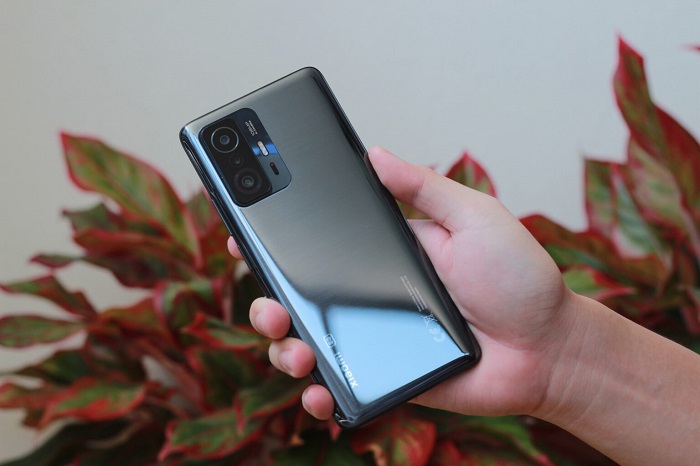 Feels good with one hand
The Xiaomi 11T Pro measures 164.1 x 76.9 x 8.8mm and weighs 204g. Although it's a bit heavy, this 6.7-inch phone has a good grip, thanks to the curved design. As a result, using this phone with one hand feels comfortable. However, it may be a little difficult for someone with a smaller palm.
Compared with the LCD screen of the previous generation Xiaomi 10T Pro, the Xiaomi 11T Pro is equipped with a 6.67-inch FHD+ AMOLED display. It supports a 120Hz refresh rate, 480Hz touch sampling rate, Dolby Vision technology, P3 Wide colour gamut, HDR10+, DisplayMate A+, and more.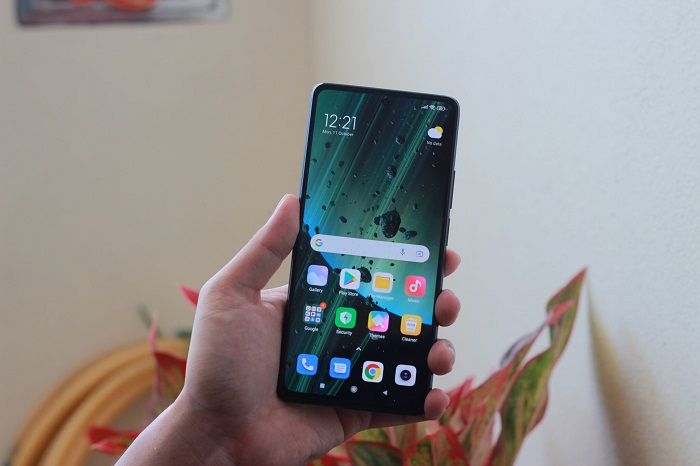 6.67 inch equipped with FHD+ AMOLED screen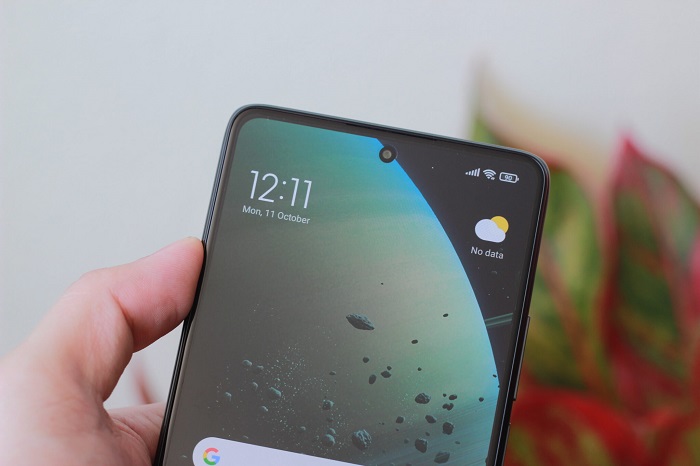 Looks clear even under sunlight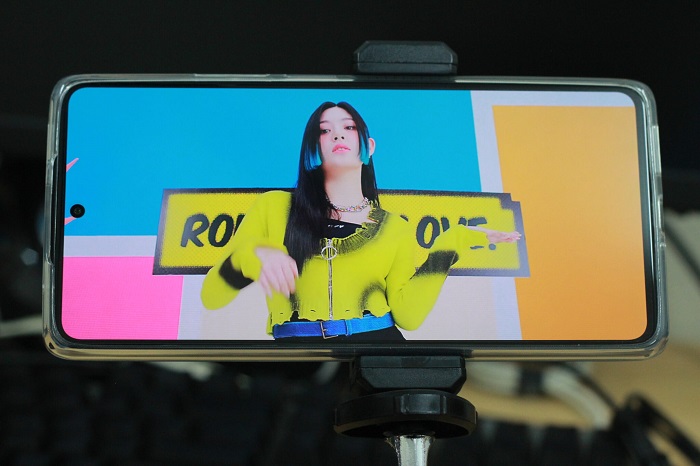 The colours look beautiful and natural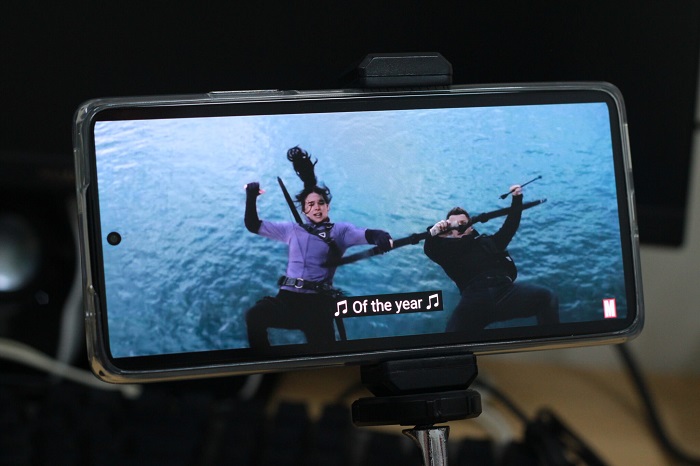 Its audio has a slight virtual surround sound effect thanks to the Harman Kardon speakers
In terms of visual quality, the Xiaomi 11T Pro is quite good. Its display is bright, delivers stunning detail, and the colour and contrast are excellent. As for the audio, its Harman Kardon certified Dolby Atmos stereo dual-speakers output outstanding sound quality for music and movies. Compared with the previous generation, that's quite impressive.
A 120Hz refresh rate is already standard on flagship models, which is why the Xiaomi 11T Pro supports both 60Hz and 120Hz. Unfortunately, it does not support automatic switching, so you have to manually pick one. Of course, 120Hz will consume more power.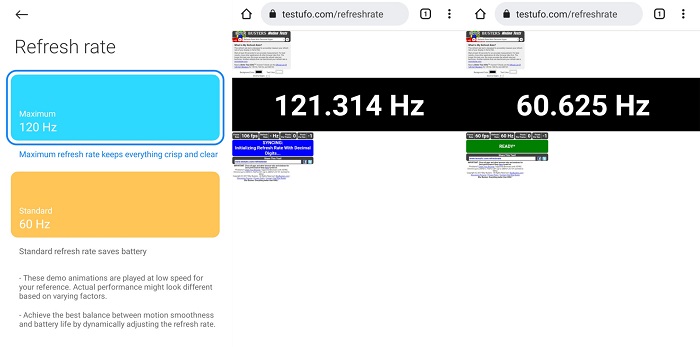 Supports up to 120Hz refresh rate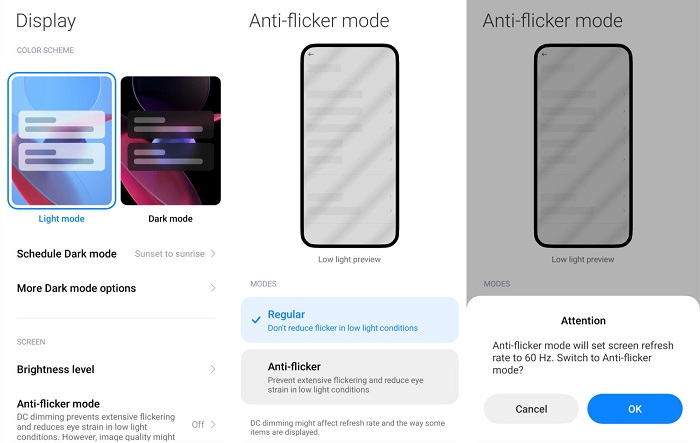 Anti-flicker mode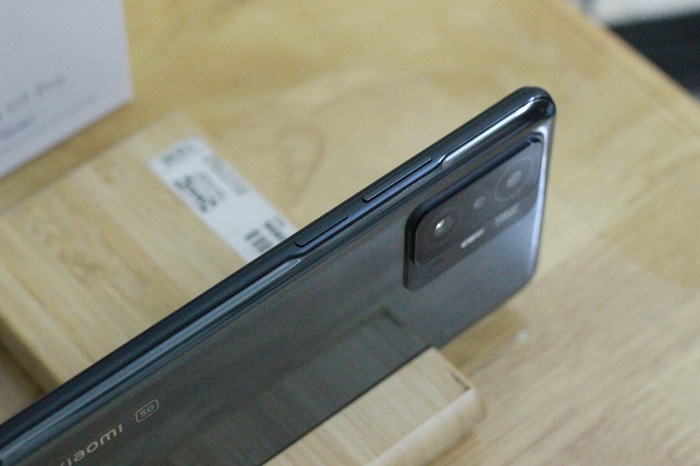 Volume button and power button (side-mounted fingerprint sensor)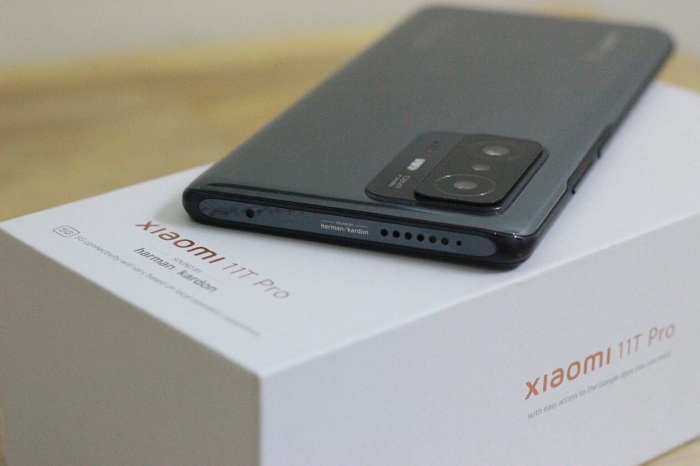 Top - One of the Harman Kardon speakers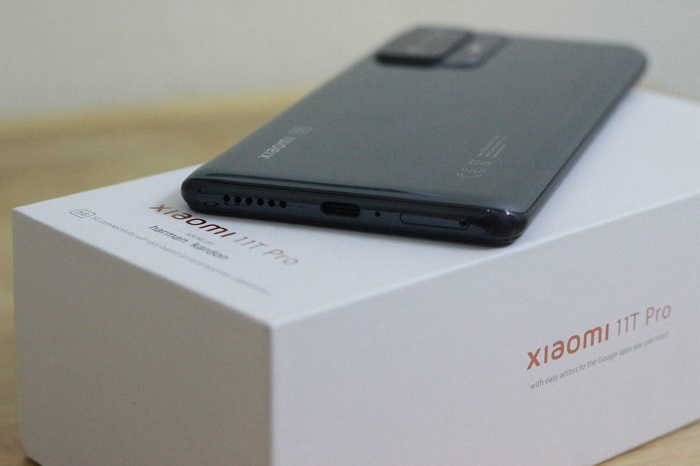 Bottom - Type-C connector, the other Harman Kardon speaker, and SIM card tray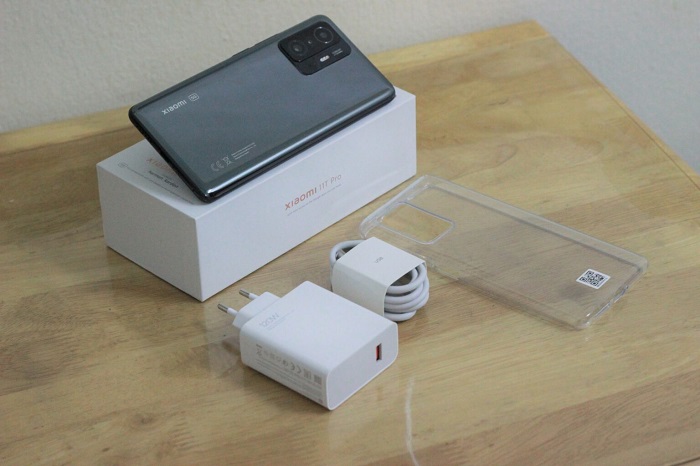 Everything inside the packaging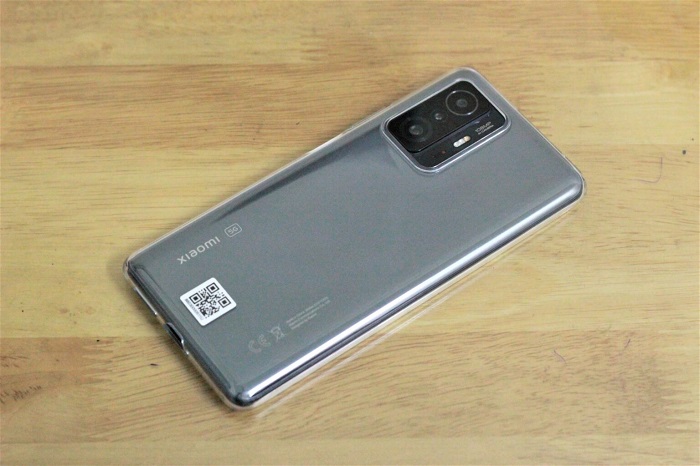 A transparent phone case was included

This phone also has a built-in anti-flicker mode, which is handy in dark rooms for reducing visual fatigue. But it should be noted that the refresh rate drops to 60Hz if this mode is enabled.
Tech specs & features - Everything a flagship should have
Here are all the specs for the Xiaomi 11T Pro:
Qualcomm Snapdragon 888 chipset
8/12GB of RAM
256GB internal storage
6.67-inch FHD+ AMOLED - 120Hz refresh rate & 480Hz touch sampling rate
108MP wide-angle (F1.8) + 8MP ultra wide-angle(F2.2) + 5MP wide-angle (telephoto macro) triple-camera
16MP selfie camera (F2.5)
Measures 164.1 x 76.9 x 8.8mm, weighs 204g
Supports 5G, Wi-Fi 802.11 a/b/g/n/ac/6 2.4G+5GHz, 2x Nano-SIM, Bluetooth 5.2, NFC, GPS
Features Harman Kardon speakers, side-mounted fingerprint sensor, Face recognition
5000mAh battery (120W fast charging)
Android 11 + MIUI 12.5
Available in Meteorite Gray, Moonlight White, Celestial Blue
The Xiaomi 11T Pro uses Qualcomm's Snapdragon 888 chipset. As the top flagship chipset for 2021, there's no denying its level of performance. The phone runs smoothly in every scenario and has no problems handling demanding 3D mobile games.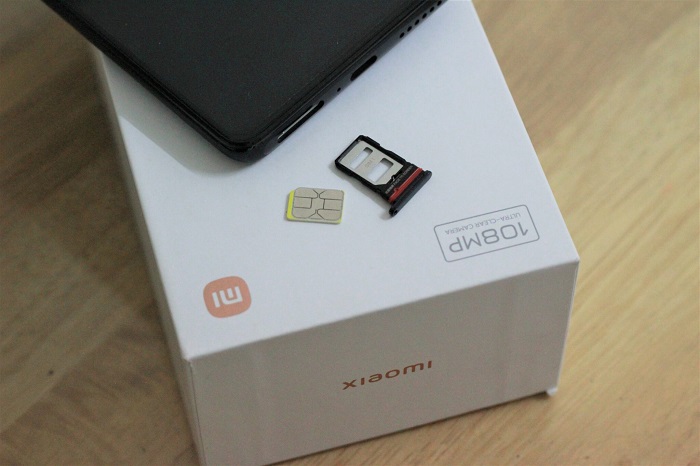 Supports dual-SIM, but no microSD slot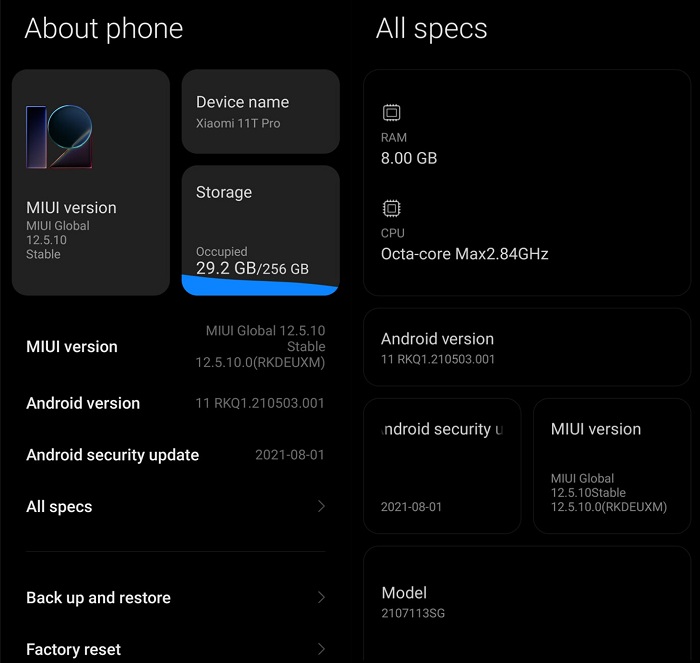 In terms of RAM and storage capacity, there are two options available. The first one has 8GB RAM with 128GB of storage, while the other has 12GB RAM and 256GB of storage. There's no microSD support, but even 128GB should be enough for most users. If that's not enough, go for the 256GB variant to store your large photos/video files.
In terms of cameras, the Xiaomi 11T Pro has a triple camera setup at the rear. It consists of a 108MP main camera, 8MP 120° ultrawide-angle lens, and 5MP telephoto/macro lens. On the front, you get a 16MP camera with support for night mode selfies.
Rear cameras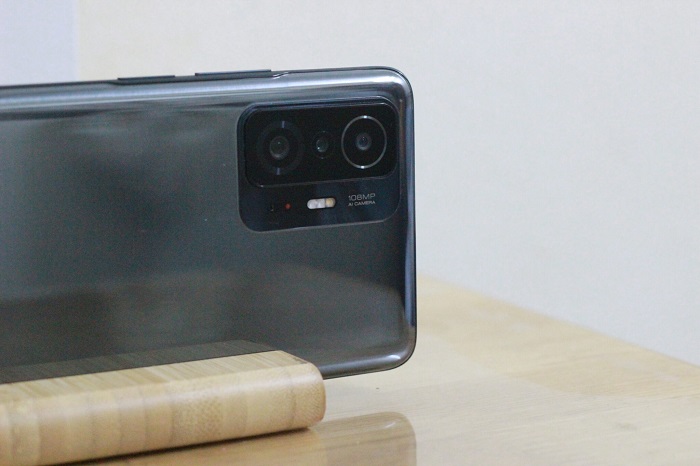 The main camera is 108MP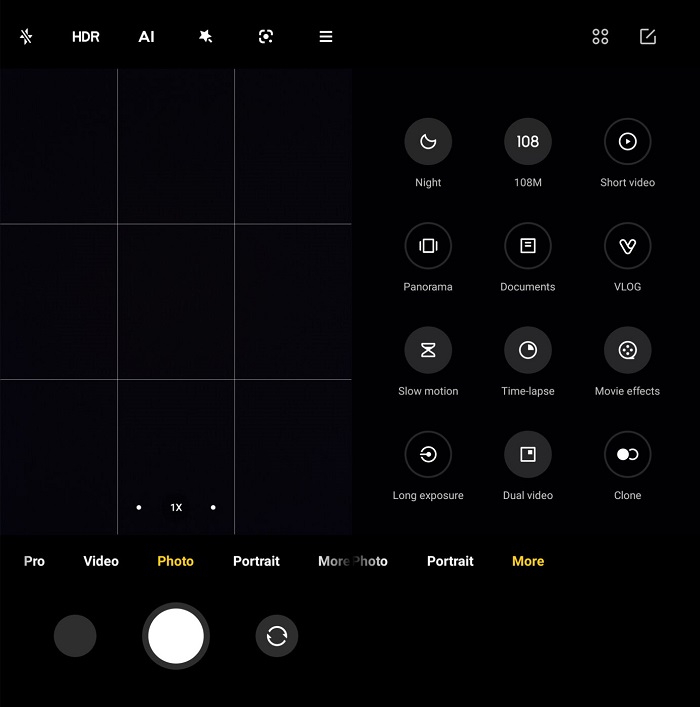 Camera UI
Next, let's take a look at the camera software. The camera UI of the Xiaomi 11T Pro is quite comprehensive and can support a variety of modes. It also has movie mode functions like one-click AI movie mode, 8K recording, HDR10+, and Audio Zoom. Moreover, it lets you use a smart ISO feature when capturing video footage.
Performance - Absolutely flagship-class
In GeekBench 5, the Xiaomi 11T Pro managed 774 points in the single-core test and 3012 points in the multi-core test. The results are similar to the Samsung Galaxy Note20 Ultra, which means that its performance is on par. As for graphics performance, the phone was tested with the new 3DMark Wild Life test and scored 5653 points, which is considered high-tier performance. Overall, Xiaomi 11T Pro's running scores show that its performance is as good as many other flagship phones.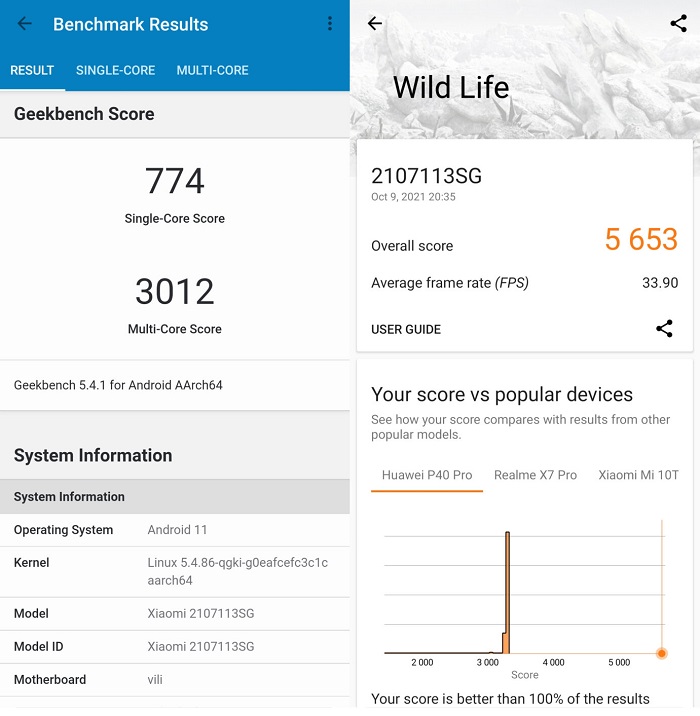 Geekbench + 3DMark performance
Performance in mobile games is important these days, and we're glad to say that the Xiaomi 11T Pro did well here too. The Xiaomi 11T Pro can even play games with high requirements like PUBG Mobile and Genshin Impact on high-quality settings. These games can also be played with the high refresh rate enabled. Moreover, we didn't encounter any lag or loss of image quality when playing games.
As for heat, Xiaomi 11T Pro is not noticeably hot during general usage scenarios. It was also okay for the first 10 minutes of running Genshin Impact. After that, it starts getting warmer, especially under the rear camera module. The temperature is very noticeable after 30 minutes of gaming, but not to the point of being concerning.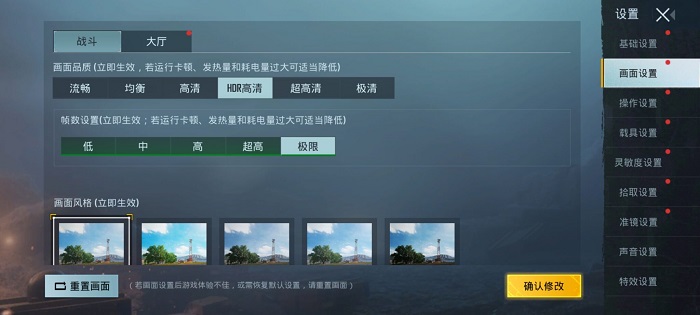 PUBG Mobile graphics settings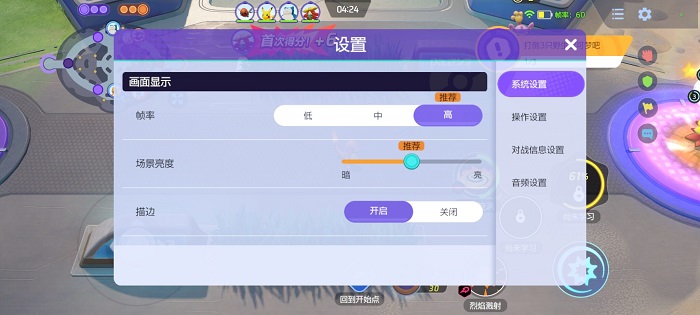 Pokemon Unite graphics settings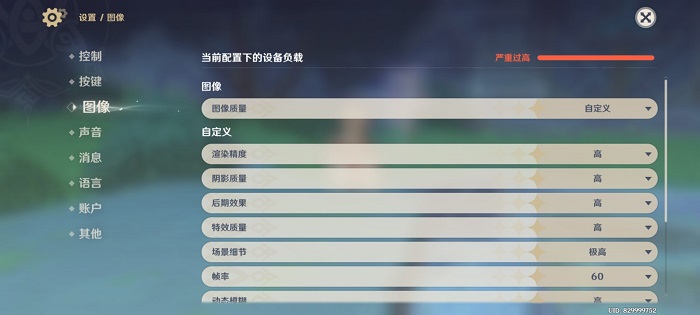 Genshin Impact graphics settings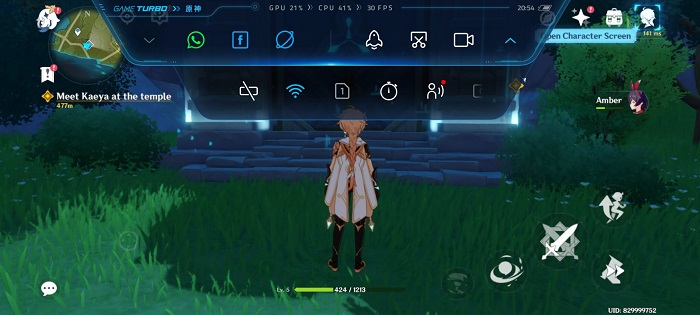 Most of the game assistant's functions are the same as those of other phones
It's also normal for the phone to get warm if you spend a long time taking pictures. But it's most obvious when you're trying to record videos, especially if movie lens mode is on. If you spend a long time recording, the app could hang, and you'd have to close it so it can cool down.
As for the battery life, the Xiaomi 11T Pro has a 5000mAh battery that only needs to be recharged every two days. Of course, this depends on your usage. If you like to browse social media often and watch many YouTube videos, you need to charge at least once a day.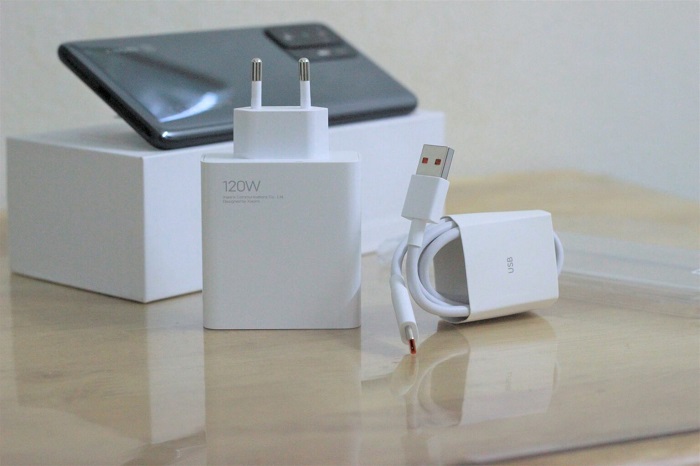 120W charger + USB charging cable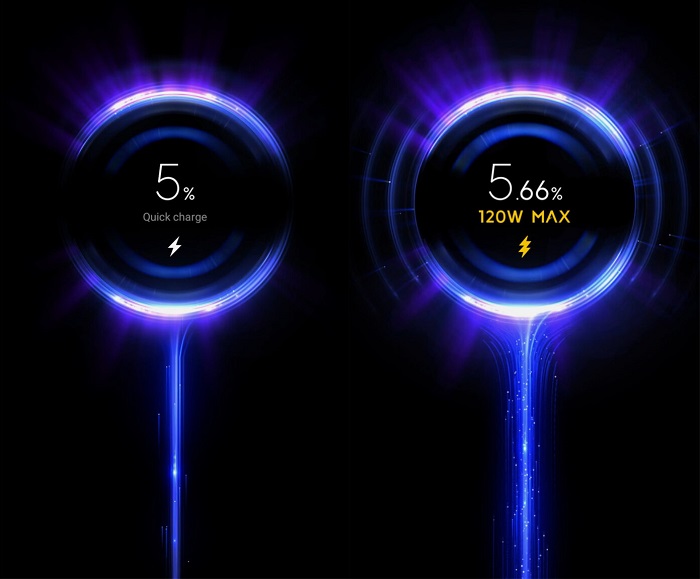 When using a 120W charger, a unique charging animation will be displayed
This phone also supports 120W Xiaomi HyperCharge, which is currently the fastest charging tech in the industry. Xiaomi claims that it can fully recharge the phone in 17 minutes, while 10 minutes of charging is enough for 7 hours of video or 2 hours of 1080p video recording.
Based on our writer's tests, it took 22 minutes to charge from 5% to 100%, and it can charge 35% in 5 minutes. It's without a doubt the fastest charging speed among the mobile phones that we've reviewed so far. You will need a compatible USB-C cable with the provided 120W charger to use the Xiaomi 120W HyperCharge. While fast charging from 5% to 50%, the Xiaomi 11T Pro was not notably warm. The temperature rose quickly from 60% to 80%, but overall it's not to the point of being scalding hot.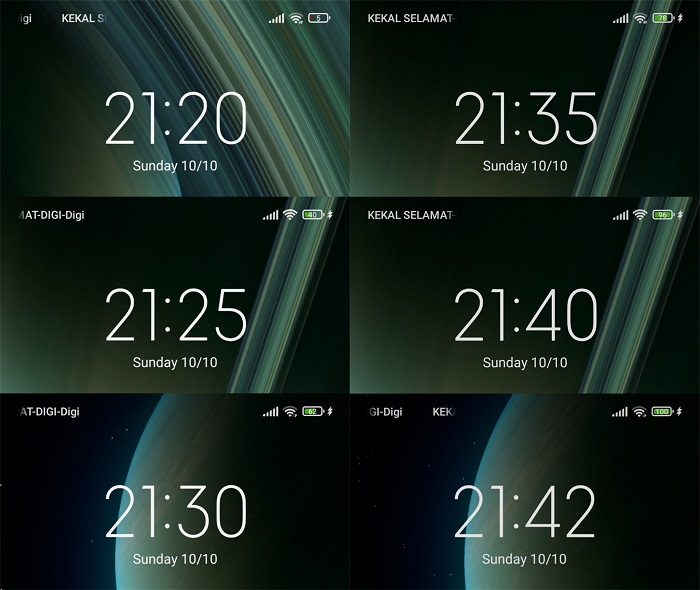 30% in 5 minutes and 100% in 20 minutes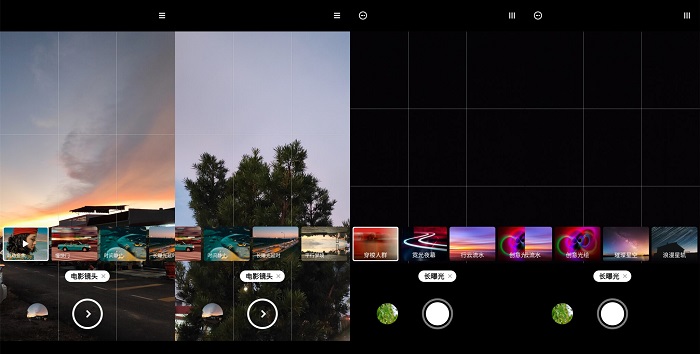 Movie lens (video); long exposure (photograph)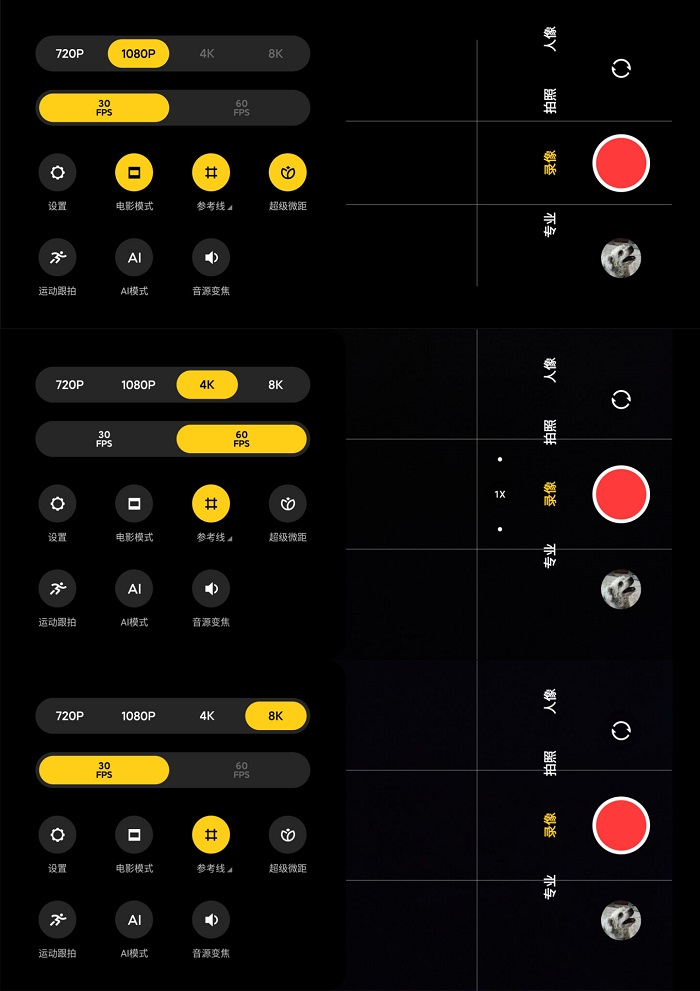 The features available for video recording
For photography, this phone has a 108MP main camera and a 16 MP selfie lens. It's the same camera setup you'd get with flagship phones, so it does just as well for low-light or macro shots. Other features include movie effects and the long exposure mode, which is handy if you like shooting light trails.
As for video recording, the Xiaomi 11T Pro can record up to 8K videos at 30FPS or 4K at 60FPS. In addition to taking pictures, you can choose the movie mode to shoot a video with a cinematic feel. For a taste of what it can do, check our photos and videos below!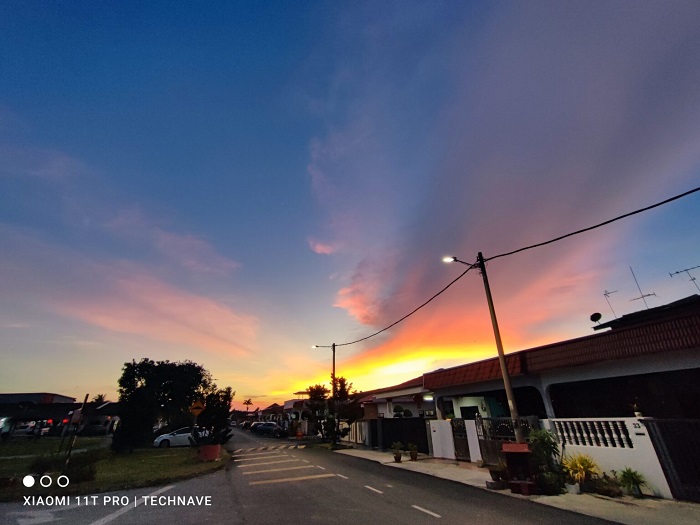 Ultrawide mode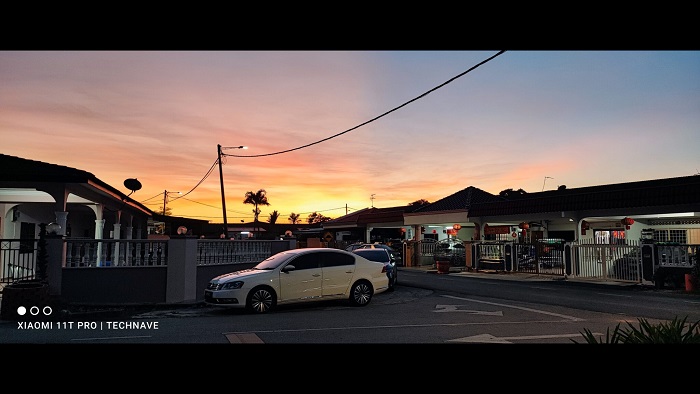 You can also take pictures in Movie mode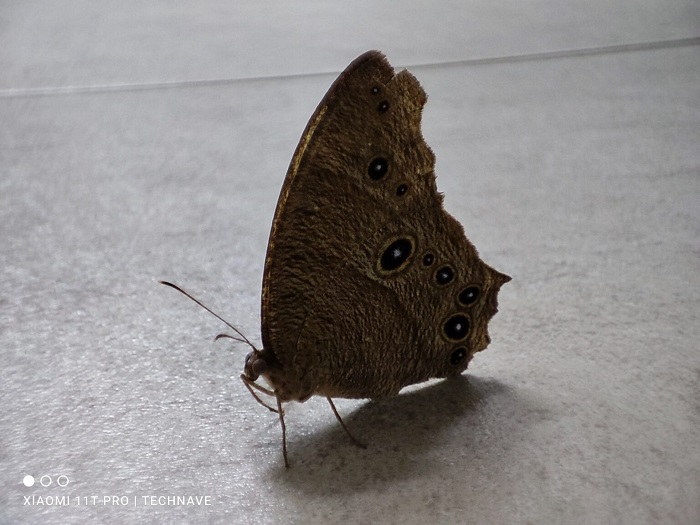 Super macro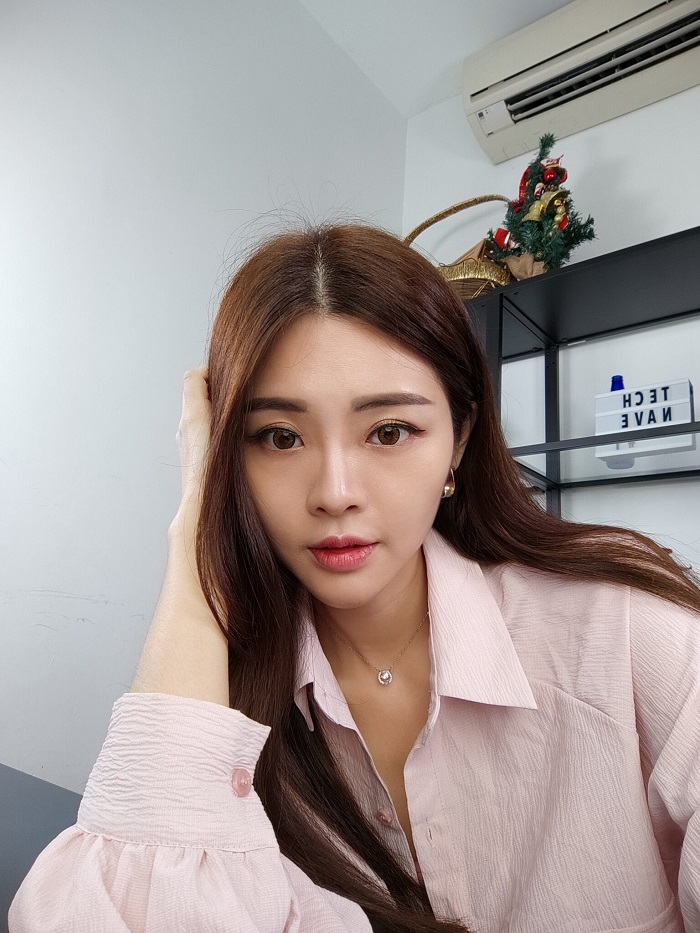 Selfie photo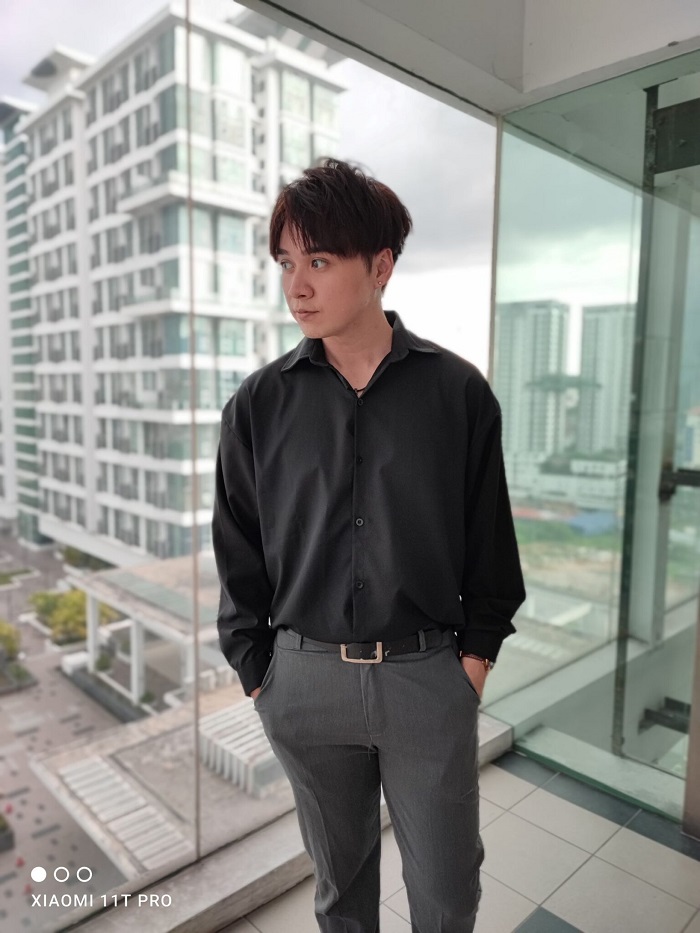 Selfie photo in portrait mode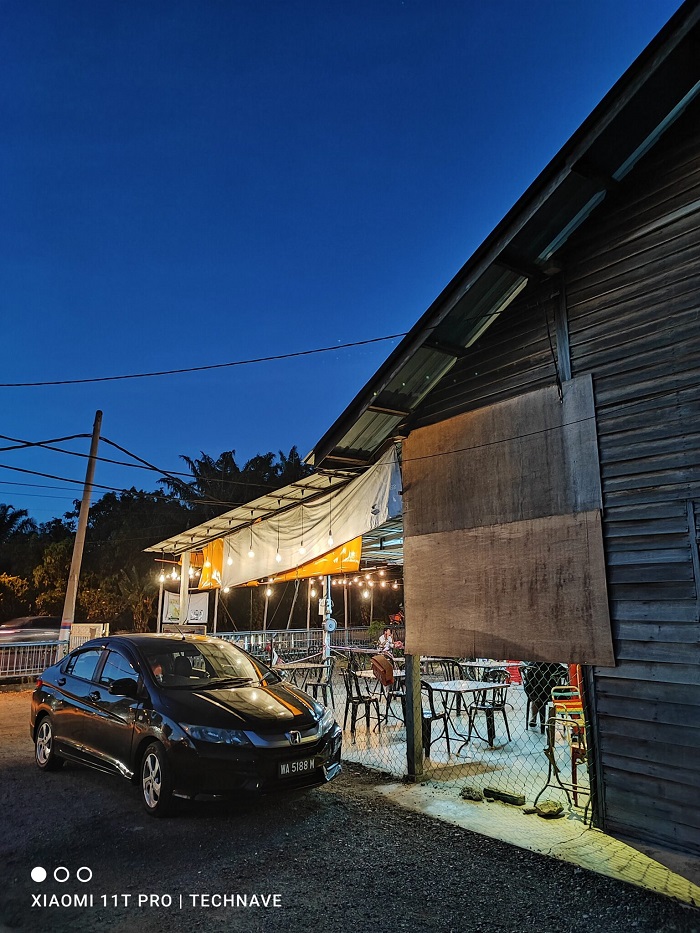 Night mode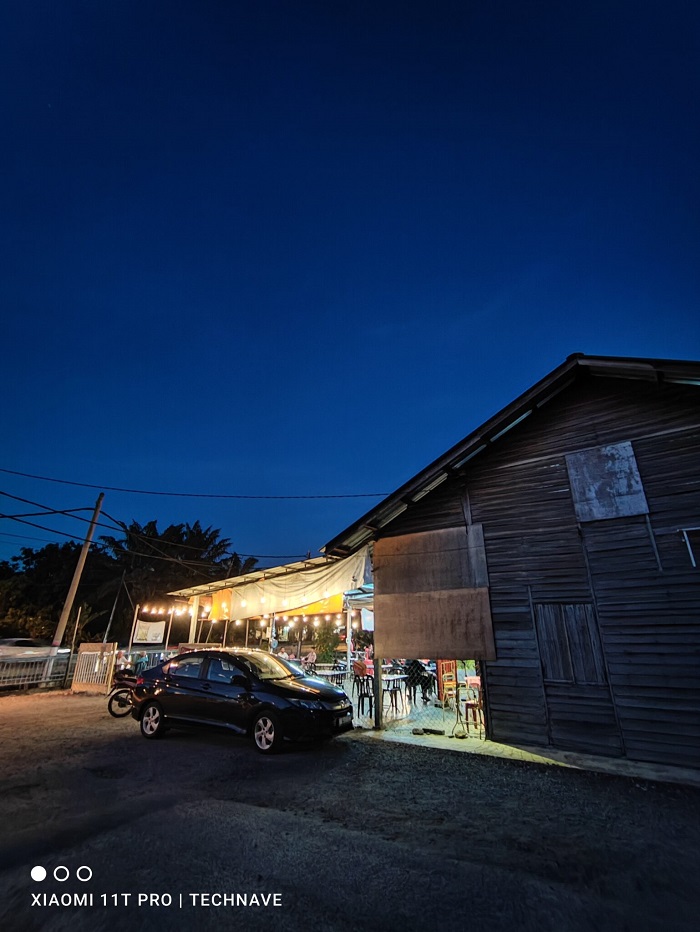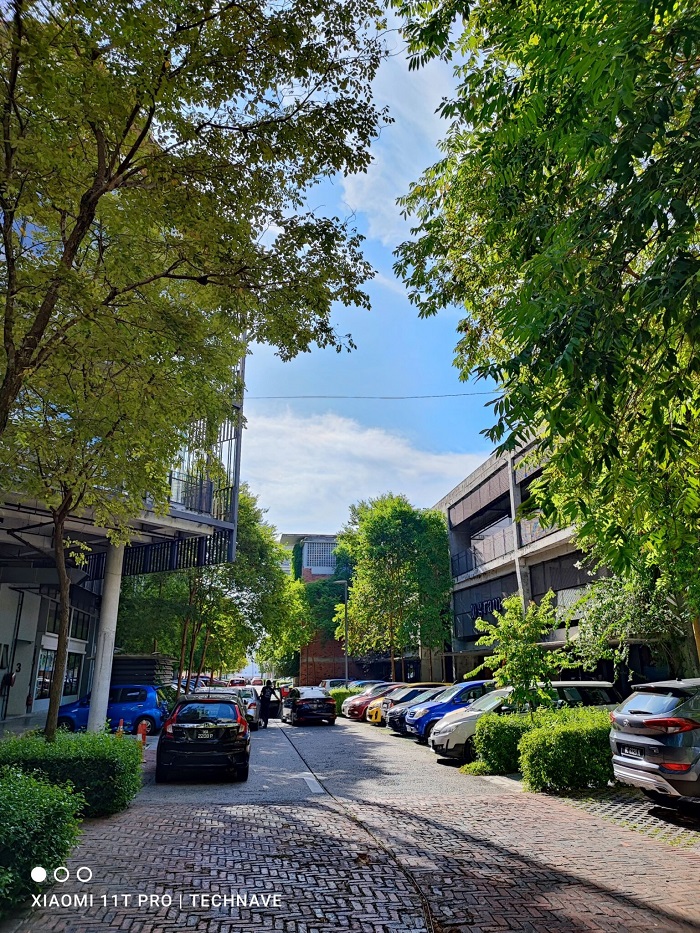 Auto mode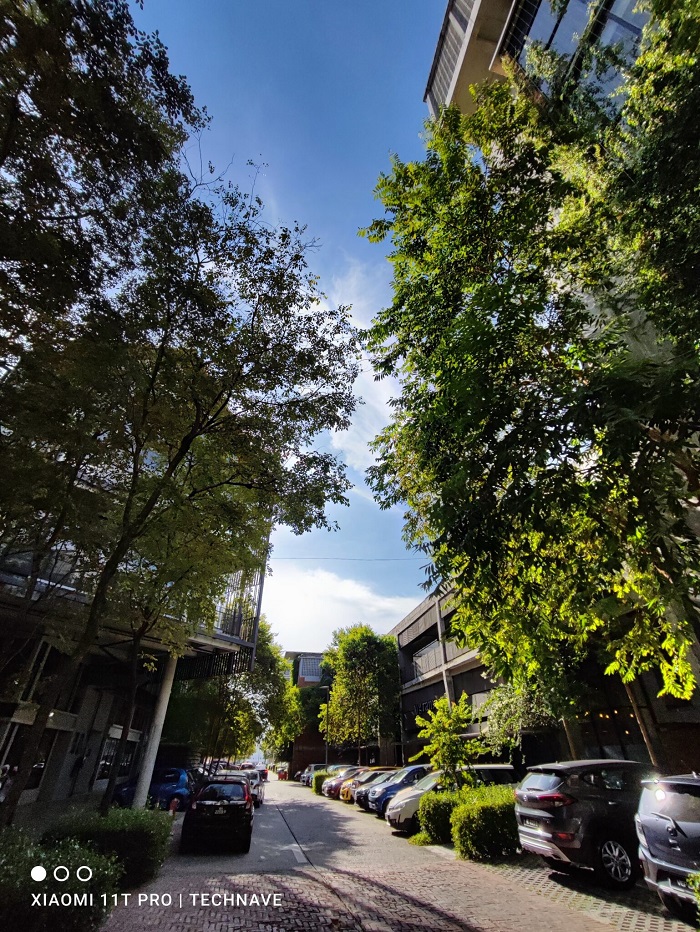 Ultrawide mode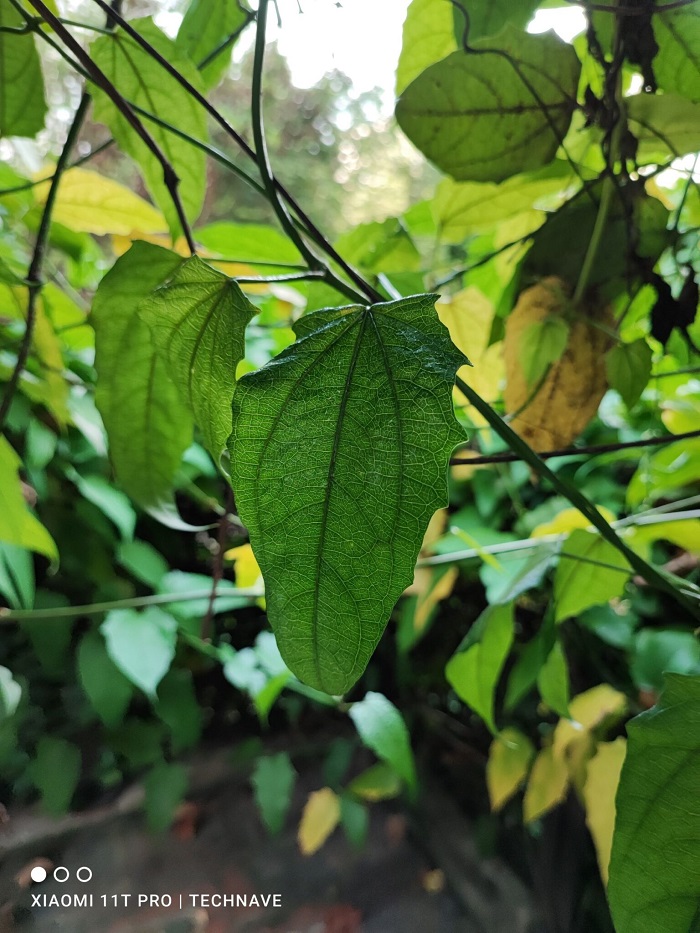 108MP mode
Long exposure mode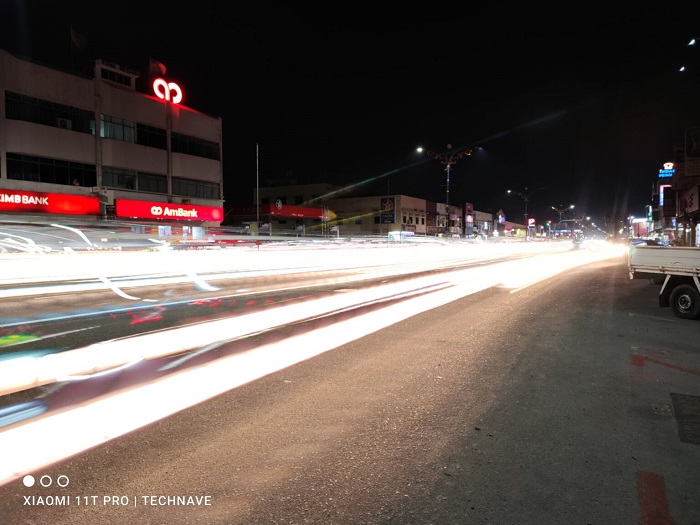 Another long exposure shot, look at the light trails!
Sliding zoom
Slow-motion
Slow shutter
Movie lens - Parallel Dreamland
Conclusion - Affordable flagship with the right compromise
In our writer's opinion, the Xiaomi 11T Pro can be categorised as a cost-effective flagship. At the price of RM2099, its fast performance and powerful specs make it worth recommending to most users. What's most impressive is the 120W fast charging, which can fully charge the phone in less than 20 minutes, saving you a lot of time.
Close competitors for this model would include the realme GT Neo 2, which is slightly cheaper at RM1999 and has more stylish colours. However, it uses a slightly weaker Snapdragon 870 and a lower resolution camera. Most other phones are either significantly more expensive or don't have specs anywhere near as good in this price range, so we won't recommend those.
The Xiaomi 11T Pro is suitable for those who like to take photos and play mobile games. Of course, it does come with trade-offs like a lack of water/dust resistance and no support for wireless charging. But if you have a lower budget, the Xiaomi 11T Pro can be an excellent choice. After all, there aren't as many Snapdragon 888-powered phones that are as affordable.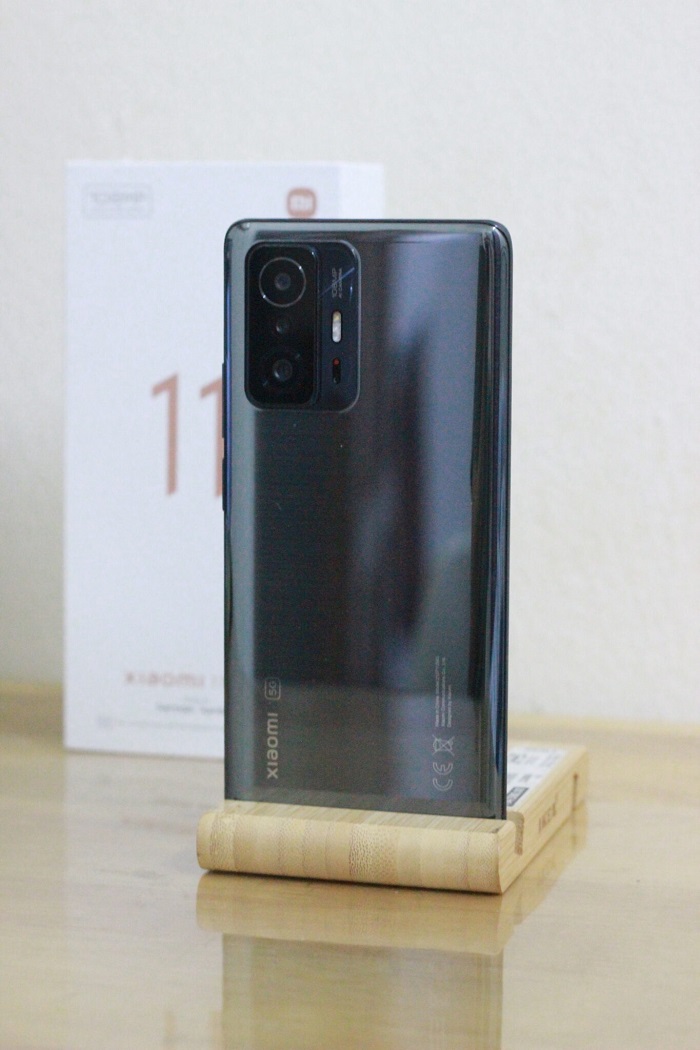 Well, that's our review on the Xiaomi 11T Pro 5G! Let us know what you think, and for more reviews like this, stay tuned to TechNave.