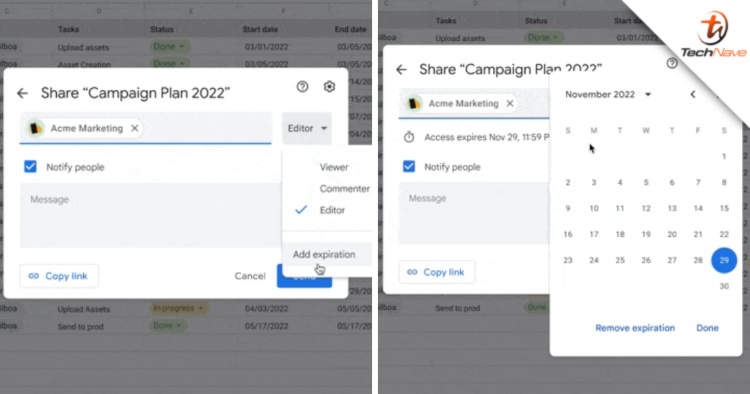 Google has recently announced an update to the sharing feature on Google Drive which is aimed to make sharing across Google Workspace more secure. Revealed in an official blog post, users can now set expiring access when sharing files in My Drive.
Furthermore, the update improves the existing expiring access capabilities by allowing users to add an expiration when sharing, as opposed to after a person already has access to the file. Besides that, there is also expiring access for editors, as opposed to just for viewers and commenters.
Google said that this makes it easier to specify when a given collaborator should lose access to a specific file, which is useful in cases where a file creator or editor knows their collaboration with another person is time-bound. Moreover, with this new security feature, users don't have to clean up a file's access control list after the collaboration has ended.
However, do note that this feature is not available to users with personal Google Accounts, but is only accessible for Google Workspace Business Standard, Business Plus, Enterprise Essentials, Enterprise Standard, Enterprise Plus, Education Plus, Education Standard, and Nonprofits customers. The feature should finish its global rollout before 15 November 2022, with it being available on My Drive on Android by the end of November.
So, what do you guys think of this change? Share your thoughts with us in the comments below and stay tuned to TechNave for more trending tech news such as this!