YouTube Malaysia's 1st Virtual Hari Sukan with Pesta Game 2021 postponed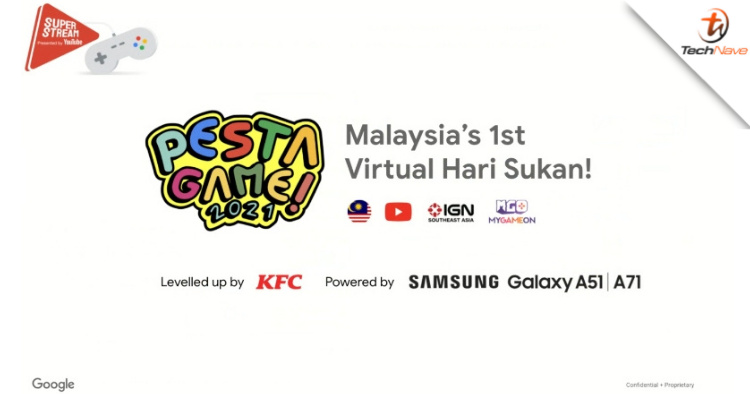 YouTube Malaysia recently announced that they'll be streaming "Malaysia's 1st Virtual Hari Sukan" with Pesta Game 2021 on 30 January 2021 and 31 January 2021. The virtual online event will see participants of Rumah A, Rumah B and Rumah C compete against each other with Malaysia's most trendiest video games. YouTube Malaysia will be partnering with MyGameOn, IGN Southeast Asia, KFC and powered by the Samsung Galaxy A51 and A71. Update: It's been postponed. See below for the complete statement.
The virtual online event will be streamed live on various Malaysian YouTube channels including Media Prima's Drama Sangat, NTV7, TV3 and TV9 channels. Individual channels of creators participating in the games such as Athisha Khan, Dumpling Soda, Fuzz Channel, Isaac Osman, Syedot ASMR, and Wiser MY will also be involved. Viewers can also stand a chance to win amazing prizes during the live streams, or even join their favorite creators in-game.
From the infographics below, there will be a number of games to choose from including PUBG Mobile, Valorant and Gran Turismo, but the full official list has yet to be revealed. So, if you're not doing anything on that weekend, then you could perhaps drop by and win a game or two or just watch as your favourite YouTubers game it out. For more details, check it out at their respective YouTube channels or the Google Malaysia Twitter.
Update:

Due to instruction from the relevant authorities, Pesta Game, originally slated for January 30th and 31st, has unfortunately been postponed till further notice. After close consultation with our partners MyGameOn and IGN Southeast Asia, we agree that this is the safest decision to take.

We apologize for any inconvenience - we did not foresee such instruction at this stage of the planning process. Having spent the last few months preparing for the event with our participating YouTube creators and event partners, we are just as disappointed as you must be to not have a weekend of fun gaming to help Malaysians cope with extended life at home.

We want to thank our partners, content creators and members of the press for the continued support and understanding. As mentioned in our press release, we still fully intend for Pesta Game to deliver the spark of joy and positivity to light up your living rooms and mobile devices while you're staying home. We will continue to work with our partners to finalize this event at a new time and date as soon as possible. Stay tuned and stay safe.