YouTube Video Checkup - Maxis 4G LTE also delivers good HD video experience across all 14 states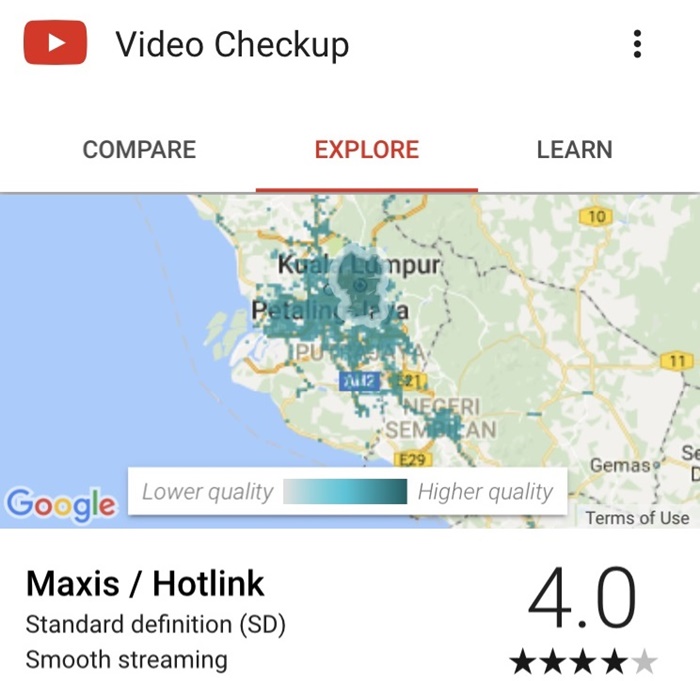 So according to YouTube's Video Checkup tool, Maxis has also emerged as one of the top telcos delivering consistent smooth HD video streaming in Malaysia, resulting top ratings for buffering speeds on Maxis 4G LTE across 14 states across the nation.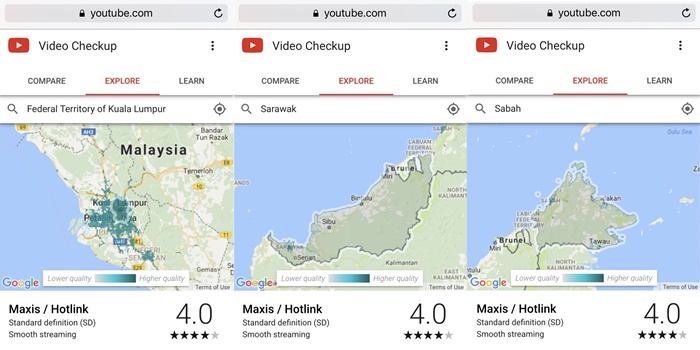 | Region | Maxis score |
| --- | --- |
| Nationwide | 4.0 |
| Perlis | 4.0 |
| Kedah | 4.0 |
| Penang | 4.0 |
| Perak | 4.0 |
| Selangor | 4.0 |
| Wilayah Perskutuan KL | 4.0 |
| Negeri Sembilan | 4.0 |
| Melaka | 4.0 |
| Johor | 4.0 |
| Kelantan | 4.0 |
| Terengganu | 4.0 |
| Pahang | 3.5 |
| Sabah | 4.0 |
| Sarawak | 4.0 |
YouTube Video Checkup results by states
Video Checkup was was officially launched last week in Malaysia only, providing all Malaysian YouTube users a rating system to different telcos in a specific area based on YouTube video playback quality, with 4.0 stars being the highest possible rating at this time, as 4.5+ stars are reserved for future technology that support higher bandwidth video such as Virtual Reality (VR) and 360-degree videos.
Morten Bangsgaard, Maxis' Chief Technology Officer stated, "We are glad that such a diagnostic tool has been launched. It provides transparency of different network experiences, and gives users a clear and reliable measure that comes from the aggregation of YouTube data that is gathered from actual user experience."
According to a statement released by Google, "Today, most viewers of YouTube in Malaysia primarily watch videos from their smartphones, with two thirds of Malaysia's YouTube watchtime coming from mobile devices. Much of this on-the-go watchtime comes from consumers using mobile data plans. The growth momentum for this trend looks strong, as mobile watchtime in Malaysia grew by 84% over this past year."
With this, the increased use of video has driven a growing demand for Maxis mobile data, which doubled from 1.5GB last year to 4.0GB per month in 2016. There was also a tremendous growth in the penetration of 4G-enabled devices, which increased to 43% of total Maxis subscribers in 2016. Maxis 4G traffic grew 7 times in 2016 mainly used for good quality video streaming.
To use the Video Checkup tool, follow the steps bellow:
Go to youtube.com/videocheckup
You'll find a simple site with three tabs, along with the following:
COMPARE: Enter your desired location. A list of operators in your area will appear, with their scores out of 5 stars. The scores represent the video streaming quality you can expect when you watch YouTube using a specific mobile provider in a specific area.
EXPLORE: A heat map of YouTube's playback experience on operator networks in your area.
LEARN: Explains the star ratings and terminology in more detail.
Maxis has also been voted Best Telco Provider & LTE Network by Lowyat.NET Community Choice Awards Malaysia for two consecutive years, and Best Network in 2016 by MCMC Wireless & Wired Broadband Services.
For more information, please visit: maxis.com.my.