While it's kinda unfortunate that we didn't get to see the honor 9 land in Malaysia officially, instead what we got was the honor 9 Lite from honor Malaysia. This is the company's first ever quad-camera device and for RM749 only, this is really a good bargain for a budget smartphone with a nice design. However, being a budget smartphone has its limitations as well. What limitations? Well, come on over to read more below if you want to know more.
Design - Very shiny for a budget-friendly phone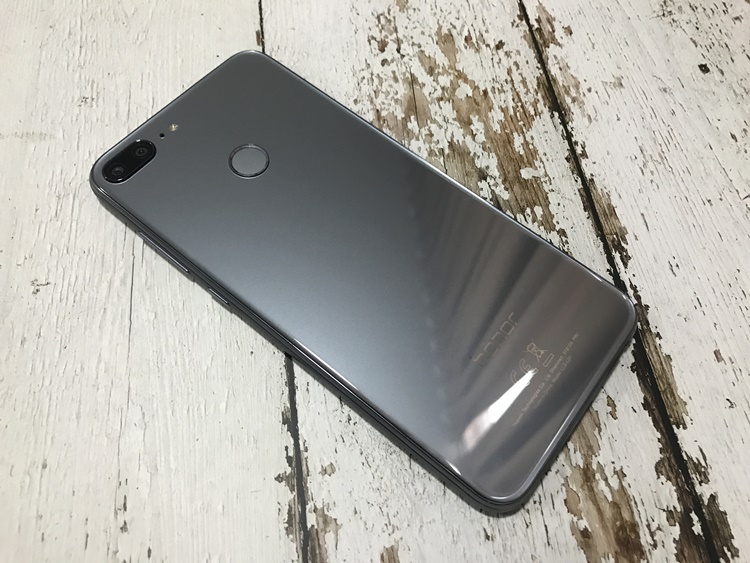 Probably the first highlight of the 9 Lite is obviously the design especially the back, where it comes with a shiny reflecting 2.5D glass that can act as your secondary mirror. The front uses glass too and the four sides are actually metal, despite looking like polycarbonate materials with nice curves. As always, your fingerprints will definitely smudge the back which is kinda annoying, but you can always put on a protective casing and there is already one provided inside the box.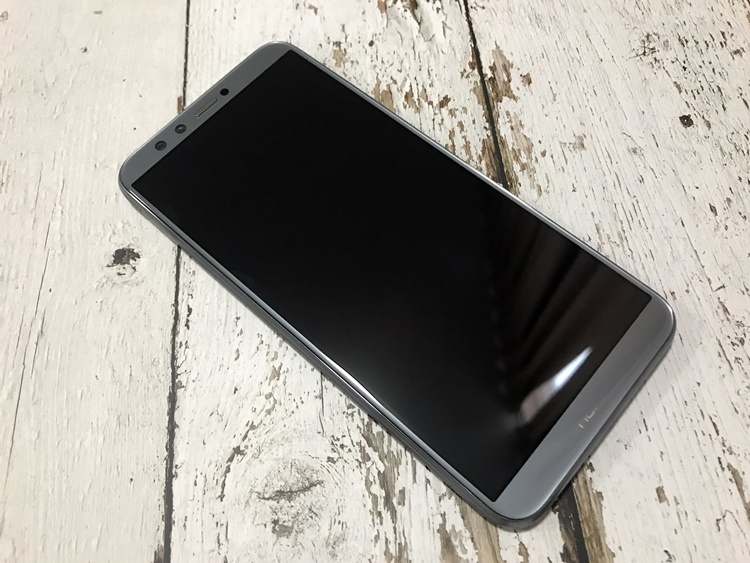 Other than that, the phone itself is incredibly lightweight. But please do handle it with care if you're the careless type. Sometimes, the phone can move by itself on an extremely smooth slanted surface if you're not careful and so you might want to slap on that casing quick if you haven't already.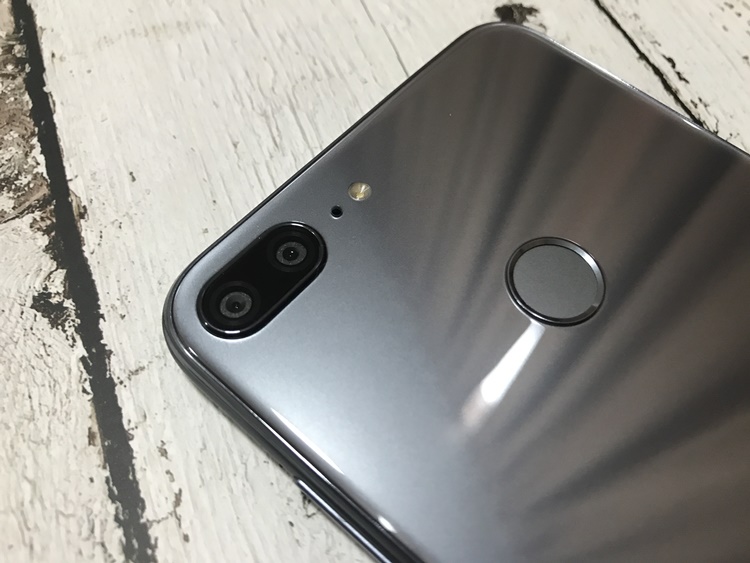 The dual rear camera on the back, the bump isn't so big so it's still ok. Also, there's the fingerprint sensor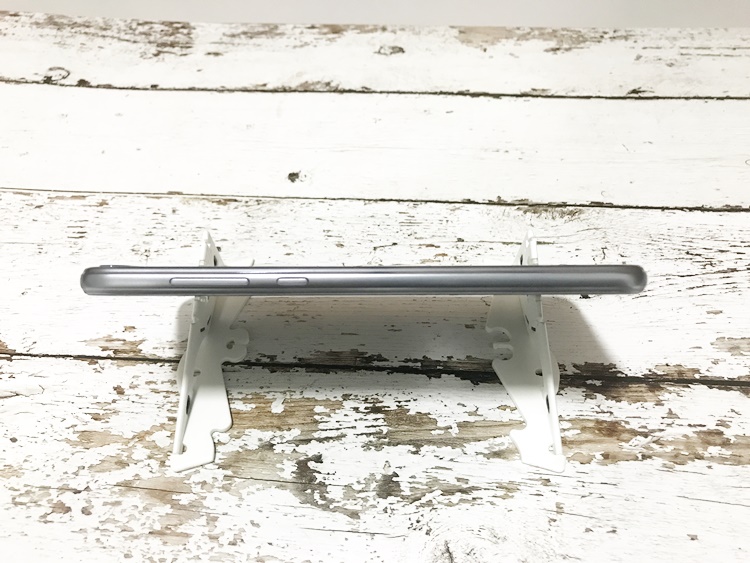 Measuring in 7.6mm thick only, its weight is also only a mere 149g!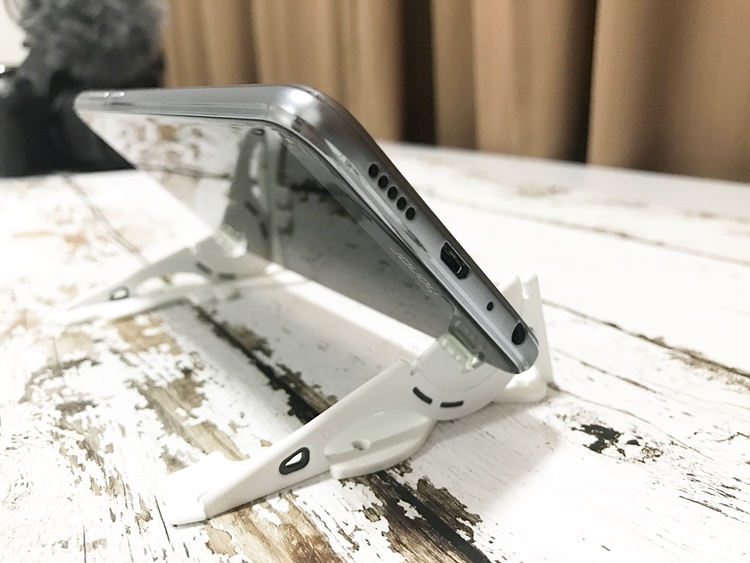 Wokay...still using microUSB port, along with the speaker grill and headphone jack. The top is clean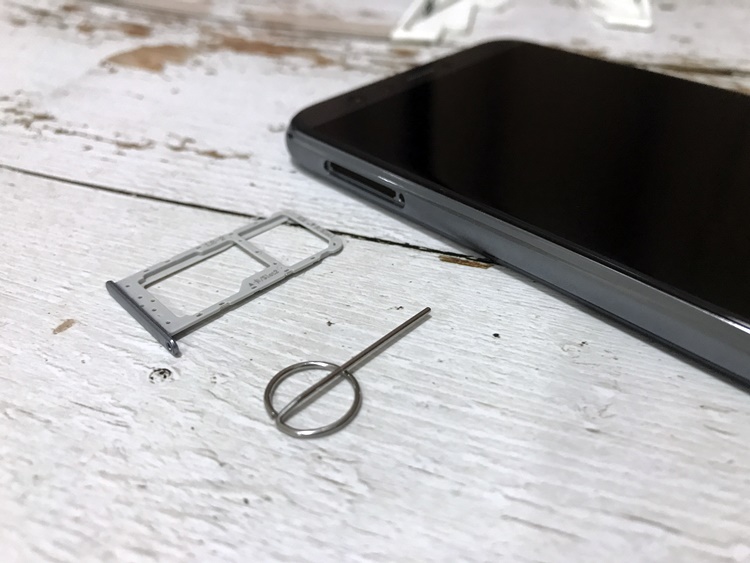 Hybrid dual SIM slot
Tech-Specs and features - Nothing much to see here
Here are the specifications for the honor 9 Lite: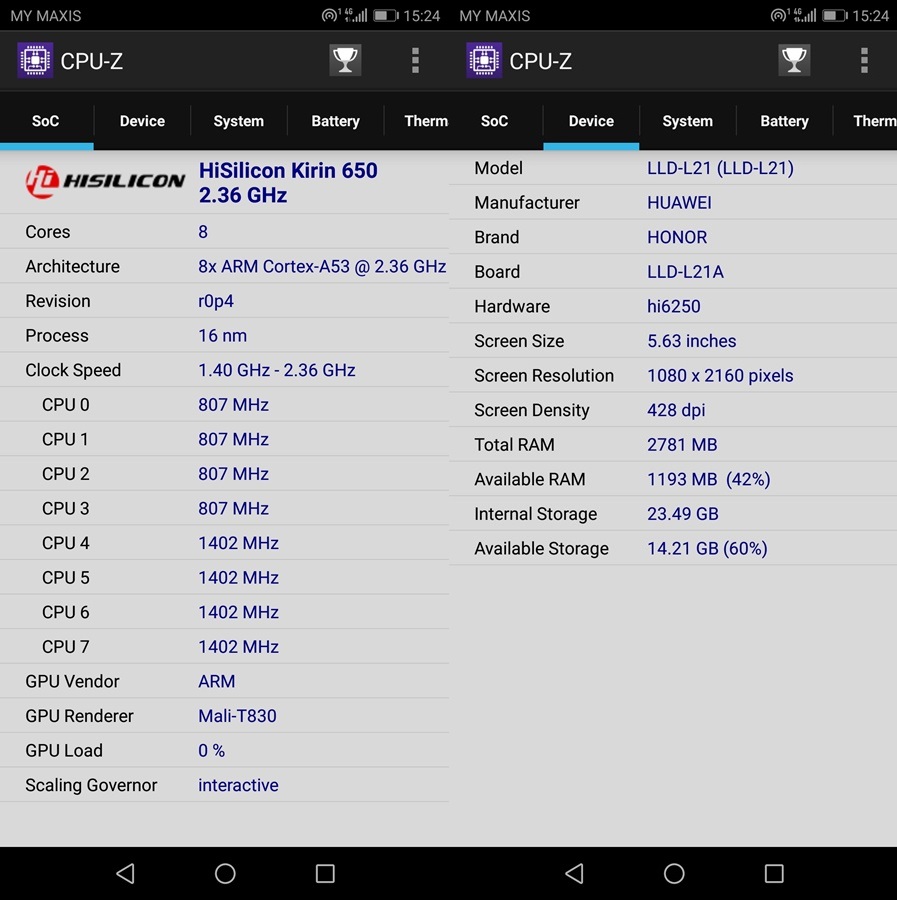 Kirin 659 chipset (2.36 GHz octa-core processor)
3GB of RAM
32GB of internal storage (expandable memory available up to 256GB)
Measures 151 x 71.9 x 7.6mm, weighs 149g
5.65-inch IPS LCD display (Full HD+, 2160 x 1080, 18:9 aspect ratio)
13MP + 2MP dual rear camera, 13MP + 2MP dual front camera
Features fingerprint scanner, face unlock (update coming soon), power saving mode, Portrait Mode, Picture-In-Picture mode, Split mode, App Twin
Supports 4G VoLTE, Wi-Fi, 4.2 Bluetooth, microUSB USB 2.0 connectivity
EMUI 8.0 based on Android 8.0 Oreo
3000mAh
As a budget-friendly device, there's nothing really to expect much from the tech-specs and features. Even though there's an octa-core Kirin 659 chipset on board with 2.36GHz, this is not really a phone that can be used for intense gaming. What's more, the RAM is an acceptable 3GB while it's 32GB internal storage with expandable memory is a nice touch for a phone in this range. The display resolution is nice as well, allowing a 1080p viewing experience and of course, a pair of cameras for each side.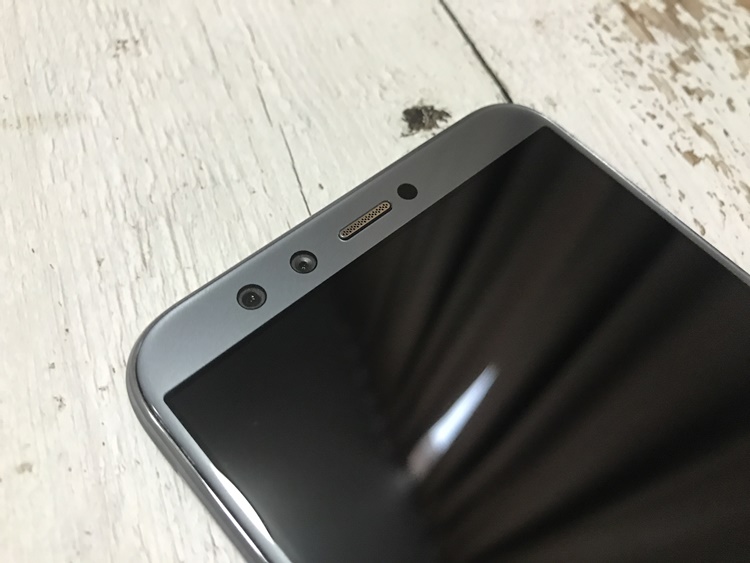 The front has dual cameras too
Speaking of cameras, like most budget-friendly devices with dual cameras, the secondary 2MP camera is there to assist you to create a bokeh effect in the background. Portrait Mode is available for the front and back but similar to the honor 7X, there's actually very minimal usage of the bokeh effect for the primary camera as there isn't much difference in the image result. So, just a pro-tip for your photography, you're probably better off with Portrait Mode turned off at all times so that your image resolution won't drop to 8MP. This doesn't apply to selfie mode, as even if you use Portrait Mode, the resolution doesn't drop.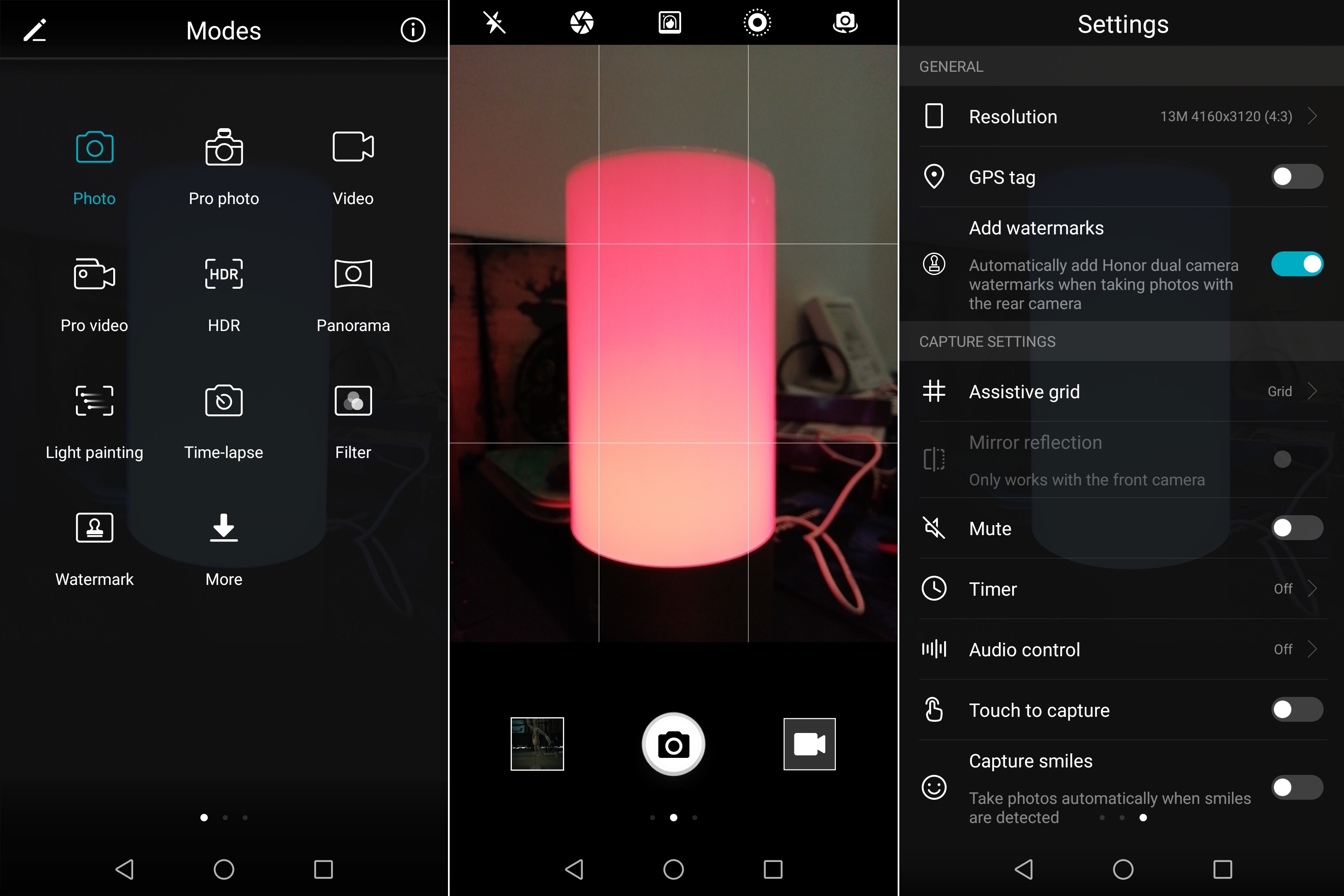 The familiar camera user interface by honor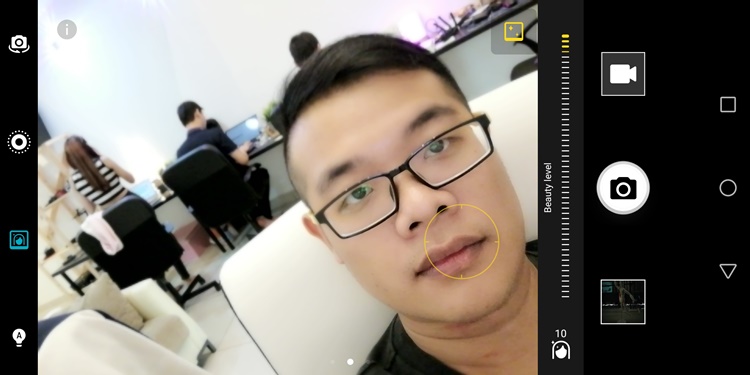 The selfie user interface, no changes here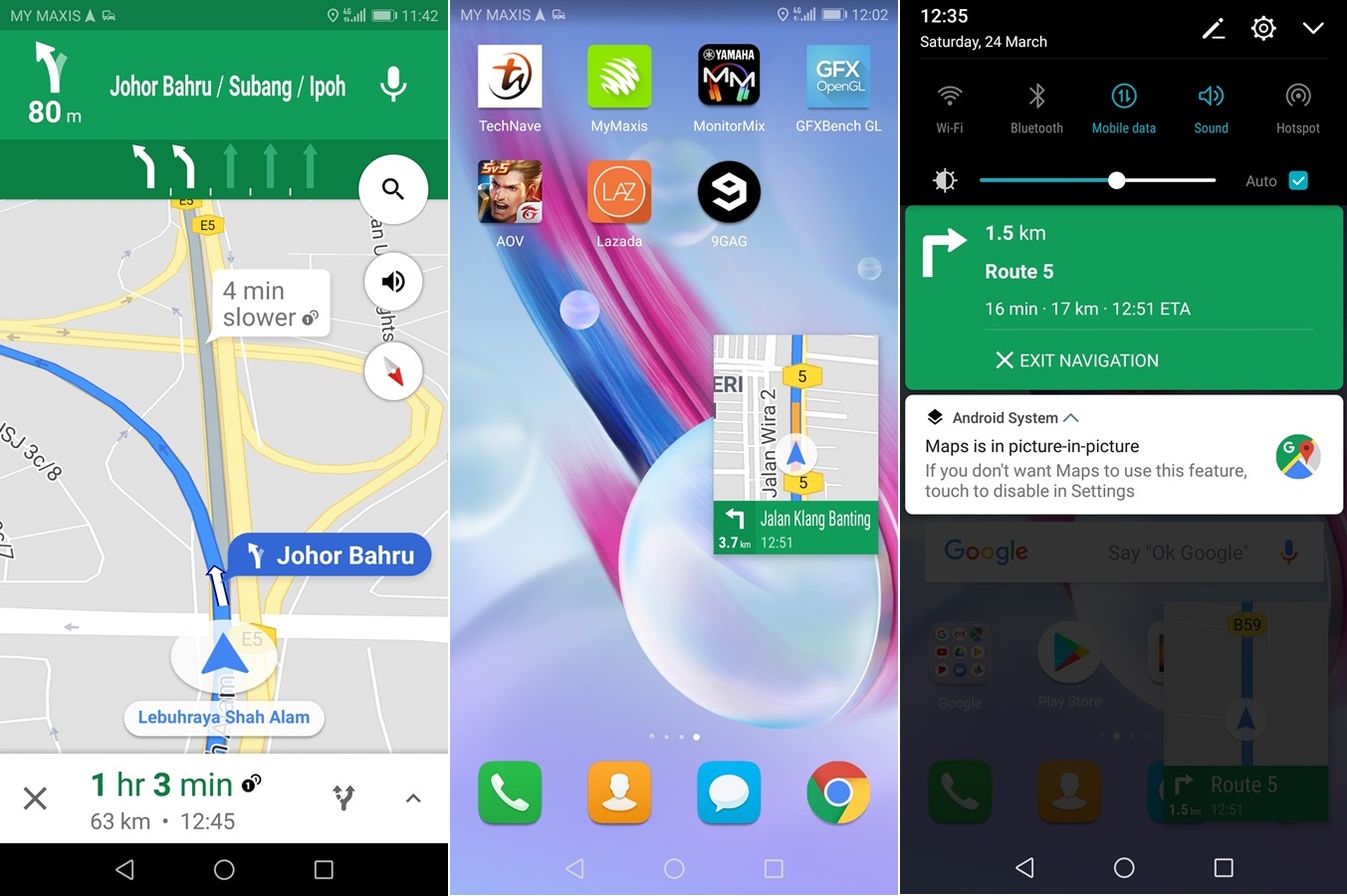 The Picture-in-Picture mode is really handy, from here you can see that when you minimise Google Maps, it becomes a small window and still functions in the background, allowing you to do other things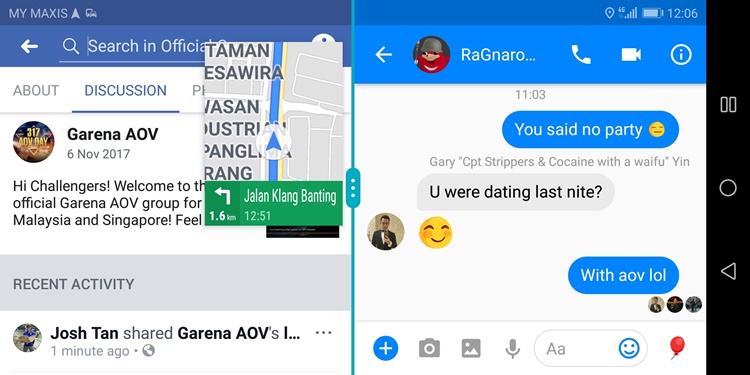 Picture-in-Picture mode also works in Split mode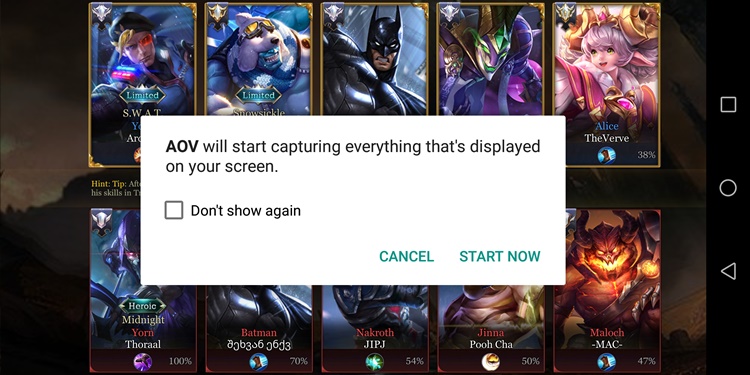 Sometimes, the notifications get annoying when it asks you on screen recording, even when I tick "Don't show again". Hope honor Malaysia can fix this
On a side note, a new Face Unlock update is coming soon this month as announced by the company. The biometric feature is not just an ordinary security system, but it can be used to hide incoming notifications on the lock screen, covering your privacy. This can be done in the settings and if you want, the messages can only be shown when your face is recognised. That's pretty cool, so keep a lookout for that.
Performance - The camera does its job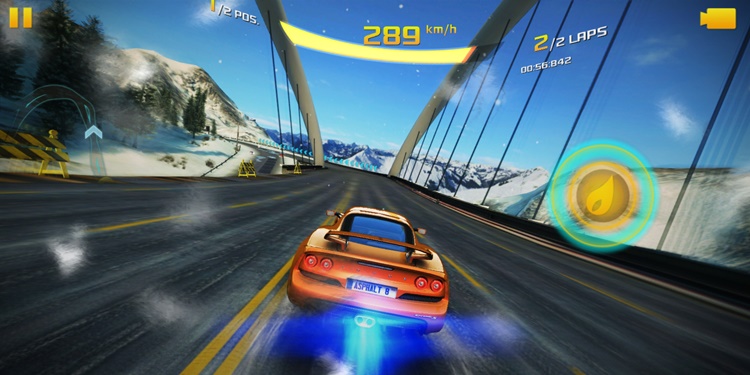 Like I said for the 9 Lite processor, this is not a phone used for gaming. That is not to say that you can't play your Candy Crush or Clash of Clans, but for games like Asphalt 8: Airborne, Arena of Valor and the recent PUGB Mobile, I highly recommend that you don't bother installing them at all because the processor can't take it. But if you must, then at least set the graphics setting to "low" for a smooth er gaming experience.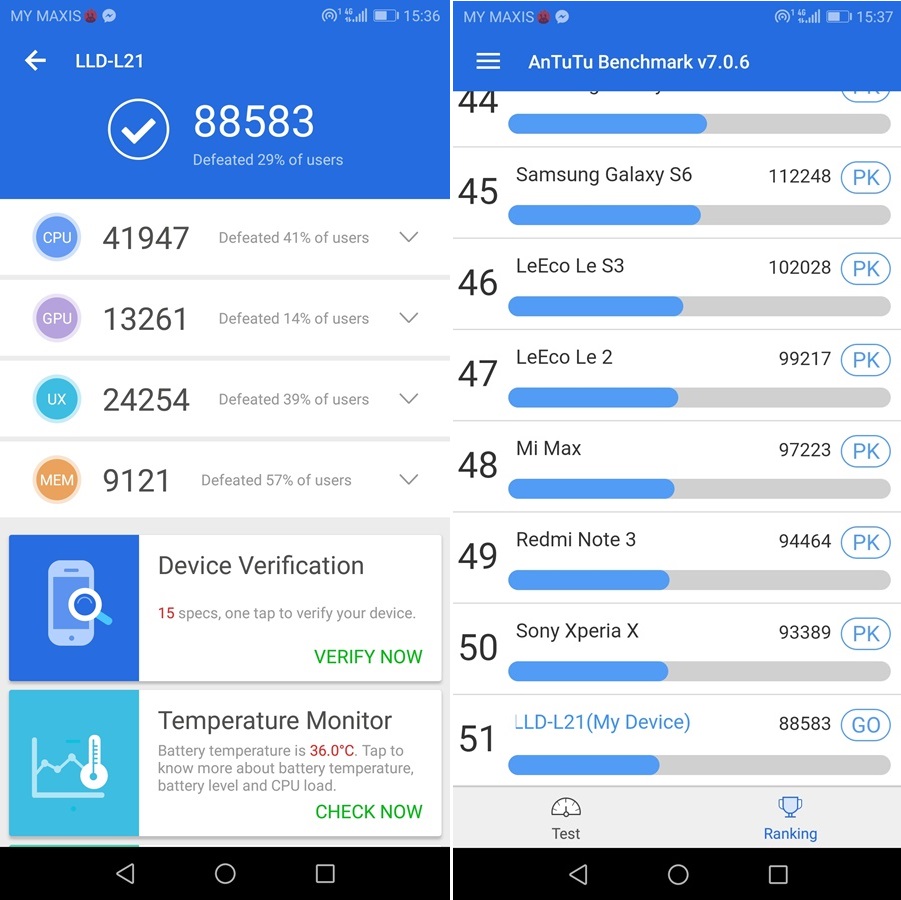 AnTuTu score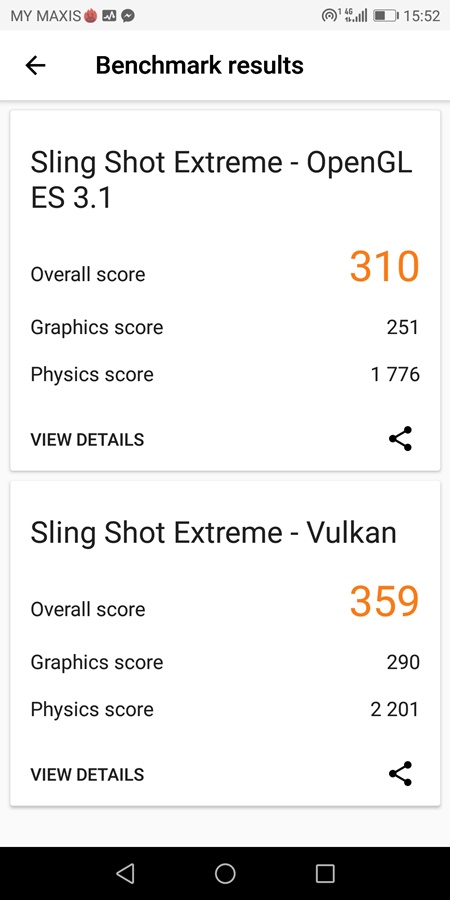 Numbers don't lie about its 3DMark score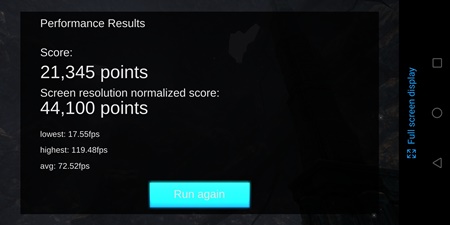 GPUBench score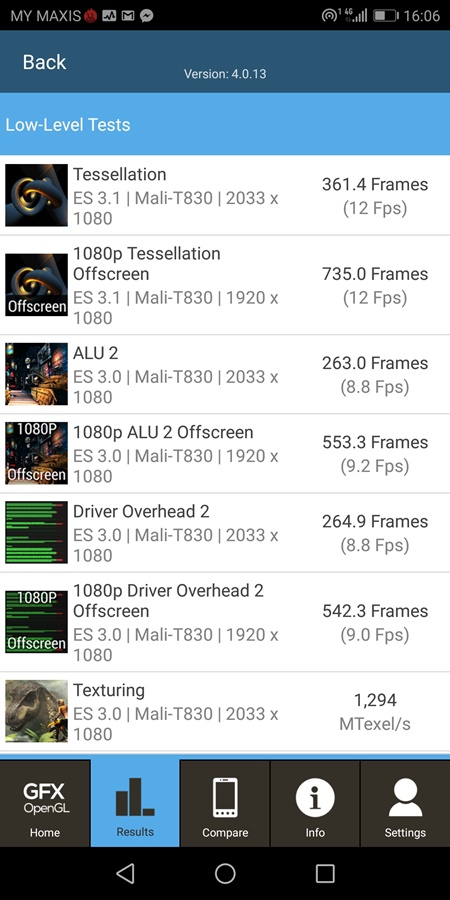 GFXBench GL score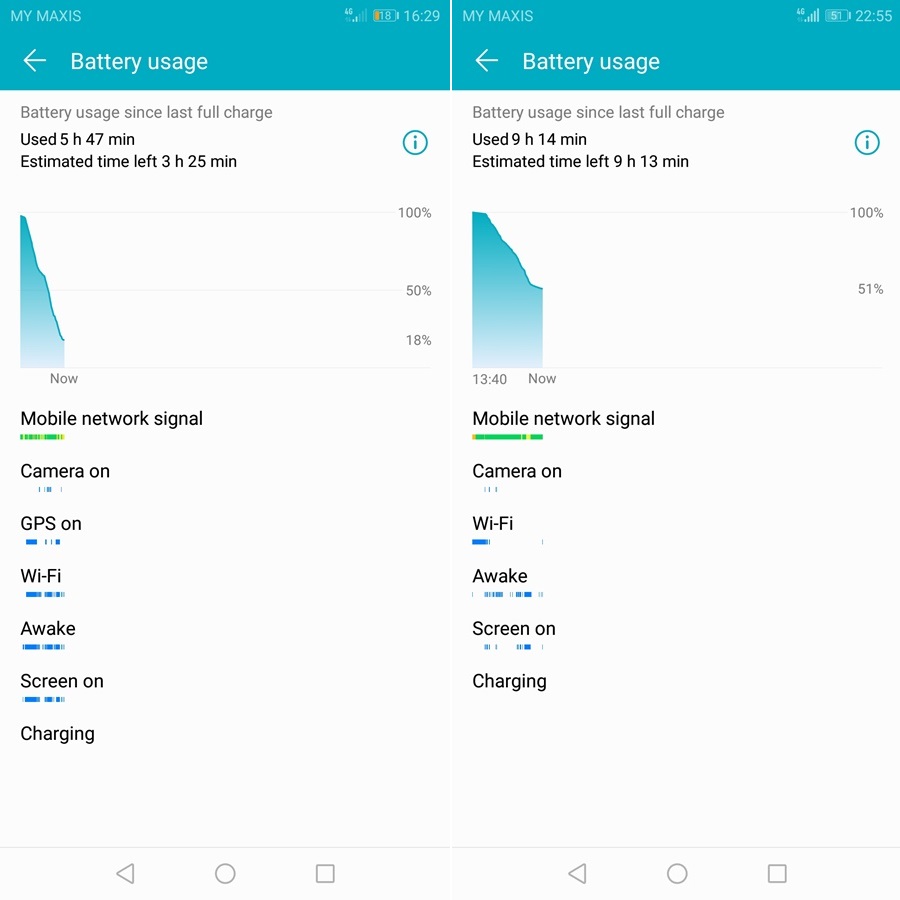 The difference in using GPS (left) and without GPS (right) with normal social task and camera usage
Going on to the battery, the performance is not bad. Usually, it can survive throughout the whole day but if you use it for GPS navigation with Waze or Google Maps (connection is superb even when it gets minimised to Picture-in-Picture mode), the power will drop fairly fast so you may need to bring an extra power bank around with you. Recharging is also pretty slow too, as it needs at least 2 hours to have it fully charged from 10%. Also, as long as you don't push the phone over its limitations, the battery heat is not an issue.
So what is the phone good for then? For photography, of course. It is designed and built for the selfie lovers after all since it has a quad-camera setup. The image results give much satisfaction, although sometimes the aperture takes in too much lighting, that can be easily solved by adjusting light sensitivity before taking the shot. Overall, I'm quite happy with the camera performance so check out the photo samples below!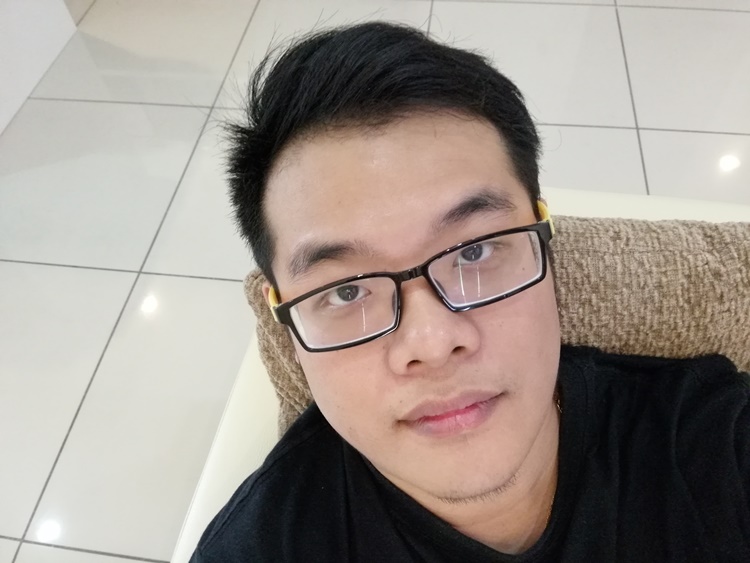 Selfie mode with level 0 Beauty mode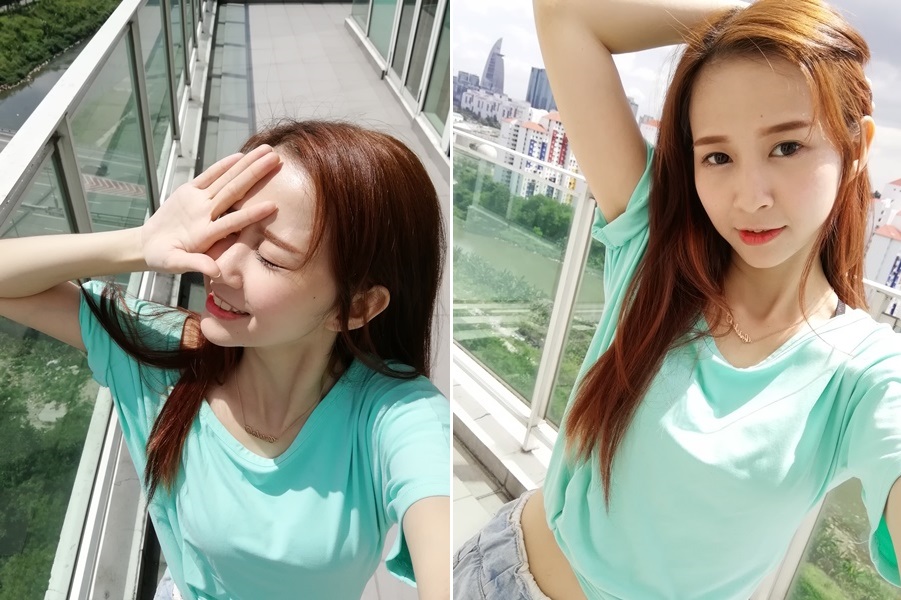 Selfie in the outdoors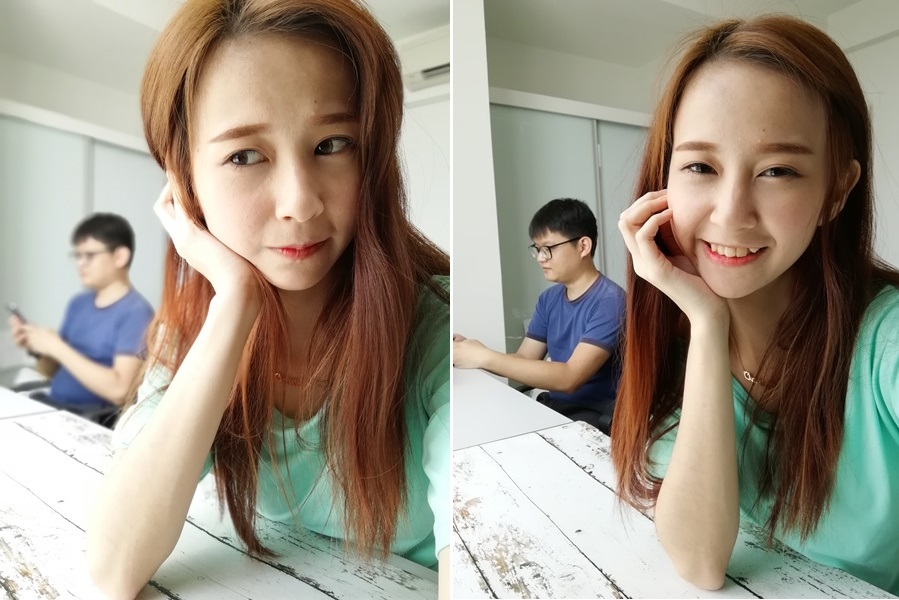 Indoor selfie, the left side is using Portrait Mode while the right side is just a normal one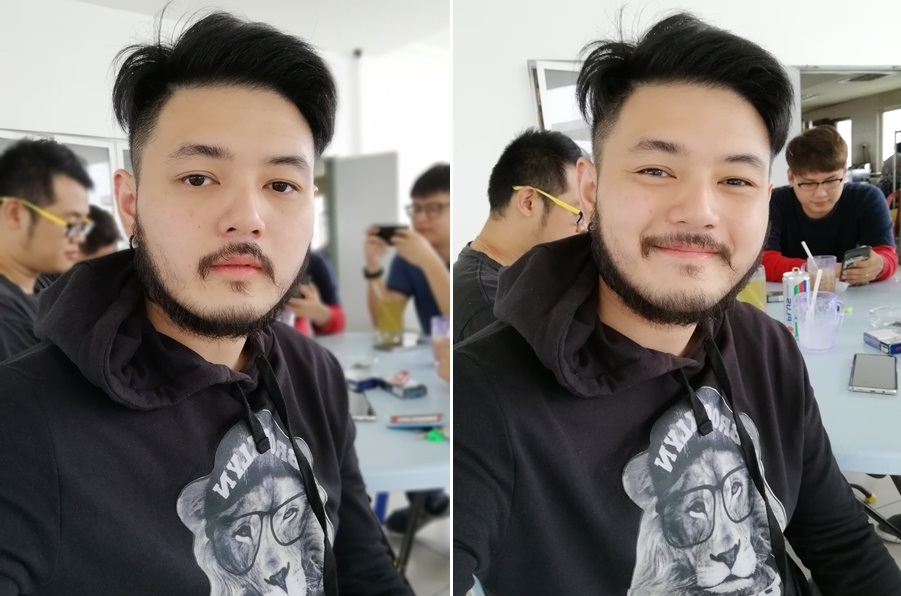 Another selfie sample with Portrait Mode enabled for the left side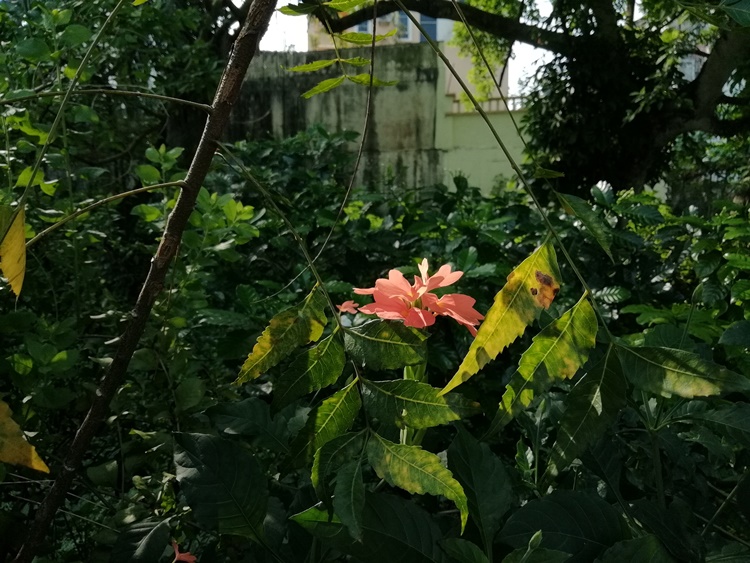 Under the user's control, you can get nice pictures by adjusting the light with Pro mode, this was supposed to be a lot brighter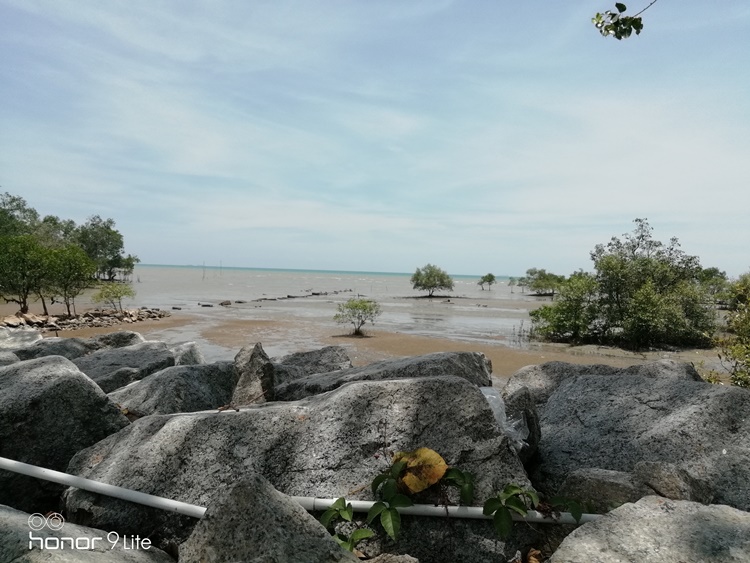 Wide shot, auto

Panorama mode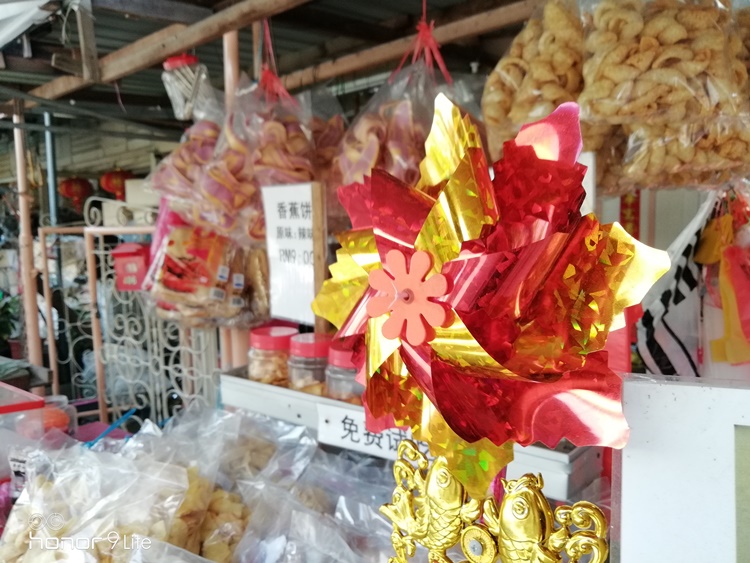 Close-up shot with bokeh effect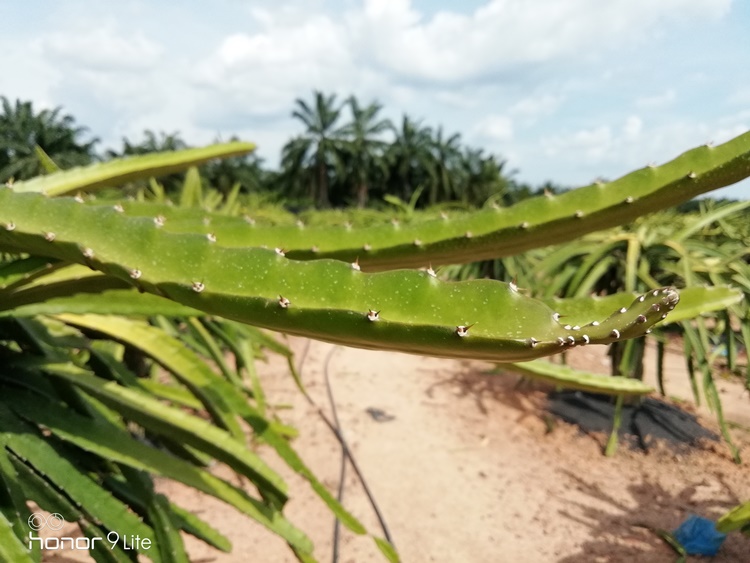 Another close-up, nice details there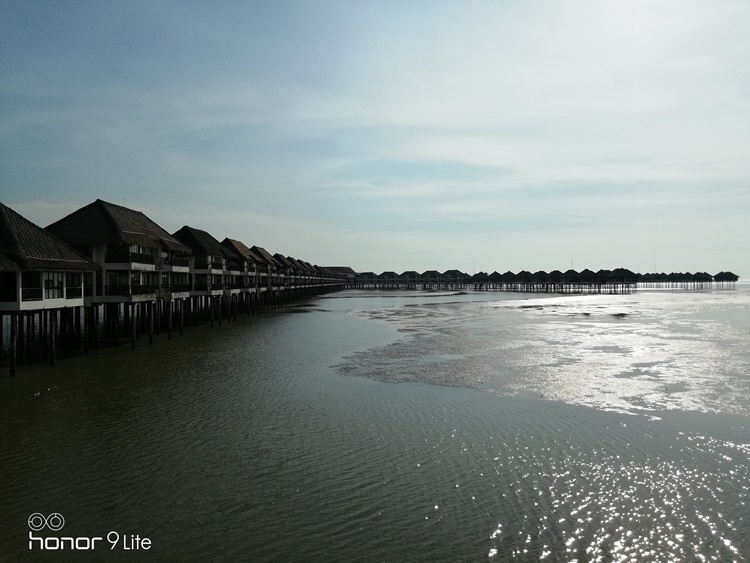 Another wide shot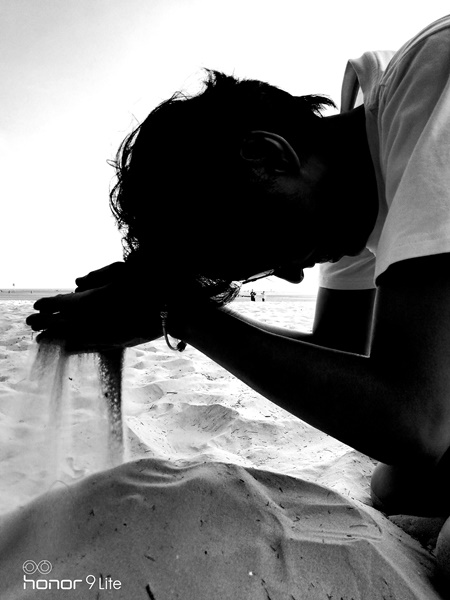 The 9 Lite apparently has some nice filters to use, this one is using Impact filter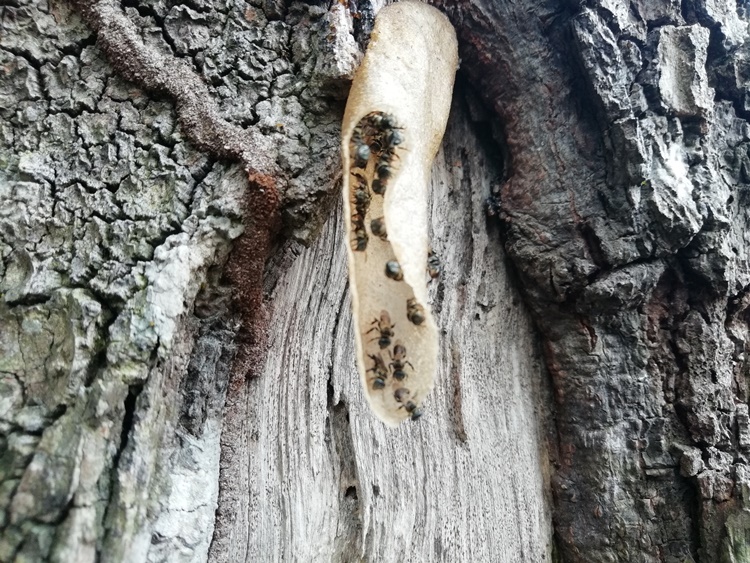 However, sometimes you can't get nice close-up shots when there are moving subjects, like these bees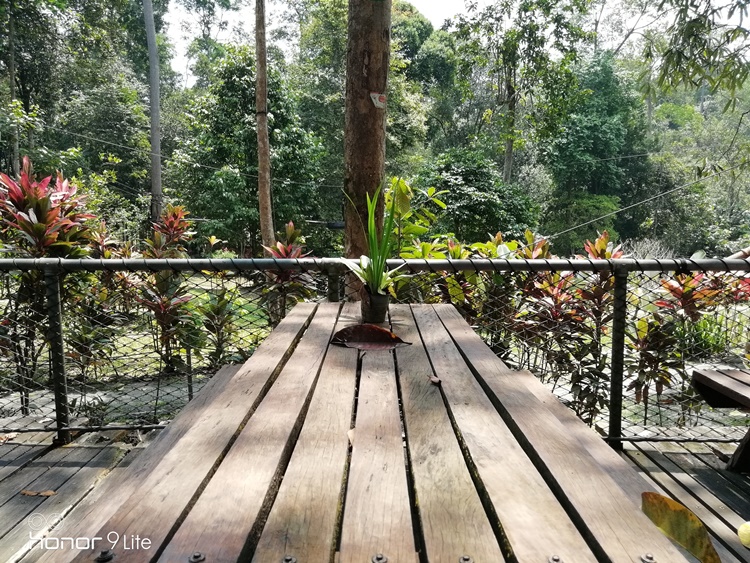 Here is a sample of an auto shot, personally I think there's too much light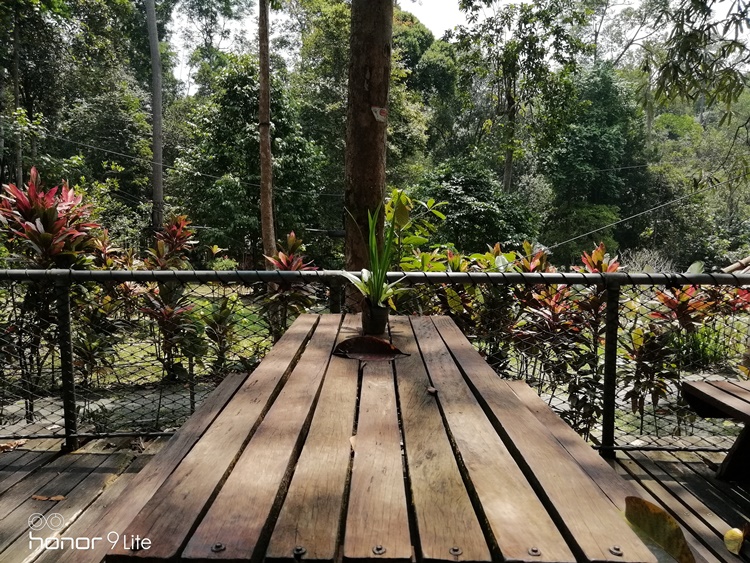 Took another one by adjusting the light sensitivity, bringing out the correct colour from the objects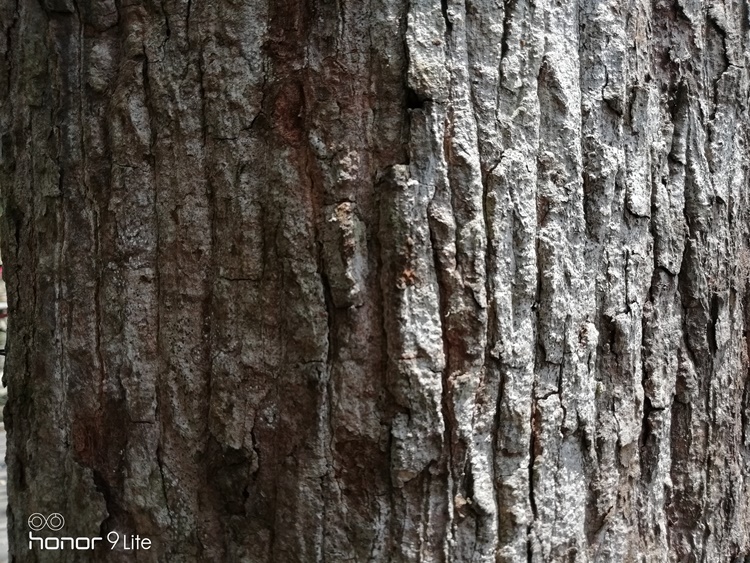 The dynamic of the shadows from the 9 Lite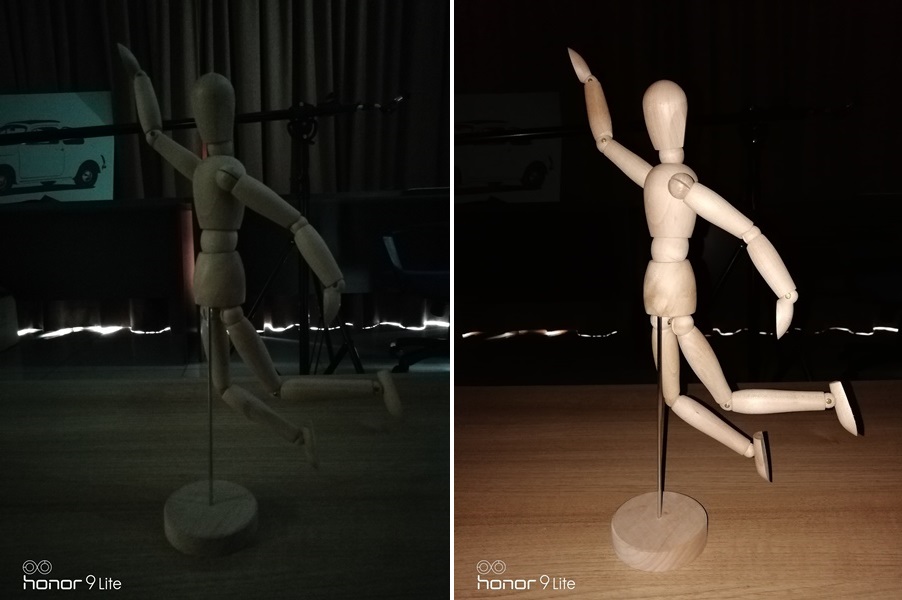 Low-light shot (left) and flash mode on (right)
Conclusion – Still a decent camera-centric phone for a good price
For a phone that is priced at RM749, there isn't a lot of competition but at the same time, this is a phone for a user who doesn't need a lot of requirements. It looks nice and the camera is quite good, so that's all an average user really needs. While the battery is a bit of a letdown, iy is not that much of a problem when it's not pushed to the limits.
The only rival that is worthy to challenge is the recently released Xiaomi Redmi 5 Plus with the exact same price tag (3GB + 32GB model). I think if we compare the overall performance on paper, the Redmi 5 Plus should do better in gaming because it has a Qualcomm Snapdragon 625 processor and a bigger battery of 4000mAh. Not to mention, it also has a slightly bigger display (5.99-inch) in 1080p as well, but for camera performance, we are still testing it out so stay tuned for that.
Another challenger that I can think of is the ASUS ZenFone Max Plus (M1). While it's slightly more expensive at RM899, for its price, it's quite a value-for-money phone with respectable tech-specs even though it's using a MediaTek processor, but it has a 4130mAh battery a dual rear camera with higher resolution. The Moto G5S Plus is not too bad as well, priced at RM999 but the camera performance is just alright.
So do you agree with us about the honor 9 Lite? Let us know in the comments below, thanks for reading our reviews and stay tuned for more of them at TechNave.com in the near future.