#khabarbaik - Unifi Air with unlimited data is now official for RM79/month, Streamyx & Unifi Lite announced for RM69/month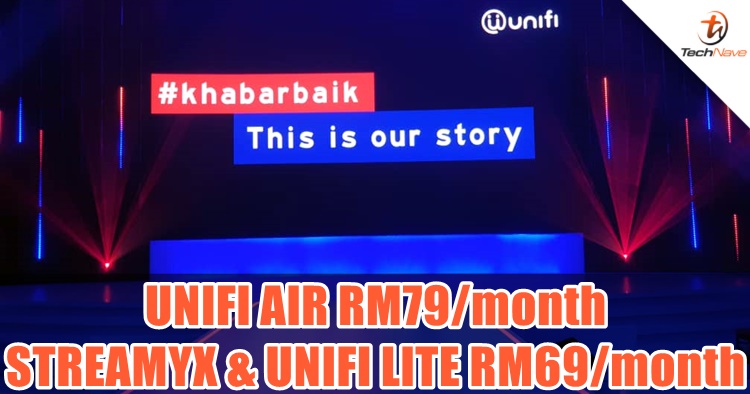 As previously rumoured, Telekom Malaysia Berhad has unveiled a #khabarbaik announcement that the Unifi Air is real and official. Coming with unlimited internet data, the official price is just RM79/month and in addition to that, the Unifi Lite and Streamyx also got a new price tag RM69/month, as well as a new MyUnifi app for managing various related features.
Let's talk about Unifi Air first, it can connect up to 64 devices with an average speed of 20Mbps with unlimited data but there's a catch on that. It will only be offered to existing Streamyx users who are using the 2.3GHz TD-LTE network which is using higher-bandwidth connectivity. Around 35,000 homes across 28 LTE areas are eligible for it, so for those who can't get it, this is where Unifi Lite comes in at the price of RM69 per month.
Just like for existing Streamyx users, the RM69 fee will start from September 2019 onwards regardless of what speed package they are using. However, for new customers signing up for the Unifi Lite plan, they will have to pay RM89 per month (up to 8Mbps).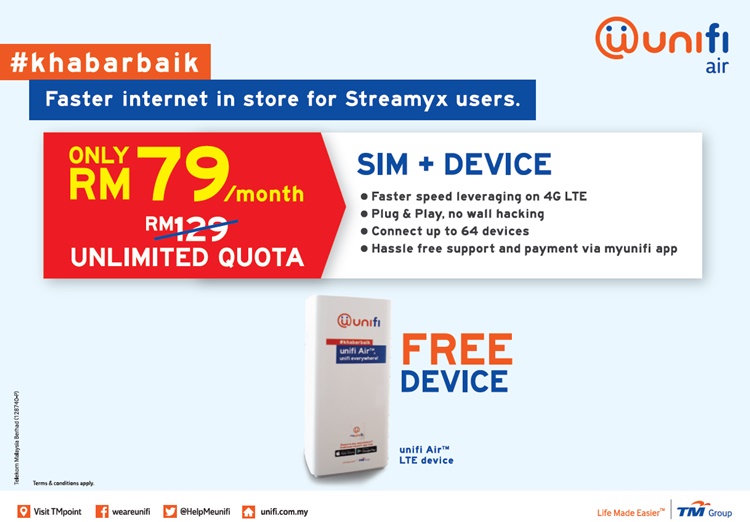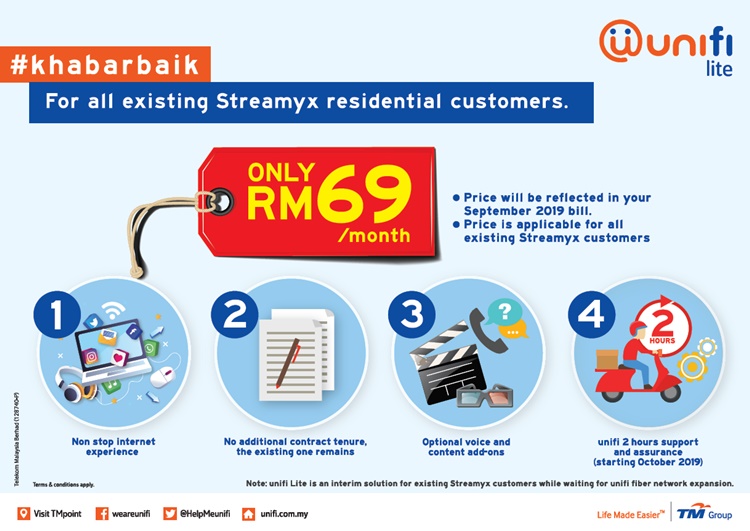 On top of that, myunifi app was also introduced as an all-in-one app and has some features that allow the user to check on some tasks. This includes checking your Unifi monthly bills, 24-hour Live Chat Support, 24-hour installation, zero no show assurance and more. The app is also using "digitalme" as a secure digital ID for both the app, unifi.com.my portal and other related unifi apps in the future. myuUnifi app can be downloaded via Google PlayStore, Apple AppStore and Huawei AppGallery.
TM is currently working on using fibre, wireless and Gigawire for their network rollout, approximately 70% of Streamyx users will have a speed upgrade by the end of 2020. For more information on unifi product offerings, please visit unifi.com.my.
Stay tuned for more unifi news at TechNave.com.