realme AIoT Malaysia release: new wireless earbuds, smartwatches, batteries and more, special launching price from RM39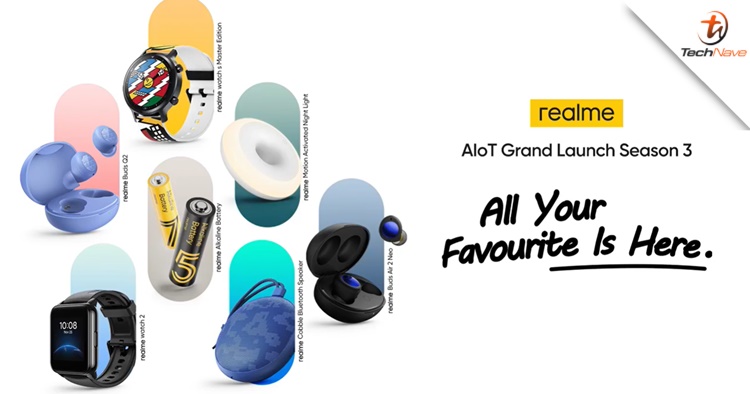 Today, realme Malaysia announced another round of AIoT accessories. This marks the company's third grand launch and among the many products, the realme Buds Q2 and realme Watch S Master Edition are probably the ones to look out for. Without beating around the bush too much, here's everything you need to know about the new realme accessories today.
There is a wide range of products showcased today so we will go through them briefly. First up, we have written a news coverage on the realme Buds Q2 already but this new pair of wireless earbuds have 20 hours of battery life on a single charge, equipped with Environmental Noise Cancellation and Bass Boost technology. If you purchase this on 5 May 2021 (12 AM) at the realme store in Shopee, it will be priced at RM79 (RRP RM129).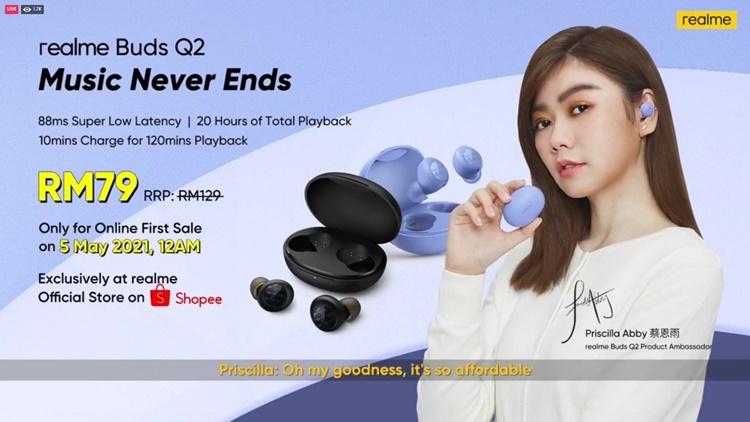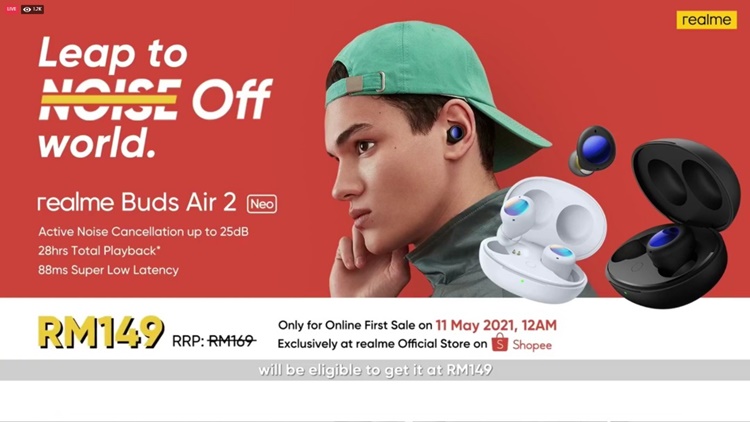 There are other new next-gen wireless earbuds are the realme Buds Air 2 Neo. As an upgraded version, the wearables come with a slightly new design, better battery life, audio quality and more. Active Noise Cancellation is available with up to 25dB and can last up to 28 hours. The Bluetooth version is now 5.2 and you can purchase this for RM149 (RRP RM169) on 11 May 2021 (12 AM) on Shopee as well.
On the other hand, there are two new smartwatches too which are the realme Watch 2 and Watch S Master Edition. The smartwatches have all the necessary features such as various sports modes but the latter is the one to look out for, as it was designed based on a popular K-Pop star Grafflex.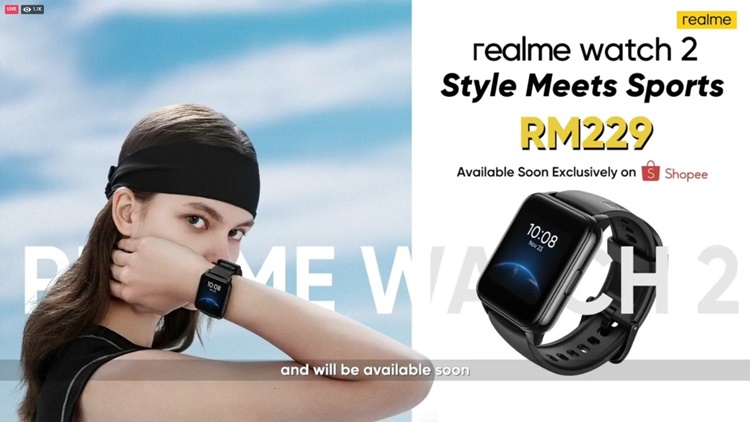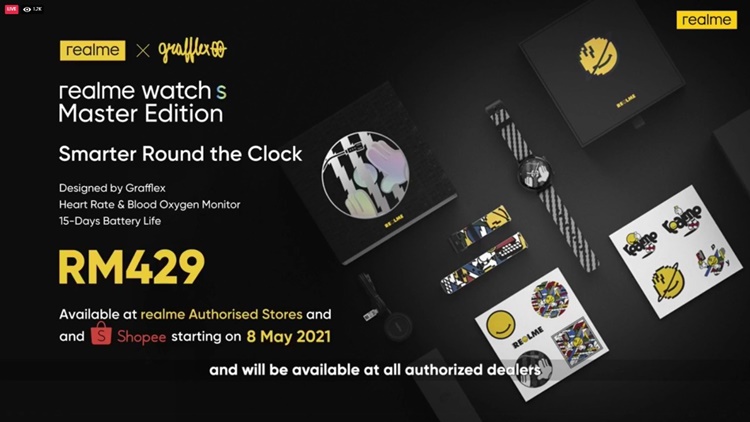 The Watch S Master Edition has a heart rate and blood oxygen monitor, as well as a 390mAh battery lasting up to 15 days on average. The realme Watch S Master Edition will be available at realme Authorised Stores and Shopee from 8 May onwards for RM429, whereas the realme Watch 2 is RM229 that is coming soon.
Finally, realme unveiled three unexpected accessories which are the Cobble Bluetooth Speaker, Motion Activated Night Light and Alkaline Battery. The Bluetooth speaker is RM99 (coming soon) and features a Bass Boost technology, 5W Dynamic Driver, IPX5 water-resistant, and lasting up to 9 hours of usage.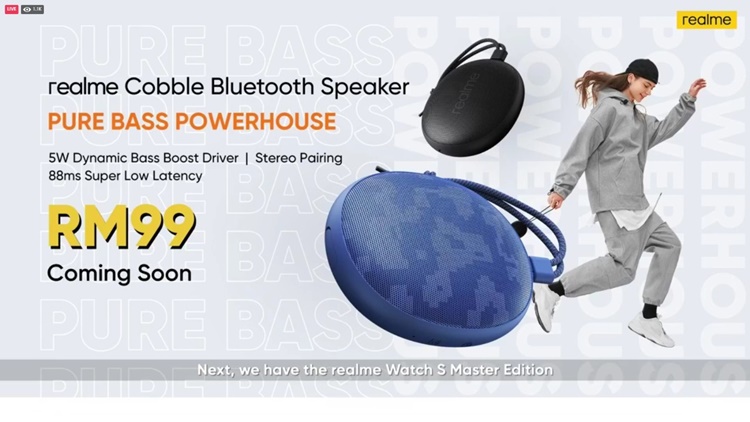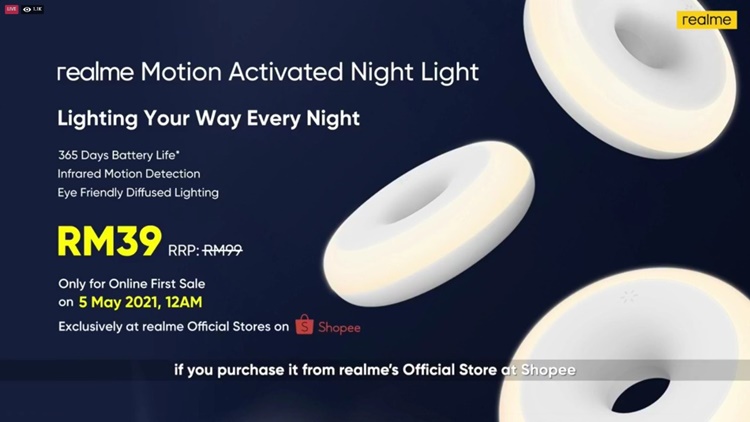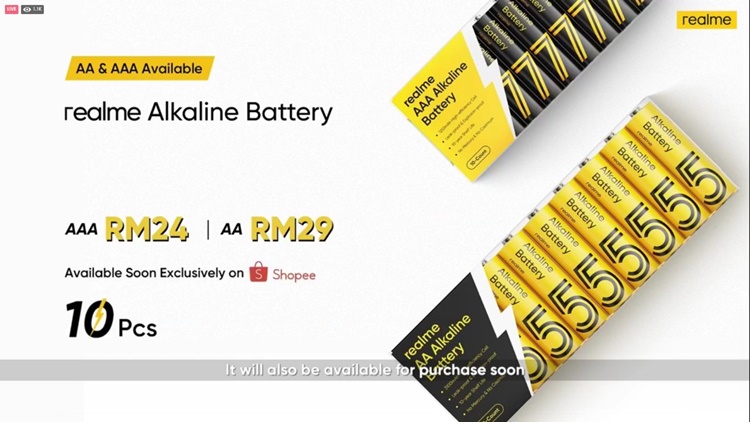 The night light is a minimalist lighting device that can last for a year with infrared motion detection, this will be just RM39 (RRP RM99) on 5 May (12 AM) on Shopee. Finally, realme Alkaline Batteries (yes, really) are available in both AA and AAA types with a power capacity of 3100mAh and 1250mAh respectively. The prices are RM24 and RM29 for each box (10 pieces) and will be available soon.
So what do you think about these new realme accessories? Let us know in the comments below and stay tuned for more local trending tech news at TechNave.com.