vivo Malaysia giving away free gifts and lucky draws in its new Diwali Special Deal campaign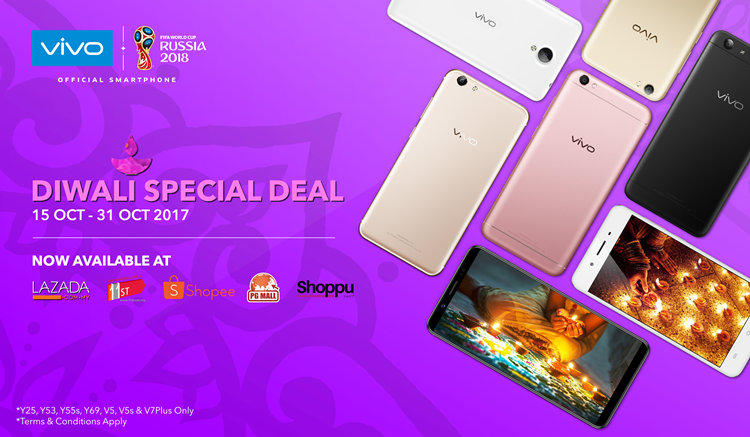 In the upcoming Diwali festive season, vivo Malaysia is launching a few activities and promotional deals with the vivo V7+ and other selected vivo smartphones across Malaysia. Promotional deals include pretty nice goodies and contests for vivo fans to win. Here are the 7 Wonders of Diwali campaign by vivo Malaysia.
1st Wonder: Limited FIFA Russia 2018 Backpack Bag Giveaways & Online Marketplace Sales Offer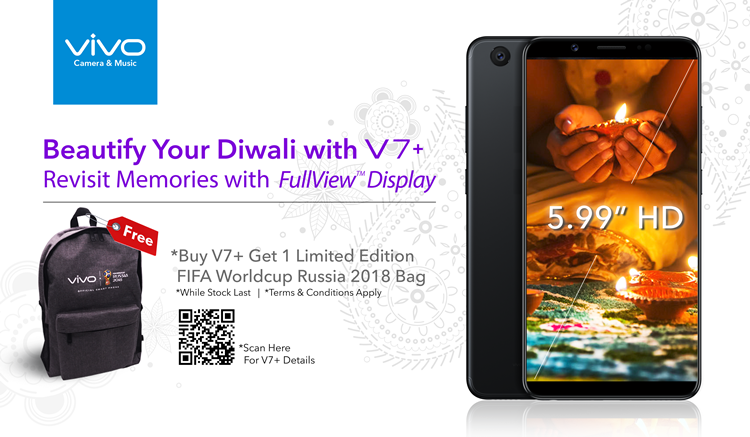 First up, starting today (12 October 2017) until 22 October 2017, anyone who purchases the V7+ from any vivo concept stores, Senheng & SenQ, Courts and Harvey Norman outlet will be granted a free limited edition of FIFA Russia 2018 backpack bag (while stocks last). On the other hand, customers who are getting other vivo smartphones can also receive freebie items as well. Below is the complete list of freebies that you can get:
vivo Y25 (RP: RM459) - free tempered glass screen protector
vivo Y53 (RP: RM599) - free leather slip case & tempered glass screen protector
vivo Y55s (RP: RM799) - free selfie stick
vivo Y69 (RP: RM999) - free vivo limited edition thermo-flask
vivo V5 (RP: RM1099) - get RM100 offer discount (RM999 after discount)
vivo V5s (RP: RM1299) - get a free VR Box
vivo V7+ (RP: RM1499) - free vivo limited edition thermo-flask
To add on to that, online marketplaces that are available for the promotions are Lazada, 11Street, Shopee, Shoppu and PGMall.
2nd Wonder: vivo Janna Nick Exclusive V7+ Live Talkshow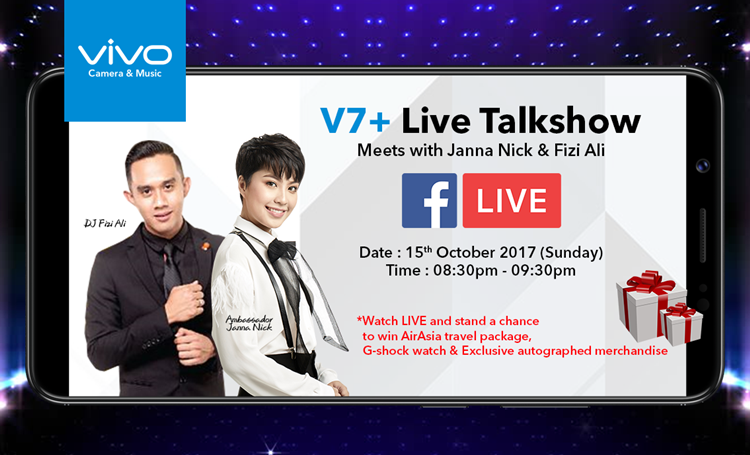 Next, Janna Nick, vivo's new ambassador for the V7+ will be on a talk show sharing her opinion about vivo on 15 October 2017 at 8PM. Aside from watching this special interview, Janna will also randomly pick 2 lucky winners from the live audience to giveaway a pair of Air Asia Travel Card worth total RM2000! Plus, some G-shock wristwatches and vivo merchandise with a signed autograph by Janna will be given away throughout the live talk show. It will be live broadcast at vivo Malaysia official Facebook page so stay tuned for that.
3rd Wonder: October vivo V7+ Wonder 7 Selfie Contest

In addition, vivo Malaysia is launching a selfie contest for all Malaysians on 16 October until 31 October 2017. To join the contest, all you have to do is take a selfie by showing the "7" sign and share it on the contest post at vivo Malaysia Facebook page and your own personal Facebook account with a creative caption and hashtag #vivoMalaysia #V7+ #SeeMoreThanEver #ClearerSelfie #PerfectShot #Deepavali. Remember, your Facebook account must be set to Public so that vivo Malaysia can see it. A lucky winner with the most creative caption will be picked to receive the V7+ each week, followed by four more winners in the same week taking home a vivo backpack each.
4th Wonder: Diwali V7+ Selfie Experience with vivo
In conjunction with Diwali, there will be an exclusive Diwali Selfie Experience at the Batu Caves temple on 18 October 2017. Crews from vivo Malaysia will hold a roadshow and allow the public to test out the V7+. Also, Exclusive vivo merchandise with Janna Nick's autograph will be given out throughout the event.
5th Wonder: vivo V7+ Share Video & Win #AF merchandise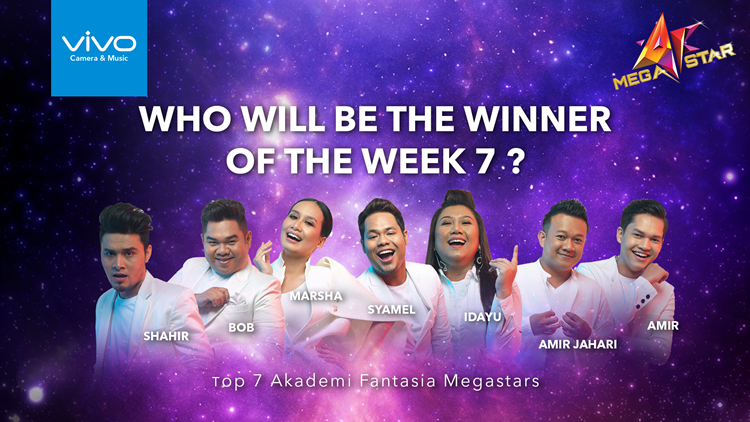 What does Akademi Fantasia have to do with vivo? Well, vivo Malaysia happens to be the main sponsor of the show. The 7 finalists will be challenging each other so on 14 October and 21 October 2017, a behind-the-scenes video will be uploaded on vivo Malaysia Facebook and you may participate the "Share n Win" Contest to grab exclusive merchandises from Akademi Fantasia. 3 lucky winners will be announced on the next Monday via vivo Malaysia Facebook.
6th Wonder: vivo V7+ Akademi Fantasia Predict & Win
Wait, that's not all. Starting from 16 October 2017 onward, vivo Malaysia will conduct a vote poll contest for everyone to vote who will be the upcoming champion of AF Megastar, along with creative captions and the designated hashtags. The top two participants with the most creative captions will be picked and win a VIP ticket to watch the Akademi Fantasia Finale at Shah Alam Royale Theatre.
7th Wonder: vivo Y69 Official Launch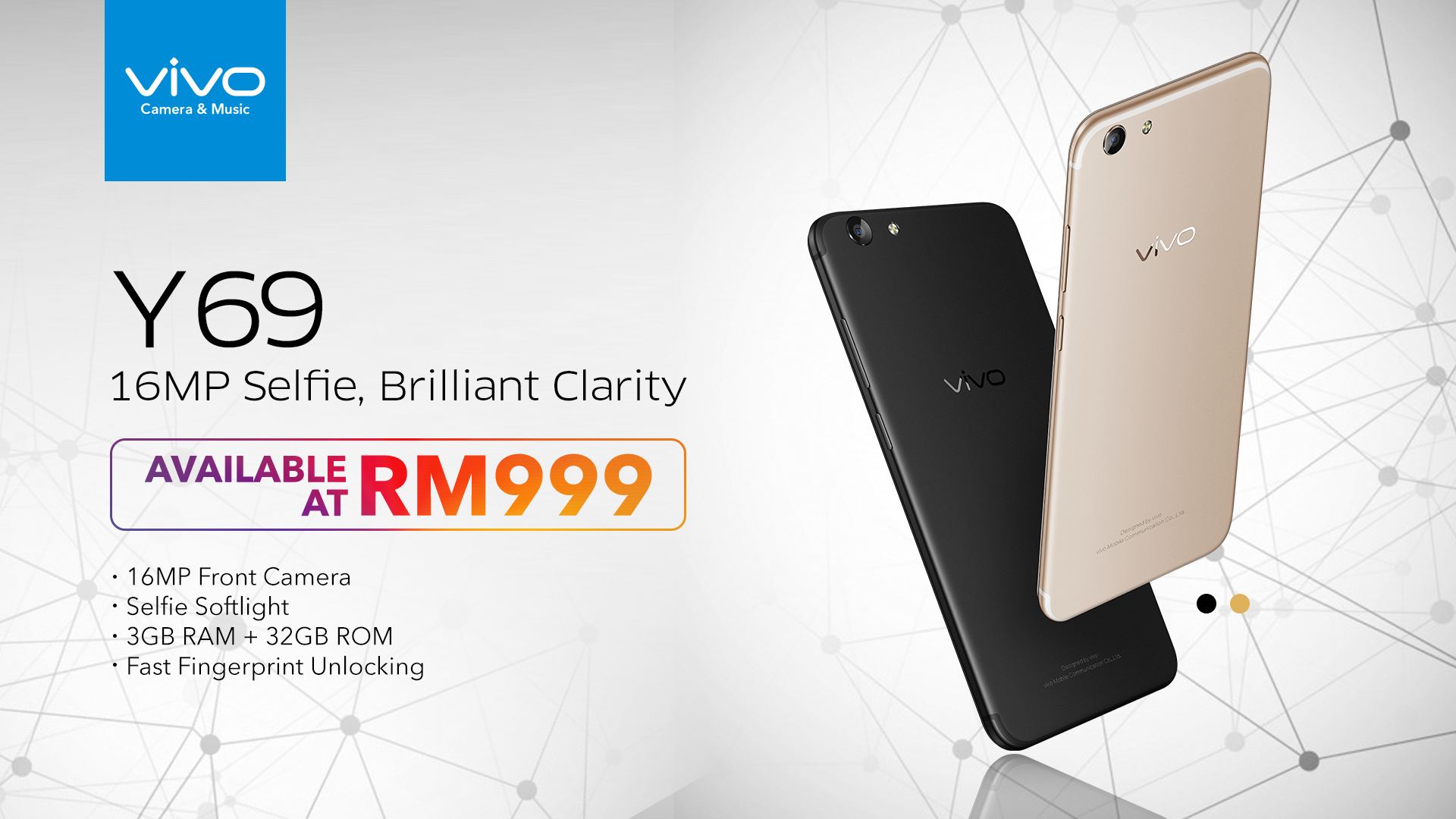 Lastly, we have mentioned about the vivo Y69 launching on 13 October 2017. This device is ideal for anyone who wants a budget-friendly selfie snapper for the price of just RM999 only. For more details, head on to our news article over here to check it out.
vivo Malaysia wishes all Malaysia a Happy Diwali Day and good luck in those contests!
vivo V7 Plus Specs & Price >