10 things that make the Huawei P40 series the best in mobile photography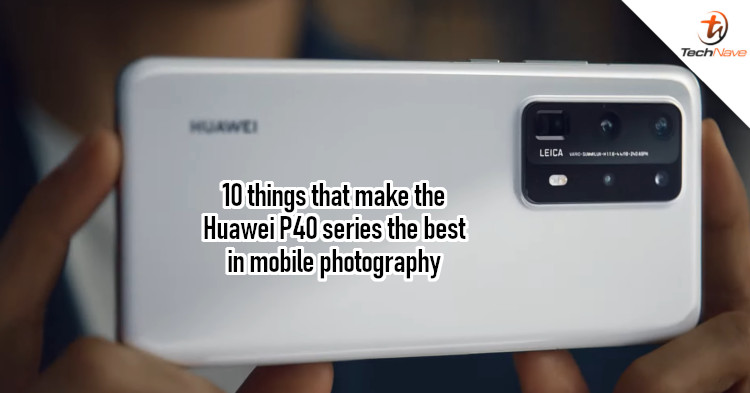 Once upon a time, portable photography was getting a compact digital camera that you can whip out and use with one hand. That last part hasn't changed but gone are the compact cameras that we used to see every so often, and in its place is the smartphone. These days, all that is needed for a good photo is a decent smartphone and there's one in nearly every hand.
Certainly, Huawei has improved its smartphone cameras by leaps and bounds since its partnership with Leica back in 2016. Take the recently launched Huawei P40 series, for example, which come with powerful cameras offering excellent photo-taking capabilities. The Huawei P40 Pro is even the current number one on the DXOMark camera ranking, with a score of 128.
But what makes the cameras of the Huawei P40 good? In this article, we'll go through the 10 technologies that contribute to the Huawei P40 series' photography excellence.
#1 Large CMOS sensor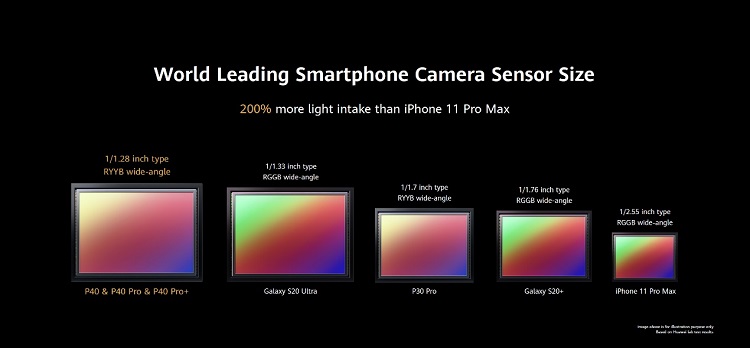 Sensor size is one of the factors that can determine image quality
Cameras work by taking in light from the surrounding using a camera sensor to interpret what it 'sees' as pixels. To put it in another way, larger camera sensors can receive more light. This is one of the key advantages for the Huawei P40 series' cameras.
For the Huawei P40 cameras, the main camera uses a 1/1.28-inch CMOS sensor and it's the largest one ever found in a Huawei device so far. Thanks to the sensor, the Huawei P40's camera can receive more light from the surrounding and deliver higher dynamic range. Additionally, the amount of light it can receive means that it's able to perform well even in low-light.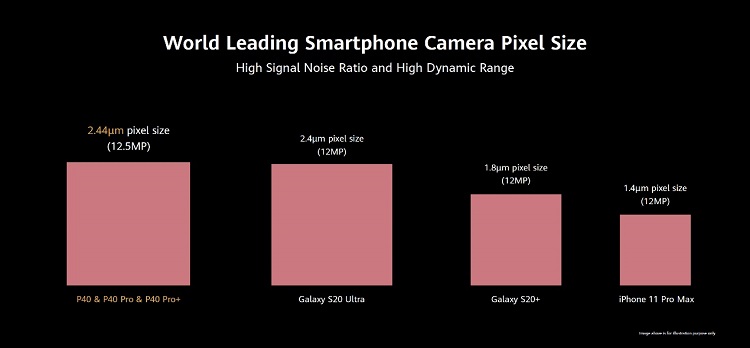 Larger pixel size could also affect image quality
Moreover, this 50MP Huawei Ultra Vision Sensor uses pixel binning technology to create a large 2.44μm pixel. Doing so improves on the image detail and reduces the noise levels for photos, even in low-light conditions. Another interesting difference with this sensor is that it replaces green pixels with yellow ones, which also helped increase light intake by 40%.
#2 Octa PD AutoFocus
Autofocus speed is another aspect that's important in photography. After all, you won't want to miss a shot just because your phone took too long to focus on something. With the Octa PD AutoFocus technology, the Huawei P40 series smartphones get fast focus speed and high accuracy.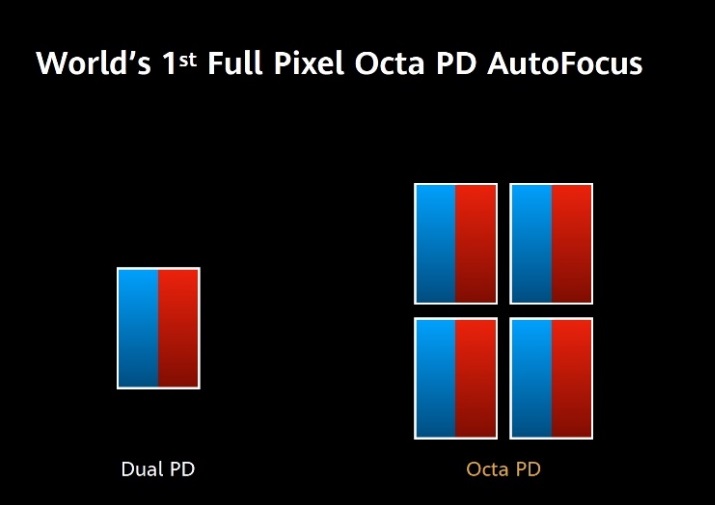 Doubling up on photodiodes helps with autofocus speed even in dark areas
Each pixel on the 50MP sensor is covered by two photodiodes, a technology Huawei calls Dual Pixel Diode AF. As it does the 4-in-1 pixel binning, you end up with a large pixel covered by a total of eight photodiodes. This is why you get high autofocus speed and tracking accuracy, even when trying to take photos in dark areas.
#3 Periscope SuperSensing Zoom
In this age of smartphones with multiple cameras, there's more than one way to take photos. Or rather, there's more than one type of photos you can take, such as long-distance photos. The Huawei P40 Pro is especially good at this, thanks to its periscope camera.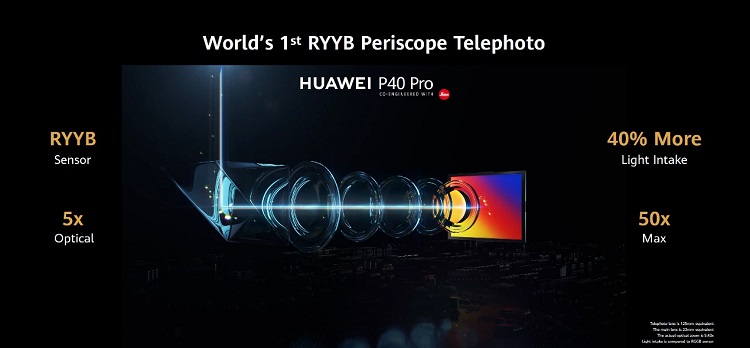 The telephoto lens provides up to 5X optical zoom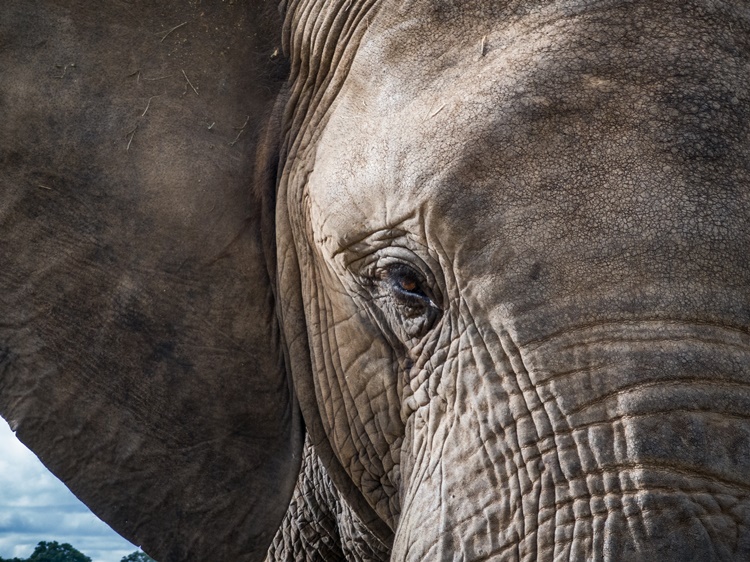 5x Optical Zoom
The P40 Pro is equipped with a telephoto camera placed horizontally inside the phone. It's able to achieve an optical zoom of 5x and digital zoom of 50x, allowing you to take photos from a distance. This sensor also uses an RYYB CFA colour filter used in the main 50MP sensor, so it also has 40% improved light intake.
#4 Ultra-Wide Cine Camera
You'll often run into cases where the main camera just can't capture everything you want. In that case, you could use an ultrawide camera instead. Huawei hasn't neglected this area either and has equipped the P40 Pro and P40 Pro+ with an Ultra-Wide Cine Camera.
This camera houses a 1/1.54-inch sensor that supports 3:2 aspect ratio. Also, it supports an incredibly high ISO level of 51200 and slow-motion video capture at 7680fps! Thanks to the SedecimPixel Fusion Technology, this sensor will also use pixel binning to produce large 4.48μm-sized pixels. As a result, it has an excellent low-light capability, allowing you to take great videos even under poor lighting.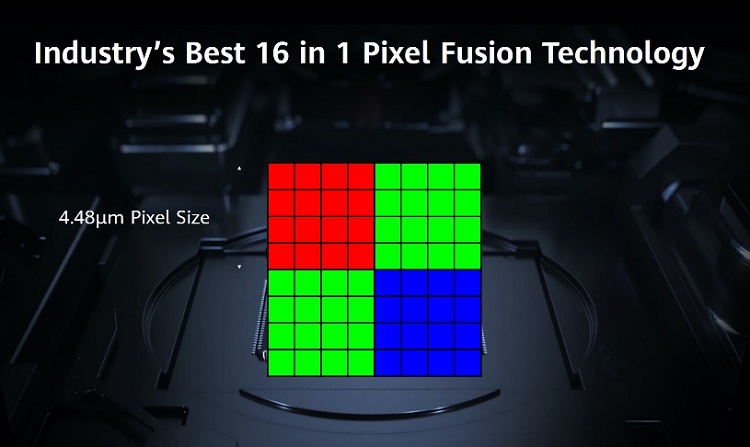 The ultrawide camera combines 16 pixels into a larger 4.48μm pixel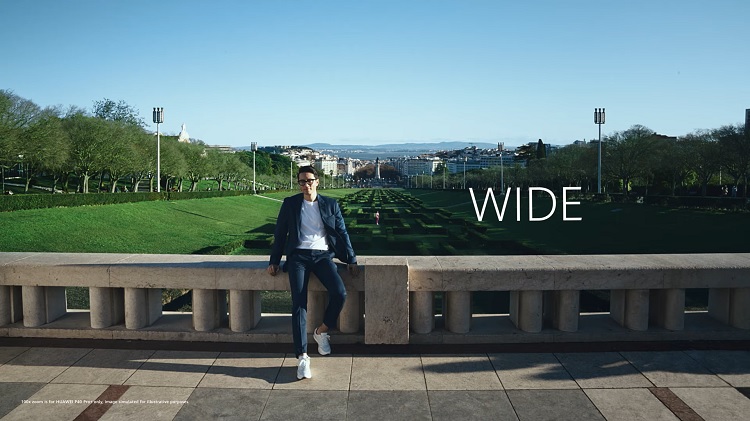 Wide angle shot
#5 Multi-Spectrum Colour Temperature Sensor + AI AWB algorithm
8 colour channels = more accurate colours
Once in a while, it's nice to take some black and white photos. But honestly, whats a photo without vibrant colours? For those who are into portrait images, the Huawei P40 series also has the relevant features for you. Specifically, the Multi-Spectrum Colour Temperature Sensor and AI Auto White Balance (AI AWB) algorithm.
So, what can these two technologies do? In short, they're excellent when it comes to reproducing skin tones and textures accurately. By using a sensor with eight colour channels (instead of three), colour accuracy is improved by 45%. As for the AI AWB, it's there to optimise the portraits you capture. Using deep learning, it's able to ensure that certain features like facial shadows and hair glossiness are maintained so that the portrait looks more authentic.
#6 Huawei XD Fusion Engine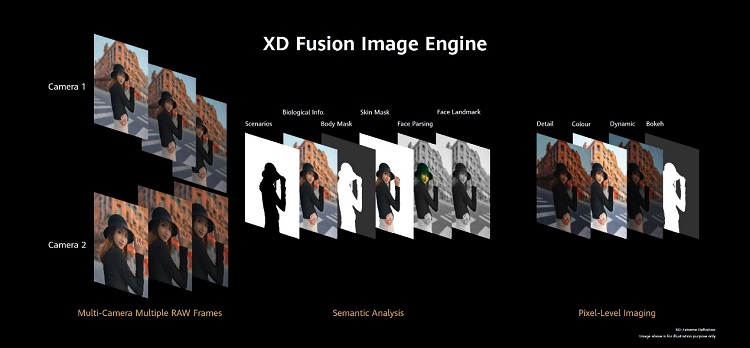 The AI studies the frames from multiple cameras and enhances the image
For a camera to output images, an image engine is required. A good image engine can help produce better images. And when it comes to this, Huawei's XD Fusion Engine is superb.
As the name suggests, the Huawei XD Fusion Engine can fuse the data from the device's multiple cameras to enhance an image's detail and quality. Through semantic analysis, the engine analyses information like exposure, depth and more from the multiple cameras, then sends it to the neural processing unit (NPU). The NPU will then enhance each pixel in the image to improve things like the Bokeh effect, dynamic range, detail, and colour accuracy.
#7 A new generation of AI Image Processing Engine
Being able to make a variety of changes to your photos can greatly enhance them, especially if you know how to and the software has the tools for it. Installed inside the Huawei P40 series devices is the third-generation AI Image Processing Engine, which can process images pixel-by-pixel. To put it in simpler words, what the engine does is ensure that there's no loss in image quality after post-processing. It aims to improve image quality regardless of whether the image is taken in backlight, low-light or zoomed in.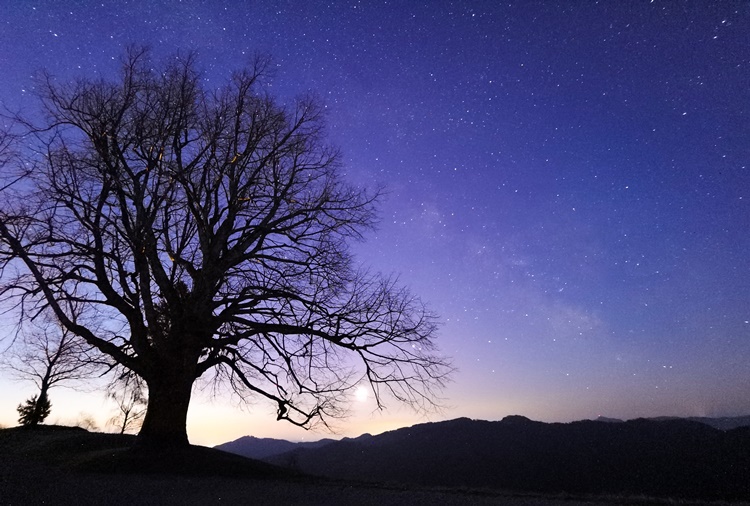 Photo taken in low-light and against the setting sun
#8 Directional Audio Zoom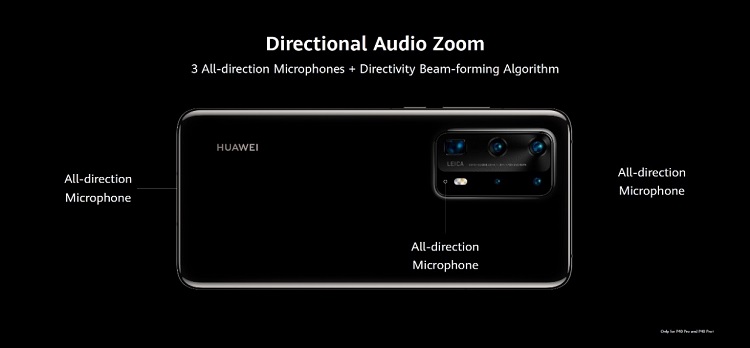 Omnidirectional microphones in three locations to help with audio recording
If mobile videography is more your thing, you probably know that it's not easy to capture audio well on a smartphone, not unless you use some extra accessories. The Huawei P40 Pro's Directional Audio Zoom can be useful in that sense.
Three omnidirectional microphones are installed into the top, bottom, and rear of the phone for increased accuracy when capturing audio. Besides that, the phone will also filter out background noise. There's also this interesting feature where audio is amplified if you zoom in, simulating how audio becomes louder as you get closer to the source.
#9 Huawei Golden Snap
Remove people in the background and make the photo truly 'yours'
Reflections can also be removed
All smartphones have cameras these days so a brand needs more than just hardware muscle to stand out in the crowd. Often, a little bit of software magic is what's needed to make a product unique. In the case of the Huawei P40 series, that wouldbe the Huawei Golden Snap feature that's enabled with the help of the Kirin 990 chipset.
Golden Snap is considered a post-processing feature that uses AI to remove things considered related to 'time'. First, there's AI Best Moment, which helps you pick the best frame out of a series of photos taken. The other two are AI Remove Passerby and AI Remove Reflection. As the names suggest, the two post-processing features are used to remove people or reflections from the background.
#10 Equally powerful front cameras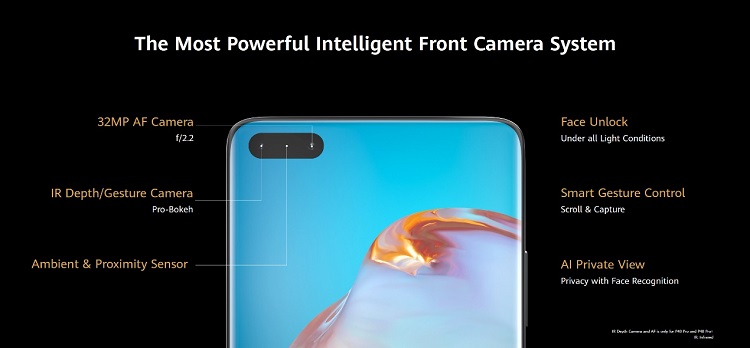 The front camera is just as good
Last but not least is the front camera that is just as capable of delivering great pictures. All of the Huawei P40 series devices come with a 32MP front camera and an IR Depth Camera. Moreover, the P40 Pro even has a proximity sensor and an ambient sensor. The 32MP front shooter is far from simple however, as it supports autofocus and 4K video recording too. If that's not quite enough, you can even get some excellent Bokeh shots thanks to the IR Depth Camera.
Were you able to learn more about the Huawei P40 series' cameras here? Huawei has put in a lot of effort to improve the cameras for its latest flagship devices and it shows here. Be it the Huawei P40 (RM2799), P40 Pro (RM3899), and P40 Plus (RM4999), all three devices will be great choices for those who want to take great pictures with a smartphone.
The P40 series also comes equipped with the AppGallery, which now hosts most of the apps that are popularly used by Malaysians. This includes apps like Instagram, Lazada, Netflix, WhatsApp, and more. By purchasing a P40 series device, you could also redeem rewards worth up to RM2381 from the Huawei Member Center, as well as three months of free 50GB of Huawei Cloud storage.
If you're interested, you can visit the official Huawei store to order a new Huawei P40 series device. For more news and articles like this, stay tuned to TechNave.com.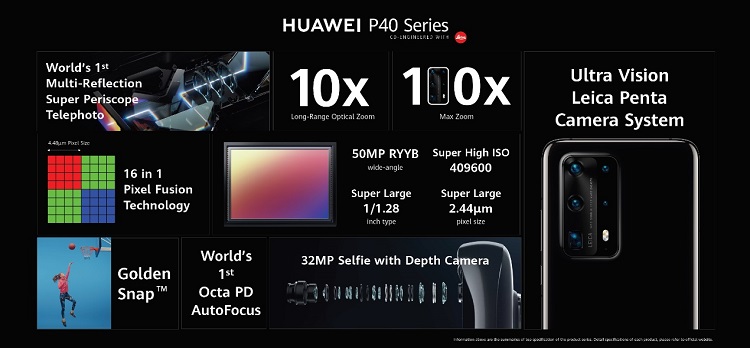 Huawei P40 Pro Specs & Price >