4 Features that make the Samsung Galaxy S21 Ultra a flagship performance phone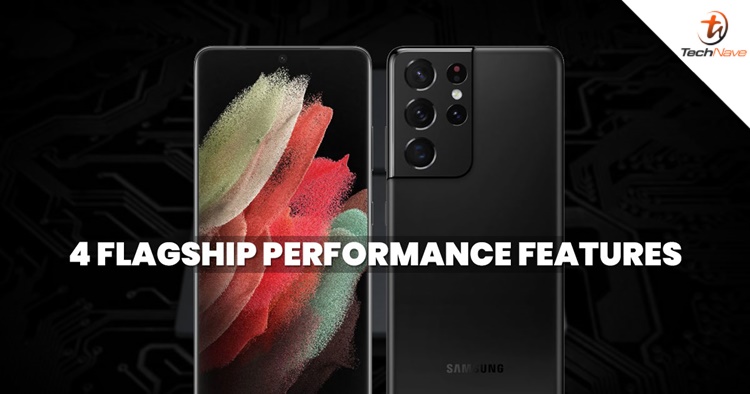 If you are looking for a new flagship smartphone and are still considering Samsung's latest phone series, what's stopping you? We know, we know. The price is quite hefty, so it's not something you can just buy on a whim. For reference, the Galaxy S21 series starting price is RM3499. But if you're eyeing the ultimate choice, the Galaxy S21 Ultra costs RM5299.
Obviously, getting the Galaxy S21 Ultra means you're getting the whole package. We have talked about its camera features before, plus you probably know that its display supports QHD+ resolution and up to 120Hz refresh rate. But if you need more convincing, here are four features that make the Galaxy S21 Ultra a flagship performance phone.
It uses Samsung latest chipset
Granted, the Malaysian model may not come with the Snapdragon 888 chipset. But the Exynos 2100 chipset is still a flagship tier unit and more than enough for most casual users. To briefly compare the Exynos 2100 and Exynos 990, here's a quick summary of what you need to know.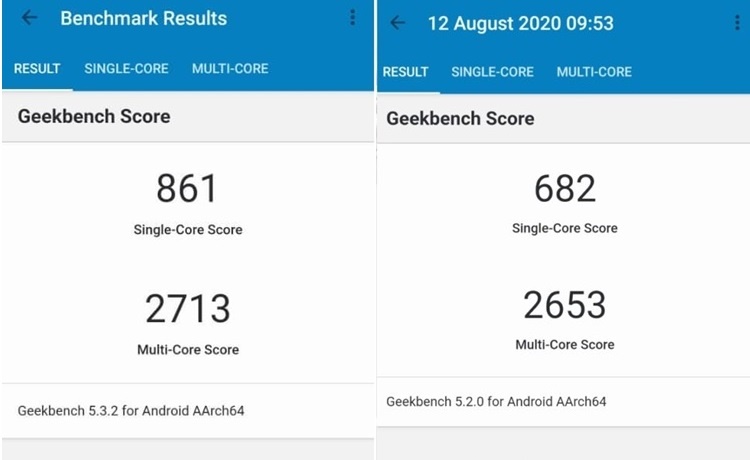 The Geekbench score from Galaxy S21 Ultra (left) and Galaxy Note20 Ultra (right)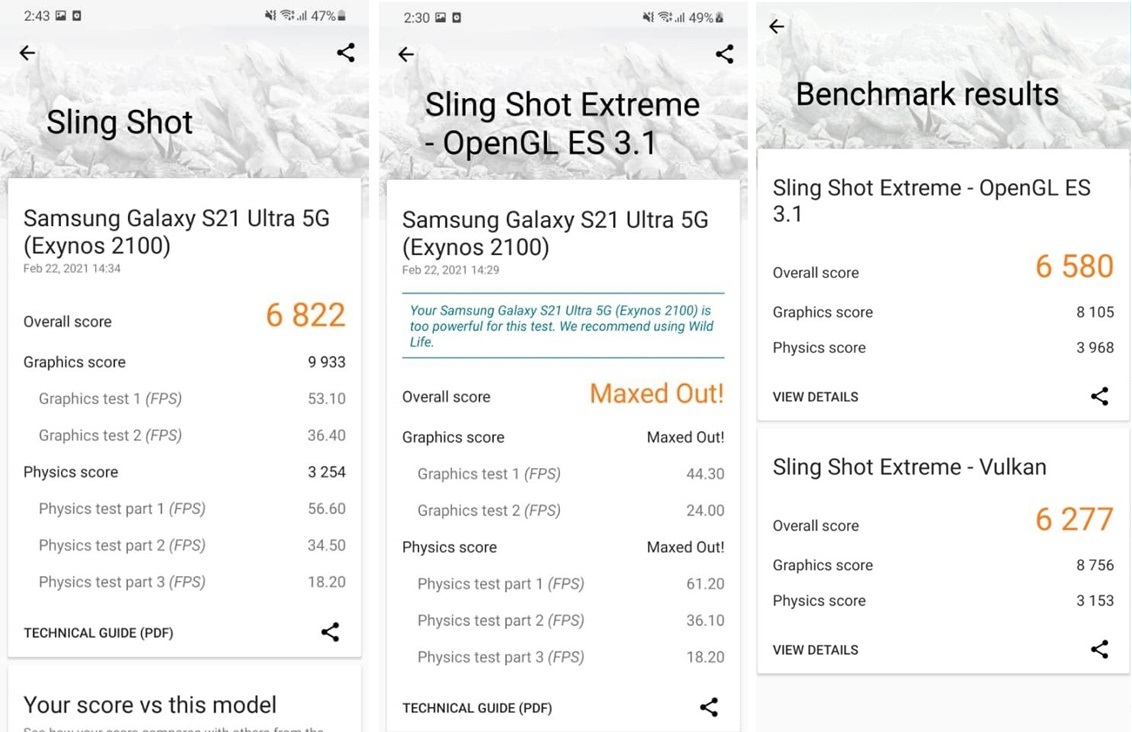 Galaxy S21 Ultra's score on 3DMark (left and centre),
whereas Galaxy Note20 Ultra's score is on the right
The Exynos 2100 chipset is the first Samsung chipset manufactured on a 5nm extreme ultra-violet process node. It's not only more power-efficient but also comes with improved performance. According to Samsung's report, it's around 10% faster and 20% more efficient than its predecessor. For graphics, the performance improved by up to 40%.
Big battery + Super Fast Charging
As a reminder, the Galaxy S21 battery capacity is 4000mAh. If you want a bigger battery, then the Galaxy S21+ and S21 Ultra feature a 4800mAh and 5000mAh battery, respectively. This part is pretty straightforward, but all the Galaxy S21 phones also come with Super Fast-Charging of up to 25W. If you prefer a wireless charging experience, it supports up to 15W wireless charging.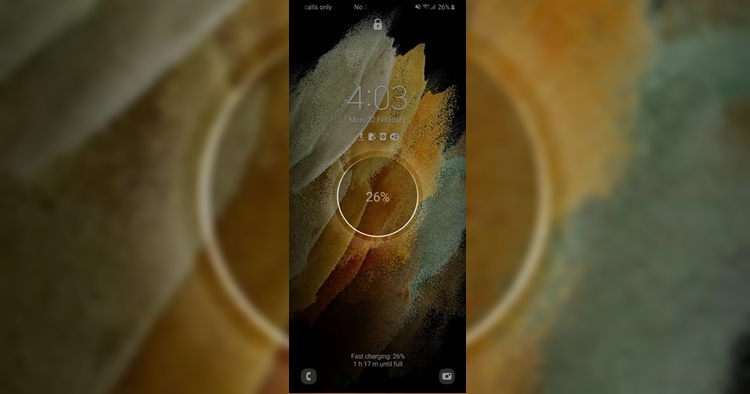 From 26%, it takes 1 hour and 17 minutes to fully charge
Speed and space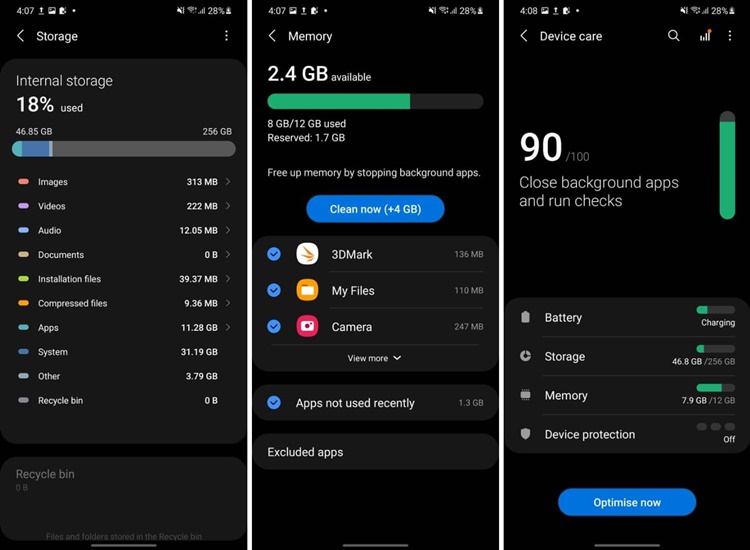 Ample storage space
In terms of memory capacity, the Galaxy S21 Ultra comes with a pretty large 12GB of RAM. That's already more than most standard laptops that only have 4GB or 8GB of RAM. It's not just any RAM, though, but LPDDR5 RAM, which brings devices to a new height of speed and enhances your user experience. Combining this with the Exynos 2100 chipset, low power consumption is viable on paper.
The 'Ultra' moniker also means it packs the largest internal storage of the three models. Like its predecessor, the Galaxy S21 Ultra can go up to 512GB. Of course, you can opt for the 128GB or 256GB models as well. On that topic, both the Galaxy S21 and Galaxy S21+ also have 128GB and 256GB storage options.
World's first WiFi 6E smartphone
Finally, we come to one of the most important aspects of a phone - its Internet connection. After all, what good is a phone if your online experience is horrible? Worry not, the Galaxy S21 Ultra is the world's first smartphone equipped with WiFi 6E. But what does this mean for you?
Well, a smartphone typically supports two bands - 2.4GHz and 5GHz. With 6GHz, the Galaxy S21 series can deliver data faster. To quote The Verge, 6GHz quadruples the total space (bandwidth) available to a device. According to Samsung, the maximum top speed on the Galaxy S21 Ultra is 2.4Gbps in terms of download. Overall, it's can achieve download speeds of up to 7.35Gbps download speeds (provided if you have a good 5G connectivity). This is possible thanks to the Exynos 2100 chipset, which comes with a 5G modem that supports sub-6GHz and mmWave 5G spectrums.
Samsung also integrated a WiFi network guide on the phone. The UI can share information with other WiFi-connected Galaxy devices and even has an auto WiFi connection for your friends and family (with request). Pretty cool, huh?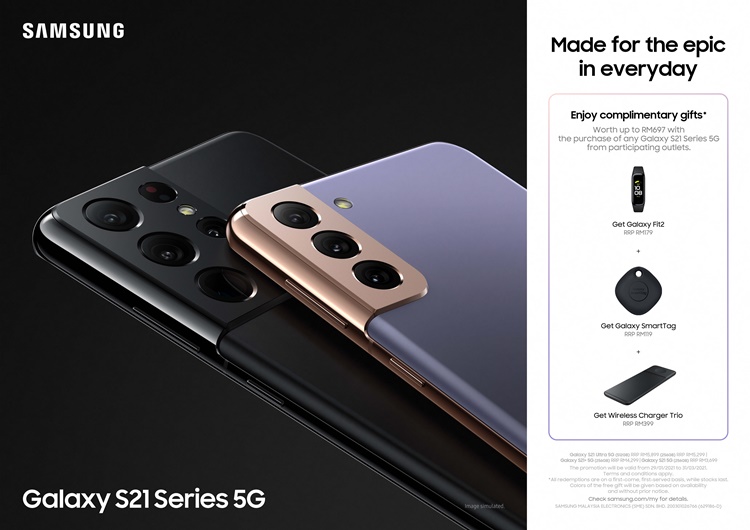 So how does the Samsung Galaxy S21 Ultra sound to you? By the way, customers who purchase any Galaxy S21 series device will be entitled to receive a Galaxy Fit2, SmartTag and Wireless Charger Trio worth a total of RM697. Of course, terms and conditions apply, and stocks will be limited.
The promotion above has already begun and will end on 31 March 2021. So what are you waiting for? To learn more about the Samsung Galaxy S21 Ultra, you can visit the company's official online store page right over here. If you happen to know anyone who has the phone, you can drop us a comment below on what you think. Stay tuned for more tech review articles at TechNave.com.
Samsung Galaxy S21 Ultra 5G Specs & Price >