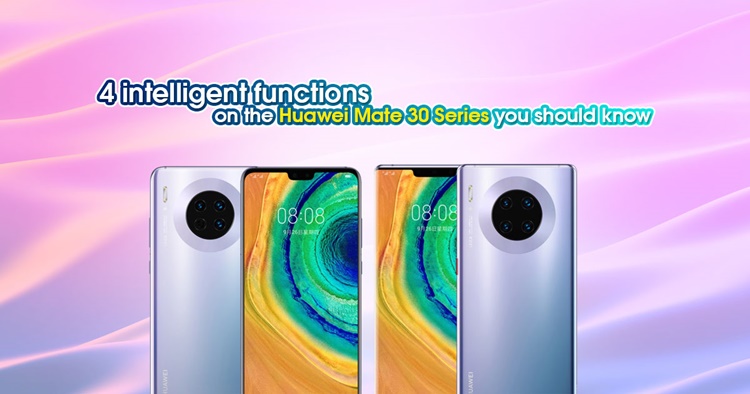 When it comes to the Huawei Mate 30 series, most people would think of the rear camera design on the back, or perhaps the many technological features that you've been hearing about for the past few weeks. Well, that's what we are going to talk about in this article. To be more precise - here are the 4 practical functions on the HUAWEI Mate30 Series you should know.
AI Gesture Control
Combined with the Kirin 990 chipset and its Neural Processing Unit (NPU), it allows people to interact with the Mate 30 series and this includes the AI Gesture Control. Supported by a 3D Depth Camera and Gesture Sensor on the front, the phone can identify your facial features AND detect your hand gesture movement in real-time.
There are a couple of things you can do with the feature, you can scroll the page up and down, unlock, take screenshots, and changing slides without having to touch the display physically at all (like a wizard). This is particularly useful when you are eating fried chicken with your hand, or reading a recipe online and preparing the food in the kitchen. It's super easy, barely an inconvenience.
AI Auto Rotate
Do you find it a hassle that you have to manually adjust the rotation on your phone? Like, say when you want to check out a photo horizontally and you forgot to unlock the rotation? Well, the Mate 30 series doesn't have that because it has AI Auto Rotate. To activate that mode on, just slide down the notification panel from the status bar and activate it!
Thanks to the 3D camera on the front, it can analyze the orientation of your eyes to lock the rotation of the screen instead of relying on the gyroscope. In other words, that also means you don't need to keep switching the auto-rotate feature off and on every time when you are lying on your couch or bed! This also works even if the phone is on the table, giving you a comfortable viewing experience.
AI Private View
Besides having a biometric in-display fingerprint and face unlock sensor, the Mate 30 series also has an AI Private View mode that can hide your messages privately. The phone is able to intelligently identify the correct owner so whenever a stranger tries to peek at an incoming message, it will hide the incoming messages effortlessly!
To activate this mode, you can open the "Access Application Lock" on the "Face Recognition" interface and follow the instructions. After turning on the AI information protection, go to Settings > Security > App Lock to verify your face recognition, then AI Private View is set to go.
Multi-Screen Collaboration
Finally, the Mate 30 series also has the Multi-Screen Collaboration feature that works perfectly with a Matebook 13. By utilizing the platform capability of EMUI 10, you can mirror the phone on the Matebook 13 screen panel which allows you to share media content via email, social apps, and even projecting a mobile game.
To make Multi-Screen Collaboration work, just simply tap on a specific spot on the Matebook 13 keyboard layout and you're good to go! With this cross-device collaboration feature, it makes tasks such as music playback, file editing, and more so much easier!
So what are you waiting for? The Mate 30 Pro as well as other Huawei Smart Life package deals which can be purchased separately and each has a different instalment plan + 0% interest made easy for Malaysians to own any Huawei products. All is made possible with the new Mate 30 Series to compliment your lifestyle! To learn more about the Huawei Mate 30 Pro, Huawei x Gentle Monster eyewear, Huawei Watch GT2, and Huawei FreeBuds 3, be sure to visit shop.huawei.com and their official Facebook page right here.