We have written about 5 reasons why everyone can't take their eyes off the Samsung Galaxy Z Flip previously, but what's the point if everyone is stuck at home? Some of you are bored, but some are also creative enough to entertain us with various memes on the Internet. As for me, I have the Samsung Galaxy Z Flip here with me alone.
If you also have the phone with you like me living alone, it's a bit sad that you can't show off your newest smartphone to your friends or family. But believe me, the Samsung Galaxy Z Flip has a lot more to offer than you think. So I explored, I experimented, and I came up with 5 creative ways to FLEX your Samsung Galaxy Z Flip while staying at home.
#1 Use it as a compact pocket mirror
Mhmm, fab
This one is for the ladies, if you have the Galaxy Z Flip with you now or are planning to get one, you ought to start practising with it as a high-tech compact pocket mirror now. Once we all go back to our workplace, you can take out your phone and easily apply a quick touch up with it.
#2 Watching videos or surfing on your social account during a tea break or mealtime
On the other hand, we all know how we like to play with our phones even during mealtime or tea break. From breakfast to dinner and of course snack time, most of us like to watch YouTube and Netflix, as well as Facebook and looking at the latest photo updates in Instagram because that's usually the only time to catch up what we missed. With the Galaxy Z Flip, you can now use both hands to eat or drink while watching in STYLE.
Having a phone that stands on its own while eating or drinking is so convenient now
Alternatively, you can also put the phone on your belly while laying down on your back. Or you can watch it while laying on your side hands-free!
#3 It's secretly a "tripod" on its own
If you can't stay indoors and want to make use of the Galaxy Z Flip's camera capabilities, you can and you don't even need to bring a tripod. Don't believe me? Just fold the phone halfway and place it on top of a surface and you're good to go! Of course, if you're concerned with phone scratches (which you should), you can slap on a protective casing, which is handily bundled comes inside the box.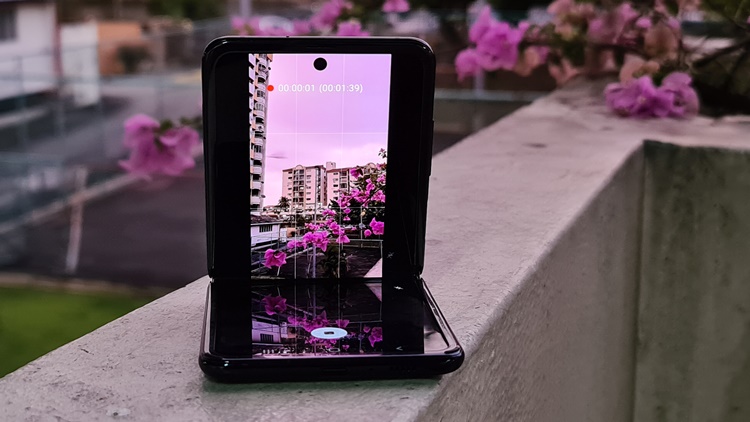 No tripod? No problemo
A short hyperlapse video taken on the Samsung Galaxy Z Flip

#4 Use it for vlogging too
Convenient for vlogging at home
In this current modern era, vlogging has become a popular thing to do for millennials and the upcoming generation. With the Galaxy Z Flip's "tripodless" capability, you can bring the device anywhere with you (in your vicinity) and do some vlogging as a virtual diary while staying at home!
#5 Go Zoom
Do you know what else has become popular? Zoom meetings (and other video call apps like Google Hangouts). This online meeting platform has sky-rocketed through the roof and almost everyone knows what Zoom is now. If you don't have your laptop around for this, you can always use the Galaxy Z Flip and Zoom with your colleagues, friends and family. It's super easy, barely an inconvenience.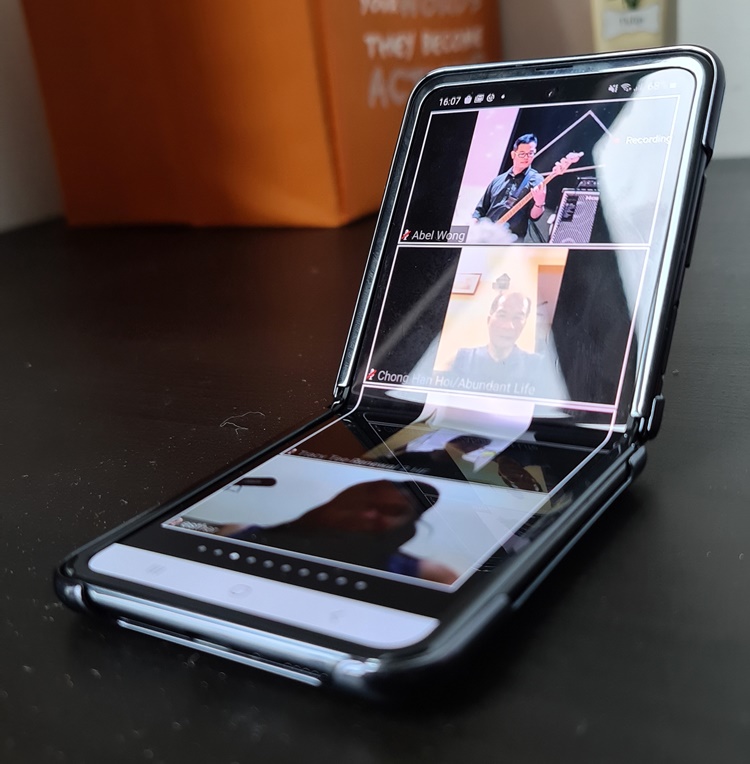 Now I don't need to hold my phone for Zoom calls
The Samsung Galaxy Z Flip costs RM5888 and yes, we know it's not for everyone because this is for people who want a product that suits their aesthetic lifestyle. You won't know how classy it is until you have it in your hands - it's a whole different experience. There are also so many more ways you can use it (see above), you're welcome.
So these are the 5 ways to FLEX your Samsung Galaxy Z Flip. If you're keen to know more, you may visit the page right here to check it out but what do you think? Let us know at our Facebook page and stay tuned for more tech articles at TechNave.com.