8 co-op games to play with your friends during the Movement Control Order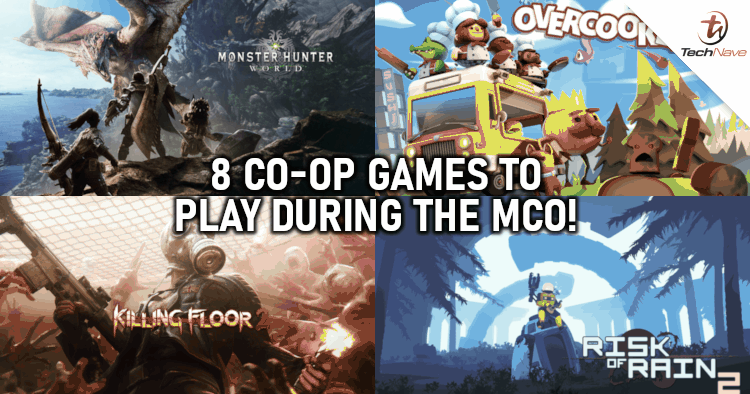 With the Movement Control Order extended to 14 April 2020 due to the coronavirus outbreak, I'm pretty sure a lot of you (including myself) feel a little bummed out because you won't be able to hang out with your friends. To make the whole ordeal more bearable, I have compiled a list of online co-op games you can play with mates until the end of the Movement Control Order.
Left 4 Dead 2
No list is complete without one of the oldest and most popular co-op games released, which is Left 4 Dead 2. To those who are unfamiliar with the game, Left 4 Dead 2 is a co-op survival shooter where you and three other players are tasked to fight through a horde of zombies in order to escape the infested city.
Left 4 Dead 2 - RM23.50 on Steam
There is also a versus mode, where 2 teams of four players compete against each other to see which of the two teams are able to escape while the opposing team tries their best to hinder their progress as zombies. Furthermore, the game also comes with Steam Workshop support, which allows it to download user-made content such as character skins, weapons skins, sound effects, as well as campaigns.
Risk of Rain 2
Another game worth checking out would be Risk of Rain 2, a 3D roguelike third-person shooter which revolves around defeating bosses of each level in order to progress into a much harder level. Similar to most roguelike games, Risk of Rain 2 features permadeath, which means you would need to restart if your character were to be defeated.
Risk of Rain 2 - RM39.00 on Steam
The game also features a plethora of unique items which not only alters your character, but it also comes with buffs to help you fight enemies more easily. You can play with up to three of your friends, but note that it might be a good idea to split the loot so that everyone has a fighting chance!
Killing Floor 2
Unlike Left 4 Dead 2, Killing Floor 2 is more of a co-op survival horror shooter where you have to survive increasingly difficult zombie hordes until you defeat the final boss on the last wave. There are also several unique mechanics such as a currency system, Zed Time (allows you to temporarily slow down time), character progression, as well as unique character buffs depending on the weapon you are using.
Killing Floor 2 - RM56.00 on Steam
Officially, the game supports up to 6 players in a single session or more if you're familiar with hosting your own server as well as enabling mods. It's also possible to install other mods in order to alter the overall experience of the game.
Portal 2
While Portal 2 is limited to only 2 players, it is still a solid choice if you're looking for a fun co-op puzzle-solving experience. To those who are unfamiliar with the game, Portal 2 is a first-person puzzle platformer which revolves around portals (hence the name).
Portal 2 - RM23.50 on Steam
With all that said, the players are required to work together to solve puzzles in order to progress through the Aperture Laboratory. Similar to Left 4 Dead 2, it is possible to download player-made maps and puzzles via the Steam Workshop.
Overcooked 2
Overcooked 2 is an interesting addition to the list because it revolves around cooking and teamwork, instead of shooting everything you see. The objective is you and up to three of your fellow cooks are to serve as many dishes as possible to accumulate points in order to enter the next level. It is also possible to compete against each other in a 2 versus 2 cook-off, to see which team is able to get the most points.
Overcooked 2 - RM44.00 on Steam
Terraria
Terraria - RM23 on Steam
If you're a fan of sandbox games, a 2D sandbox platformer game such as Terraria is a great choice for those who enjoy building their own base and fighting monsters. Not only that, but there are also several vibrant biomes and tunnel networks for the player to explore as well.
This game is especially great for large groups due to the fact that a session is able to support up to 8 players at one go. Furthermore, it's also possible to play as either co-op or player versus player mode, if you fancy having a little competition among your friends.
Monster Hunter: World
Monster Hunter: World - RM98.00 on Steam
Monster Hunter: World, as the name suggests, is a game about hunting monsters such as wyverns, mythical unicorns, and more that are usually several times larger than the players themselves. This adrenaline-pumping game lets you team up with up to 3 other hunters as you hunt down monsters in order to either study them or to keep the colony safe.
Stardew Valley
While Stardew Valley isn't as action-packed as all of the games mentioned above, it offers players a unique and relaxing experience because it around revolves maintaining your farm. Other than your main objective which is to rebuild the community centre, you're free to do anything you would typically do in a farming game such as caring for your crops, going fishing, or even upgrading your farm (even getting married and having kids).
Stardew Valley - RM31.00 on Steam
Officially, the game allows you to play with up to 4 of your friends, however, it's possible to install mods to allow more players to join the server at the same time. But with that being said, don't be surprised if you end up running into game-breaking bugs which could end up ruining everyone's experience.
What are your thoughts on all the games mentioned above? Let us know on our Facebook page and for more updates like this, stay tuned to TechNave.com.