ASUS Fonepad 8 FE380CG review - Awesome 8-inch 64-bit 3G Android tablet for the masses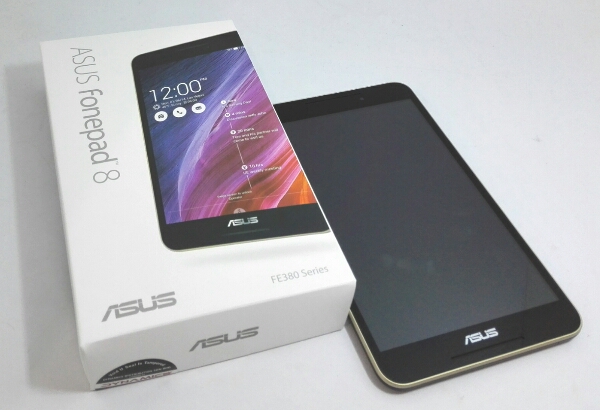 The new ASUS Fonepad 8 FE380CG is one of ASUS new wave of 64-bit Intel Atom processor powered Android tablets. Unlike the previous ASUS Fonepad tablets, the Fonepad 8 sports a larger 8-inch display but manages to fit this into a chassis that is thinner than the original Fonepad 7 but is the same width. Does it manage to deliver in every other aspect as well? Read our full review of the ASUS Fonepad 8 FE380CG below:
Design - Thinner, lighter but a bigger display
Featuring an 8-inch display with 1280 x 800 pixel resolution, the ASUS Fonepad 8 FE380CG is actually 120mm wide, which is the exact same width as the previous Fonepad 7. ASUS have managed to do this by making the side bezels even thinner than before, but the Fonepad 8 is slightly taller than the Fonepad 7. That being said, the design on the Fonepad 8 is a lot more premium than most Fonepad tablets. This includes a very thin 8.9mm and a copper gold metallic looking trim along the edge. The back is solid plastic with a comfortable stand out criss cross pattern that improves the grip. While there is some flex because of how thin the tablet is, it can fit very well in a single hand.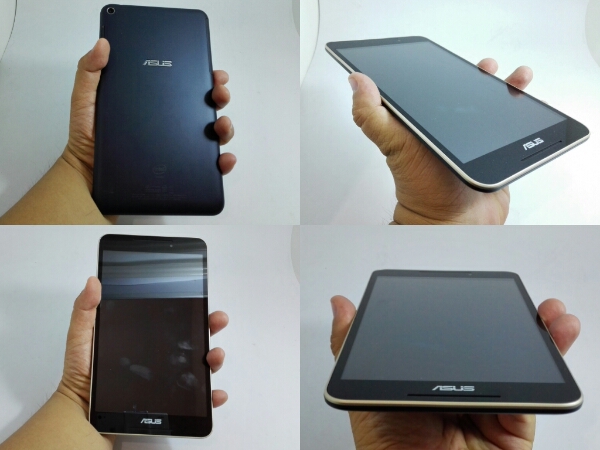 Featuring the same width as the ASUS Fonepad 7, the ASUS Fonepad 8 looks more premium while packing in a larger 8-inch display
The rounded corners give it a nice look and unlike previous Fonepads, the back is flat. We found the Fonepad 8 FE380CG to be very light at just 328g. While it packs in a 5MP PixelMaster rear camera, the camera is not protruding and should be well protected even if you lay the tablet flat. There are some design changes that we did not like though as the controls have been slanted downwards at an angle. While this does help the tablet feel thinner, it also means you can no longer turn on the tablet when it is flat on it's back. On the front dual speakers on the top and bottom complete the look, but don't stand out as much as the previous dual-front speaker design. Overall, the new Fonepad 8 FE380CG looks classy, sleek and thinner while maintaining a very solid build quality.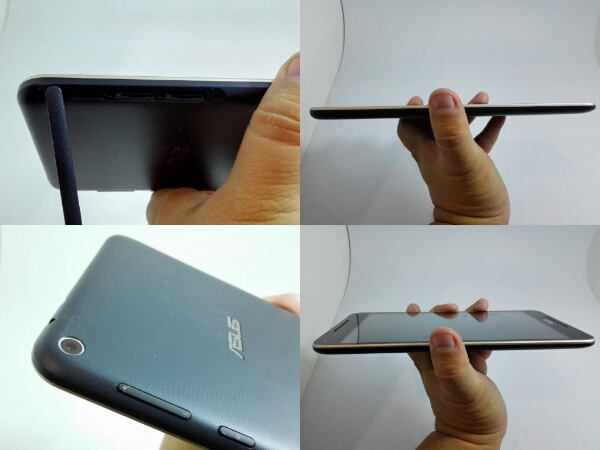 The ASUS Fonepad 8 is surprisingly thin and lightweight with a comfortable patterned backside but still has very solid build
Tech specs and Features - 64-bit Intel processor with louder dual front speakers
The previous range of ASUS Fonepad 7 tablets sported dual-front speakers with SonicMaster audio technology which was both crisp and clear but lacked a little in terms of loudness. This time around with the ASUS Fonepad 8 FE380CG, the tablet features improved dual-front speakers with the same SonicMaster audio technology but more on this later in the performance section. The other most notable tech spec for the Fonepad 8 includes a 64-bit Intel Atom processor which makes the Fonepad 8 tablet perfect for the 64-bit Android 5.0 Lollipop update. The tablet will come packing with Android 4.4 KitKat so it is just a matter of time before the next Android Lollipop update. The full tech specs and features for the ASUS Fonepad 8 FE380CG are listed below:
64-bit 1.33GHz quad-core Intel Atom Z3530
1GB RAM
8GB storage
8-inch display (IPS, 1280 x 800 pixel resolution, anti-fingerprint coating)
5MP PixelMaster rear camera (autofocus) + 2MP front camera
Features dual-SIM, Stereo speakers with SonicMaster audio technology
Supports 3G HSPA+, WiFi, A-GPS, Bluetooth 4.0,
214 x 120 x 8.9 mm | 328g
Android 4.4 KitKat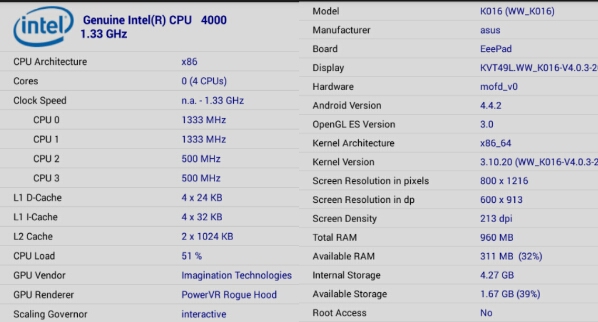 All the tech specs available to the ASUS Fonepad 8 FE380CG
From the tech specs above it should be noted that the Fonepad 8 is packing a 5MP PixelMaster rear camera similar to the capable 5MP PixelMaster camera on the ASUS ZenFone 4. Other ZenUI features are also present but it should also be noted that the 5MP PixelMaster rear camera on the Fonepad 8 also packs in time-lapse video recording, so if you have a tablet holder and tripod at hand you can take some nifty time-lapse videos. In terms of connectivity, the Fonepad 8 offers dual-SIM support and 3G HSPA+ mobile Internet connections. There is also support for WiFi, A-GPS and Bluetooth 4.0.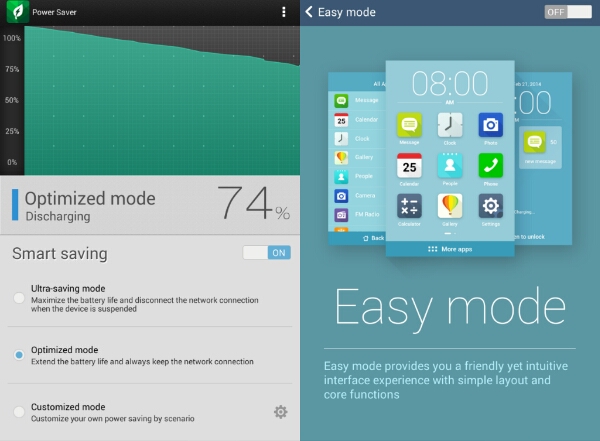 The new ASUS ZenUI packs in great power optimization and much more such as the Easy Mode
The full complement of ASUS ZenUI apps does mean that you only get about 4.27GB available from the existing 8GB storage on the tablet. That being said, the ZenUI integration is much better than some other custom interfaces we've seen as the Party Link pops up when you take a picture and the other features pop up only when it seems like you may actually need it. You can expand storage up to 64GB via the microSD slot. In terms of connectivity you get fast and strong WiFi, HSPA+ 3G and Bluetooth 4.0 along with support for Miracast.
Performance - Head and shoulders above the rest
Most tablets within this range tend to offer AnTuTu scores of around 19000 or so, even ASUS own previous 7-inch and 8-inch tablets. The ASUS Fonepad 8 FE380CG gets an AnTuTu score of 32757, placing it head and shoulders above other tablets in it's class. Other benchmarks reflect the same level of performance with 3DMark reporting the Ice Storm and Ice Storm Extreme benchmarks maxed out while the Ice Storm Unlimited benchmark is at a very high 15209. Epic Citadel got a similarly high 59.1 frames per second on the native resolution of 1280 x 800 pixels.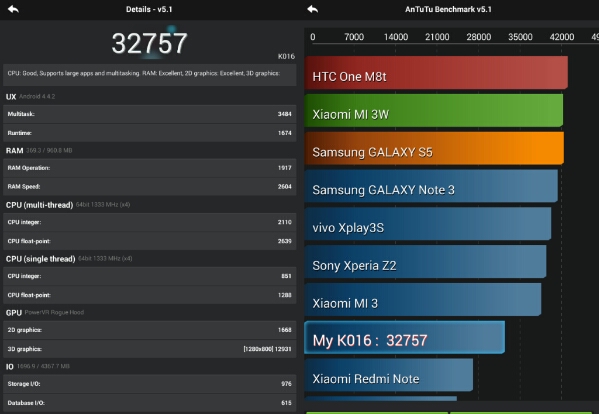 AnTuTu scores are off the charts for the ASUS Fonepad 8 FE380CG tablet with a score of 32757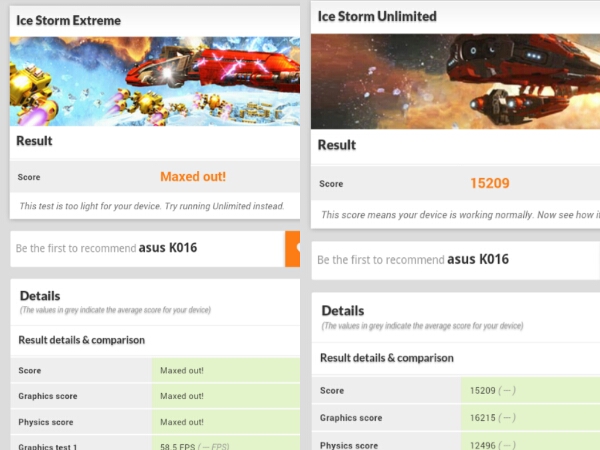 3DMark reported the ASUS Fonepad 8 FE380CG maxing out the first two Ice Storm benchmarks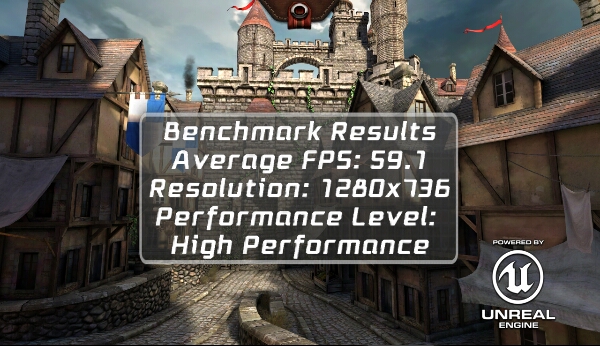 Epic Citadel showed very good 3D performance

It is also one of the few ASUS Fonepads we've seen that can smoothly play demanding games like Asphalt 8:Airborne. HD video playback is very smooth, clear and detailed with the 720p display doing better than some 1080p screens we've seen. The enhanced SonicMaster dual front speakers are also very loud with crisp and clear sound so you can probably use this tablet as your personal all-in-one movie player or boombox with no problem.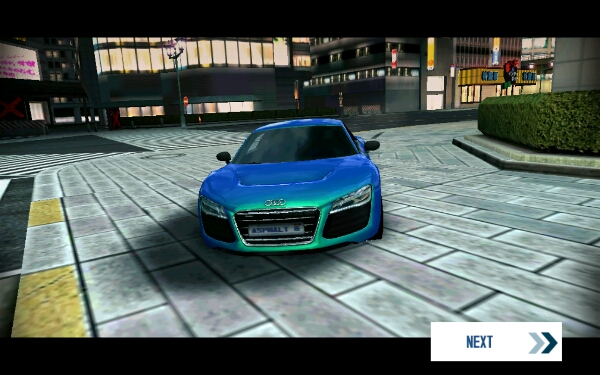 This is the first tablet we've seen in this class that can play smooth Asphalt 8:Airborne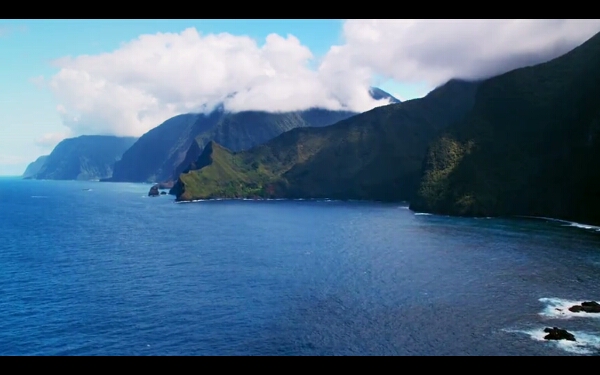 HD video playback on the ASUS Fonepad 8 FE380CG is clear, smooth and detailed
Camera performance is above average with good performance in well-lit situations but not so good performance in low-light conditions. The PixelMaster camera technology offers some very good options, including the Time Rewind feature and a very fast burst mode. Like our previous review of the ASUS ZenFone 4, the camera still has issues with the light enhancement for all the burst shot or Time Rewind shots, but it is still a better 5MP rear camera than most other 5MP cameras you'd find on other tablets. Video recording is also very good and now comes with a time lapse feature. Thankfuly, battery performance is also very good, lasting about 8 to 10 hours on heavy to moderate use. On minimal usage the tablet lasted a bit more than 3 days making it great for a day-long time-lapse video recording. The 2MP front camera is good enough for most needs but probably won't win any selfie awards.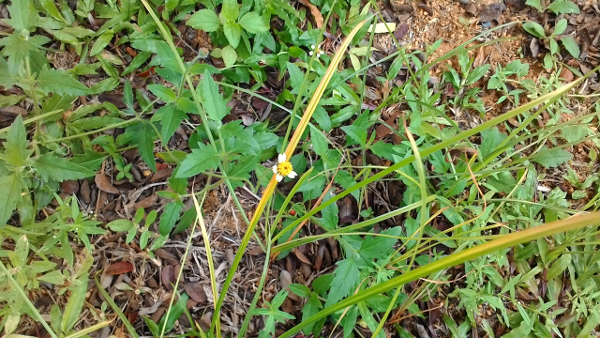 The 5MP rear camera is surprisingly good, better than other 5MP tablet cameras we've seen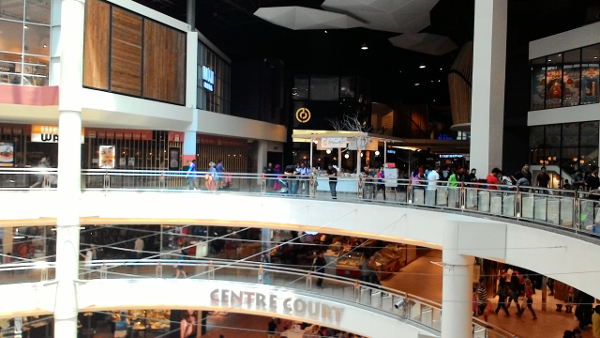 Clear details for the most part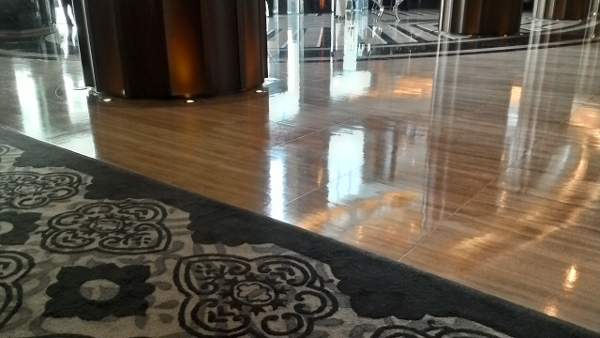 5MP, Automatic

5MP panorama mode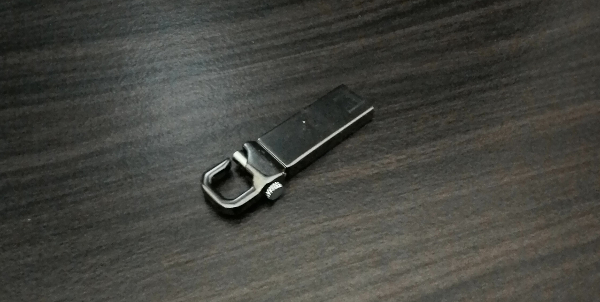 Pretty good close-up too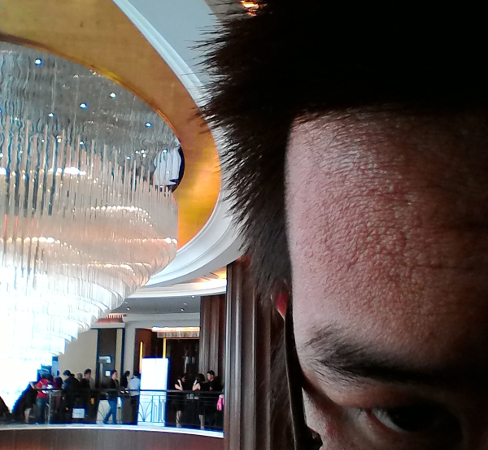 Hmm. Didn't know I had so many wrinkles on my forehead.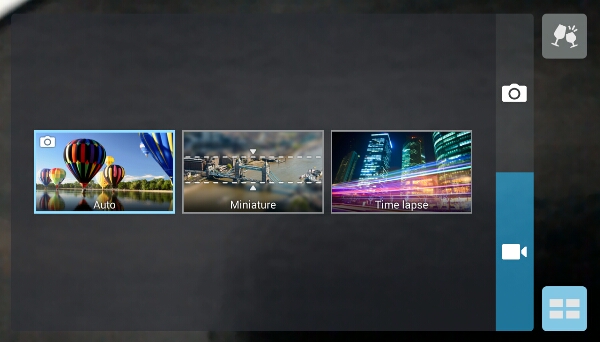 A new time lapse option lets you record time-lapse videos
As usual of ASUS devices, connectivity is very good with steady WiFi and 3G. The tablet does not get hot, despite it being so thin or capable of such performance, so you don't have to worry about it warping like some other very thin tablets. The tablet does not flex all that much and should be able to take a drop or two but we'd recommend getting a good cover or case for it. While it still looks a bit wierd using it as a phone, it is surprisingly easy to fall into doing, especially considering how many functions and features it offers.
Price - Very good value for money
Retailing at a mere RM649, the ASUS Fonepad 8 FE380CG offers very good value for money. Even more so that third party sellers are now offering the original Malaysia set for below RM600. About a year ago, you would not be able to get a tablet with this sort of tech specs and performance at just RM600 and below and even now, there are very few tablets with the same level of tech specs and features. In terms of price the closest rivals would be the Huawei Tablet 8, HP Slate 6 and Samsung Galaxy Tab 3 none of which offer the same level of performance or features.
Conclusion - Awesome all-in-one 3G tablet for the masses
Overall, the ASUS Fonepad 8 FE380CG tablet is an awesome tablet with 3G connectivity and phone capabilities that is affordably priced for everyone. If you're one of those people who use a tablet to make calls, then you should definitely consider the Fonepad 8 as it is slimmer, thinner, faster and more powerful than most tablet smartphones. Those looking for an all-in-one device won't be disappointed as the performance is good enough to do serious work like photo and video editting along with casual work like writing, browsing the Internet or playing movies. The dual front speakers are quite loud and clear while HD movie playback is great with the larger 8-inch display. Our only issue is with the 5MP camera, which seems to be less good than it actually is thanks to all the other awesome tech specs and features on the Fonepad 8. Despite that, the cameras are still very capable and should beat out most tablet cameras quite easily.
Check out our unboxing video of the ASUS Fonepad 8 FE380CG
Check out our hands-on of the ASUS Fonepad 8 FE380CG
*TechNave.com would like to thank ASUS Malaysia for the ASUS FonePad 8 FE380CG review unit. It allowed us to do a more in-depth review and enjoy all the pleasant surprises it had to offer.

Asus Fonepad 8 FE380CG Specs & Price >