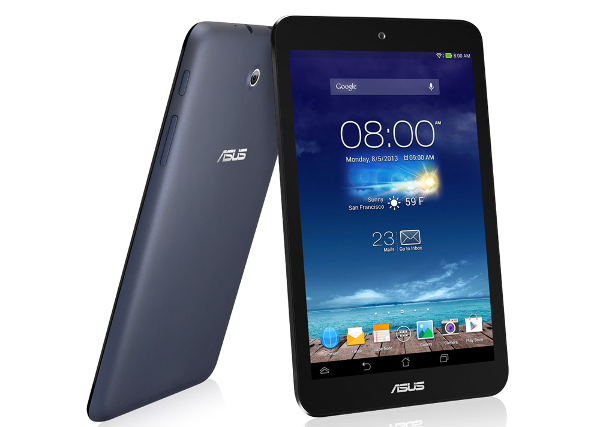 Most tablets today have 7-inch sized screens. However, for some people, adding on just another inch is more than enough to make a tablet device much better, which is why ASUS have come out with the ASUS MeMo Pad 8 (ME180A), which is a Wi-Fi capable tablet with a larger 8-inch screen we found to be very capable indeed. Does it fulfill your needs for something just a little bit bigger? Check out our review of the ASUS MeMo Pad 8 below for all the details.
Design - Simply matte
Unlike the previously reviewed ASUS Fonepad 7 (ME372CG), the design for the ASUS MeMo Pad 8 is very simple, almost generic. The backside is plain matte with no patterns. It has a rubberized-like feel to it while there is a small camera hump for the rear camera. Slightly rounded corners and fairly slim bezels give the front a sleek look. Weighing in at 350g the tablet is heavier than an Apple iPad mini but it compensates by having a larger resolution of 800 x 1280 pixels compared to the 1024 x 768 pixels on the iPad mini.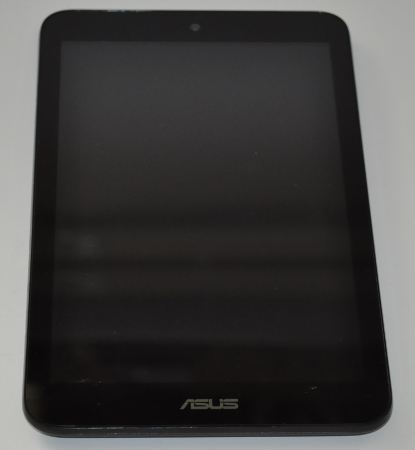 The design is simple with rounded corners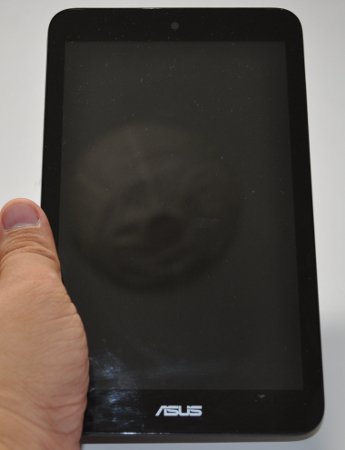 The ASUS MeMo Pad 8 fits quite easily in the palm of your hand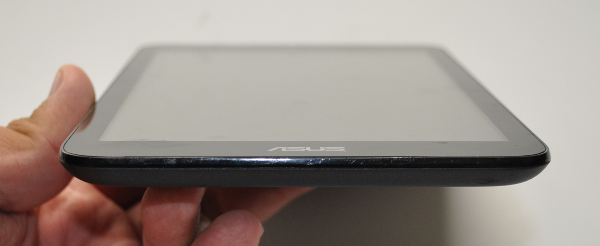 The backside is curved at the edges for a more comfortable grip
This larger screen size has it's pros and cons but the biggest advantage I can think of is that the 8-inch screen is finally wide enough for me to touch type comfortably. I've tried this with the 7.9-inch screen of the iPad mini but the width of the screen for the iPad mini is the same as most other 7-inch tablets, which results in my hands tightly cramped together trying to touch type, which is especially hard for people with big hands like myself. The most notable cons is that due to the larger screen, the pixel density is slightly lowered down to 189 ppi. This is still sharp enough to see text and images clearly, and is better than the iPad mini which has a pixel density of 162 ppi.

Controls are minimal with just a power button and volume rocker

Connect everything through a single microUSB port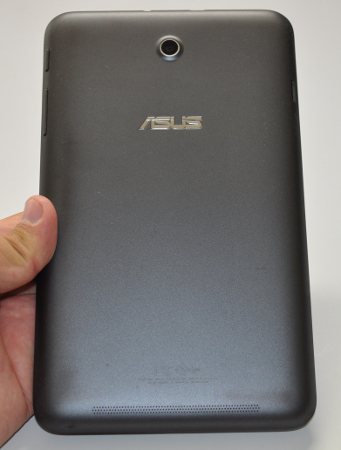 The backside is matte and feels rubberized with a slightly raised camera hump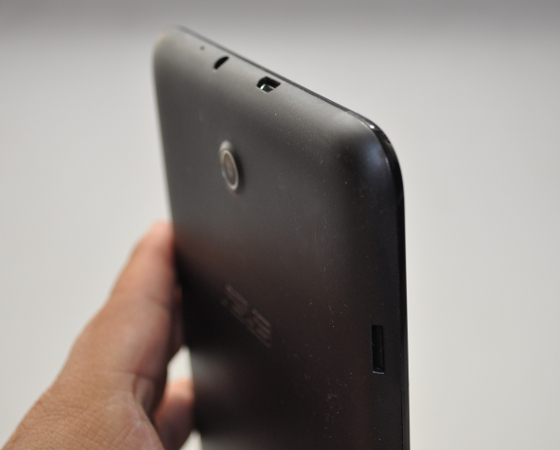 Tech Specs and Features - Good enough with a GPS as well
Running on a 1.6GHz quad-core ARM processor with 1GB of RAM, the ASUS MeMo Pad 8 offers the aforementioned 8-inch display with 800 x 1280 pixel resolution, and 16GB of storage along with support for up to 64GB microSD flash memory. The display is IPS for better viewing angles and supports up to 10 capacitive touch points, so if you do want to do any touch typing, the display can easily support it. The tablet packs in a 5MP rear camera with no LED flash and 1.2MP front camera along with a 3950 mAh battery. The MeMo Pad 8 is strictly WiFi only but covers WiFi 802.11 b/g/n along with Bluetooth 3.0. One feature not mentioned is the fact that it also has a GPS built-in, letting it stand out from all the other WiFi only tablets around. Weighing in at 350g the tablet isn't much heavier than smaller 7-inch tablets but it is a bit thick at 10mm. The tablet comes with a number of ASUS features for PowerSaving and SuperNotes but it doesn't come with the latest ZenUI interface and suite of apps. The tablet has two speakers along the backside.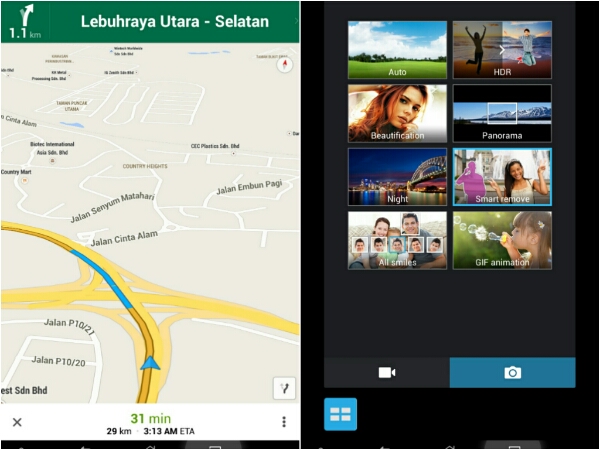 While it isn't listed at most sites, there is a GPS for the ASUS MeMo Pad 8 along with a good selection of camera options for the 5MP rear camera
Performance - Good optimization
ASUS have done a very good job of tweaking and optimizing the components because the ASUS MeMo Pad 8 manages to get a score of 19801 on AnTuTu. This was achieved even with the PowerSaving function turned on, which tends to decrease performance somewhat. The reason why we say this is due to good optimization is that we've actually tested tablets with the exact same quad-core processor and powervr graphics but with 2GB of RAM that only managed 14000+ scores on AnTuTu. Other benchmarks show that the MeMo Pad 8 is quite capable in other aspects with 3DMark getting 4136 in Ice Storm and 4218 in Ice Storm Ultimate.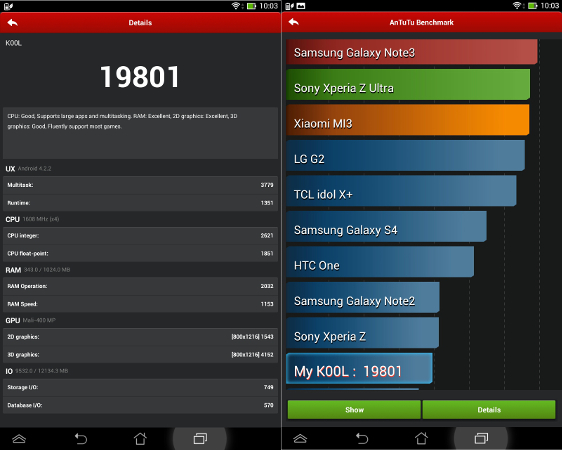 The ASUS MeMo Pad 8 scores fairly high on AnTuTu with 19801 even with PowerSaving turned on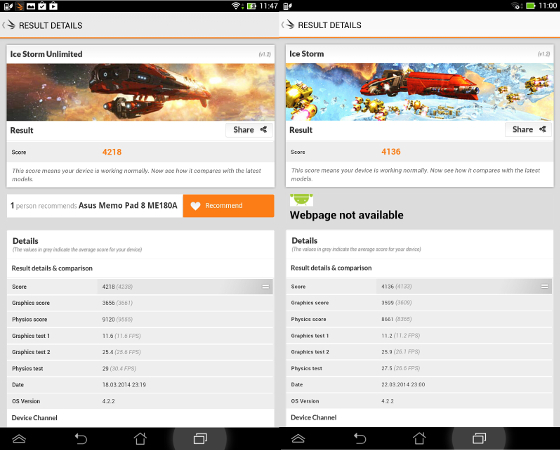 The ASUS MeMo Pad 8 offers good 3D performance

In real world testing the ASUS MeMo Pad 8 is equally capable, playing relatively lag free first-person shooters like Frontline Commando 2 smoothly. It even handes 3D runner Minion Rush well along with FIFA 14 (that has some lag when there are too many players on the field at one time). However, it still cannot handle hardware intensive games like Asphalt 8, as the lag makes it nearly unplayable. For movie watching the tablet handles 1080p media smoothly but because of the lower resolution screen, some details are a bit blurry. Audio is nice and loud, and there isn't much static on the upper registers. However, the audio does lack in terms of clarity as everything tends to blend together making it difficult to pick out individual sounds.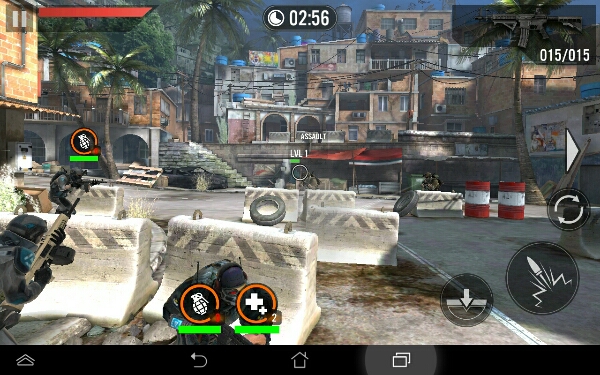 Play first person shooters like Frontline Commando 2 smoothly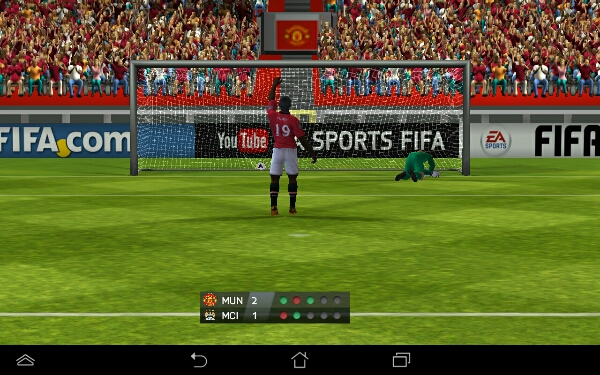 You can even go penalty kicking with the ASUS MeMo Pad 8
Camera performance is just about average though, perhaps because this MeMo Pad 8 tablet came out before the recent PixelMaster camera technology being introduced in other ASUS products. You can record HD video and snap shots but images tend to turn out rather grainy, especially in low light conditions. For normal daytime and locations with good lighting, the rear camera does well enough though. The front camera is good enough for Skype or other video chats but again it isn't the best low end camera we've seen from ASUS. Connectivity is very good, working quite well behind walls and doors. The unmentioned GPS also works, so it isn't actually a disabled feature, and when used with the appropriate app such as Google Maps or Waze, provides fairly accurate navigation.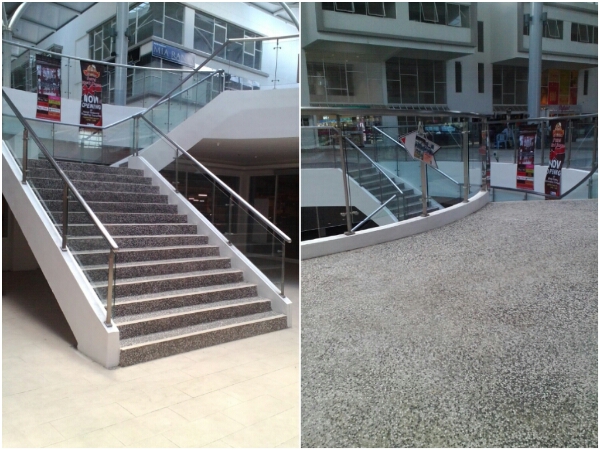 Camera performance is good but does have a slightly grainy look to it
As a work tablet, the ASUS MeMo Pad 8 serves up very good performance. I used it to edit pictures, write articles and upload them along with some video editing as well. In all cases, the tablet handles it smoothly. However, once in a while, the tablet may have some stability issues when multi tasking or switching between too many apps at once. The screen is responsive and the extra width makes touch typing on the display a bit more comfortable than smaller 7-inch tablets. For the more common tasks like surfing the Internet or answering emails, the MeMo Pad 8 is just as good as any other laptop computer, provided that you have the right apps to do it with. The Multi-user function is quite useful, and provides an easy way to switch between different users while keeping all the files and media separate. Battery life is good, lasting on a single charge for up to 3 to 4 hours of continuous heavy usage like playing games or doing work. If you're not doing anything that intensive like browsing the Internet or answering emails you can expect the tablet to last longer.
Price - Still a good deal
Officially, the ASUS MeMo Pad 8 retails for RM599 but many sellers are offering it for less than that with the sell price going from RM530 to 560. This is still a very competitive price considering that the closest rivals for it would be 7-inch tablets from Lenovo and Acer which often don't pack as much power or screen size. Granted, there are more affordable options from China-brand tablets, but these tend to have poor connectivity options and not very good build quality. Most of these don't come with a GPS and the closest tablet we found to rival the MeMo Pad 8 in terms of features and price to performance ratio is ASUS' own Fonepad 7.
Conclusion - Good all-rounder for those who want something bigger
Overall, the ASUS MeMo Pad 8 is a good all-round tablet with simple design and a slightly bigger 8-inch display. We found it very capable of doing nearly everything we threw at it including light to intermediate gaming, 1080p media and doing actual work with it. The extra 1-inch it adds to the display lets it be one of those few tablets that you can comfortably touch type on, instead of having to rely on a bluetooth keyboard, making it a good single mobile device to bring around and do everything. However, while it was just released in late 2013, better tablets in the same price range are coming soon, so if you're looking for a tablet that is future-proofed (can run 64-bit, has a better camera, etc.) then you should probably look elsewhere. If all you're looking for is a slightly bigger WiFi tablet than can do most things well, then you should definitely consider the ASUS MeMo Pad 8 (ME180A).