ASUS ROG Phone 3 review - Return of the King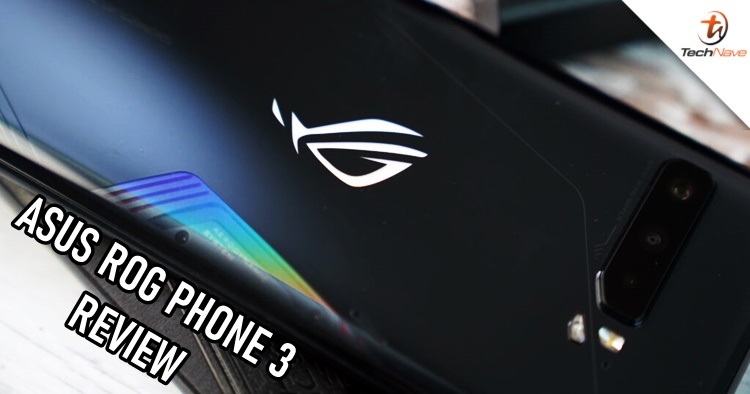 Different mobile phones offer different needs for everyone, and like it or not - mobile gaming is here to stay. It's no secret that we are big fans of the ASUS ROG Phone series, and prior to the announcement, we wondered how ASUS would improve this 3rd-generation gaming monster.
If you are wondering whether you should pre-order the Strix Edition or just wait for the 12GB + 512GB or 16GB + 512GB (this is the one we reviewed) model, you have come to the right place. Tried and tested, here are all the pros and cons you need to know about the ROG Phone 3 (16GB+ 512GB). Let's get to it!
Design - If it's not broken, don't fix it
From the first generation, the ROG Phone 3 hasn't changed much and that may trigger unpopular comments about it being boring, but we say - if it's not broken, don't fix it. ASUS did reduce the size of the thermal copper plate, however, allowing for more space on the glass back with some tiny holes as vents. There's also a triple rear camera this time with the LED flashlight on a horizontal layout, as well as the trademark Republic of Gamers logo and RGB lighting effect.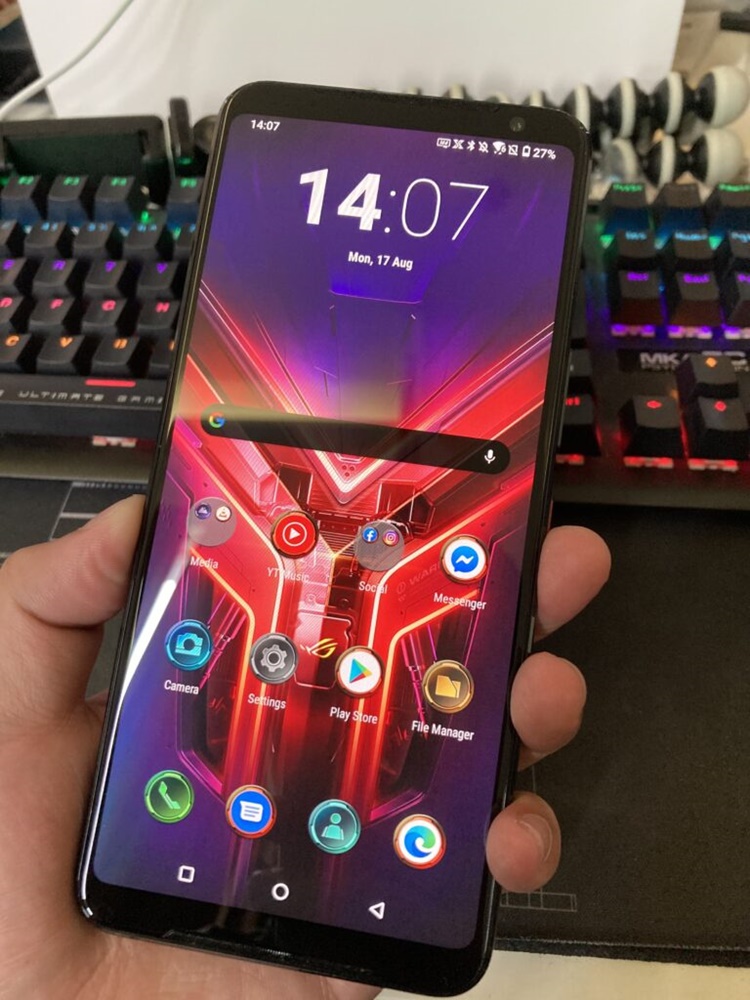 The top and bottom bezels may look thick but it's necessary so that your palms won't accidentally touch and disturb your mobile games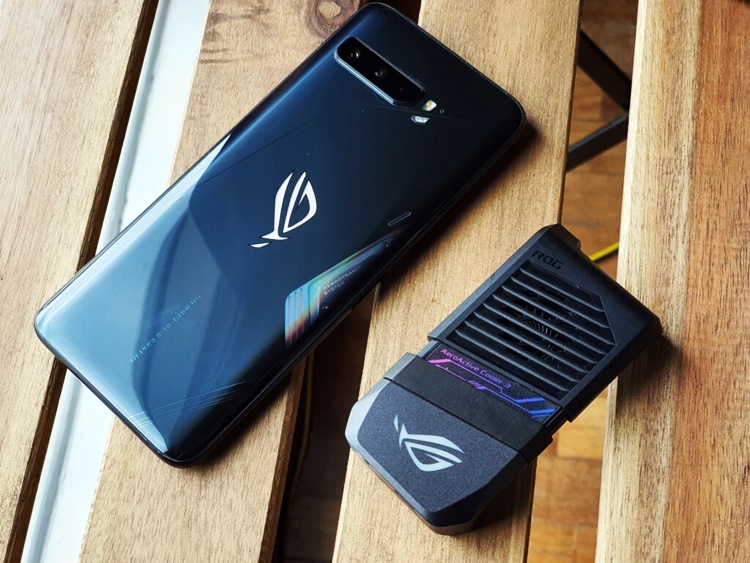 The back design and the AeroActive Cooler 3 fan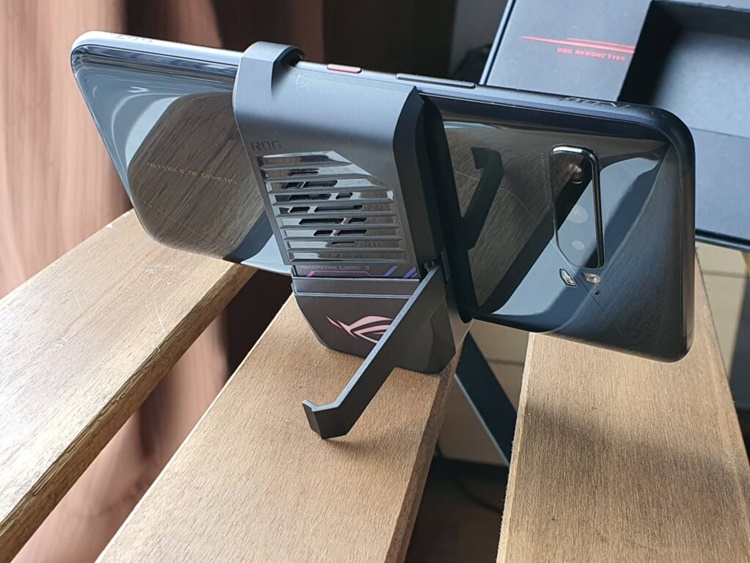 The AeroActive Cooler 3 fan has a kickstand now!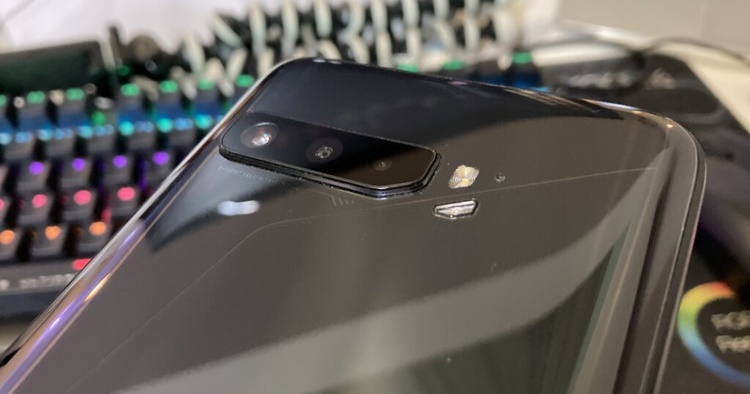 The triple rear camera bump is quite noticeable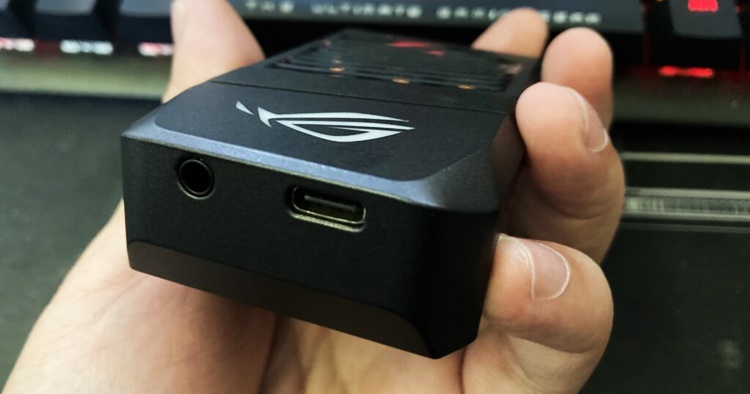 A USB Type-C port and 3.5mm headphone jack are available on the AeroActive Cooler 3 fan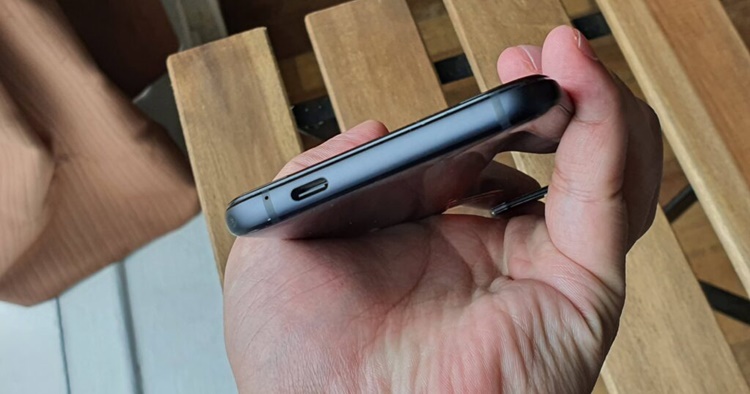 Just a single USB-C connector at the bottom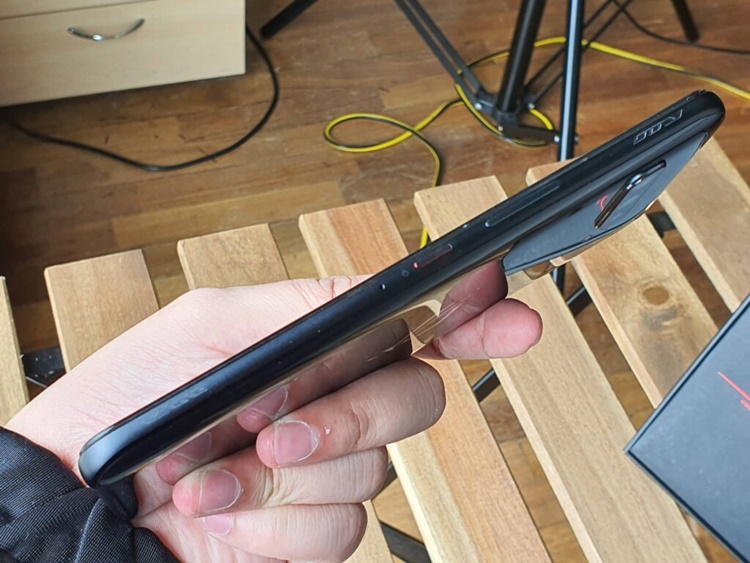 The usual volume and power buttons, you can also see the AirTrigger marks on the end of both sides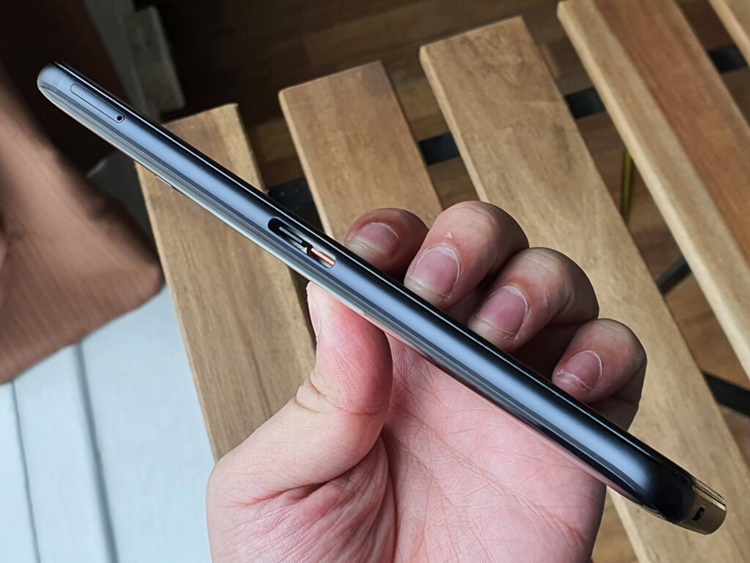 The dual SIM card tray and port for the AeroActive Cooler 3
The ROG Phone 3's AMOLED display is still 6.59-inches (lol) and you can still find the dual front-facing stereo speakers. We also noticed that the phone is slightly thicker than before, measuring 9.85mm as opposed to the predecessor with 9.48mm. However, that's not a bad thing because it made gripping the phone easier. Moreover, ASUS has improved the AirTriggers, heat dissipation, and RGB lighting. The 3.5mm headphone jack is gone this time, but you can still use the AeroActive Cooler 3 (which you should) to plug in your earphones while gaming.
Tech specs and features - More motion controls on the AirTrigger 3
Here are the official tech specs of the ROG Phone 3: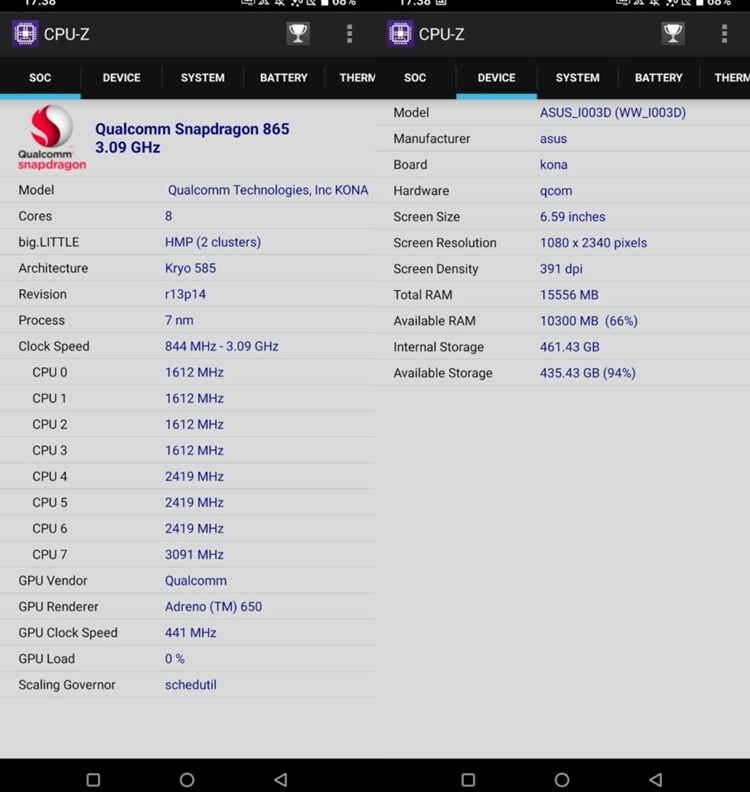 Qualcomm Snapdragon 865+ 5G chipset
8GB/12GB/16GB of RAM (LPDDR5)
256GB/512GB UFS 3.1 storage
Measures 171 x 78 x 9.85mm, weighs 240g
6.59-inches AMOLED display (support up to 144Hz refresh rate, 270Hz touch sampling, 1ms, HDR, Corning Gorilla 6)
Triple rear camera - 64MP (main) + 13MP (ultrawide) + 5MP (macro)
24MP front camera
Features X Mode (boost up to 3.1GHz), Game Genie, Armoury Crate, Dirac HD Sound dual stereo speakers, AirTrigger 3, up to 8K/30fps recording, 3-axis EIS stabilisation
Supports WiFi 6 (802.11a/b/g/n/ac/ax, 2x2 MIMO), Bluetooth 5.1, 5G, NFC, USB Type-C connectivity
6000mAh battery (30W PD fast charge technology)
Android 10 with ROG UI
For your information, there are actually three ROG Phone 3 variants. First, there's the Strix Edition that comes with a Snapdragon 865 chipset, 8GB of RAM, and 256GB of storage. Then there's also the standard ROG Phone 3 that comes with the Snapdragon 865+ chipset but has two variants - one with 12GB RAM + 512GB ROM and another with 16GB RAM + 512GB ROM. Those are the only differences between the three options, so the rest of the tech specs and features are the same.
The display now supports a refresh rate of up to 144Hz, which is honestly an overpowered feature (but still nice, hehe), and 270Hz touch sampling rate. It also supports 30W PD fast-charge, allowing it to charge up the 6000mAh battery from 0% to 75% in 45 minutes. However, the feature we have to talk about is the AirTrigger that allows you to do more than one motion for various actions.
Previously, owners can use either tapping or sliding motions on the predecessor AirTrigger 2. But this time around, the AirTrigger 3 supports new motions to further enhance your mobile gaming experience. For each AirTrigger sensor, you can add up to a total of four keys on the dual partition buttons, on top of sliding and swiping. With that many commands, it can be easy to press the wrong action but this is where the Anti-False Touch feature comes into play, as it keeps you from messing up your moves. This is a good addition but we ended up turning it off because we felt it was easier to game without it.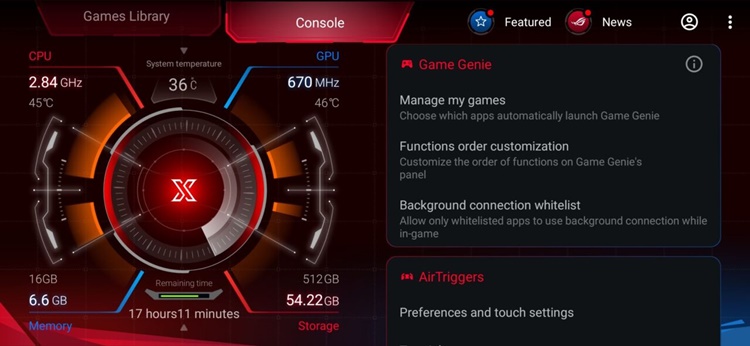 Armoury Crate is back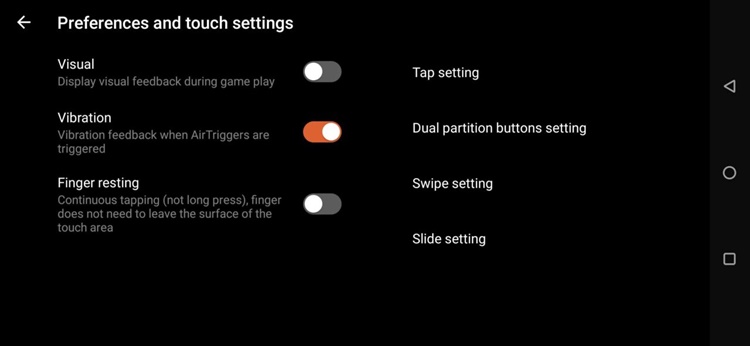 Here's where you can customise your AirTrigger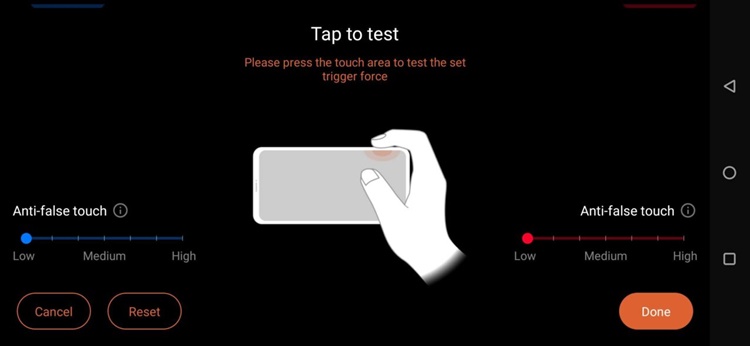 The anti-false touch feature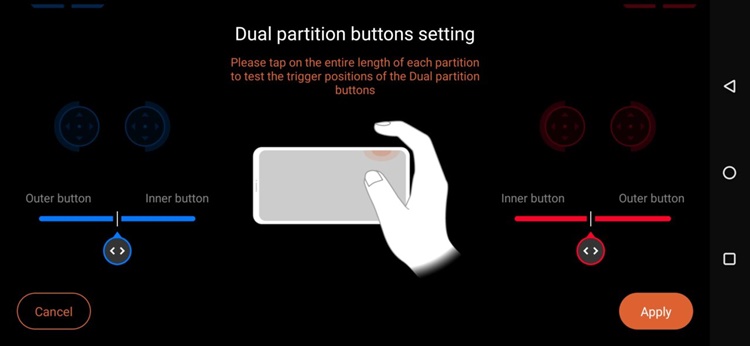 The dual partition buttons allow you to have a total of 4 virtual buttons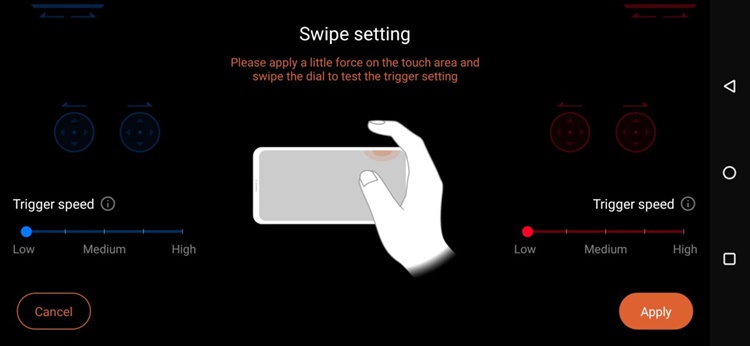 You can Swipe too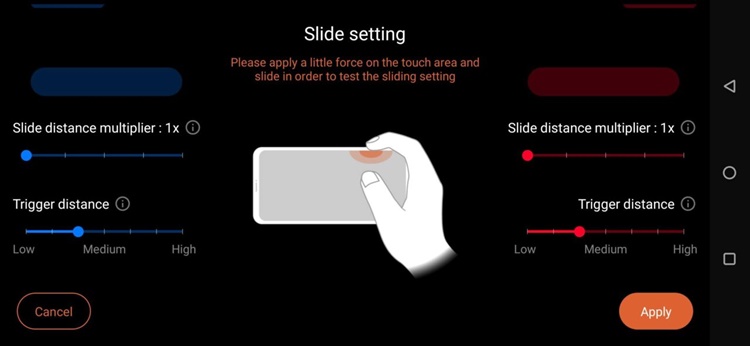 Don't mind me, just sliding in my settings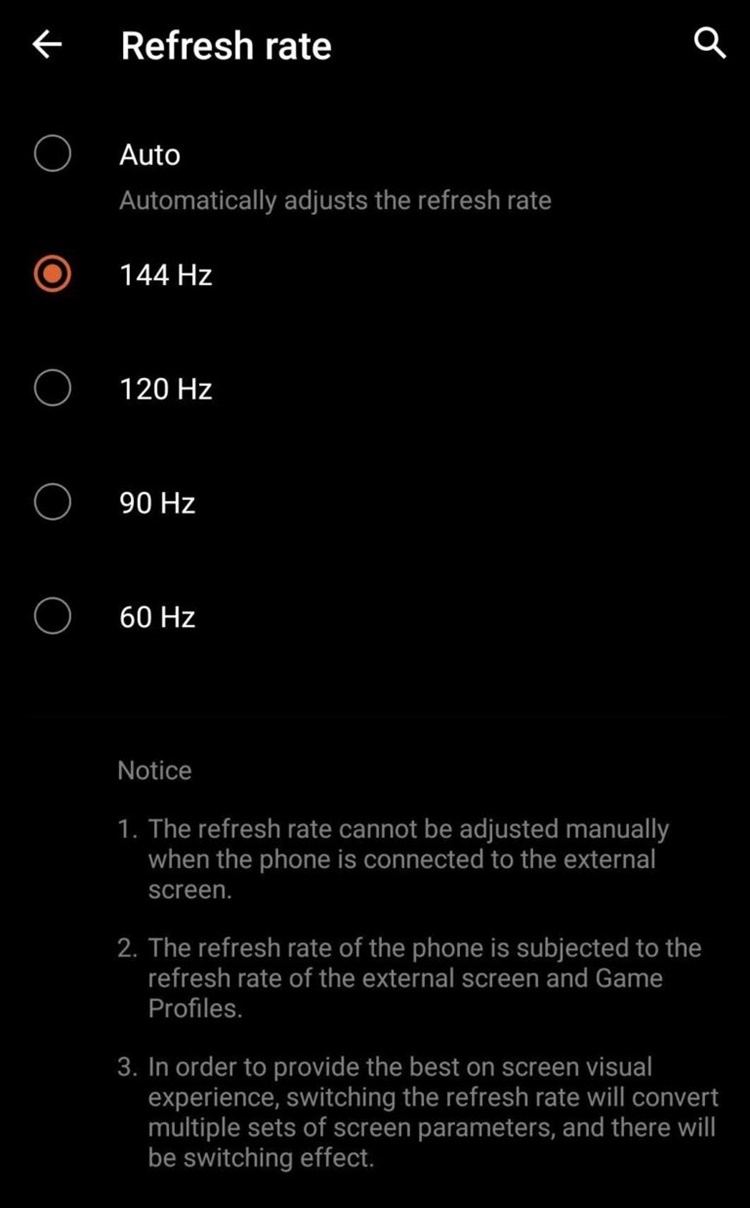 The refresh rate page
Performance - Overpowered as expected
Obviously, the ROG Phone 3 performs amazingly on both Geekbench and 3DMark. On Geekbench, it scores 1000 and 3361 points on single and multi-core respectively, whereas it scored almost 8000 points on 3Dmark OpenGL ES 3.1 benchmark. For comparison, its predecessor's 3DMark score is around 6000 points so that's quite a big improvement. It should also be noted that the ROG Phone 3's score is the highest we have seen from a smartphone so far this year.
We mentioned earlier that the phone can support up to 144Hz refresh rate but it's overkill for more games. While there are a few mobile games that can be played at 120Hz, popular mainstream mobile games such as Call of Duty: Mobile, PUBG Mobile, and Mobile Legends Bang Bang can only reach up to 60Hz. However, if you play games like Final Fantasy XV: Pocket Edition, Temple Run 2, Cut The Rope 2, Summoners War, Yu-Gi-Oh! Duel Links, Maple Story M, or Honkai Impact 3rd, then you will get to enjoy the full refresh rate experience.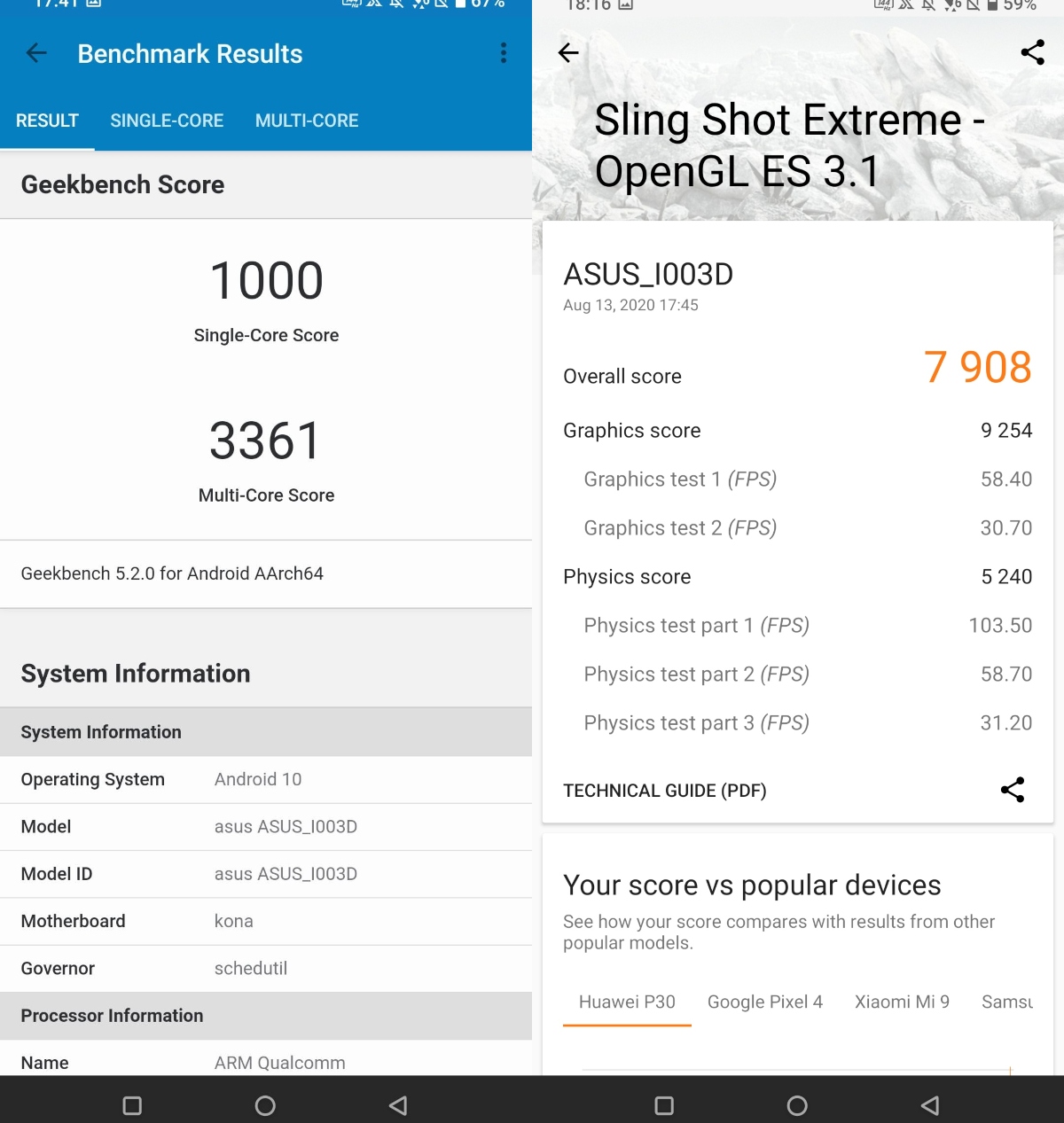 The scores on Geekbench (left) and 3DMark (right)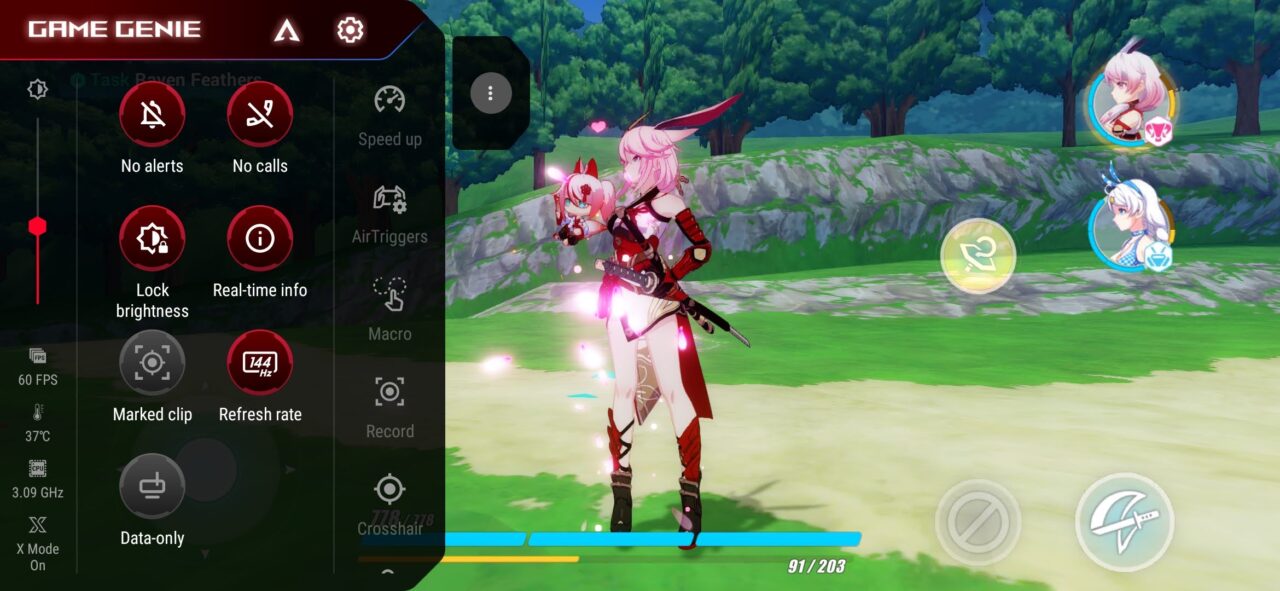 Playing Honkai Impact 3 on the ROG Phone 3 is beautiful because of the 144Hz refresh rate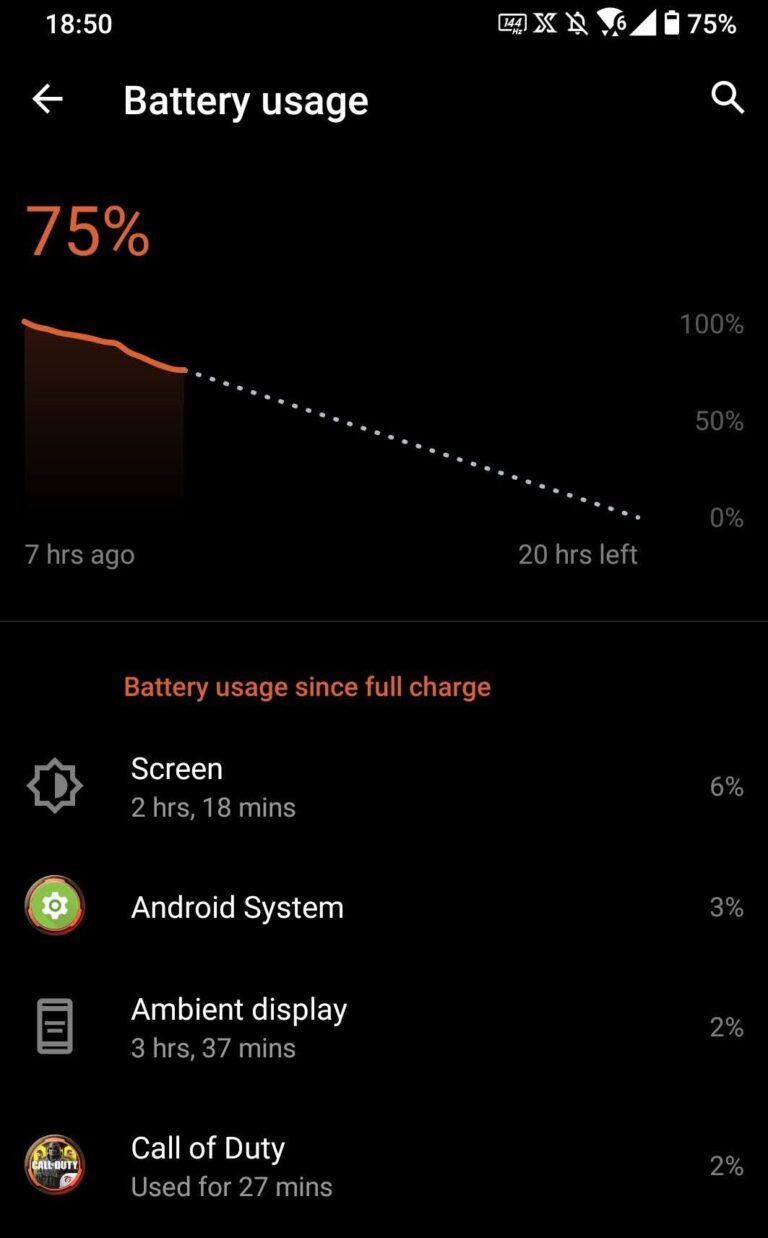 The battery chart after turning on the 144Hz mode, playing mobile games for 7 hours in total + 2 hours of screen brightness
Just a heads up, if you choose to play any mobile games at 144Hz mode, the phone will surely heat up so we strongly advise you attach the AeroActive Cooler 3 fan. Although the phone can get super warm, the battery life performance is impressive because even after turning on the 144Hz mode, playing for 7 hours in total + 2 hours of screen brightness, it only depleted until 75%! Mostly, you won't need to charge the battery daily so the battery performance gets an A+ from us.
In terms of connectivity, the WiFi 6 mode is stable and fast (WiFi 6 routers required) and 4G LTE connection is not a problem but it really depends on your local telco signal strength. Oh, it's also worth mentioning that since the phone has Dirac HD Sound, it makes the dual front speakers better and audio experience fantastic.
On the photography side, mobile gamers aren't likely to pay much attention to the camera setup, not because it's lousy but because it's not something they prioritise. Having said that, we think the camera performance of the ROG Phone 3 is better than before and we are quite satisfied with the photo quality. You can look at the photos below taken by us.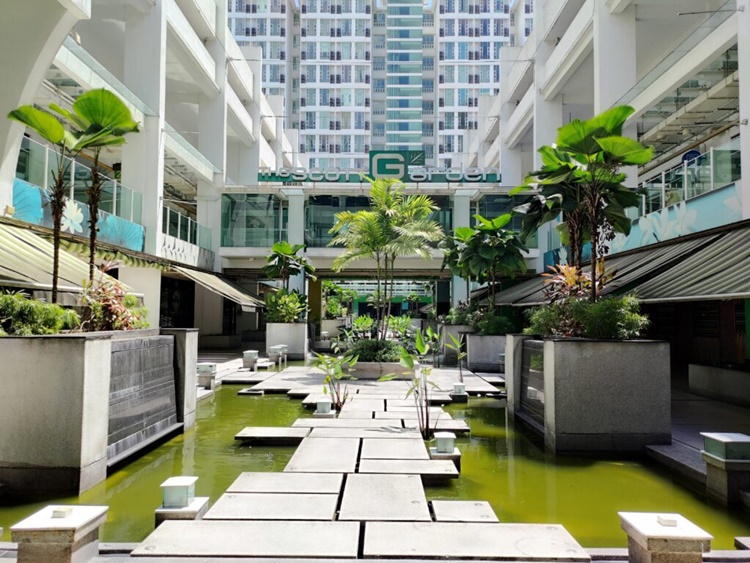 Main camera - pretty good colour contrast there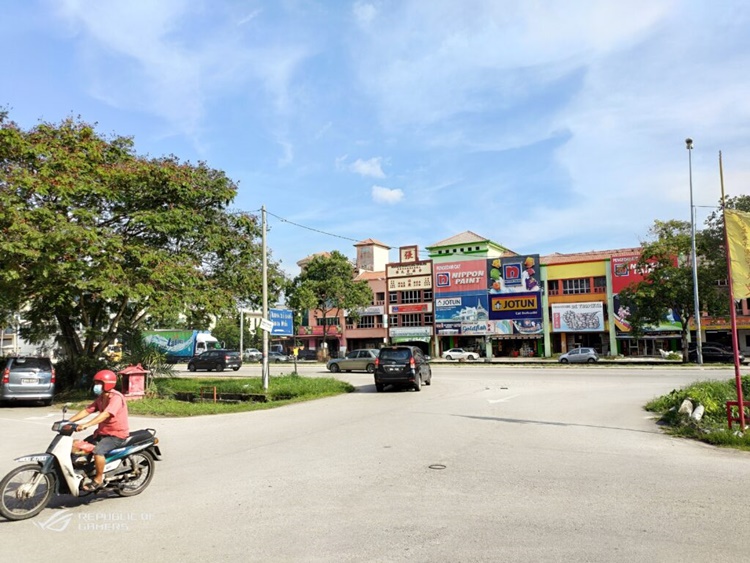 Another one that was taken with the main camera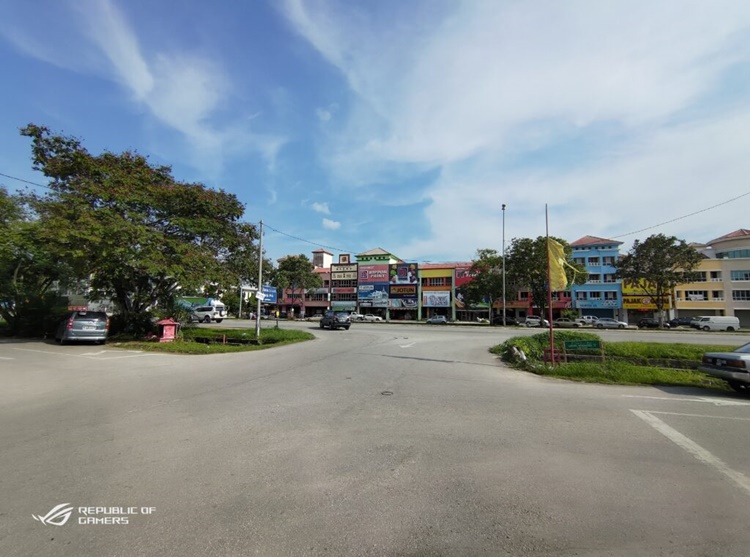 Ultrawide shot, the colour contrast loses a bit there as usual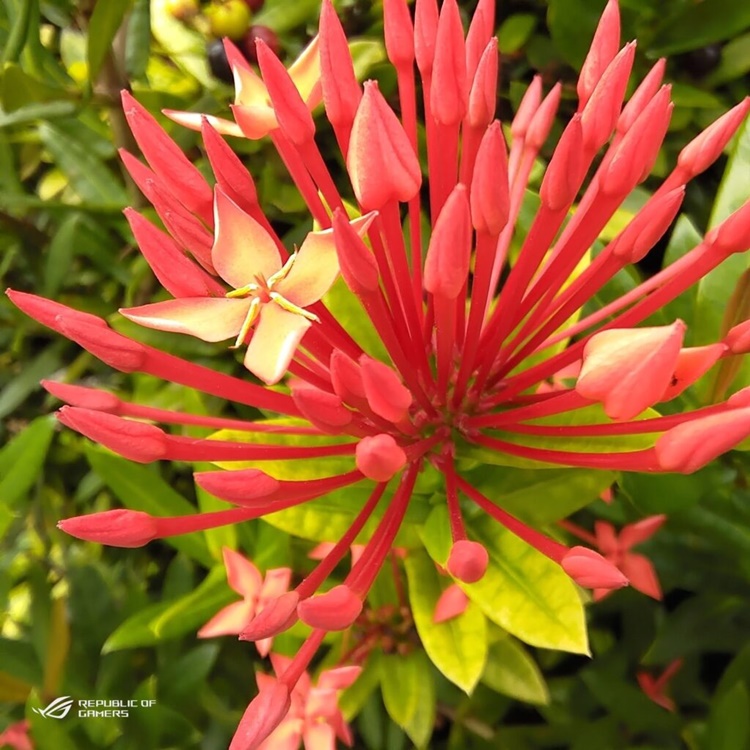 Macro shot is mostly fine, but we weren't that impressed, to be honest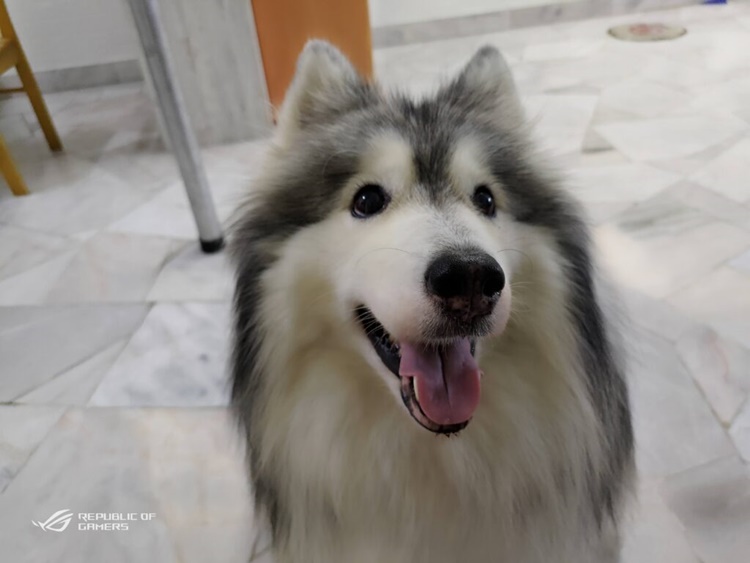 Taking a portrait mode of a dog lol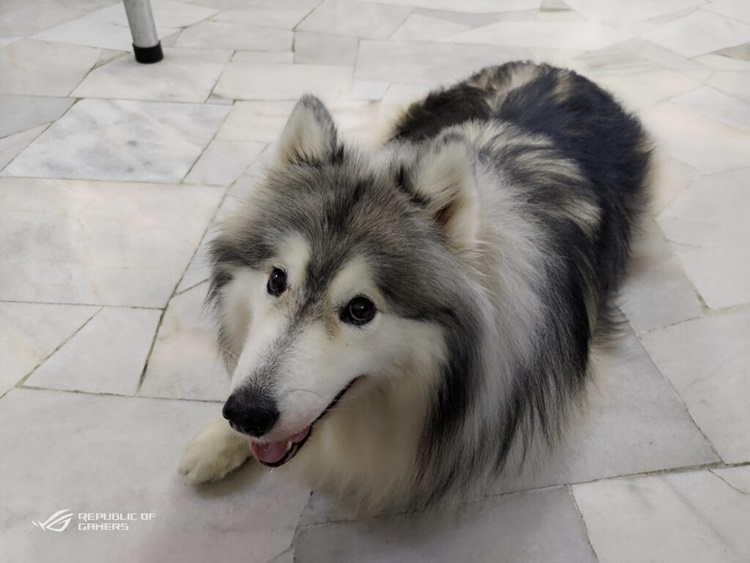 Who's a good girl?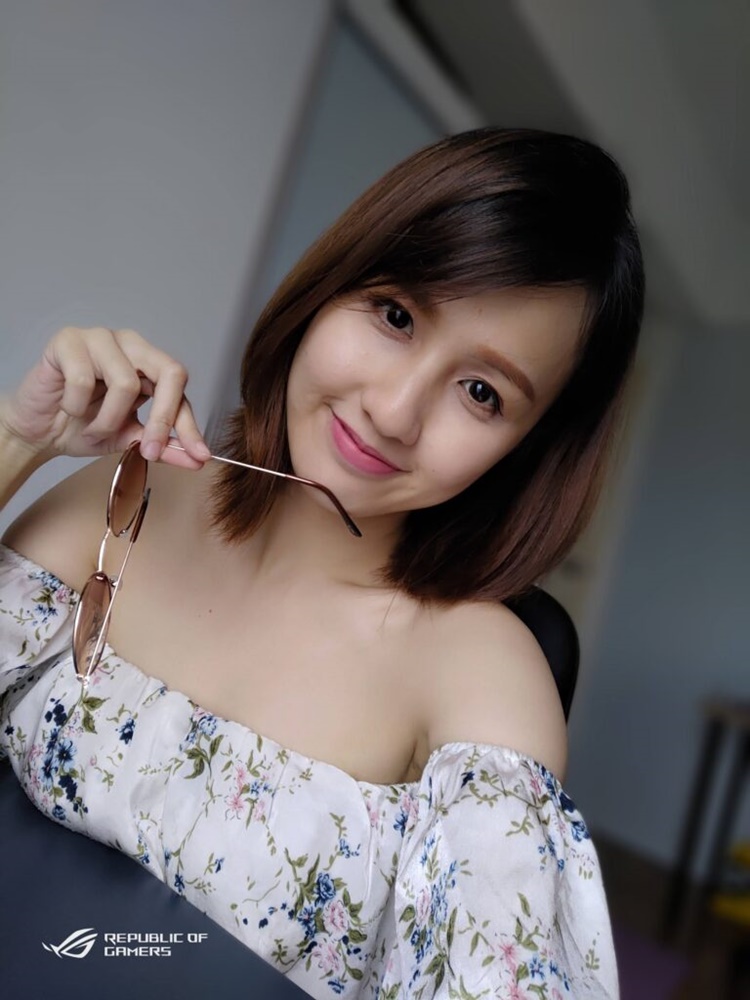 The front camera is still good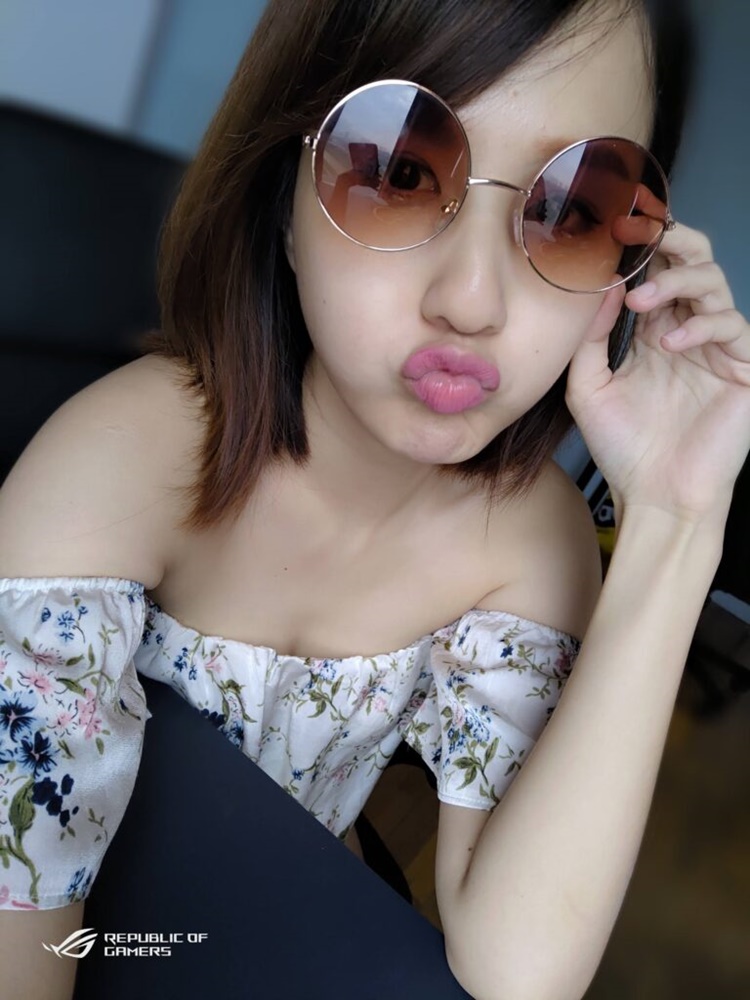 Selfie in portrait mode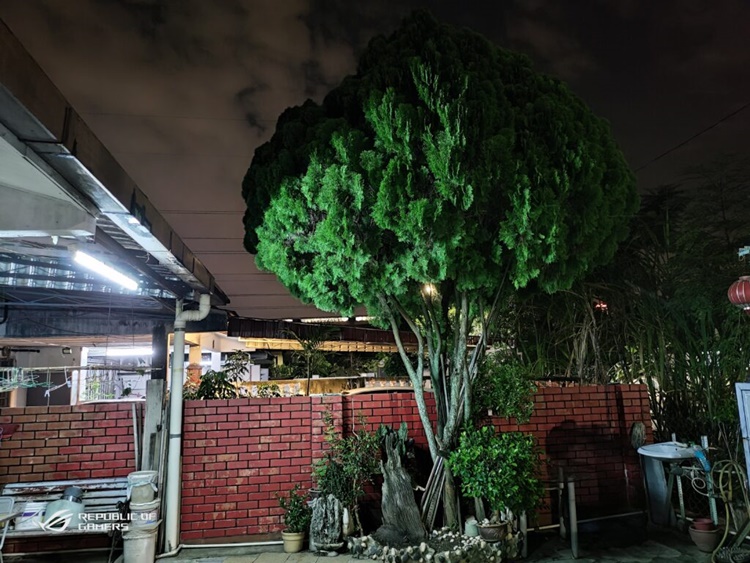 Taking a shot at night, it's not bad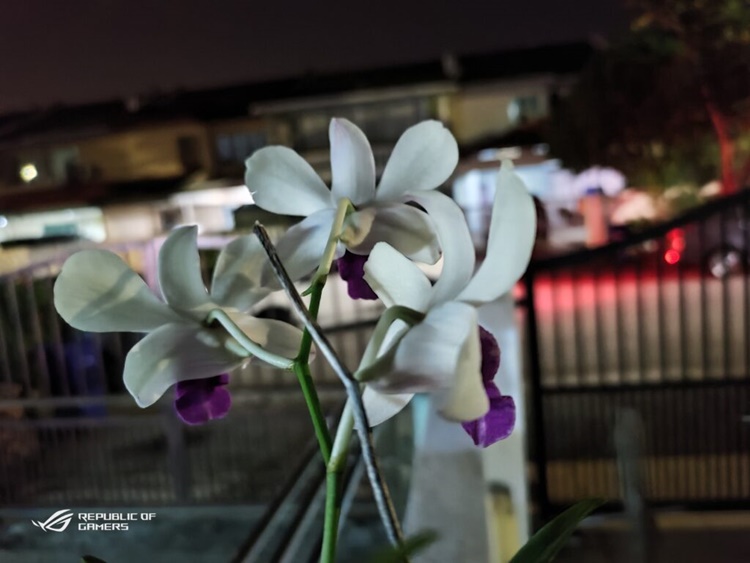 Once again, macro shot at night is nothing to marvel at
Conclusion - A strong contender but the price may be a deal-breaker
There's very little to complain about the ROG Phone 3. It's a phone with a simple but futuristic design, superb battery life, great mobile gaming performance, and useful AirTriggers. That said, perhaps the only downside is the price itself but it depends on which variant you're getting. The one we reviewed costs RM4499, followed by RM3799 for the 12GB + 512GB variant and finally, RM2999 for the Strix Edition which uses SD 865 and 8GB + 256GB which is an honestly good price for a gaming smartphone beast.
As usual, a worthy challenger for the ROG Phone 3 is none other than the Black Shark 3 series. The Black Shark 3 starts from RM2799 and the Black Shark 3 Pro for RM4199 but only feature a Snapdragon 865 chipset, up to 256GB storage and a display that only supports 90Hz refresh rate. On the other hand, there's also the Black Shark 3S with SD 865+, 12GB + 256GB, and a Screen Mirroring feature for RM3199. While the BlackShark 3 series may not win in terms of overall tech specs, it may have the advantage of having a more affordable price tag for Malaysians.
So there you have it, do you agree with our review? Did we miss anything else? Let us know in the comments below and stay tuned for more tech gadget reviews at TechNave.com.
Asus ROG Phone 3 Specs & Price >