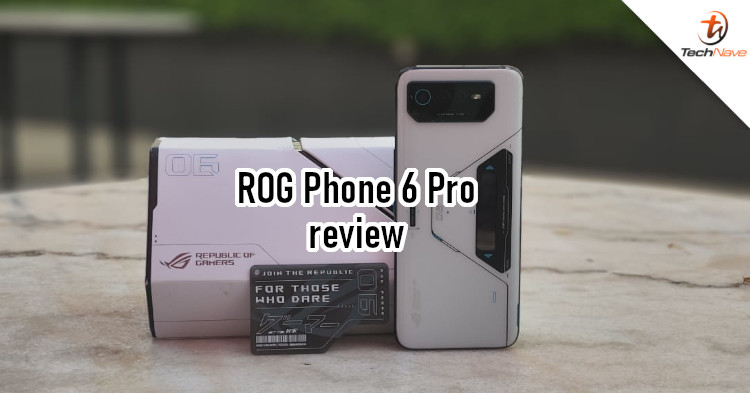 When it comes to the gaming phone segment, the best series that comes to mind is none other than the ASUS ROG Phone series. And recently, we got to try the latest model in the ROG Phone line - the ASUS ROG Phone 6 Pro. This phone comes with the latest hardware, such as the Snapdragon 8 Plus Gen 1 chipset, dual front speakers, and two USB-C ports. Basically, it has all the features a gamer needs!
Honestly, it's better to use headphones instead of speakers when playing games, especially if you're in public. But in our experience, the speakers on this phone were great for mobile games and music. However, every phone has its shortcomings. And for this phone, it would be the cameras. They're not bad, but don't expect them to perform as well as other smartphones in the same price range.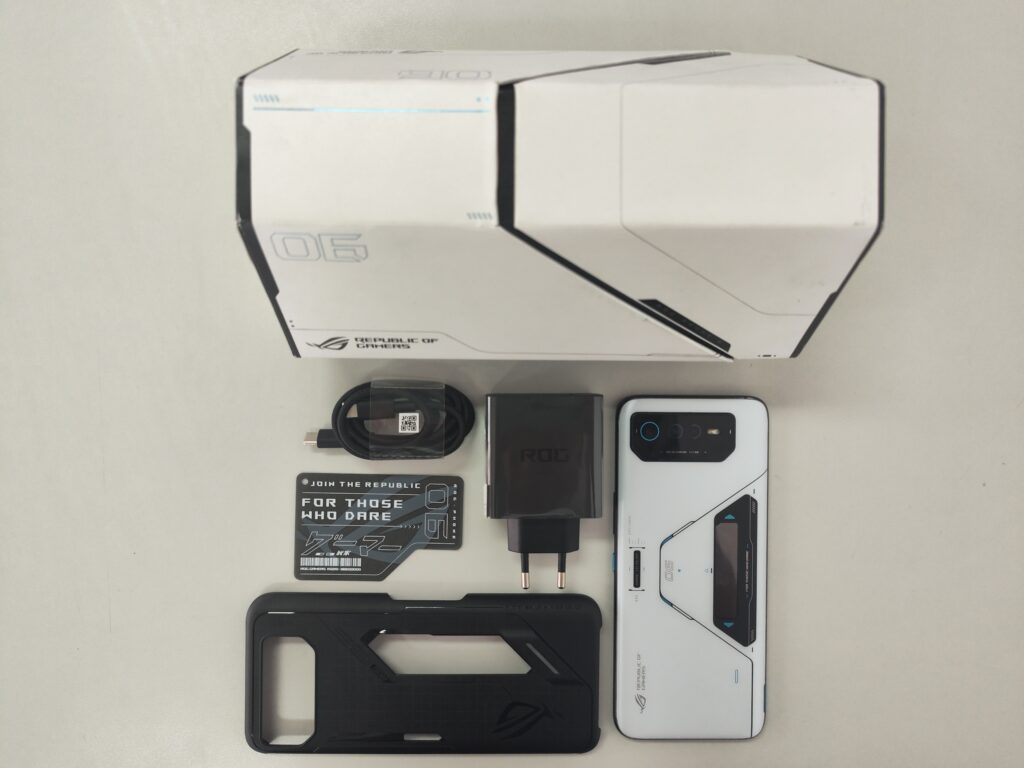 Everything inside the box
The ROG Phone 6 Pro is a phone with incredible specs. If you don't particularly care about the cameras, it is definitely a phone worth checking out. It commands a premium price but has the features and specs to justify that price tag. For those eyeing this phone, read on below for our review!
Design - Futuristic!
The ROG Phone 6 Pro comes in a hexagonal-shaped box once more, except it's white this time. Even though it's a gaming phone loaded with the latest hardware and a screen on the back, it doesn't look weird. As you can see, ASUS isn't afraid to do something innovative.
This time, ASUS has given the device a beautiful finish on the power button and SIM tray by giving it a metallic blue finish. It has an aluminium frame, the ROG branding on the back, and the ultrasonic Air Triggers on the right. The back also has a bump that houses three cameras, the "DARE TO PLAY" slogan that lights up when you play games, and a mini display.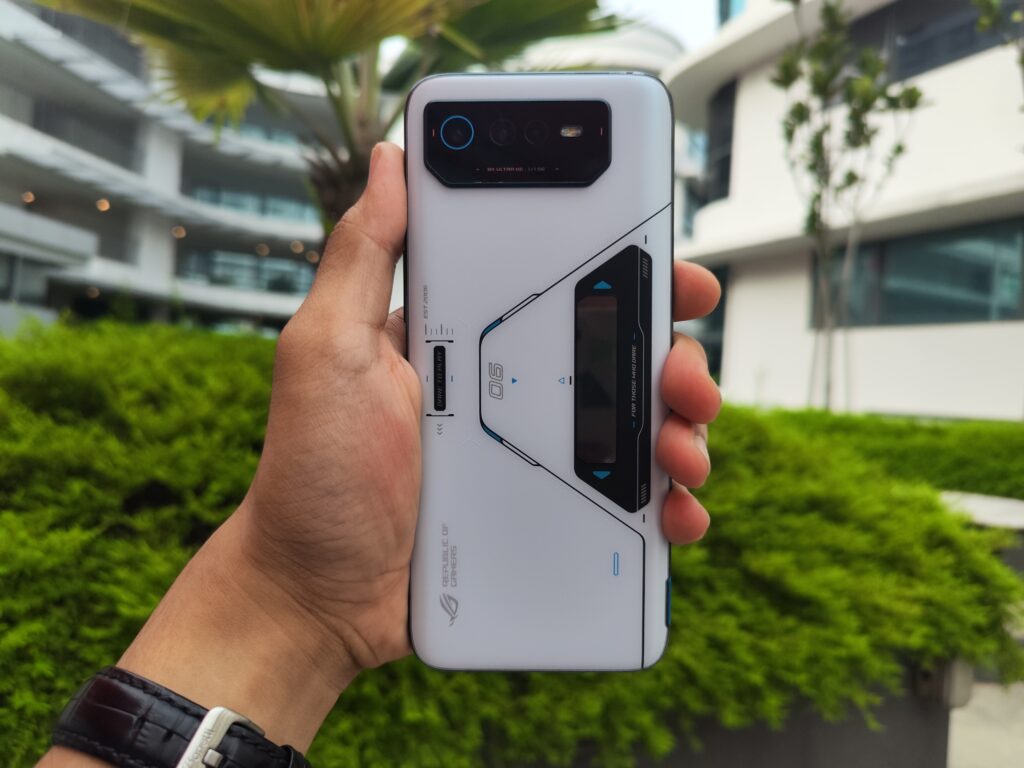 Definitely has that gaming smartphone look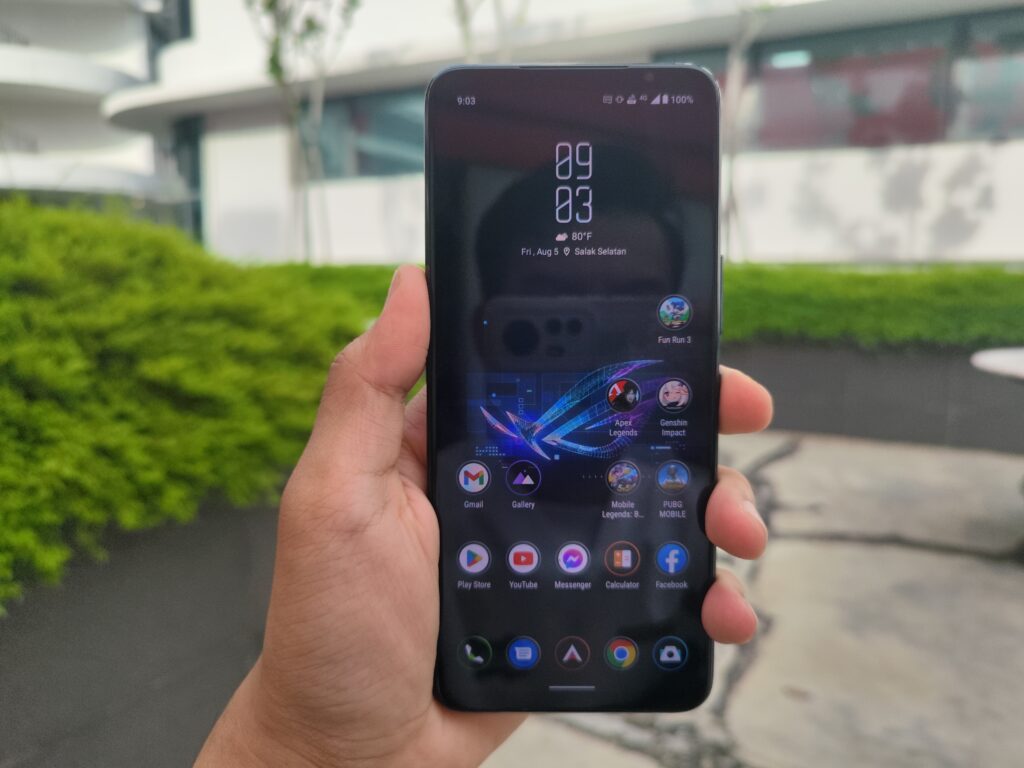 Big screen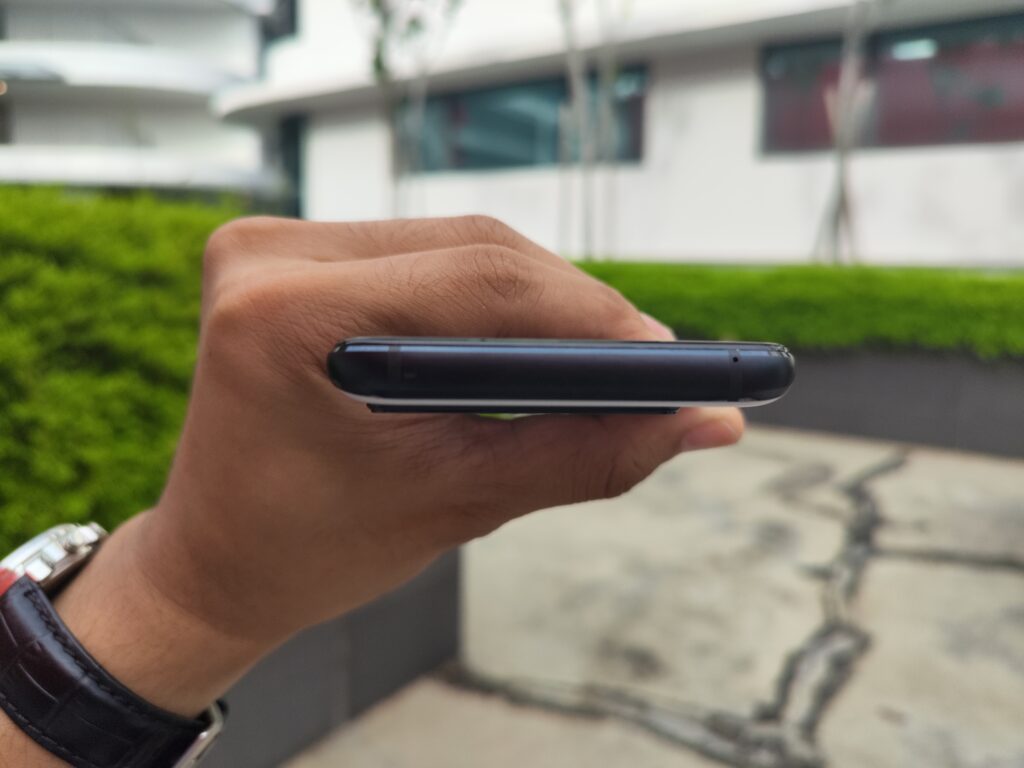 Top - Nothing here except one microphone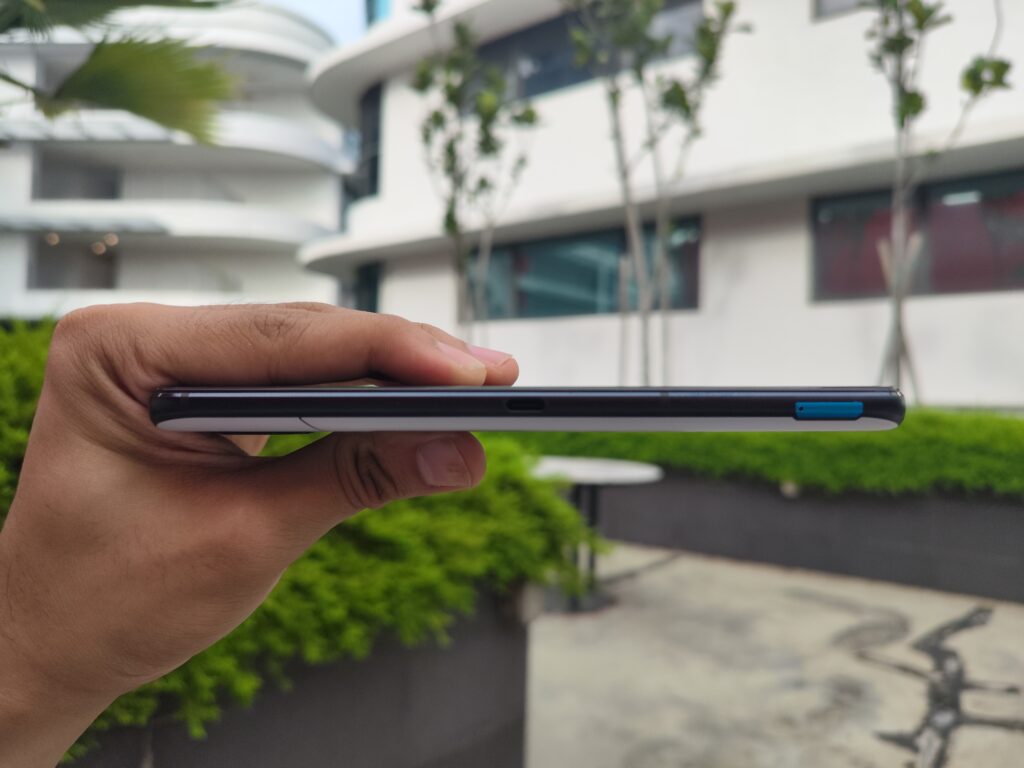 Left - Second USB-C port and SIM tray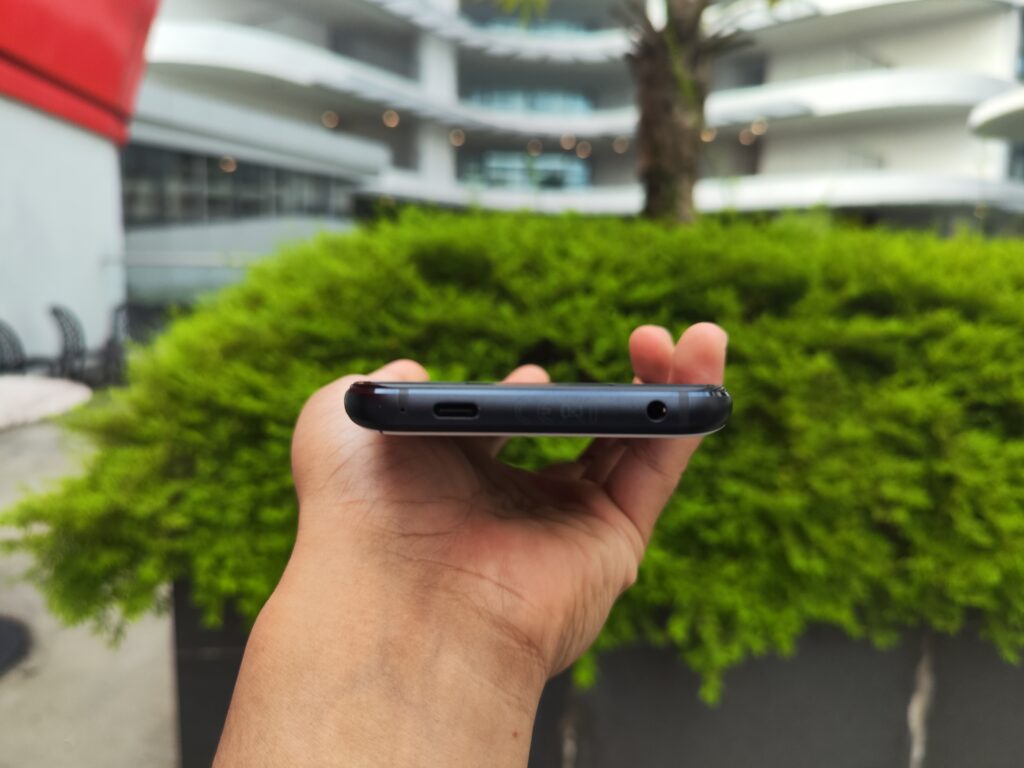 Bottom - USB-C port and 3.5mm audio jack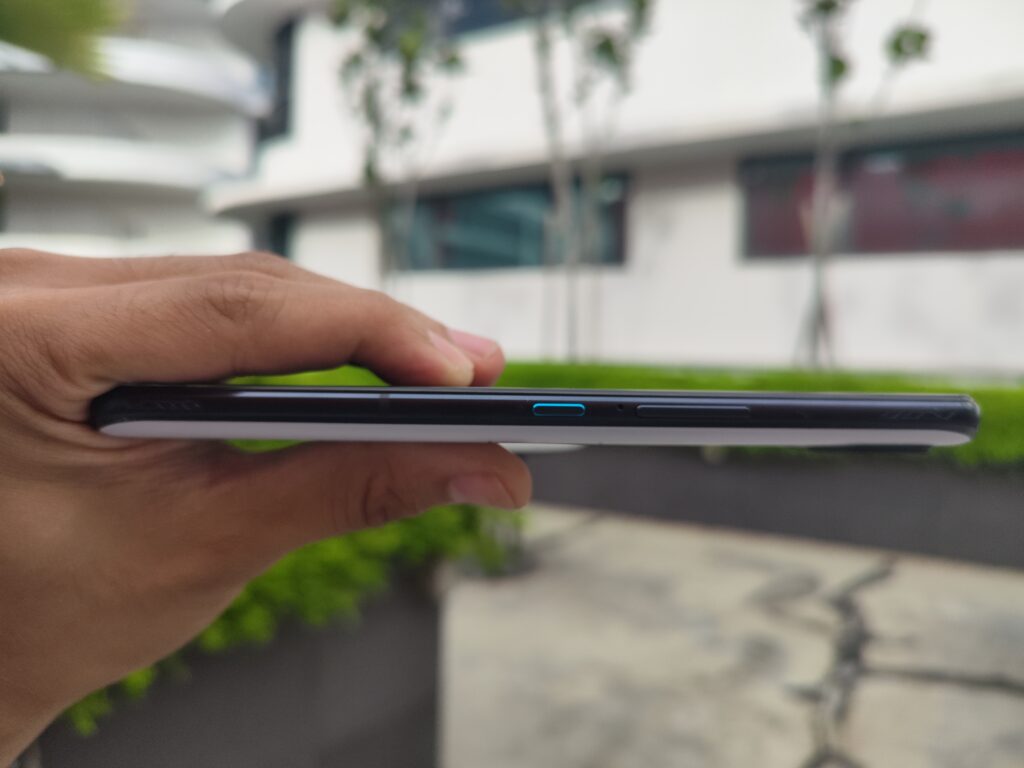 Right - Power and volume buttons can be seen here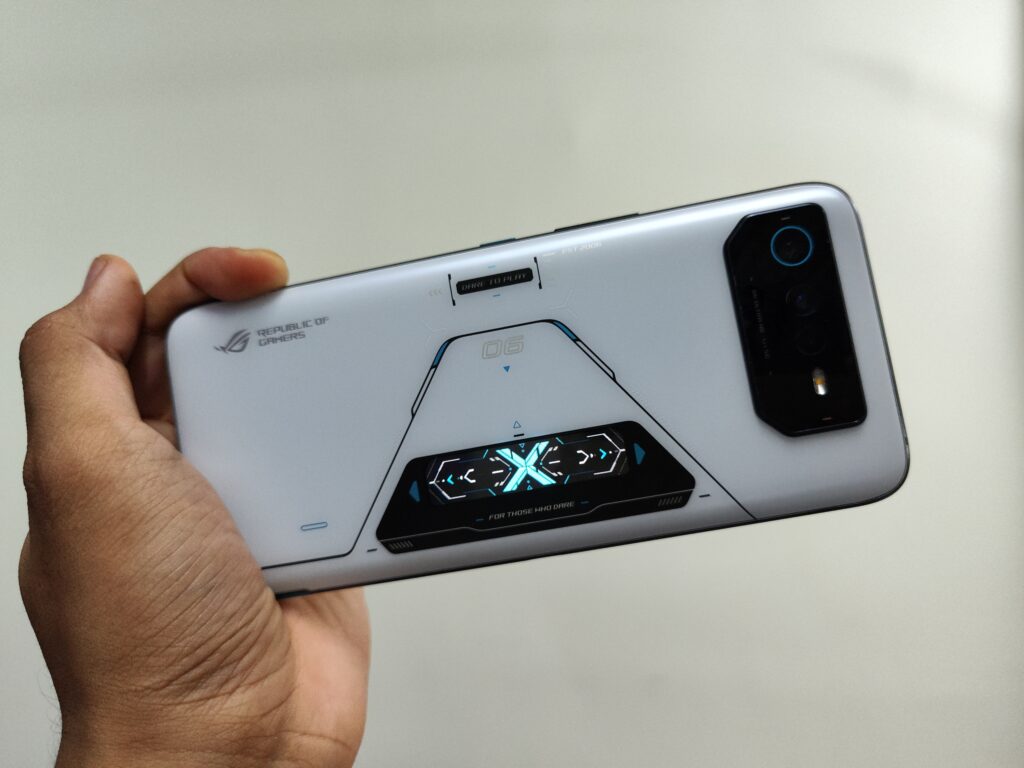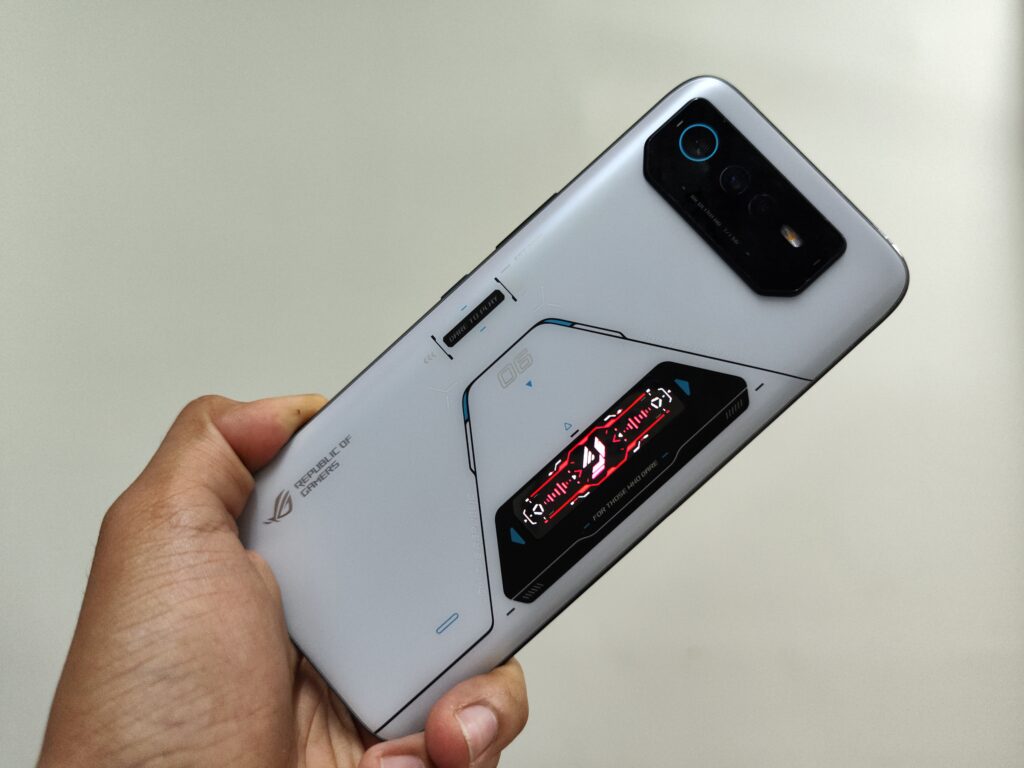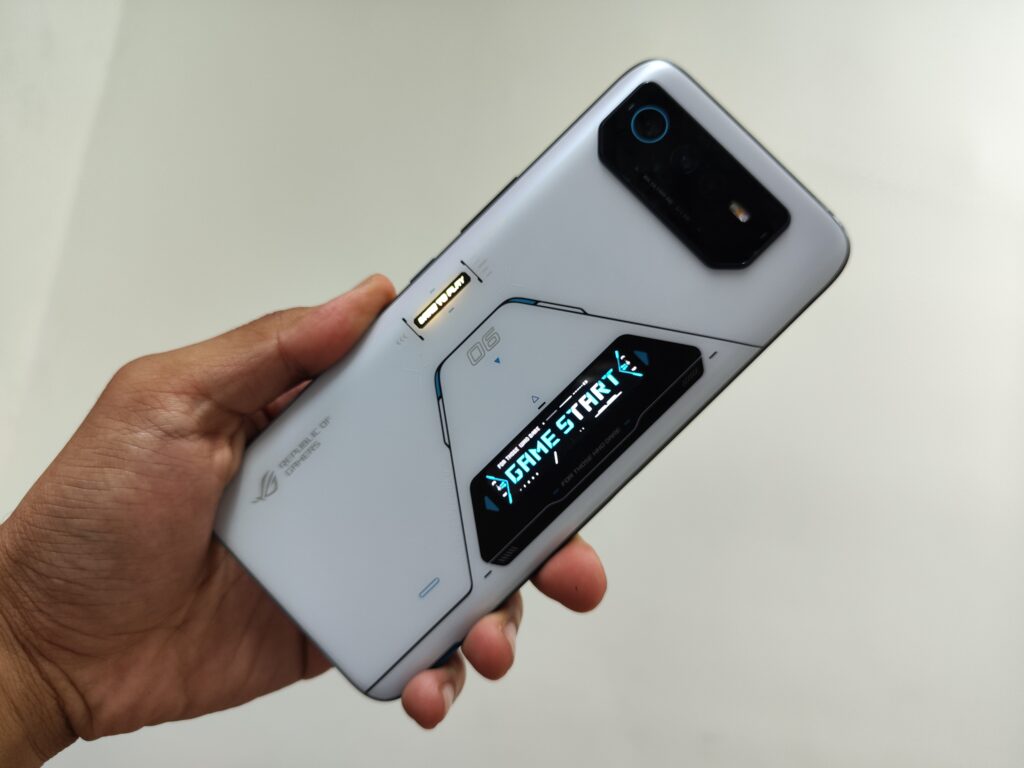 Examples of what the rear display can do
On that topic, the rear display is one of the most unique parts of the phone. It allows you to pre-set selected animations or display notifications. As for the front display, there's no notch or punch-hole for the camera this time. But it does have a noticeably thick bezel border on the top and bottom. The selfie camera and notification LED are located on the top right of the frame.
Moving on, let's take a look at the display. The ROG Phone 6 Pro has an excellent screen capable of reaching up to 1200 nits of brightness on a 165Hz AMOLED panel and an incredible touch sampling rate at 720Hz. It outperforms most competitors, scanning input every 1.4ms for a low touch latency of 23ms.
Not only is the display fast, but it also supports HDR10+ and is powered by a Pixelworks i6 processor. This processor can do colour mapping in HDR and calibrate the refresh rate. Moreover, the screen supports gestures even when it's off, so you can draw letters on the screen to trigger an action.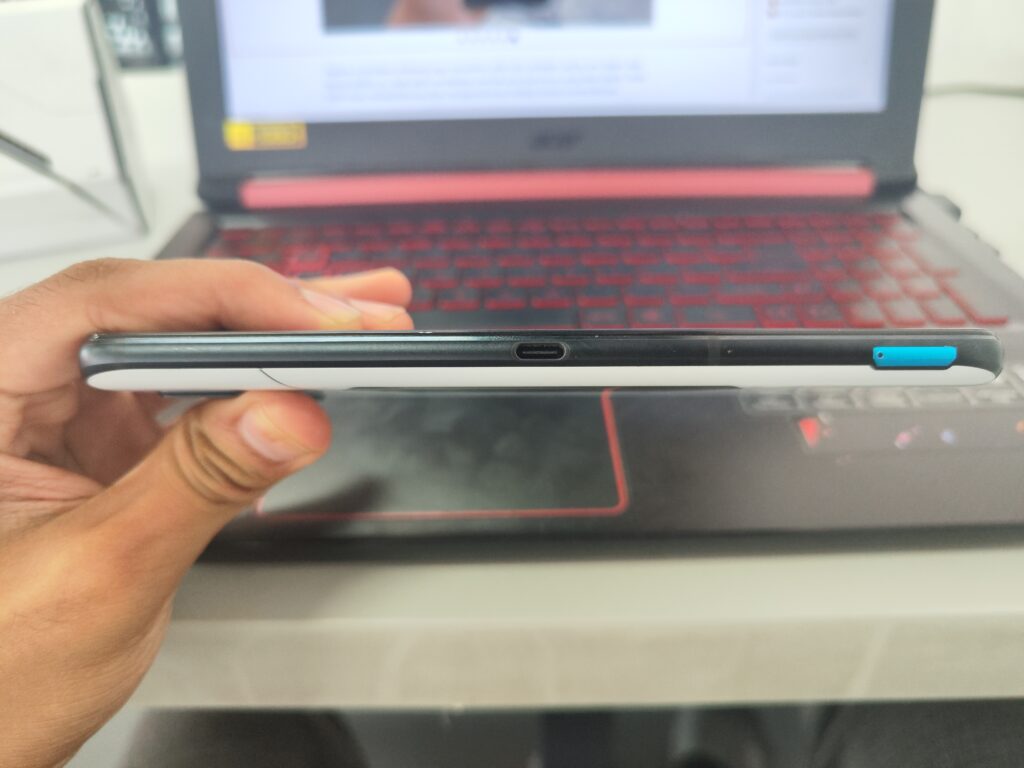 Closer look at the side USB-C port
The phone also has a second USB-C port on the left side that supports HDMI output, allowing some accessories like the AeroActive cooler to be used. At the bottom is the first USB-C port with the 3.5mm audio jack. Additionally, there are two front-facing speakers. As for the Air Triggers, you'll find them on the right side as usual.
For your info, the Air Triggers use ultrasonic technology on the side of the phone. These sensors detect various inputs, which you can set to in-game actions through touch mapping. You can also use it system-wide. For example, we set it up so that when someone grips the phone slightly, Google Assistant pops up. You can also get it to respond to a short sweep or react when you long press both triggers.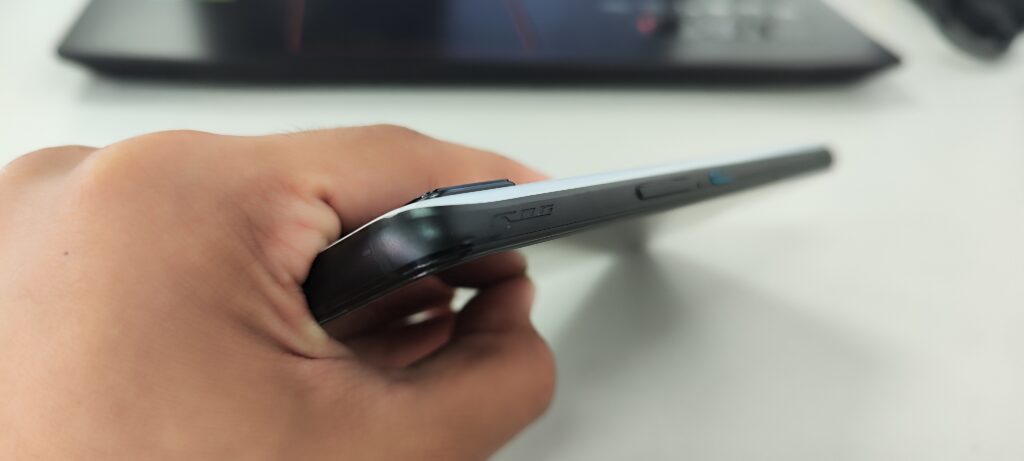 The Air Triggers are also on the right
The Air Triggers can detect the following inputs when playing games: Touch, swipe, and slide. It can also respond to different combo inputs, as mentioned earlier. Another thing we love is the haptic feedback on the ROG Phone 6 Pro. If you rely on vibration, you won't miss phone calls or notifications when the phone is in your pocket.
Tech specs and Features – Perfect for a gaming phone
Here are the full specifications for the ASUS ROG Phone 6 Pro:
Display panel - 6.78-inch FHD+ AMOLED (2448 x 1080 pixels) screen, 165Hz refresh and 720Hz touch sampling rate
Display specs - Brightness 5-800nits @APL100 + HBM, 1200nits @APL1; Colour gamut DCI-P3 111.23%, sRGB 150.89%; Contrast 1000000: 1; and Corning Gorilla Glass Victus
Chipset - Qualcomm Snapdragon 8 Plus Gen 1
GPU - Adreno 730
RAM - 18GB LPDDR5
Storage - 512GB UFS 3.1
Rear cameras - 50MP Sony IMX766 main camera + 13MP ultra-wide + 2MP macro
Front camera - Sony IMX663 12MP
Battery - 6000mAh with 65W fast charging support
UI - ROG UI & Zen UI (based on Android 12)
Connectivity - 5G, 4G LTE, Wi-Fi 6E, Bluetooth 5.2, LDAC, aptX, aptX HD, aptX adaptive and AAC
I/O - 3.5mm audio jack, two USB-C 3.1 Gen 2 connections, Super Linear 5 magnet 12×16 speakers, three microphones,
Misc features - IPX4 waterproof rating, on-screen fingerprint scanner, Pixelworks i6 processor, 2x Cirrus Logic CS35L45 with 15V power
Dimensions - 173 x 77 x 10.3mm
Weight - 239g
Others - 2 years of OS and security updates
Price - RM4999
Under the frame, the ROG Phone 6 Pro has 512GB of UFS 3.1 storage, 18GB of LPDDR5 RAM, and currently the most powerful chipset - the Qualcomm Snapdragon 8 Plus Gen 1. On paper, this phone is the fastest Android smartphone around yet. It features an upgraded Qualcomm Kryo CPU with a 3.2Ghz Cortex-X2 high-performance core, three 2.8GHz Cortex A710 performance cores, and four 2.0GHz Cortex A510 cores.
X Mode features and settings
Qualcomm claims that the upgraded CPU is 10 per cent faster than the one in Snapdragon 8 Gen 1 and offers 30 per cent better CPU power efficiency. The phone also has an ASUS X-Mode that you can activate to overclock the chipset. Moreover, you can turn off the refreshing of background apps and enable HyperFusion or Dual-Band Wi-Fi.
Besides that, the feature can automatically set the screen refresh rate to 144Hz. That's handy for people who prefer using lower refresh rates for general usage. Another great function is the dual-band Wi-Fi introduced by ASUS, which helps to stabilise your Wi-Fi Internet connection when playing games. It uses a 5GHz frequency for lower latency.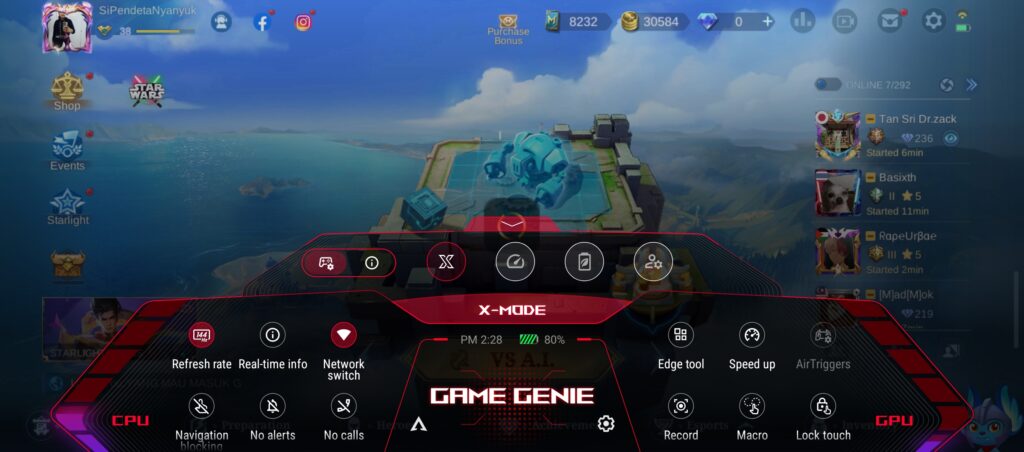 Game Genie UI when gaming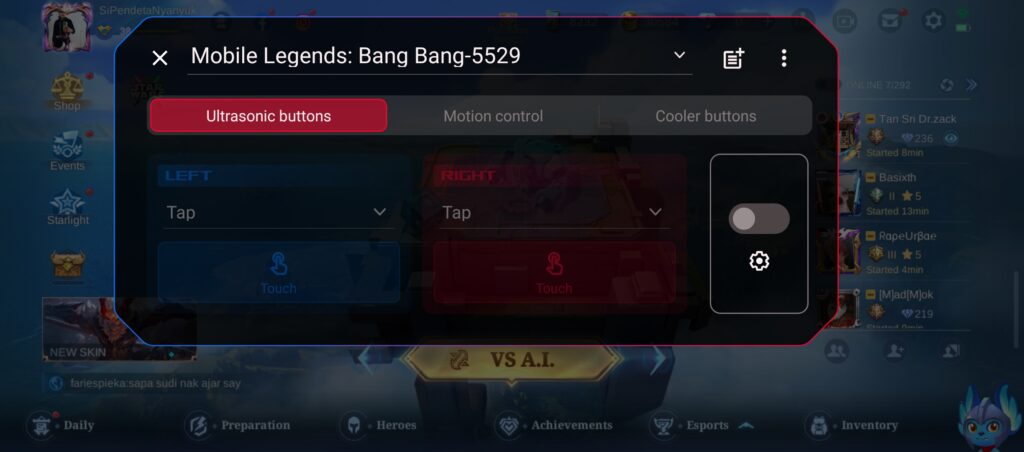 Settings for the Air Triggers
There's also the ASUS Game Genie dashboard that launches with your games. It offers access to features you may want to tweak or view, such as screen recording, Air Trigger mapping, real-time stats, and more. ASUS also included the Armory Crate app, so you can change the things like the lighting effects.
In addition, ASUS introduced other features such as OptiFlex, which speeds up application launches, reduces application reloads, and saves power. It is automatically activated for Google Chrome, Facebook, Gmail and YouTube.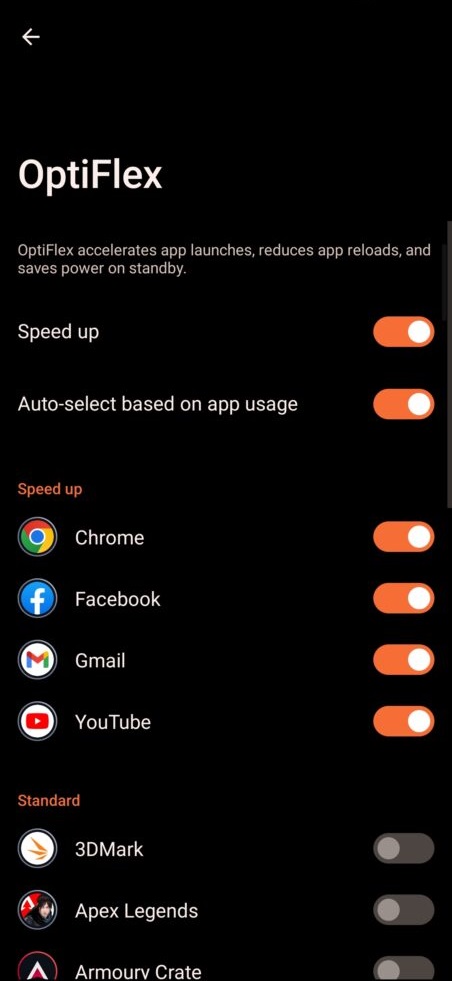 OptiFlex features
Performance – Heavy gaming, light feel
One word that can describe ROG Phone 6 Pro is gaming. Almost everything about this phone is designed to affect the gaming experience. This phone is really powerful and the fastest we've reviewed to date.
Almost every game that we played was lag-free. With this phone, you can play any high-end mobile game perfectly. For our review, we downloaded Mobile Legends Bang Bang, Genshin Impact, and PUBG Mobile to see how they run. We easily maintained 60 FPS without feeling excessive heat on the back of the phone.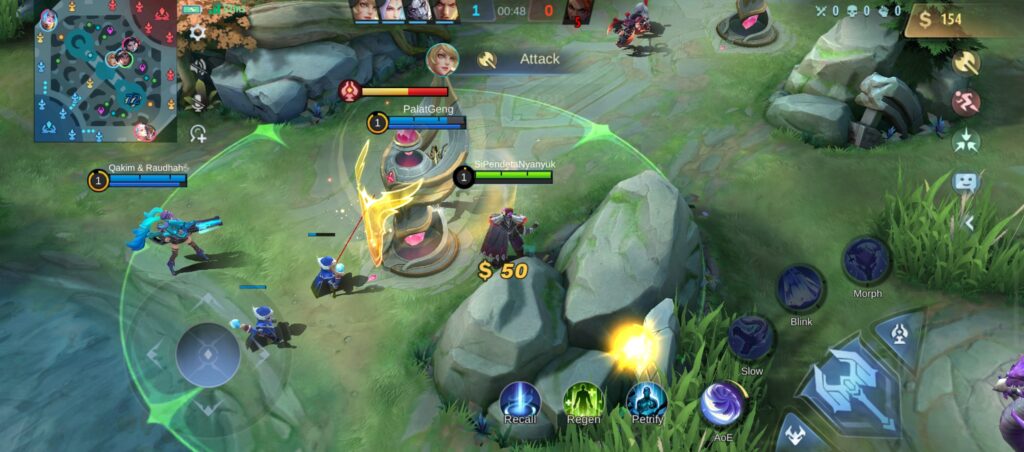 Playing Mobile Legends Bang Bang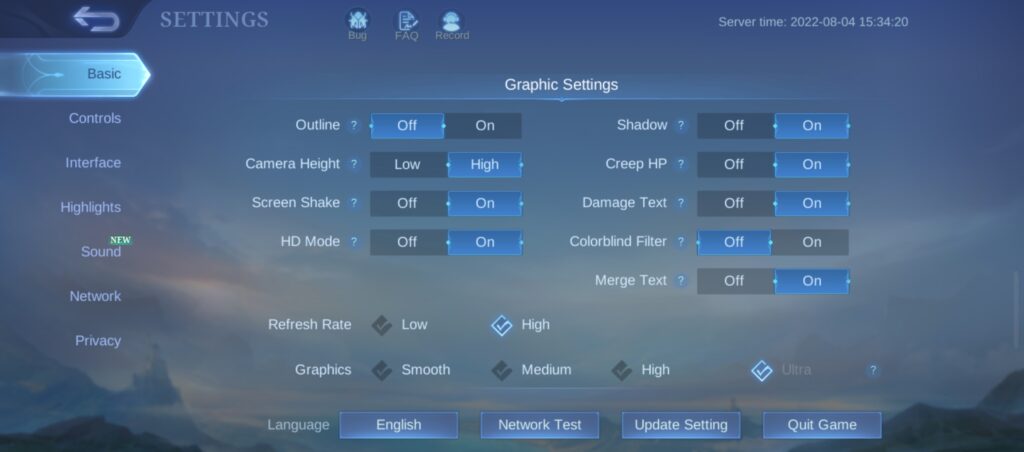 Playable at ultra graphics setting and high refresh rate
Throughout our gaming sessions, frame rates remained stable, even for titles like Genshin Impact that are hard on the RAM and chipset. It's even better for Mobile Legends BB and PUBG Mobile, as they're less demanding games.
The ROG Phone 6 Pro feels a little hot when playing Genshin Impact, but it wasn't to the point of being unacceptable. Additionally, it would only feel hot if you don't have good ventilation. If you're at room temperature and have good ventilation, the heat won't ever be a problem. Overall, the phone's heat dissipation is easily one of its best achievements.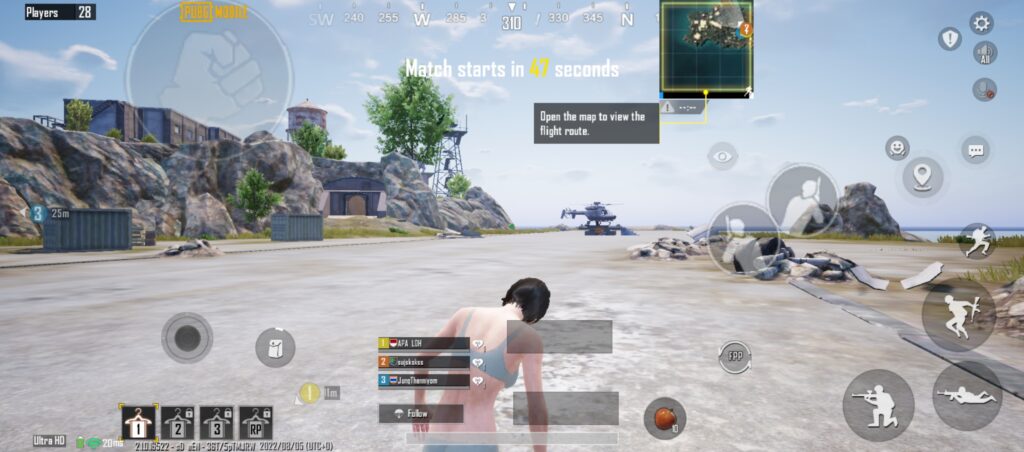 PUBG Mobile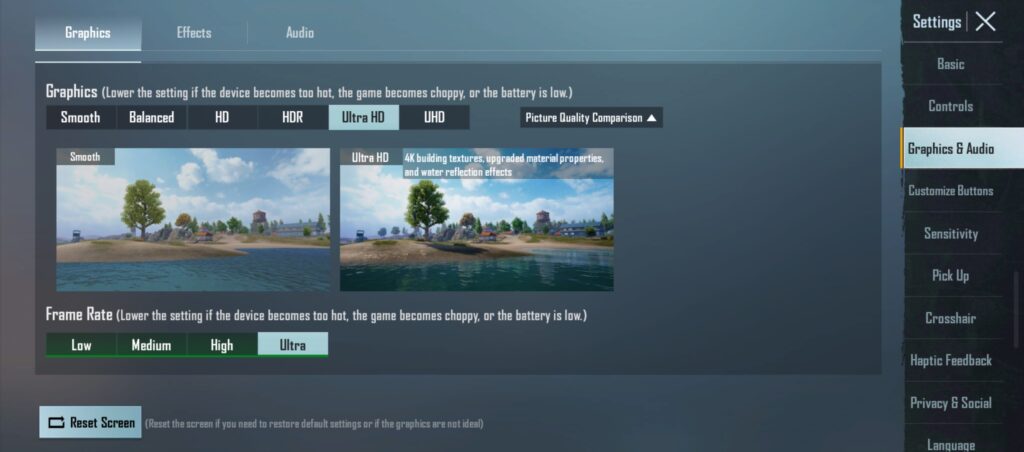 Graphics maxed out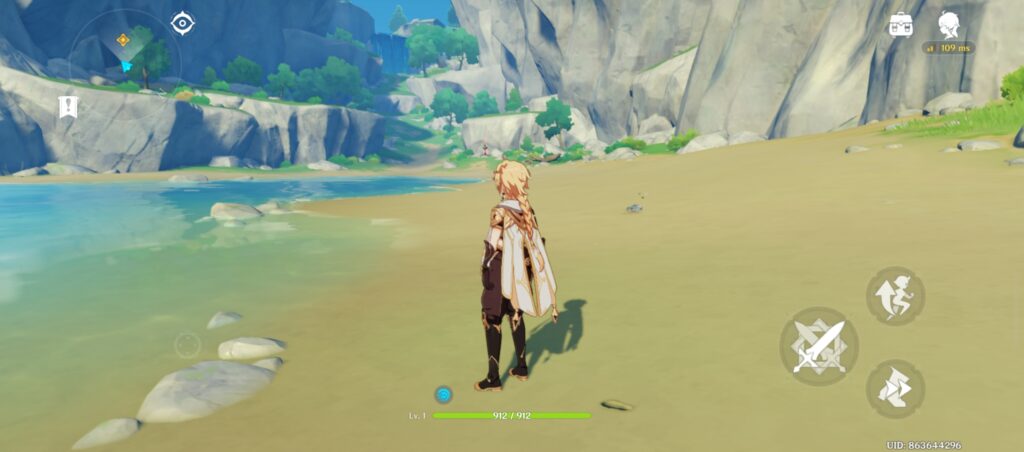 Genshin Impact looks great on this phone
Next, we did some benchmark tests on Geekbench and 3DMark. As you can see, the phone's CPU scores well in single-core and multi-core performance. It outperforms most Android devices while staying within 10% of the iPhone 13 Pro's performance in 3DMark's Wild Life Extreme test.
The ASUS ROG Phone 6 Pro has a 6000 mAh battery, a capacity that's one of the largest in a flagship device. We tested its battery life with heavy usage, including gaming, taking pictures, messaging, media playback, etc. On average, it lasts 8 hours with heavy use and a day and a half with regular use on a full charge.
3DMark and Geekbench benchmark scores
As for charging, the ASUS ROG Phone 6 Pro has a 65W USB PD charger inside the black box. With this charger, the phone went from 0% to 100% power in less than 45 minutes. Overall, we were happy with the efficiency of the Snapdragon 8 Plus Gen 1 chipset and the large battery on this phone. Really, it's the perfect combo.
ASUS also included two built-in protections that will help to protect your battery life. The first is the bypass, which provides power to the device without charging the battery or using it. Essentially, the phone is powered directly by the charger. It's like the laptops back in the early 2000s, which can run on the charger even if you remove the battery. This allows the phone's battery to "rest" and reduces the device's overall heat generation.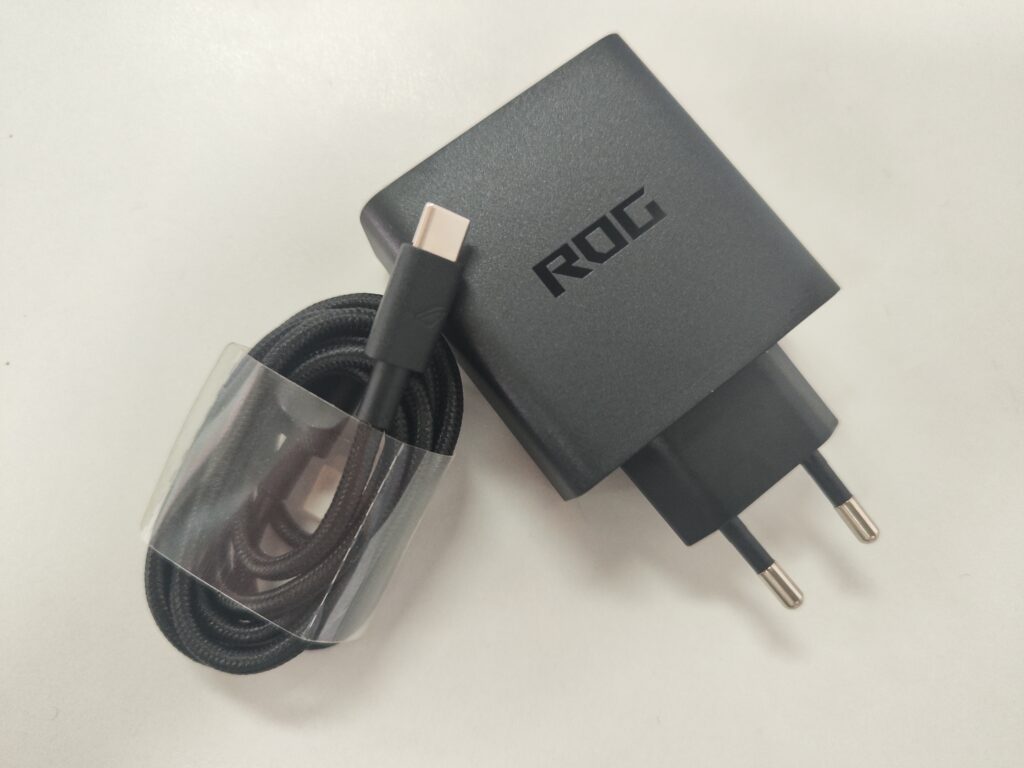 Charger and cable included in the box
The second protection is the Steady charging feature. This feature charges your phone more slowly for more heat reduction. Also, you can limit the battery's maximum charge to 80% or 90% if you want to prolong its lifespan.
After talking about the many advantages of this phone, let's talk about some of its shortcomings. First, it's a bit too heavy for a smartphone for everyday use. Your wrist could get tired after holding this phone for a long time due to the weight. It's something you'll experience a lot when playing games on the phone.
Estimated battery life and general settings
Also, some may consider the thick bezels ugly and unfitting for a flagship phone. An under-display front camera would have been better, as ASUS could make the bezels thinner. Of course, ASUS probably went with this design to accommodate its mobile accessories.
We also hope that ASUS could increase the fast charging to 120W to match its large battery capacity. After all, there are competing brands with charging specs. Having said that, we don't really have an issue with the 65W charger. But a faster speed saves more time, don't you think?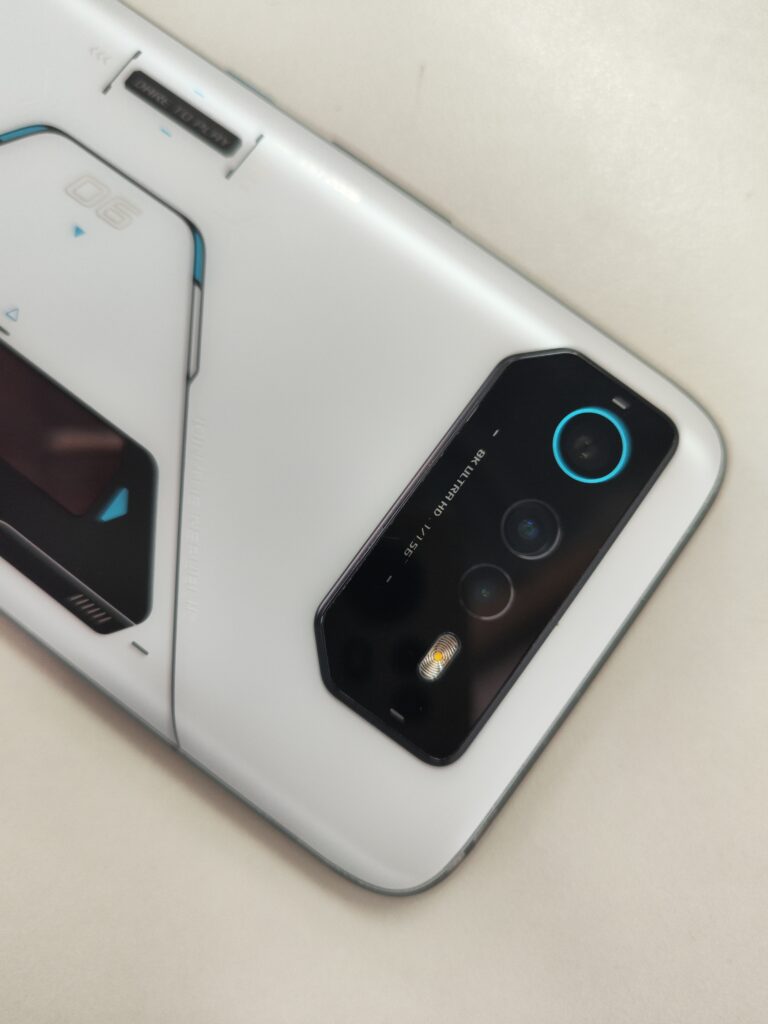 Close-up of the rear cameras
The ASUS ROG Phone 6 Pro has a 50MP Sony IMX766 main camera, 13MP ultra-wide camera, and 5MP macro camera. They deliver photo quality that's good enough for us to use it regularly. As for the 8K video recording, it feels like a gimmick. The cameras also don't have EIS or additional HDR processing; it's all raw video. You can try 8K if you want, but we suggest you should stick to recording in 4K for high-resolution videos.
Since the ROG Phone 6 Pro is a gaming phone, cameras aren't the focus of this phone. Having said that, you shouldn't underestimate the cameras. Honestly, we were quite surprised by the quality of the photos and videos they produced. You can check out the sample photos we've taken below.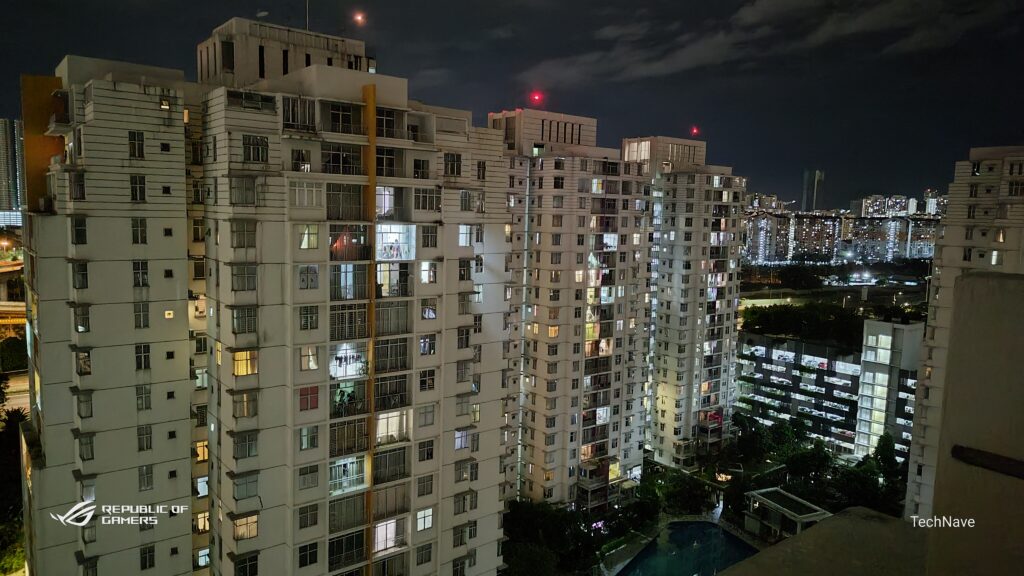 Night shot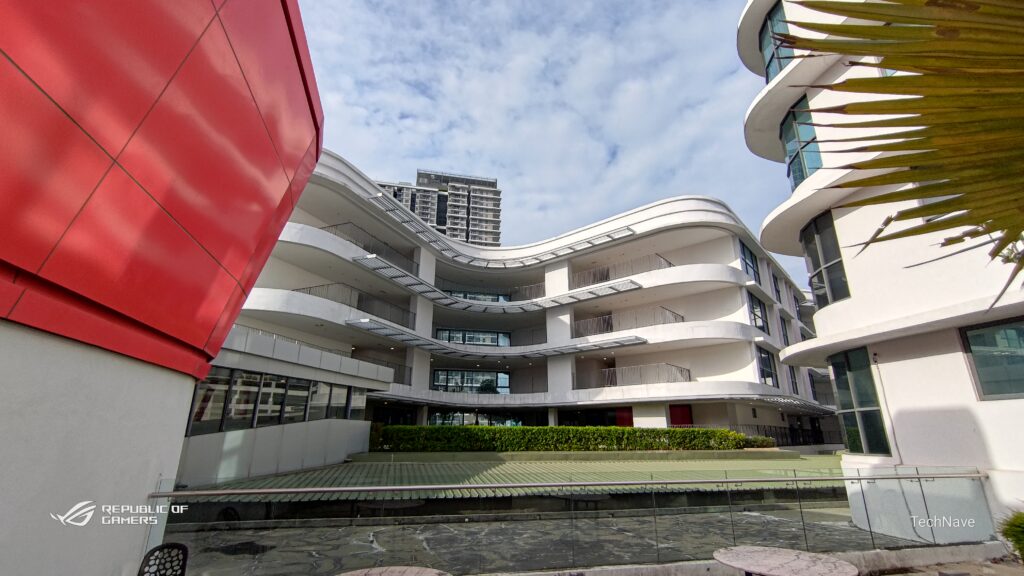 x0.6 zoom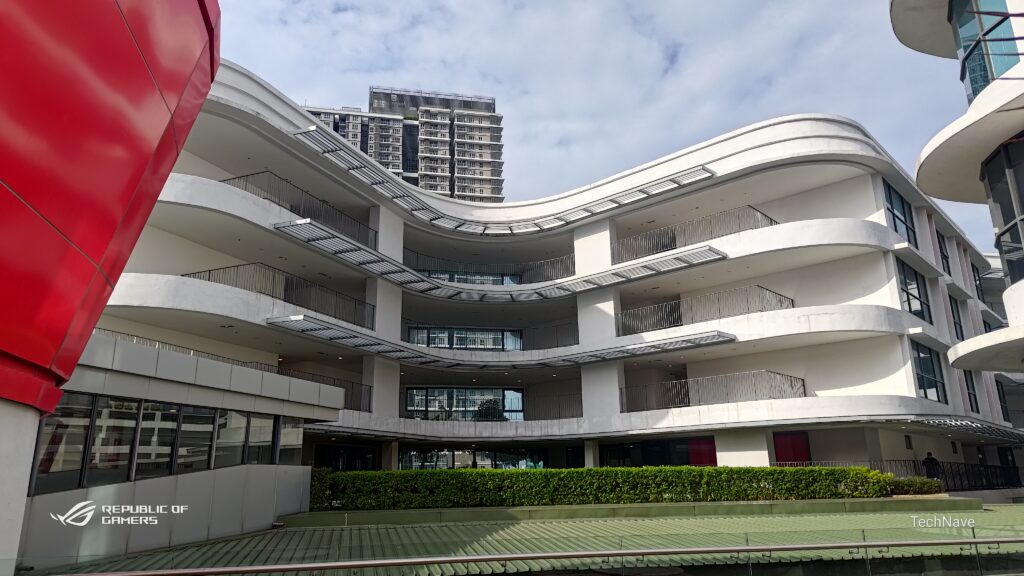 x1 zoom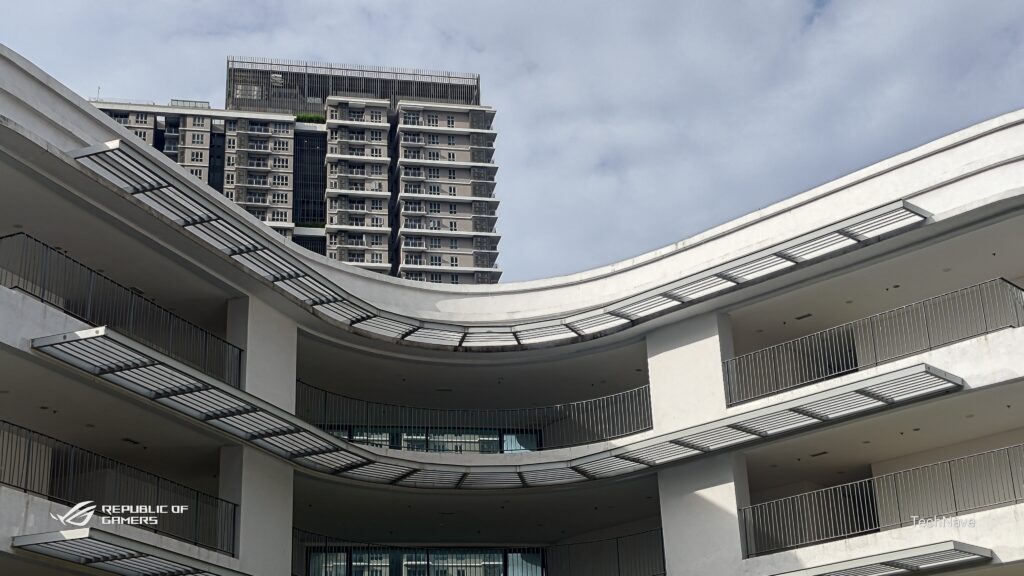 x2 zoom
x8 zoom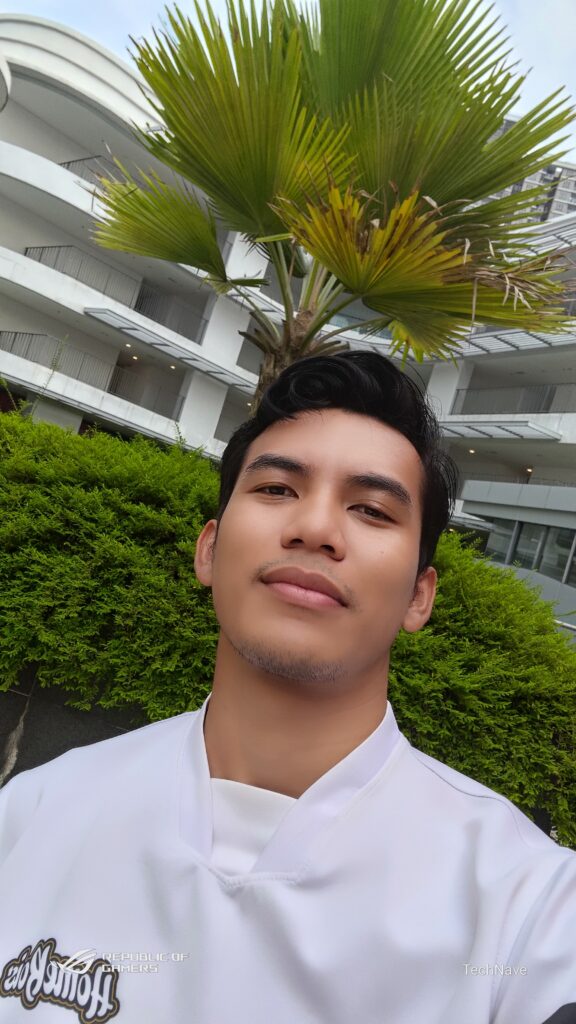 Selfie shot
Conclusion – Unrivaled performance
The ASUS ROG Phone 6 Pro is a top-tier flagship device with some of the latest hardware and features that help in mobile games. If you want a device with gaming features and excellent performance in practically all aspects, this is the phone for you. However, it has one glaring problem that will make most people think twice - its price. Specifically, its price tag of RM4999.
That's a lot of money to invest in a gaming phone. You might think, "But I have the budget, so why not?" Well, it's not a bad option if the top-notch features are what you want. And if you want a gaming phone that looks awesome, you can't go wrong with this one. Of course, this phone is overkill if you just need a regular smartphone.
Video sample
Want a powerhouse in mobile photography? Well, you'll have better luck with non-gaming smartphones. But if you want more affordable gaming smartphones, there are options available. In this case, we recommend checking out the Black Shark 5 Pro (RM3999), POCO F4 GT (RM2499), and OnePlus 10T 5G (~RM2900).
So, do you think the ROG Phone 6 Pro is the gaming phone you need? Let us know in the comments below, and stay tuned to TechNave for more reviews like this.