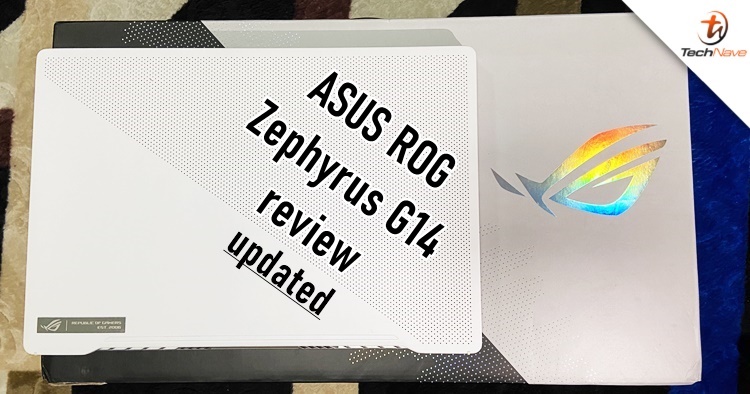 Update - Review updated with official local price tags and additional thoughts on the display and the fan

Early this year, we got the opportunity to visit AMD headquarters in Austin, Texas to check out their latest Ryzen 4000 series processor. If you've read from our analysis, the processor is one heck of a bad boy and extremely powerful on paper but of course, a gaming laptop is a more proper test.
Whilst the Ryzen 4000 series laptops aren't commercially available in Malaysia yet, we managed to get our hands on the ASUS ROG Zephyrus G14 (GA40 1IV) gaming laptop. Don't you dare look down at this small buddy, it's packed with the latest Ryzen 9 4900HS CPU. That's the highest processor unit we get to test out so without further ado, here's our review of the ASUS ROG Zephyrus G14.
When people think of gaming laptops, they would usually imagine it as big and bulky. But this is not the case for the ROG Zephyrus G14 gaming laptop, it's smaller than the standard gaming laptop body and can be easily carried around. The unit we got was the white model and it almost looks like one of those lightweight sleek-looking laptops that you bring to the office, but more sporty looking thanks to the microholes on the lid. By the way, you can show off your friends and family with some LED lighting (AniMe Matrix display which has no practical use, but it automatically makes you the coolest kid in the class.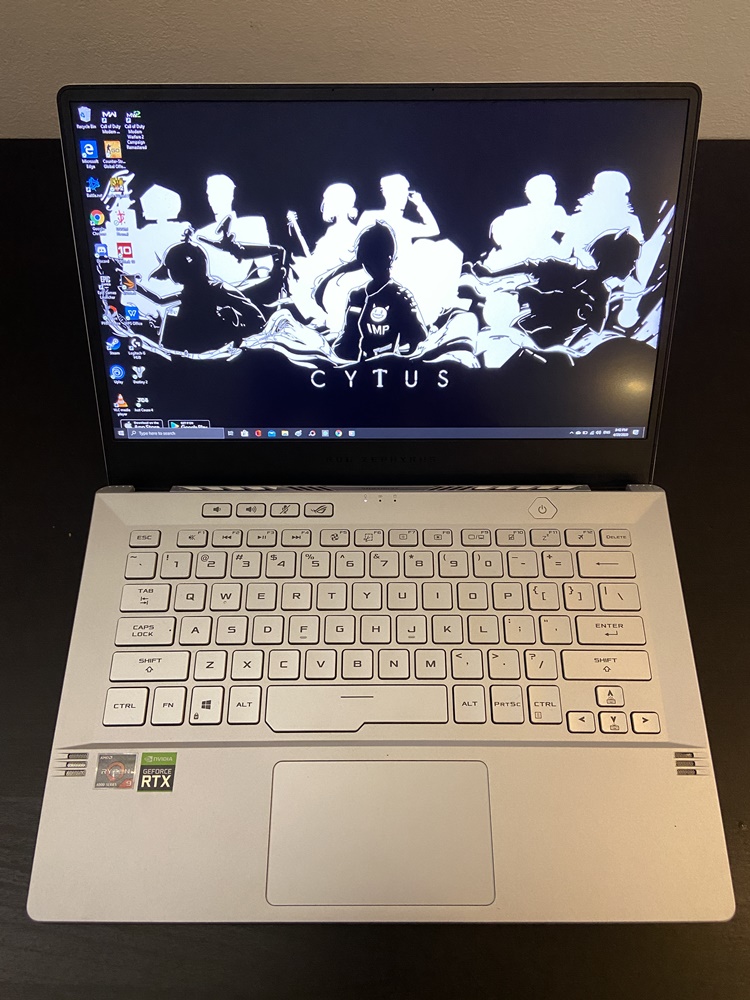 The ROG Zephyrus G14 in the flesh, its 14-inch FHD (1920 x 1080) IPS screen panel can support up to 120Hz refresh rate!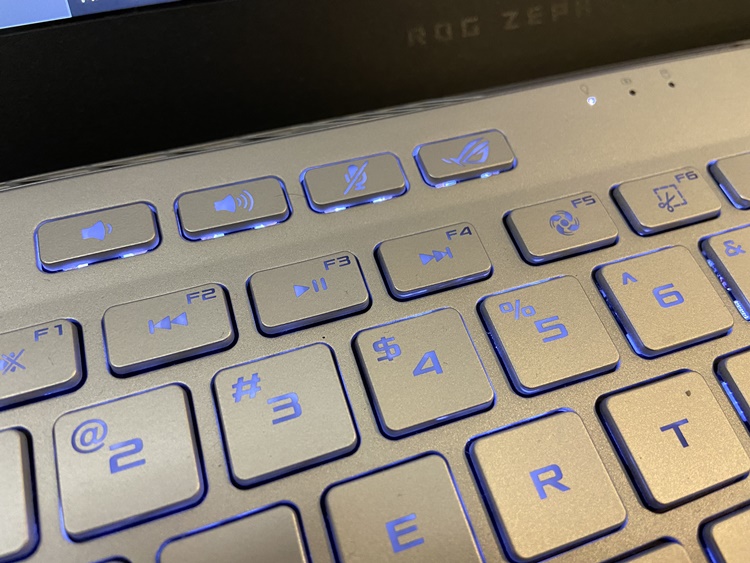 A closer look at the keyboard layout. From left to right, you can see the dedicated volume, mic and Armoury Crate buttons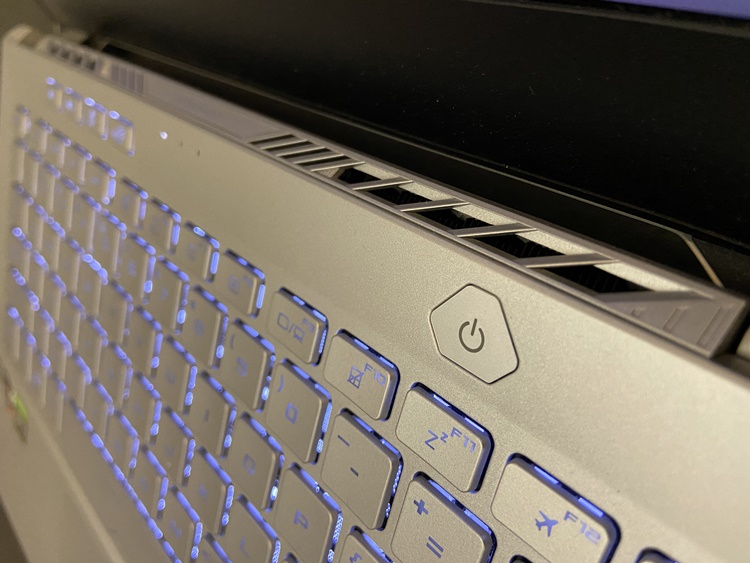 The fingerprint scanner/power button on the top right. You will also notice plenty of vents on both sides and the ErgoLift hinge area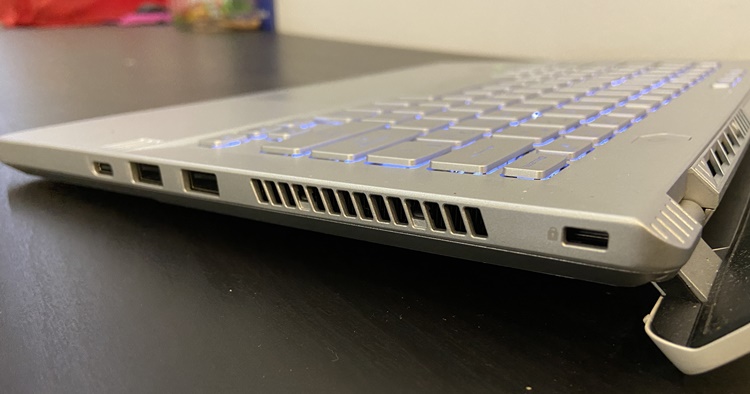 The ROG Zephyrus G14 has most of the necessary ports - 2x USB 3.0 ports, 2x USB Type-C ports, an HDMI output port, a DisplayPort, a 3.5mm headphone jack, and even a Kensington lock slot for securing the laptop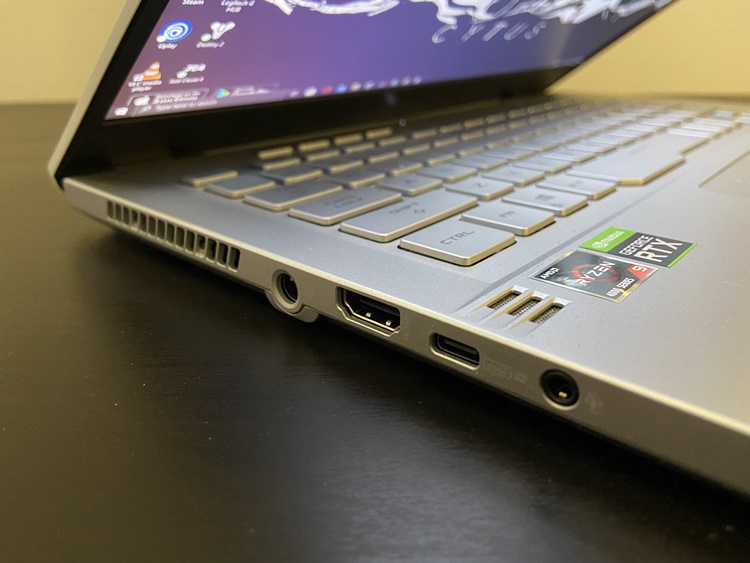 The other side of the ports, it would be nice if they added an extra USB Type-A port and an SD card slot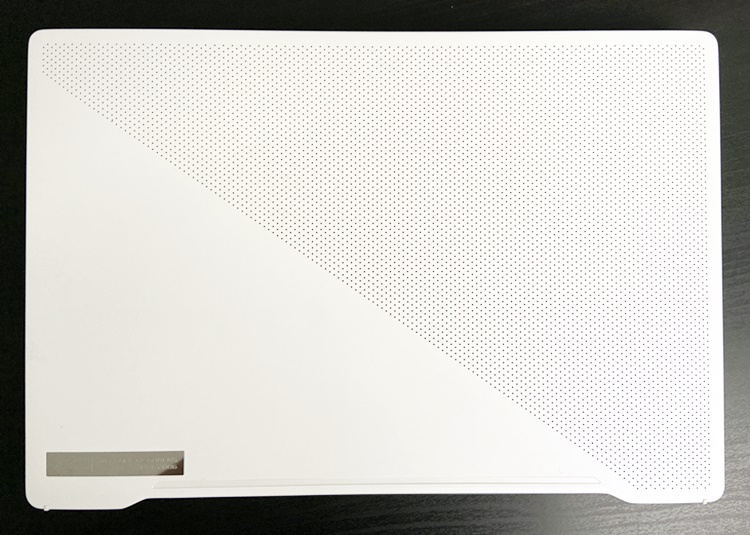 Top view of the gaming laptop. By the way, there isn't a webcam either which can be a bad thing for gamers who like to do live streaming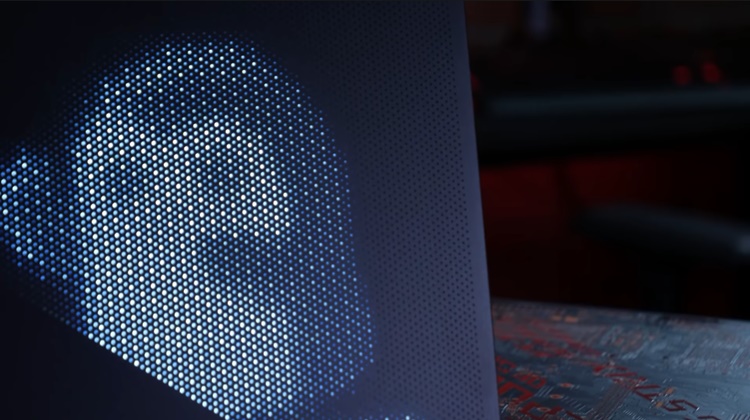 The AniMe Matrix display in action
As the display is able to support up to 120Hz refresh rate, this is great news for FPS gamers on paper but while using it for two weeks or so, I did experience some split-second screen lag a couple of times while playing Doom Eternal. It may be annoying to some but from my experience, it didn't occur that many times that got me fed up. However, do keep in mind that this laptop was a review unit so we are quite confident that when the real thing is released, it should be better #fingerscrossed.
The keyboard layout is as gamer-ish as it can be and the power button on the right also acts as a fingerprint scanner so that's nice, but I rarely use the fingerprint scanner because my authentication usually doesn't often go through for some reason. The keyboard is also backlit and you can find the speakers on the left and right, which are surprisingly quite loud and balanced. Normally, laptops would sound like it's breaking apart on max volume but ASUS did a good job with this. To also add on on the keyboard area, you will also notice the ventilation holes located at the ErgoLift hinge area which is a rather strange placement in my opinion. This is because of the hot air that will blow to the bottom of the display, so...yeah I'm not sure what went through the designing team's mind.
There is also some pre-installed software, this includes the NVIDIA GeForce Experience, GameFirst VI, GameVisual and of course, the Armoury Crate which we talked about. The Armoury Crate program is the place where you can monitor and customize your gaming profile and preferences, as well as customizing your AniMe Matrix display.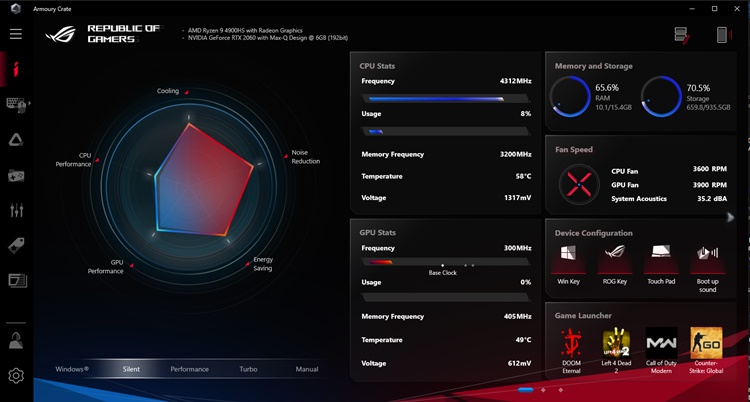 The Armour Crate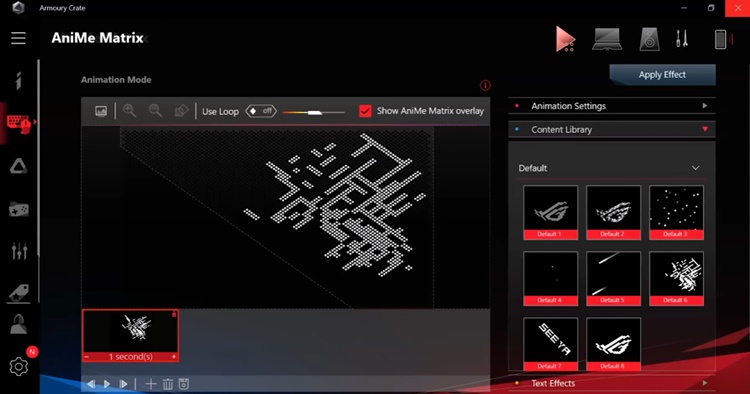 The AniMe Matrix display page
"OK, BUT WHAT ABOUT GAMING PERFORMANCE?" Yes, I think it's about time we talk about that. There is absolutely no doubt that the ROG Zephyrus G14 can handle most Triple-A game titles without a sweat. As aforementioned, this bad boy features the latest Ryzen 9 4900HS CPU (more details about the processor here), as well as the NVIDIA GeForce RTX 2060 Max-Q GPU with 6GB of VRAM, 16GB of RAM, and 1TB SSD. There is no extra storage on this one but my, it sure can take up a lot of game space and memory. Even after installing 8 graphics-intensive games and other additional programs for work and benchmarking, I still have around 275GB space left.
The main games that I tested on the ROG Zephyrus G14 are none other than Doom Eternal, as well as Tom Clancy's The Division 2, Call of Duty: Warzone, and Destiny 2. I tried putting Doom Eternal to Ultra Nightmare settings but it won't let me because it has already reached its max capacity (lol). Anyway, besides having a blast (pun intended) from the game, the gaming laptop can run Doom Eternal's graphics easily with all the chaotic running and shooting around. That said, the laptop can get a little noisy with the thermal fans spinning, but you can turn on silent mode and it's relatively quiet for a gaming laptop.
Graphics is just one thing, but we also have to consider connectivity performance. This is where The Division 2, Warzone and Destiny 2 come in as these Triple-A titles focus on multiplayer with your friends while running intense graphics at the same time. Suffice to say, the WiFi 6 (Gig+) connectivity was stable enough to handle the games even without an Ethernet port (and if I do get disconnected, it's usually the games' server problem for not being able to accommodate the population during this period). It's also worth mentioning the Bluetooth connectivity was satisfactory since I'm using a wireless gaming mouse and a wireless Bluetooth speaker.
Testing Doom Eternal on the ROG Zephyrus G14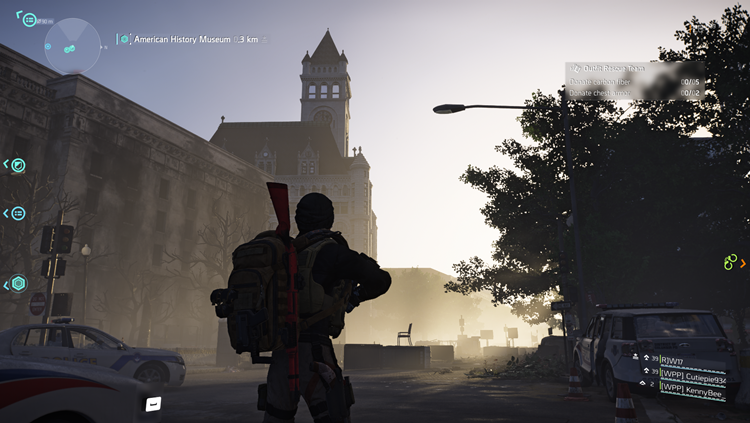 A screenshot from The Division 2, this scenery looks surreal because it looks like a real photograph!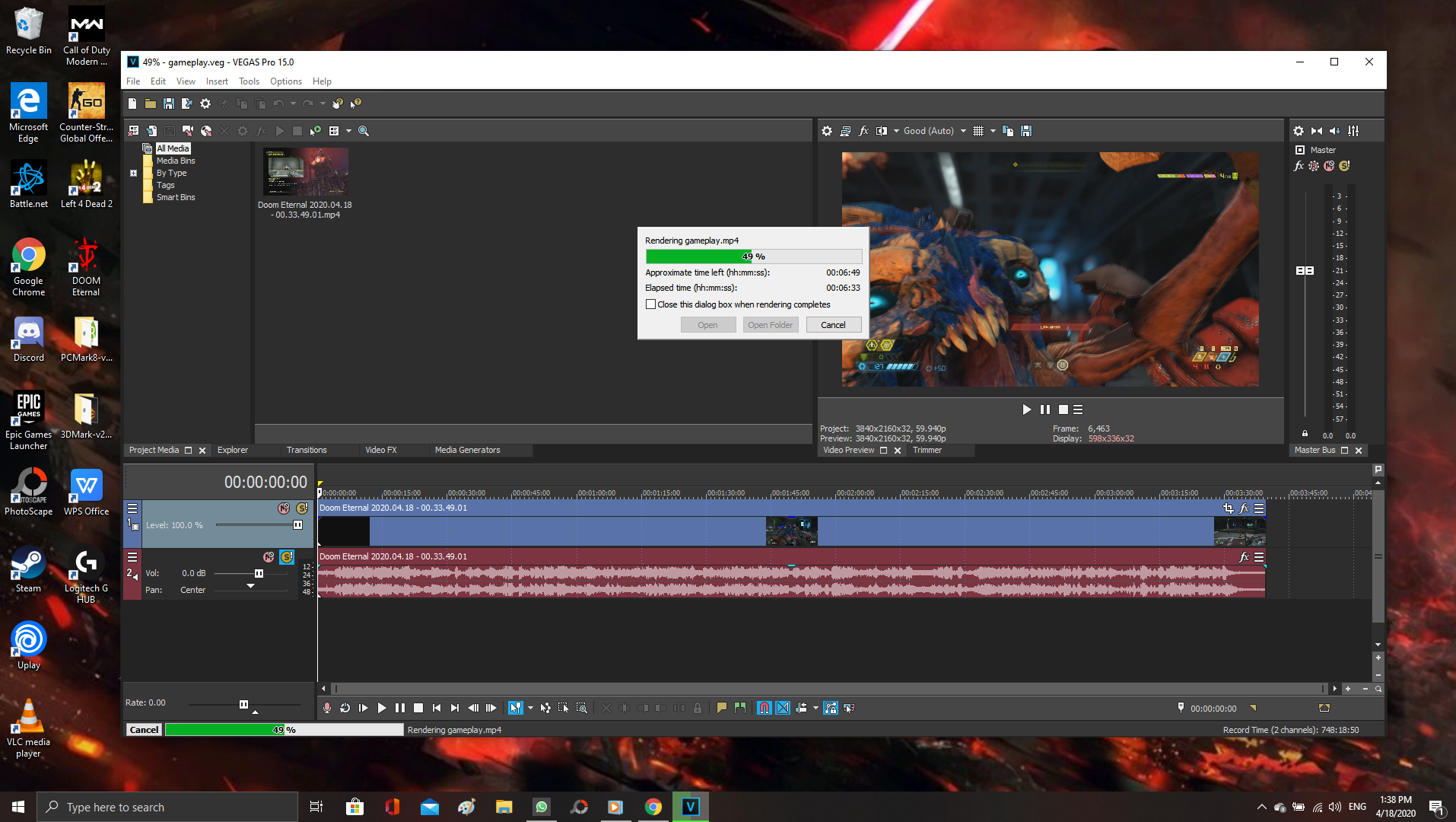 You can multitask your work while rendering a video at the same time thanks to the 12GB of RAM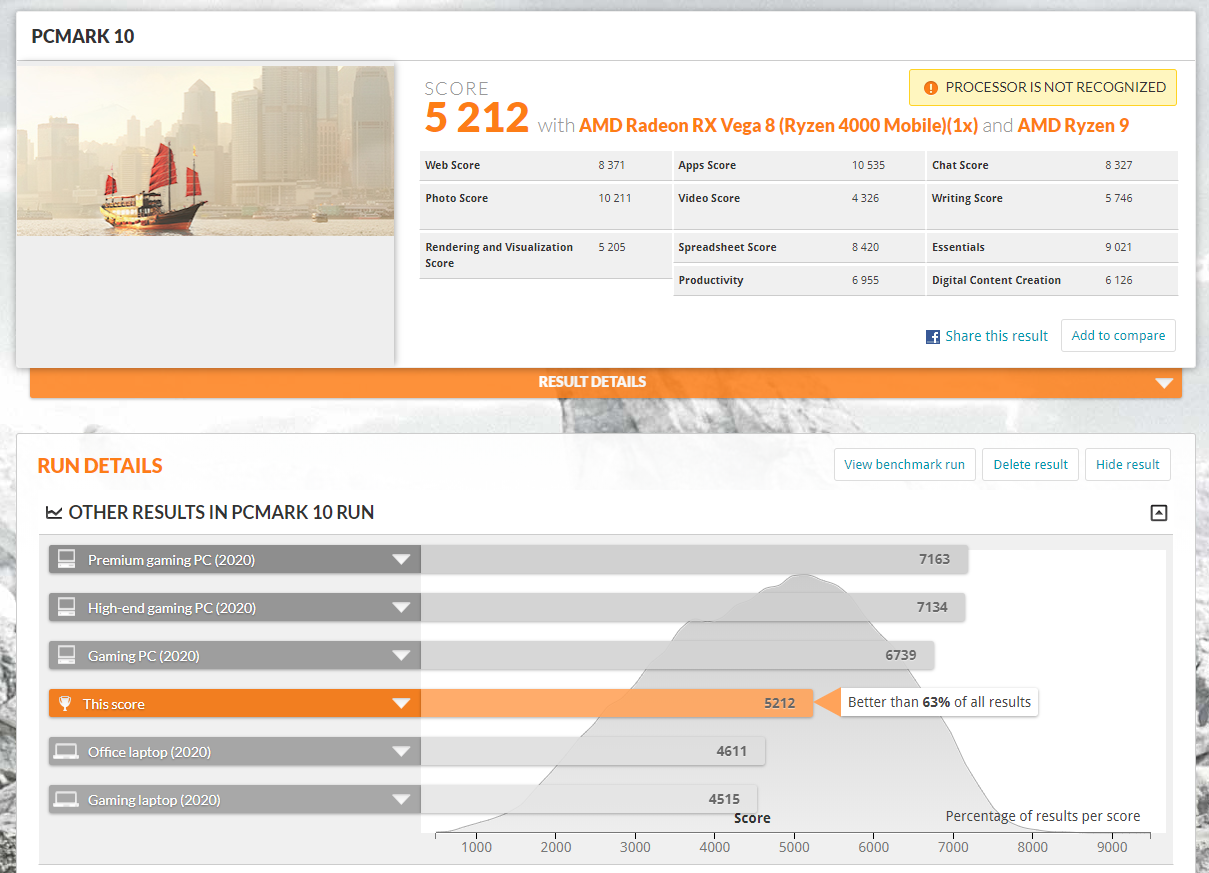 PCMark 10 score, as expected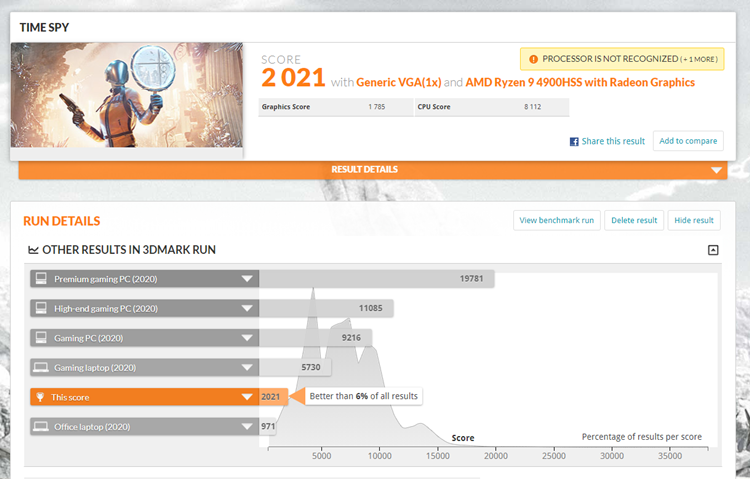 3DMark score, not bad for a rather small gaming laptop
In terms of battery life, the ROG Zephyrus G14 has an unbelievably durable battery. Normally, a gaming laptop battery wouldn't even last 3 hours when unplugged but in my case, mine would need to be recharged after 6 hours more or less. On paper, the battery can last up to 10 hours but this really depends on your daily usage.
Since we are on this topic, I should also mention that it's not smooth sailing all the way for the ROG Zephyrus G14. The gaming laptop does get super hot during gaming and I don't find it ideal to play on it with my left palm resting on the body. That's not to say the heat will melt your skin away, it's just a personal preference and I don't find it comfortable. Despite this, I haven't experienced any game crashing while playing halfway so at least that's pretty impressive for a compact gaming laptop.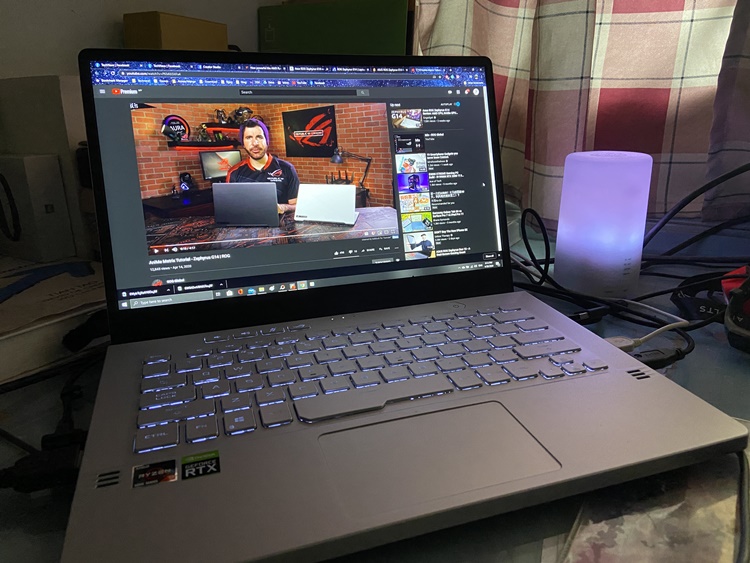 Overall, I've enjoyed using the ASUS ROG Zephyrus G14 a lot during this period. The AMD Ryzen 9 4900HS CPU certainly proved that it's more than capable of handling graphic intense Triple-A titles, same goes to the wireless connectivity and surprisingly good battery performance. This is just a top-class gaming laptop that any gamer could ask for and it really stands out in the market.
Then again, I do have a nitpick about its heat dissipation especially when I'm gaming. There is a way to get around this though, which is to simply connect it with another keyboard, a mouse and another monitor (also a bonus if it has a 120Hz refresh rate for the ultimate gaming experience) and you're good to go. The fingerprint scanner could also use some work and maybe just add on one more USB Type-A port to do the trick (as well as an SD card slot).
In terms of cost, there is no official price tag for Malaysia yet. However, it's $1449 in the US which is roughly around ~RM6240. I won't be surprised if our local price tag turns out to be around the same so we shall see. But what do you think? Let us know on our Facebook page and stay tuned for more tech reviews at TechNave.com!
Finally after two months, ASUS Malaysia have officially announced the price tags for the ROG Zephyrus G14 and there are four models! If you don't need the AniMe Matrix display, you can get that model for just RM4499 which is honestly a mindblowing deal considering the tech specs. If you desire the best of the best, you can get the highest spec model at RM7699 which is available now (Moonlight White). You can refer to the table below for more details.
| Tech specs | ASUS ROG Zephyrus G14 - RM4499 | ASUS ROG Zephyrus G14 - RM5299 | ASUS ROG Zephyrus G14 - RM6199 | ASUS ROG Zephyrus G14 - RM7699 |
| --- | --- | --- | --- | --- |
| Processor | AMD Ryzen 5 4600HS | AMD Ryzen 5 4600HS | AMD Ryzen 7 4800HS | AMD Ryzen 9 4900HS |
| Graphics | NVIDIA GeForce GTX 1650 4GB | NVIDIA GeForce GTX 1650Ti 4GB | NVIDIA GeForce GTX 1660Ti Max-Q 6GB | NVIDIA GeForce RTX 2060 Max-Q 6GB |
| Display | 14" 1080p 120Hz | 14" 1080p 120Hz | 14" 1080p 120Hz | 14" 1080p 120Hz |
| RAM | 8GB DDR4-3200 | 8GB DDR4-3200 | 16GB DDR4-3200 | 16GB DDR4-3200 |
| Storage | 512GB NVMe SSD | 512GB NVMe SSD | 512GB NVMe SSD | 1TB NVMe SSD |
| AniMe Matrix | n/a | Yes | Yes | Yes |
| Colour | Eclipse Gray | Moonlight White and Eclipse Gray | Eclipse Gray | Moonlight White and Eclipse Gray |
| Date Arrival | Aug 2020 | Available now (Moonlight White), Aug 2020 (Eclipse Gray) | Aug 2020 | Available now (Moonlight White), Aug 2020 (Eclipse Gray) |
ASUS ROG Zephyrus G14 (GA40 1IV) tech specs and features:
AMD Ryzen 9 4900HS with Radeon Graphics @ 3.00GHz
NVIDIA GeForce RTX 2060 Max-Q GPU with 6GB of VRAM (Boost Clock: 1285MHz, 65W)
16GB of DDR4 3200MHz SDRAM (upgradeable up to 32GB)
1TB SSD (M.2 NVMe PCIe 3.0)
14-inch Non-glare Full HD (1920 x 1080) IPS-level panel, 120Hz, 100% sRGB, Pantone Validated, adaptive sync
Measures 32.4 x 22.2 x 1.79cm, weighs 1.6kg
Ports - 1 x USB 3.2 Gen 2 Type-C with DisplayPort 1.4 and Power Delivery, 1 x USB 3.2 Gen 2 Type-C, 2 x USB 3.2 Gen 1 Type-A, 1 x HDMI 2.0b, 1 x Kensington lock, 3.5mm headphone and microphone combo jack
Supports Intel Wi-Fi 6 with Gig+ performance (802.11ax), Bluetooth 5.0
Battery Power - 180W power adapter, Support Type-C PD 3.0 up to 65W
Pre-installed software - NVIDIA GeForce Experience, Armoury Crate, GameFirst VI, GameVisual
Windows 10 Home
Pros: An overpowered gaming laptop, great for daily workloads too
Cons: Heat may be distracting while gaming, also the fingerprint scanner needs some work
Summary: It's probably the best compact gaming laptop that any gamer can ask for, enough said