ASUS ZenFone 4 Review - Mighty midrange 5MP cameraphone for the entry-level market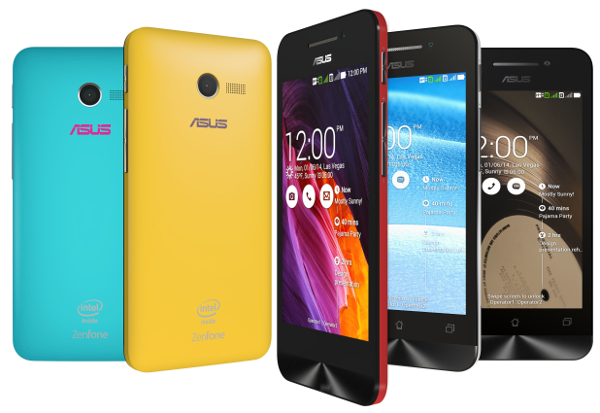 Most cameraphones offer users a number of features that aren't available to standard smartphones that have cameras. This includes fast focus, better quality lenses and better resulting images or videos. Quite often, you won't find such features in an entry-level smartphone much less one going for below RM300, which is why we were quite impressed with the performance shown by the ASUS ZenFone 4, the company's entry-level offering for their new range of ZenFone smartphones. How exactly does the ASUS ZenFone 4 impress and does it offer more than just cameraphone capabilities? Check out our full review of the ASUS ZenFone 4 below to find out.
Design - Pocket sized simplicity

The ASUS ZenFone smartphones all share the same overall design but we have to admit that the ASUS ZenFone 4 is a bit more chunky (thick) compared to the ZenFone 5 and ZenFone 6 at 11.5mm. The overall build is a mix of plastic, glass and metal with the 4-inch screen protected by a layer of Corning Gorilla Glass 3 (something you rarely see on any entry-level smartphone of this price range).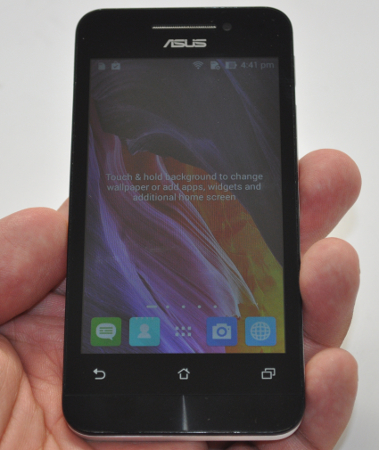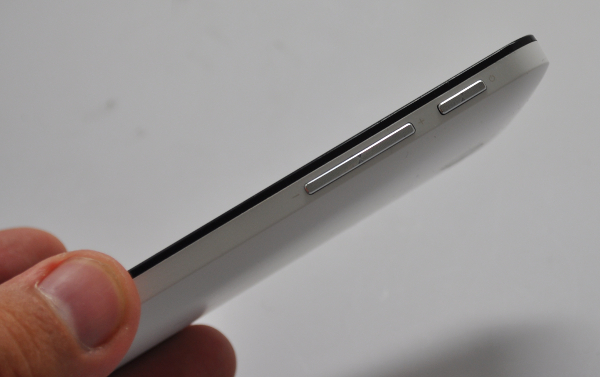 The ASUS ZenFone 4 offers premium metalic design on the bottom panel and the buttons with tough Corning Gorilla Glass 3 and casings with different textures
The bottom front panel is metal with a concentric circle design available on the ASUS ZenBook. It feels like very fine brushed metal and looks great. This metallic circle design is also on the power and volume rocker on the side, which gives the buttons a bit more texture and grip. The backside is plastic and comes in a number of different colours including black, white, red, yellow and blue but what sets the ZenFone 4 apart in this case is that different colours have a different feel to them.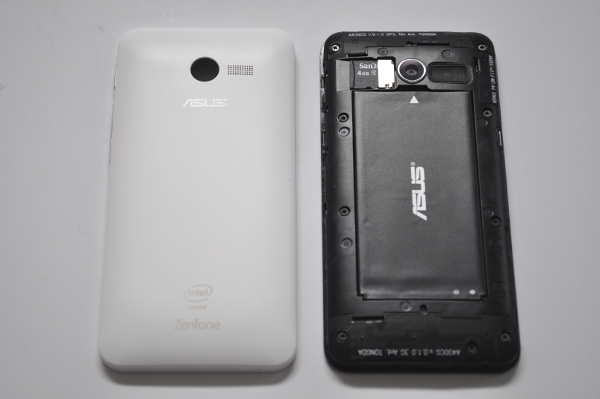 While the back casings are plastic and pop off easily, each colour feels different. The white one for example feels like ceramic.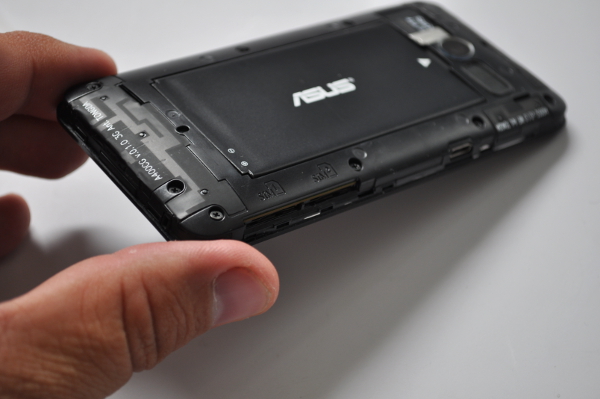 You don't have to take out the battery just to insert the microSIM cards

According to ASUS Malaysia contacts, this is done through an anodization layer process over the plastic casing which lets the white coloured casing feel like ceramic while the black and red coloured casing feels rubberized. Having felt both the black and white casings we can safely say that this is true but we have yet to feel the casing that they said feels like brushed metal. The ZenFone 4 fits nicely in the palm of your hand thanks to the curved backside but it does feel a little less solid thanks to the back casing which can pop off rather easily. Build quality is still very good though and the phone has a nice balance to it. It seemed a little bit too small for my big hands but those with normal sized hands or slim fingers will find that the ZenFone 4 fits the hand just nicely.

The side is quite slim but at it's thickest point it is quite chunky at 11.5mm
Tech specs and Features - A step above the rest
Make no mistake here, while ASUS are targeting the entry-level market with the ZenFone 4, many of it's features and tech specs are definitely in the midrange. While the 1.2GHz Intel Atom Z2520 processor is listed as dual-core, CPU-Z reports it as a quad-core thanks to hyper-threading tech built into the Intel chip. There is 1GB of LPDDR2 RAM, again a feature that isn't available in many entry-level smartphones. While the 4-inch display offers 480 x 800 pixel resolution for a respectable 233 ppi pixel density, it is covered by a layer of the thinner, lighter and stronger Corning Gorilla Glass 3 for better protection. Our review unit had the standard 4GB of storage but you can easily expand this by up to 64GB through the microSD slot.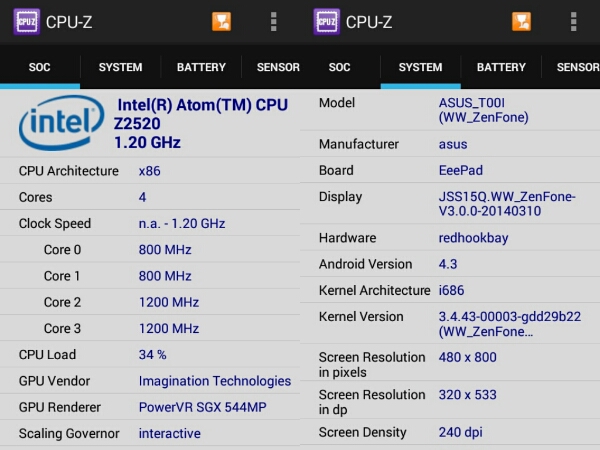 Check out the four working cores on the dual-core Intel Z2520 processor
One of the major features of the ZenFone smartphone range is the PixelMaster camera tech, and the 5MP rear camera and 2MP front camera on the ZenFone 4 both have access to most of the PixelMaster features. This includes Time Rewind, which takes a 3-second shot and lets you select 1 second forward or 2 seconds backward for the shot you might have missed. You can also do a super-fast 100 shot burst mode that works for both the rear and the front camera. The camera tech also offers a number of features such as built-in anti-shake and optimization for both still images as well as video.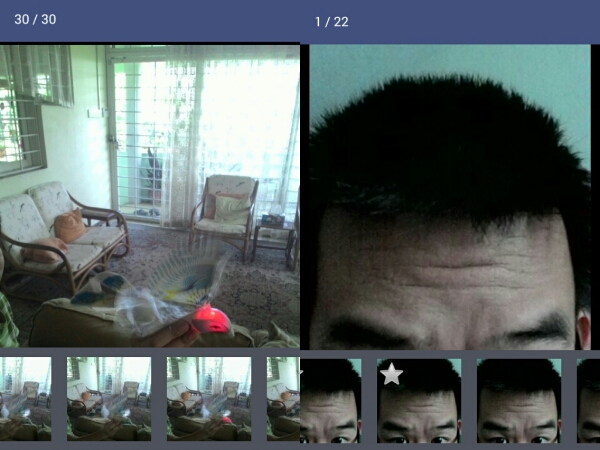 Burst mode works on both the rear and front cameras
You can also customize these features along with autofocus, ISO and exposure. The volume rocker can be set as the camera shutter key and you can also press it twice to bring the camera up direct from standby. We cannot confirm what type glass or sensor is used but the 5MP camera sensor is certainly better than average thanks to the PixelMaster algorithms working together with the hardware. Other features include a selfie mode, a Panorama mode, GIF animation mode, beautification mode and smart remove mode. While there is no Low-light mode, there is a Night mode. You can also record smooth 1080p video at 30fps in MPEG4. The only thing missing here is a refocus mode but most entry-level users will find that there are more than enough camera options to choose from.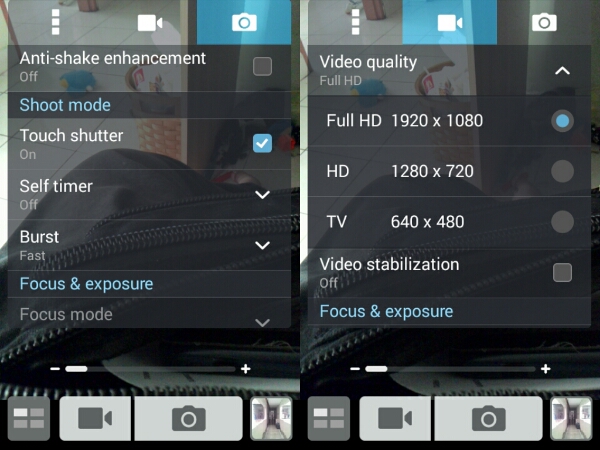 Anti-shake enhancement is built-in for both video capture and image capture while you can also record 1080p video at 30fps on the ASUS ZenFone 4
The ZenFone 4 packs in a removable 1200 mAh battery, which is rather small even for an entry-level smartphone but ASUS Malaysia are packing in an extra battery you can swap out. The smartphone supports GPS, dual-SIM (micro SIM), WiFi, 3G HSPA+ and Bluetooth 4.0 while also offering the Android 4.3 based ASUS ZenUI which is set for an Android 4.4 KitKat update soon (rumours say Q3 of 2014). The ZenUI also packs in a large amount of fairly useful apps, including the Omlet messenger for emoji messaging, a fairly smart What's next schedule and reminder manager, a widespread Pocket-like Do-it-later task manager and much more. There's also a bunch of Link (Share Link, Party Link, PC Link, Remote Link) apps which let you share files and media (usually through WiFi direct or WiFi). ASUS rounds this already large featureset up with Open Cloud and free 5GB of lifetime ASUS WebStorage. All of these come at a price though as nearly 3GB of the existing storage is taken up by the system and apps.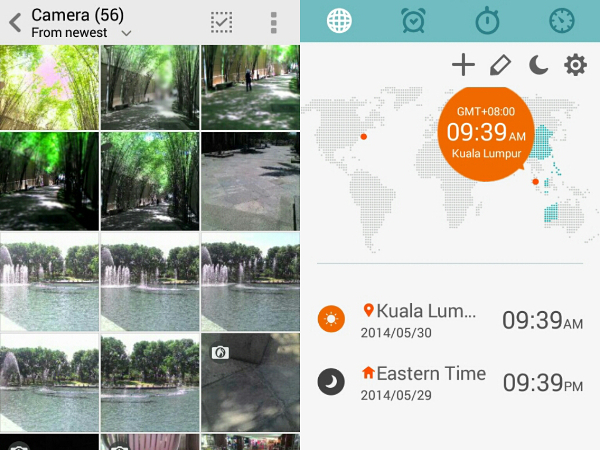 The ZenUI is a lot cleaner and easier to navigate while offering some really useful apps as well
Performance - Very capable entry-level smartphone
On AnTuTu the ASUS ZenFone 4 scores a remarkable 15260, placing it around the same region as former flagship and current midrange smartphones. It excels in graphics too with an Epic Citadel score of 57.9fps at 800 x 480 pixel resolution while in 3DMark the ZenFone 4 gets 5262 on Ice Storm and 4503 on Ice Storm Unlimited. If you haven't guessed already, this is very good performance for an entry-level smartphone and in the medium level for a midrange smartphone.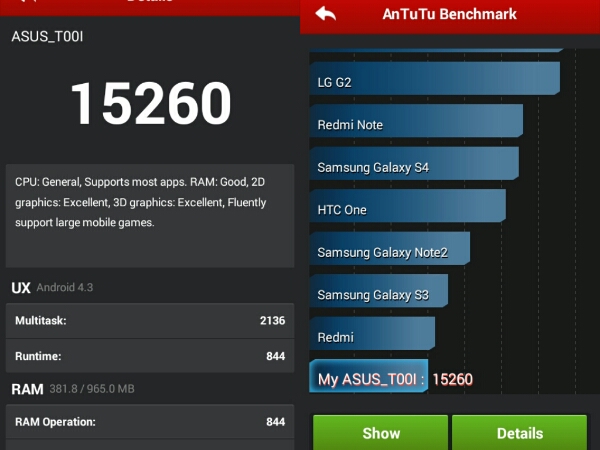 The ASUS ZenFone 4 scores a respectable 15260 in AnTuTu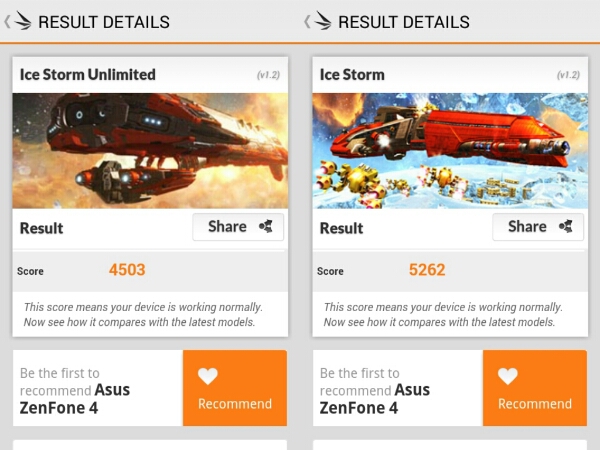 The ASUS ZenFone 4 does well enough on 3DMark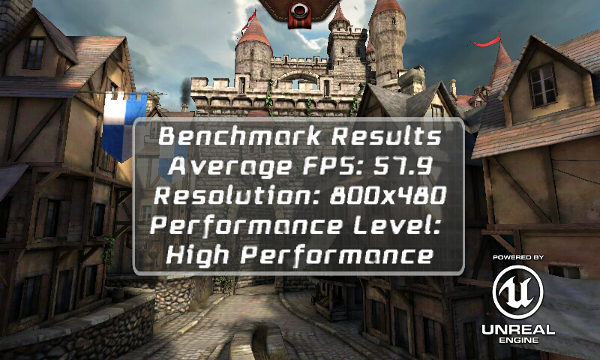 The ASUS ZenFone 4 does quite well on Epic Citadel thanks to good hardware and a lower resolution
Testing out it's real life performance, the ZenFone 4 handled practically everything we threw at it, including high-end first-person shooters and racing games. Our 1080p movies played smoothly and had no lag at all. Granted, the display clarity isn't very sharp but it is still head and shoulders above what most entry-level smartphones currently offer. The smartphone does run almost hot after some continuous and intense 3D gaming but it is never scorchingly so. Audio performance was surprisingly clear considering there is only one speaker. While it wasn't that loud, we could clearly distinguish different instruments in music and individual sounds in movies.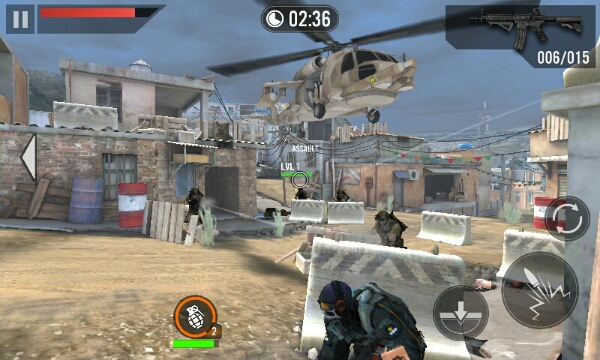 First-person shooters can be played quite smoothly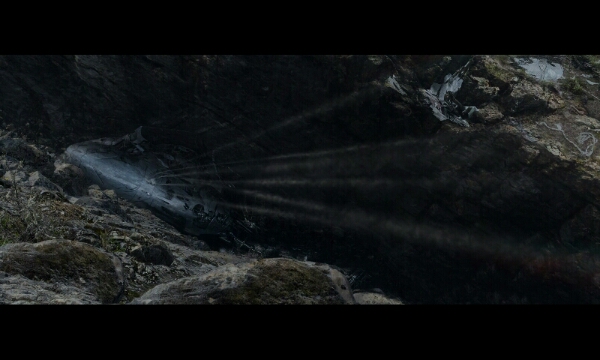 Full HD 1080p video playback
Reception and Wifi performance are very good for the ZenFone 4 and you should not have any problems using it as a phone. We particularly liked the new and improved ZenUI but found that the inability to uninstall these apps automatically categorizes them as bloatware, no matter how useful they may actually be. Truth be told, we found most of the ZenUI apps to be very useful but users who like the stock Android experience may be annoyed. As usual, we found the ASUS PowerSaver function to be very efficient with not much effect on performance.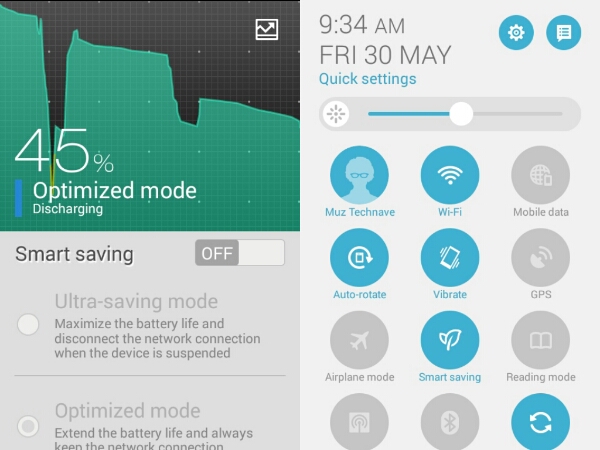 The PowerSaver function is very good, extending battery life by about 2-3 hours without affecting performance too much
As mentioned above, the main highlight of the ZenFone 4 is it's camera capabilities and it does not dissappoint. Auto-focus is surprisingly fast at a 1.1 to 1.8 second while the PixelMaster optimizations really help to improve the image quality in terms of exposure and clarity, but the 5MP camera sensor does have some problems keeping up. This is most evident in features like the burst mode or Time Rewind as the only optimized and therefore brighter and clearer looking image captured in the feature is the first image. Following images after the first shot tend to be a bit darker and slightly blurry compared to the first optimized one.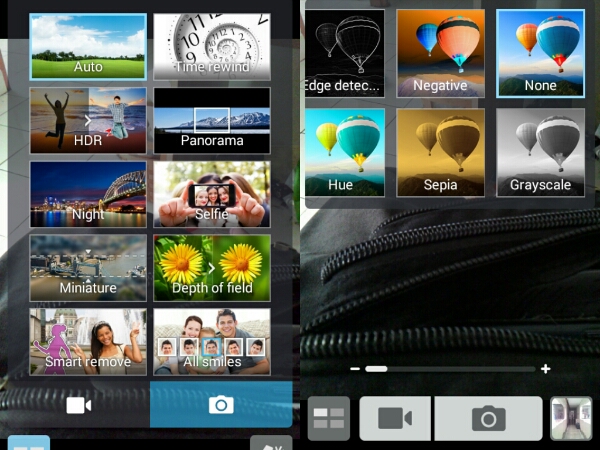 The ASUS ZenFone 4 has quite a few cameraphone options to choose from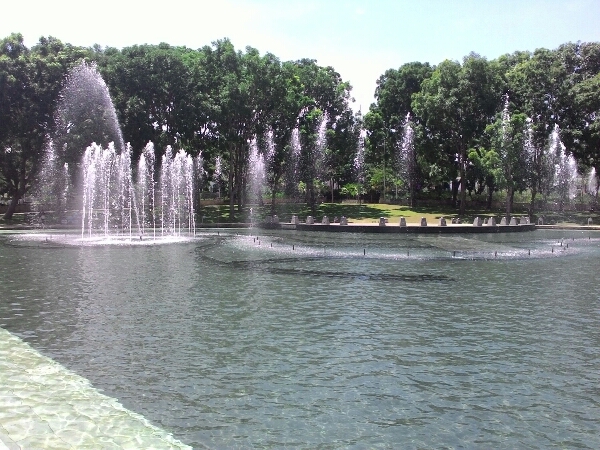 5MP, Automatic mode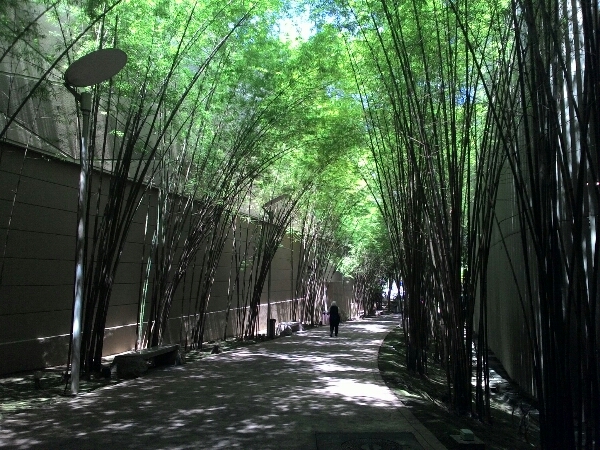 5MP, Automatic mode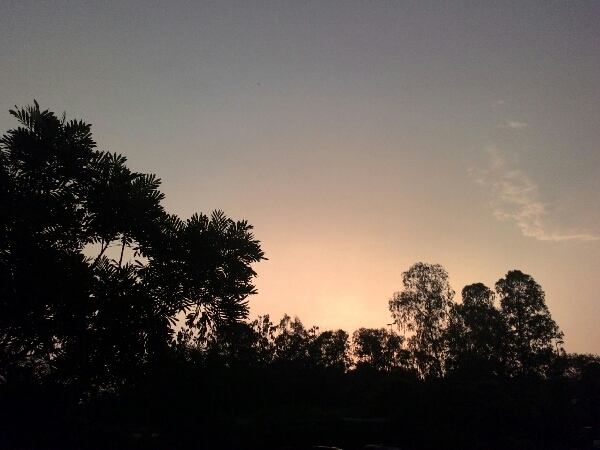 5MP, Automatic mode, Works quite well even in Low-light conditions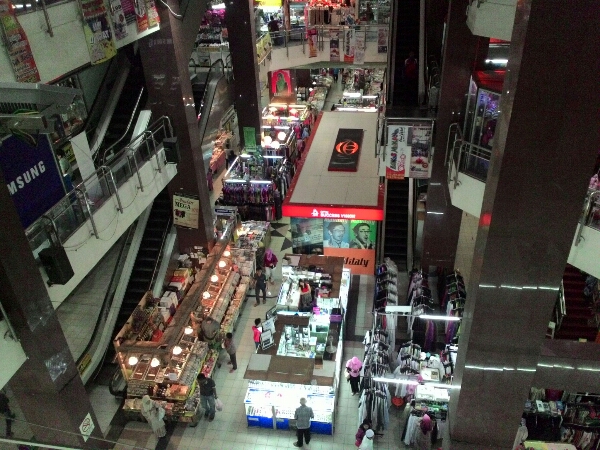 5MP, Automatic mode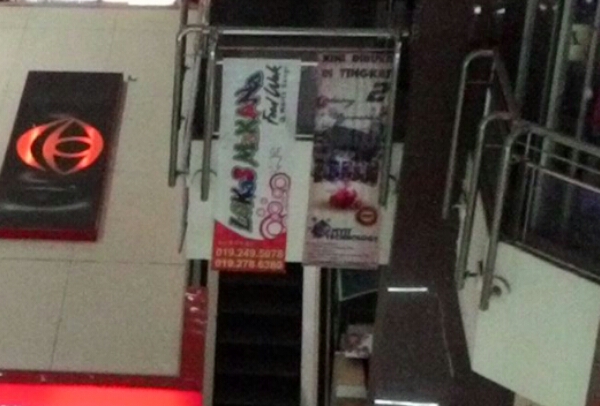 200 percent crop
We're certain that this should not be an issue in the faster and more capable 8MP and 13MP sensors of the ZenFone 5 and 6 but it is one of the few low points in the ZenFone 4. Battery life is the only other low point as the smartphone lasts about 3 hours on continous heavy usage like playing games or watching 1080p movies. If it's just with wifi on and minimal use the ZenFone 4 can last about 8 to 10 hours on a single charge which should be good enough for most users.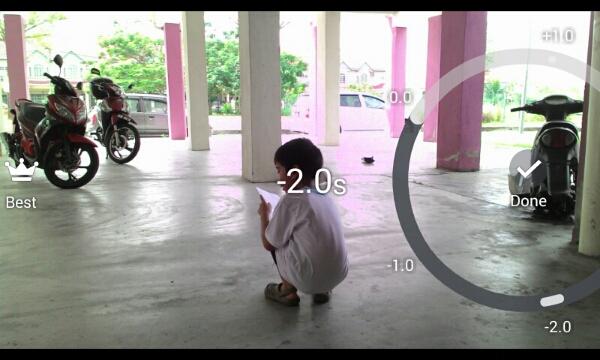 While the features like the Time Rewind are awesome, only the first image has the optimizations for light and sharpness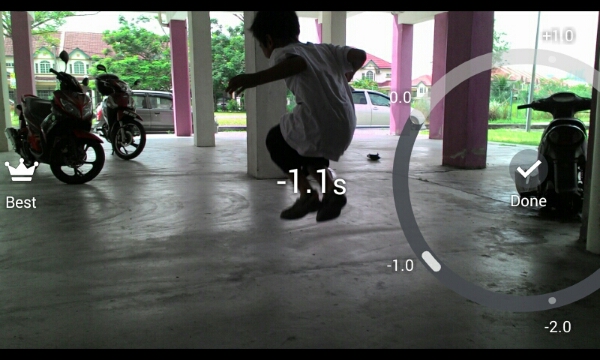 While subsequent images are still quite sharp, they aren't as bright as the first image
Price - You won't find anything like it
At RM299 the ASUS ZenFone 4 is priced as an entry-level smartphone. A quick look at Mobilemegamall.com listings reveal the closest competitors within this price range to include Nokia Asha smartphones, the Lenovo A560, Alcatel OneTouch Pop C1 and Samsung Galaxy Pocket. None of them offer the same performance, tech specs and cameraphone features but nearly all of them can outlast the ZenFone 4 in terms of battery life. This is mainly because all of these entry-level smartphones use less capable and less demanding components so while you can't do much with them you are almost guaranteed about 1 day or so worth of battery life on a single charge.
Conclusion - Pocket performance powerhouse smartphone
All in all, the ASUS ZenFone 4 is an excellent performance entry-level smartphone. In terms of pure processing power, there is no other RM299 smartphone that can match it and it is on par or better than some midrange smartphones. As a cameraphone it packs in a huge array of features and it is both responsive as well as fast. However, it is still a 5MP camera sensor regardless of how much better the lens or the sensor is compared to other entry-level smartphones. So while it can outperform the cameras on other entry-level smartphones, it isn't fast enough to keep up with some of it's features.
Our only major concern is that of the battery life, which runs down quickly due to the fact that the ZenFone 4 is so much more capable than other entry-level smartphones. If you were to use it like a normal entry-level smartphone, answering calls, checking emails and once in a while browsing something, the ZenFone 4 can easily last a day. However, because the ZenFone 4 can do so much more, some users may find that the battery life goes faster than they expect. Thankfully, there is a second battery which you can quickly swap out and the ASUS PowerSaver function works quite well even if you don't swap out the battery.
Design-wise, it is a very good looking smartphone, despite it's rather chunky thickness and it should be a good entry-level or even a midrange smartphone replacement unit. You can also use it as a secondary smartphone, but we expect that you may end up using it even more than your midrange smartphone.
*TechNave.com would like to thank ASUS Malaysia for the ASUS ZenFone 4 review unit. It allowed us to do a more in-depth review and highlight more features.
Asus Zenfone 4 Specs & Price >