Acer Iconia Tab A100 Review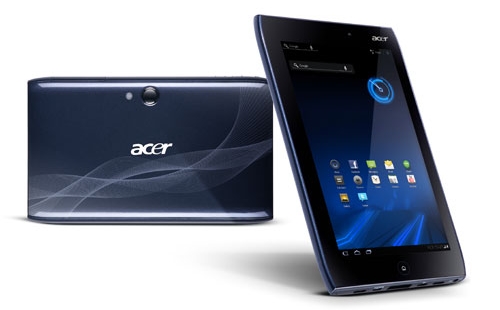 If there's one thing we like better than gadgets, it's accidentally breaking gadgets. Why, just today we pulled the headphones out of an Acer Iconia Tab A100 tablet, and broke the case. Needless to say, we spent several minutes giggling like a naughty schoolboy, then popped it back and ran off to the nearest Wi-Fi hotspot to tell you all about it.
In Acer's defence, the A100 we saw was a pre-production version, and had probably been manhandled more times than an ageing courtesan: it was a demo version of the forthcoming 7-inch Android tablet being shown off, and from the looks of them they're probably not very gentle.
Acer Iconia Tab A100 - Design & Build:

Breakages aside, the A100 looks like a neat little tablet on paper. It's packed with features and connections, including HDMI, USB and mini-USB. It can output high-definition video to your TV and is powered by a dual-core Nvidia Tegra 2 processor.
Acer Iconia Tab A100 - Display:
This dual-core 7-incher takes on the similarly sized Samsung Galaxy Tab. If the 7-inch size is too small for you, the A100 has a very similar bigger brother, the 10-inch A500. The A100 packs a 1,024x600-pixel, 16:9 screen. It looked clear and bright to us, and the dual-core processing power kept things speedy during our brief play with it.
Acer Iconia Tab A100 - Camera:
There's not one but two cameras to play with: a rear-facing 5-megapixel camera with auto-focus, and a front-facing 2-megapixel snapper for video calls.

Acer Iconia Tab A100 - OS:
The A100 will launch with Android 3.0 Honeycomb, the first version of Google's mobile operating system specifically designed for tablets. It takes advantage of the extra room on screen with redesigned, roomier versions of apps, and fancy 3D carousels for searching through photos, apps and other bits and pieces. Sadly, the sample we tried only packed Android 2.3 Gingerbread, which is designed for phones.

Conclusion:

The Acer Iconia Tab A100 has plenty of features and a great specs list. We hope Acer has addressed some of the early construction problems by the time this tablet launches.
Acer Iconia Tab A100 Specs & Price >