Acer Iconia Tab A500 Review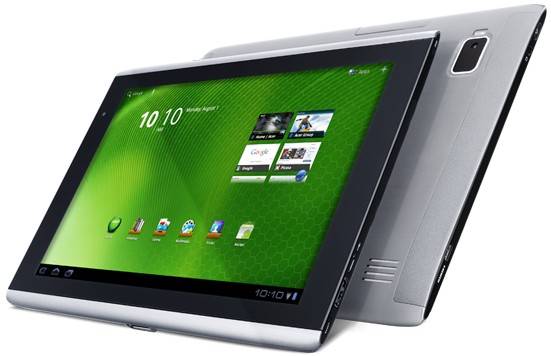 The new Acer Iconia Tab A500 is one a slew of Android devices aiming to find its niche in a world currently dominated by the Apple iPad 2. What sets the Iconia Tab apart from its competition is primarily its price - cheaper than the iPad 2. That makes it an option for those looking for an Android tablet on a budget, but not enough of a break to sway many people away from the iPad 2.
Acer Iconia Tab - Design & Build:

The Acer Iconia Tab A500 is a very nice looking device, with a brushed aluminum back that wraps around onto the front panel. But the Iconia Tab also has the unfortunate distinction of being the heaviest Android table on the market at 1.69 pounds. While the Iconia Tab is only .05 pounds heavier than the Motorola Zoom, it is a full 5oz heftier then the LG G-Slate and nearly 6oz heavier than the iPad 2.

That's a pretty big weight difference, and you definitely feel it when holding the Iconia Tab for long periods of time. Those who use it in portrait mode (say, for book reading), will find that weight difference exaggerated further by the Iconia Tab's 16:10 aspect ratio, which makes the device far more top-heavy than the 4:3 aspect ratio of the iPad 2. The buttons along the sides are well-positioned and have a high-quality feel. On the top is the volume rocker and orientation lock, while on the left side is the power button.
Acer Iconia Tab - Display:

The Acer's Iconia Tab has a 10.1-inch, 1280 x 800 TFT LCD display. That's the same size and resolution as other 10-inch Android tablets, and beats out the iPad 2's 1024 x 768 display—a difference you'll notice when watching movies.

When cranked to full brightness, the Iconia Tab was very bright, and exhibited rich colors, while still maintaining decent black levels. But when automatic brightness was turned on, the display was too dim and colors became washed-out. I also noticed a grid pattern that ran across the screen. Not noticeable during most normal use, but an indication that Acer may be using cheaper panels to achieve that price differential.

Oddly, the display will pop on occasionally even when the device is not in use. Others have experienced this is well, and we suspect it has something to do with syncing over Wi-Fi. Hopefully, this will be fixed in a future update.
Acer Iconia Tab - Sound:
The Iconia Tab can output 720p video through its micro-HDMI jack and also supports DLNA. Dual speakers on the rear output fair-to-middling sound that is muddy and lacking in base, but gets the job done. In fairness to Acer, other tablets, including the iPad 2 don't have great sound either. Output through the headphone jack was much better, though on the quiet side. I had turned up the volume nearly all the way while in my relatively quiet office. In noisy environments, the Iconia Tab may have trouble coping.
Acer Iconia Tab - Web Browsing:

Web browsing is a much better experience with Android Honeycomb than Apple iOS. The browser supports tabbed browsing and true multitasking, so pages continue to load in the background when you switch tabs. That makes a big difference if you're constantly browsing multiple pages at once, like I do.

While the Iconia Tab doesn't support full Flash out of the box, it is easy to download from the Android Market. Flash provides many web page features that the iPad 2 can't access.
Acer Iconia Tab - Performance:
The Iconia Tab sports a dual-core processor, which made for a speedy browsing experience. Page rendering, scrolling and zooming were all quick. The Iconia Tab A500 is currently Wi-Fi only.
Acer Iconia Tab - Camera:

The Iconia Tab has 5MP rear-facing camera and a 2MP front-facing camera. Both are disappointing. Photos taken with the rear-facing camera were underexposed, hazy and often out of focus. Things got worse in lower light conditions.

The front-facing 2MP camera faired no better. It is adequate for video chat, but nothing more. Acer also made the unfortunate decision to place the front-facing camera on the left side of the display, so your friends will be looking at an off-center view of your left cheek during chat.
Acer Iconia Tab - Video:
Unlike the photos, the 720p video quality was surprisingly good. It was slightly underexposed, but did not suffer from the jiggles and stutters so common with cell phone videos. Though using the Iconia Tab (or any tablet, for that matter) as a video camera quickly shows how poor tablet ergonomics are for video. And in bright light, the Iconia Tab's display becomes almost completely washed out, making capturing your subject in the video a game of hit or miss.
Acer Inconia Tab - Keyboard & Navigation:

I'm not going to go into a full review of Android Honeycomb here. Suffice it to say that the Acer Iconia Tab A500 does not offer any surprises versus other Honeycomb tablets. With its dual-core processors, navigation on the Iconia Tab was quite fast, videos played well and apps opened quickly.

Tablet specific apps for Android are still few and far between, though the Iconia Tab plays Android smartphone apps just fine. If you want an alternative to the on-screen keyboard, the Iconia Tab has a full-sized USB port to plug in your own.
Acer Iconia Tab - Storage:

The Iconia Tab comes with 16GB of internal storage and an external microSD card slot.
Acer Iconia Tab - Battery Life:

Battery life was fine during my home use, down to 30% after a week of occasional light usage. Though in-depth testing, we suggests that the Iconia Tab underperforms other Android tablets, and especially the iPad 2.
Conclusion:

The main criticism of Honeycomb we had about all the Android tablets we've seen recently are the limited selection of apps - just over 460 Honeycomb apps - with some popular ones that haven't been optimised such as Facebook and Twitter. Otherwise it's quick, responsive and by adding a USB port and extra features like clear.fi, Acer has added some unique features. However at the moment, it's hard to recommend this above the Asus Eee Pad Transformer and its superior screen.
Acer Iconia Tab A500 Specs & Price >