Acer Nitro 5 review - A solid cost-effective gaming laptop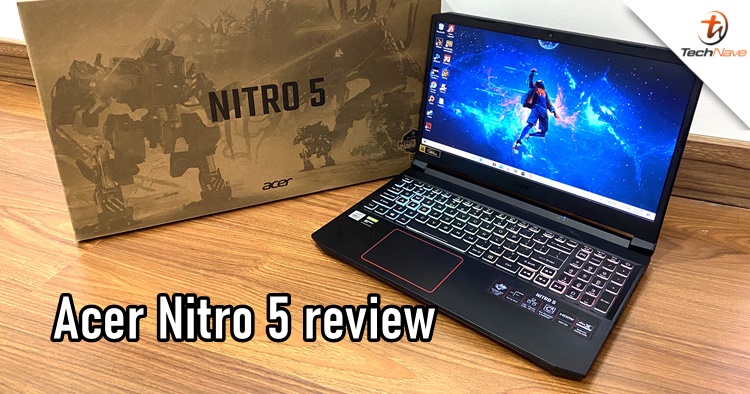 Large gaming laptops are such a norm that nobody thought of having a portable one was possible, but after years of technological improvements and feedback from consumers, the laptop brands are making it a reality. We have already seen the impressive compact ASUS ROG Zephyrus G14, now Acer also have their own with a newer Nitro 5 gaming laptop.
Gaming laptops are also usually expensive which is one of the factors to why there are more mobile gamers in Malaysia, but gaming laptops are becoming more and more affordable as well. In this review, we will show you the pros and cons of the Acer Nitro 5 (AN515-55-79CU) gaming laptop which is priced at RM4899 (or RM3799 for the lesser variant, but we will come to that later).
When one of our writers got his hands on the Nitro 5, he was surprised to find that it wasn't as big as he thought. For measurement, it is 363.4 (W) x 255 (D) x 23.9 (H) mm and weighs just 2.3kg, which is just below the normal gaming laptop size volume. The design also looks rather low-key and simple but upon a closer look, the body is using a matte texture and it can be easily smudged with fingerprints. Not to worry though, it's black and nobody would notice it that much on first glance.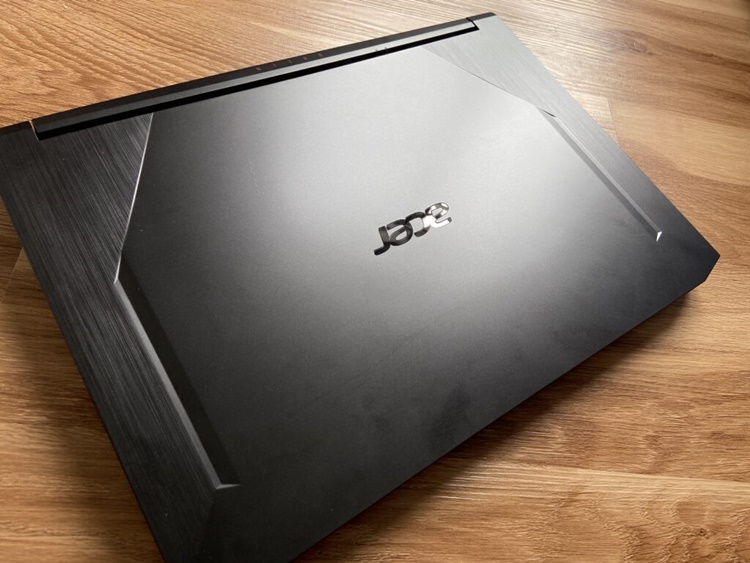 Solid black and simple design, but the surface can still get smudges from your fingerprints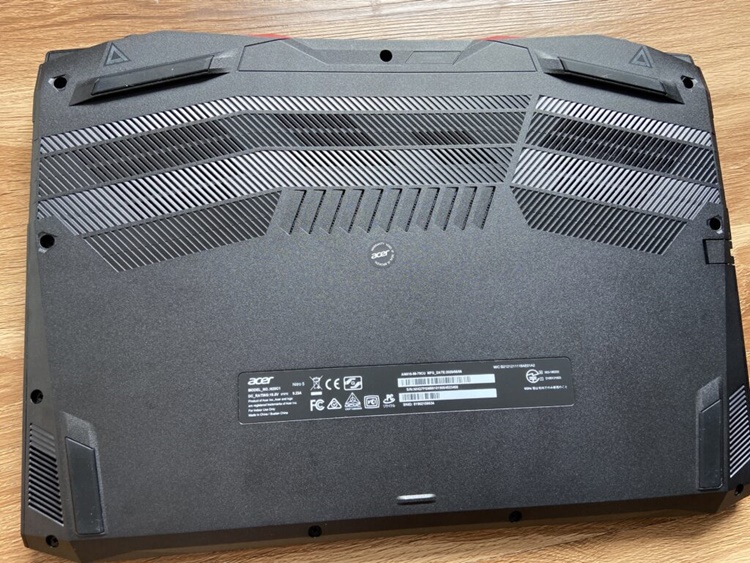 The bottom, now that's a lot of ventilation grills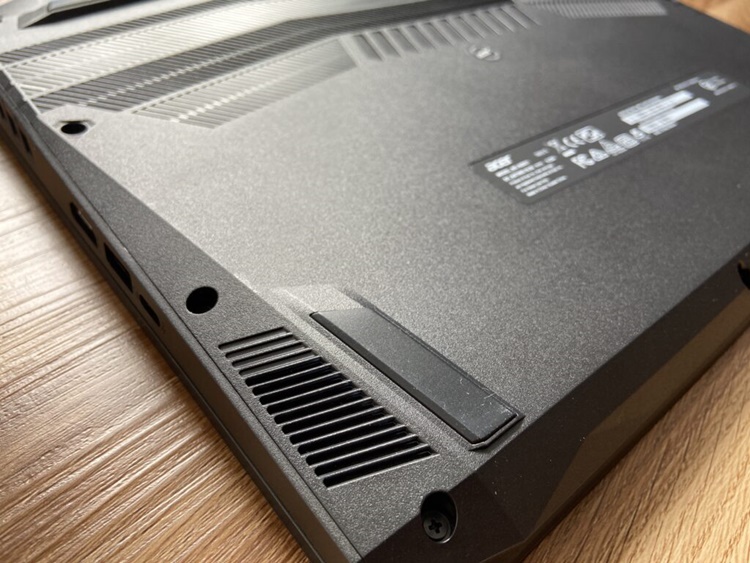 One of the speaker grills at the side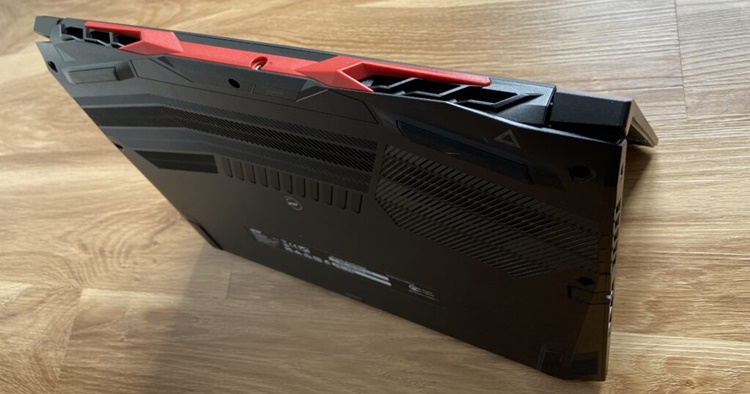 The trademark red design of the Nitro series, bigger and more ventilation holes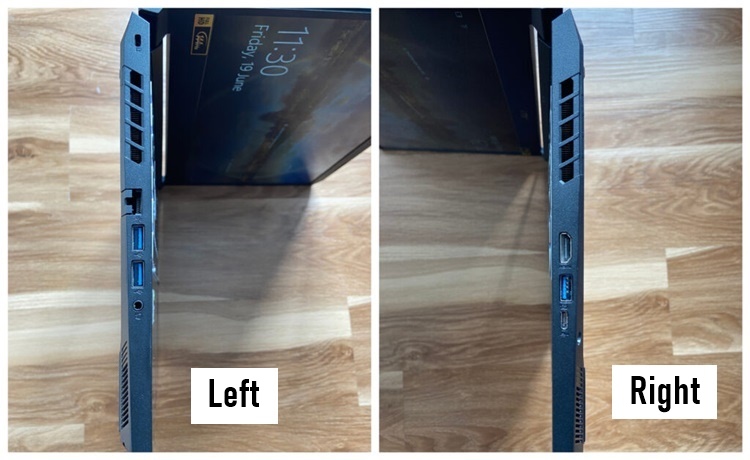 On the left, it features an RJ45 port, 2x USB 3.2 Gen1 and a 3.5mm headphone jack. Whereas on the right, you can find the HDMI 2.0 port, USB 3.2 Gen2 and USB Type-C. The ventilation holes are on both sides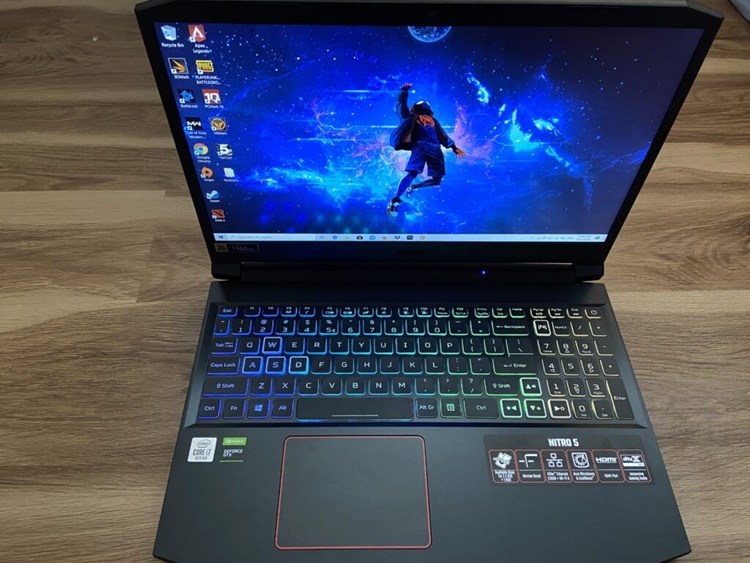 Mhmmm, RGBae
The Nitro 5 returns with the signature red ventilation holes at the back and you can find the charging port there too which is a nice change. Normally, the charging port would either be on the left or right and it even comes with a two-stage plug-in feature. In other words, the cable that's plugged in cannot be easily pulled off but requires a certain amount of pressure to be connected to the power supply as well.
Acer didn't just stop the ventilation holes at the back and the side, even the bottom is filled with multiple grills. Clearly, the company actively improved the heat dissipation (more on that later) and alongside that, you can also find the speaker grills placed at the bottom sides.
Onto the display, the Nitro 5 is sporting a 15.6-inch FHD IPS screen panel that can support 144Hz refresh rate, 3ms respond speed, 72% NTSC colour gamut. You can also find a webcam on top of the display, using a 720HD camera and an array microphone, while the keyboard is a full set arrangement with numeric keypads and full-sized arrow keys, complete in a four-zone backlit RGB lighting which just screams sexy.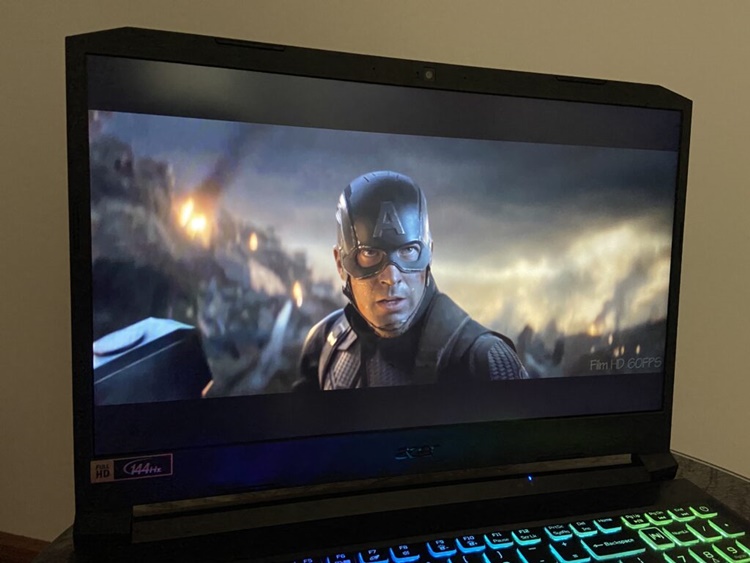 Overall, the colours displayed on the screen panel is satisfactory. Can't really complain
RGB wave in action
Pressing on the keyboard feels nice and accidental typos almost never happen. This is particularly important for gaming where a key away can turn the tide of a battle, the WASD and arrow keys are more highlighted than the rest, same goes to the Nitro Sense (your gaming profile centre) button that's above the number 7. Of course, you can also customize your four-zone RGB lighting colour profile, brightness, lighting effects, speed, direction and modes from the aforementioned Nitro Sense program there.
Like most gaming centre programs, Nitro Sense also allows you to adjust the fan speed, power saver settings and monitor the laptop's temperature. The user interface is pretty straightforward so it's easy to navigate and not difficult to operate at all (it's just choosing options here and there). Even if you're not a hardcore gamer, it shouldn't take long for a casual user to utilize the settings.
The Nitro Sense user interface, you can do a lot of management here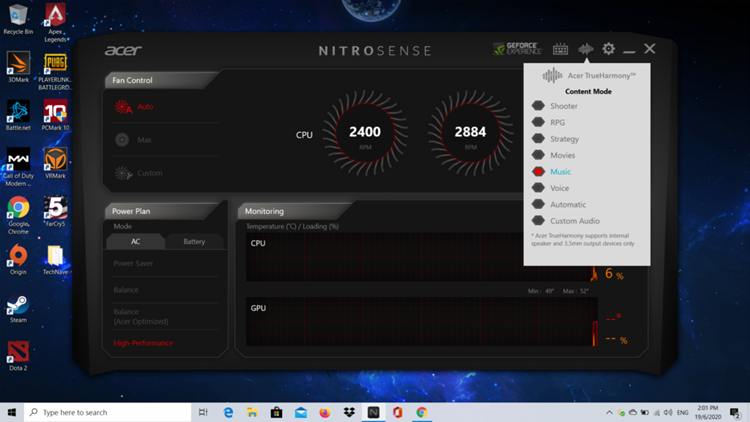 Then for this tab here is where you open the Acer TrueHarmony sound system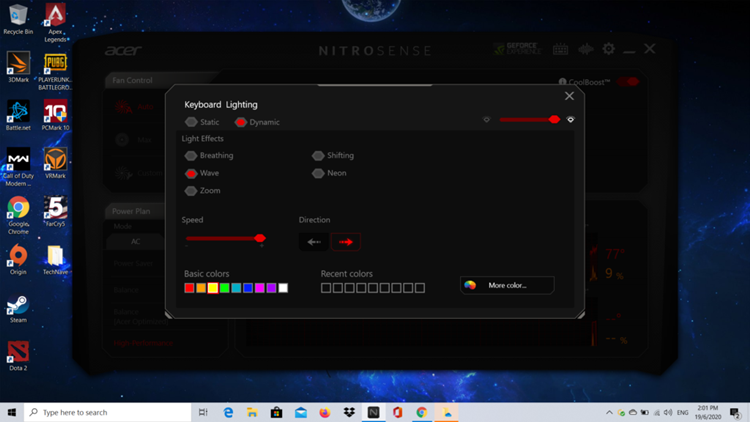 Customizing your RGB lighting effect style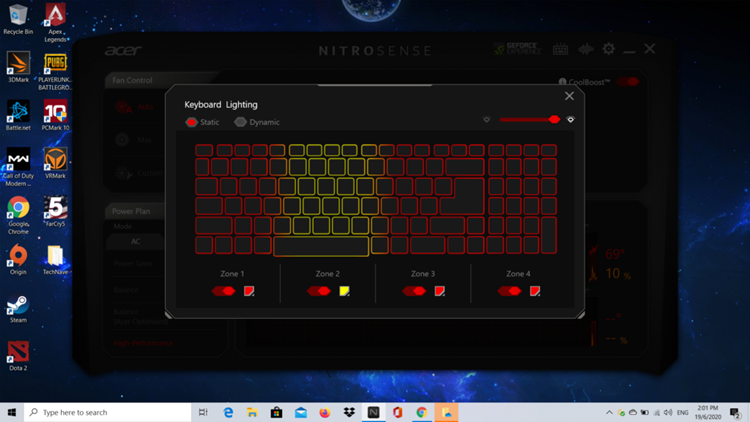 You can choose different colours for each zone on the keyboard
Apart from Nitro Sense, you can also find Acer's own Acer TrueHarmony sound system within the program. There are a variety of sound modes for you to choose from, such as theatre or gaming (RPG, strategy, FPS) and they are limited to the laptop's own speakers. This sounds good on paper, but sometimes the sound clashes with the fan volume so it may be distracting at times. Thankfully, you can still make use of the sound system as long as you have a gaming headset so you can just connect them to the 3.5mm headphone port (recommended for the best gaming experience).
It's about time we talk about performance. Featuring an Intel Core i7-10750H processor, NVIDIA GTX 1660Ti graphics card, 8GB of RAM (upgradable to 32GB of RAM) and 512GB PCIe NVMe SSD, these figures look great on paper but we have to put the Nitro 5 to the test. Its score on 3DMark's Time Spy was 5394 points and the FPS was 36 which isn't really high but we believe it should be enough for most average gamers to play Triple A titles.
The games that we tested on this laptop are Call of Duty: Warzone, Apex Legend and Far Cry 5. We first played Far Cry 5 with the highest ultra settings possible and there was no stuttering during the gameplay. It ran an average of 74 FPS, the fan sound and temperature were kept within an acceptable range so that's a good sign. As for the other two games, we are glad to report that we didn't encounter any issues with similar results.
The FPS test from Far Cry 5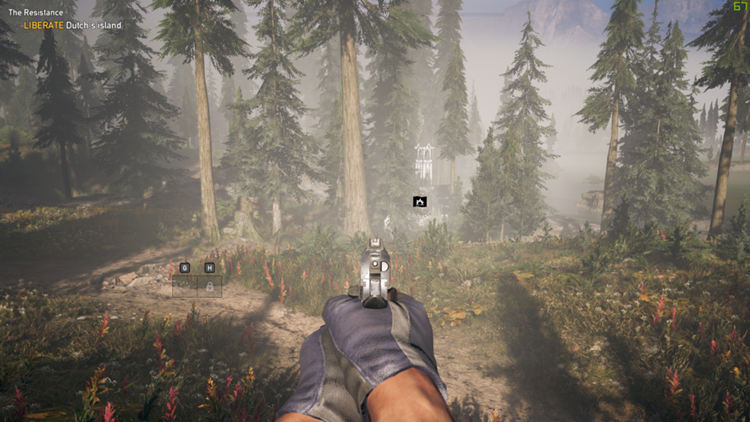 We swear graphics looks a lot better in person than the screenshot here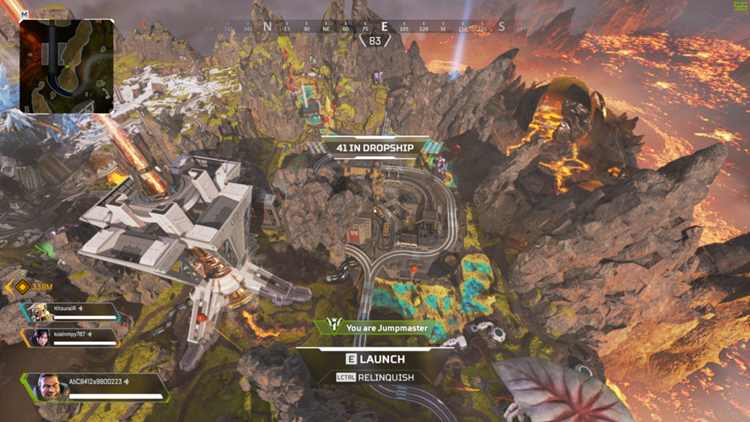 In Battle Royale games like Apex Legends and COD: Warzone, the FPS tends to drop to an average of 56FPS when skydiving. Not that it matters anyway since you can't do much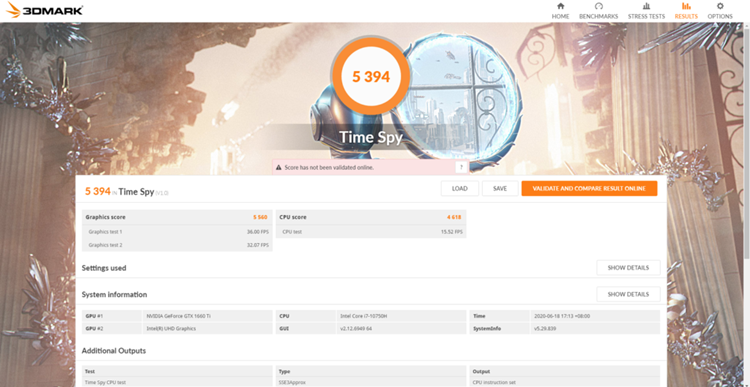 The 3DMark score with 5394 points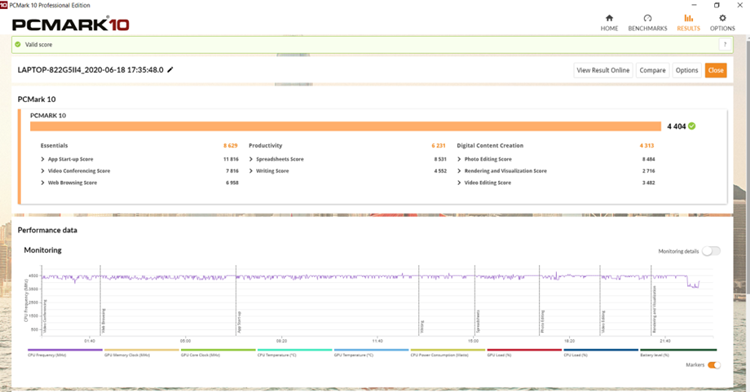 Office work shouldn't be a problem with that kind of score on PCMark 10
While gaming on the laptop was a fun experience (especially the 144Hz refresh rate screen panel), its body will become hot as expected but it's interesting to note that the hottest area is mostly on the right side of the keyboard. In a hindsight, Acer actually thought this out for the gamers because we usually have our left hand on the WASD buttons so this is a bonus gaming experience that we didn't ask for, but it's a well thought one.
Of course, we also have to talk about the battery and connectivity performance. The battery uses a 57.5W power supply and it's a great boost when playing games, also not bad for doing office work or watching movies for the whole day before recharging. The network connection is excellent as well, as it is equipped with the latest Intel Wi-Fi 6 AX201 wireless network card and Killer Ethernet E2600 network card so no disconnecting issues here (and if there is, it's most probably your Internet provider's problem).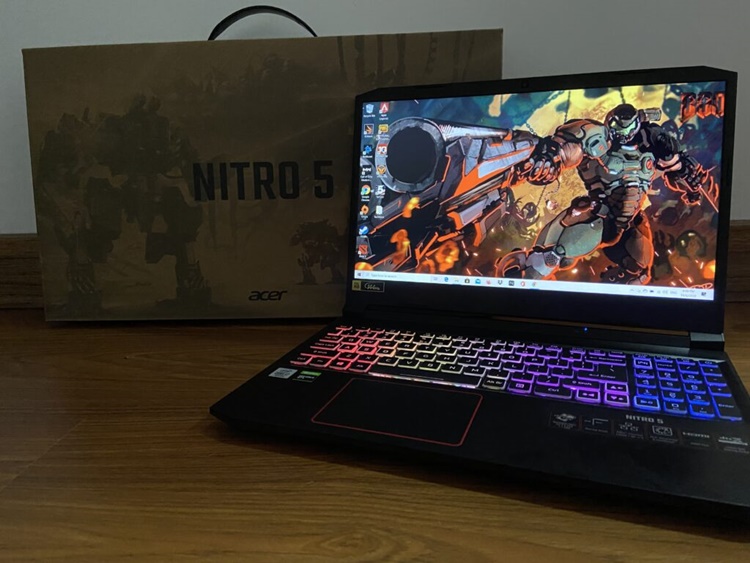 Just FYI, there are two Acer Nitro 5 models
After much evaluation on the Aver Nitro 5, we think that this gaming laptop is really suitable for those who have a limited budget. Granted, a price range of RM3K to RM4K is not really low but considering all the tech specs, gaming setting configuration, the ability to handle Triple A game titles well, and the superb screen panel display, we say this is a pretty cost-effective gaming laptop.
In addition to the Intel Core i7-10750H version of the Acer Nitro 5 (AN515-55-79CU) which was the one we reviewed, you can get another model that is RM3799 (AN515-55-52Z1) equipped with an Intel-Core i5 version. The only other difference between the two is the NVIDIA GTX 1650 Ti graphics card which can also play most Triple A game titles well. The choice is yours.
Pros - A cost-effective gaming laptop with great tech specs, the configuration for gaming settings is nice (like RGB colour profiles) and able to handle Triple A game titles seamlessly
Cons - The sound volume could be better as it clashes with the fan sound during gaming
Conclusion - Gamers on a budget should consider looking into the Acer Nitro 5
Acer Nitro 5 AN515-44 Specs & Price >